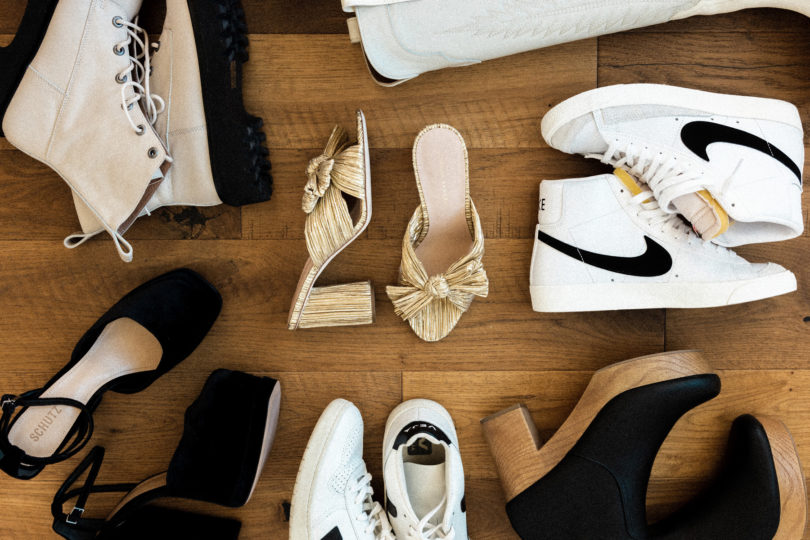 One question I get asked year after year is this: If you could buy ONE shoe this year, what would it be? My first reaction is: I do not understand the question and will not answer it. My second reaction is much more reasonable: create a shoe guide featuring 16 top trends for the season choosing the BEST option for each trend and providing my readers with a guide to shop the trends. See? MUCH more reasonable.
(ALSO: it's this pair from Target. That's the ONE.)
I have looked far and wide for all the trends and I've edited them down to what you see below. The shoes you see are the ones I've settled on for myself, my style and what you will be seeing in the months ahead on KE. So how do you use this guide? Well since I've  done the hard work for you and selected the top trends to pay attention to and I've curated the styles I personally would choose (or have chosen*) to buy. Below the graphic, I've broken it down even more and also selected 1-2 options for different price points, with most everything under $150. (Some of the boots go over $200 because … well it's alotta boot and I don't blame them.) If you see an * then that simply means I own that exact pair.
So let's get to this year's list!

I feel like by now we all have the classic nude and black heels, so I thought why not throw in a fun heel for 2022. This Loeffler Randall bow tie heel is THE holiday heel. It's comfortable, easy to wear and while trendy, it's a bit more quirky than full trend. Find it here or swipe through for alternatives!

I love a Converse, even thought is style is new to me this year! I find it to be a classic, as well. Converse have been around for longer than I and if it's good enough for the 70s, it's good enough for me. What I like about the high top is that you can pair it with denim (specifically straight or skinny leg) or maxi / midi dresses and it just gives the right amount of cool. I find Converse to run a bit large, so size down a half size if they suggest it. Find it here or swipe through for alternatives!

This style is new to me so only a few 'examples' to share. I want to incorporate this look into my closet this fall for sure. I would say that with the chunkier sole, go with straight leg or a skinny leg jean to balance the look out. They also work great with wide leg trousers, as well with a tighter fit top. Keep something fitted when your shoes are heavy and you won't get lost in the outfit. Dresses also work great with these! Don't be afraid to try it with anything you'd wear boots with.
Find it here or swipe through for alternatives!

If you want a more athletic look (or even a sneaker you can wear to the gym!) then this is your pair of high tops. This pair will go more with leggings, atheleisure, etc. Of course they always work with denim, but again I'd go with a straight leg or a skinny leg. If you pair these with a dress, go with a more casual look over a juxtaposition of sweet + street. These will look best with a hoodie dress versus a floral mini. Save your logo sneakers or the converse for that look. Find it here or swipe through for alternatives!

Of all the shoes on this list, these are probably the ones I could see you skipping but I love this trend and it definitely needed to be noted. I am seeing platform heels absolutely everywhere and I love it. I am about 6'2 in these right here and you better believe I enjoy it. What nature can't deliver, platform heels can. These are wonderful with too long wide leg trousers (give you a little lift and a cheap 'tailor' on too long pants), dresses, especially mini dresses and of course jeans. Find it here or swipe through for alternatives!

You already know I absolutely love this trend this fall. It's been around for a few seasons and I feel like it's finally perfect. I like to wear mine loose and untied but you can tie them up as well! It's just preference and styling. See all of my examples below. (If you want a less 'heavy' look, go with a lighter hue than just black — white is all the rage this year or this really soft grey is a nice in between.) Find it here or swipe through for alternatives!

I love logo sneakers — Veja, Golden Goose, Nike, etc. The white with the logo is the vibe. I've linked a few of my favorites but I personally don't think you can go wrong with Veja's. Find it here or swipe through for alternatives!

This is a trend that I have in my closet and wear (The Boston Clogs) but I don't tend to photograph them. A true Everyday piece but I don't share it. That is about to change my friends. I'm about to let my Birkenstock Freak Flag fly this fall. I also love love love this Shearling Version. But that's just me 🙂 Find it here or swipe through for alternatives!

This pair above I am obsessed with and is going to be my post for Monday but I wanted to tell you about them before that post. Whew — that was a run-on sentence and boy, was it a fun one. (Oh and yes I know this one is different from the graphic! That's on purpose because I both lol) So I just picked up this pair from Target and I can't tell you how much I love them. GET THEM. I don't usually yell at you but GET THEM BEFORE THEY SALE OUT because for some reason no one has discovered them yet but I just did so…. YOUR TIME IS LIMITED. I sized up to an 11 for socks! Find it here or swipe through for alternatives!

You know my love for this western look this fall. I am obsessed with it and usually I turn up my little native Texan nose to this trend but with the introduction of the white boot, it convinced me. I love this look. Wear them in the same way you would any other bootie! Find it here or swipe through for alternatives!

If you are looking for a boot that will last year over year and gives more of a 'heritage' vibe (think J.Crew, Tuckernuck, Banana Republic, etc.) then this is your style. A slightly rounded toe, a perfectly camel leather and just a hint of heel. I love this pair from J.Crew, one of my go-to's this fall. Looks great with straight denim, kick flare, skinny, of course. But also works well with dresses, too! The ankle cuts right at the right length for a versatile look. Find it here or swipe through for alternatives!

This boot was one of my best sellers last year and this year it is STILL giving. So comfy, waterproof and literally goes with everything. I went with the black last year and I'm still happy with that one, but they have brought this gorgeous shoe back in many different colors so check it out! True to size for me. Find it here! (Also found a very convincing dupe at Target — swipe through for alternatives!)
find examples here

I feel like a few years ago we all got together and said 'are we tired of Knee High Boots?' and after a slight pause to introduce her little sister, the Bootie, everyone said YES to the Knee High, The Big Sister of Boots. There is just something about the OTK look, it makes everything a bit more dramatic, even denim and for that I love it. Also if you were wondering little sister = ankle booties, the boots that randomly hit mid-calf = middle sister, knee high boots = oldest sister, OTK boots = THE overachieving COUSIN. Thank you for coming to my Ted Talk. Find it here or swipe through for alternatives!
find examples here,

The Pointed Toe Bootie will always have a place at the table, as they are class personified — or shoe-ified? Anyways, this look is instead of the western bootie or the lug sole. The pointed toe bootie is a bit more buttoned up, chic, rather than full on trendy. I love the addition of these deep chocolate brown this fall, as well. My pointed toe boots are a nude beige color, but this chocolate brown is where I am headed next! Find it here or swipe through for alternatives!
outfit example here

Heavy trend alert: the tall cowboy boot. I have had my eye on this trend since this spring and I just adore it. I can't wait to make some outfits with denim as well. (skinny jeans will forever work best with tall boots, just FYI. So don't toss them out!) This is a trend for those who want to take their tall boots game up a notch. I love the white cowboy boot, as you very well know but any hue will do with this trend. Pair it with anything you'd wear tall boots with — denim (skinny), dresses, mini skirts, etc.
outfit example here, here,

On the complete opposite spectrum of the cowboy OTK boots are the black suede OTK boots. Forever a classic, forever in style, this look will never fail you. Now I have discover over the years I prefer a heel on mine and if this Walmart pair is still in stock at the time of publishing — then GRAB THEM UP! If not, I've linked alternatives as well! A great pair to wear if you tend to go with all black or darker neutrals. The suede feels like an extra layer in the winter and they're comfortable but you look chic.
I hope this helps you find your favorite pair this fall!