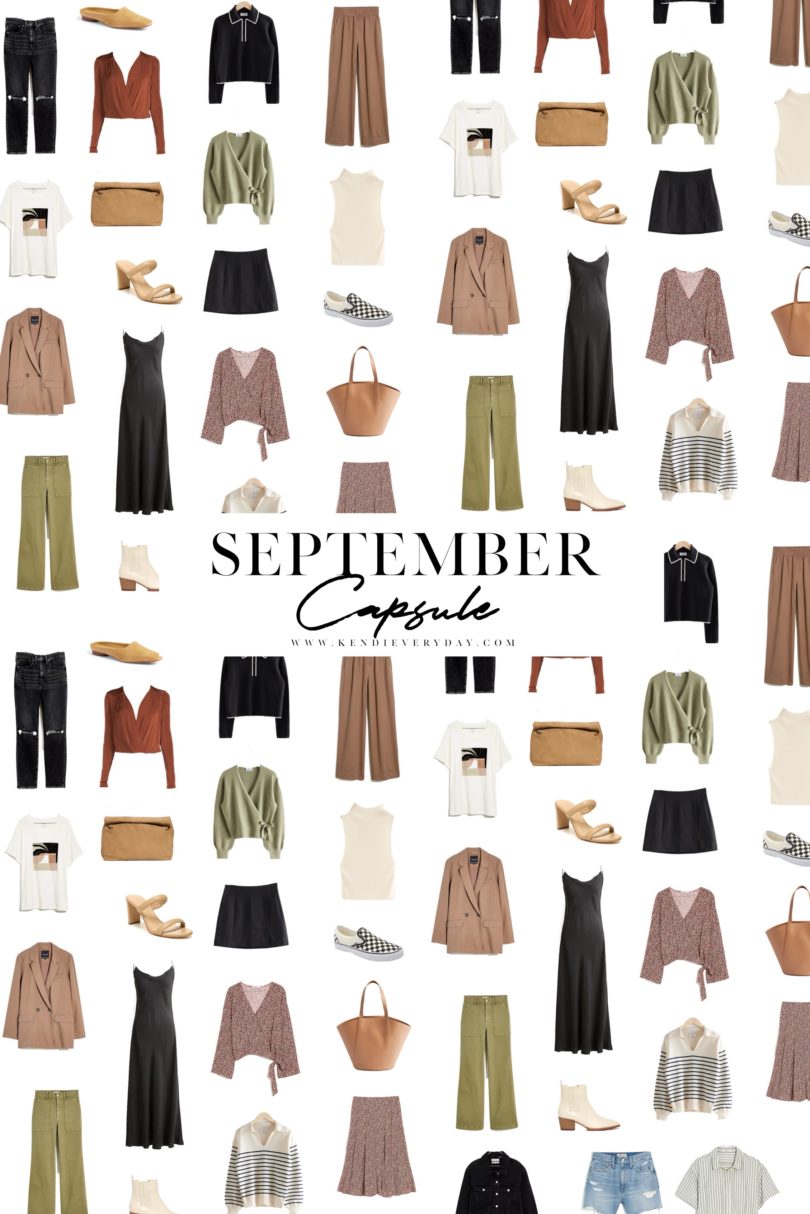 Guess what you guys?! I did it. I did monthly capsules for a whole year. Last September was my first capsule and I had made a promise to myself to do it for one whole year. I know you don't live inside my brain with me but I love the start of something and sometimes struggle continuing on with a project. (I mean not my blog obviously…13 years strong in December.) You probably didn't know this but every month when I did a capsule I was extremely excited and proud of myself for getting closer and closer to my goal of one year of capsules. Now I am missing January because I had shingles and covid (don't recommend!) and I feel okay about that. And I made a mega summer capsule with 75 outfits for June + July, but again I feel okay about that.
In the end I realized that this is actually really really fun for me. It allows me to stretch myself as a stylist, it forces me to plan and it gives me a good basis of color for the season. I hope you guys enjoy them as much as I do, but selfishly I love them so. It's just so fun. So happy one year of capsules and thank you for following along!
Okay enough mush. Let's get to September's capsule!
My 20 Piece Capsule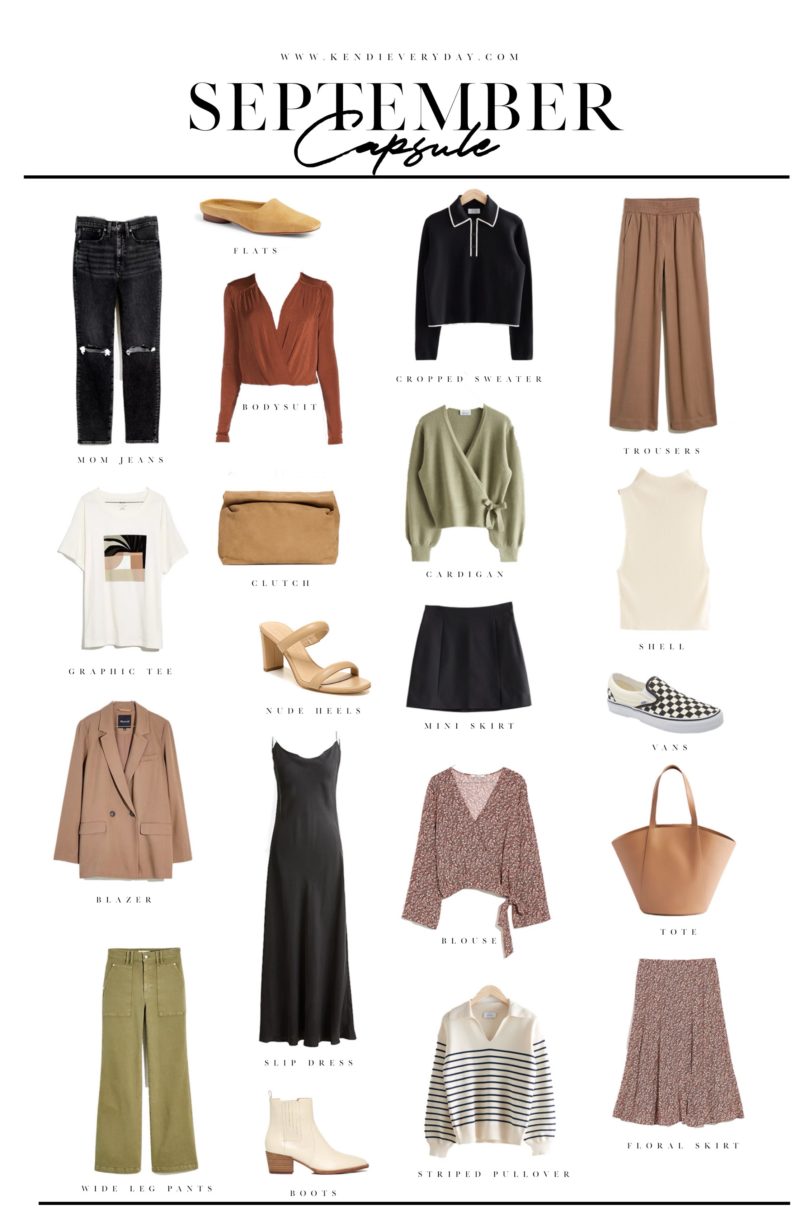 A Few Notes
I pulled some color inspo from last year's September capsule with the light sage-y green, but this year it almost feels more pistachio green. I realized this rust color actually really works well with the green too, so I added in a few rust colored pieces for a pop of color. Another shout out to last September's capsule? I added in one of my favorite black dresses — the J.Crew slip dress. So now you can see how I styled in two capsules now. Lots of outfit ideas for just a simple dress! Other than that I took some liberties on accessories — three purses, 4 pairs of shoes but I really used each of them well.
Madewell Mom Jeans | Vince Flats | FP Bodysuit | Black Tipped Sweater (similar)| Madewell Trouser
Graphic Tee | Lunch Clutch | Wrap Cardigan | Ribbed Tank Shell | Nude Heels | Mini Skirt | Vans
Madewell Blazer | J.Crew Slip Dress | Madewell Floral Tie Blouse | &Other Stories Tote
Madewell Flare Pants | Madewell Western Boots | Striped Pullover | Madewell Floral Skirt
36 Outfits for September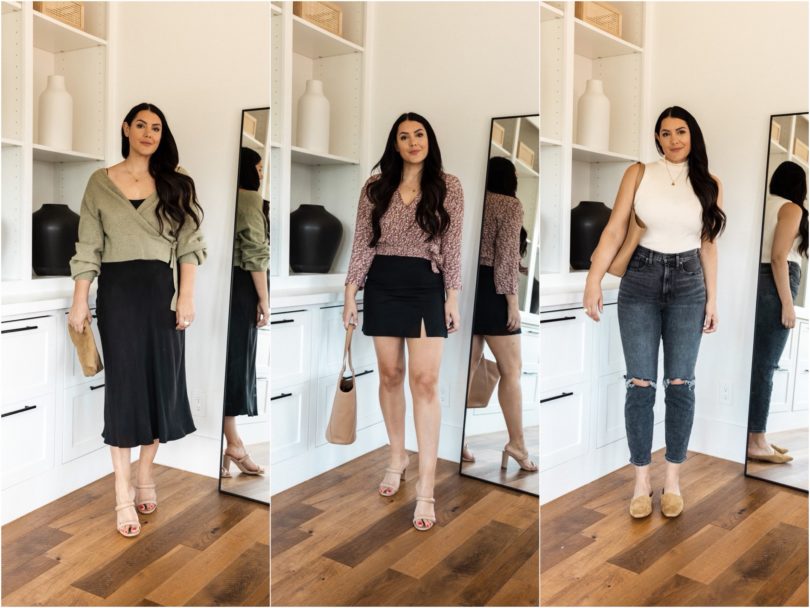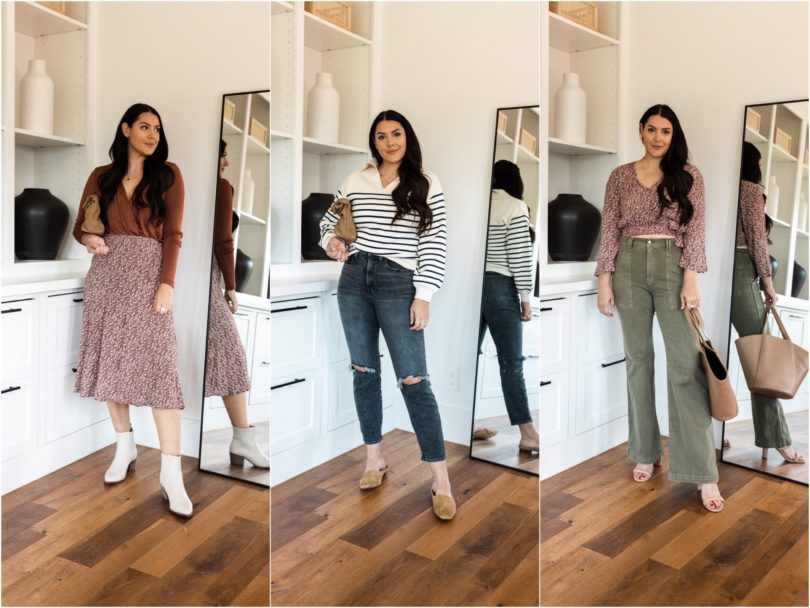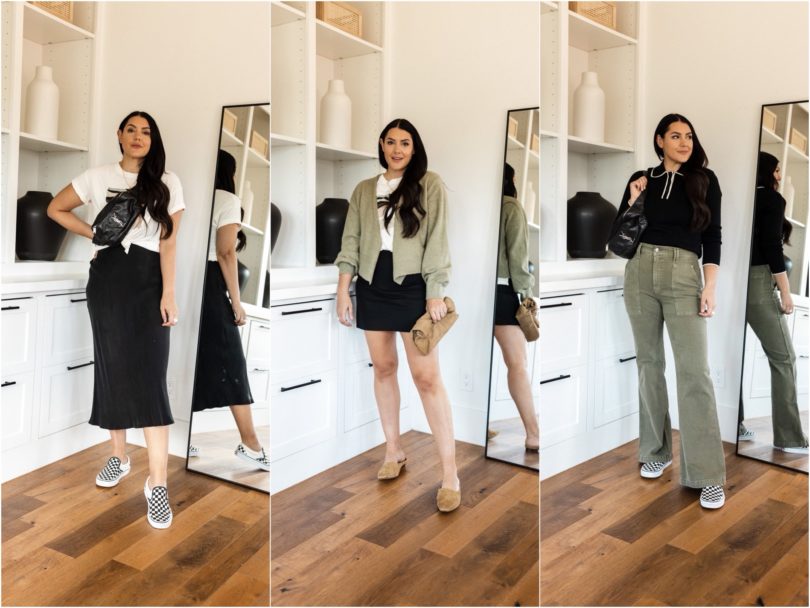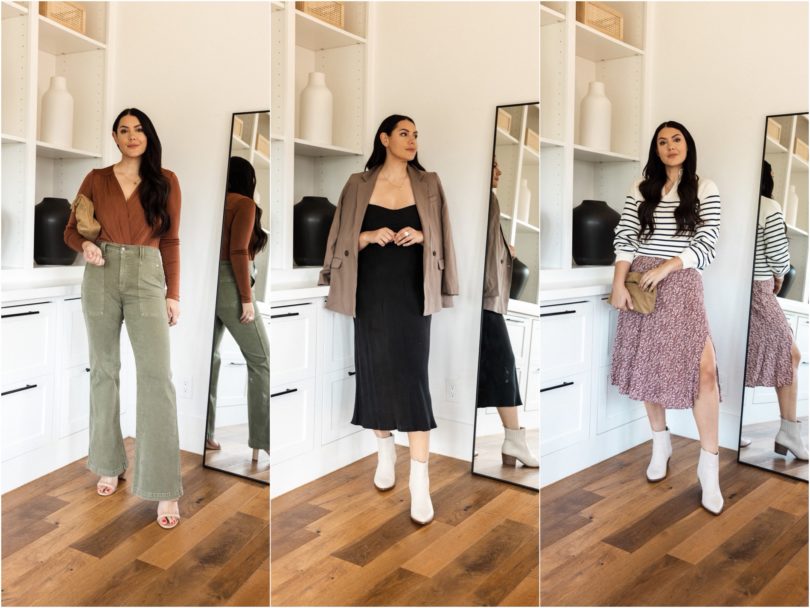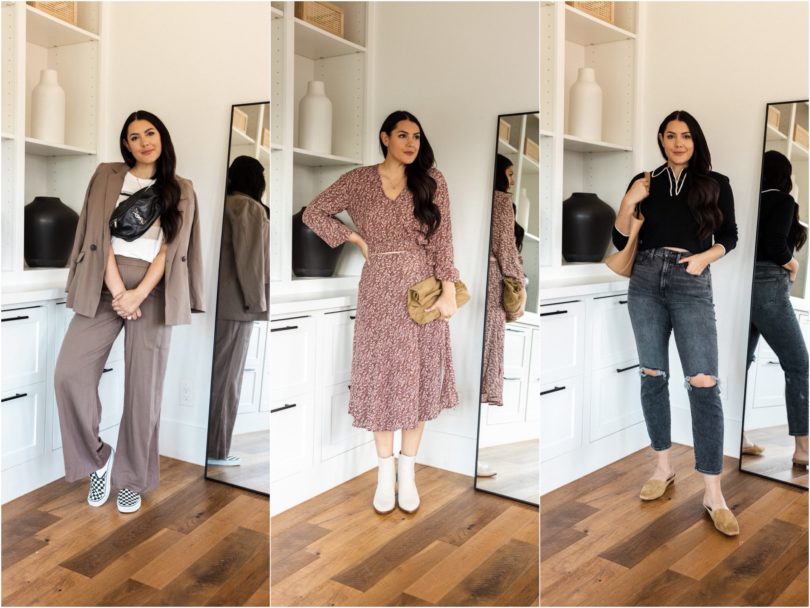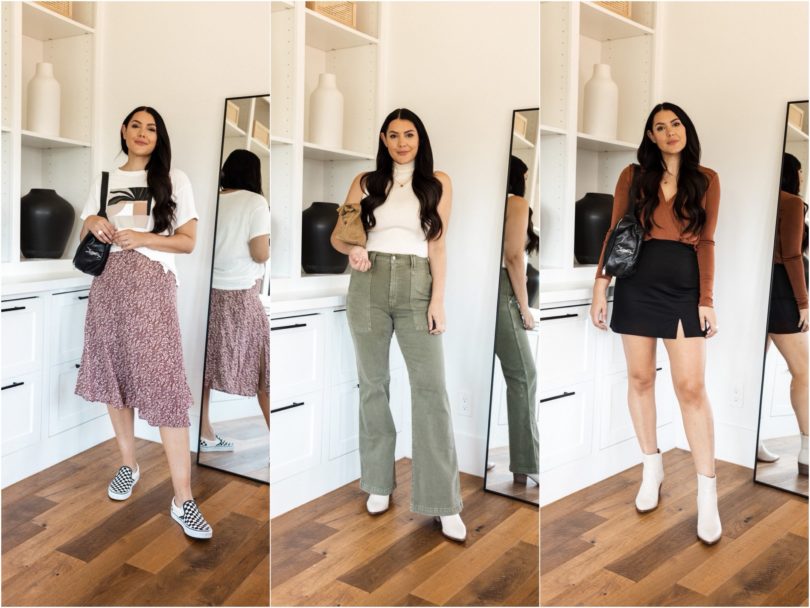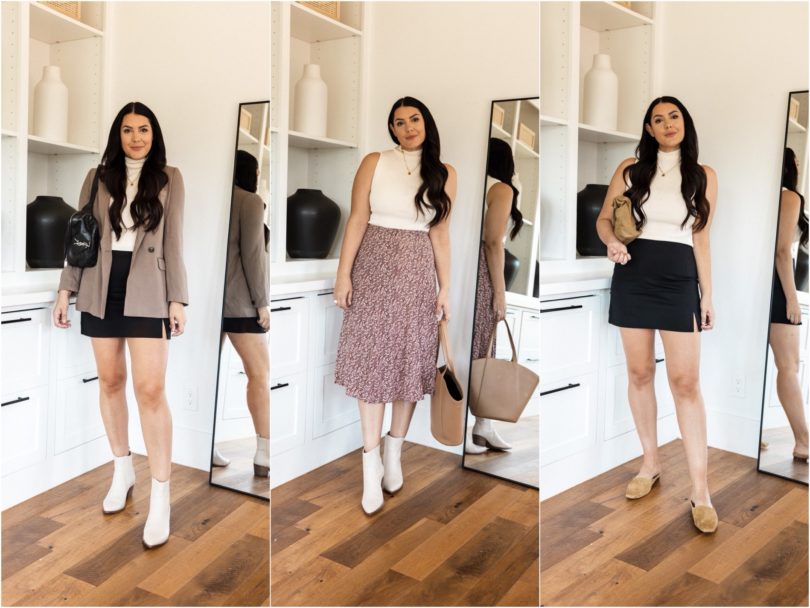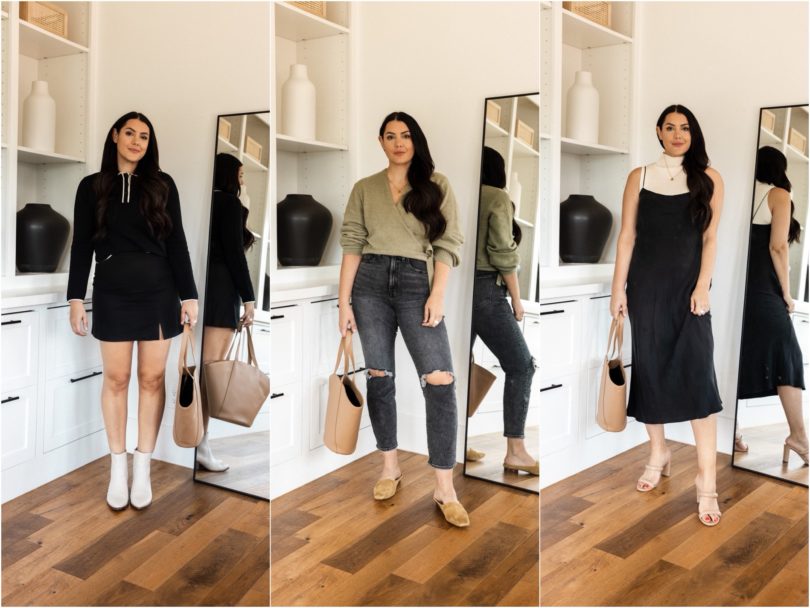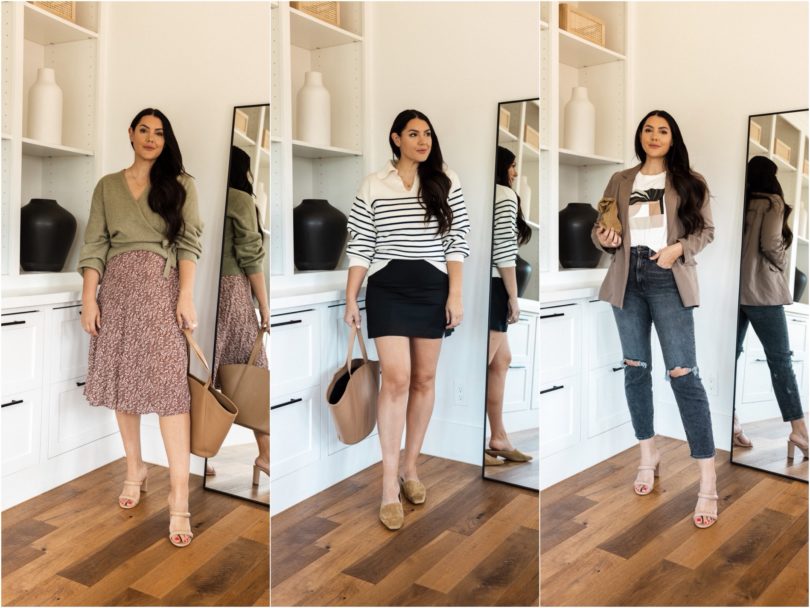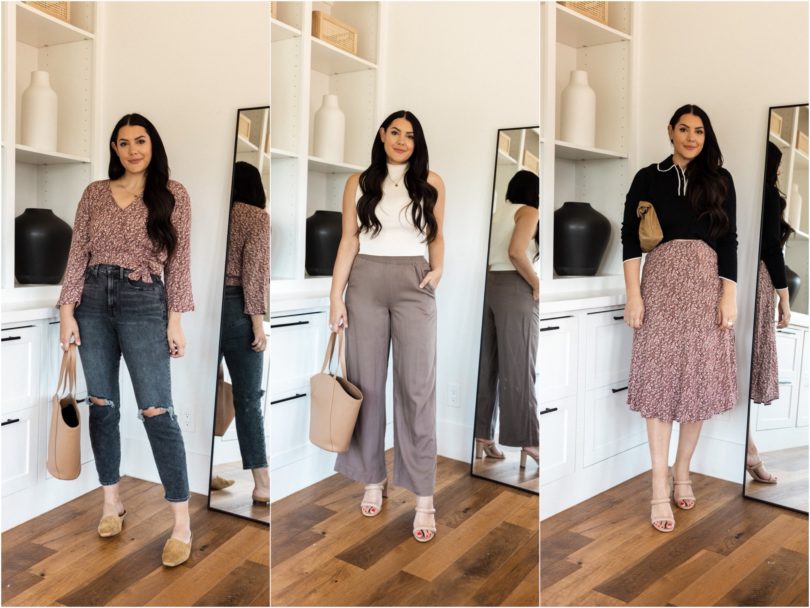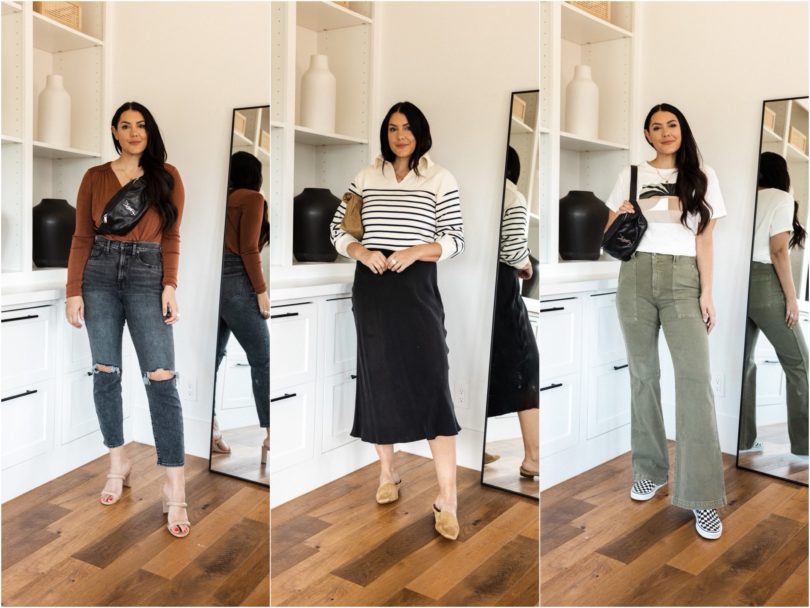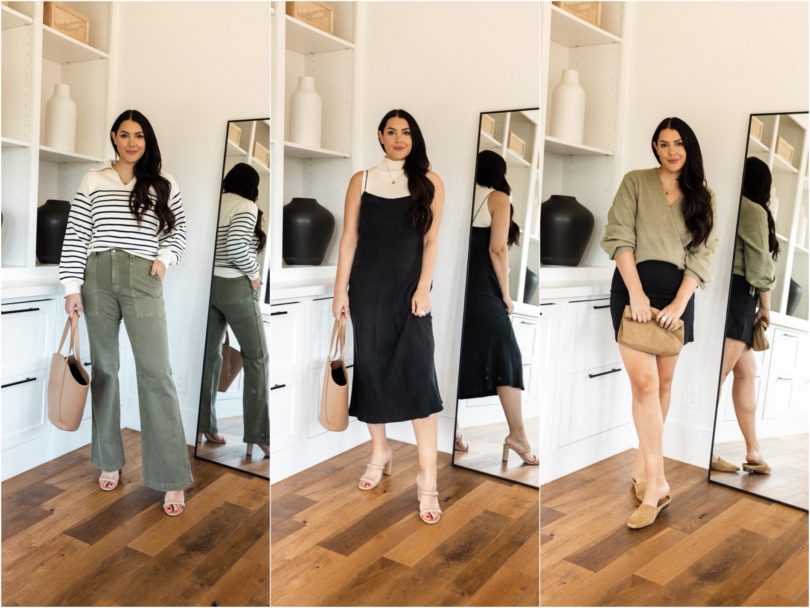 ______________________
My Favorite Looks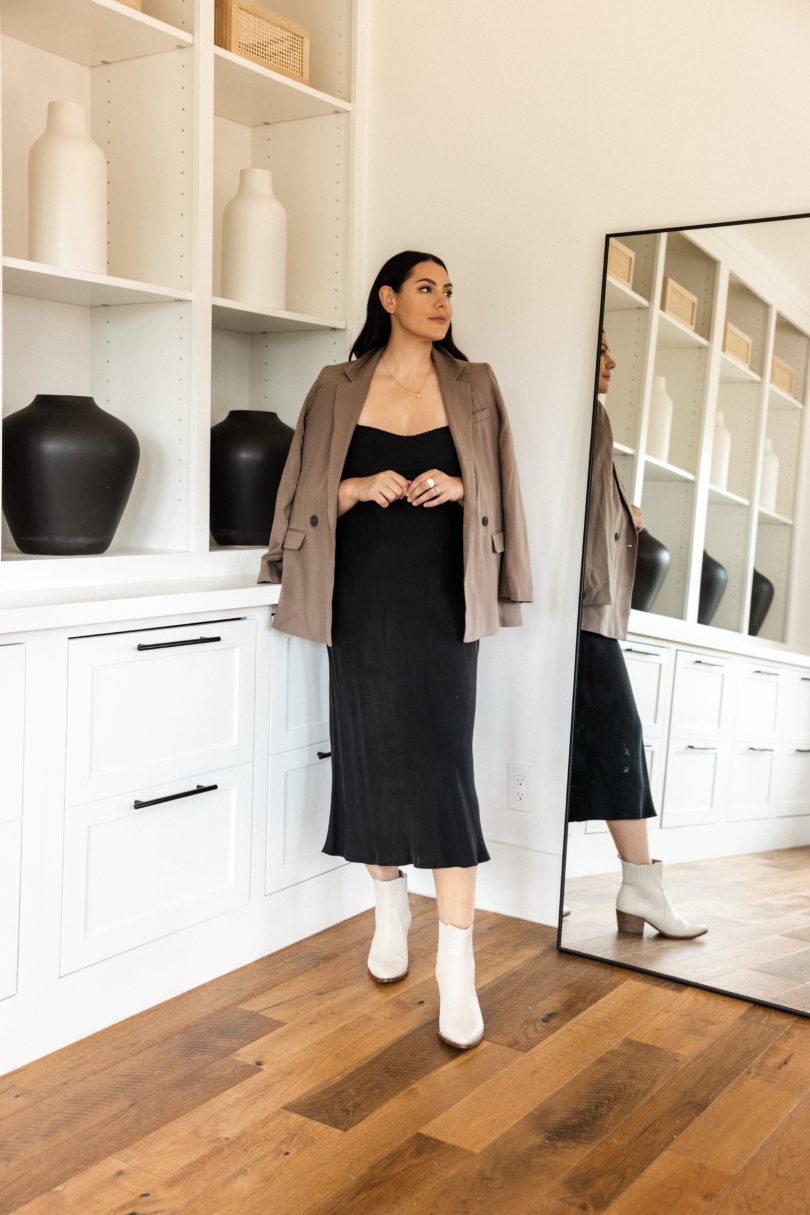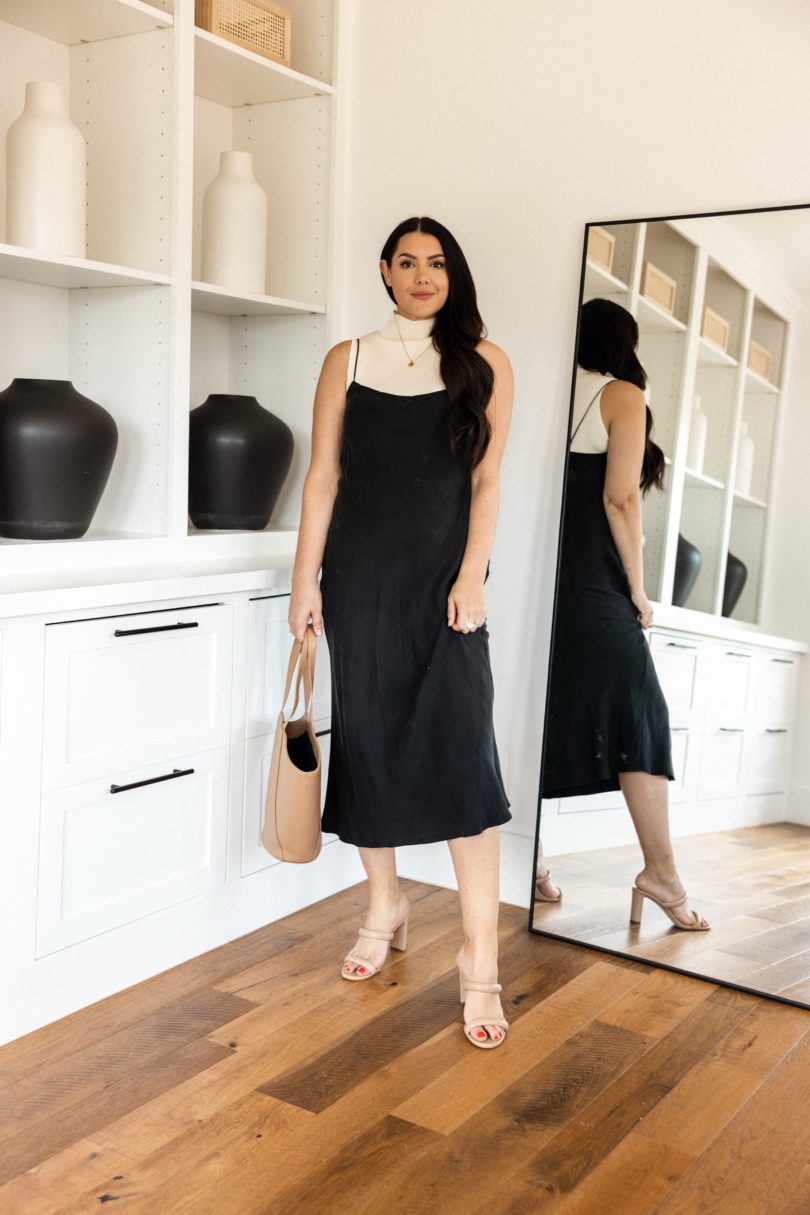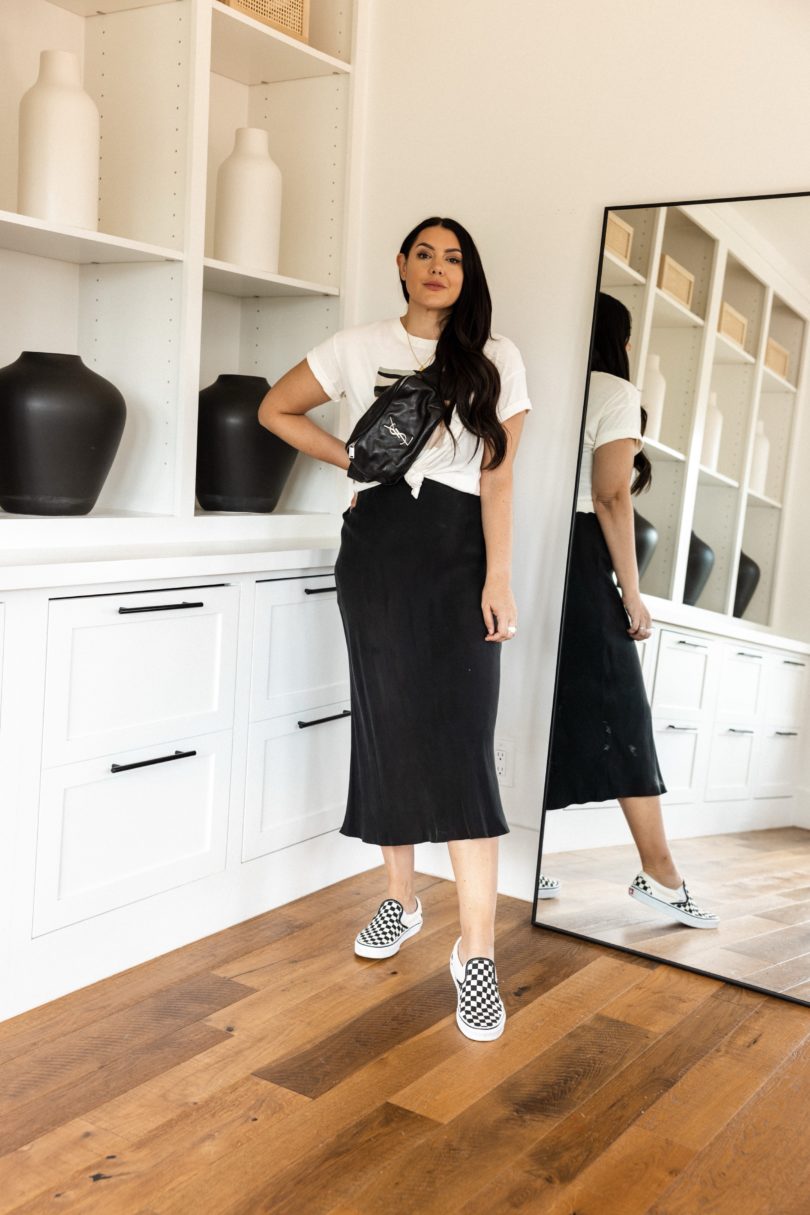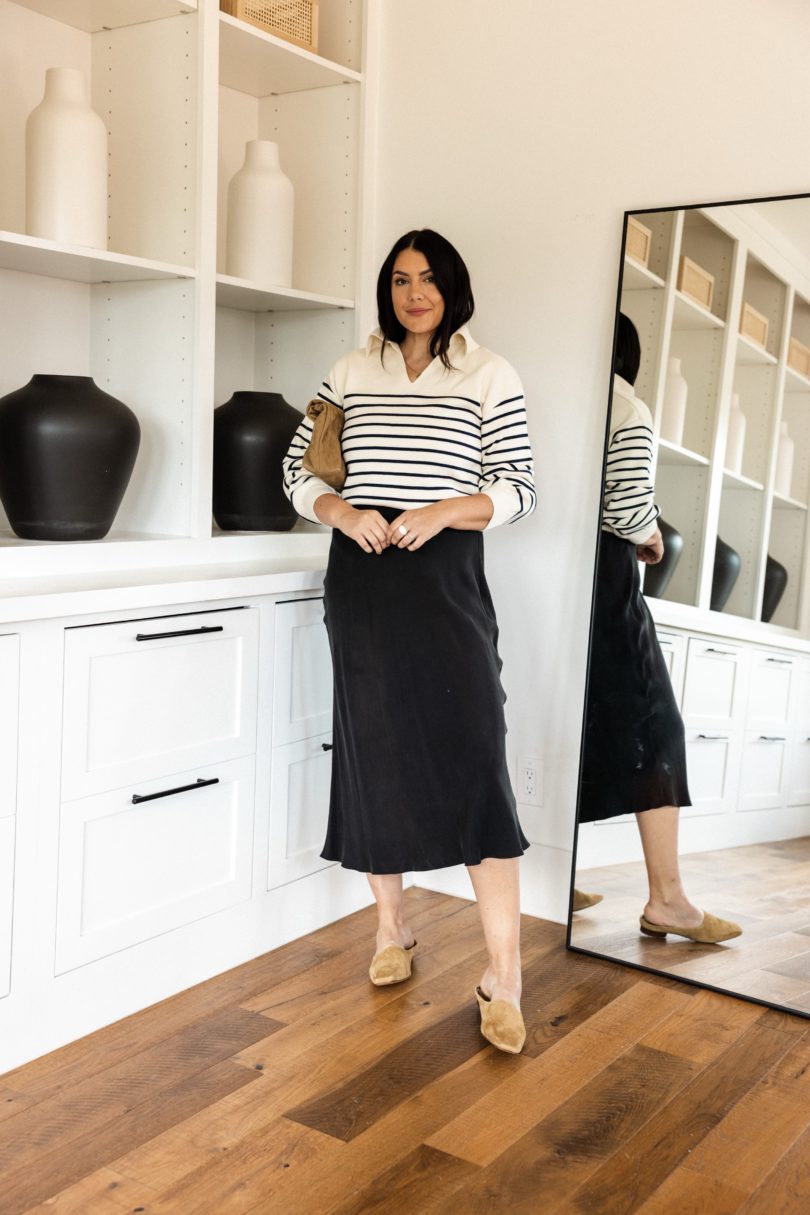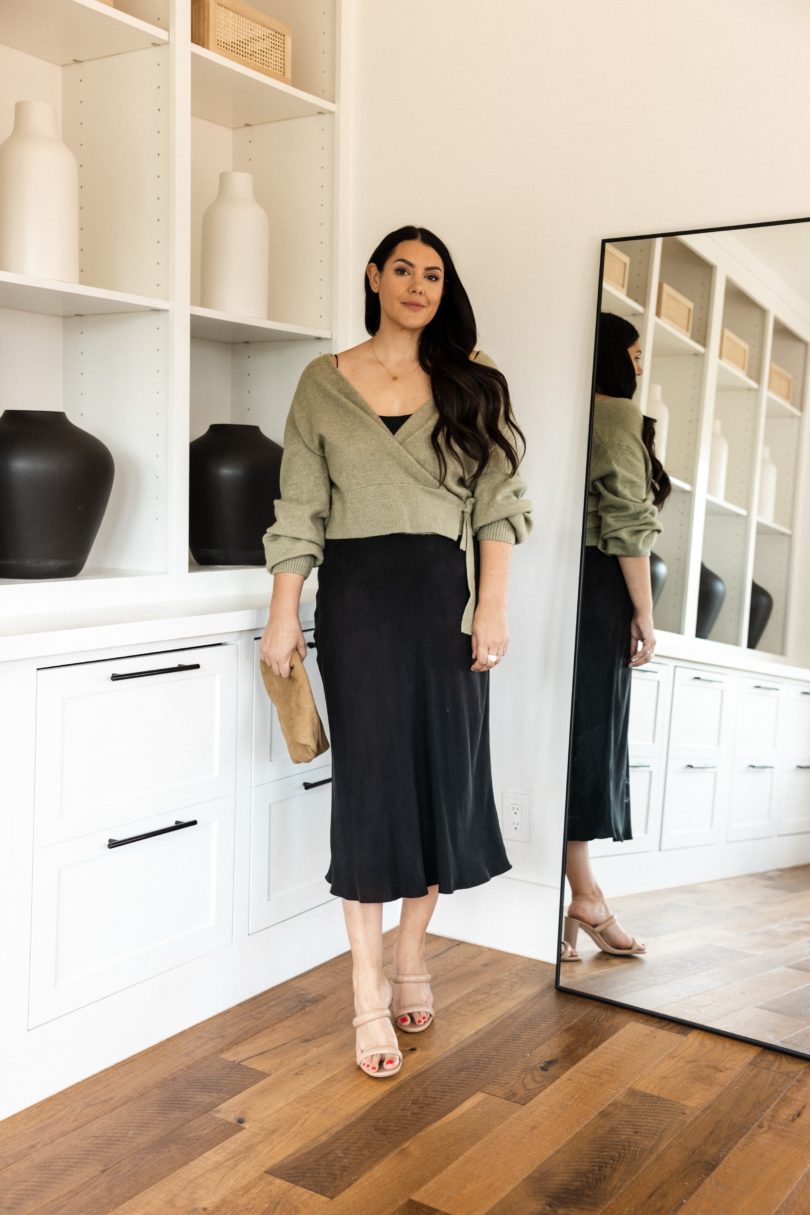 Aw, the little black dress. Iconic for a reason. This one from J.Crew is one of my favorites, as I mentioned before. It was featured in last September's capsule and just to prove it to myself I brought it back for another remix. Obviously wearing it solo is classic and chic and always a great option. But the beauty of this dress is the length because it allows for layering under and over the dress. Here I layered a lot over — the sweaters, the tee. And then of course you can place a tee or I used a mock neck shell under this for a dressed up look.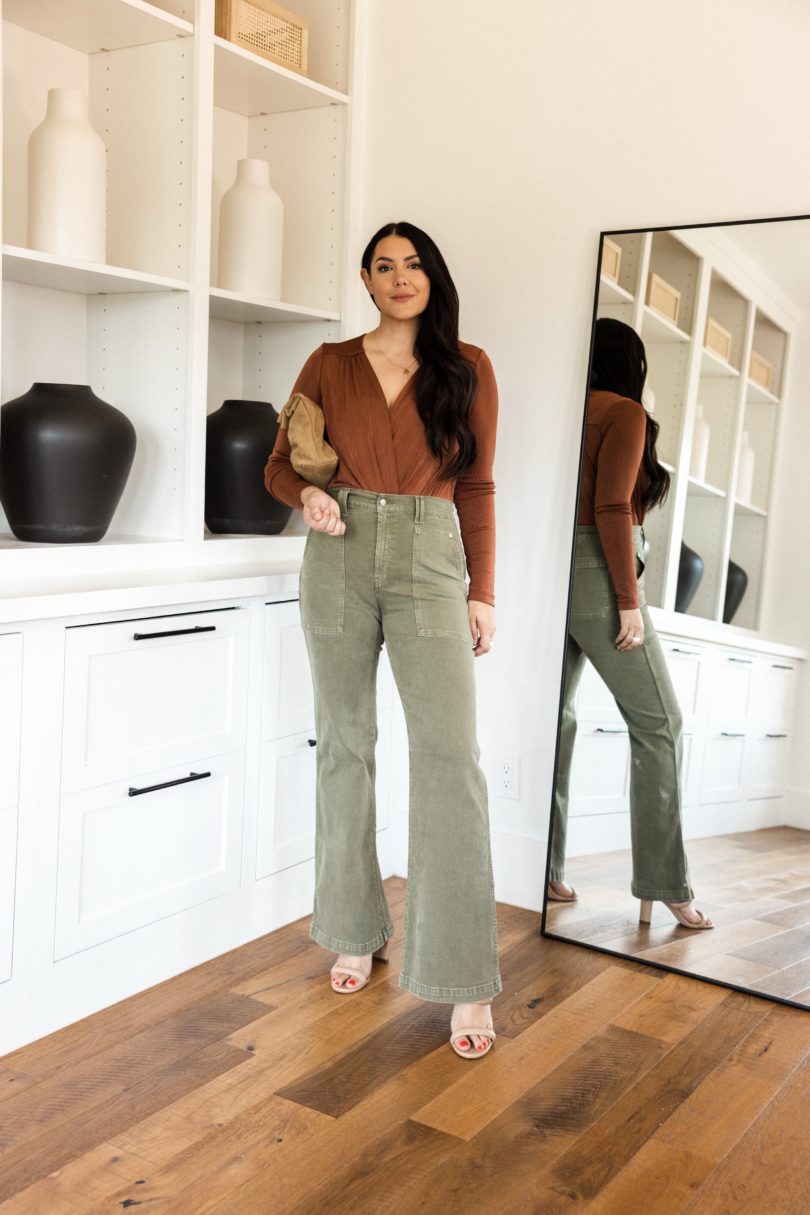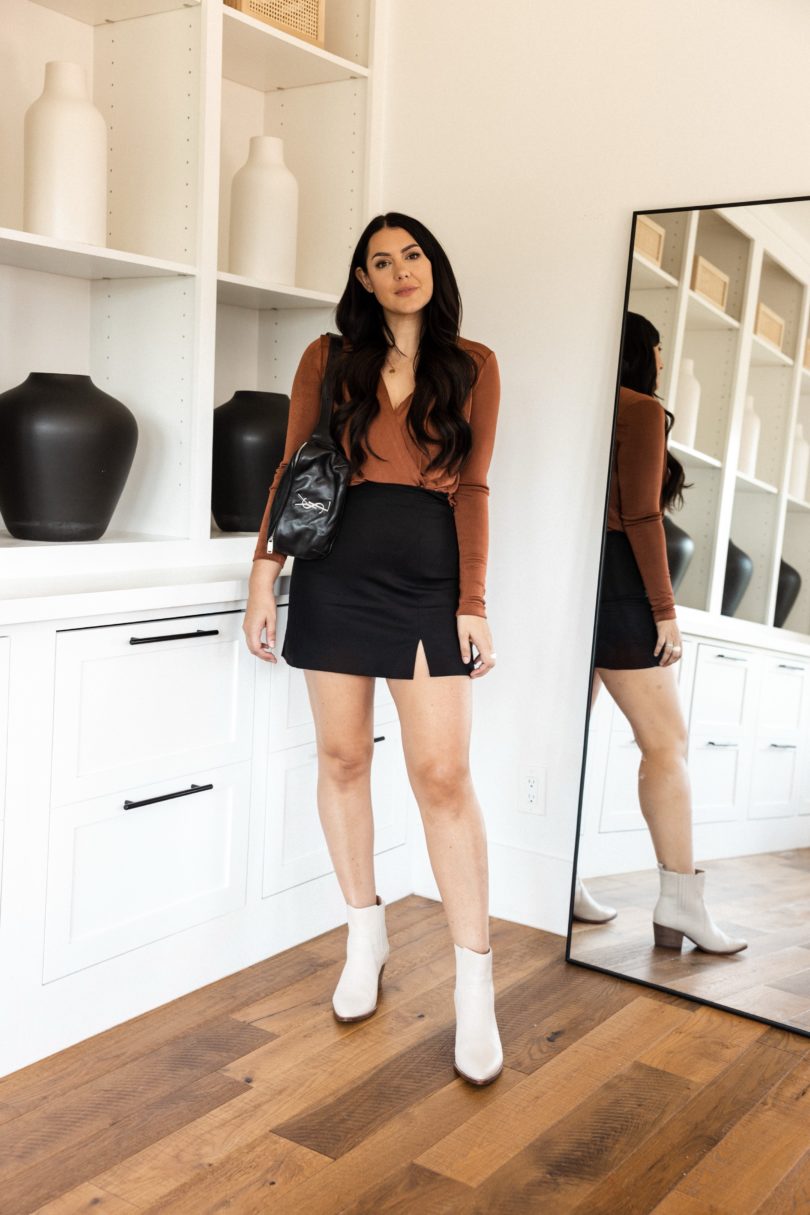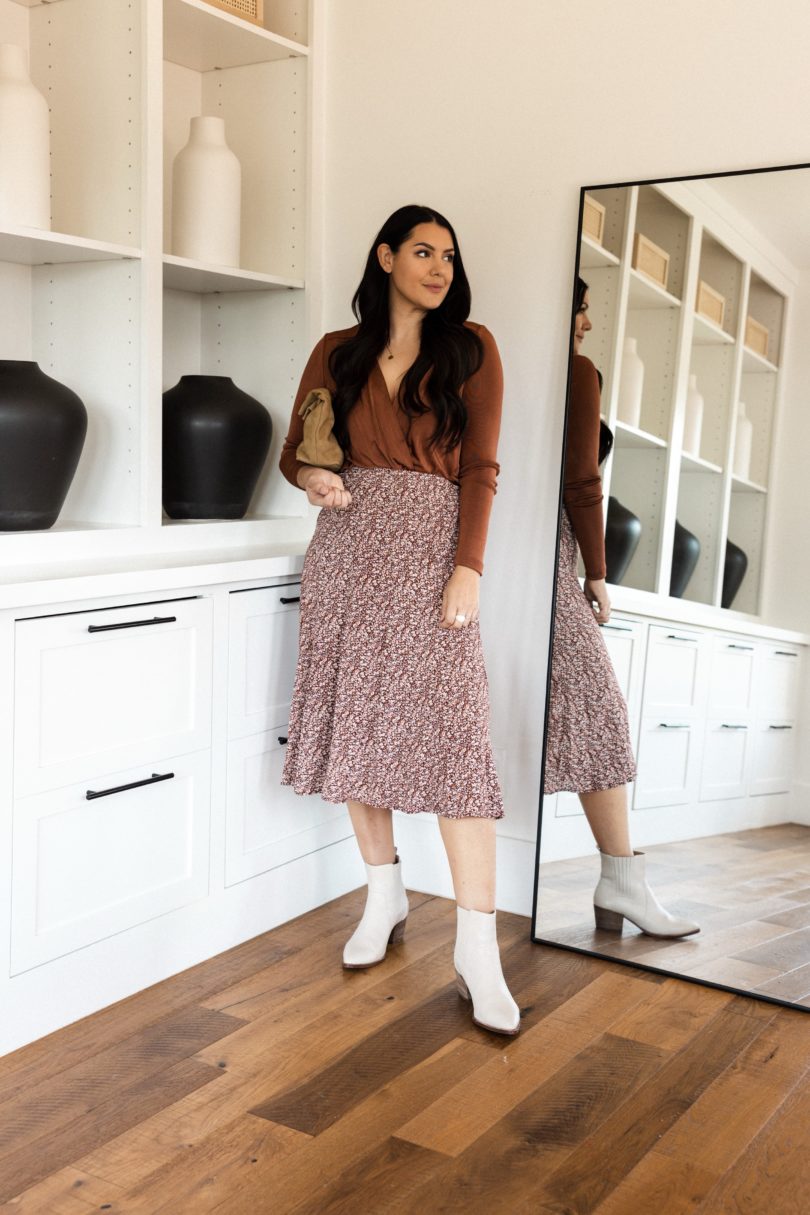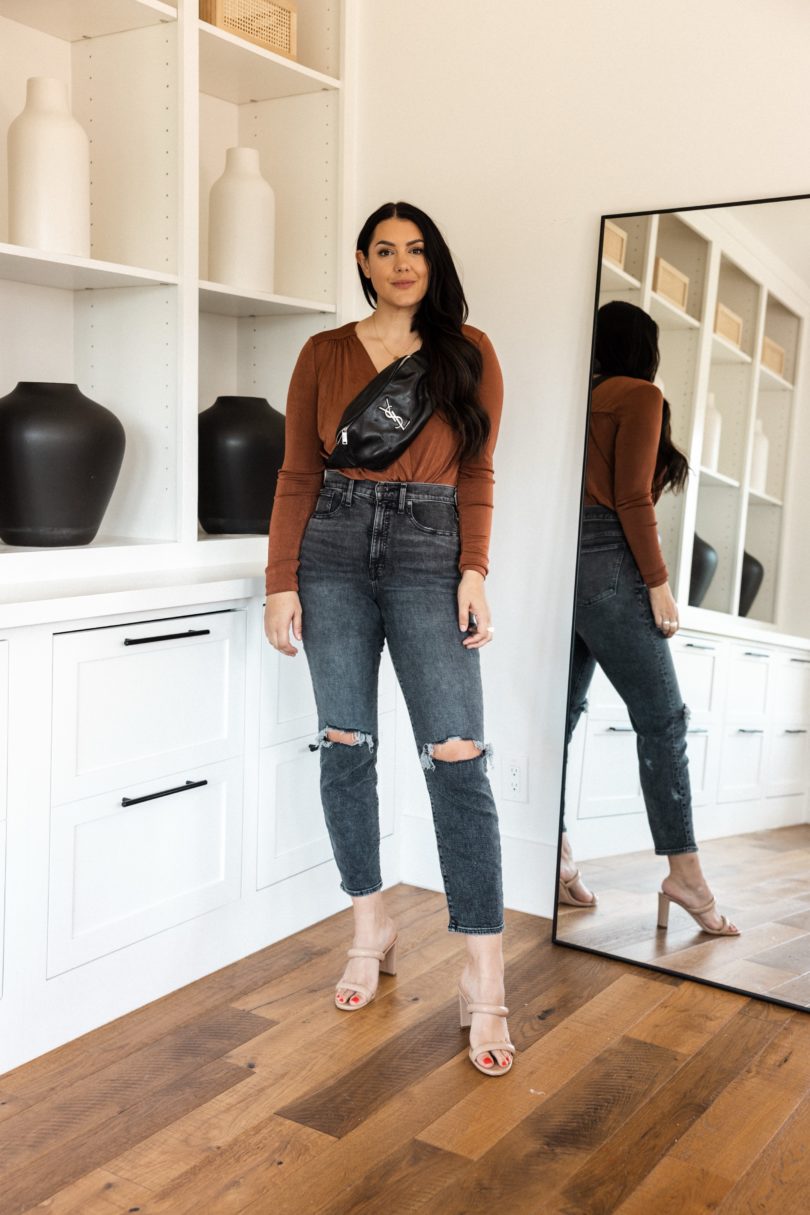 Every outfit I paired with this bodysuit was a favorite. I felt good and I loved all the unexpected combos. I think the rust color is what made each outfit pop, but also I love that this fabric is a throwback to 70s disco era. Or at least that's what I'm telling myself.
And I surprisingly loved the flare pants with this bodysuit! Somehow these two together turned chic with a retro vibe to it. Which look is your favorite with the bodysuit?
Find this bodysuit here.(Stay TTS!)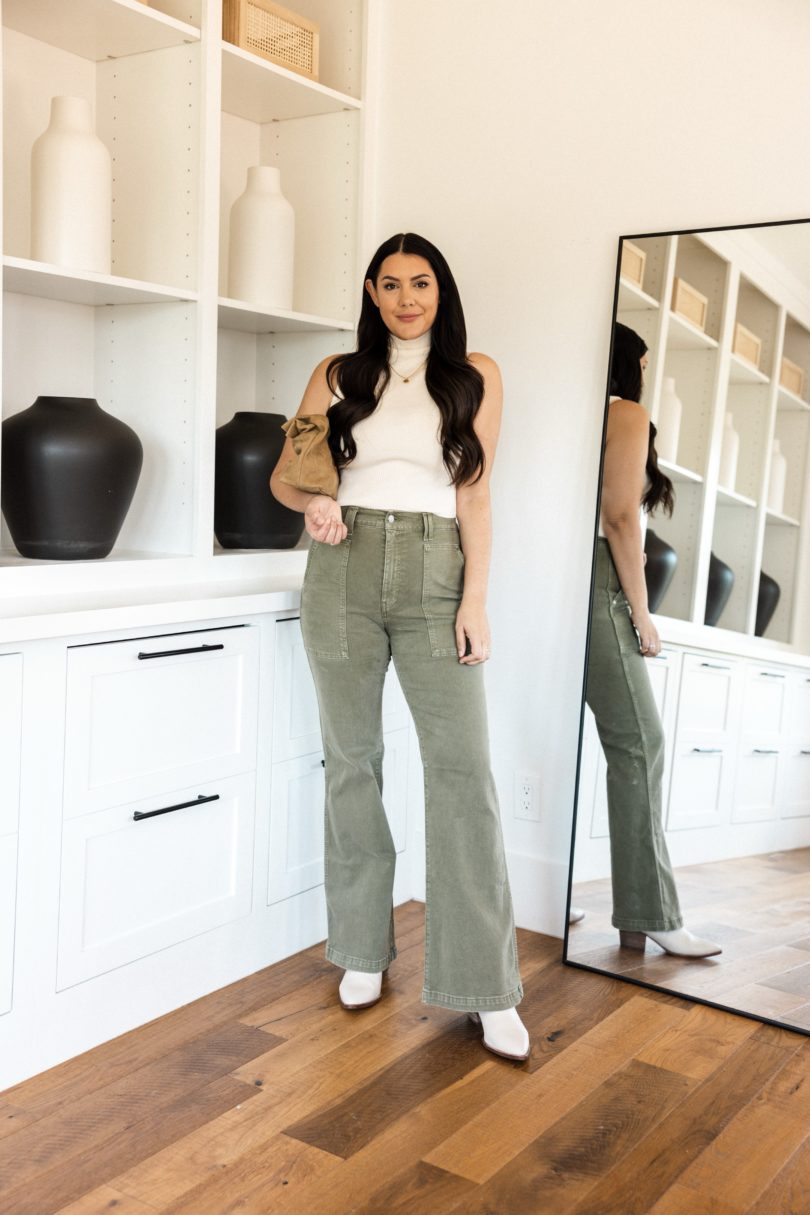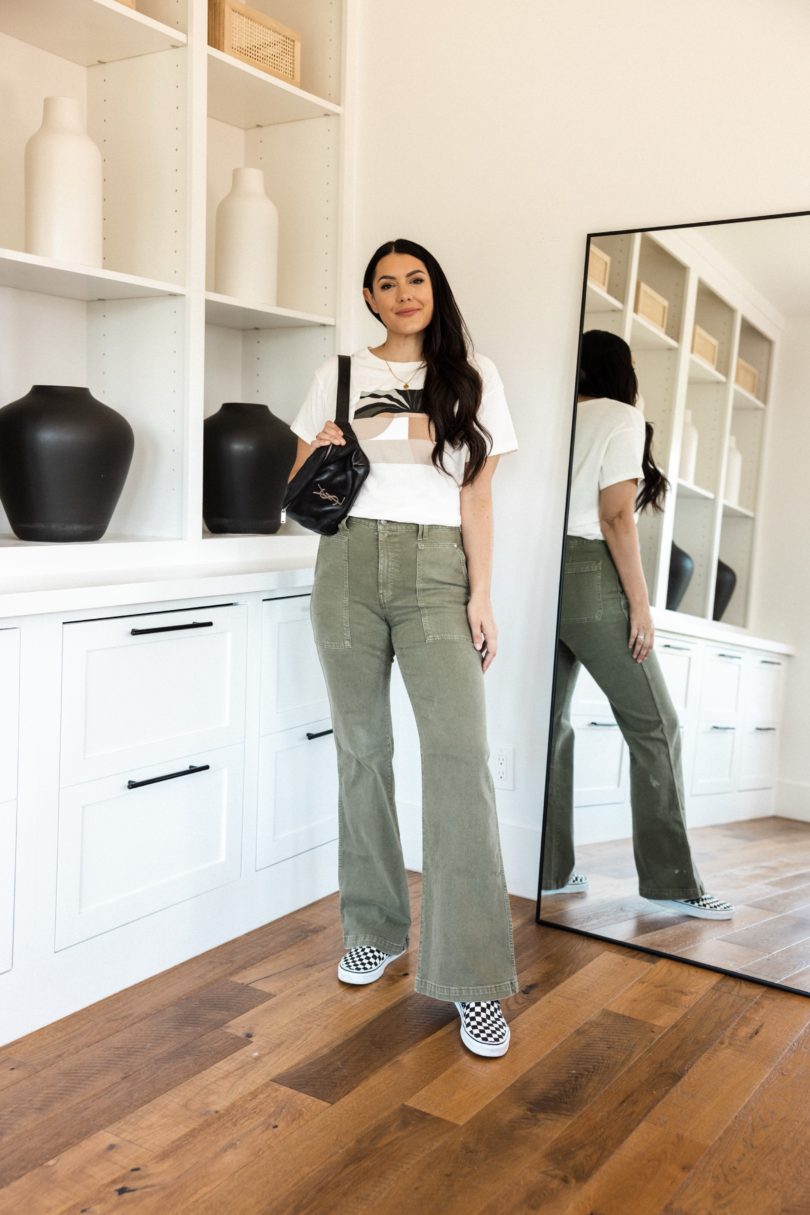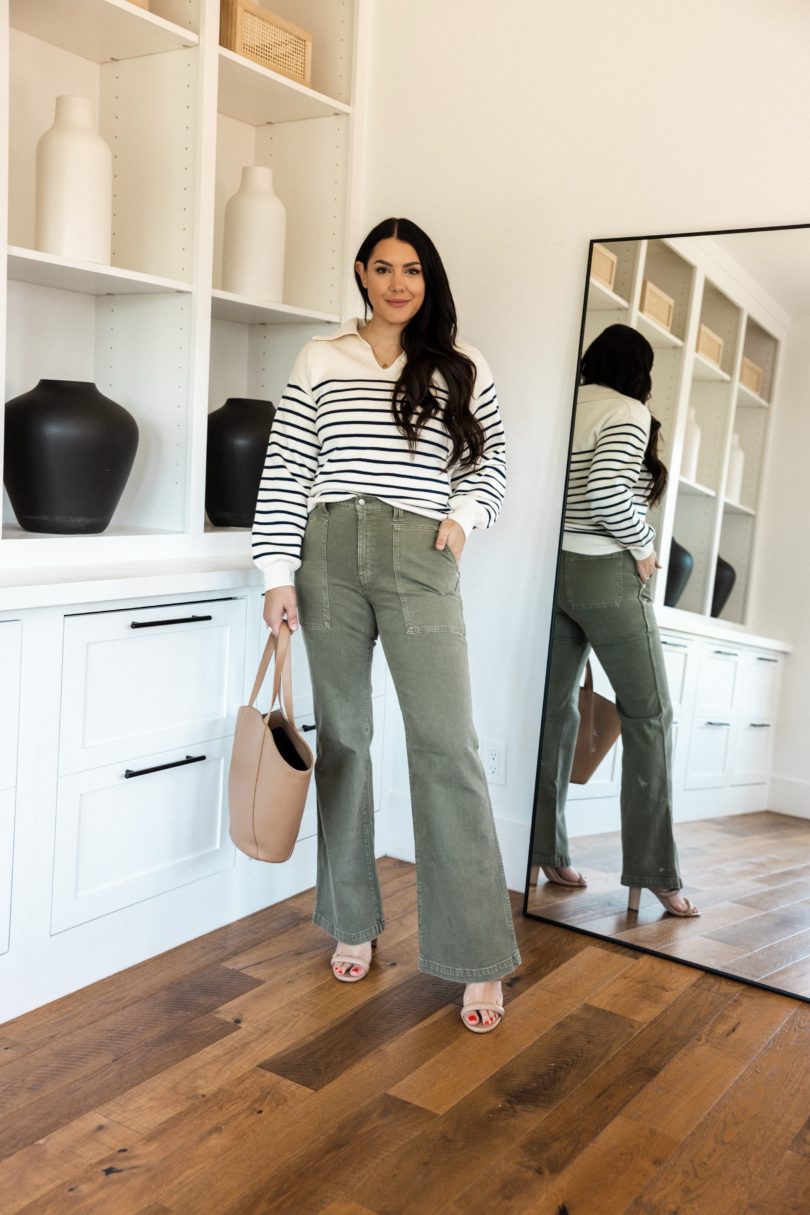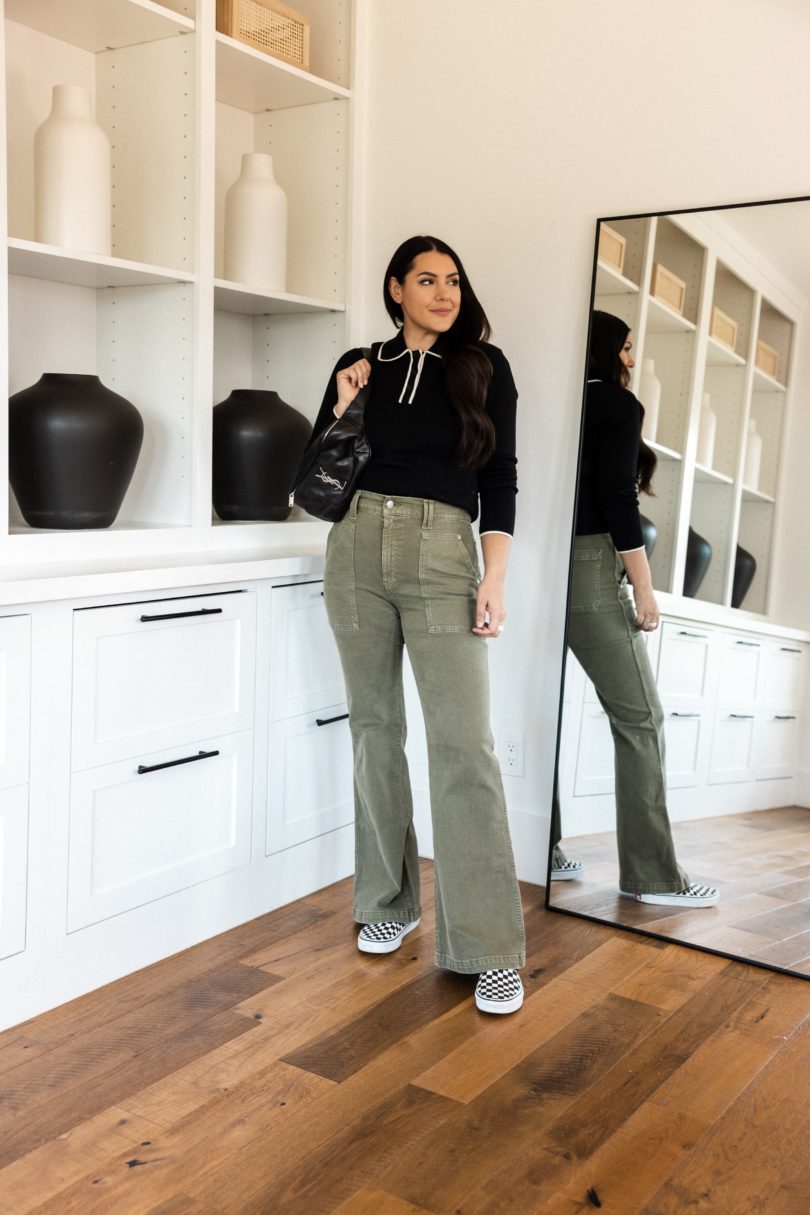 Ya'll. I don't know why I but I love these pants. Are they high early 2000s energy? Yes but in the best way. In a comeback kinda way — like Cher with "Do You Believe" — even better than the first round. They fit like a glove and the fabric has a bit of stretch so it keeps it's shape and the flare — the flare! It's the cutest look for boots or sneakers and I like that it doesn't puddle on the floor with the length. (I'm 5'9″ for ref!)
And surprisingly very versatile. See exhibits A, B, C and D above.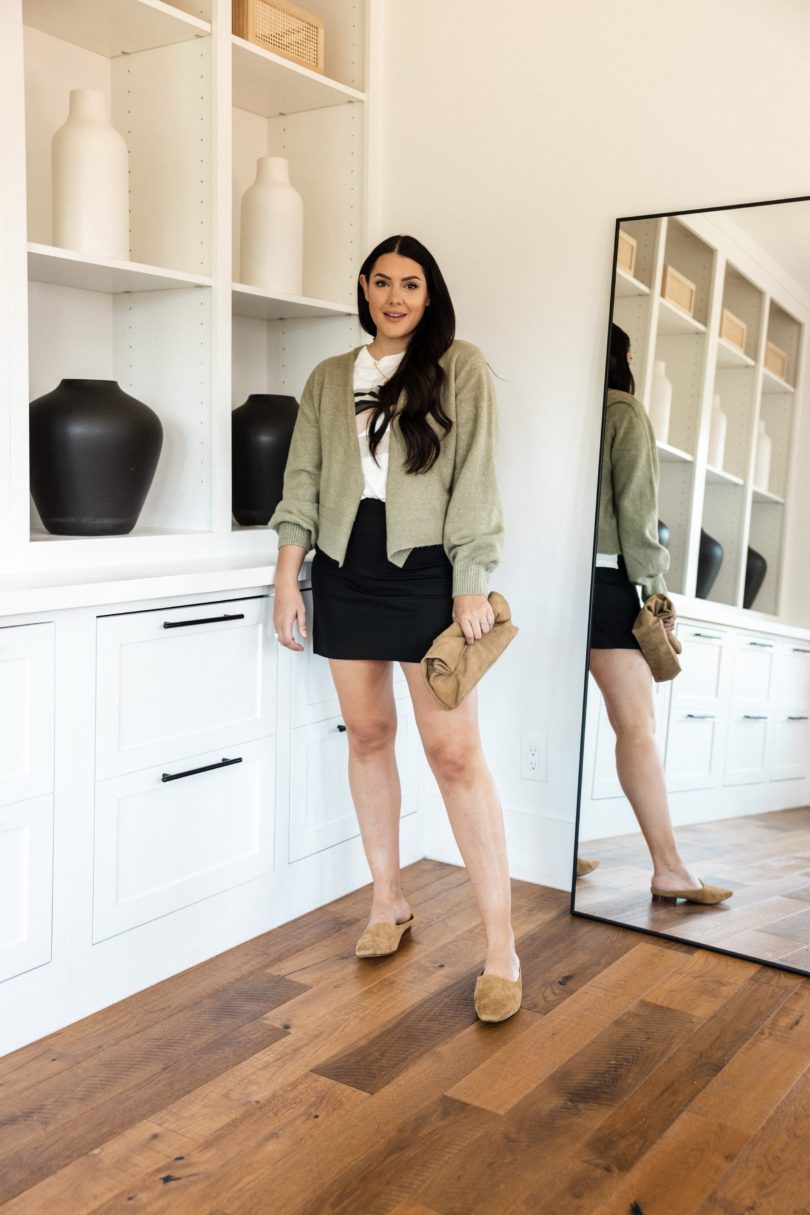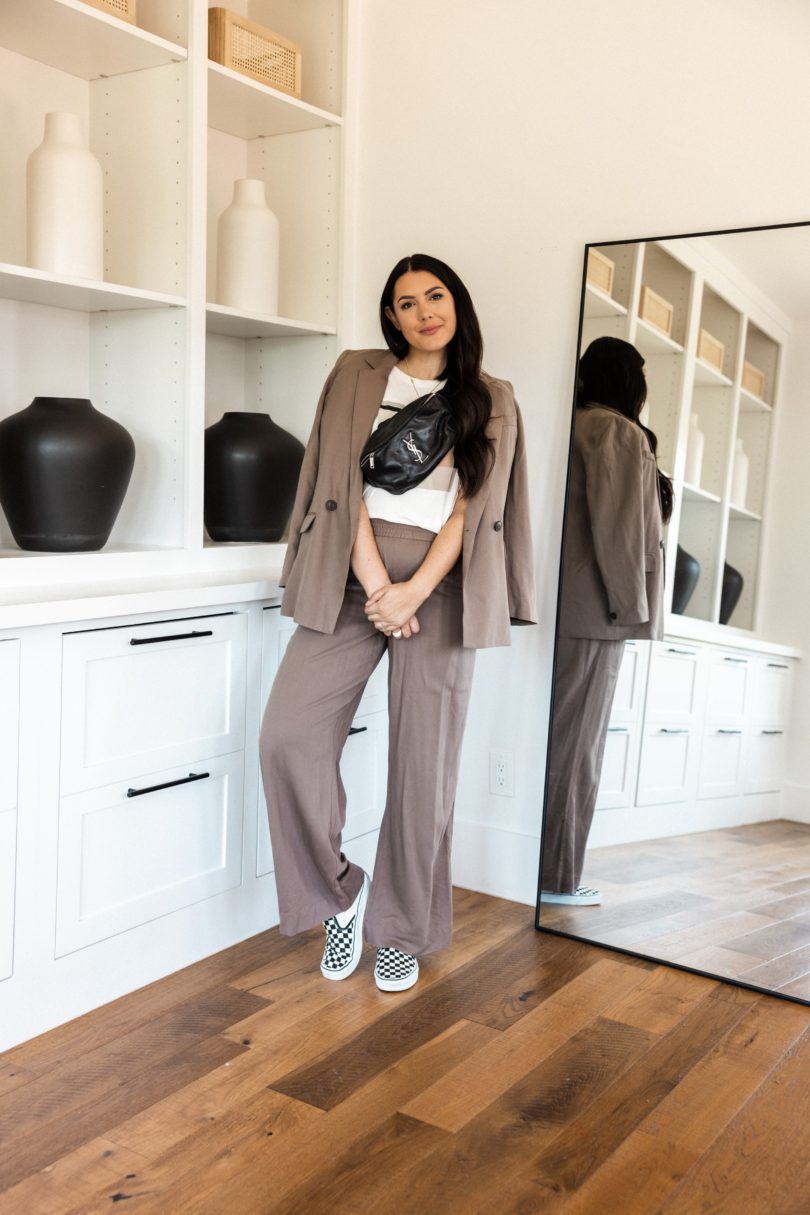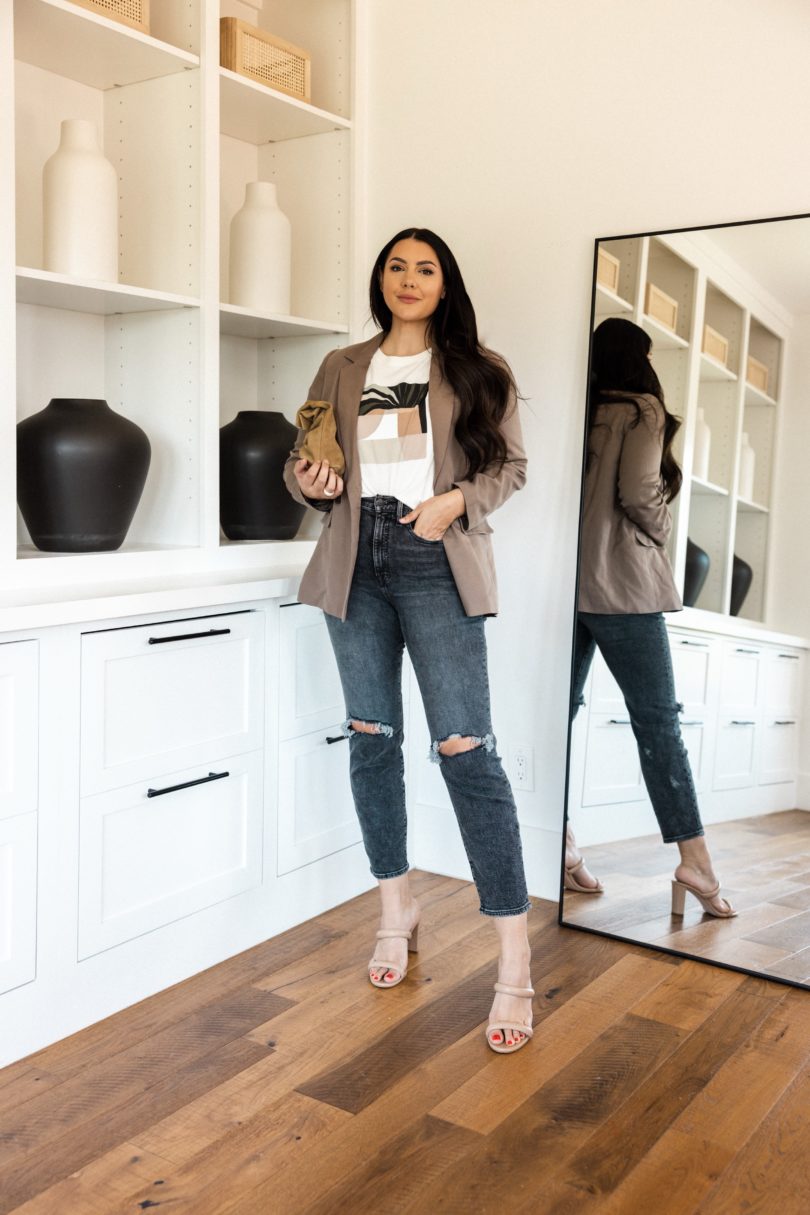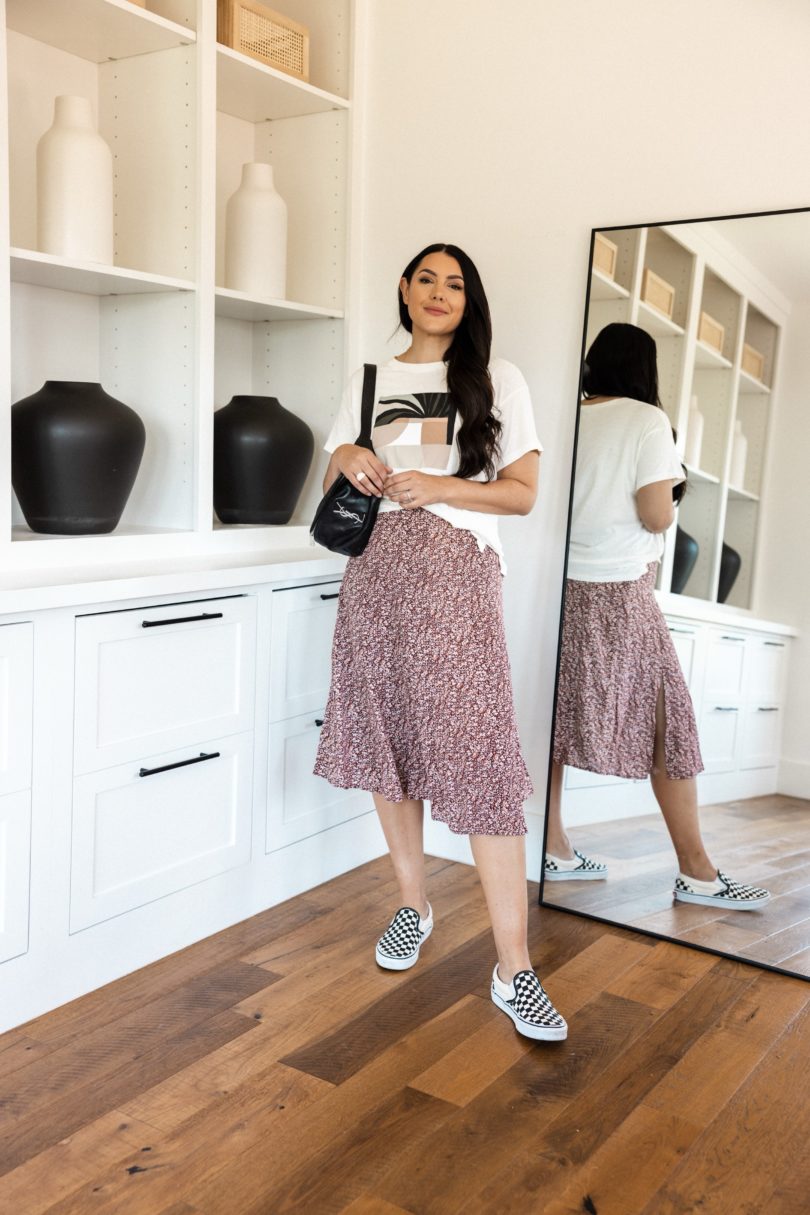 The graphic tee. There will be a place for the graphic tee in my closet and apparently my capsules. I live for a graphic tee. And I love this one from Madewell. (I styled it here too!) I find them to be a nice alternative to just a white tee and this one makes me feel cool with this artsy graphic. Also, I like that it's a slightly chaotic too with my floral skirt and vans but somehow..it just works.
Find my tee here! I'm in the medium. 
Side note: another favorite? My Vans. I love these shoes so much, their comfortable, they're versatile and they slip-on which apparently is a thing that I've attached to in my late 30s. (I'm coming for you next, Crocs.) I've tried to get Gemma to like them in her size but she hates them so now I am forcing them on you. lol.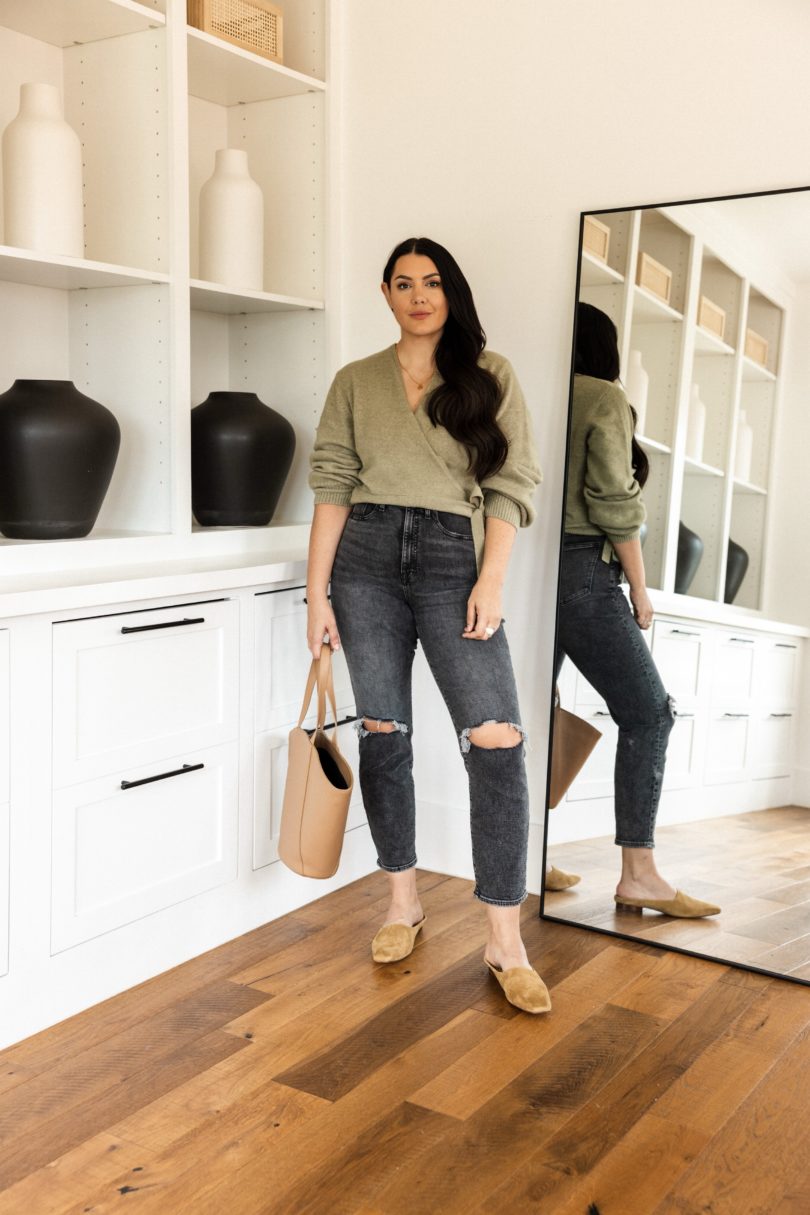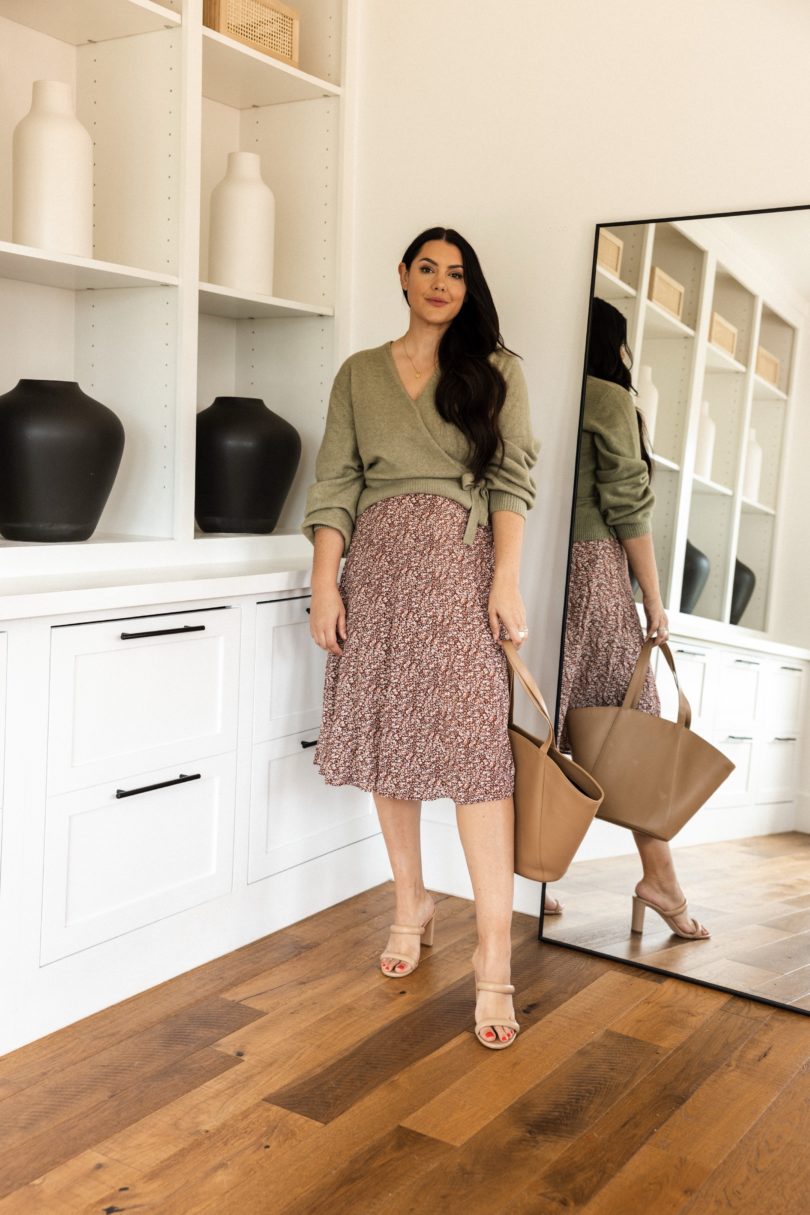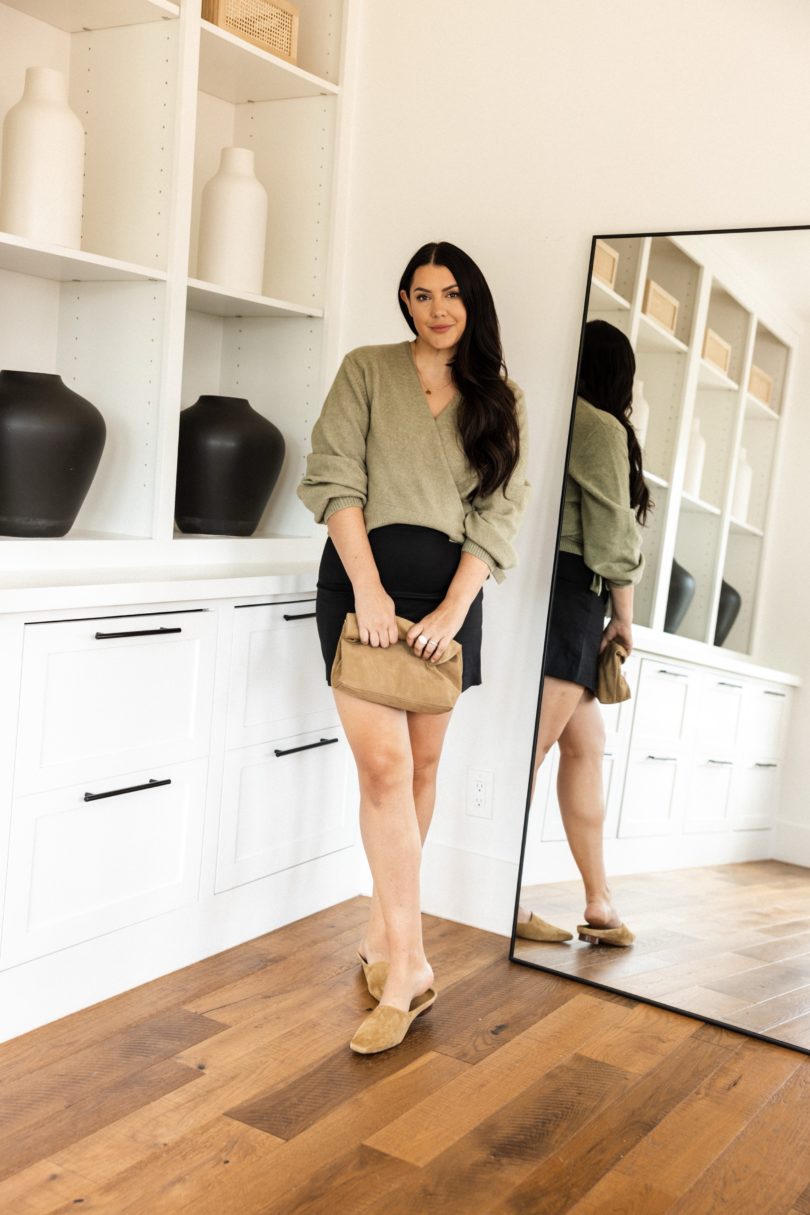 Last but not least, this pretty green wrap sweater. It's oh-so-soft and cozy. I am ready for a cool front, any old time now. I love this color so much right now, I want to wear it with everything. This sweater is a true wrap sweater, so pair it with a camisole underneath for more coverage, if needed. I'm in the medium and it runs slightly loose!
Find this sweater here – in other colors too!
________
Which look is your favorite? Let me know in the comments below!
_______
By the month: