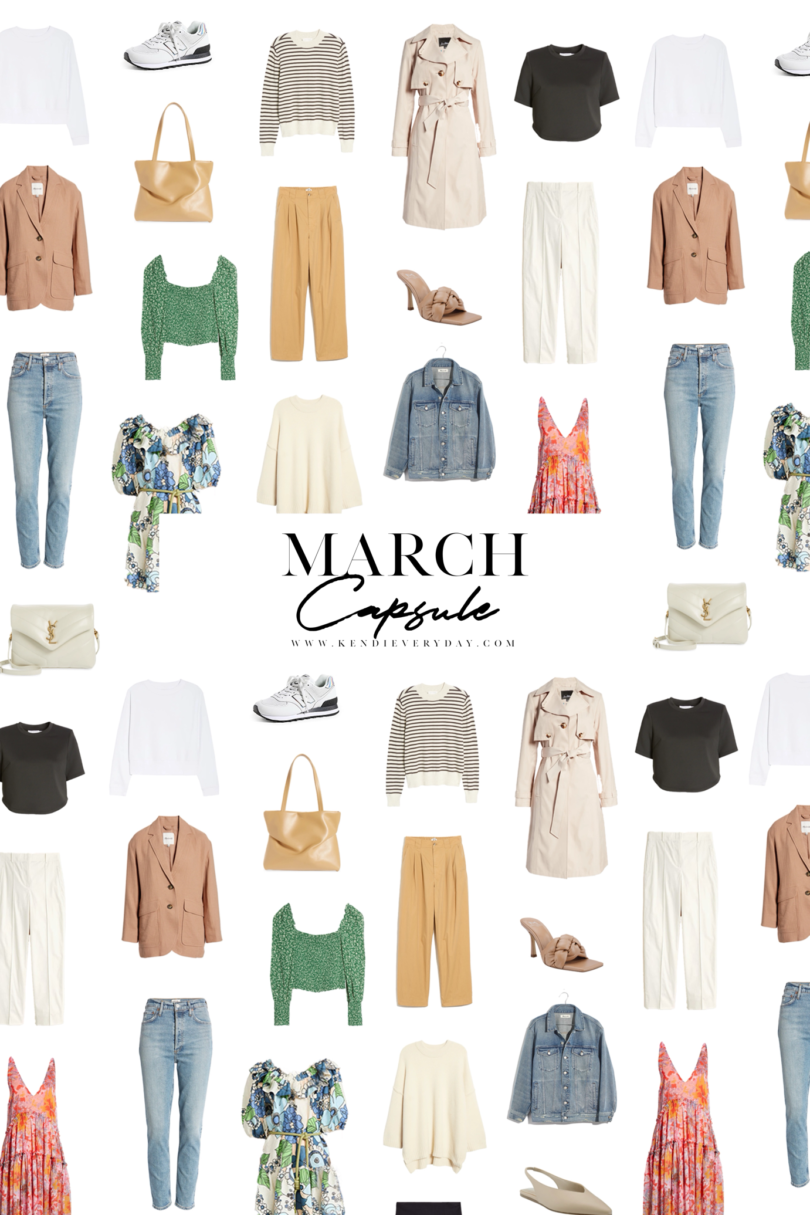 It's March! Which excites me but also blows my mind. Time really flies when you're 37. Honestly though, I'm over January and February because I absolutely hate those months. I've tried, I've really tried to make friends with those two months but honestly? No. I hate em. Now we are moving into spring and it's my favorite time of year. I love the weather, the styles, the energy. Give me spring all year long, honestly, so this capsule was so fun to pull together. I added in some spring essentials in this capsule that I feel are absolutely necessities for getting dressed. And then I added in some color, as well. Color is a always a bit tricky when it comes to capsules, but I love a good challenge. Green, blues and some pinks and reds show up in this capsule! But I'm getting ahead of myself. Let's get to the items!
Here are the items I picked for March's capsule:
I've linked everything in the side bar so you can find everything there. I've listed my size in each item to the right with each product link. I'm typically a medium, size 8 or 28/29 in denim for reference. But I have a few notes on the fit of items. I would recommend to SIZE UP on the Reformation top — it runs very small. J.Crew pants are a snug but TTS fit, size up on the GA top if you don't' want it cropped, the maxi runs generous in the chest, flows fit. Size down on the Free People tunic — it runs VERY big! Everything else TTS.
33 Outfits for March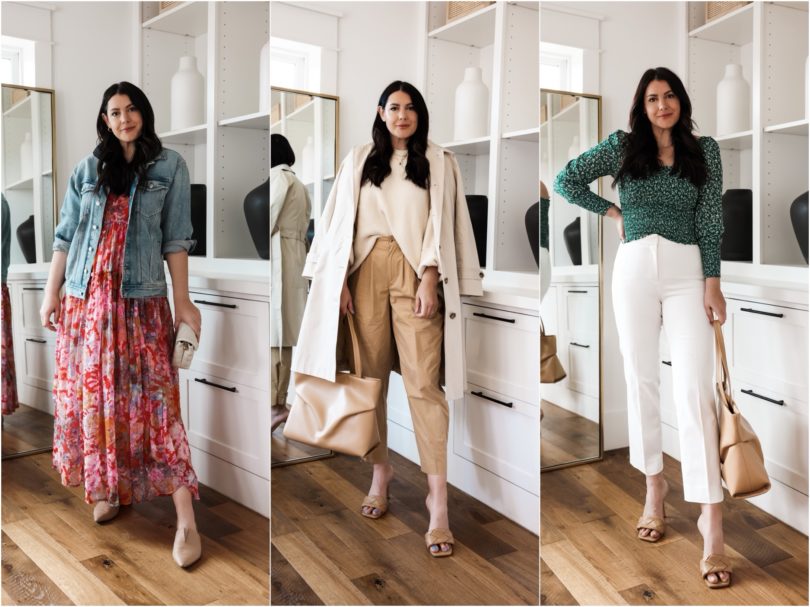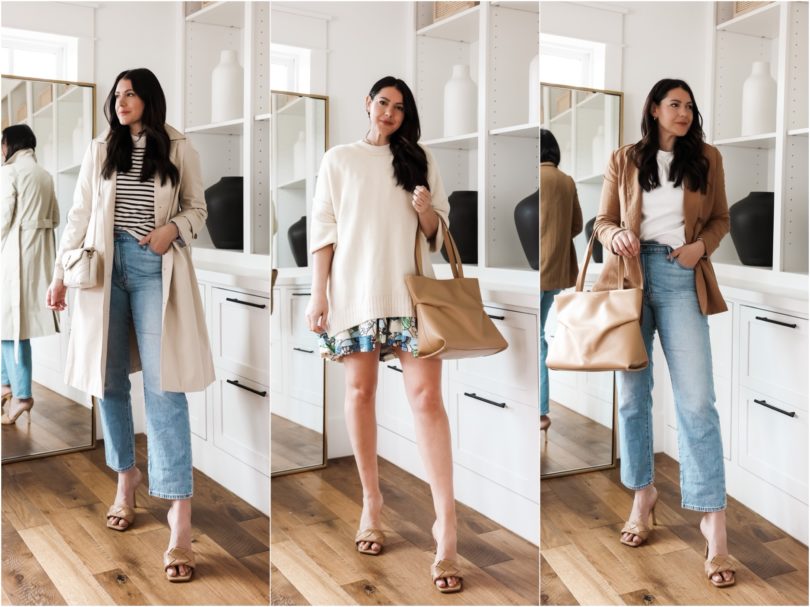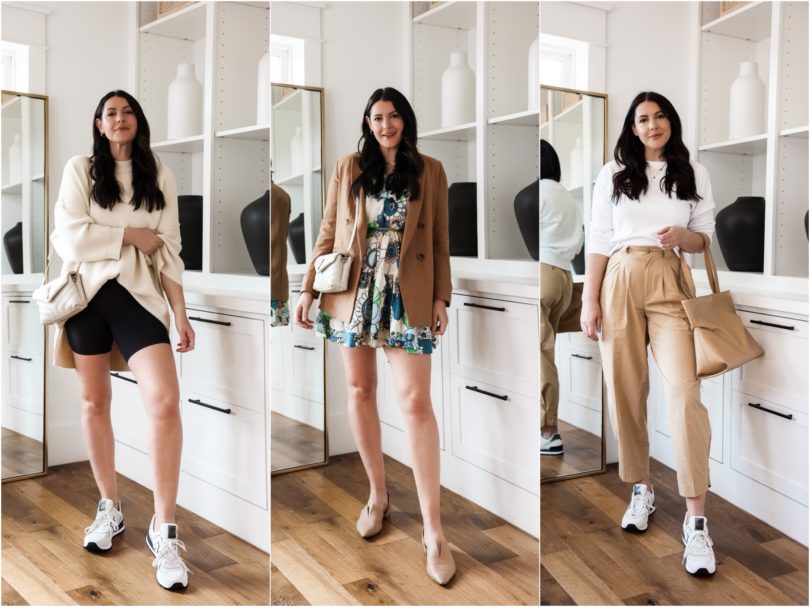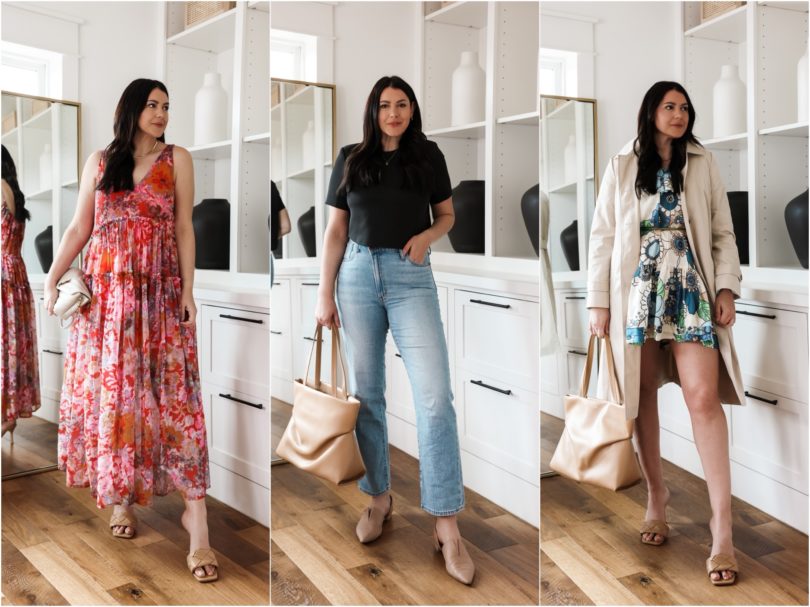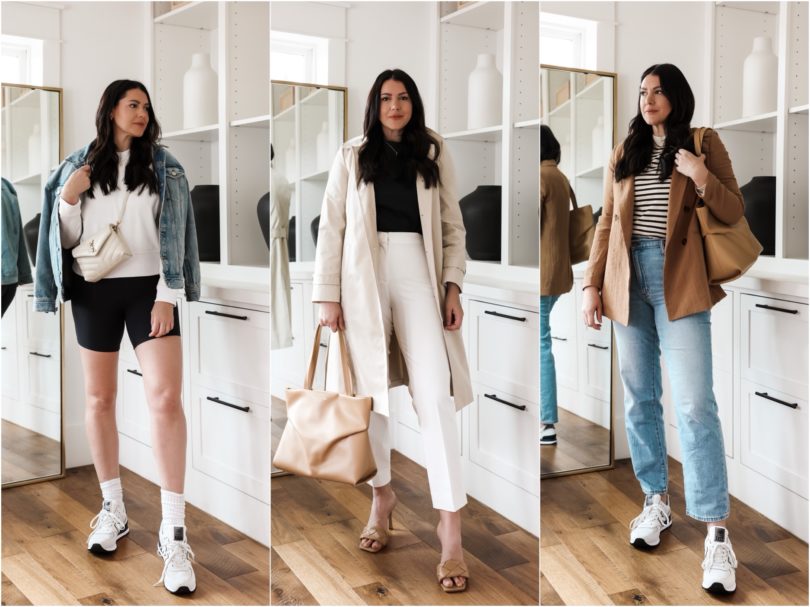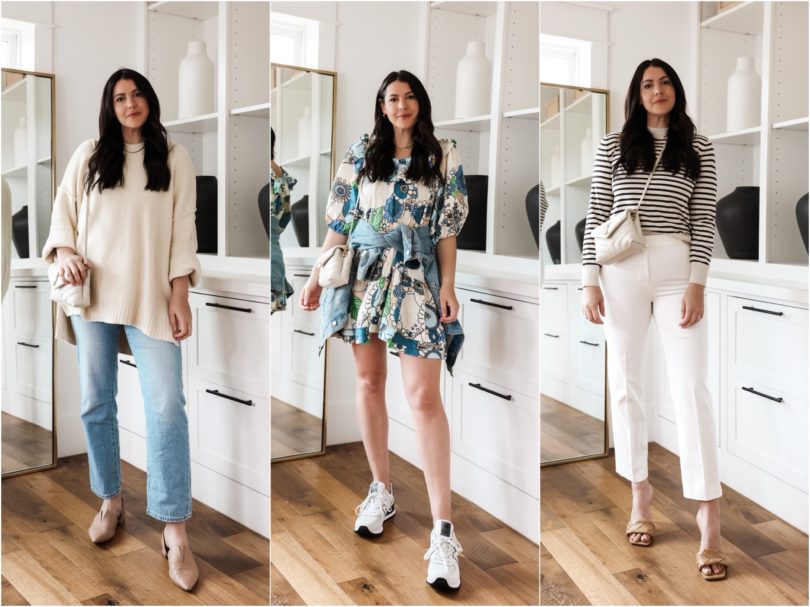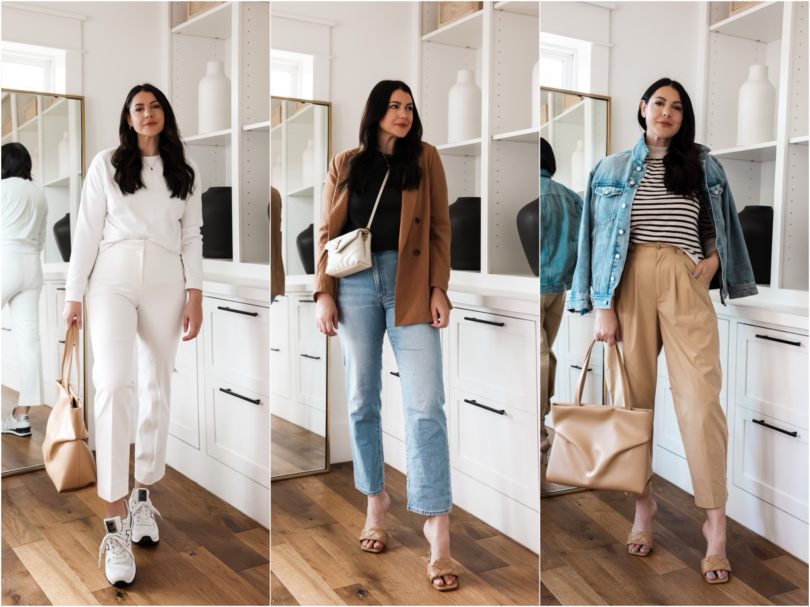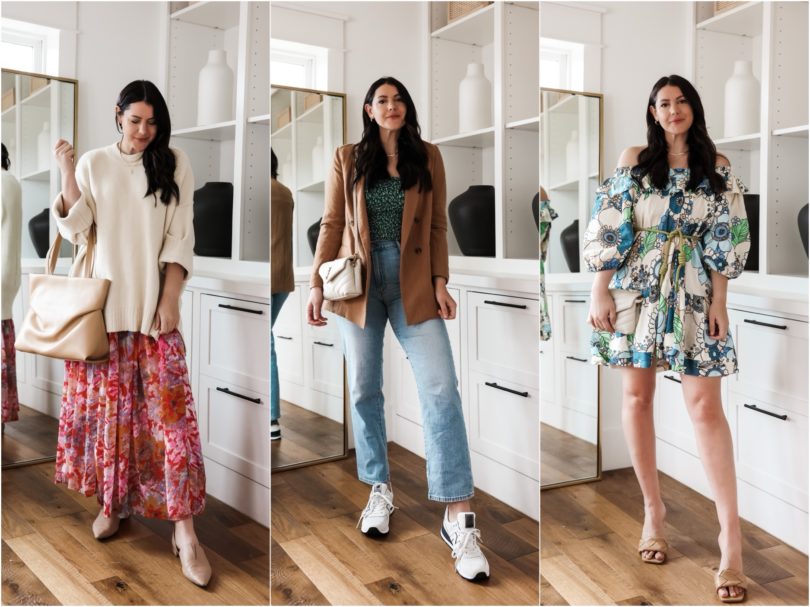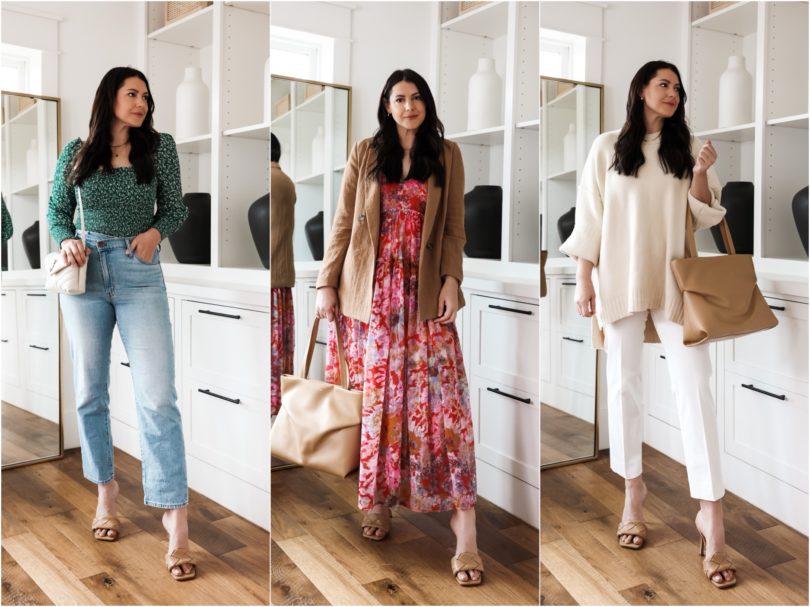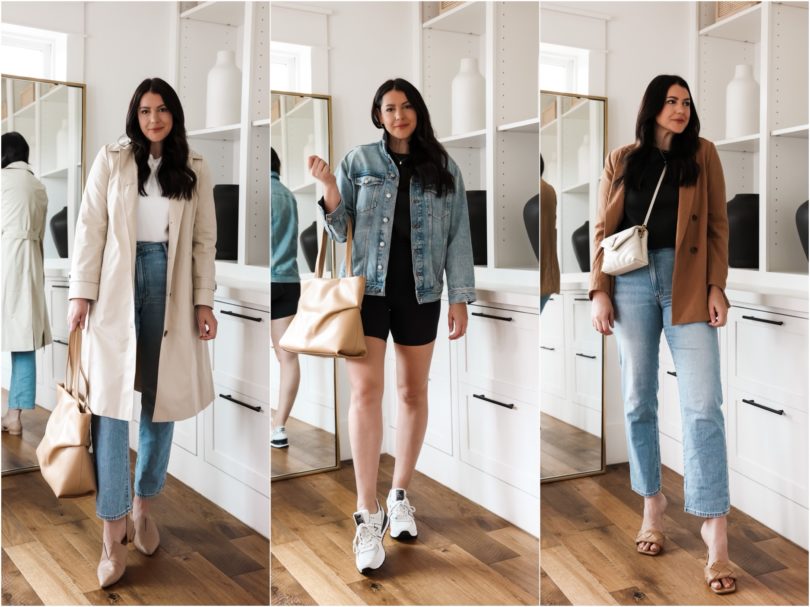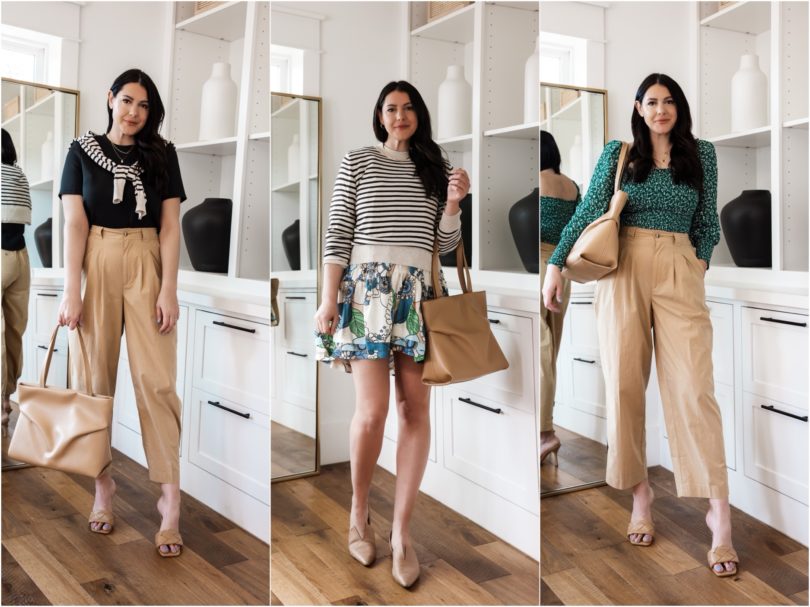 My Favorite Looks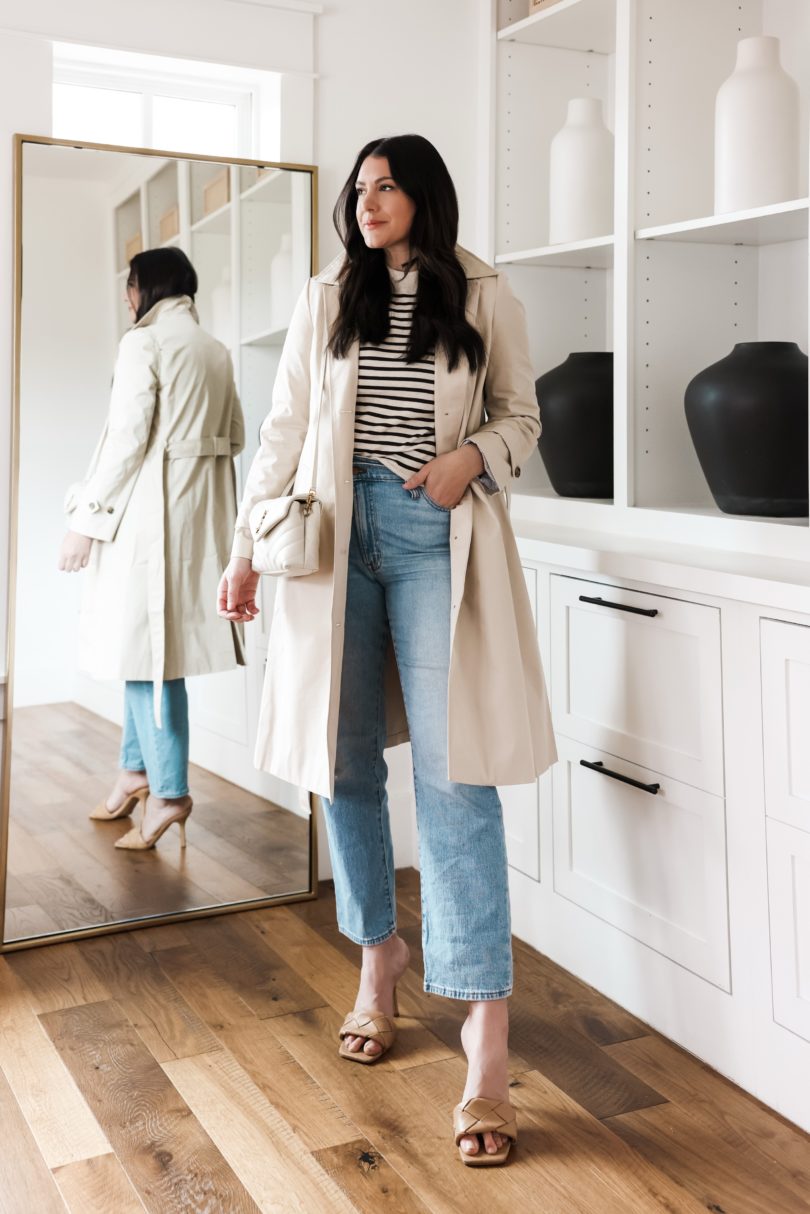 trench – m | striped sweater – m | jeans – 29
I love this one because you just can't go wrong with the classics for spring.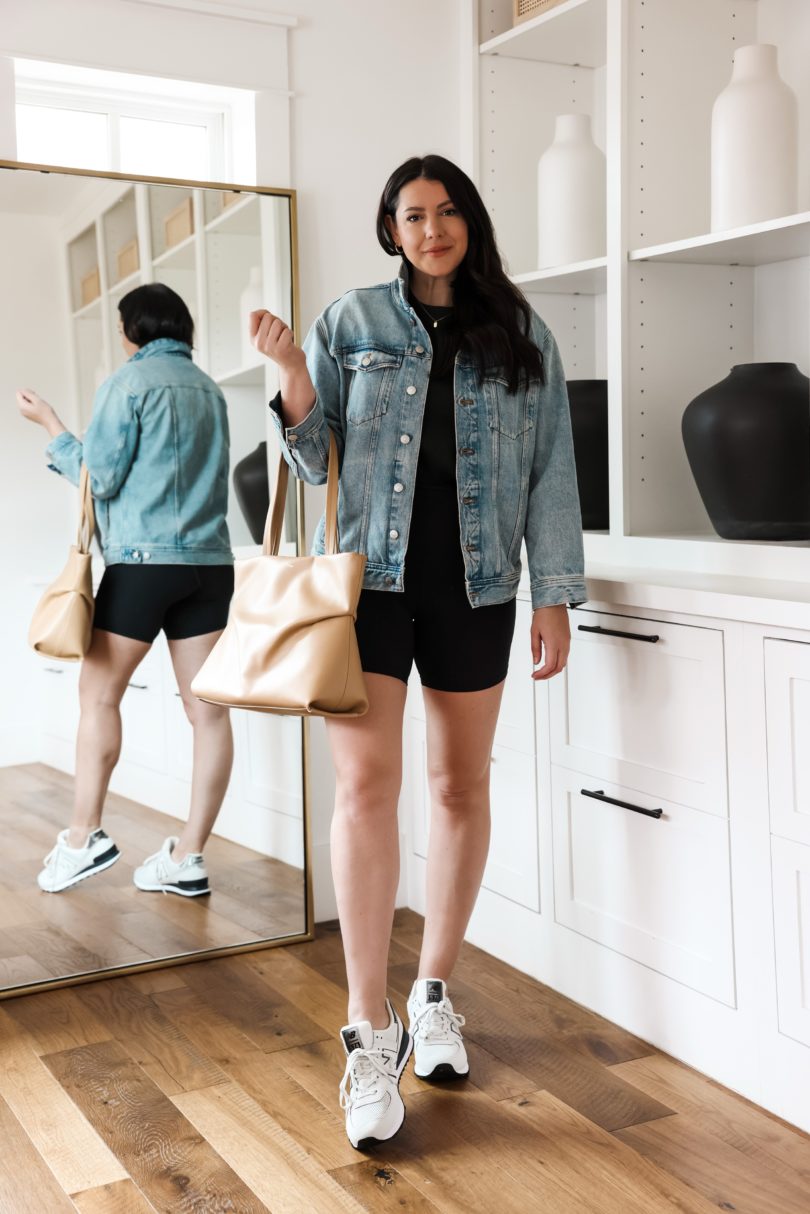 biker shorts – 6 | scuba top – 3 | denim jacket – m | sneakers
I'm on a biker shorts kick right now so it only made sense to capsule them. This is an easy toss on and go outfit for me for the weekends this spring.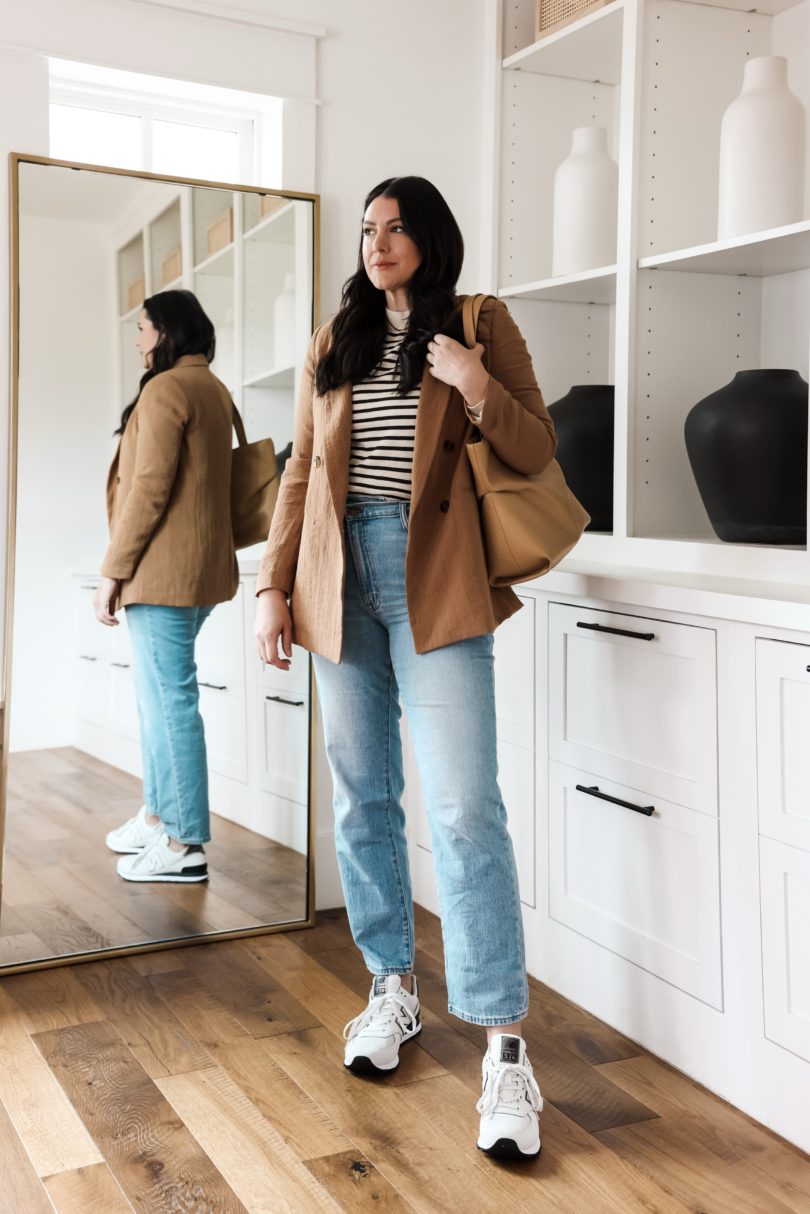 blazer (most similar here) | striped sweater – m | jeans – 29 | dad sneakers | tote
I'm all about sneakers and blazers this spring and this is a nice take on classic stripes + a blazer.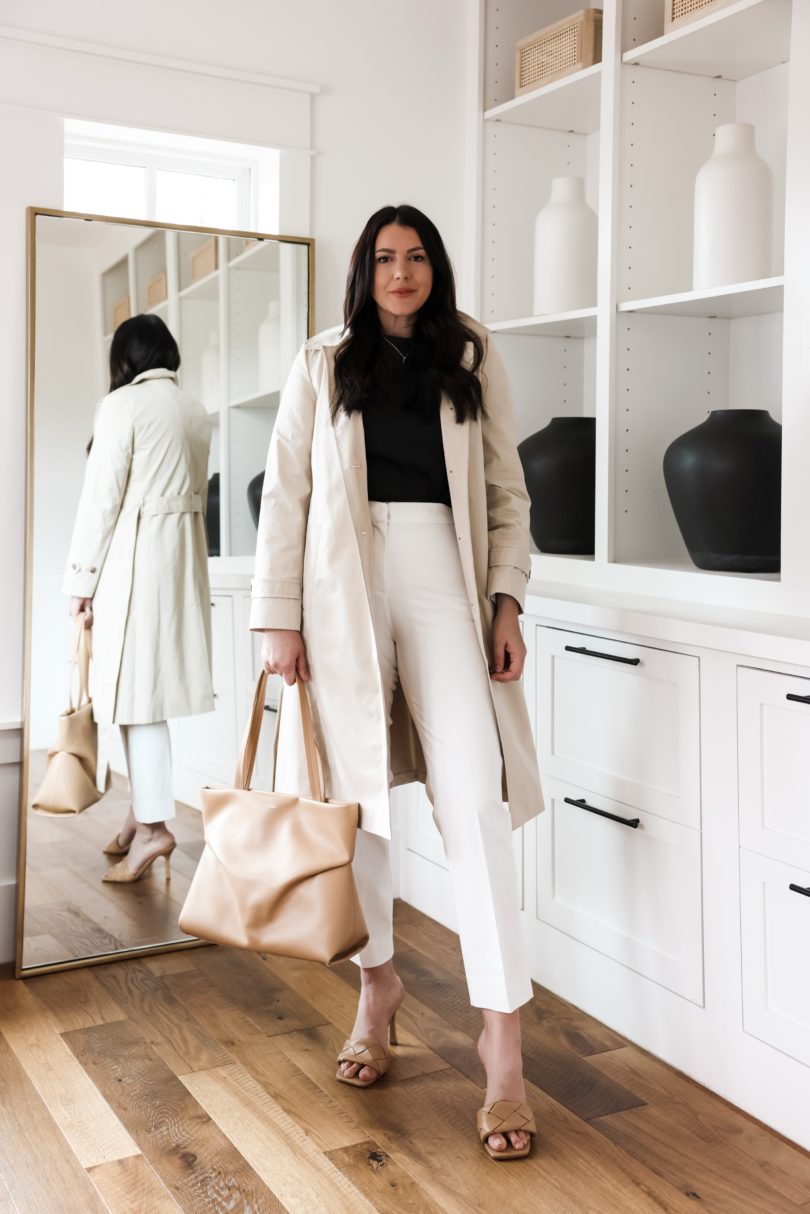 loft trench – m | black top – 3/l | trousers – 8 | tote | heels
Dang y'all, I really like these pants. It's been a MINUTE since I've done an office look but who went from intern to CEO in one day? This girl. As I've always said: Dress for the imaginary job you want, not the imaginary job you have.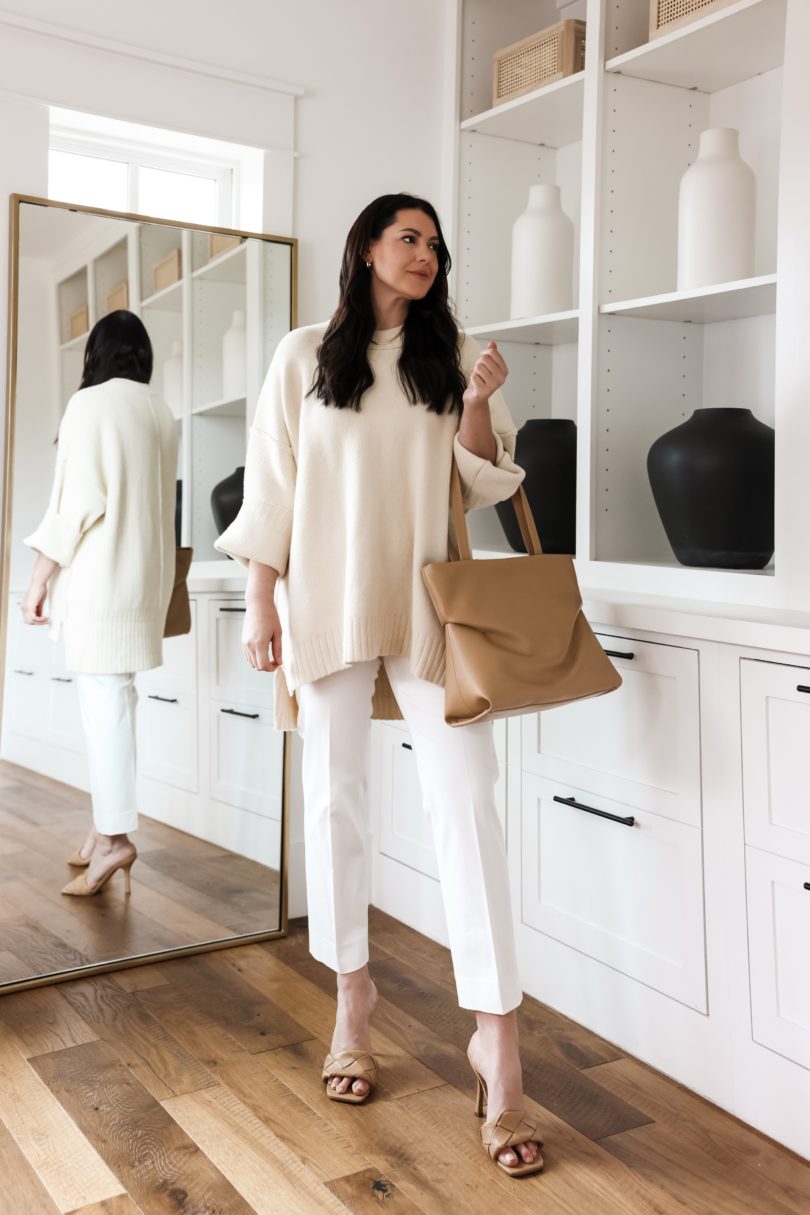 sweater tunic – m | pants – 8 | tote | heels
I love the looseness of this sweater paired with the structured pants. Seems like it shouldn't work but oh does it ever.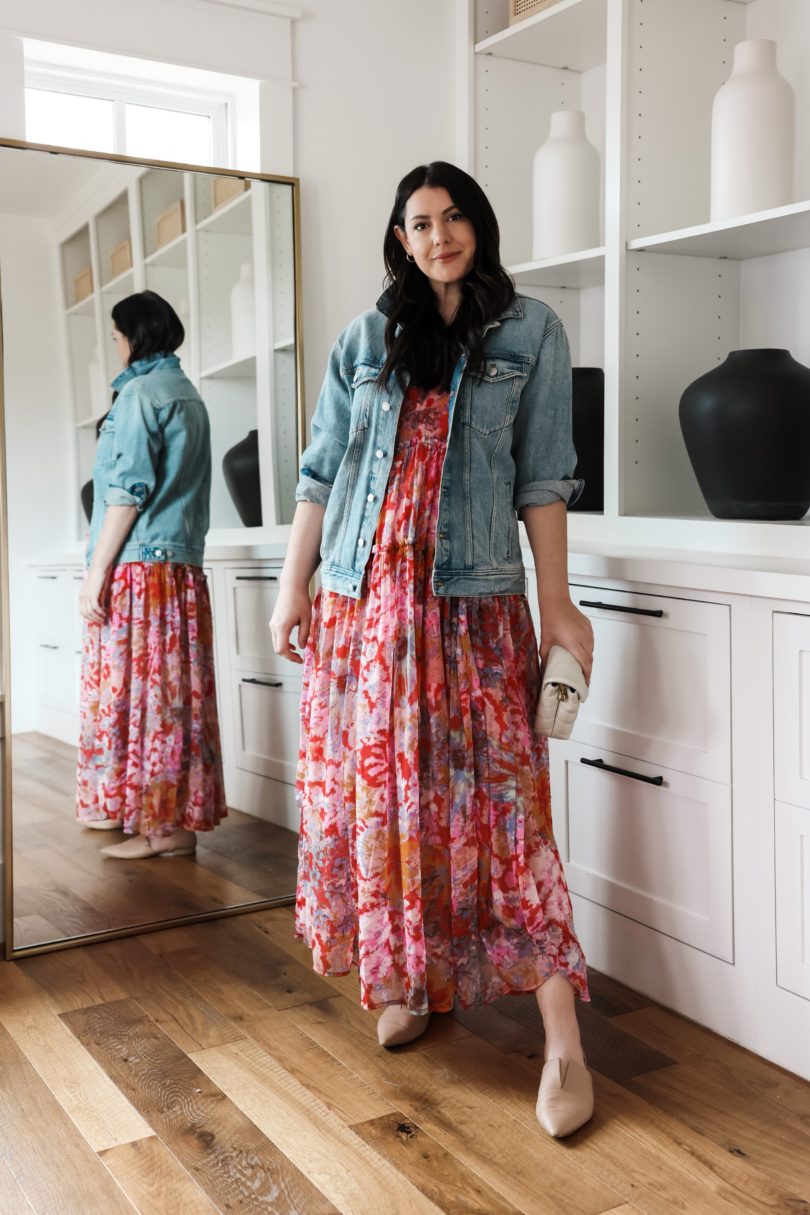 maxi dress – m | denim jacket – m | flats | purse
You already know I love this dress but this capsule sealed the deal. It can look different with just the change of shoes / jacket. It goes from vacation to everyday real fast with a denim jacket. Get a girl who can do both, you know?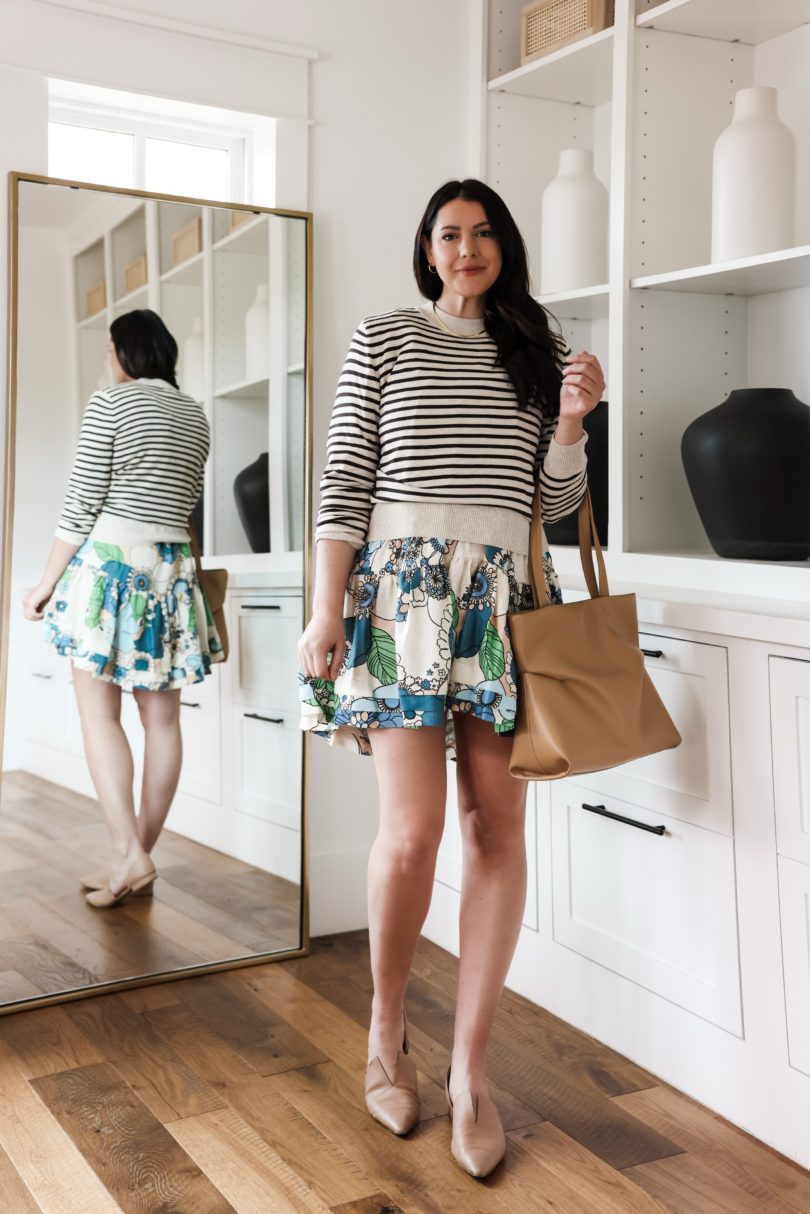 striped sweater – m | dress – 12 AU (US8) | flats | tote
Would this even be a Kendi capsule if I didn't put a top over a dress? A striped sweater and florals is my favorite so this combo was a no-brainer.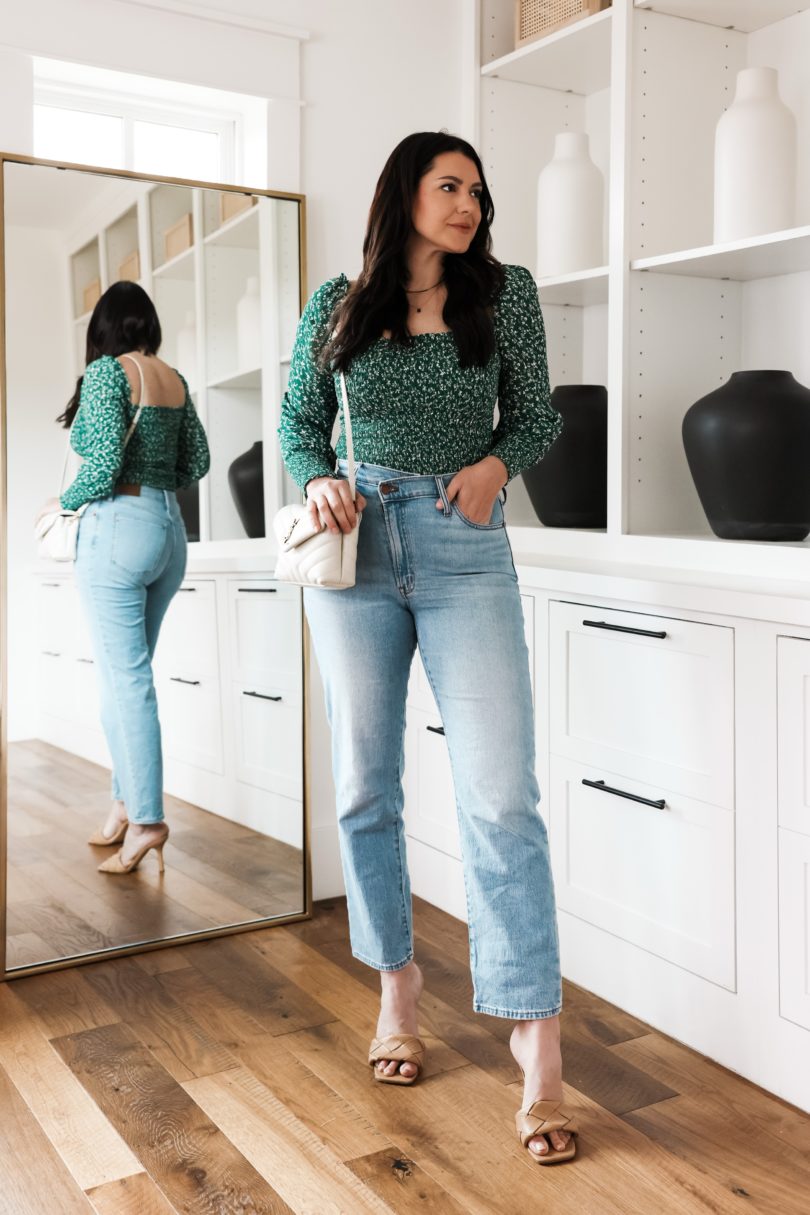 top – l | jeans – 29 | heels | purse
I love this top, one of my favorites from Reformation and I love that I can keep it simple with jeans and it still makes a statement.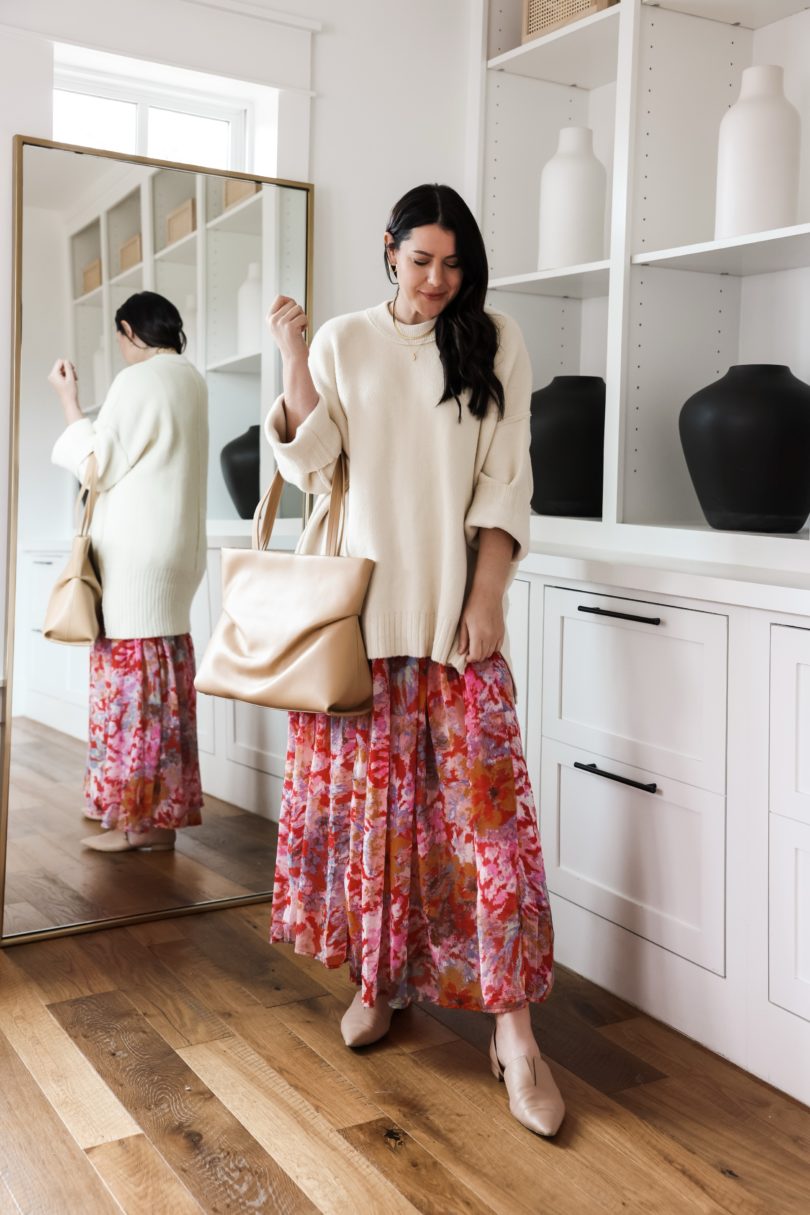 maxi dress – m | sweater – m | flats | tote
I know this may seem like a stretch but I love how loose and flowy this outfit was. It came out exactly how I envisioned it in my head — boho but tailored.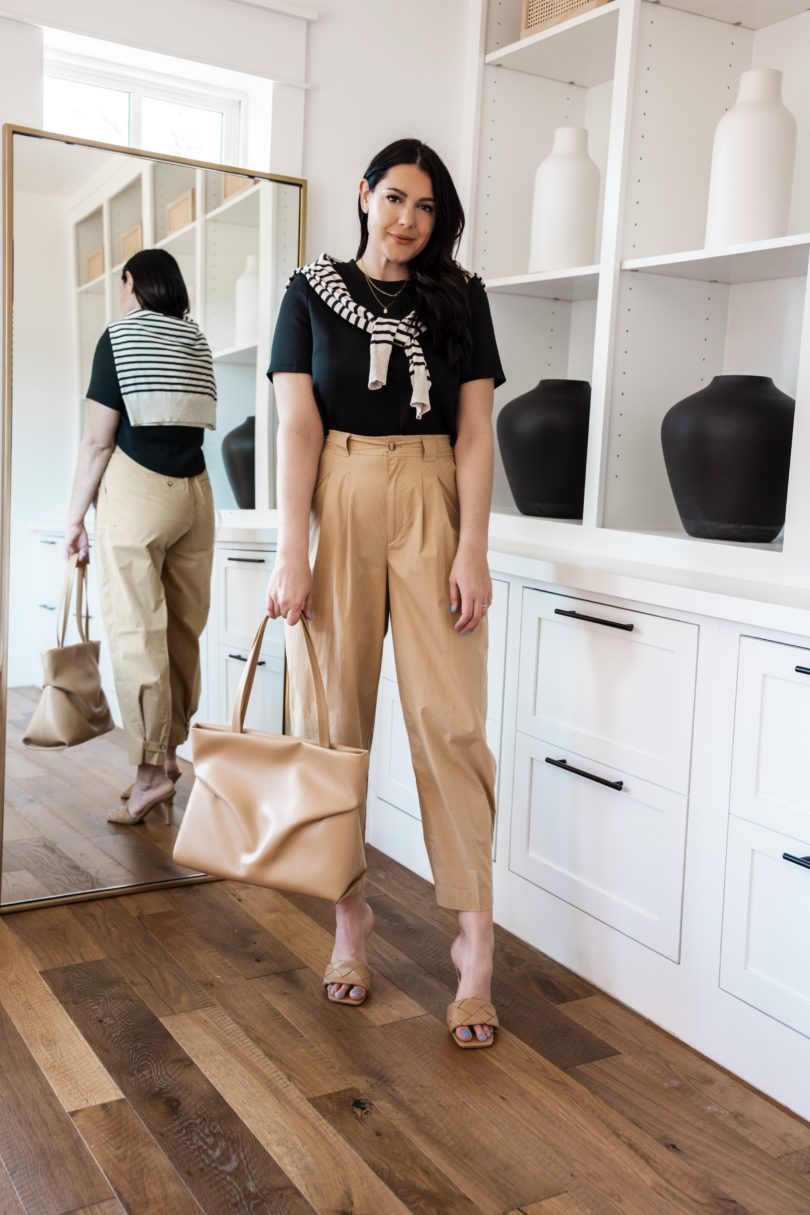 top – 3/l | sweater – m | trousers – m | heels | tote
I am obsessed with the pants. Now they won't be for everyone but I loved how they fit — fitted at the waist and then an option to leave the legs wide or button them for a taper (shown here). Another perfect for the office look, too!
________________
Which look is your favorite? Let me know in the comments!
_______________
NEED MORE OUTFIT INSPO? FIND MY OTHER CAPSULES HERE:
January / February 2022 Capsule