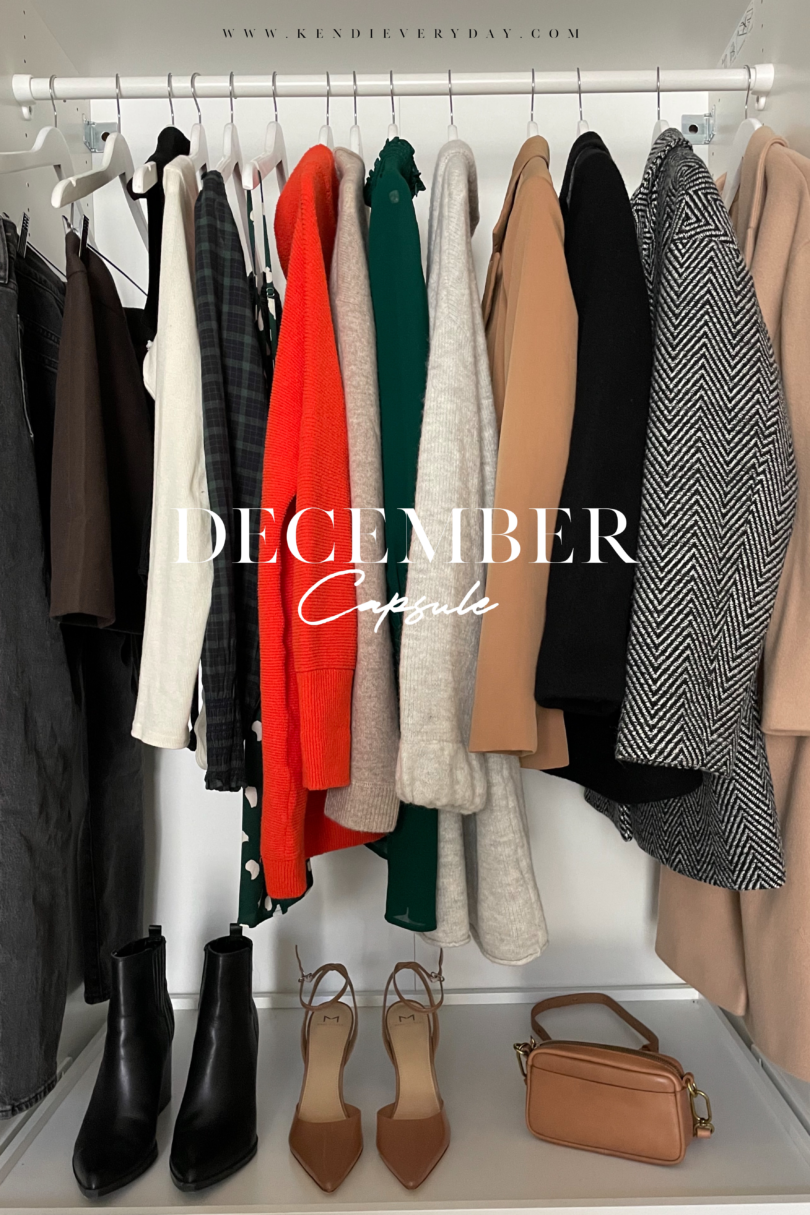 December's capsule is here my friends and I went allll in with those holiday colors. I wavered between going sequins or color and I stayed true to myself with color. I feel like bright pieces can be worn past the holiday season more than sequins or sparkles. Not necessarily "can" because you can always wear whatever of course, but most likely to wear. This month I wanted to give some holiday vibes but keep it casual too and I added in a few office wear looks as well, per your requests!
Once again, I didn't want to create any hard and set rules (i.e. 30 for 30 from back in the day) so I just kind of made a list of some of my go-to's lately and went from there. This month I've used 20 pieces total of clothing, shoes, bags and I came up with about 31 different outfits. 10/10 recommend wearing the green and red combo on the 25th. 😉
Here are the items I picked for this month's capsule:
I've linked everything in the side bar so you can find everything there. I've listed my size in each item to the right with each product link. I'm typically a medium, size 6/8 or 28 in denim for reference. But I have a few notes on the fit of items. I would recommend to SIZE UP on the Reformation dresses, the bodysuits and the J.Crew skirt one size and the heels about a half size.
So let's get to the outfits!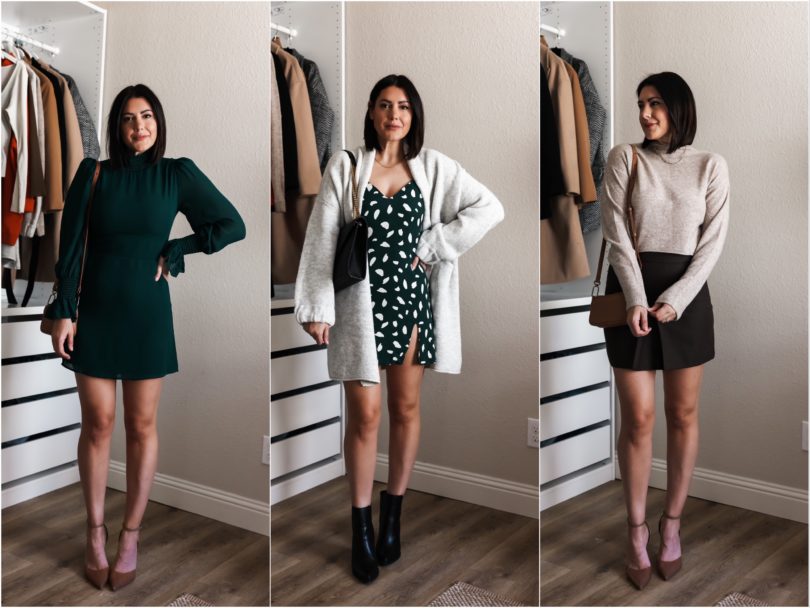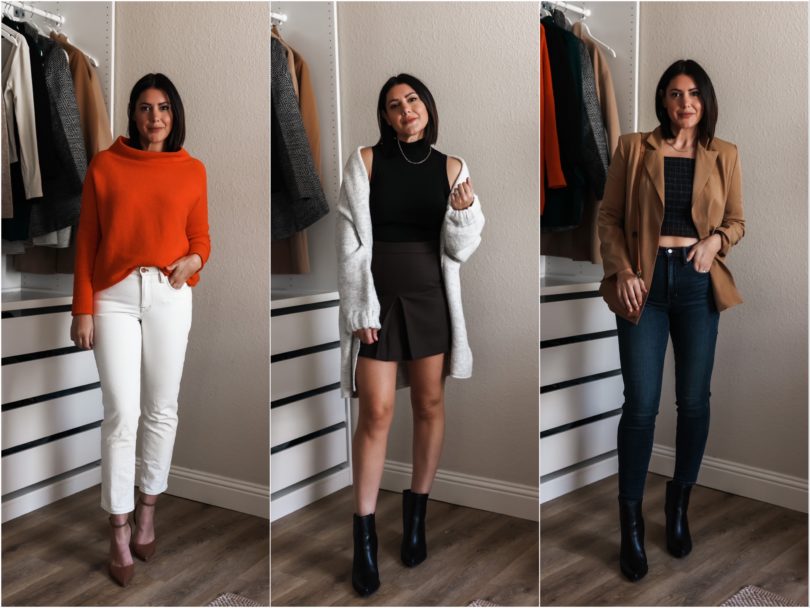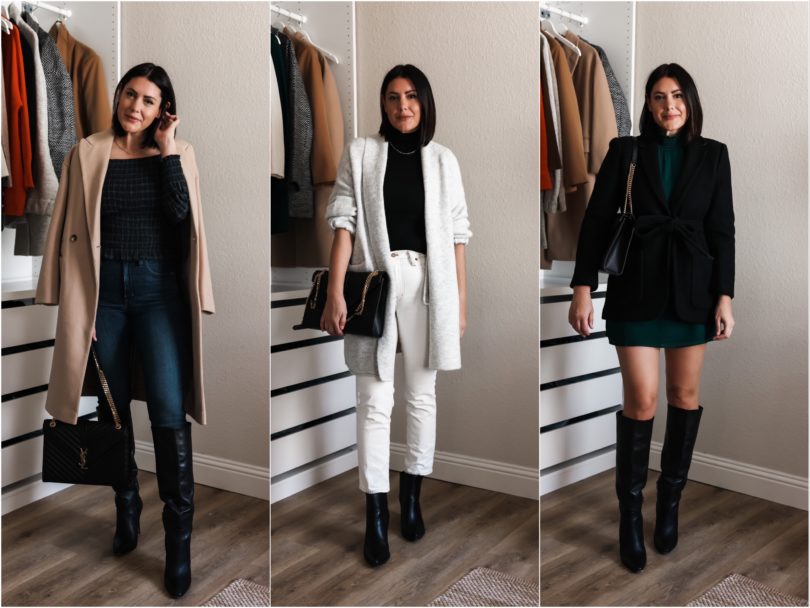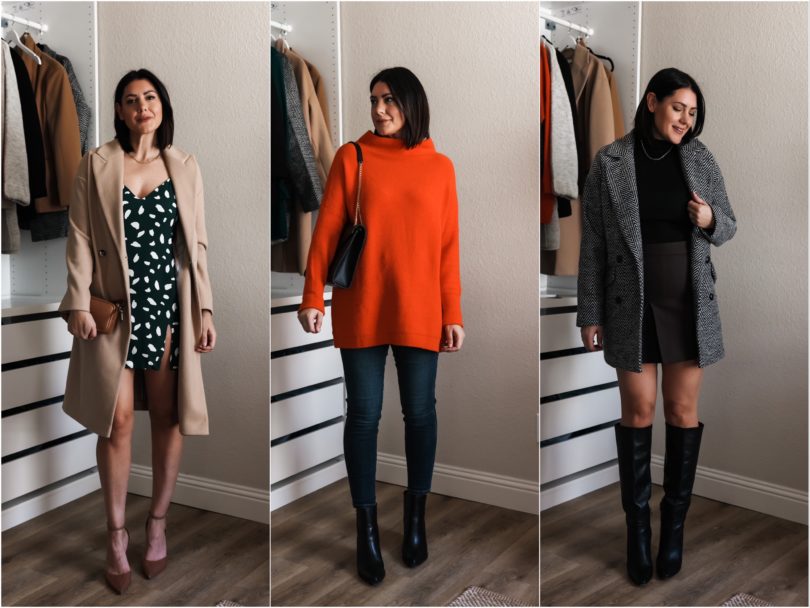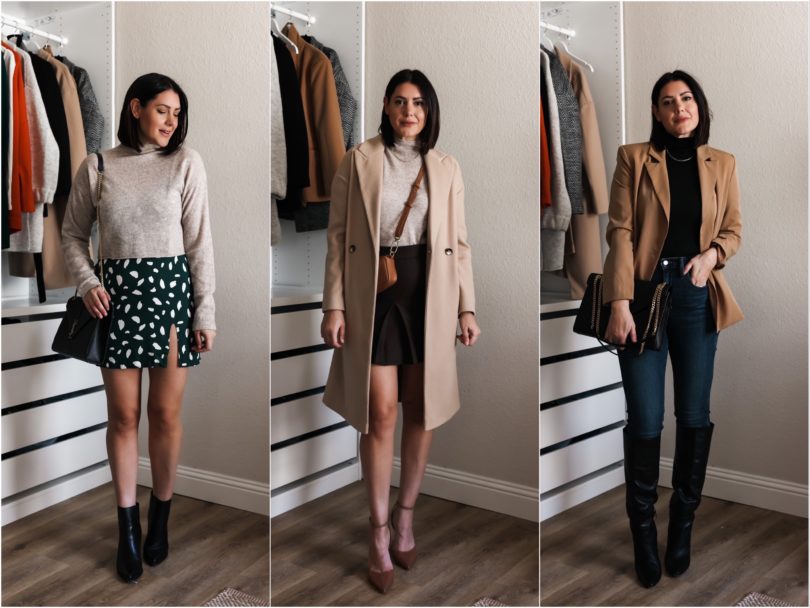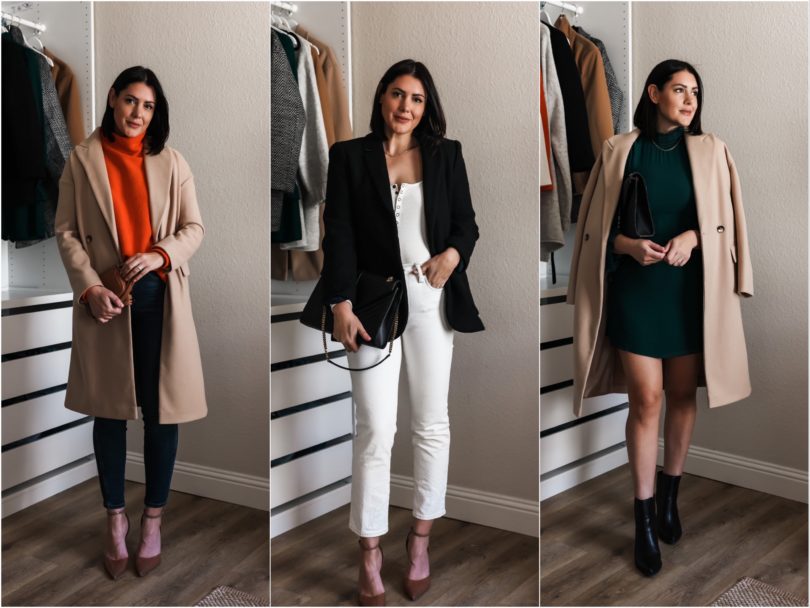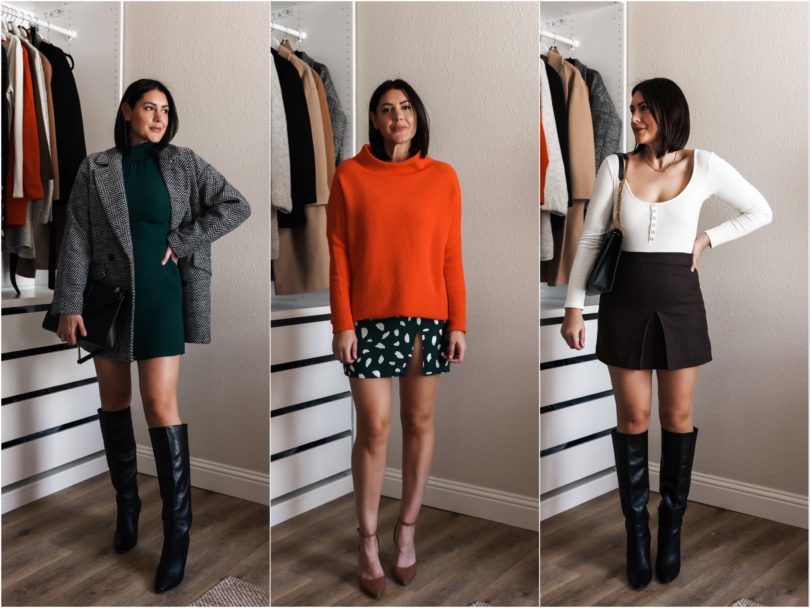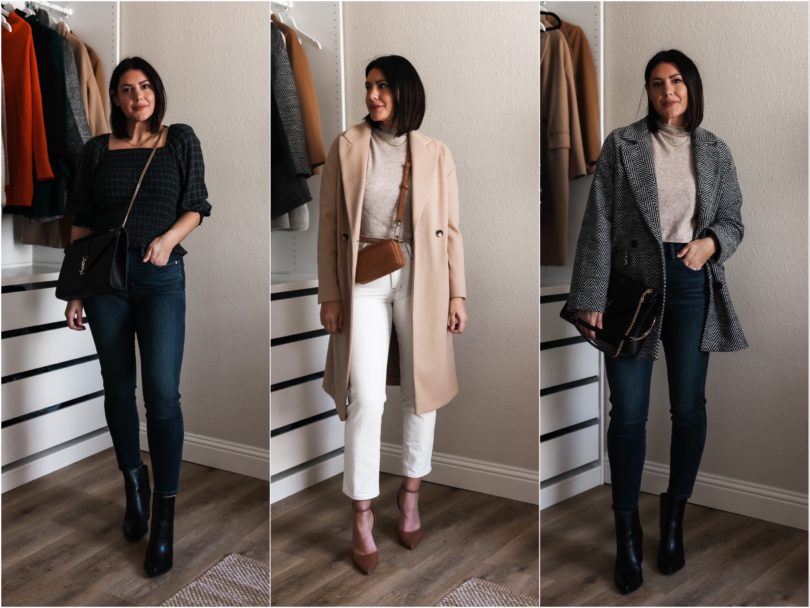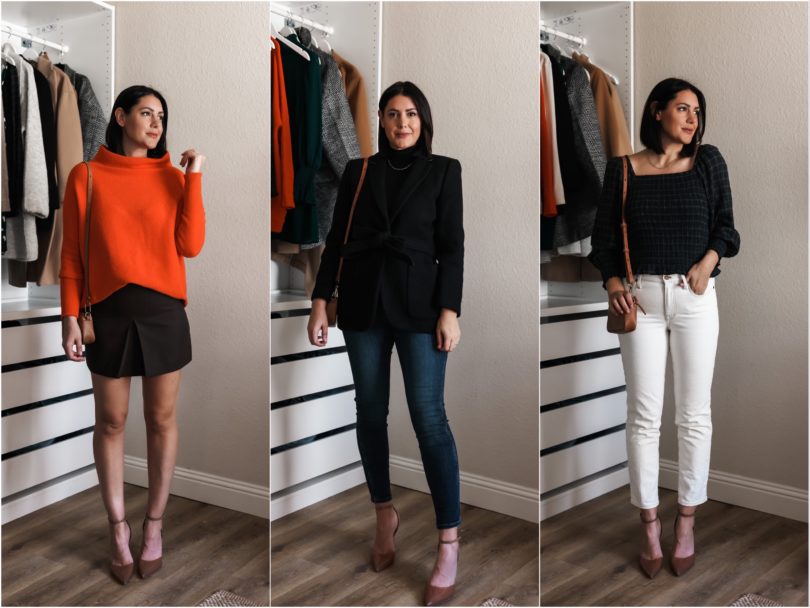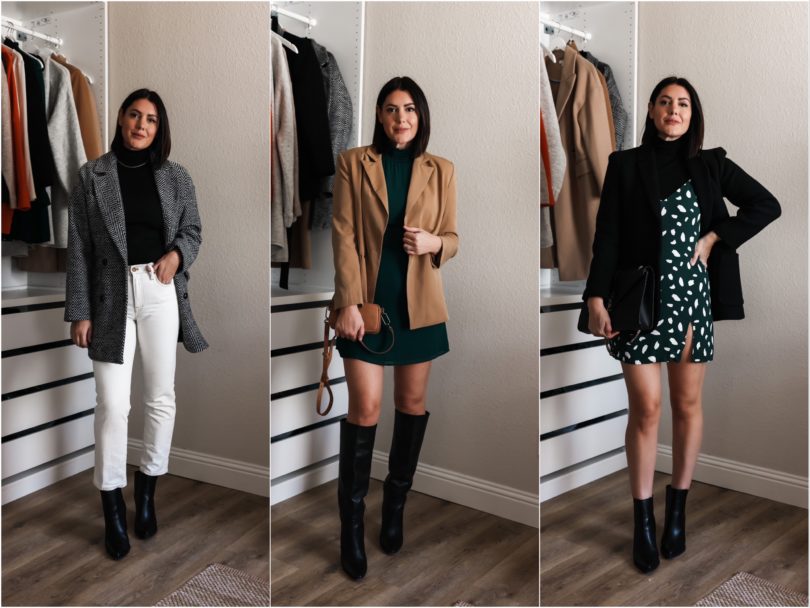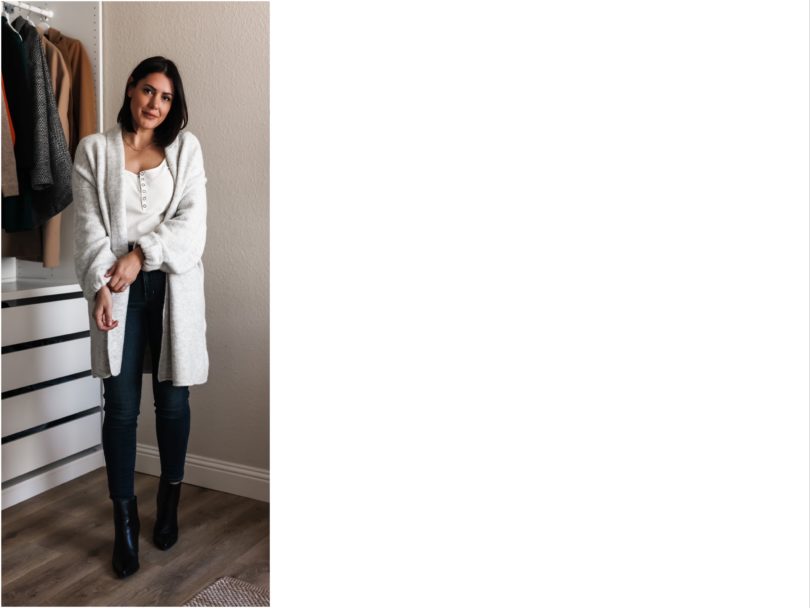 My Favorite Looks
As always, there are always a few outfits that catch me by surprise and turn out to be my favorites. Here are few of my favorite looks and pieces! 
Reformation Mini Dress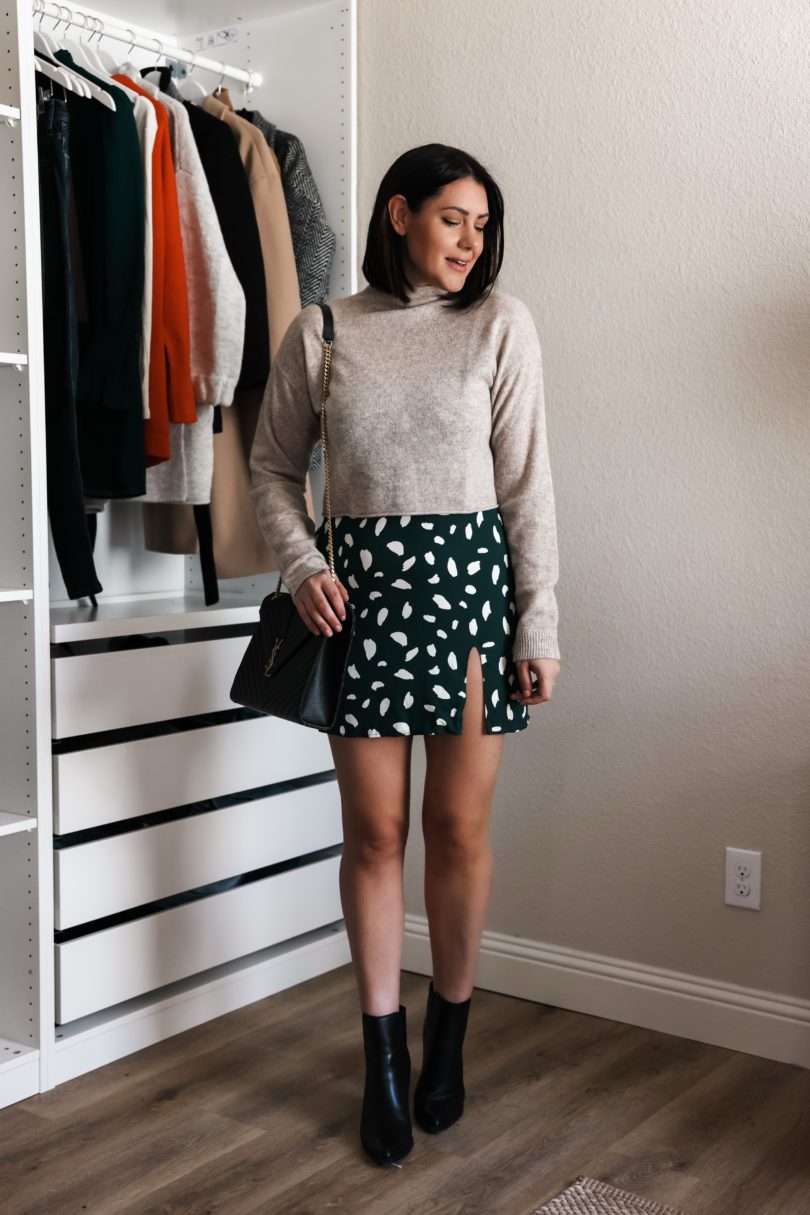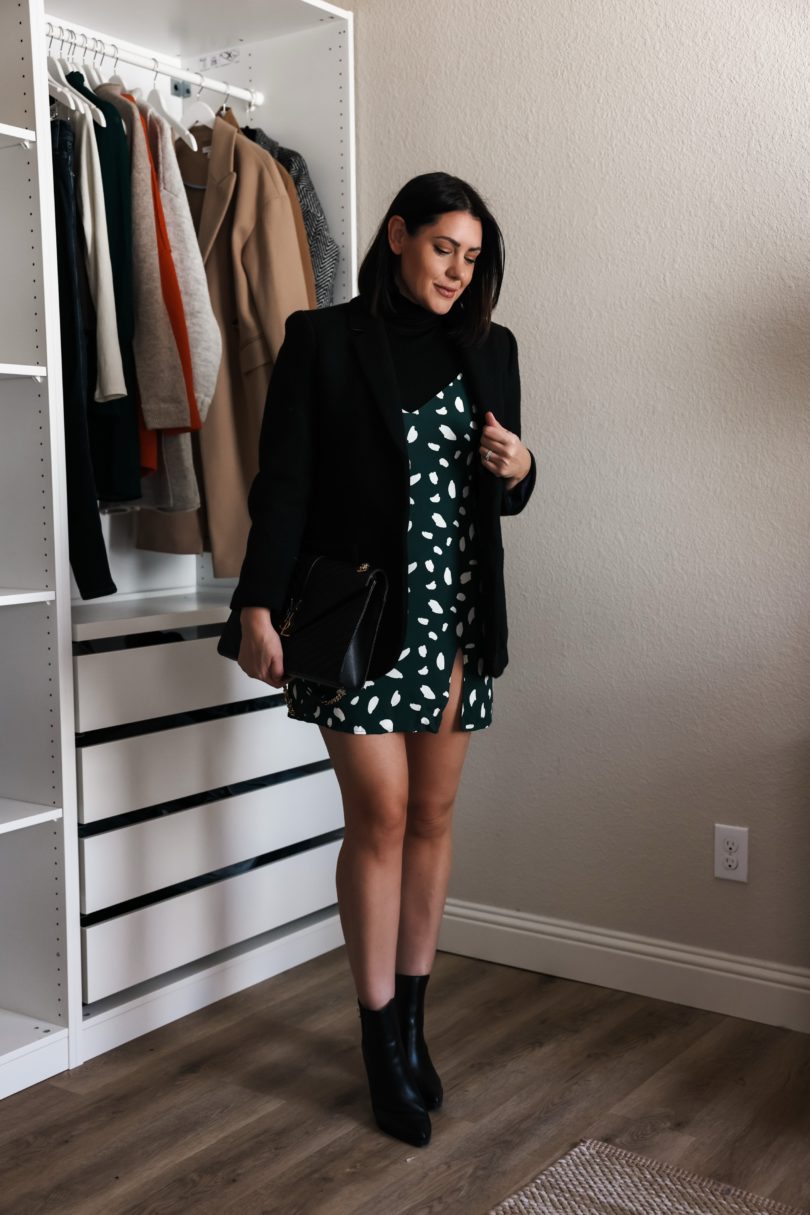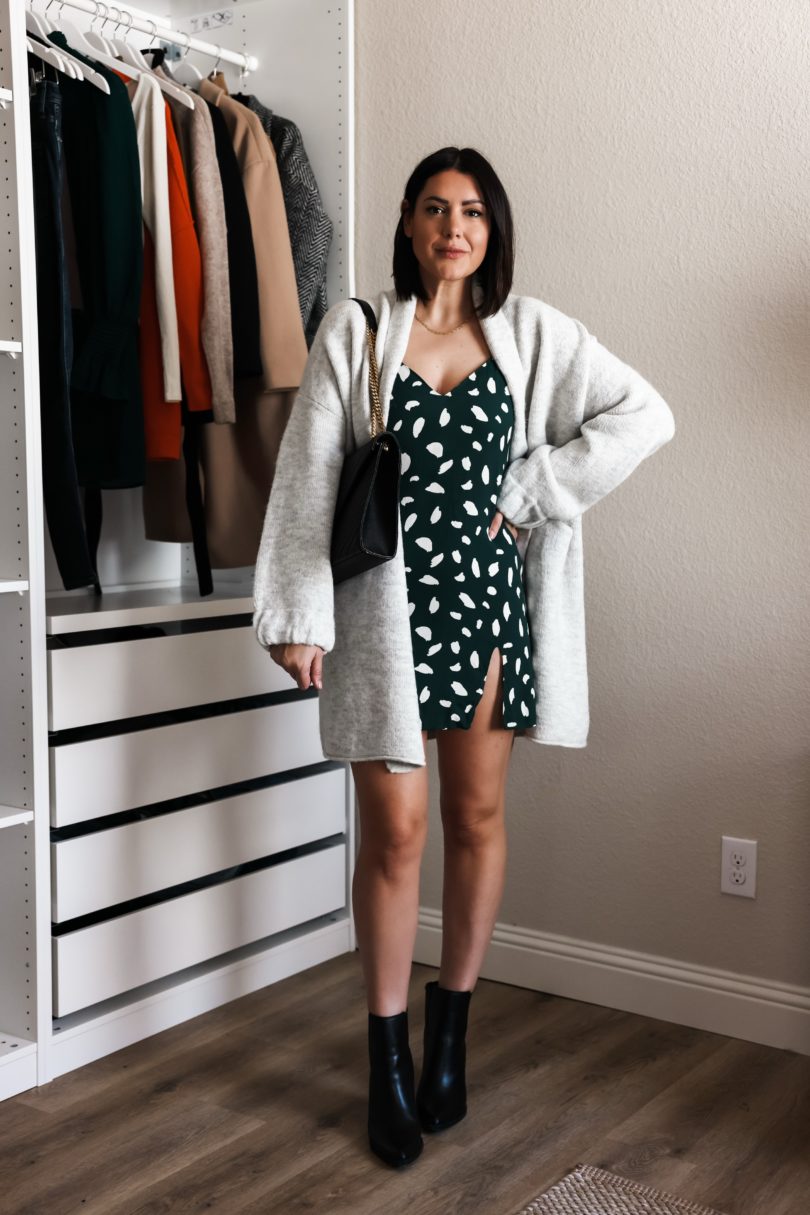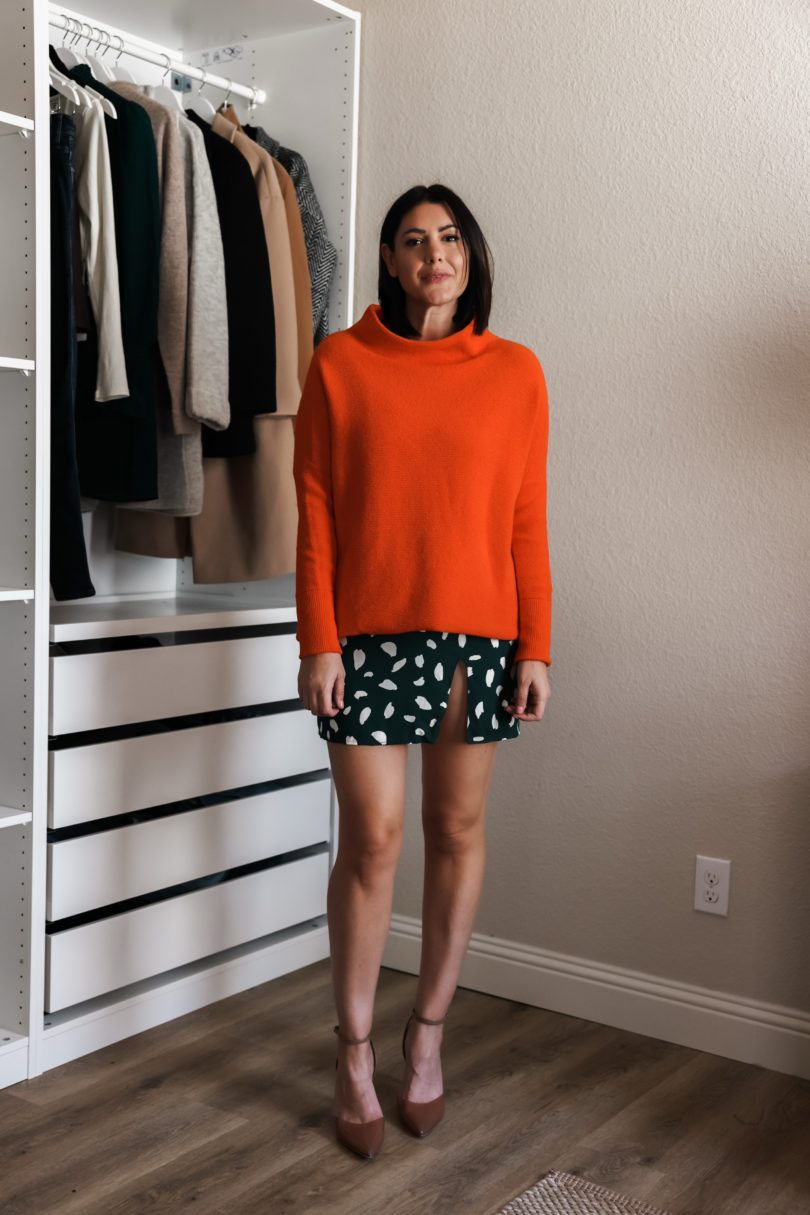 (My not-so-subtle nod to Christmas. If I don't wear this on the 25th that's a damn shame.)
I love a good Reformation piece, as you know, and I loved this green print on this dress. Now I will say she short and she's risqué but you know what? Tis the season. I sized up to a large in this dress for length and overall more room. I would recommend a size up if you have any curve or need any length! Find it here.
Also I have to say this — I had a plan to wear sheer black tights with my skirts and dresses on this post but alas they didn't ship in time for this post. I 100% recommend pairing these bare leg looks with opaque or sheer tights for the winter!

J.Crew Mini Skirt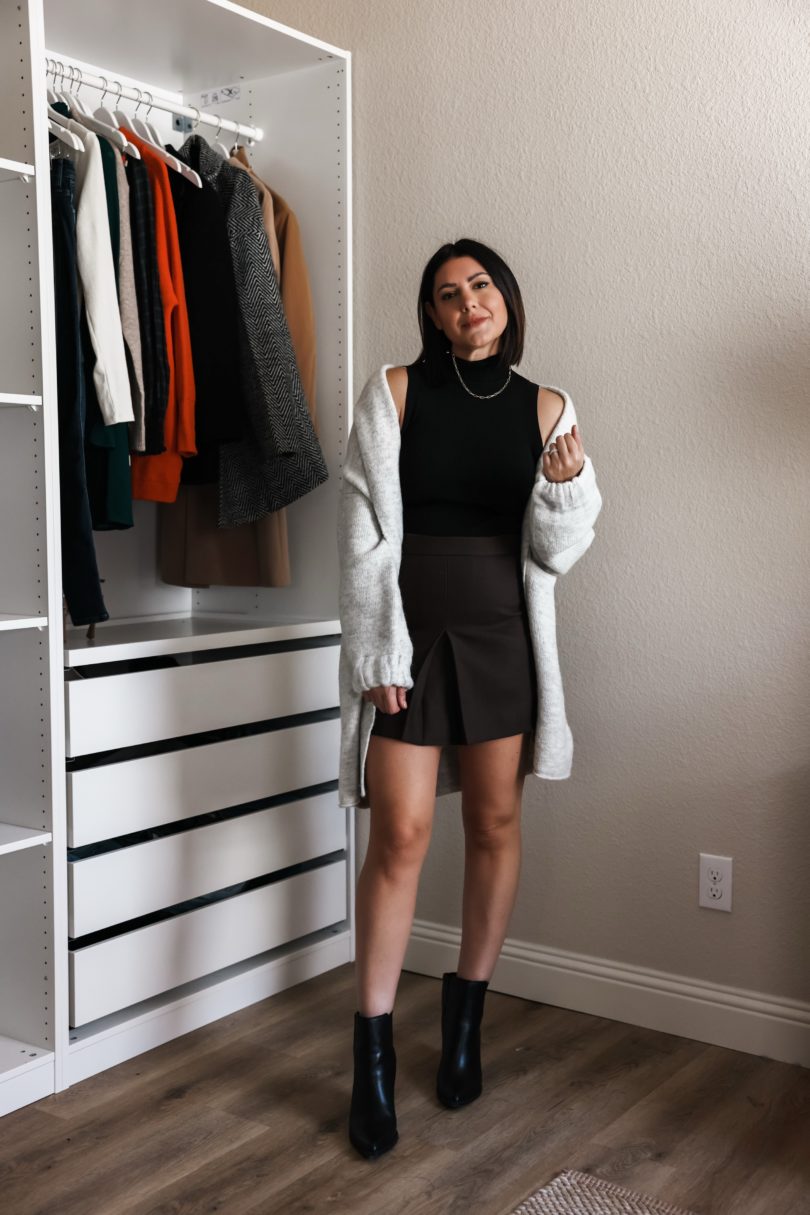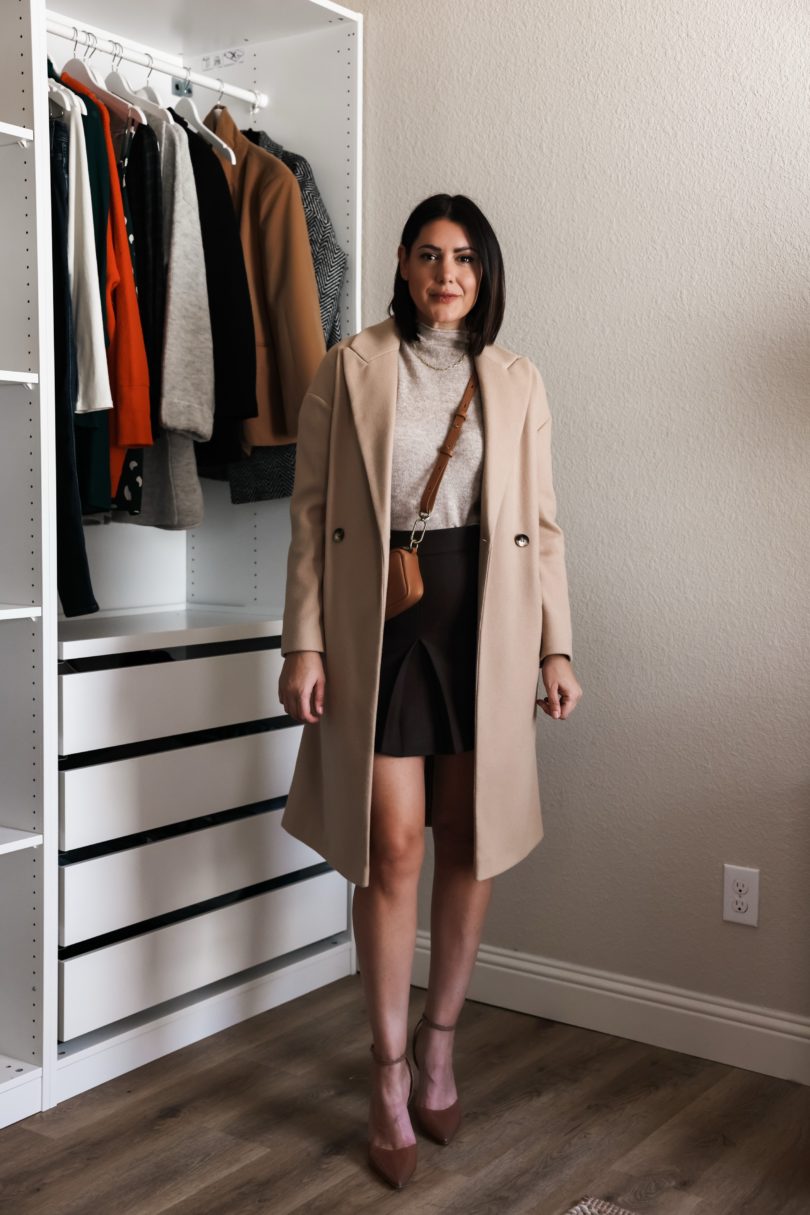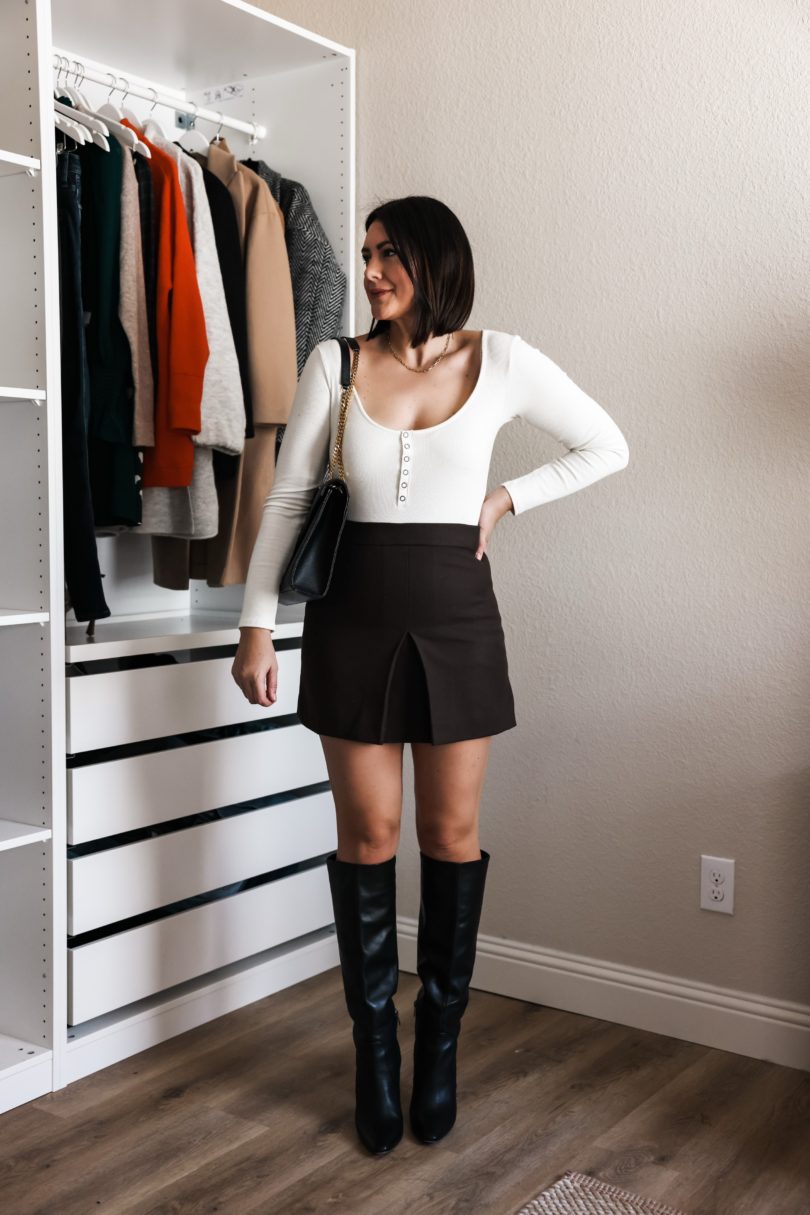 I love this skirt so much, it feels like a new take on a classic and this chocolate brown hue is perfect for winter. I am in the 6 but need the 8, if we are being honest. It's a little tight around my waist / hips and from reading the reviews most people suggest a size up as well. Find it here!
Madewell Lucie Flannel Top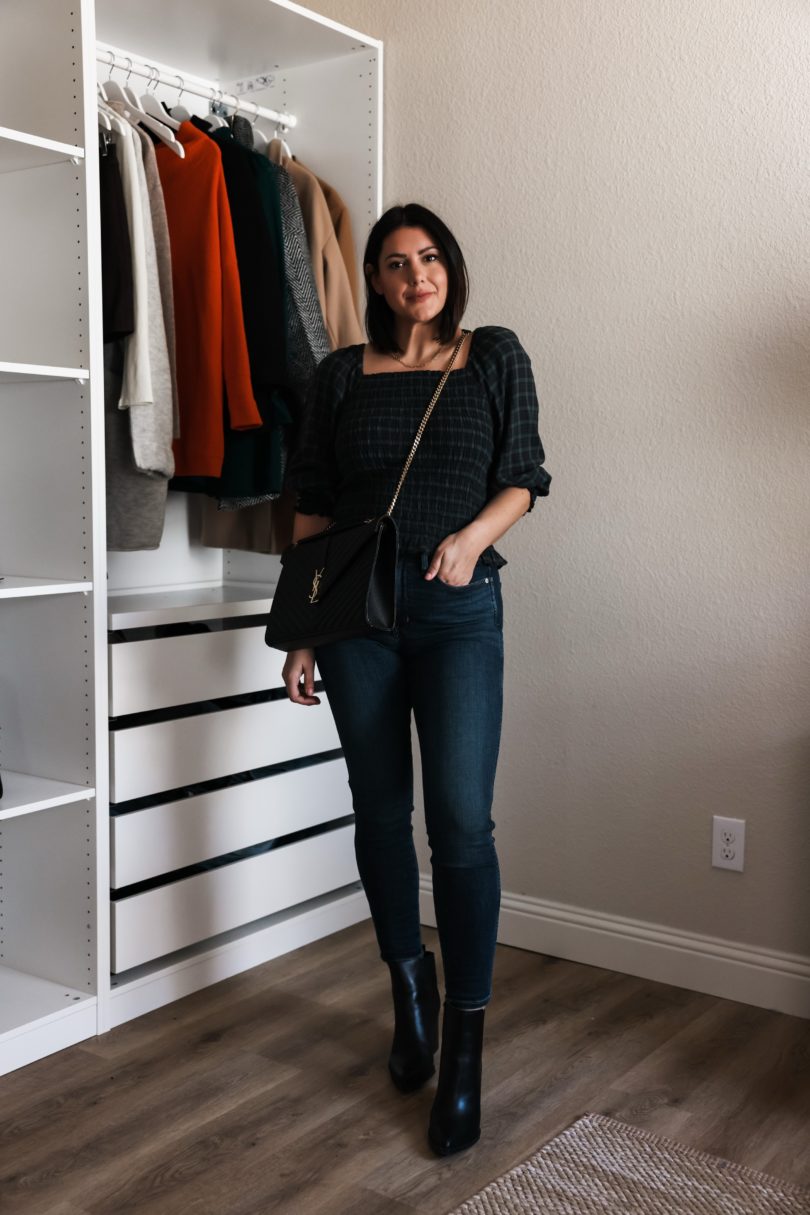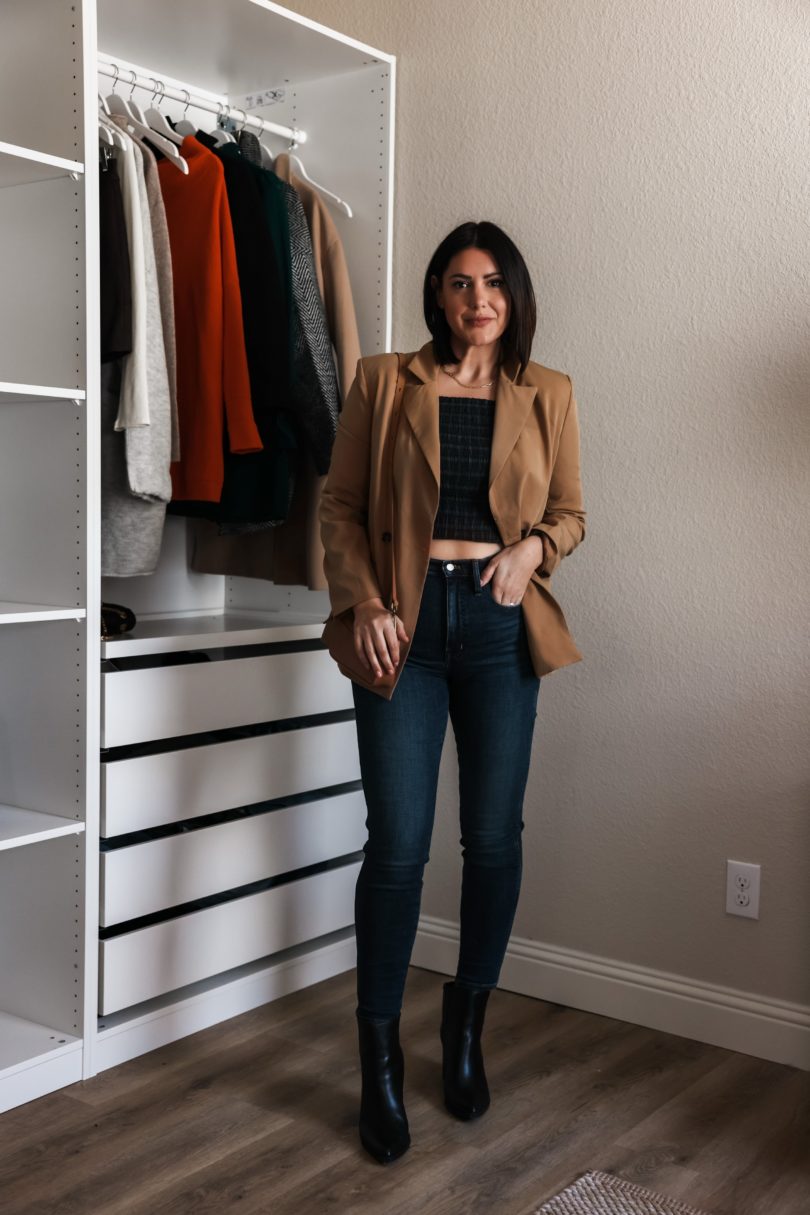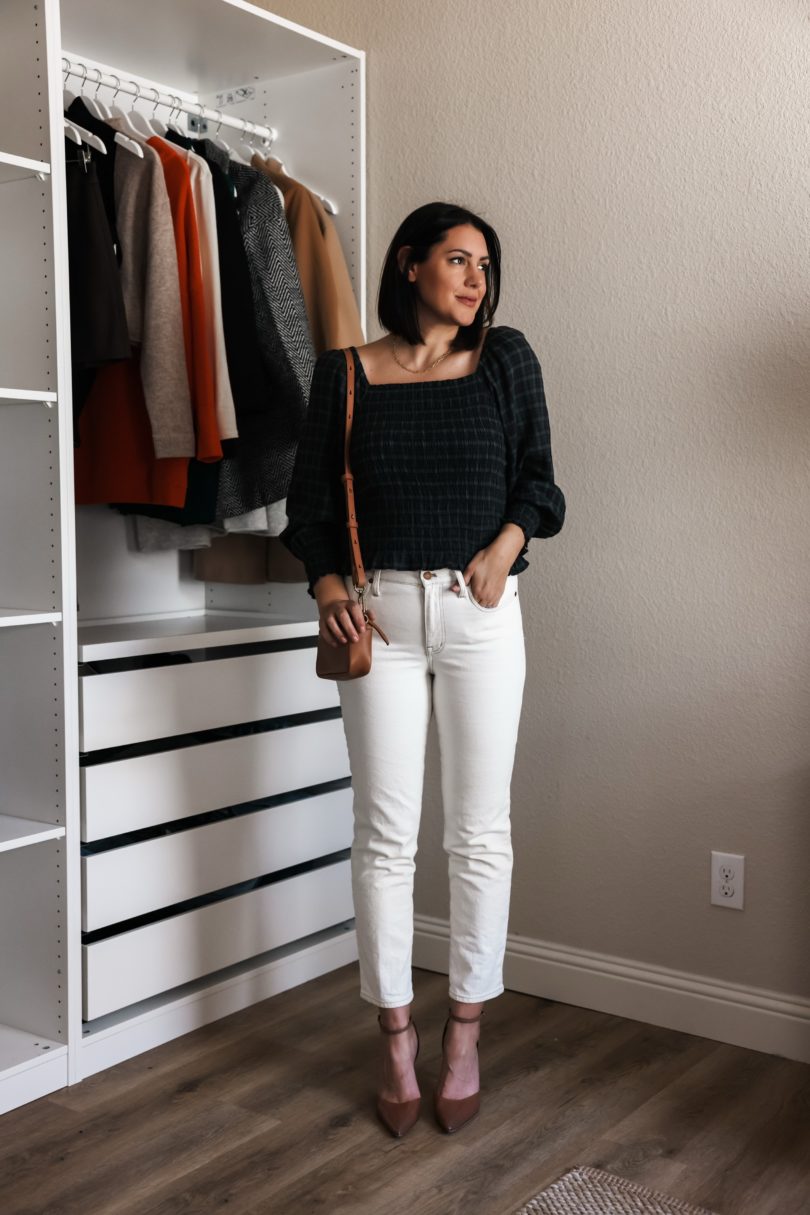 A nice dark green plaid to me just screams holiday and I love the Lucie style from Madewell. This top fits true to size (I'm in the medium) and is a nice piece to wear for the holidays; casual but make it festive. Find it here!  
Menswear-inspired Coat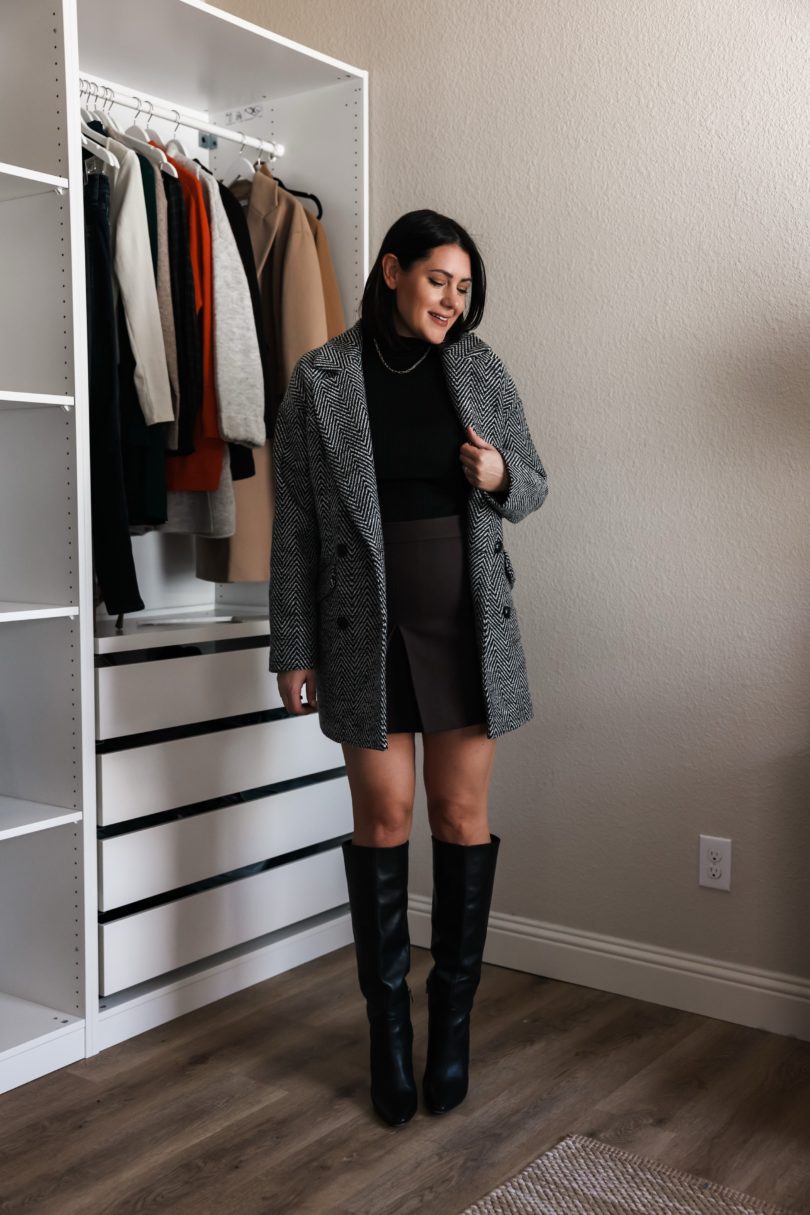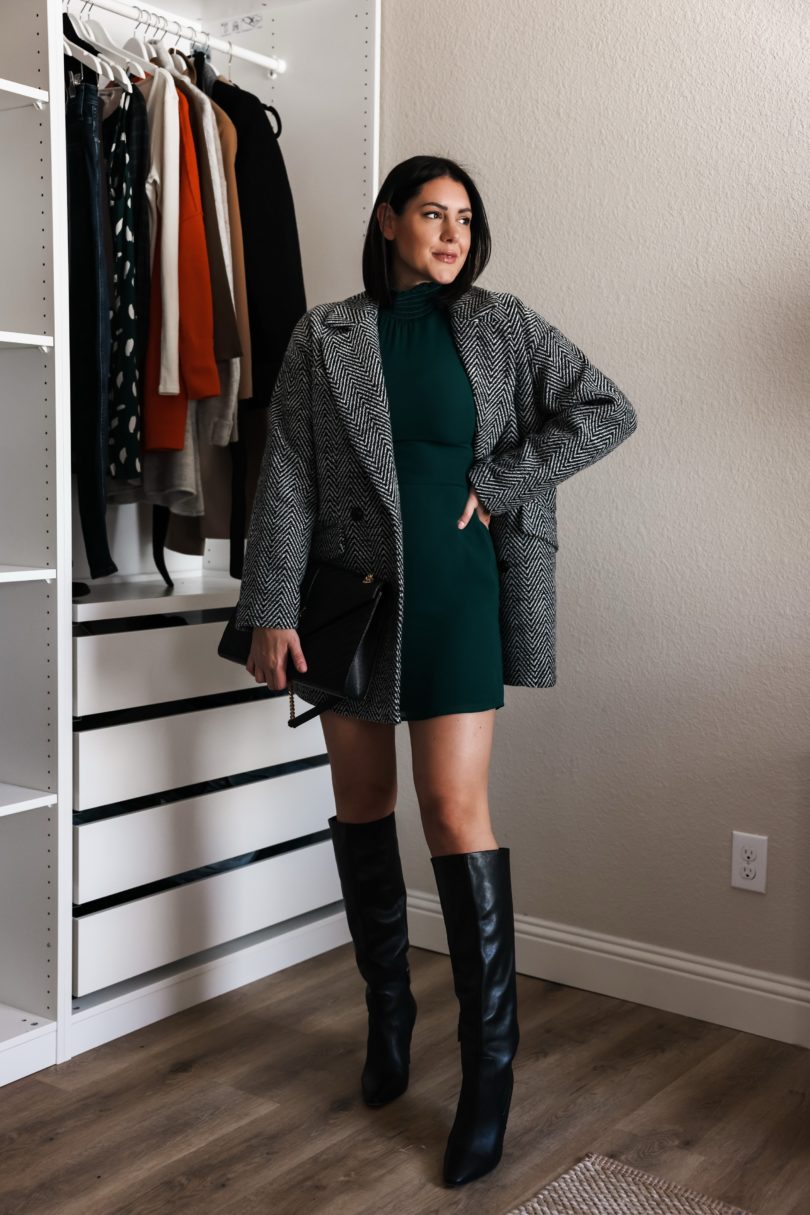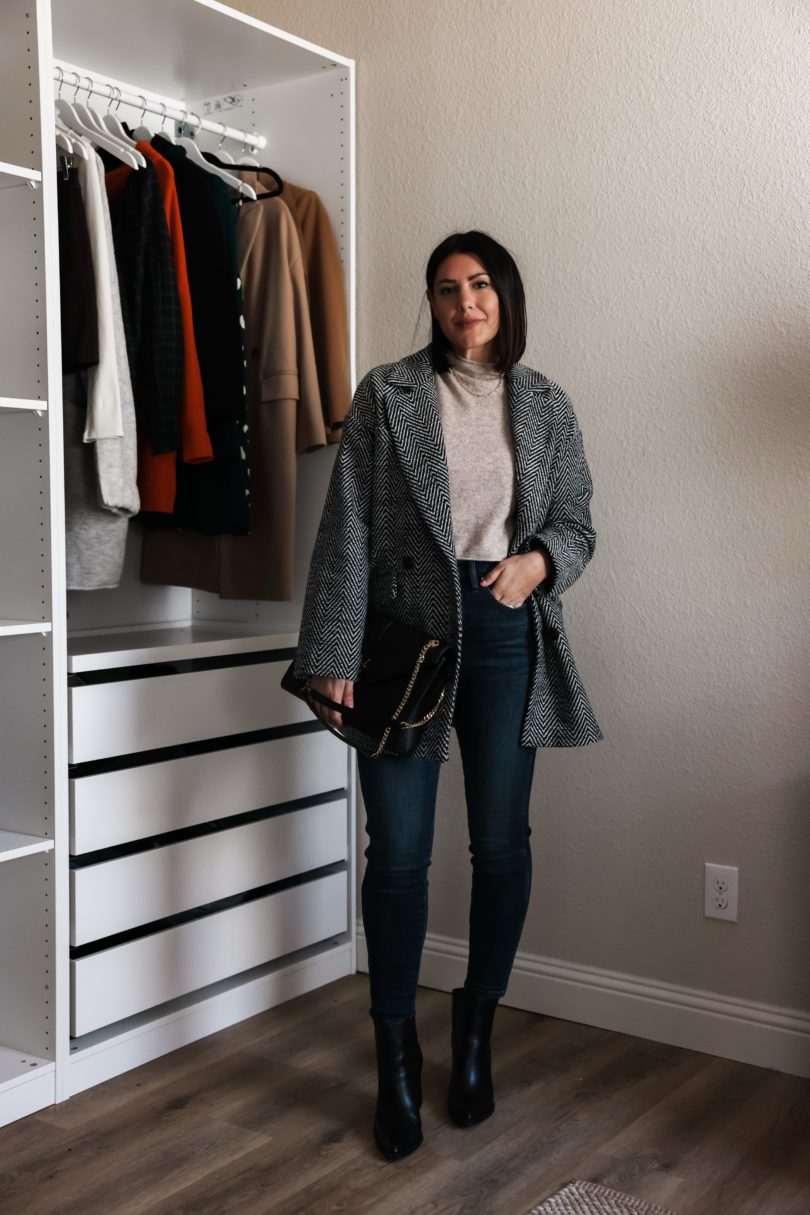 This coat is a favorite purchase of mine this fall so of course it needed to make an appearance in the capsule. I am in the medium, it runs generously so you can size down if you want a tighter fit. I like that it's a nice take on a tweed with an unusual shape. It completes every outfit I toss it on. Find it here!
 Holiday Dress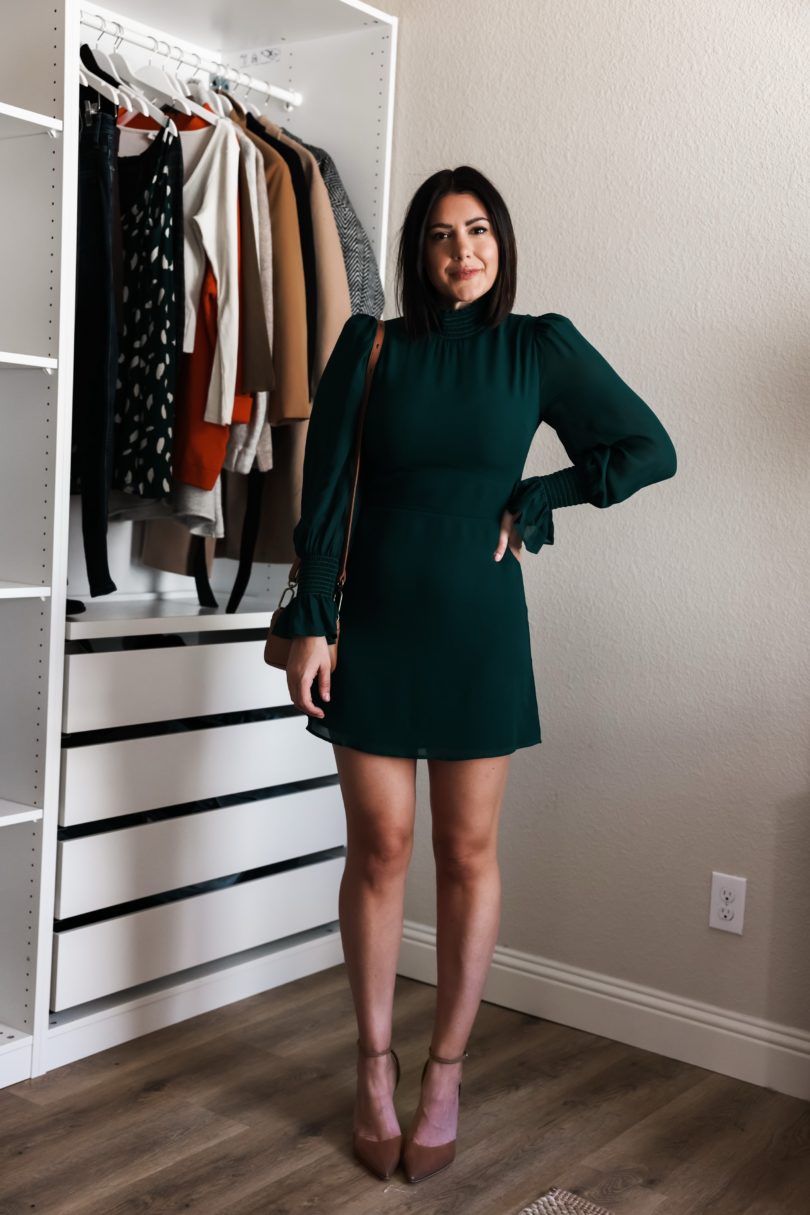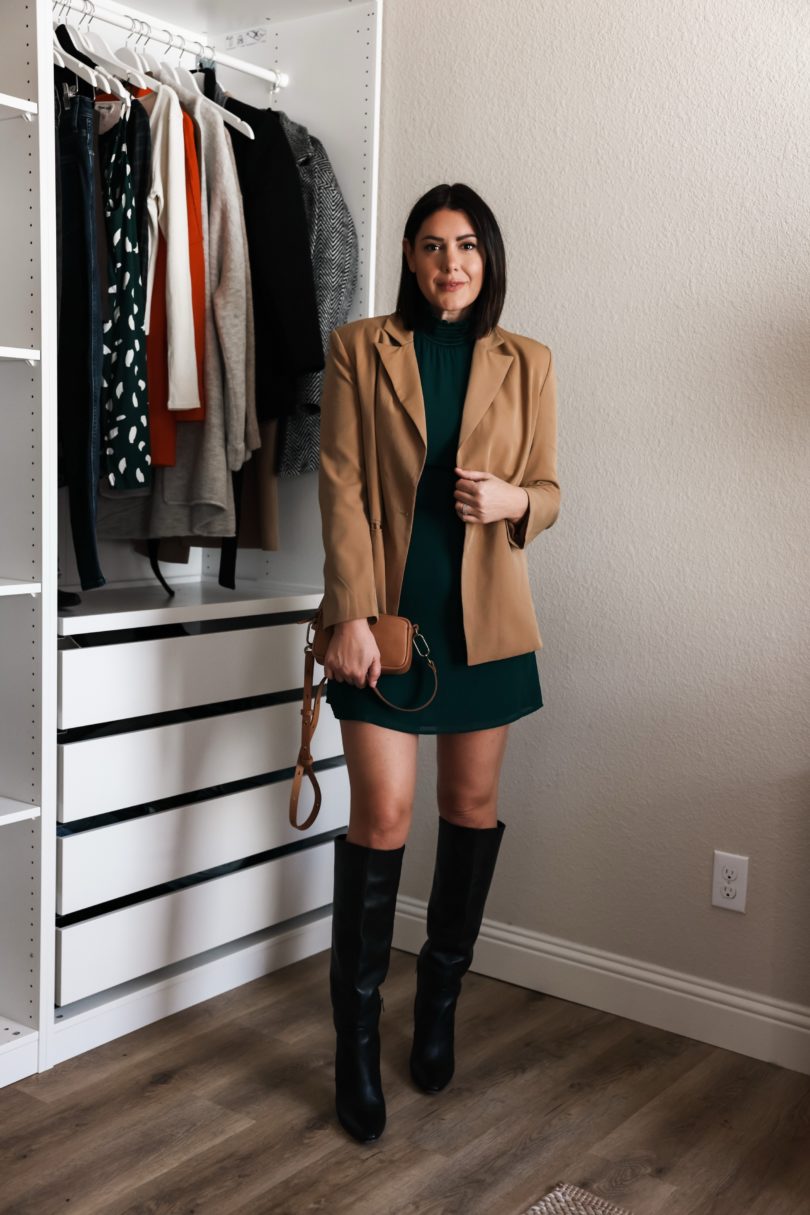 I fell in love with this dress the minute I saw it online. It's the perfect holiday dress in my opinion, this hue is a nice subtle nod to Christmas but you can still wear it throughout the year without feeling out of season. I love a long sleeve / mini skirt situation and this one hits at all the right spots. It's tailored but not too tight. I am in the 10, I sized up because I knew this one would fit small and I was right. Go up at least one size! Find it here.
Other pieces I love — this Madewell Cardigan is SO cozy and perfect to just toss on over leggings or jeans. I also love this Free People tunic sweater — the perfect holiday color! And last but not least, this Good American bodysuit is where it is at for a high quality essential you can layer with. It's tight though, so size up if you want a looser or longer fit!
________________
Which look is your favorite? Let me know in the comments!
_______________
Need more outfit inspo? Find my other capsules here:
PS: have you wanted to start a capsule wardrobe but didn't know where to start? I'm teaming up with Cladwell app as a class leader in January! You can find out more + sign up for my class and 3 weeks of learning how to build a capsule wardrobe here.