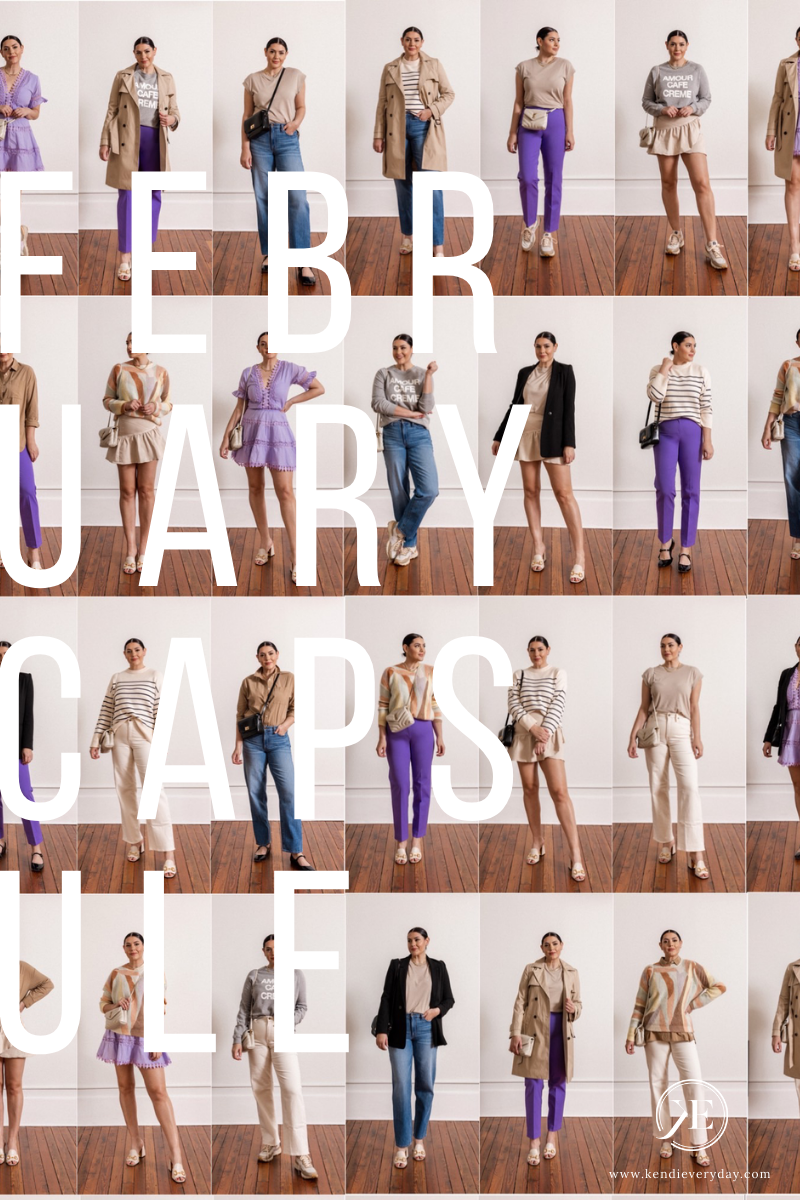 Hi friends! It's here! The February 2023 capsule. 30 outfits to (hopefully) inspire your outfits this month and beyond. So we've got a nice mix of neutrals and this gorgeous purple hue. If you haven't noticed yet, purple is going to be very big this year. And I'm not just saying this as a pat on my own back and this capsule. 😉 I've been seeing this lavender everywhere and then when I saw this pair of J.Crew trousers, I knew: purple was the inspiration for this capsule. I wanted to bring in a little bit of a 'romantic' color way for February and give you inspo for moving into spring and using this this bold purple and soft lilacs was so much fun. I remember why I like spring so much. (I know, I know we are still in winter (blah) but we can plan ahead!)
So this month, I hacked my pieces down to 17 total: 12 clothing pieces, 3 pairs of shoes and 2 handbags. It's interesting, unintentionally I am using less and less pieces each month. Not really as a rule but it just ends up that way. No other notes, just thought that was an interesting observation. Let's get to the pieces:
You can click through the '+' to go directly to the product OR find everything linked with my size to the right. >>
(PS: I've created a post with alternative pieces under $100!)
Let's get to the outfits!
30 Outfits for February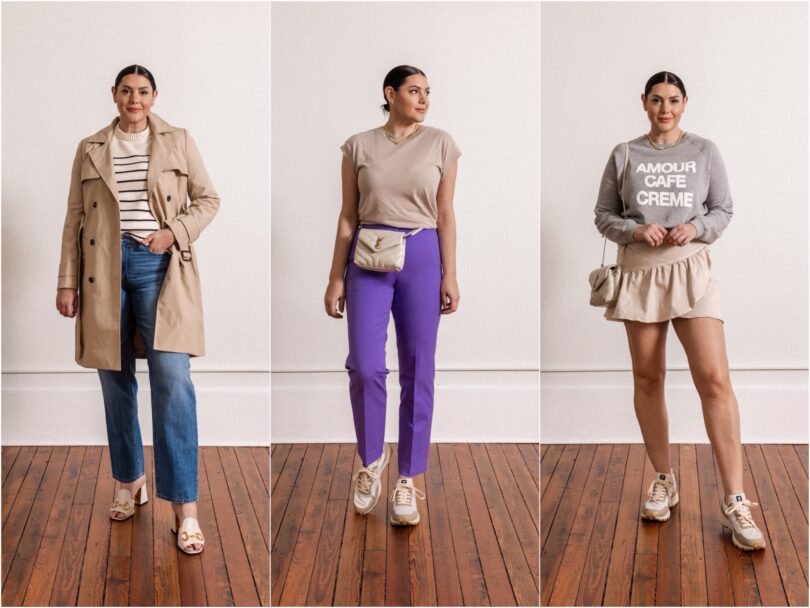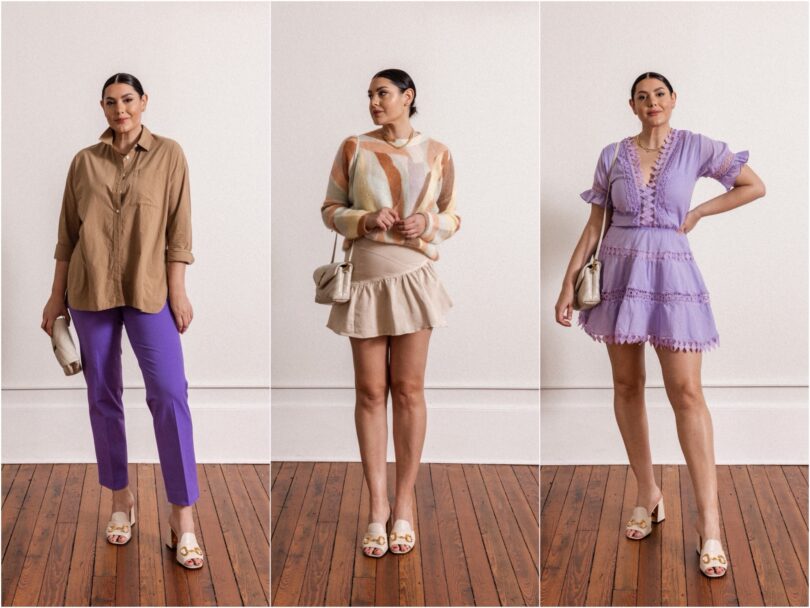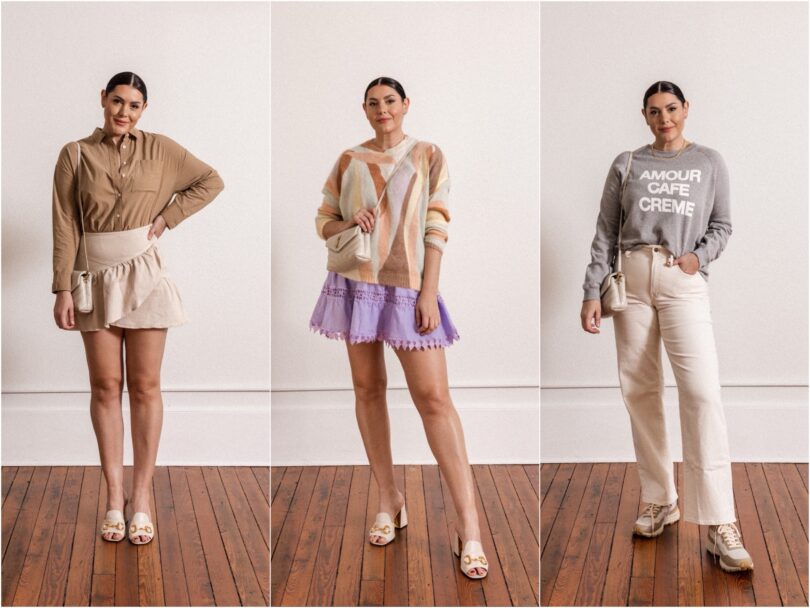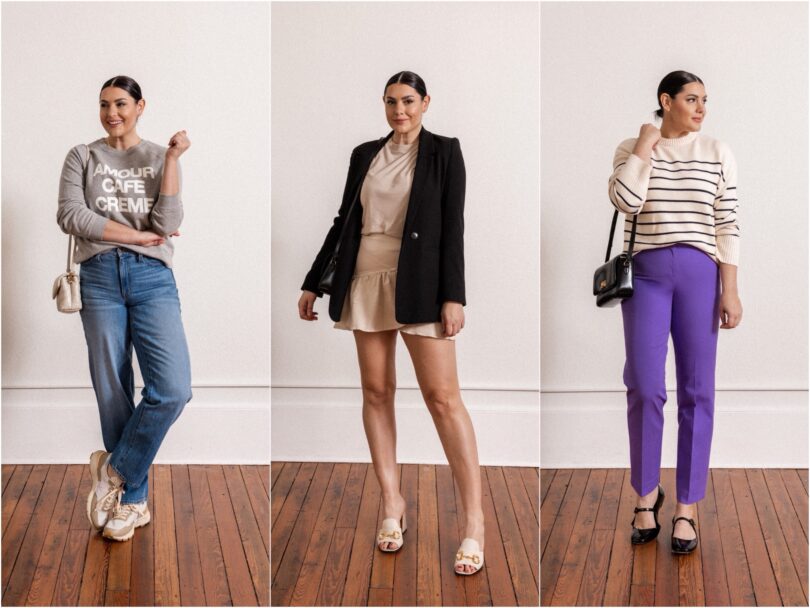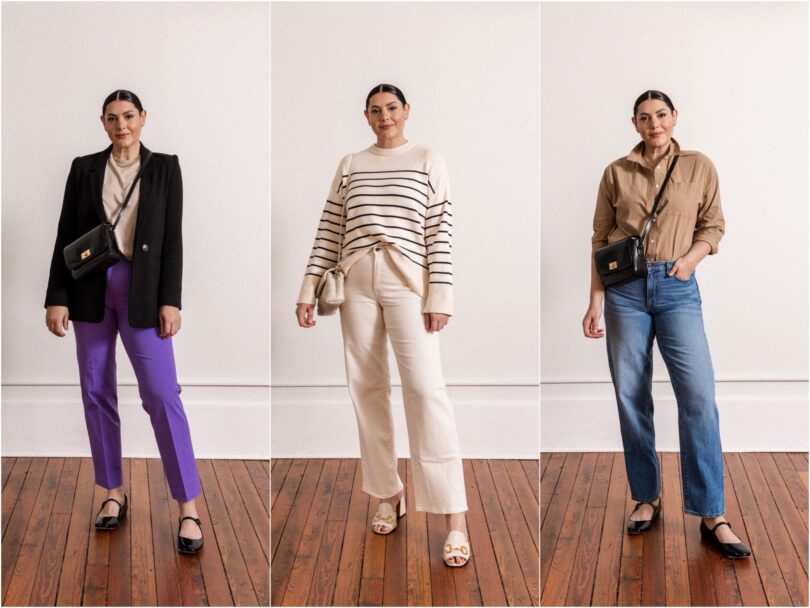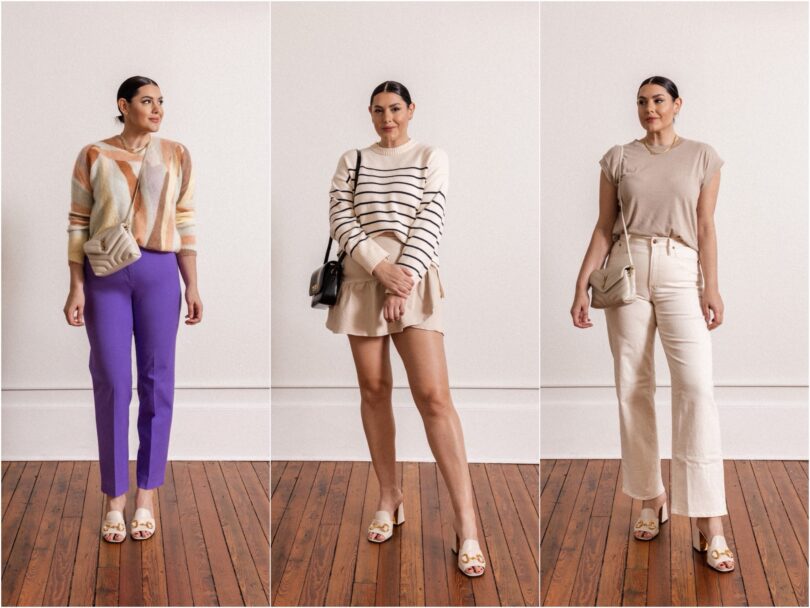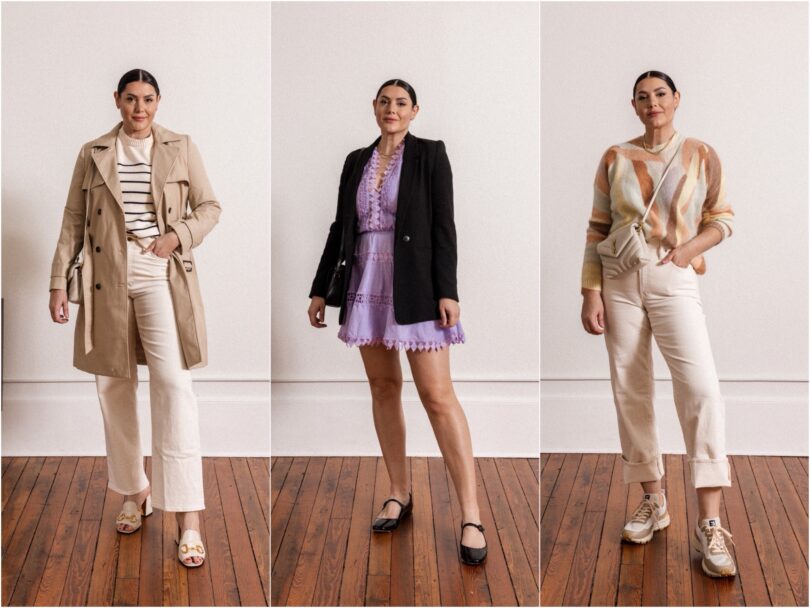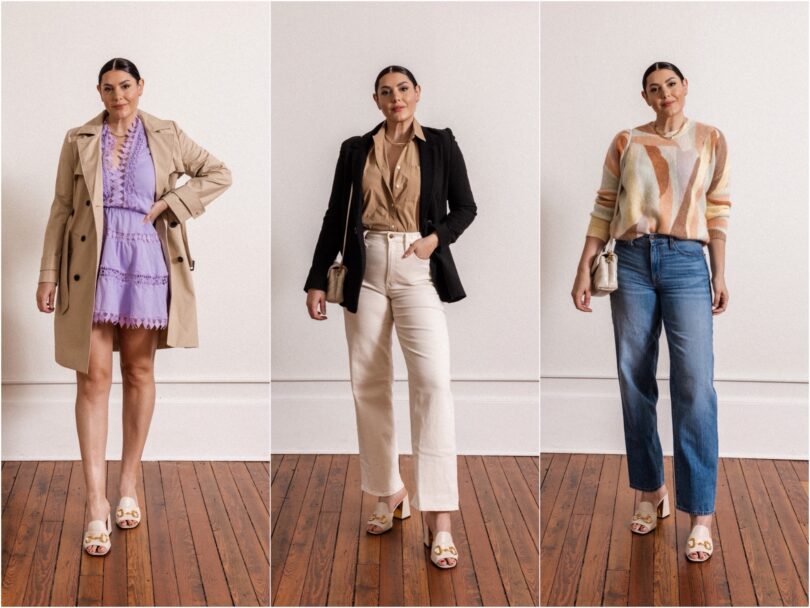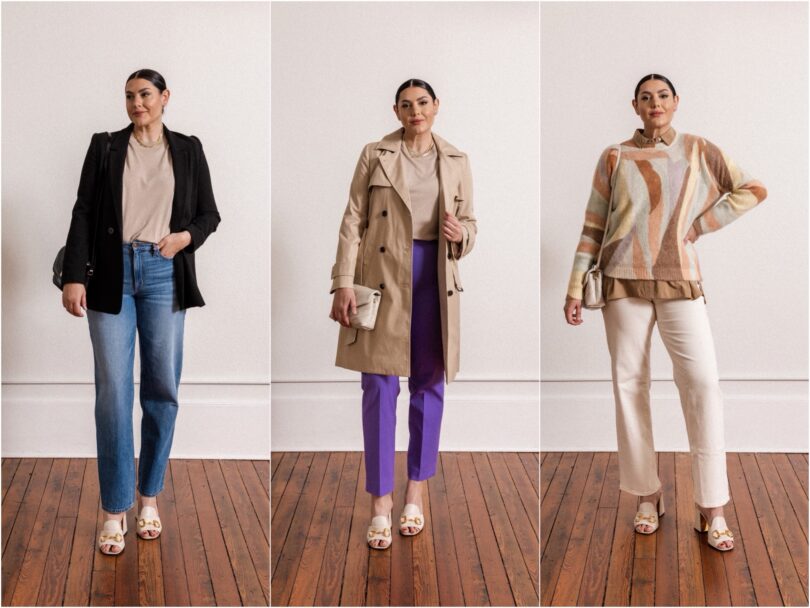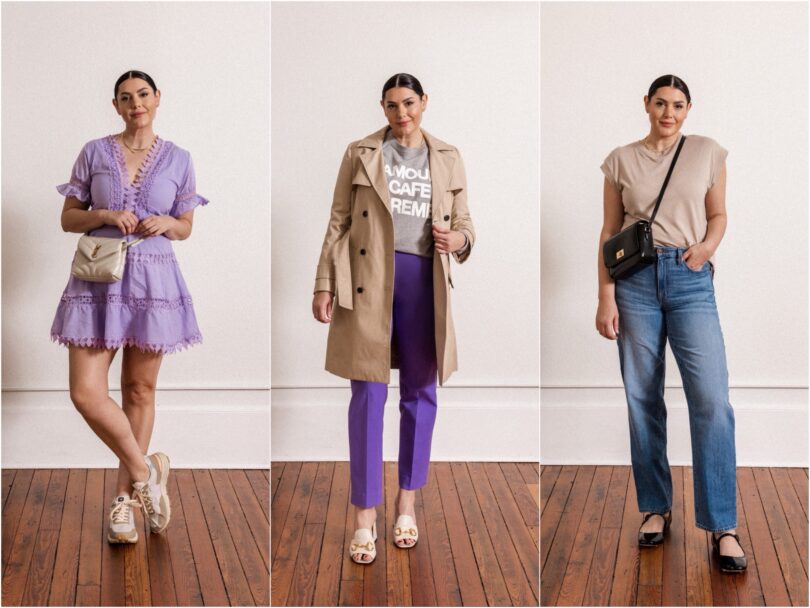 A Few Favorites
__________________________________
Okay I actually love everything so it was hard to pick "favorites" to be honest. I don't think there was one thing I didn't love about this capsule. But if I HAD to pick, then it would be these looks below!
As you know, because I've said it 10 times now, I love this pair of pants. The fit, the color, the versatility. (Yes! Purple can be versatile!) Mixing it with neutrals is key here — the tan, the grey, the cream, the black — they all let this pair of pants shine. Color doesn't have to mean you are abandoning your neutrals; it allows your neutrals more range.
TTS for J.Crew, I find them to run a bit snug at the waist, hips.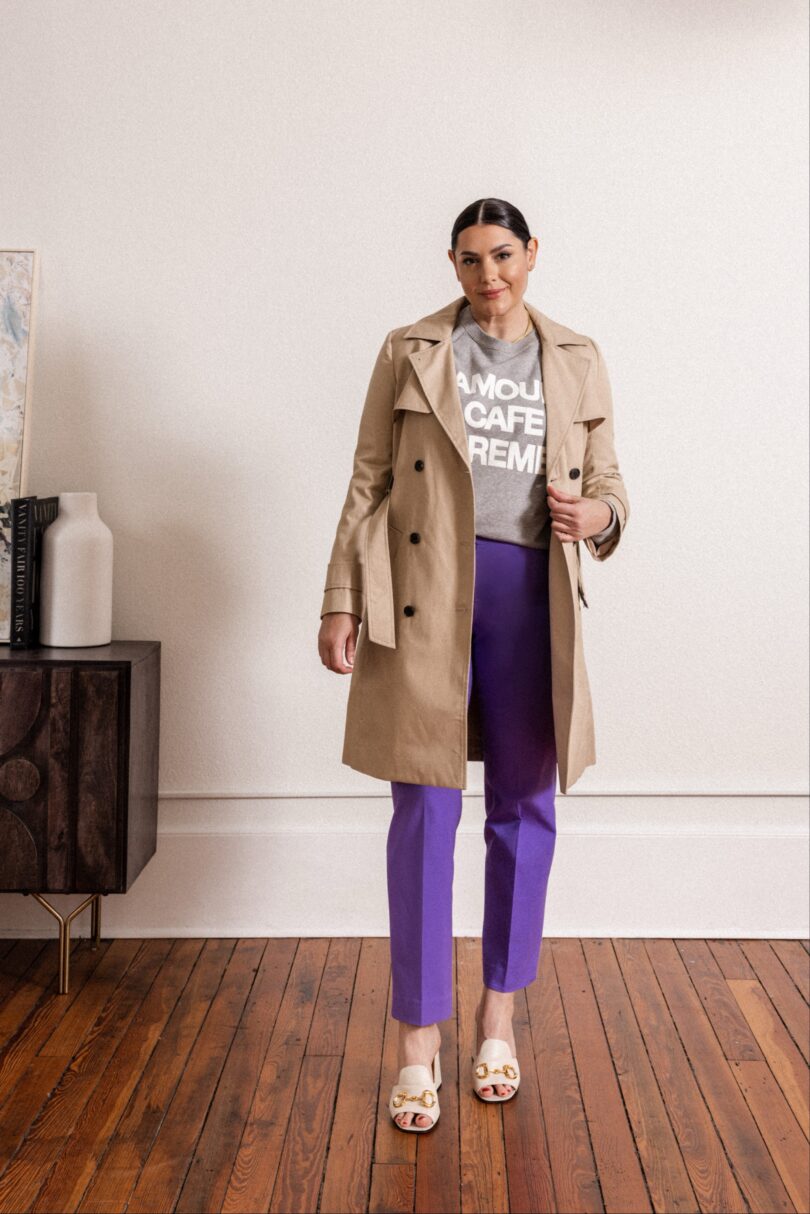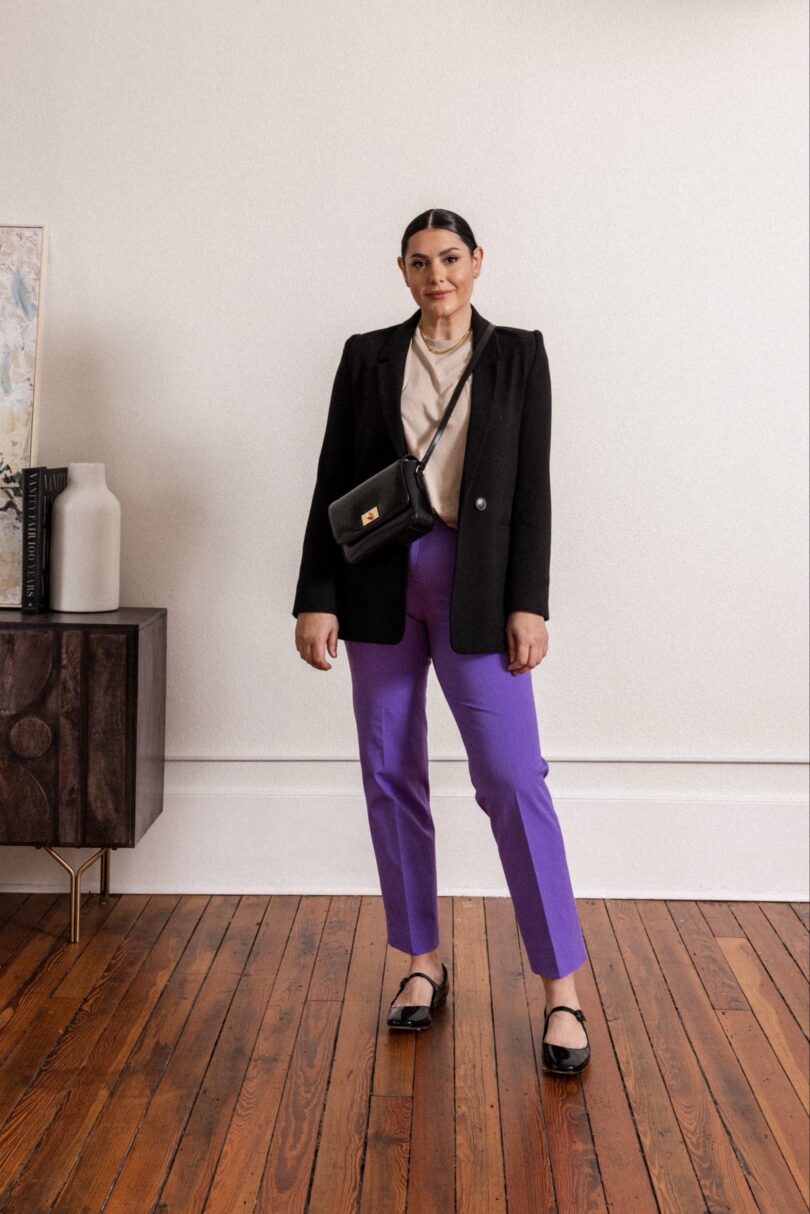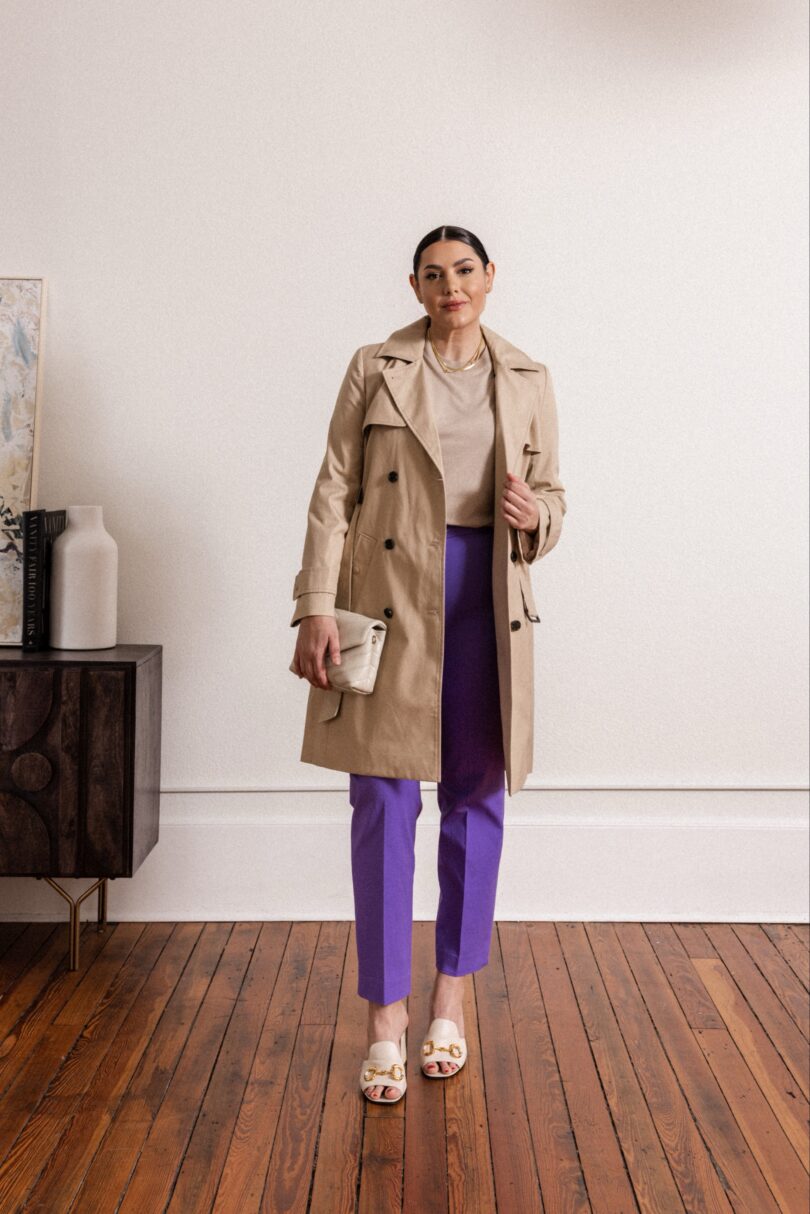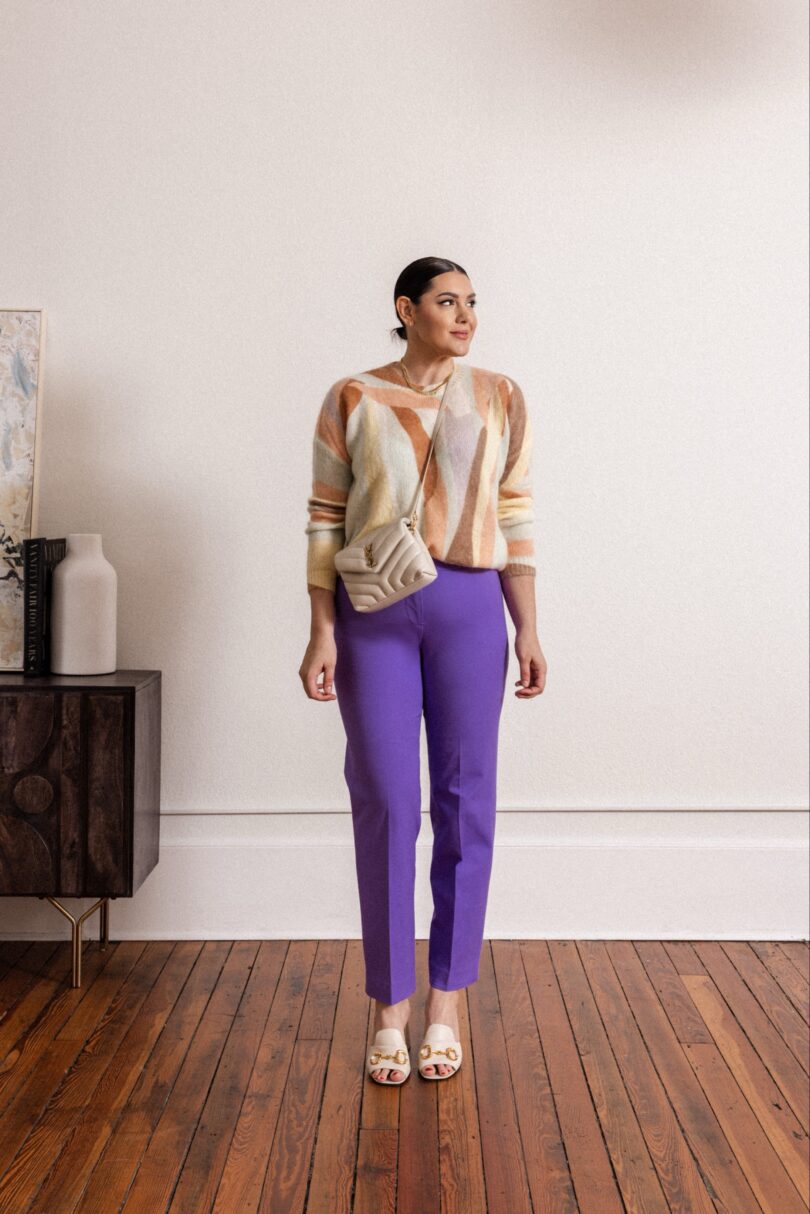 For some reason, this color is sold out at Madewell but I'm hoping it's just a glitch because it's so so good! I love the fit, it's perfectly oversized and the fabric is perfect for spring. Obviously versatile, as well. Just a really nice essential this spring and summer. If you are loving this look, they have lots of colors in stock! I am in the medium.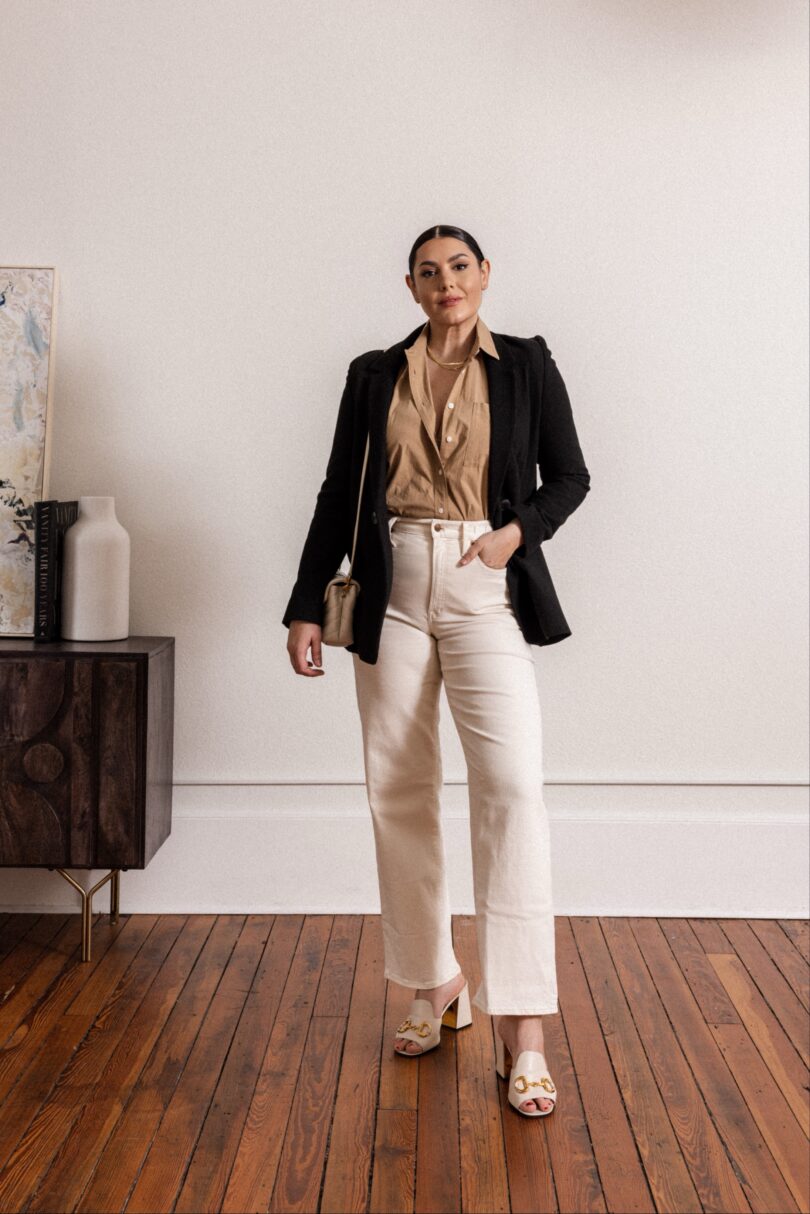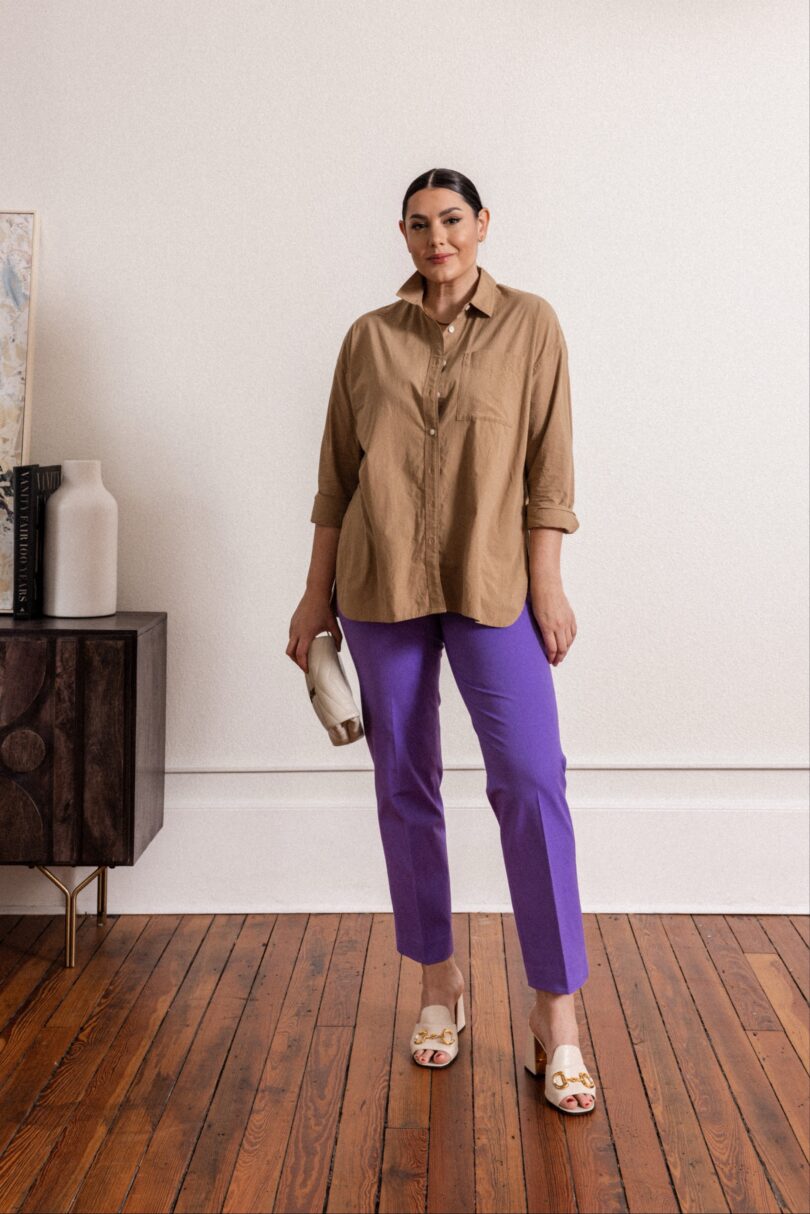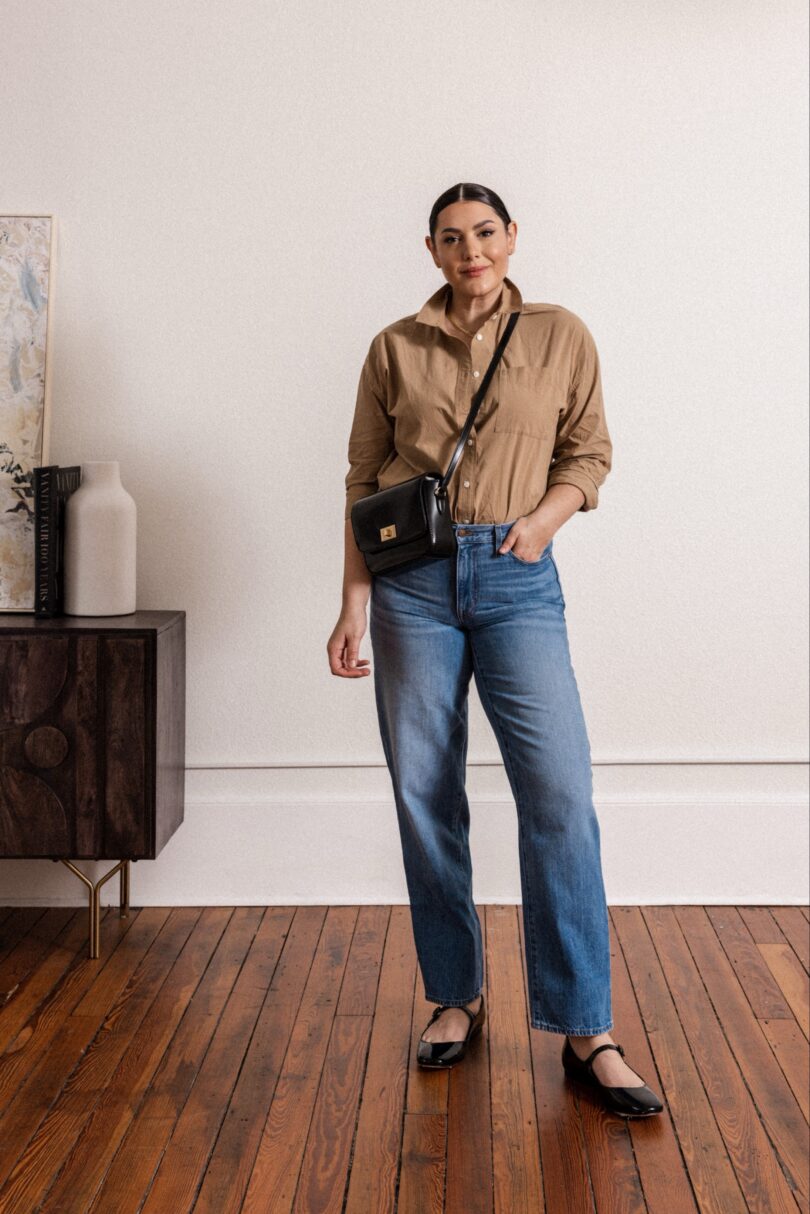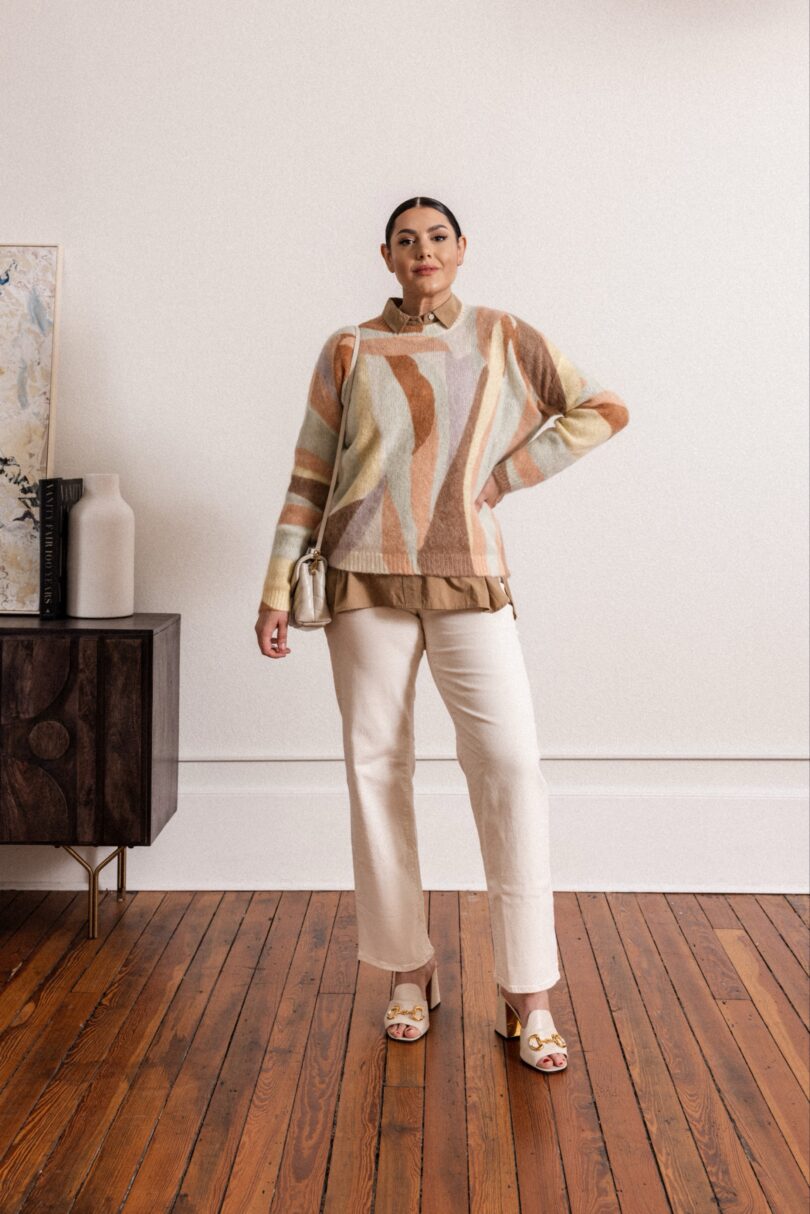 I know this is a random skirt and to be honest, I had a skirt JUST LIKE THIS that I took my senior photos in. It was 2003 denim though and this one is 2023 cream. But what a 20 year journey right? And yes, I will try to scrounge up that photo for you guys.
Okay personal anecdote aside, just like cream colored jeans, this skirt is just as versatile. I have been loving the resurgence of denim everywhere and this skirt is denim, but in a softer way. Sometimes denim skirts can feel…one note but this one has some pizazz. I love that it is weird but neutral. I identify with that sentence, wholly.
This skirt is a bit expensive ($188) from the brand Mother, but I am on the lookout for a similar! Similar items post coming up next! Find this skirt here. Size up one, I am in the 30.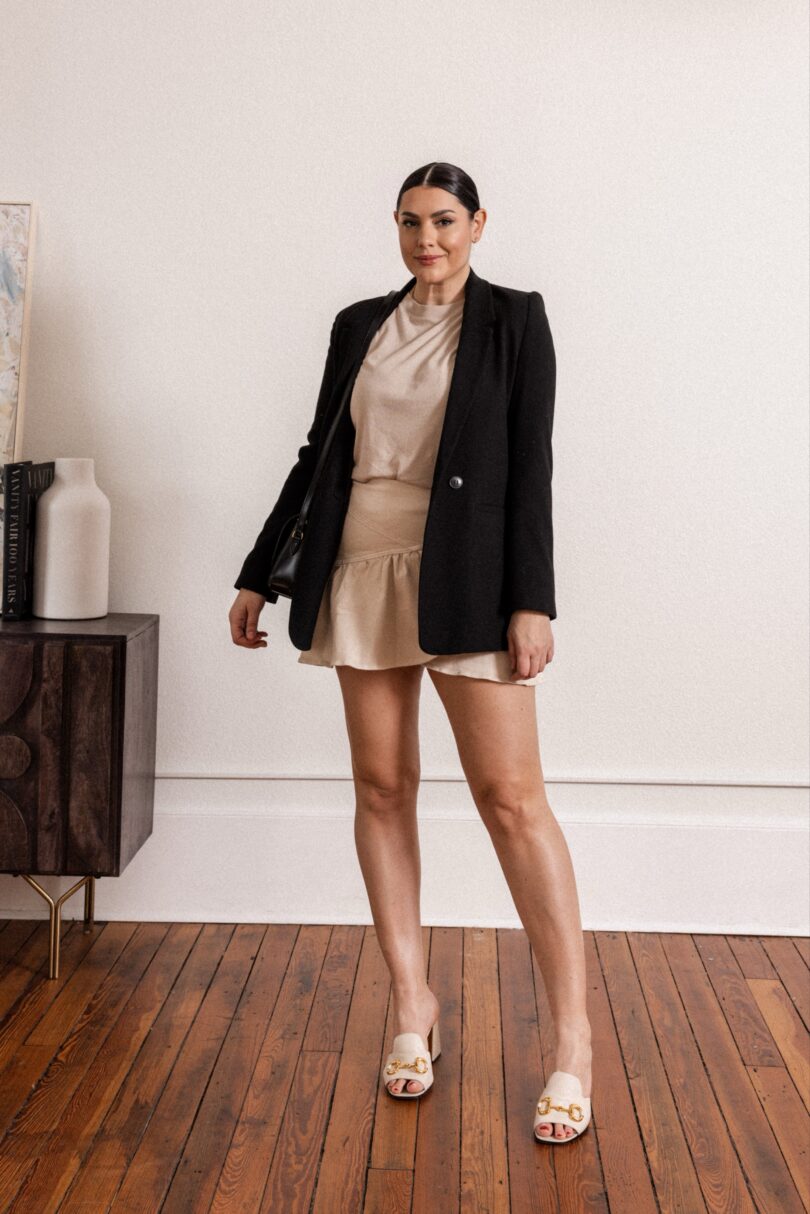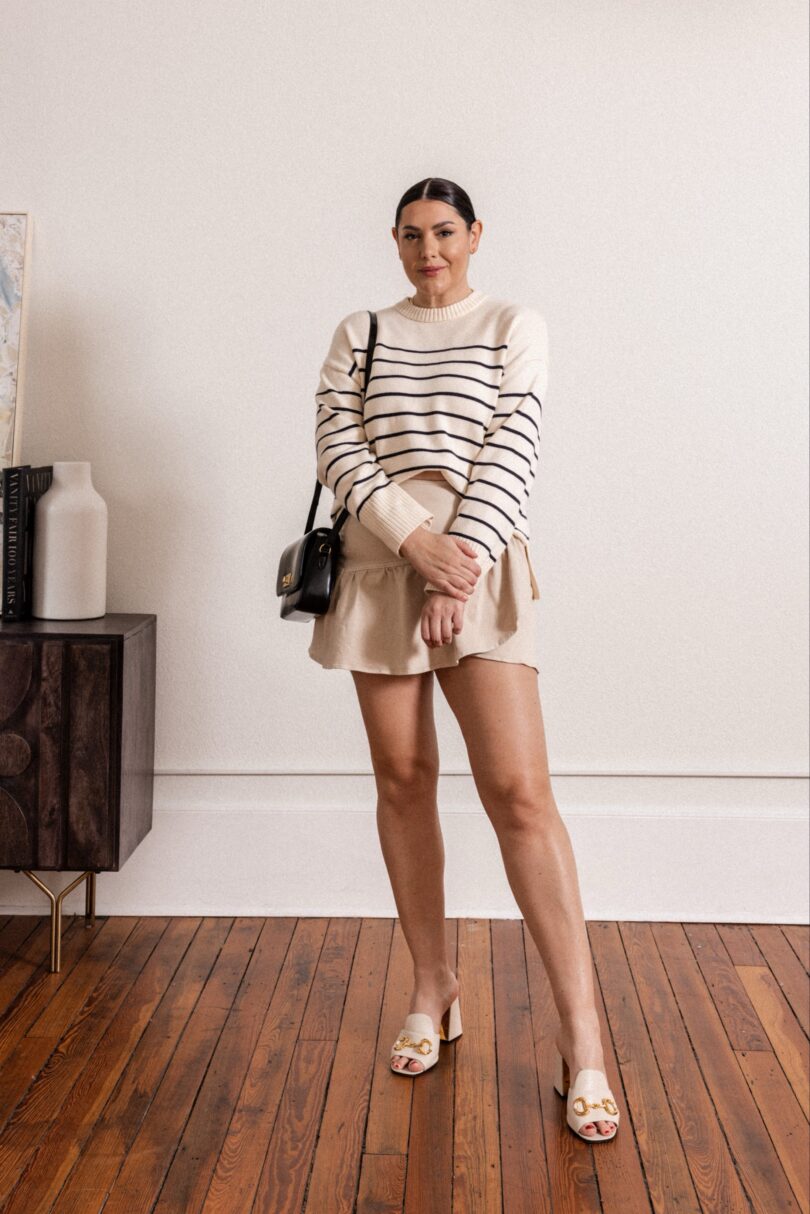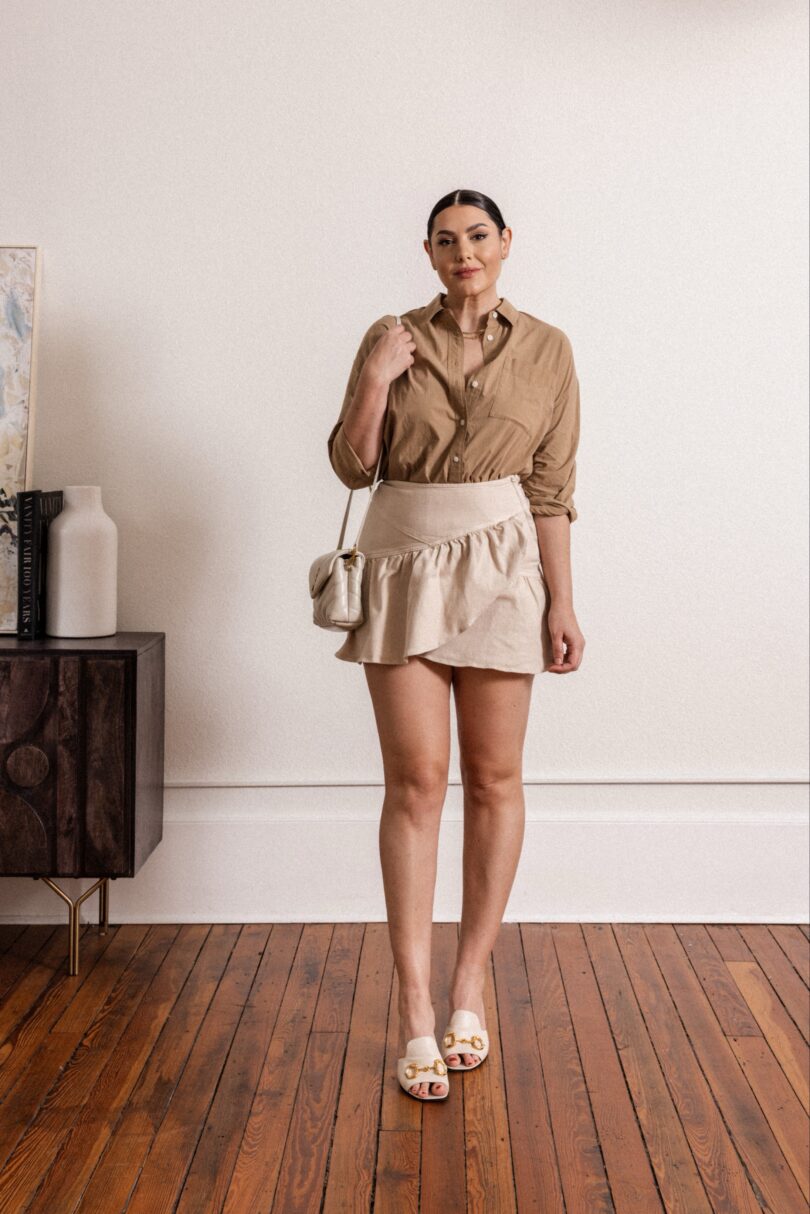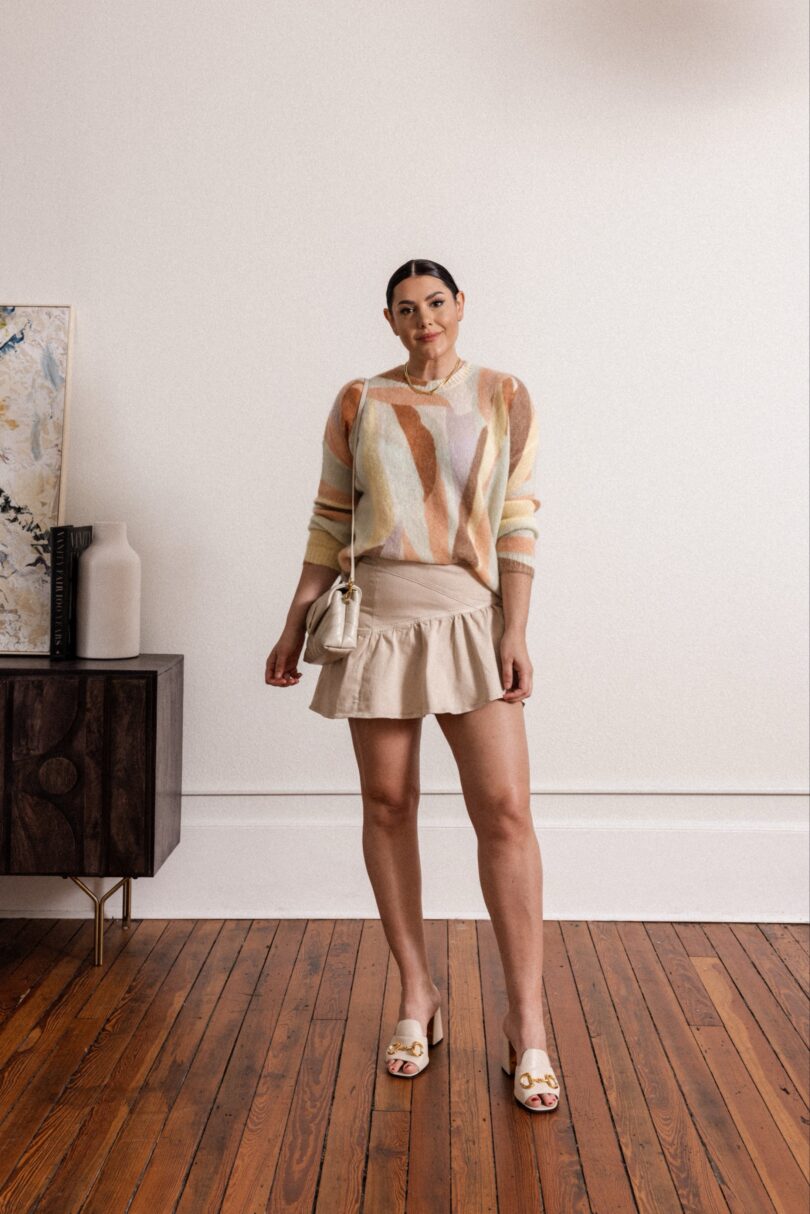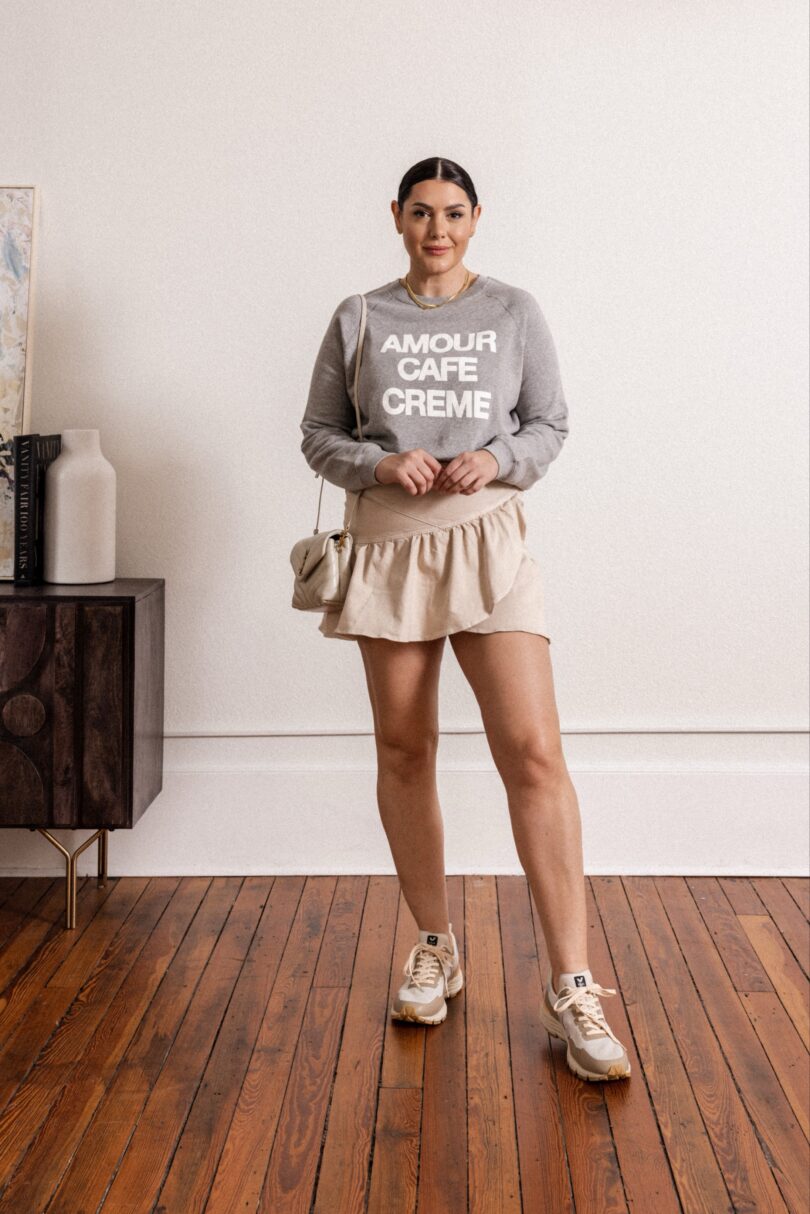 THESE JEANS get all the love. I love this fit, this color — it's a vintage cream so it's not stark white and the vibes are perfect if you are looking to expand your denim outside of a skinny jean. They are very flattering and easy to wear as well, for those of us who are suspicious of wide legs. They are Wide Leg Lite, if you will. I find the length to be really versatile as well, as you can see it looks good with heels but also with a turn of the hem, they can be worn with sneakers in a cropped, casual look too.
I am in the 29, I find them to run a bit generous.
Find them here — but they are going fast!!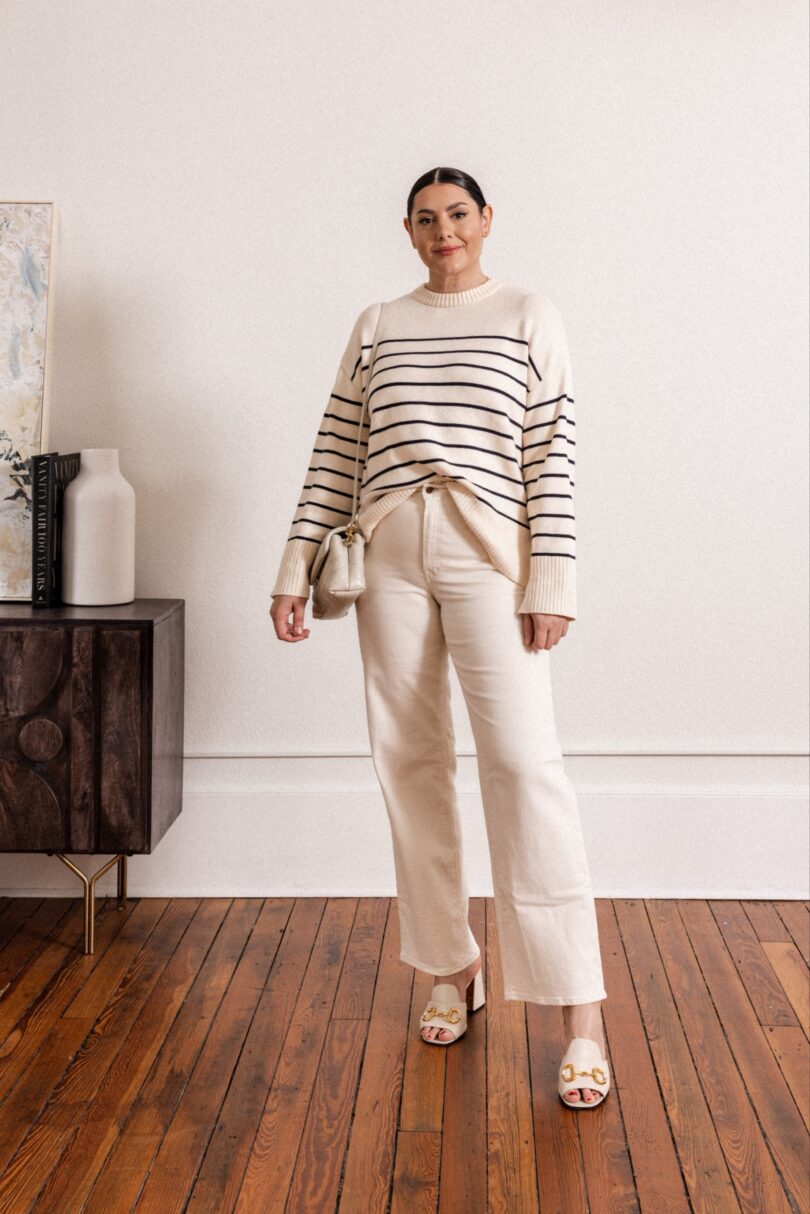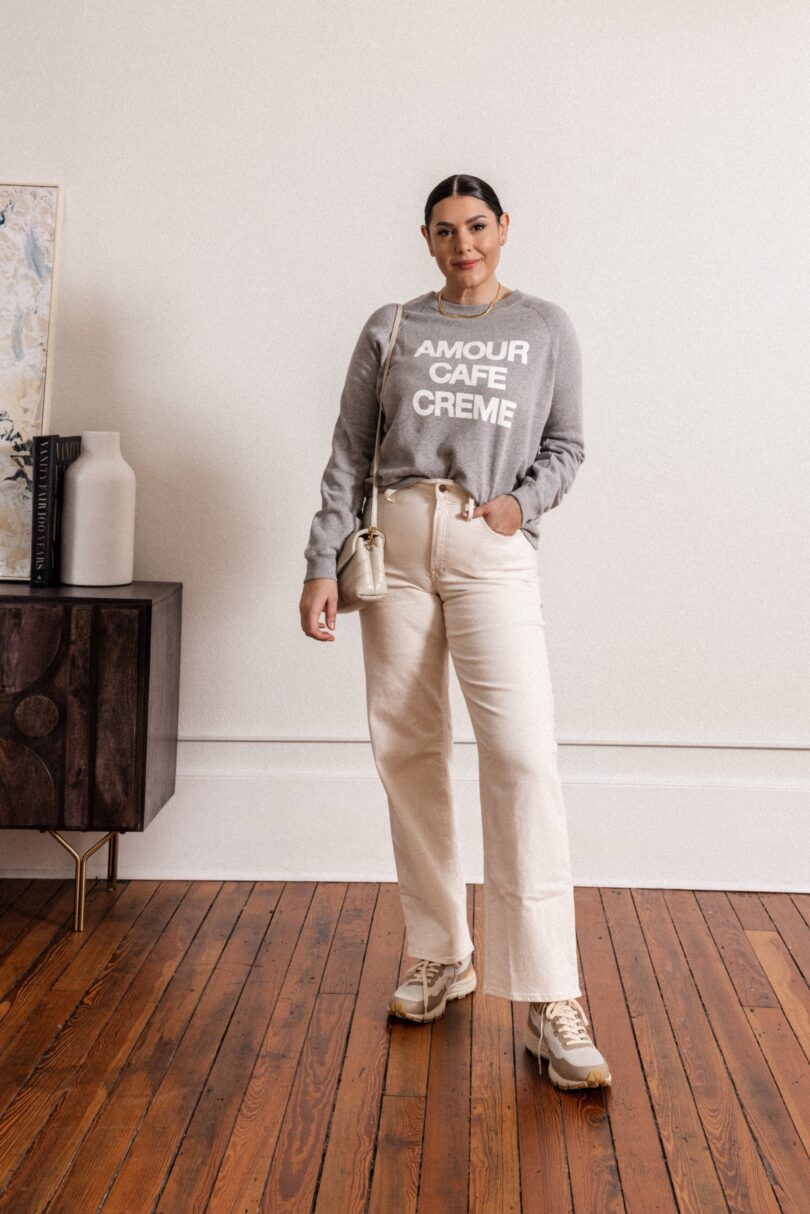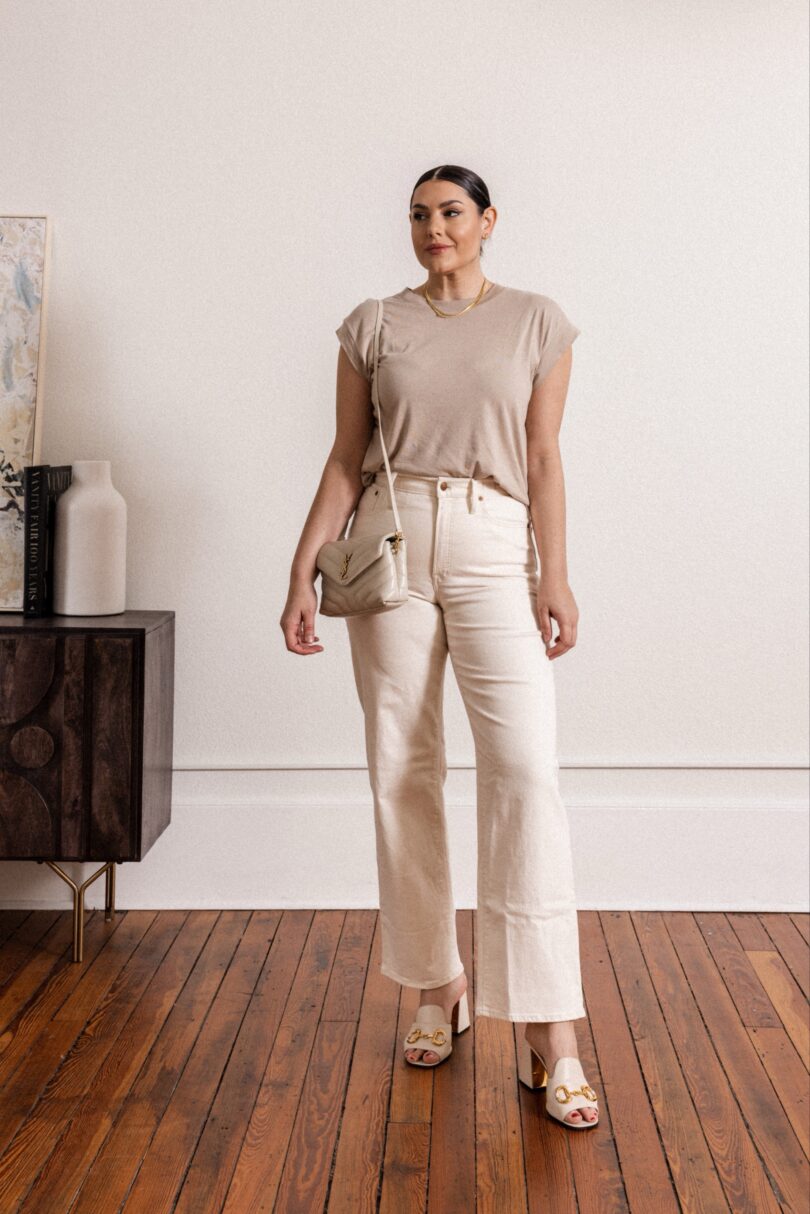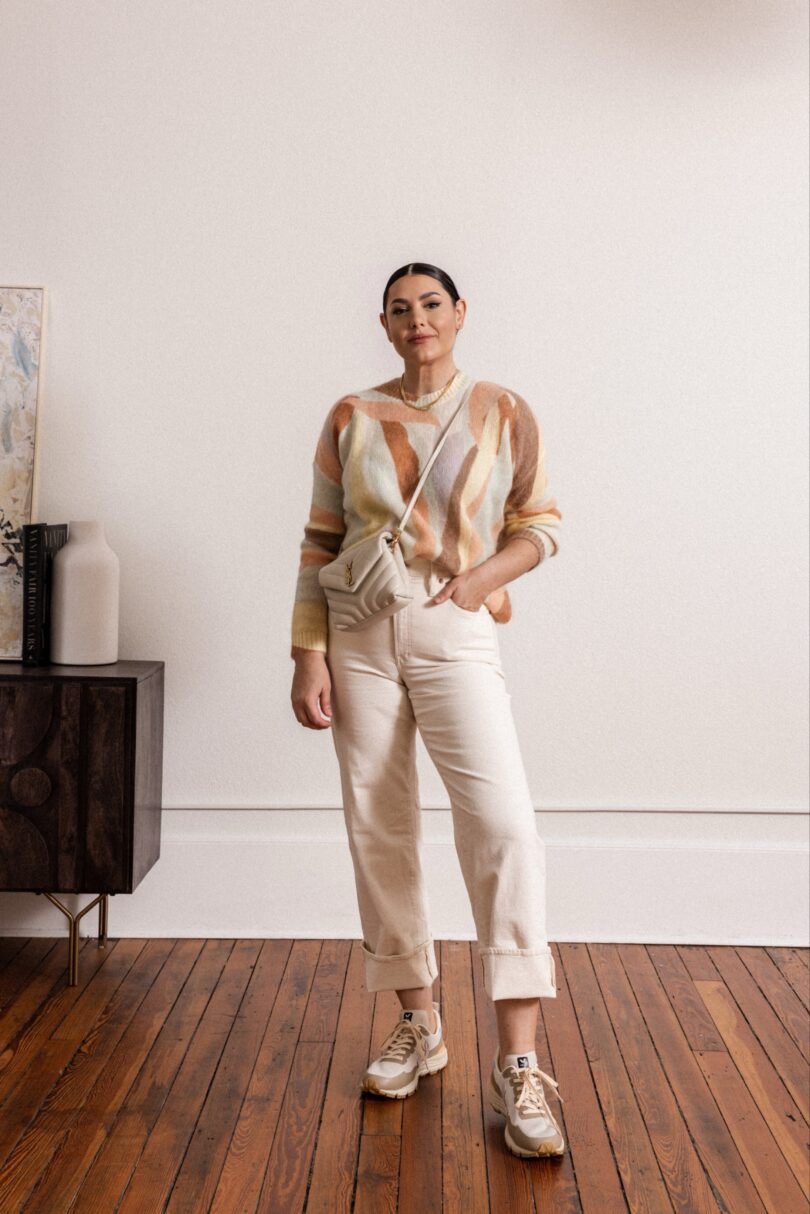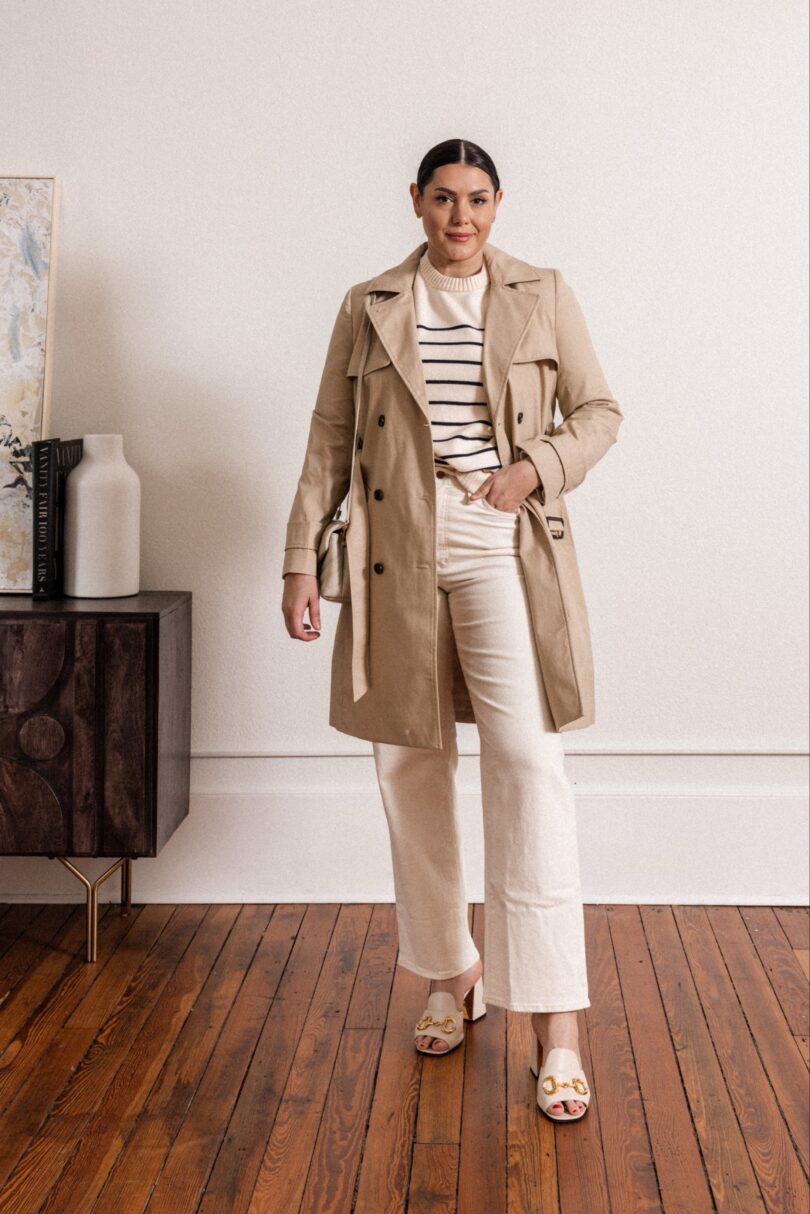 This sweater has been a favorite all winter so it only made sense to give it some more mileage! It was in my November capsule as well. This is hands down one of my favorite finds from Zara lately. It's obviously very versatile but it's a great weight for spring as well. I love how it ties everything together; stripes are a neutral. Been saying it since '12.
I am in the medium, perfectly oversized. And I've found a really good similar look from Amazon here!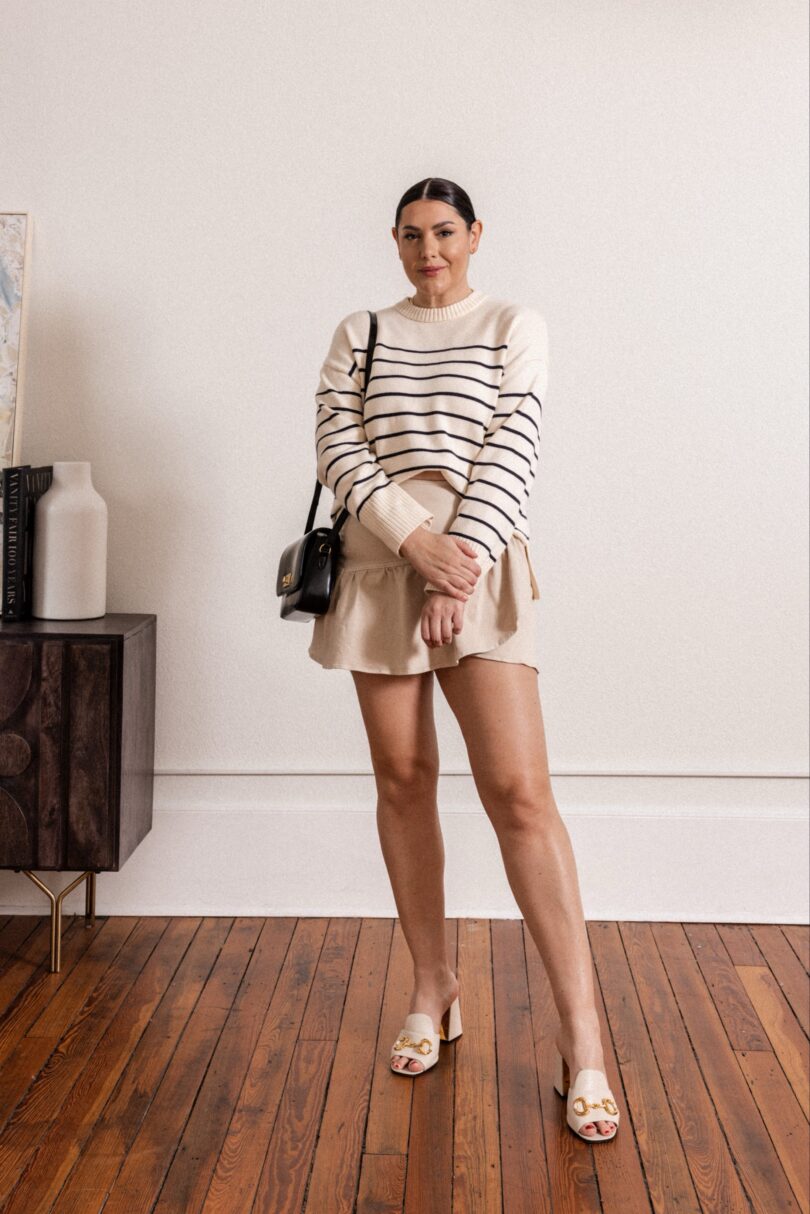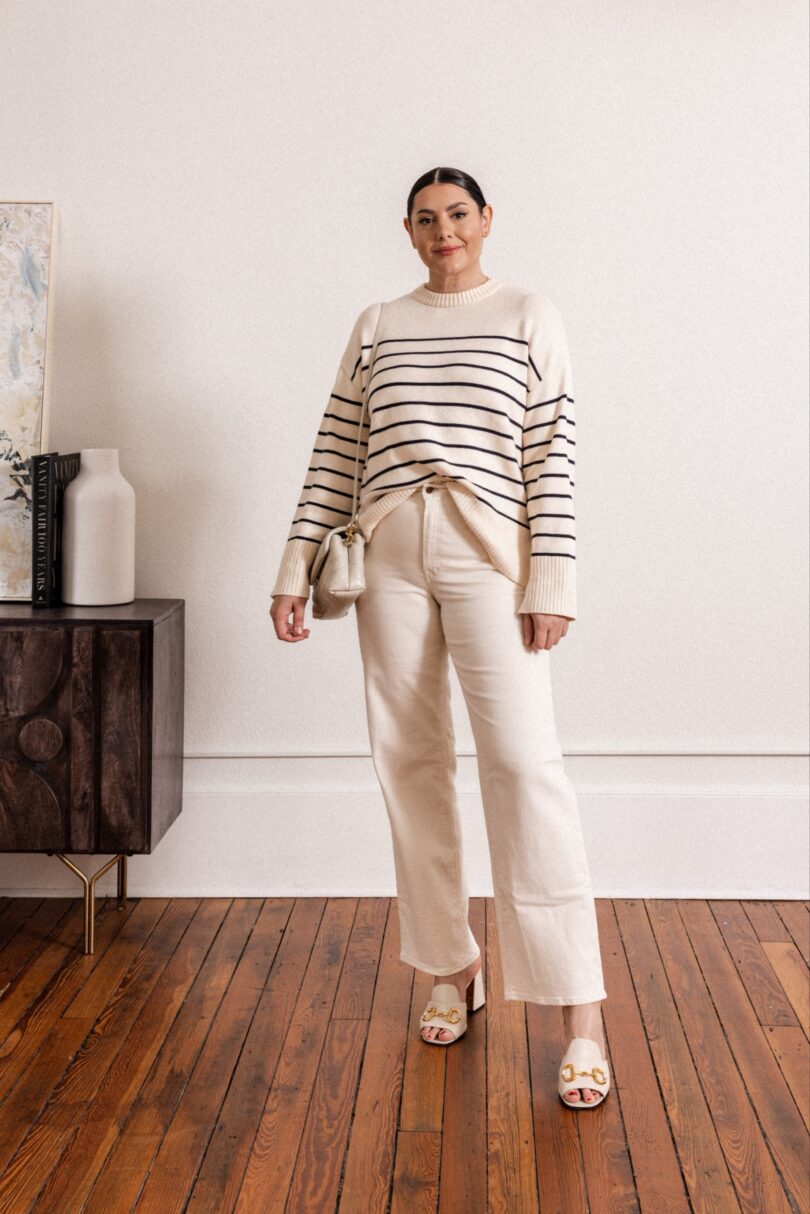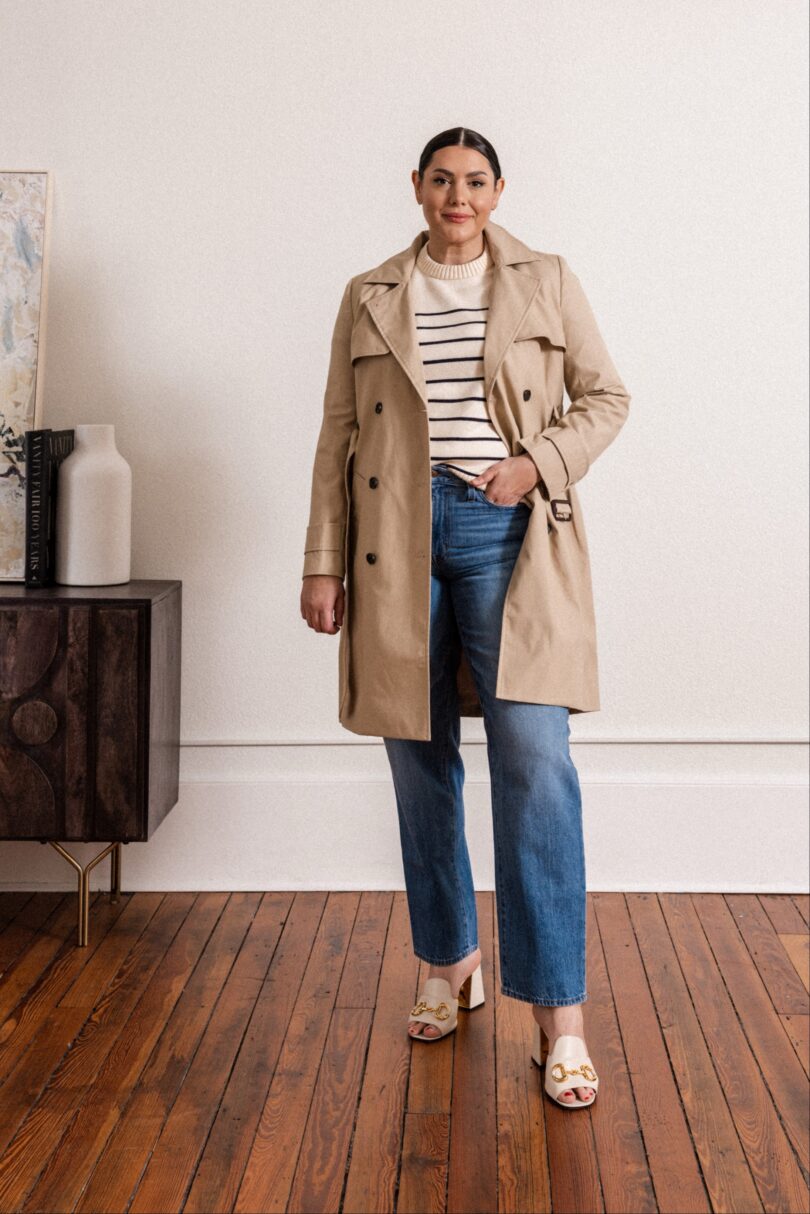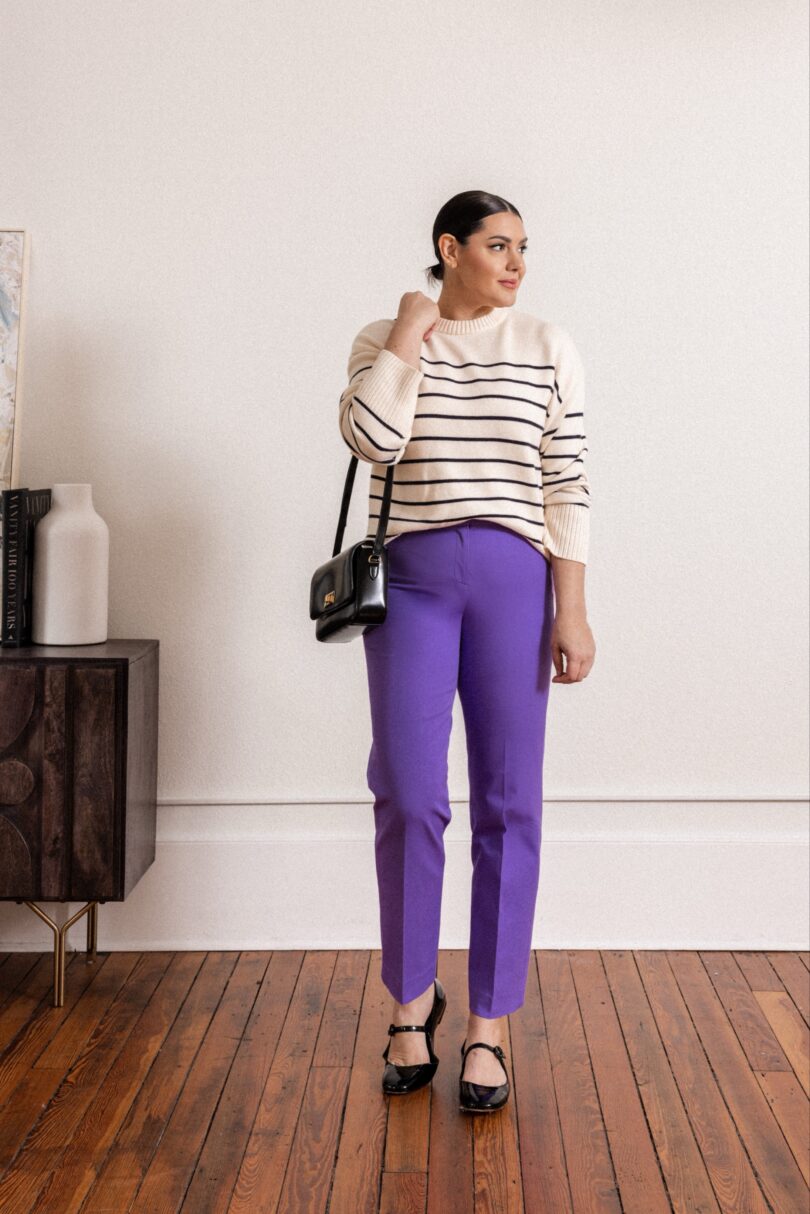 Thank you for following along on this monthly capsule journey!  You can find all of my monthly capsules here!
Winter Seasonal Capsules: