I did an Amazon try on this week on IG stories and you guys have asked for me to share them here as well! If you want to read the way more fun version of this try on, find it here! Just the facts are below each photo and by facts I 100% mean my opinions.
You can also find each of the pieces in my amazon store here!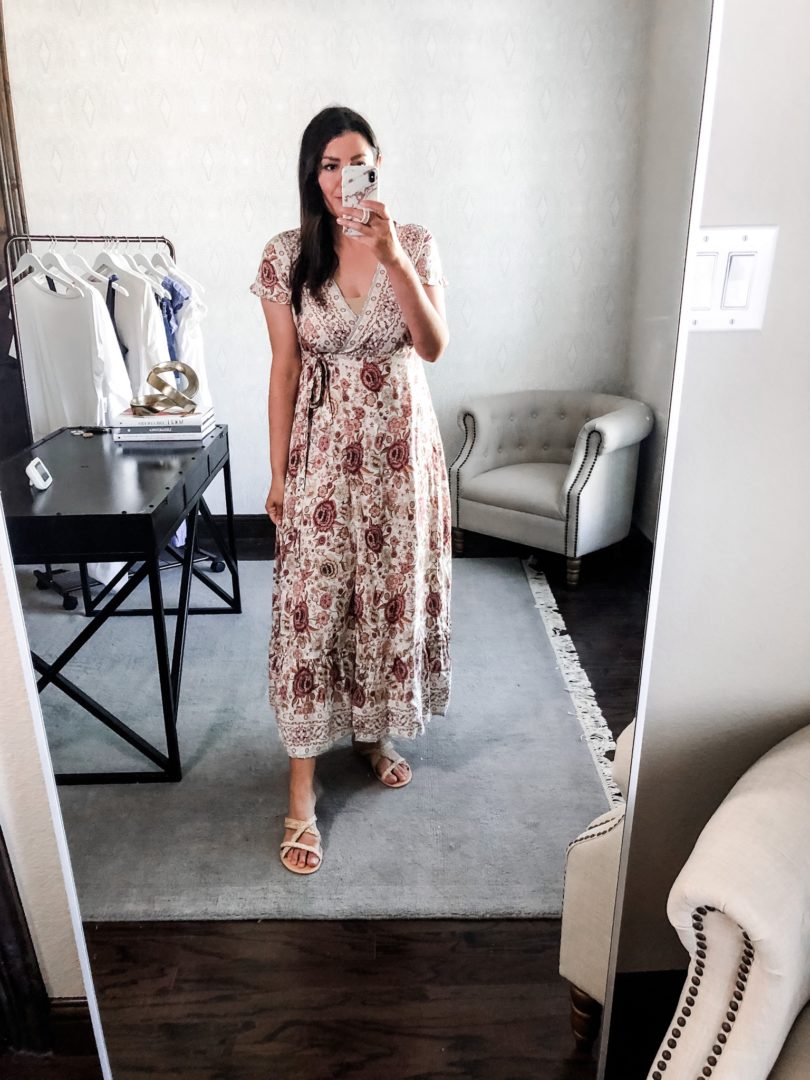 I am in the 8/10 of this dress and it is at the maximum for coverage at the chest. Size up if you need more room for your chest size. The dress is an actual wrap dress! So if you are nursing, this is nursing friendly for sure. One note, the wrap at the thighs will swing open in heavy winds and the conclusion is exactly what you think it will be. I like to wear smoothing biker shorts or a simple slip under most dress in the summer anyways, so this is what I wear under the dress.
(See how I styled this dress here.)
Fit
True to size but size up for over D+ chest.
Quality
 thinner fabric, but nice for summer. will need a slip or shorts underneath.
Notes
Nursing friendly. Regular bra friendly but can also be paired with a camisole for extra coverage.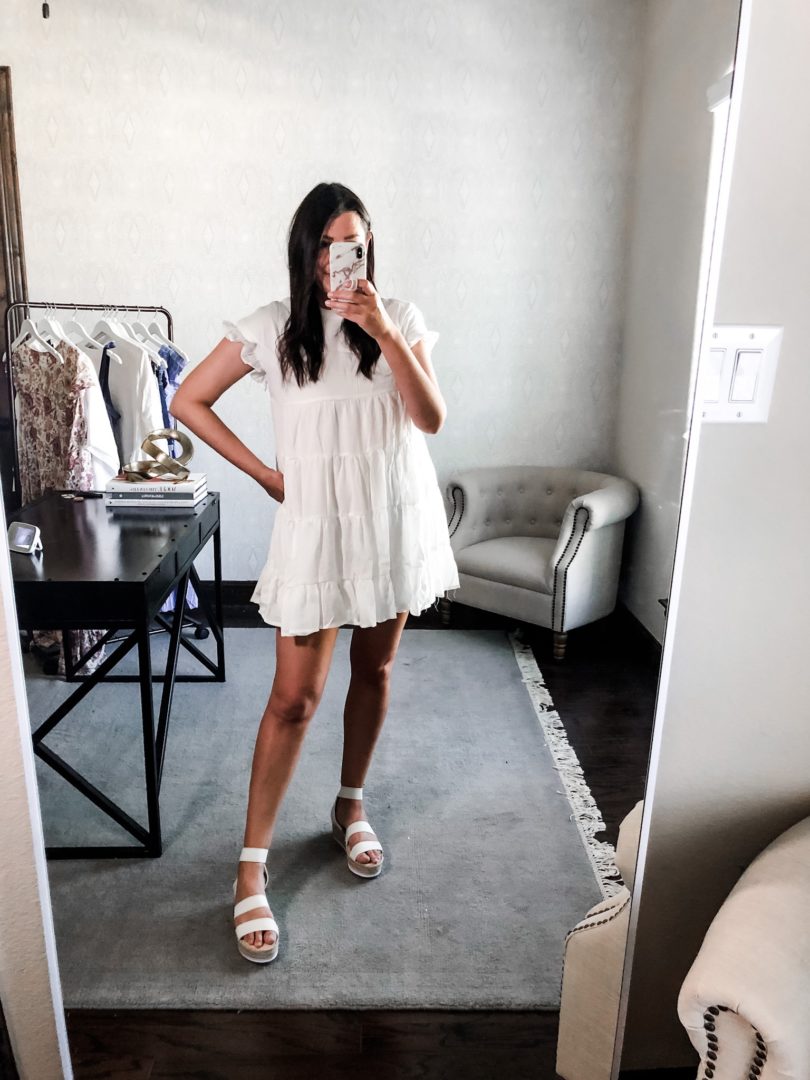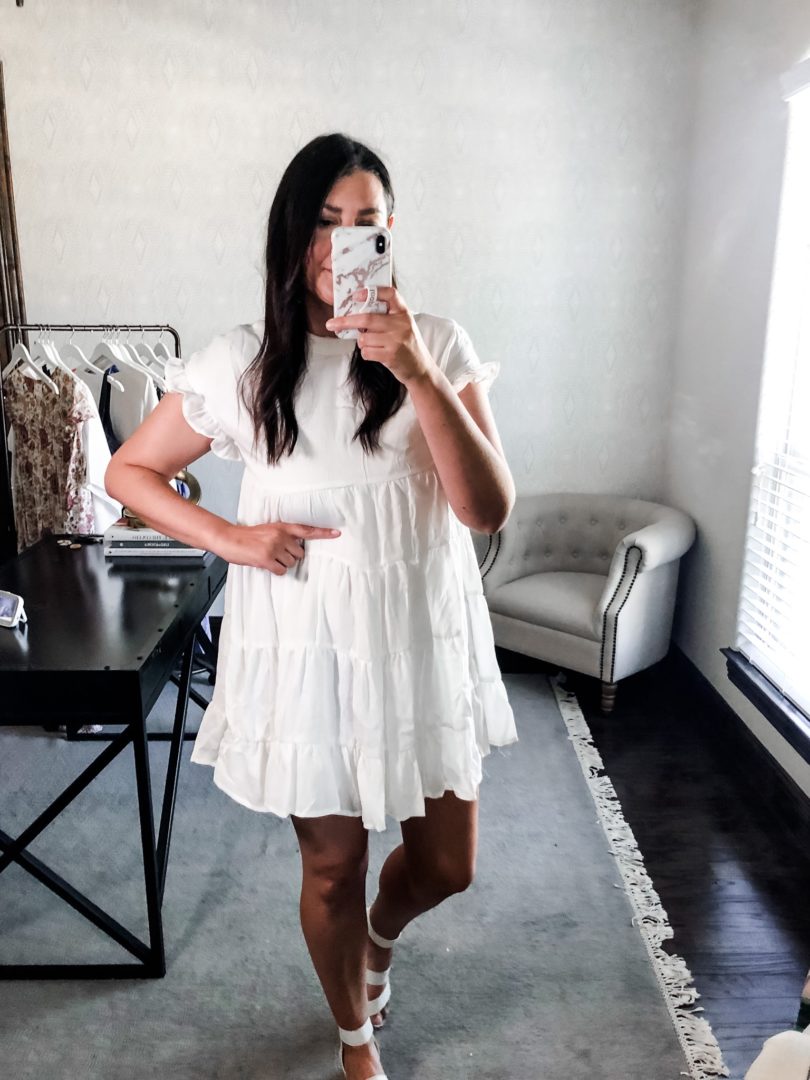 (just showing you where the difference between where the first tier ends and my boob ends.)
I'm in the large of this dress. It fits small for sure. I am an 8 and my body shape is a bit rounder at the arms / shoulders and chest and that is where this dress fits the tightest. I mean obviously, LOL. This dress is basically a tiered pillow case with arm and neck holes. The arm holes are not so tight that they cut off circulation (been there before) but they are pretty fitted on me. I would size up if you have a bigger chest / arm body type. The large fits size 8-10. Oh and I'm 5'9″ if that helps for length reference. It's pretty short, just FYI.
Fit
Size up! I am in the large and I'm typically a medium in most dresses at Nordstrom, Target, etc. Fits tight in the chest / arms specifically.
Quality
Quality fits the price — it's a poly blend dress so it's a bit crunchy but lightweight for summer. There were some strings I had to trim off around the bottom hem, but that's not a big deal for me. Not sheer and fully lined! Stains come out too with a little bit of stain remover. 😉 Definitely needs a steam when you get it in.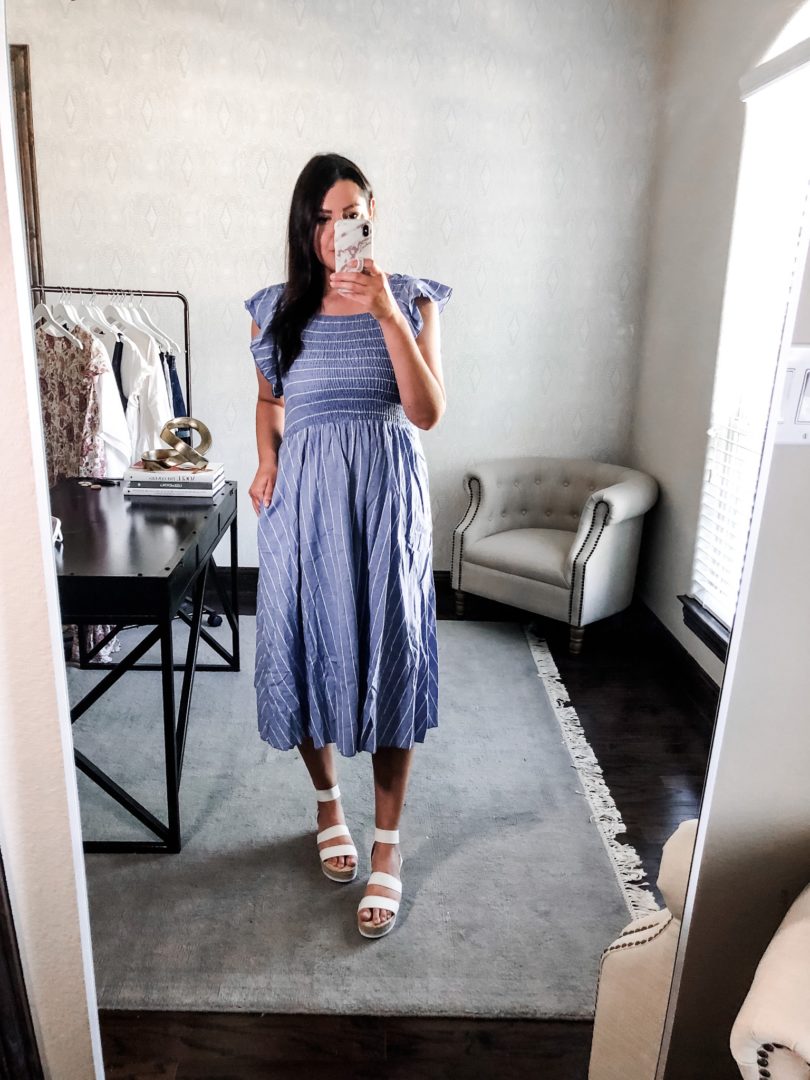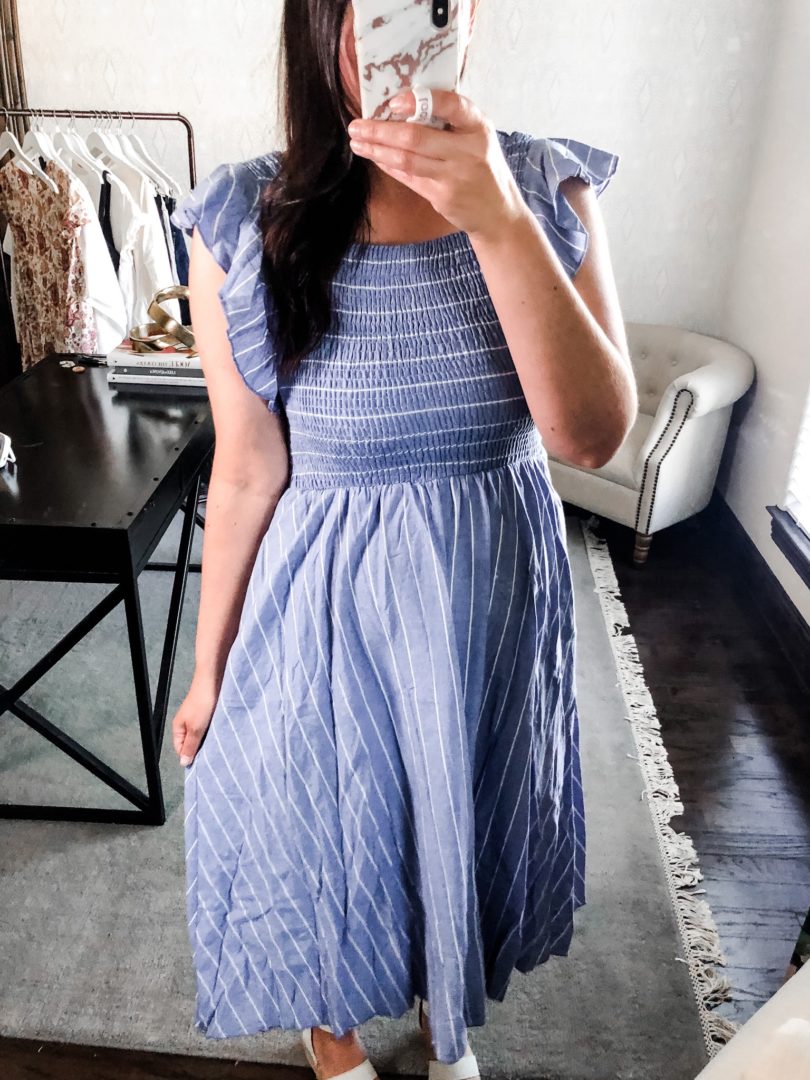 Love this dress! It's lightweight and just so girly. A great Free People dupe as well. It's a cotton blend dress so it obviously needs a steam. Bless her for even showing up here today so wrinkly. The fit is great! I'm in the medium and it's true to size and very roomy up top. The top is fully ruched so it kind of fits around you so I would recommend an underwire bra just to give some shape and support here.  Highly recommend!
Fit
True to size! I am in the medium. It fits great and I am a pretty stacked size 8. It's a midi on me but a great length even if you are a bit shorter.
Quality
Mid-range quality! The fabric is a cotton blend and I think that it will wash out well, too. It's not as thick of a fabric as say a Free People dress but it's 1/5 of the price. Overall I'm happy with the fabric and quality!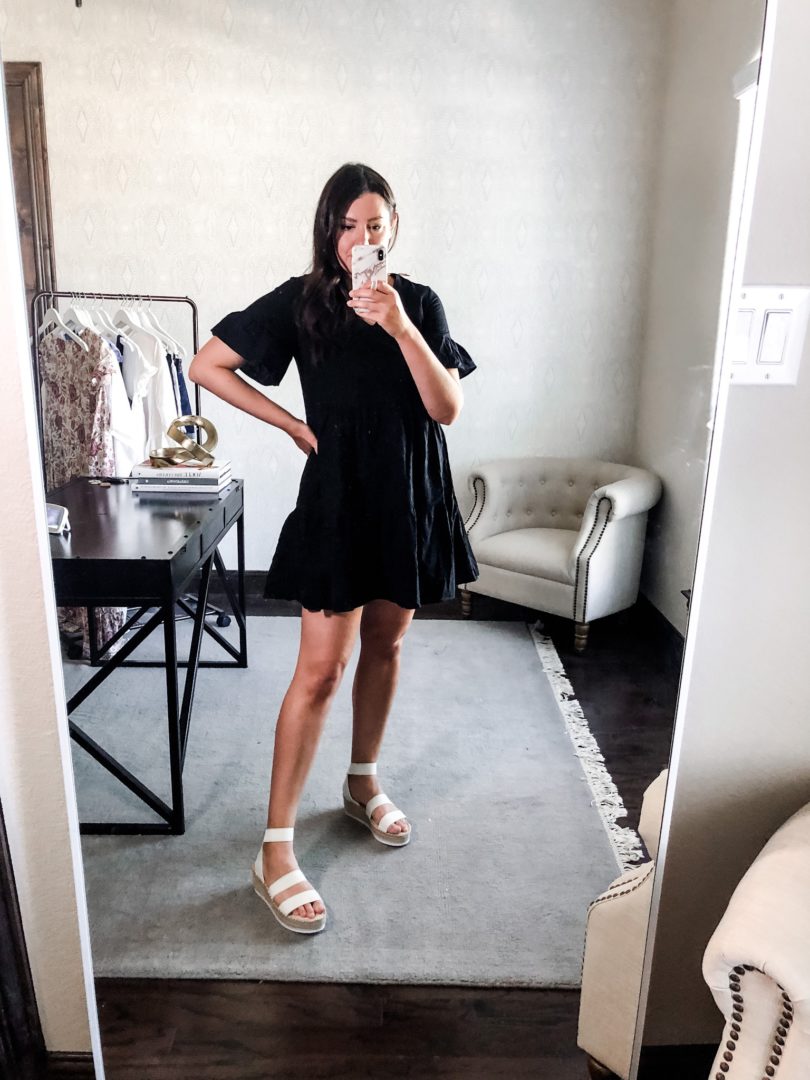 I am in the medium of this dress and it fits pretty true to size! A bit tighter in the shoulders but that's per usual for me. It is lined as well! I love it. You can find it in many many colors here!
Fit
Fit is true to size! I am in the medium and love the length and fit.
Quality
Kind of a thicker fabric, cotton blend and perfect for summer. It kind of stays wrinkly if you know what I mean? But in the black you can't really tell! This dress is a favorite of mine.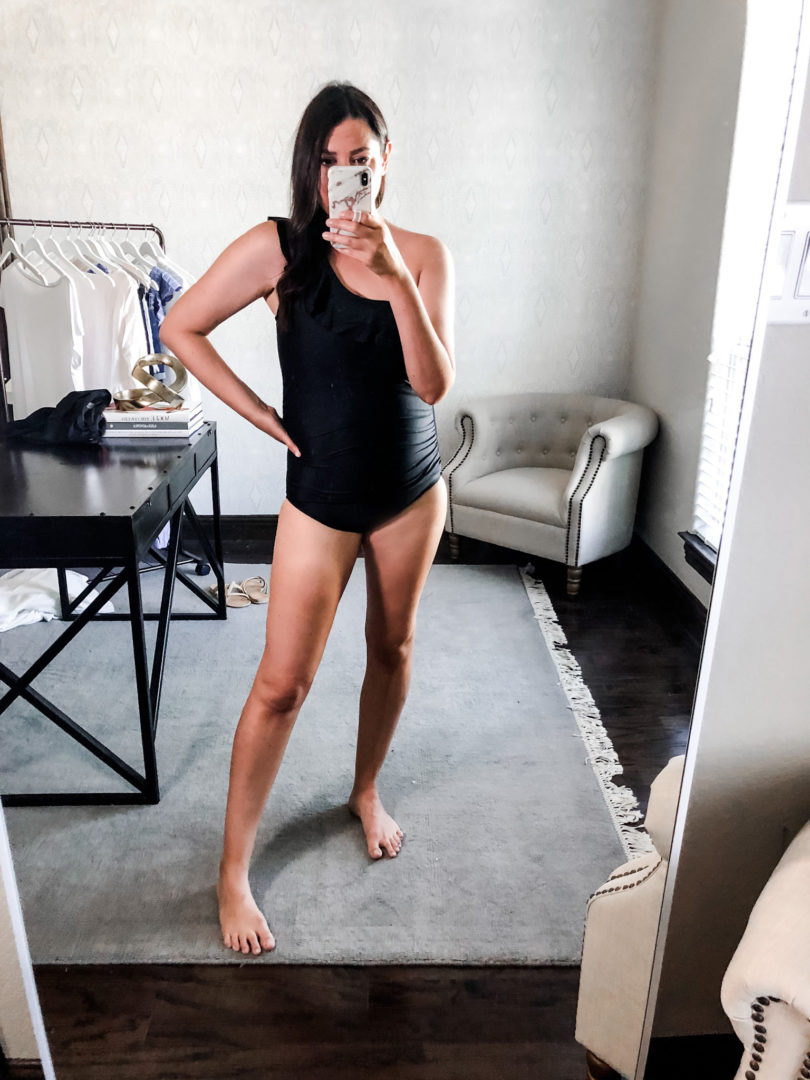 Excuse my mess in the office. LOL. When I got to the swimsuit portion, I obviously just tossed everything on the floor as I was trying to hurry through before a little lady woke from her nap. 🙂
Okay so this is absolutely hands down forever and ever my favorite swimsuit. It has structure at the tummy so there is support there but it's not uncomfortable and easy to get on. It is more of a sports bra type of support on the chest area, where it kind of 'smashes' them in there instead of lifts them but at this point I'll take it. I don't love an over-enthusiastic underwire in a swimsuit anyways these days. Too much of a good thing, you know? Trying to keep things family friendly at the pool this year. It's lined and it LASTS. I wore this swimsuit over and over last year and it feels and looks brand new. You can't really tell here but the one shoulder has a ruffle that goes from front to back. It's just absolutely lovely and perfect for a mom tummy. Oh and pretty good back coverage too. I'd say it covers about 75% cheek. 🙂
Fit
Lifechanging TBH. I sized up to a 10. I would recommend sizing up one if you have tummy / boobs and or length. If not, stay TTS.
Quality
Honestly I find this suit to be better than my J.Crew ones, which I've bought for years. GREAT quality. Can not recommend enough.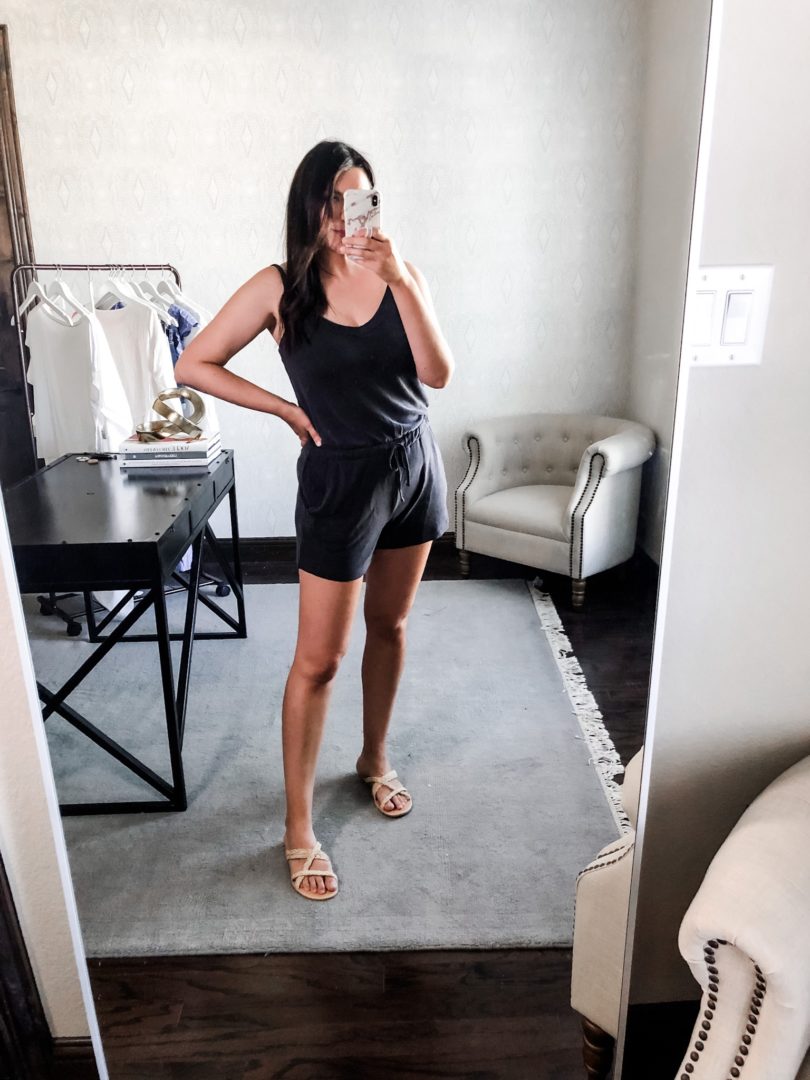 I love this romper but I've wax poetically about it here! I am in the medium and it fits true to size! Find it in a few other colors here but it may be sold out :/ It was moving fast the other day!
Fit
I'll echo the other reviews — the chest area is large. So for me it was perfect but if you don't have a bigger chest, you may find this problematic because the straps are not adjustable. I usually have to size up in rompers for length / chest room but this one I didn't have to. I would say this fits true to size for me, but it is a generous fit. I am in the medium.
Quality
Amazing. Honestly — love the sueded fabric and the fit!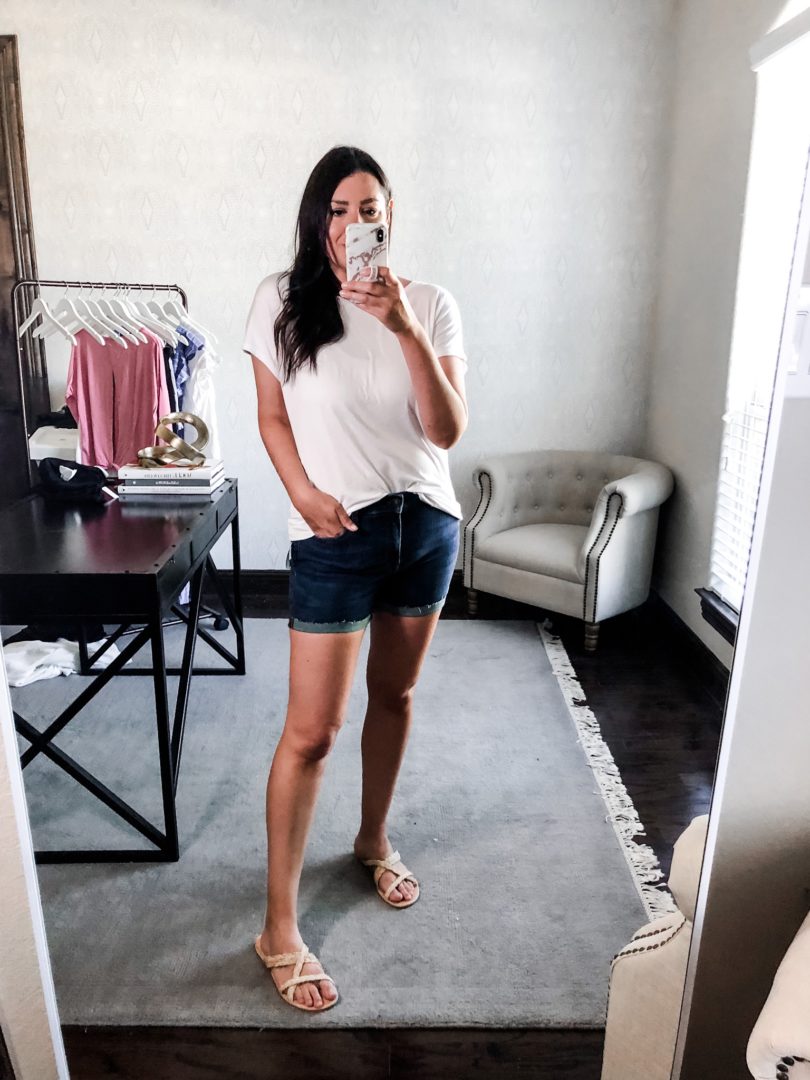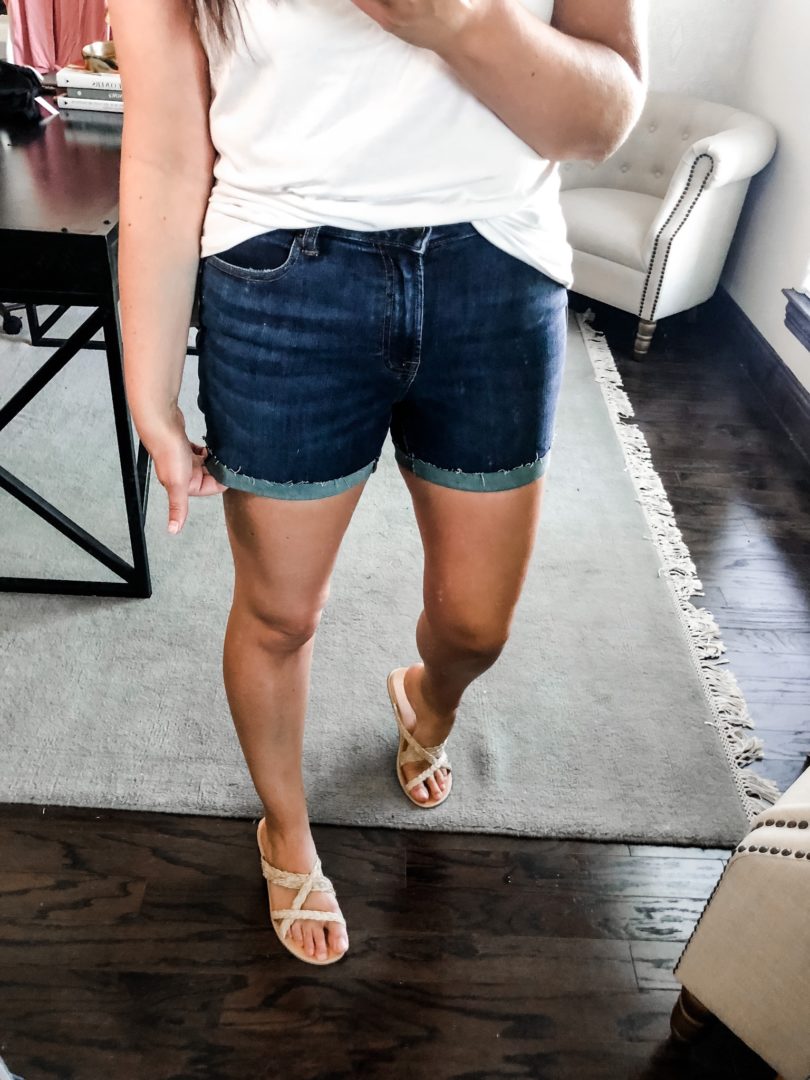 Okay honestly I love these shorts. At first I was like meh because they fit so FITTED on my thighs but I gave them some time and now I really like them because they are SO comfortable. They are basically like jegging fabric but in shorts for so they have a ton of stretch. There is not much room at all for space in between your legs and the fabric unless you got real skinny thighs. But it's not a bad thing, just different for me because I like the wider leg shorts.
Fit
I am in the 29/8 and they fit true to size. Like they fit exactly like 8s and because of the stretch, they are so comfortable but if you want more room in the thigh / waist definitely size up one.
Quality
Good quality! The color is nice and the cuff doesn't unroll with wear or fray.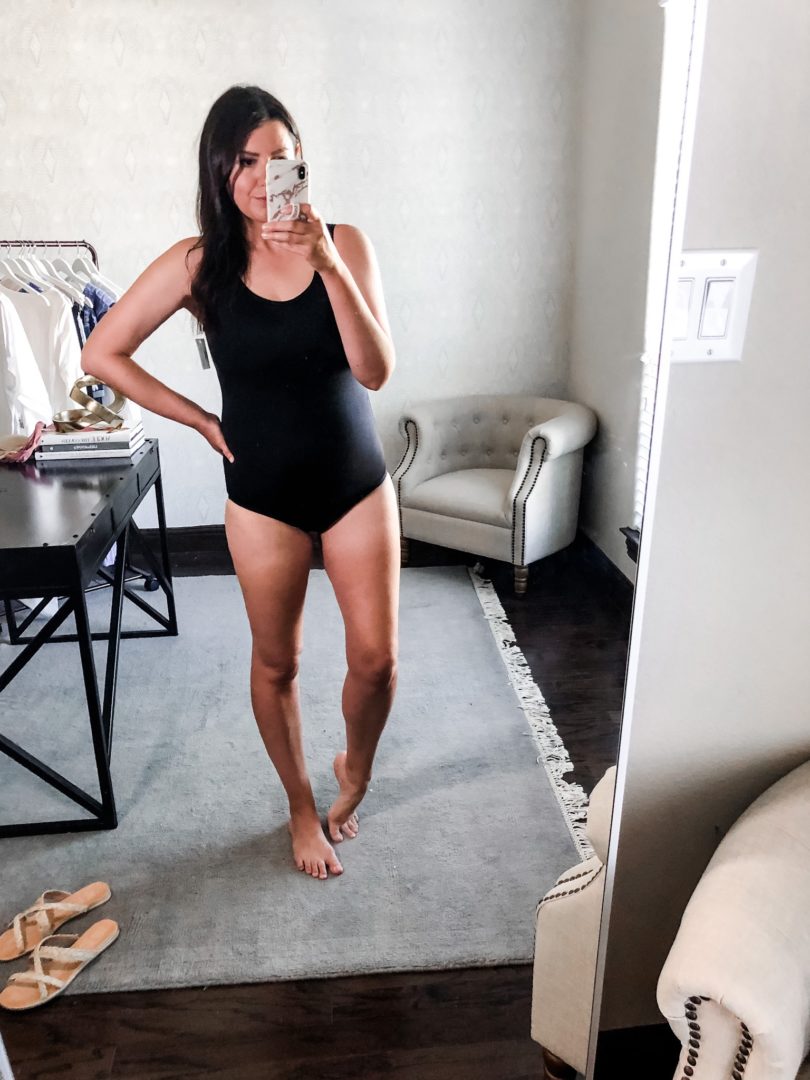 This swimsuit is…just okay. There is very light support for the chest so it felt very loose and unforgiving. There isn't any support around the tummy so if this wasn't black you'd definitely be able to see my belly button shape. It's not a BAD swimsuit it's just not ideal for what I'm looking for. I like something with more tummy control and at least some type of security at the chest line. Again, trying to keep things family friendly. The back dips pretty low and it's so pretty, but just FYI. The other is that the booty coverage was okay. It cuts up a bit more high, think French cut undies but overall I felt pretty covered.
Fit
Great! I'm in the large and it fit well. I size up for length with one pieces and I would 100% recommend this if you are tall or have a long torso.
Quality
Good! I would say along the lines of J.Crew. It's lined and it does have some support for boobs but it's light support.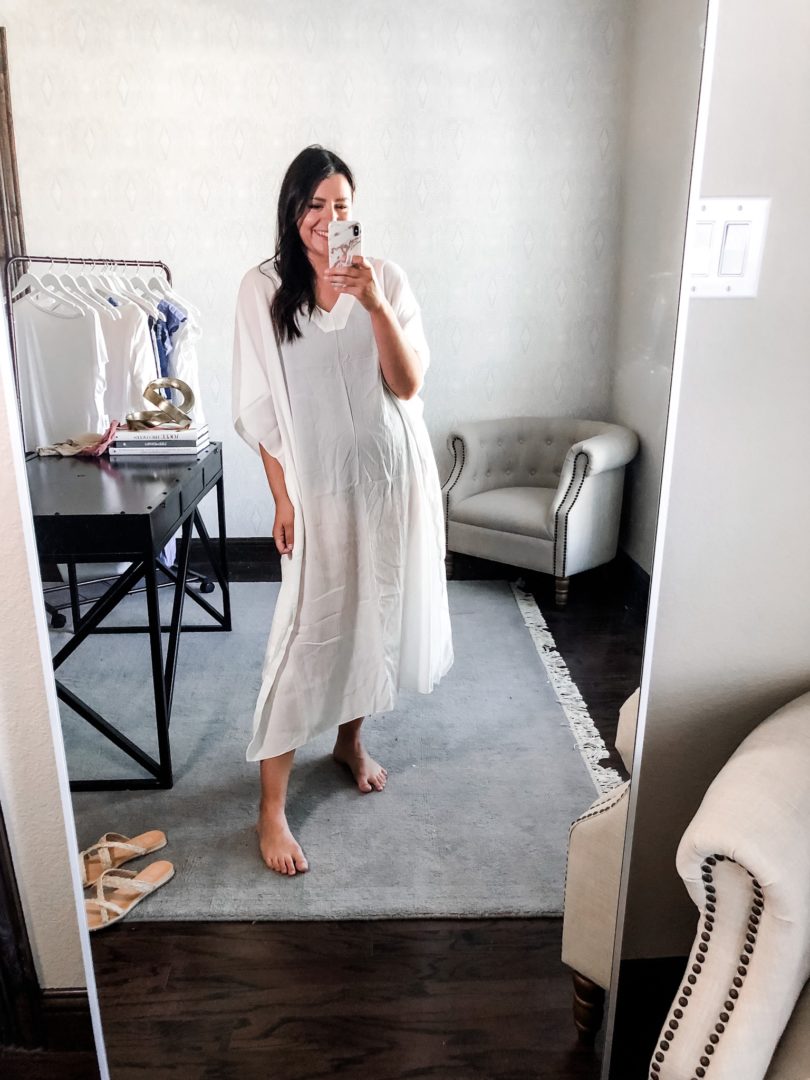 This is a hard pass. This is a swimsuit coverup but honestly it's not great. The neckline could be a bit lower and the fabric is just CRUNCHY. I would say hard pass but that's up to you.
Fit
One size and oversized. I don't know if this would work on a petite person, TBH!
Quality
Nah.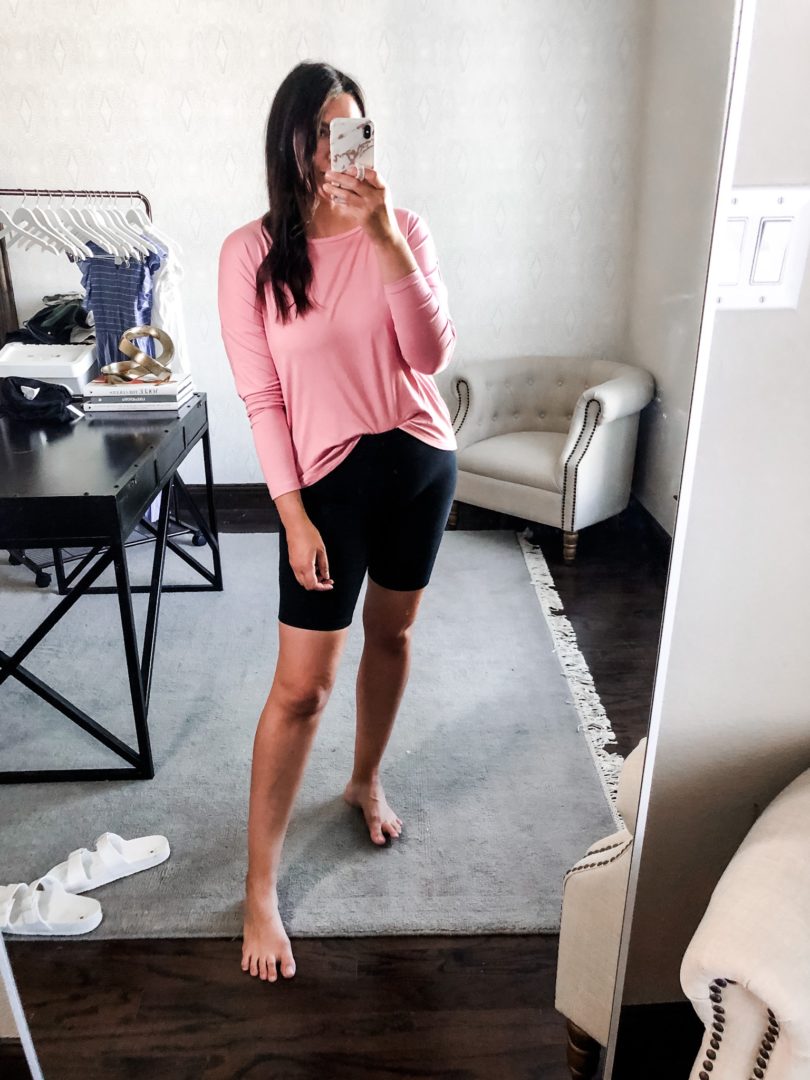 These biker shorts are super cute! I finally took the plunge and picked some up. I'm not sure if this trend is 100% for me but they are very comfortable to wear around the house and to Target. I am in the medium and they fit true to size!
Fit
True to size! I'm in the medium and they fit exactly like a medium yoga pant.
Quality
Great! Not too thick but they have great support and they stay rolled up at the waist.
______________
Have you found any favorites from Amazon lately? I'm always on the hunt for dresses and tops so let me know if you've found any favorites below!