We are less than a month away from the first day of Fall and if Starbucks can bring out the PSL, I can bring out some fall pieces to share with you even if it's still…technically summer. Turns out I don't follow the actual calendar, just the Starbucks marketing department calendar. I popped my head into Old Navy and picked up some really cute pieces for fall! I've narrowed it down to my favorite 5 pieces that I think we could get a lot of wear out of this fall and beyond. See my picks below!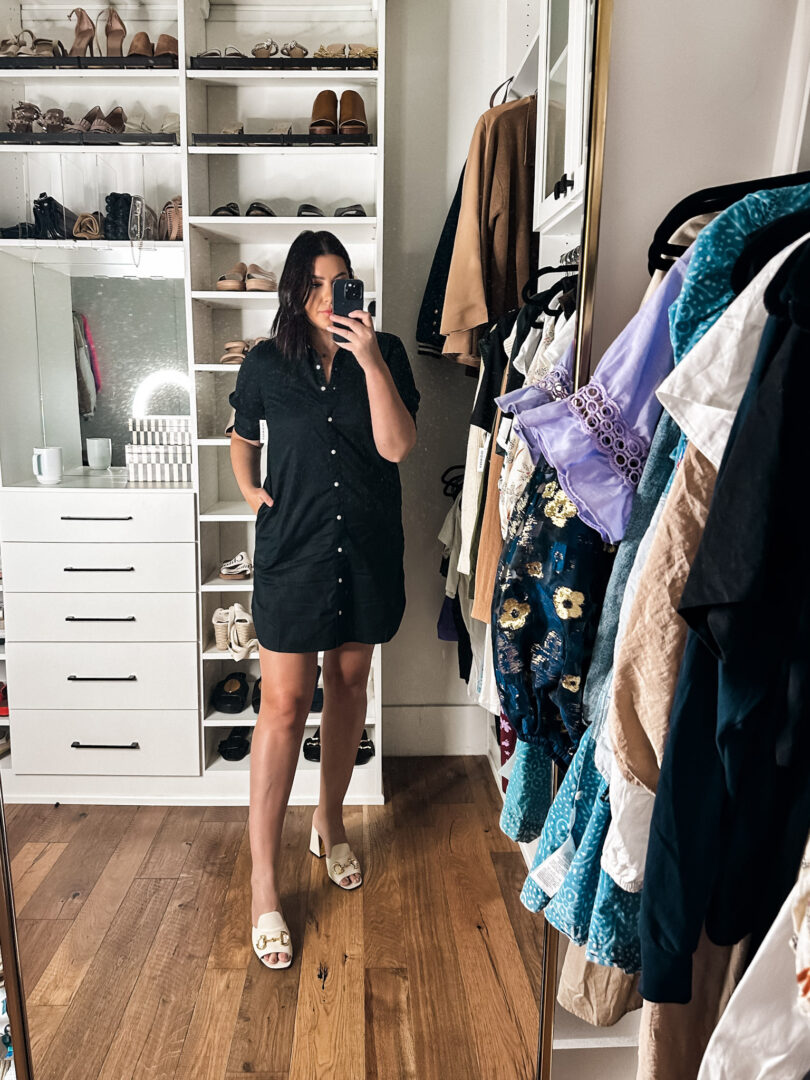 This dress is a 9/10 for me! It's lightweight and it steamed out beautifully. The fit is perfect with one exception: The cuffed arm holes were so tight on my arms, just FYI. That's why I give it the 9 out of 10. However it fits perfectly at the chest! A dress for everyone — we love to see it.
I am in the medium and the reviews are true, it does run generously. I think for the arm hole issue I would size up just so that my arms aren't suffocated all day.
As far as fall goes, this dress is the perfect candidate to wear with tall boots, booties, or sneakers depending on your outfit. Easily layer it with a blazer or a cargo jacket, something with structure to keep it crisp looking. (Cardigans are hard to pair with cotton like this because you can't quite get it to look right, if you know what I mean.)
Comes in black and white. Find it here!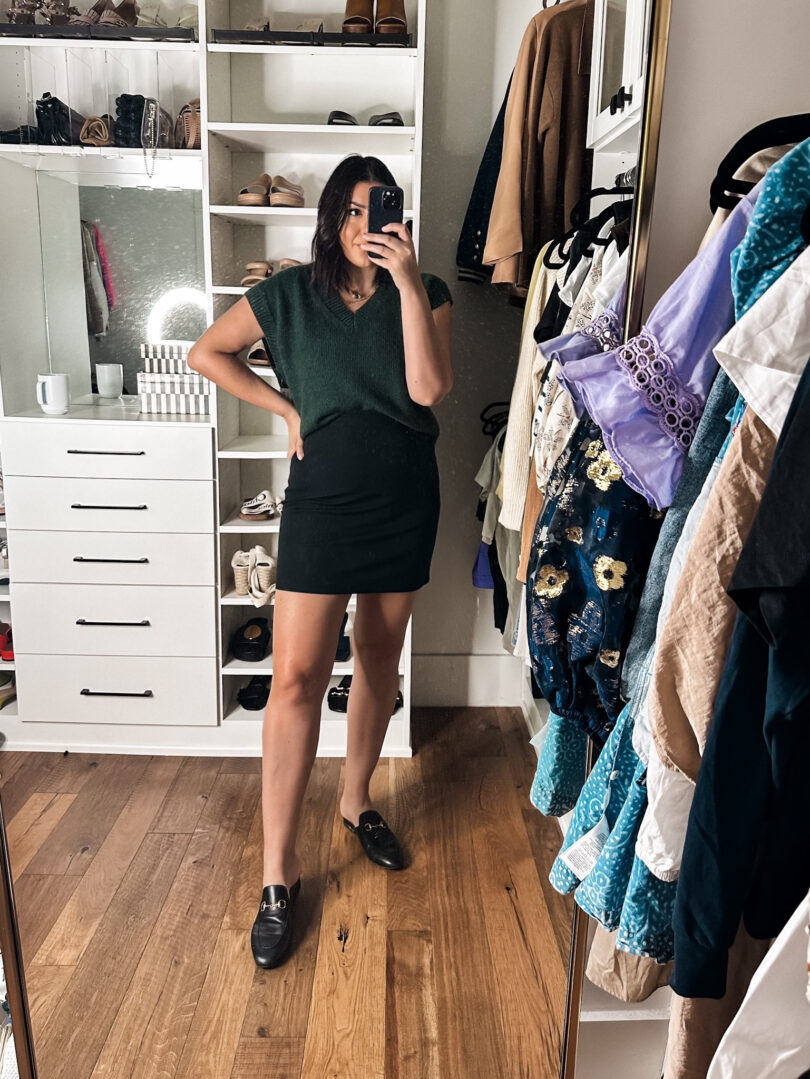 This is a really nice essential for fall in fact I have a similar black skirt that I wore last fall in a capsule (Click here if you want some ideas!) but it's much shorter and with slit. I found that I wanted to wear this style but that skirt didn't have as much wearability as I prefer. This one is very similar but no slit and it's not as short, it's a great length. I kind of have it hiked up here on my waist to make it shorter, but it's a really appropriate length — if my cracked morals wouldn't get in the way. In other words, HR approved. 
I am in the large but I would prefer a medium. The waist is a little loose on this one, so I would say this skirt runs generously. It's stretchy, ponte like fabric with an elastic pull on waist. It's a nice basic to have this fall!
YOU GUYS. THESE JEANS are it. I have been looking for the perfect wide leg — actual wide leg not flare or boot cut which hide under this title of wide leg — that isn't a flare, hits at the right length for flats + heels (it's a big ask, I know) and actually fit! Who knew that what I was looking for was at Old Navy the whole time!? So let's talk about the fit:
This pair fits a bit looser on the hips, so you can size down one if you want them to be truly high rise but I like this look and this fit. ( I am in the 10) I've pulled them down lower on my hips, well below my belly button which I think is my hips after years of only wearing high rise jeans. ha! The length is spot on for tall girls as well because this is just the regular length. I love the pockets up front, too. The fabric is thicker and softer than the black pair I shared, the feel high end. Bravo ON, truly! 10/10
I opted for the lighter pair for a more casual vibe but this pair comes in a darker blue too.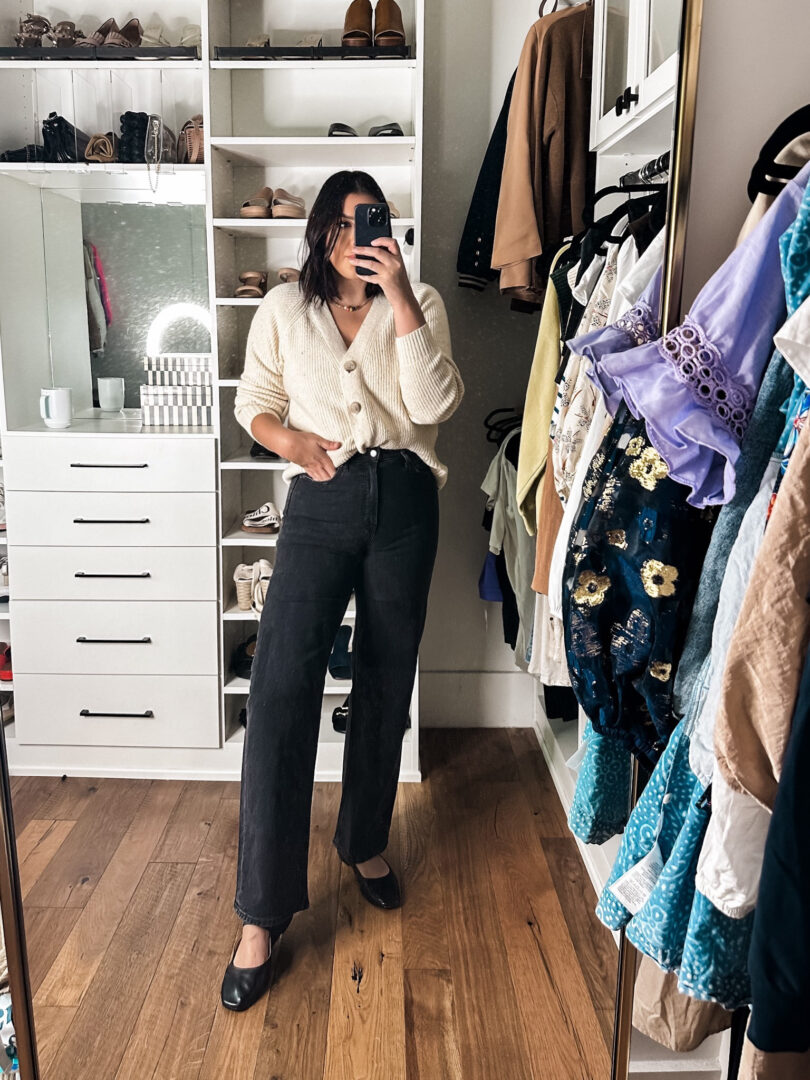 Case in point these jeans are flying under the title of wide leg, but really they are a looser straight jean. That's ok, Old Navy, I'll let it slide because I really, really like them. They remind me of the ones from Madewell, so if you loving this look but not the price of Madewell this is a great alternative.
On to the fit analysis: this pair surprised me –it's a thicker fabric with slight stretch and the fit is REALLY good. Like surprisingly good. High waisted, zipper fly and it really holds you in. Now I will say they run snug especially at the waist. I had to lie down to zip them lol, but this is pretty true for ON jeans and me. We have a history of this bed to zip routine. I like the length as well. Overall, this pair — besides the tight waist — is going to be a huge winner for my fall closet. Pairs well with booties, low cut sneakers and of course, ballet flats. I am in the 10, fit is TTS with a snug waist.
PS: I paired it with this cardigan from Old Navy, found here! I am in the medium.
I love this sweater vest! It reminds me of something I would find at Madewell or Nordstrom. Great quality and the cut is really cute. I sized up to a large and LOVE the fit on this. It's slightly oversized, every so slightly boxy but in the best way. 10/10 recommend this one! It coems in a few colors but this green caught my eye. I like bringing in fall colors even if the temperatrues right now aren't cooperating 😉
______________________
Which piece is your favorite? I truly love the wide leg jeans and can't wait to see how we get along this fall 🙂