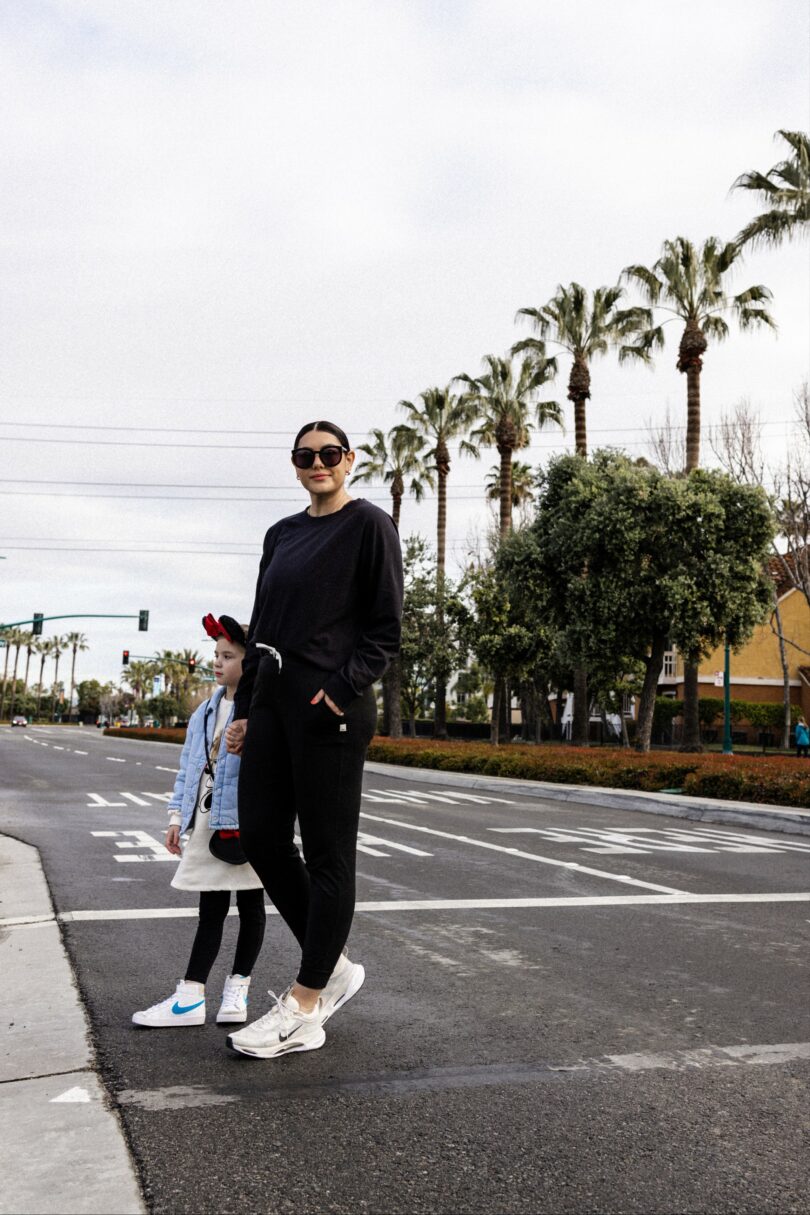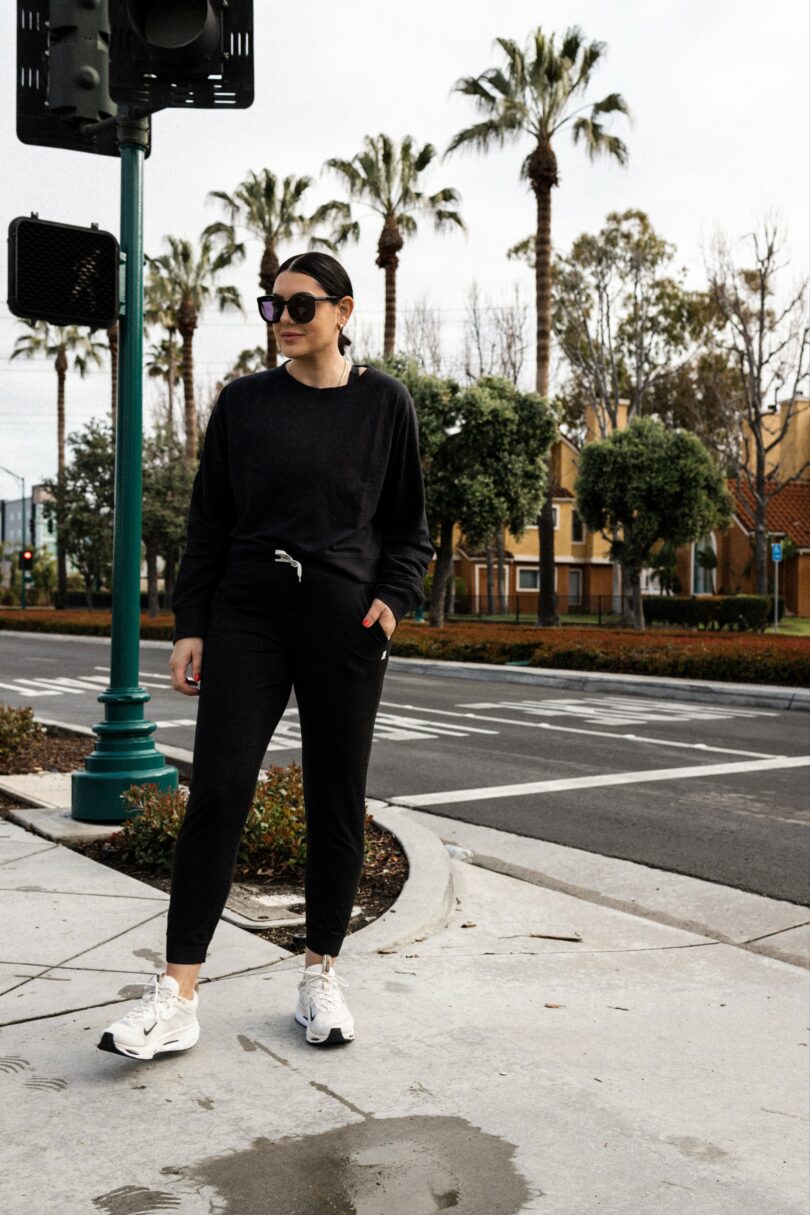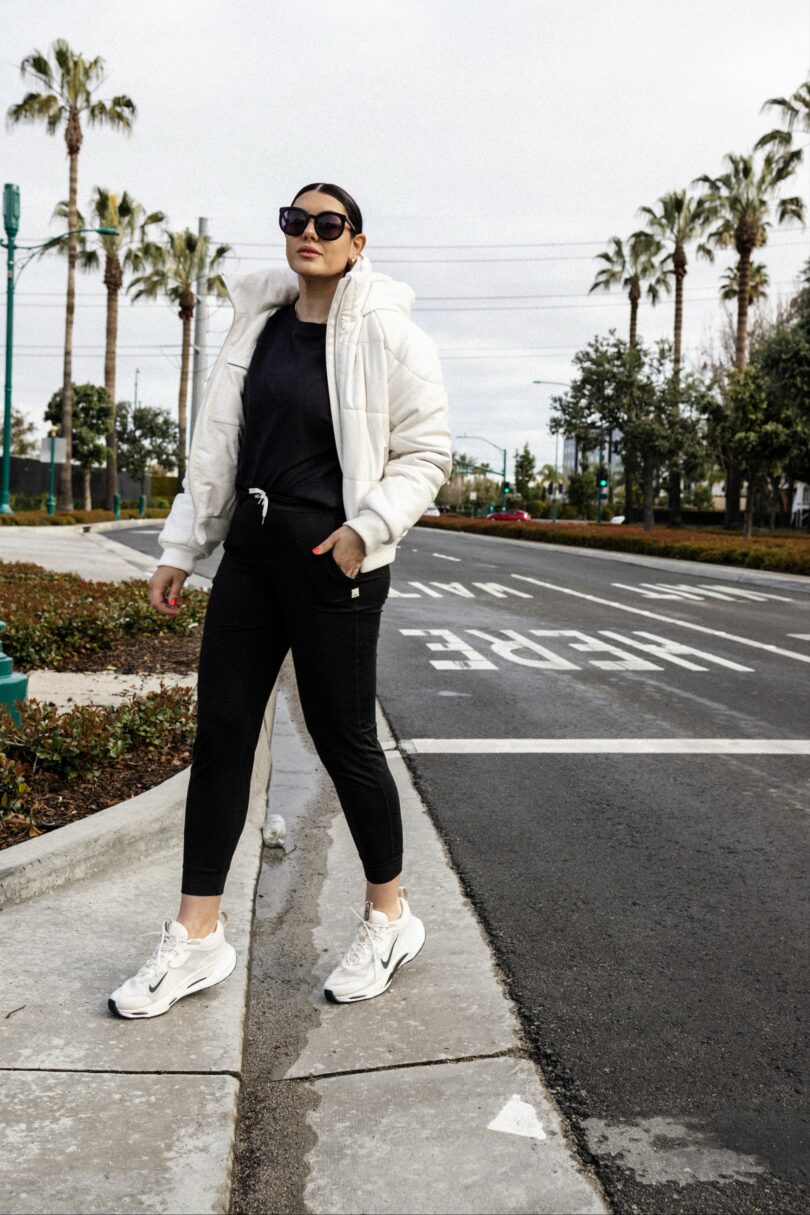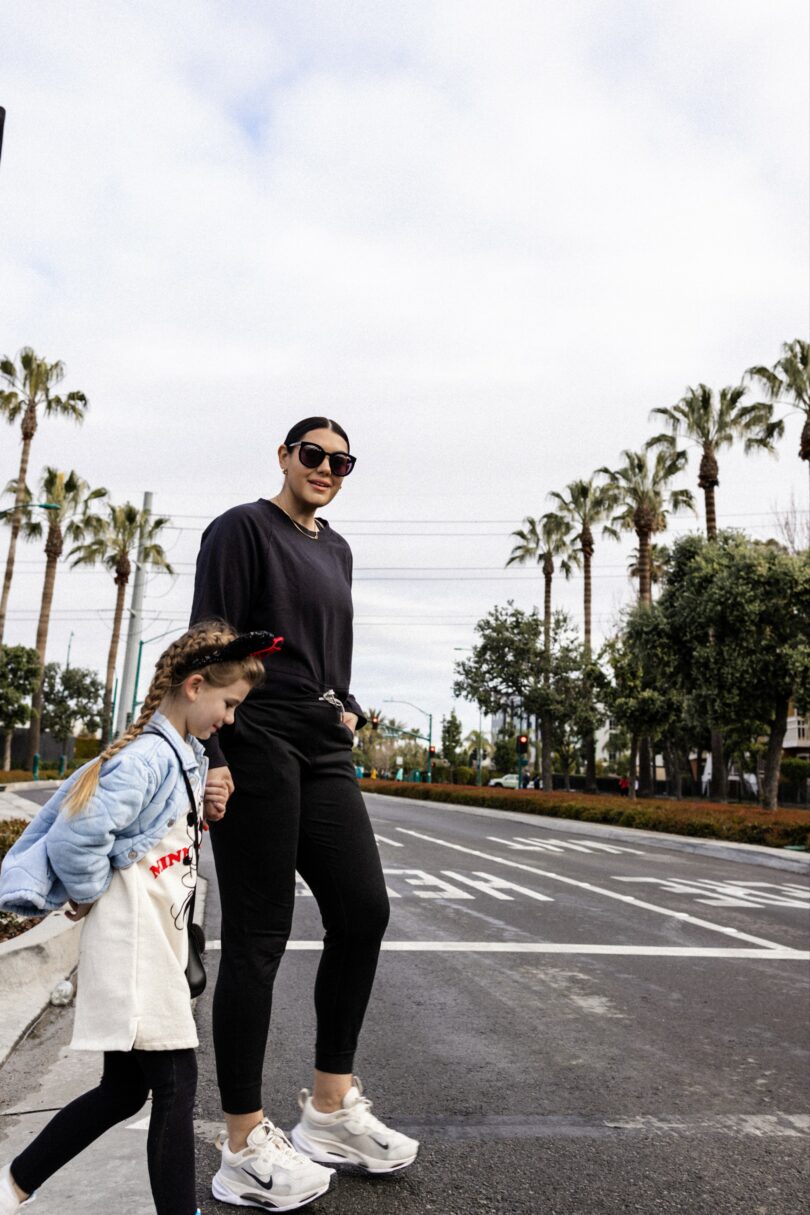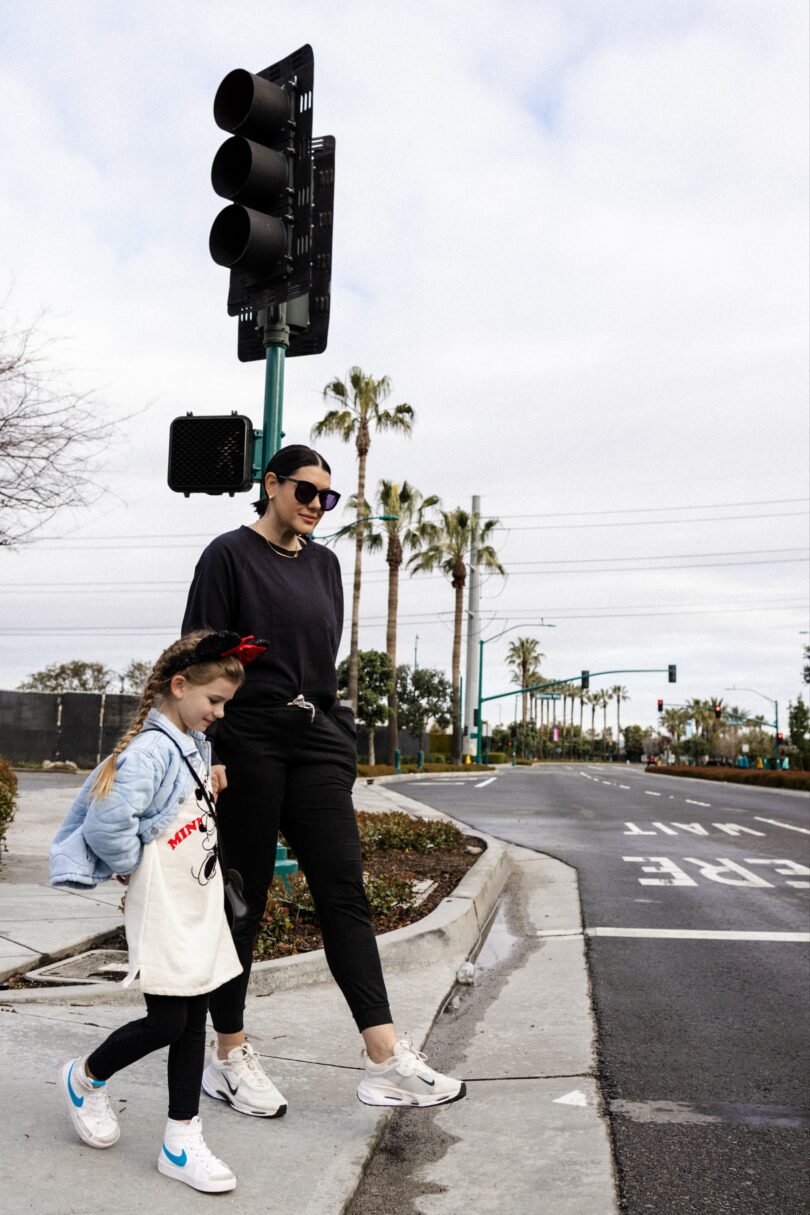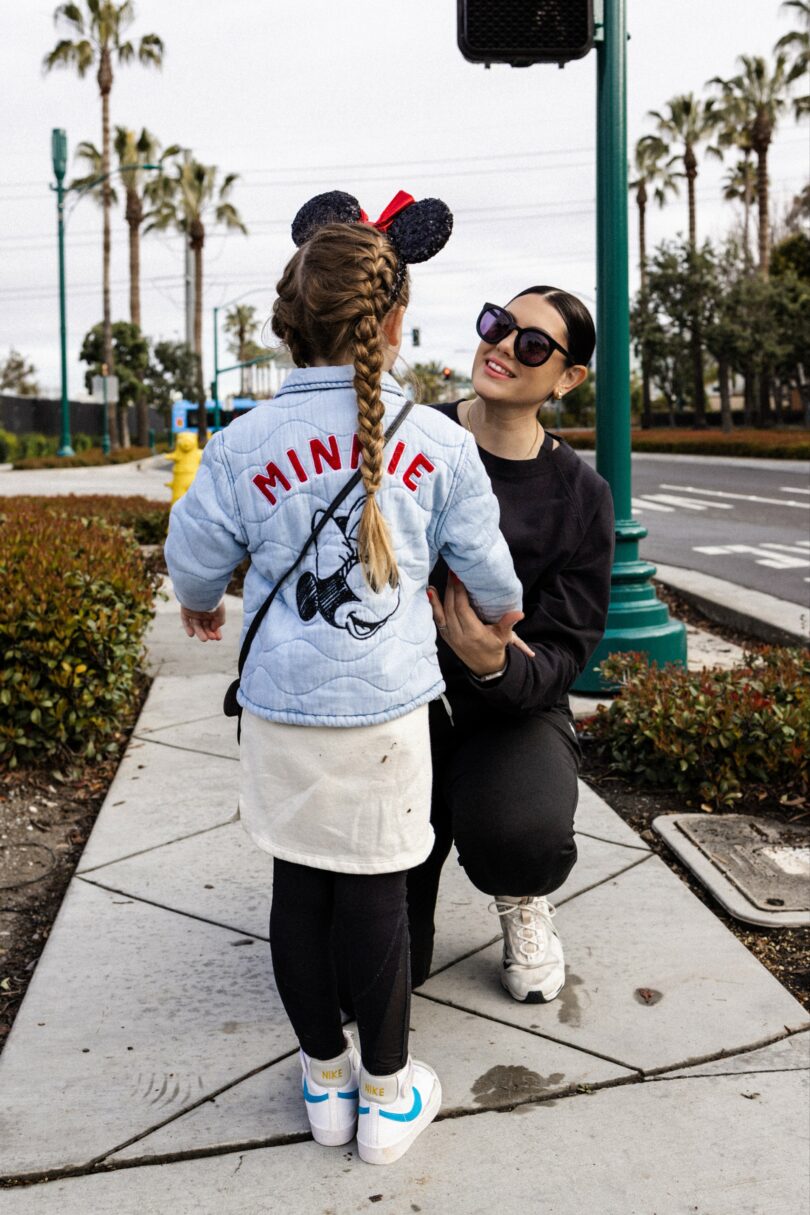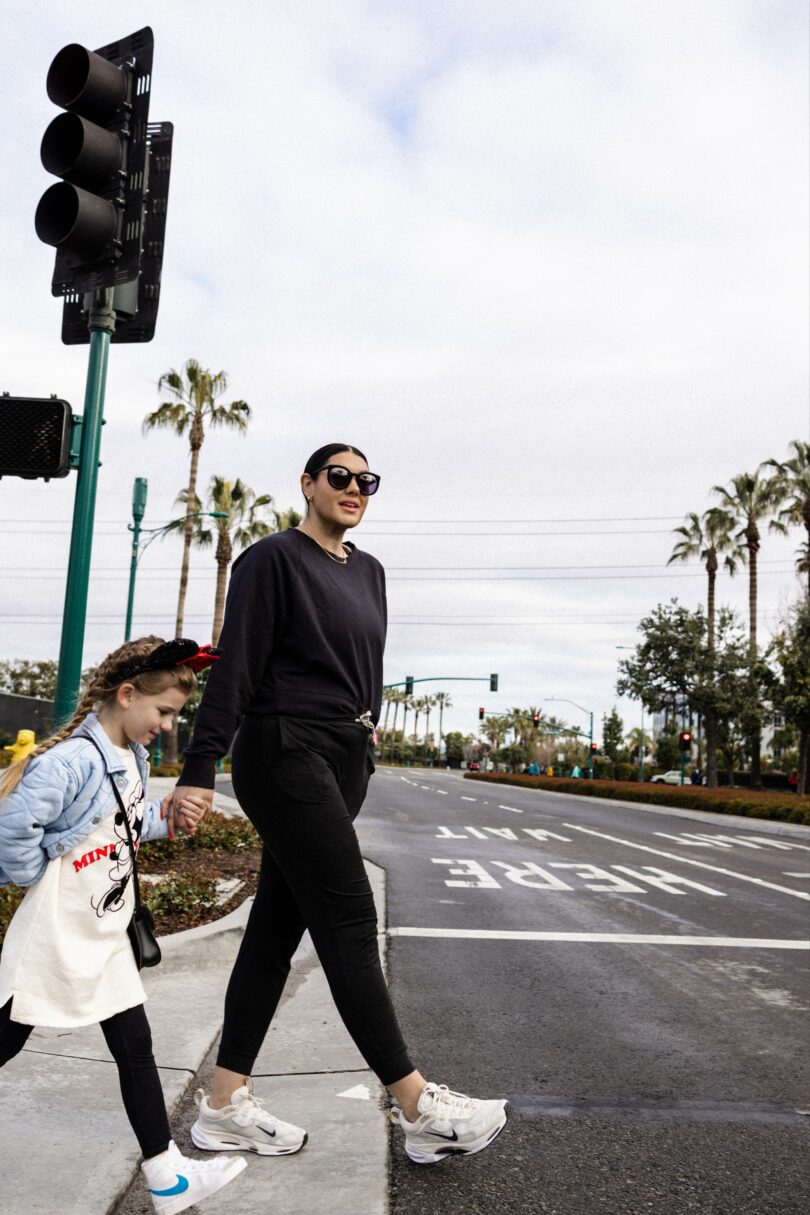 Last week we took Gemma back to Disneyland. And yes, that is me using our child as an excuse to go to Disneyland. I can't tell you which one of us had more fun. I can tell you which one had the most cotton candy (Gemma) and the most corn dogs (Kendi). We are in our prime at Disneyland. Did I see that coming on my bingo card as an adult? I didn't. I also didn't think I'd have children. I love a good plot twist.
Okay so I was expecting the same weather that we experienced last year which was actually kinda hot at some points. I was in sleeveless for crying out loud. But this year it ended up snowing at one point during our trip for about 20 minutes. So the weather was completely different than my expectations when I booked the trip. Instead of going with cute fun spring outfits I had hoped for, I went with my tried and true pieces and went straight casual. This look was one of my favorites and most comfortable. Let's break it down!
The Vuori Joggers are the best. I am in the large and the fit me well in this size. I find Vuori to run just a smidge small so size up if in between sizes. I am not lying when I say these joggers will end all your other joggers. They are lightweight but sturdy and they keep their shape  — AKA no soggy bottom! Loved that I got to use that in a sentence on my blog.  Find them from Vuori or Nordstrom here.
I wanted kind of a matching set look but didn't have time to order the Vuori one so I went to Target and found this top for PERFECT match!  This pullover is lightweight but was a nice layer for this time of year. I am in the large for a looser fit, highly recommend sizing up if you want it to fit loosely! 10/10. Find them at Target here.
These sneakers were my favorite of the two that I took — I also brought along my Hoka's. For me this pair was the smoothest walking shoe and absolutely NO rubbing or blisters. A gift since we ended up with 20k steps on this day! (because of the weather there weren't many lines so we ran all over that park hitting those 5 minute waits!) Find them on Nordstrom here.
Yes, that is a coat! It was a bit chilly last week and the temperature was in and out so we definitely had to layer for the warm parts of the day and the cooler parts. This one I got as a gift for Christmas and I've loved it! I am in the medium. It fits TTS, if not a bit generous for layers. Find it from Alo here.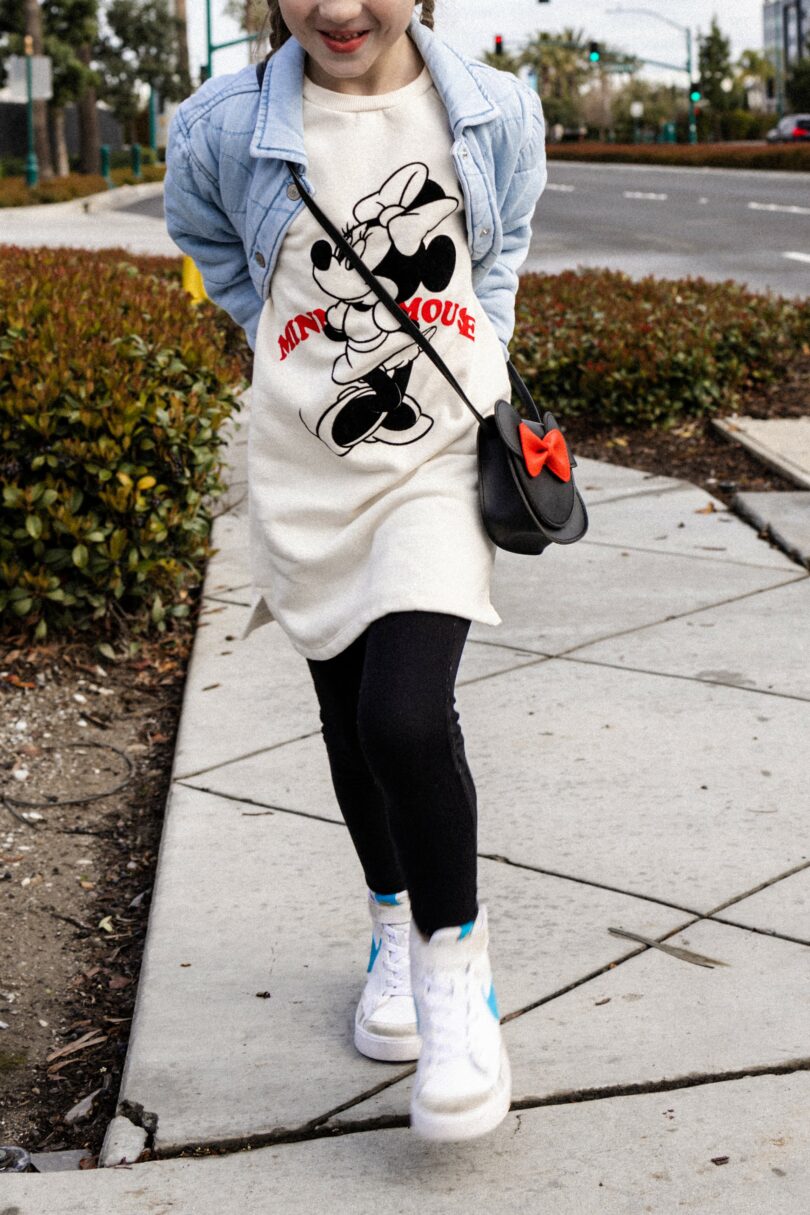 Gem's little outfit is mostly Zara! We love a character moment and this dress was PERFECT for the weather. It's a French Terry so it kept her warm and while it would be darling without the leggings, we had to layer for the cool. Her jacket is also Zara and it got us through! (She also had a coat on the colder day!) I'll link them here and to the right.
Zara Quilted Minnie Mouse Jacket
Minnie Mouse Crossbody from Amazon