Two weeks ago we went to Disneyland and it was the best vacation. We hit the park before the spring break crowds got there and it was absolutely perfect weather and the perfect time. I am still thinking about that vacation, that's how you KNOW it was a good one. I'm still putting together our guide to traveling there but here is what we wore each day!
Day One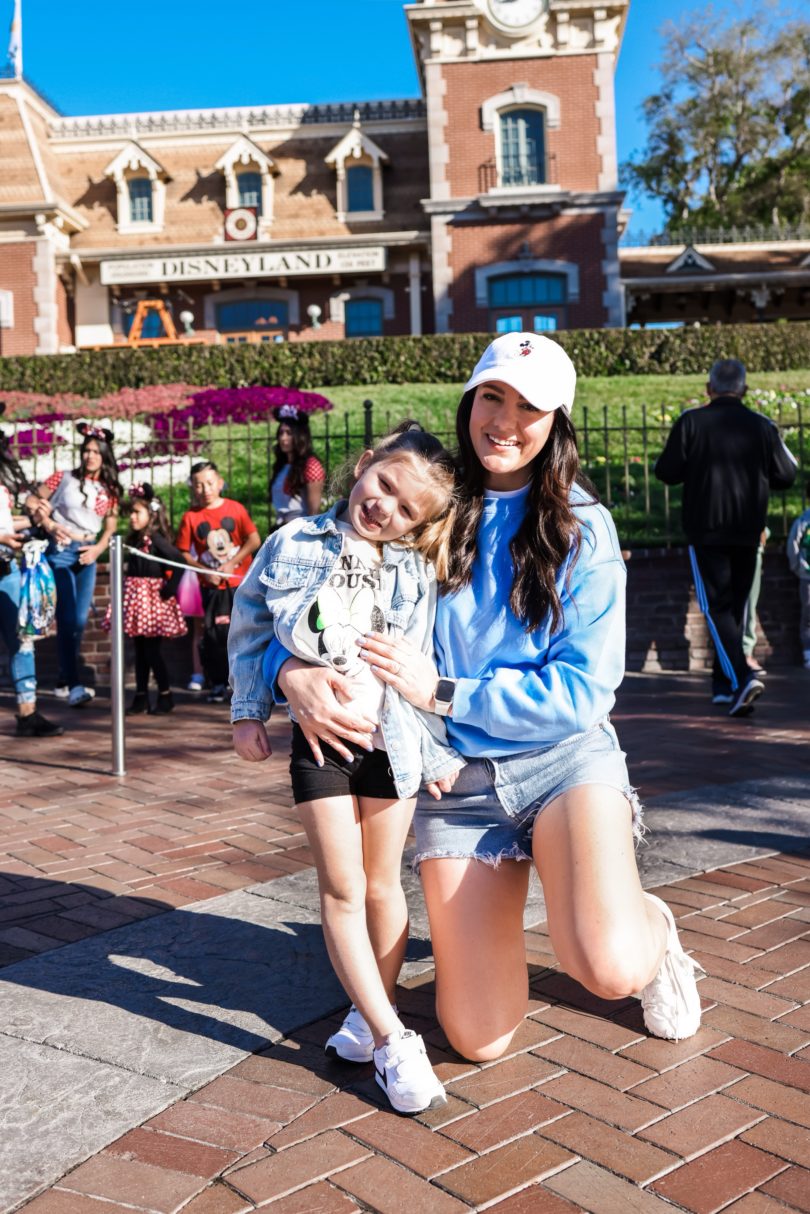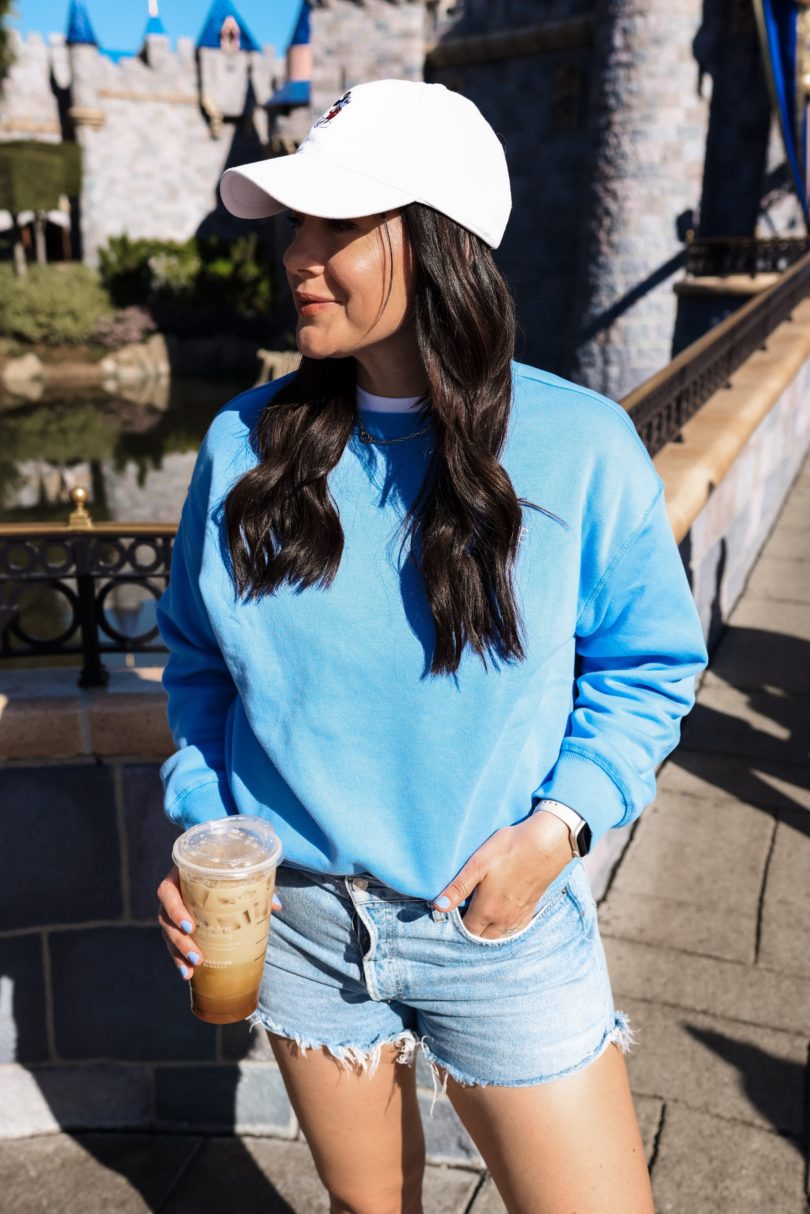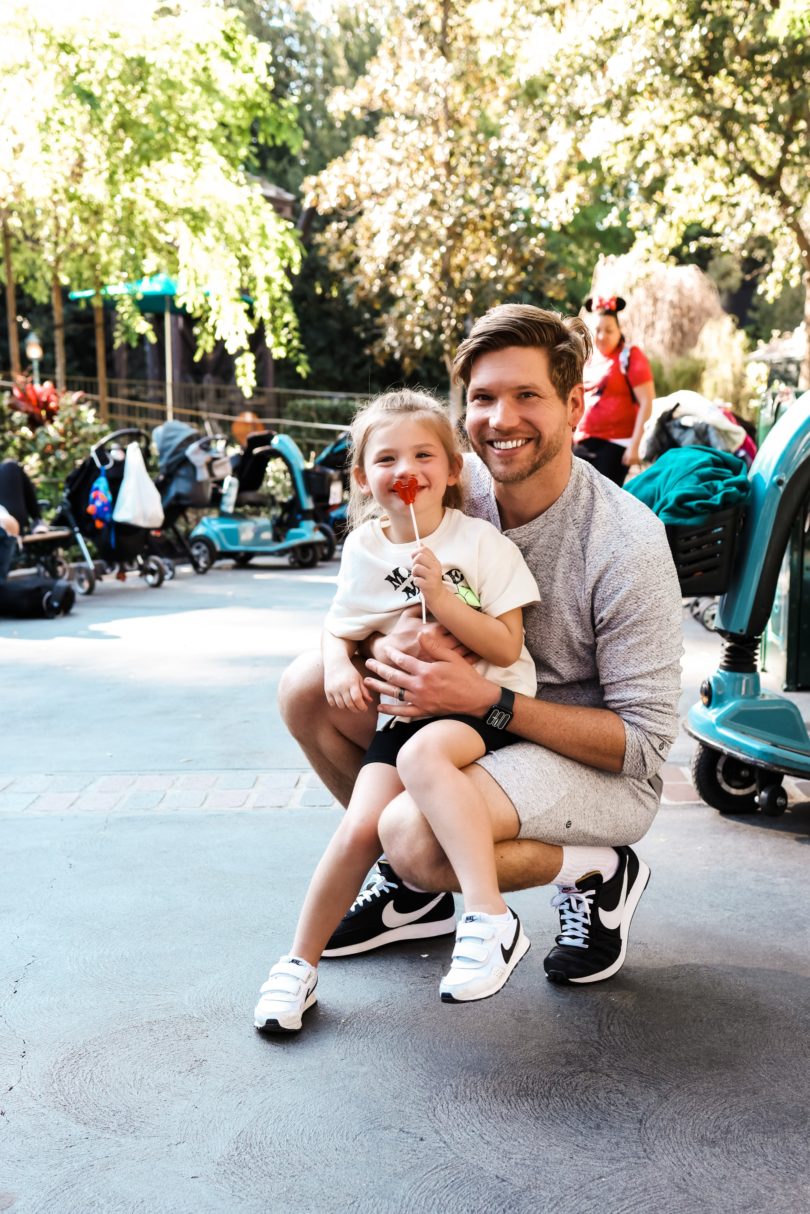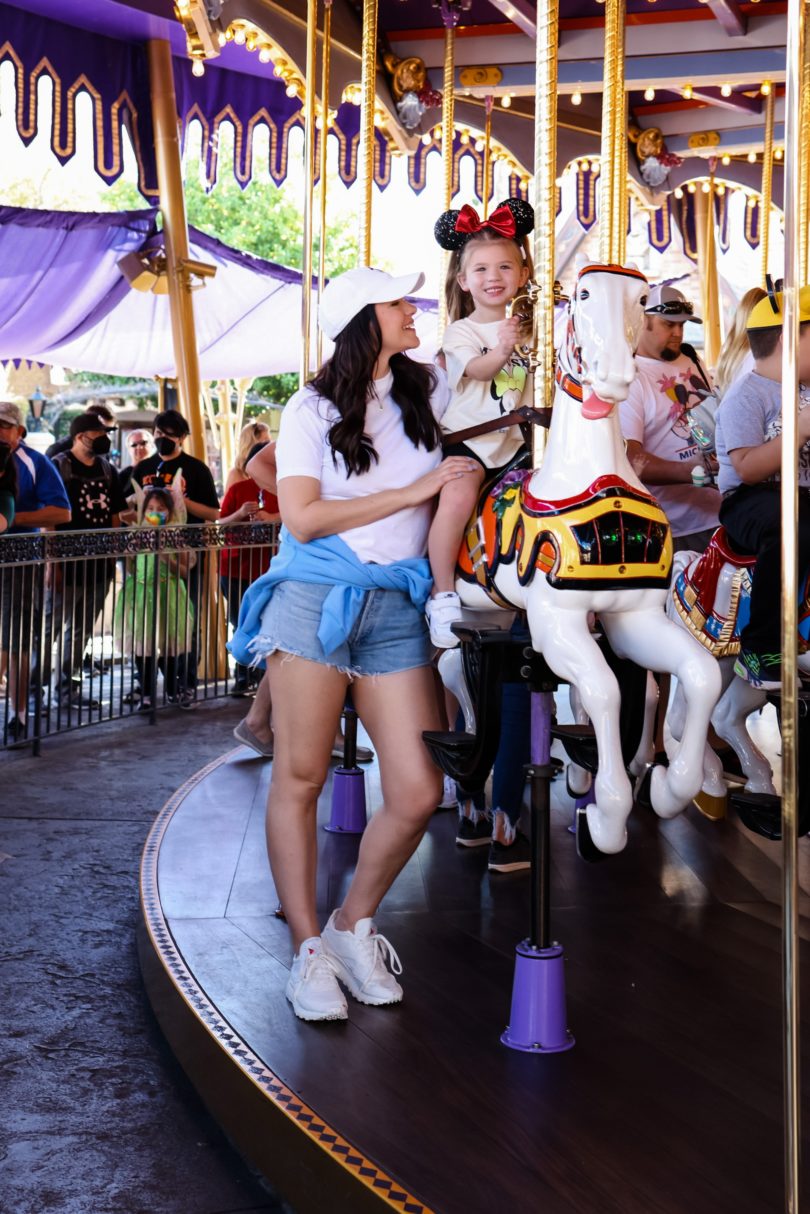 Our first day we went to Disneyland and I knew we needed to be prepared to walk and stand a lot. Luckily, it was beautiful out, in the low 80s, so it was warm but it got a bit cooler at night. I wore a t-shirt under a sweatshirt so that I could take it off / on as the temperature changed and I wore my trusty pair of cut off shorts. I like to take my favorite things when I pack because I know that they'll work. There is nothing worse than showing up with something new and it doesn't fit right. Oh and these Reebok's? 10/10 recommend them!! Especially for travel and Disney trips! They didn't rub or give blisters and they were comfortable all day long. I did take a chance on these and wore them for the first time on the trip and they didn't rub at all. I can't give enough reviews about them.
I didn't carry a purse this day, I simply put my phone in my back pocket. We used mobile pay for everything and Bryan had his backpack and we had our stroller for extra things we needed. It was nice not to have that extra thing to keep up with because I tend to sit things down and leave them.

On Gemma, I got her oversized shirt from Zara and paired it with some biker shorts and our trusty Nike sneakers. In the morning and evenings she wore her denim jacket. This was perfect because she could move and run and it was comfortable for her.

I'll speak for Bryan here, even though he dressed himself, lol. He wore his favorite set from Lululemon, again trusty pieces he knows that are comfortable and work well. He layered a tee underneath as well just in case. (And yes, matching sets for men is in!)  We all wore comfy sneakers and didn't regret it.

Day Two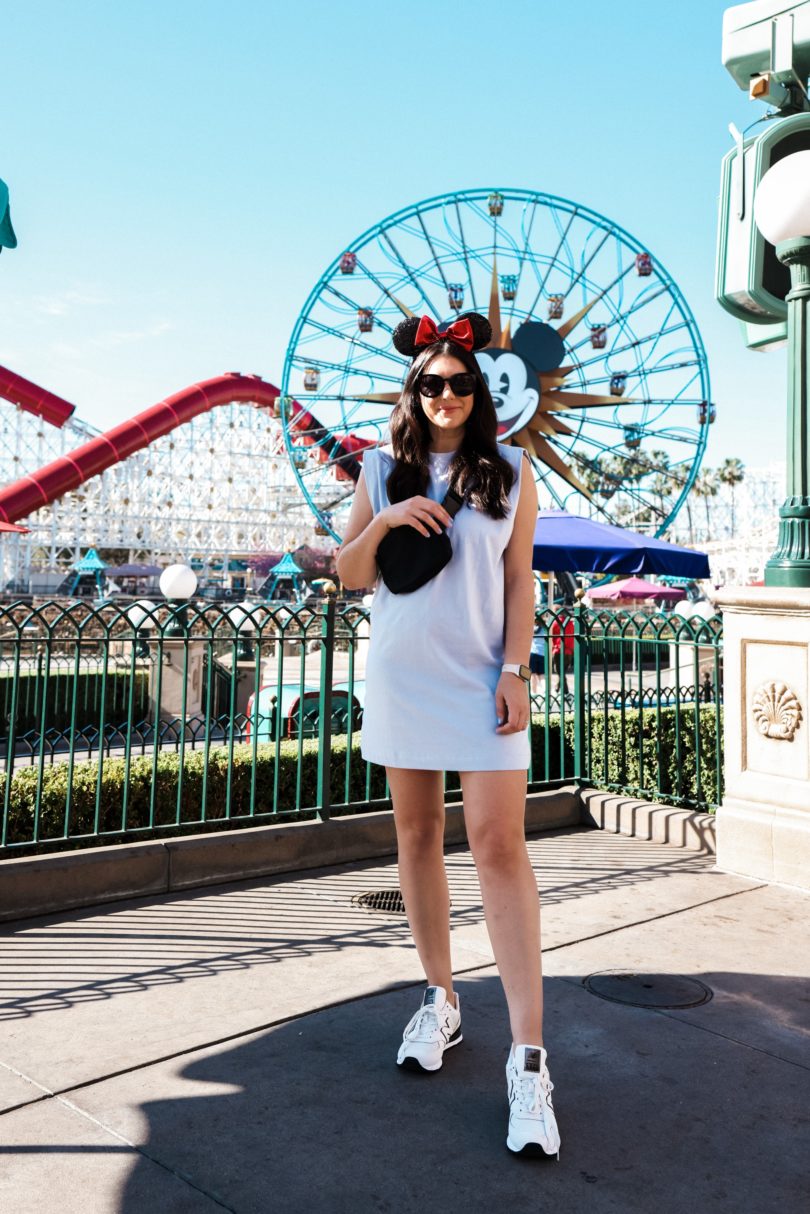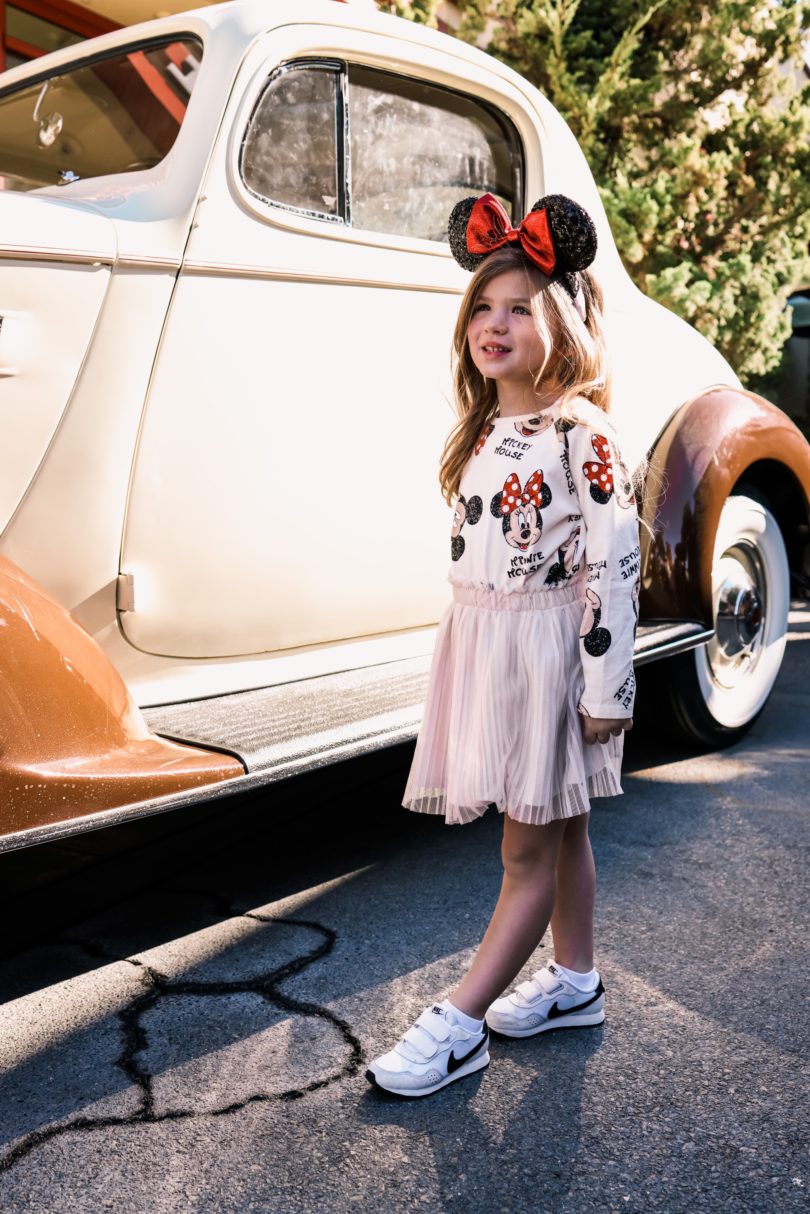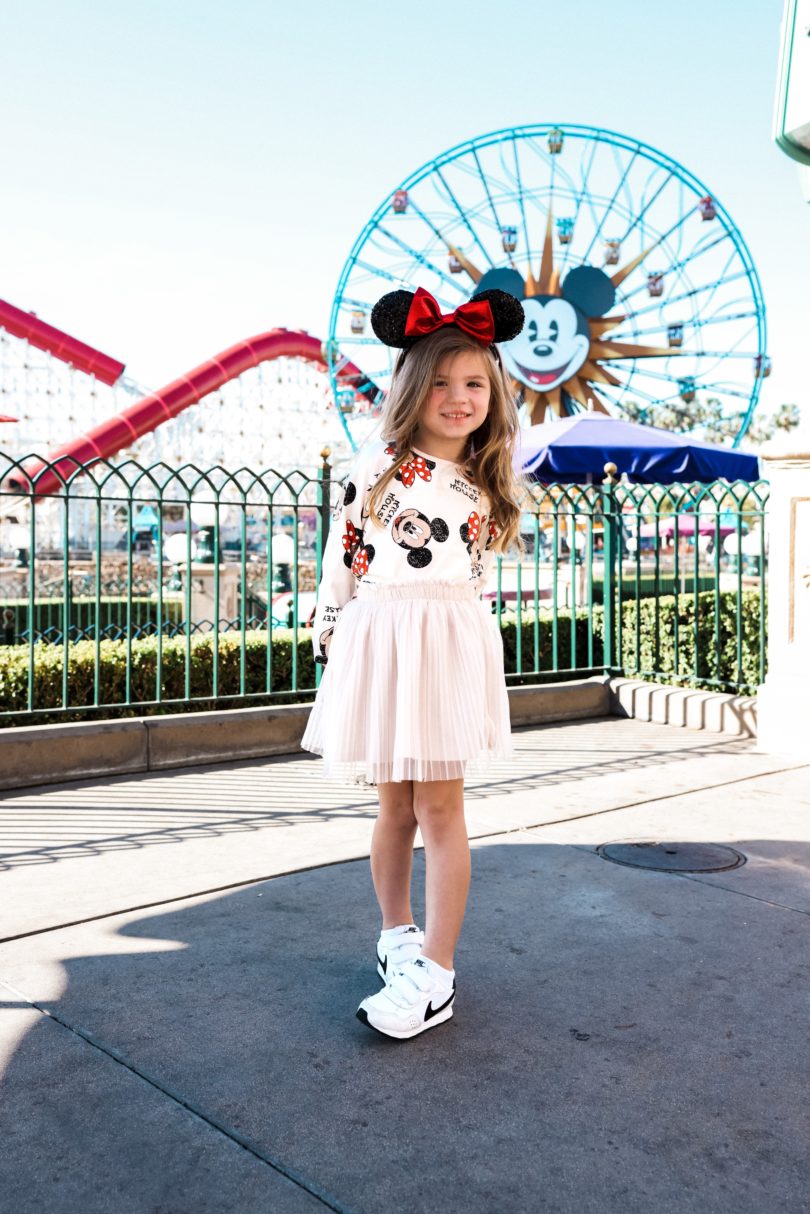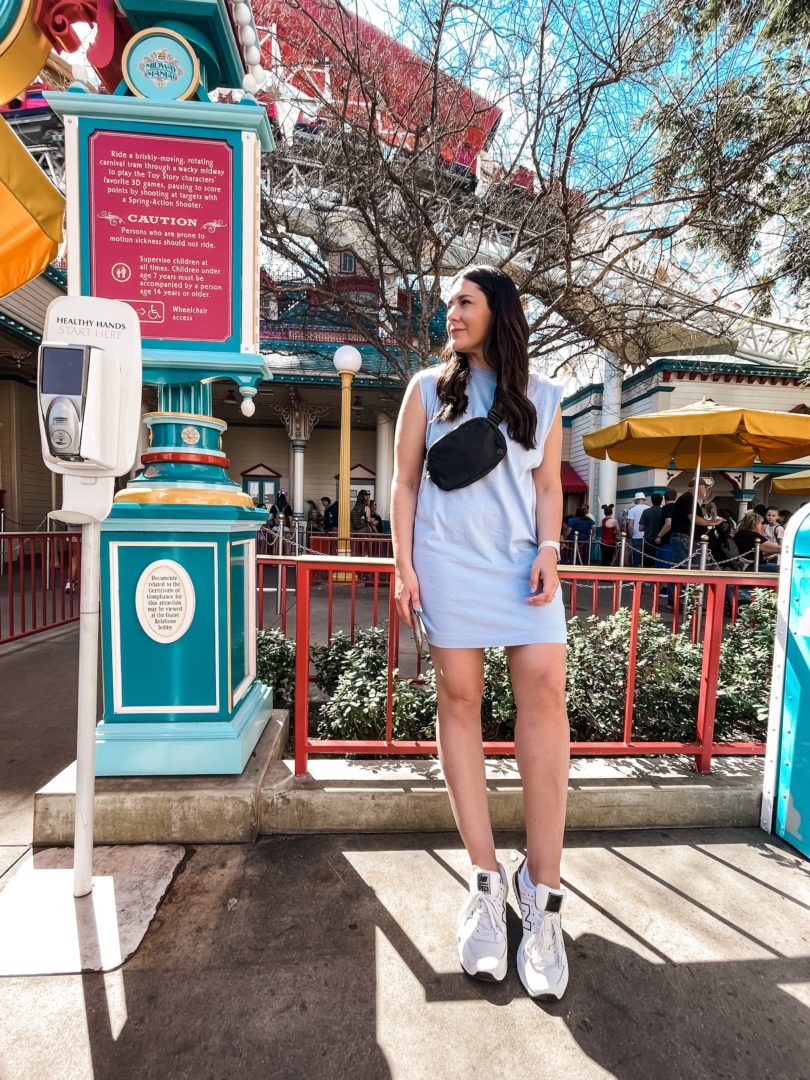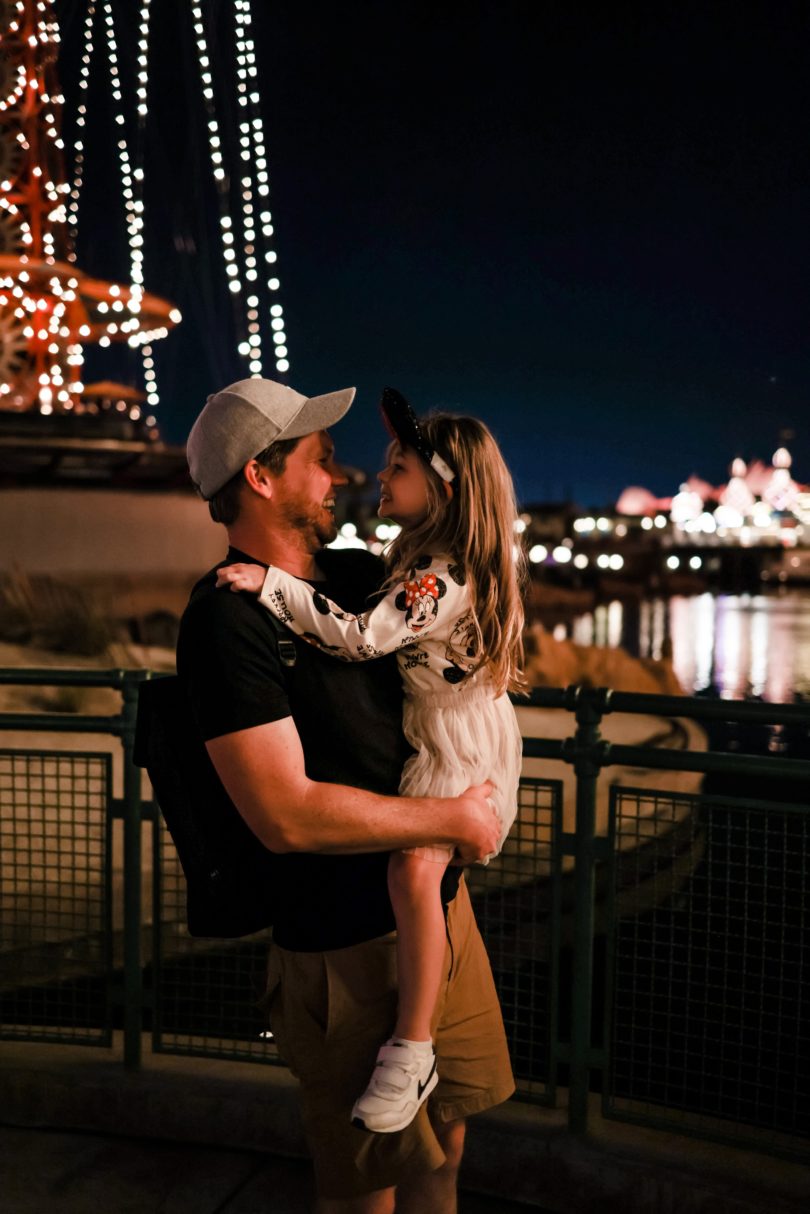 Another 10/10 recommendation is this H&M dress I wore at Disney. This day was HOT and this cotton dress couldn't have been more appreciated. Also this is a $10 dress so being in it all day, on and off rides, being outside, etc. I didn't feel bad if something got on it you know? In fact I sat down on something sticky at one point and I was able to get the stain off when I got home! So this $10 dress is a hidden gem in my book. (I'm in the medium.) It is a little bit low cut at the arms, but I ended up wearing a sports bra this day for comfort and it was fine. I paired my oversized denim jacket with this for the cooler moments but overall I just ended up being in the dress alone all day.  These New Balance are GREAT sneakers but not fo
r all day at Disneyland. I got the worst blister on the bottom of my foot that I still can't talk about. They rubbed huge blisters on the back of my ankles. Like they're cute but they're not an all day / amusement park shoe, ok? Recommend for outfits or like normal wear, not for all day.
Also I carried my Lululemon crossbody belt bag (it's under $40!) this day because I didn't have any pockets on my dress and I like to be able to put my phone somewhere. This bag was perfect for this because I could just tuck my phone and grab it quickly. I kept my sunglasses and phone in this back and it was so handy!

But we are all here for Gem's outfit, right? Okay so her skirt is from Zara but I found a similar one from Old Navy! And her top is also Zara, but I found a similar top at Mango or Gap Kids! We paired the same nikes but I actually meant to pair her converse with this look. Either way you can't go wrong with a little tulle and a cute sneaker on a toddler. Underneath her top we paired a sleeveless tank and it was perfect because when she took her long sleeve top off, her outfit still looked complete. Especially with the Minnie ears 😉

Sorry I didn't get a better 'outfit' photo for Bryan! ) To be honest, we had so much fun I kind of forgot to capture content. Even though that's literally my job. :/) Bryan wore a workout top from Zella which was genius because this was a warmer day. Then he paired with an easy pair of shorts and a different pair of Nike's. Also I didn't mention this but Bryan took his backpack and that's what we kept our reusable water bottles in, our big camera, sunscreen, etc. I've linked everything below!

Day Three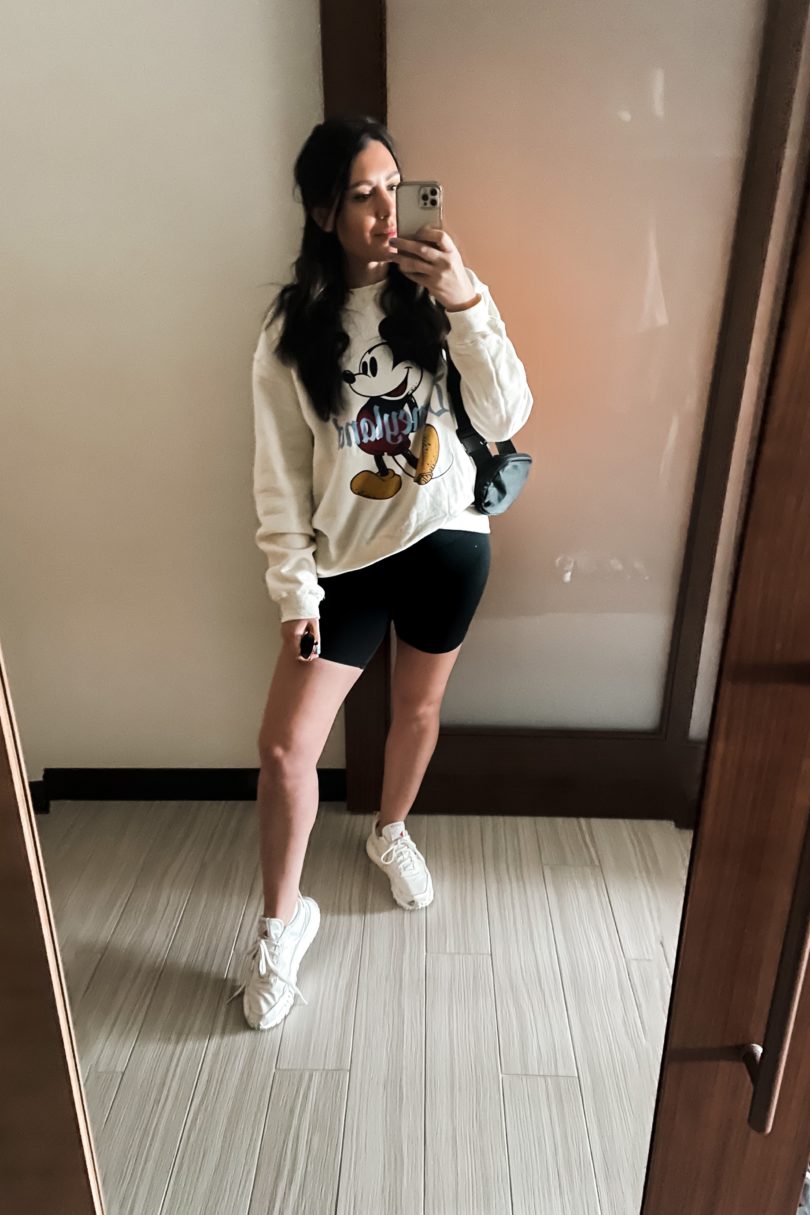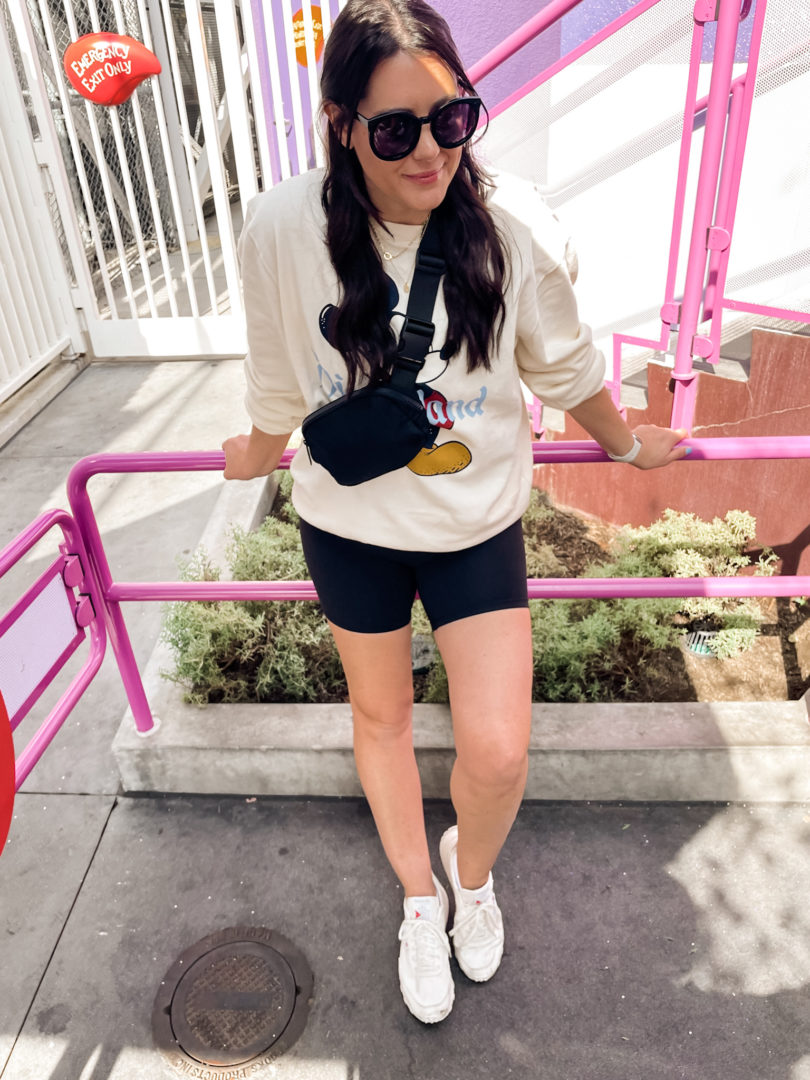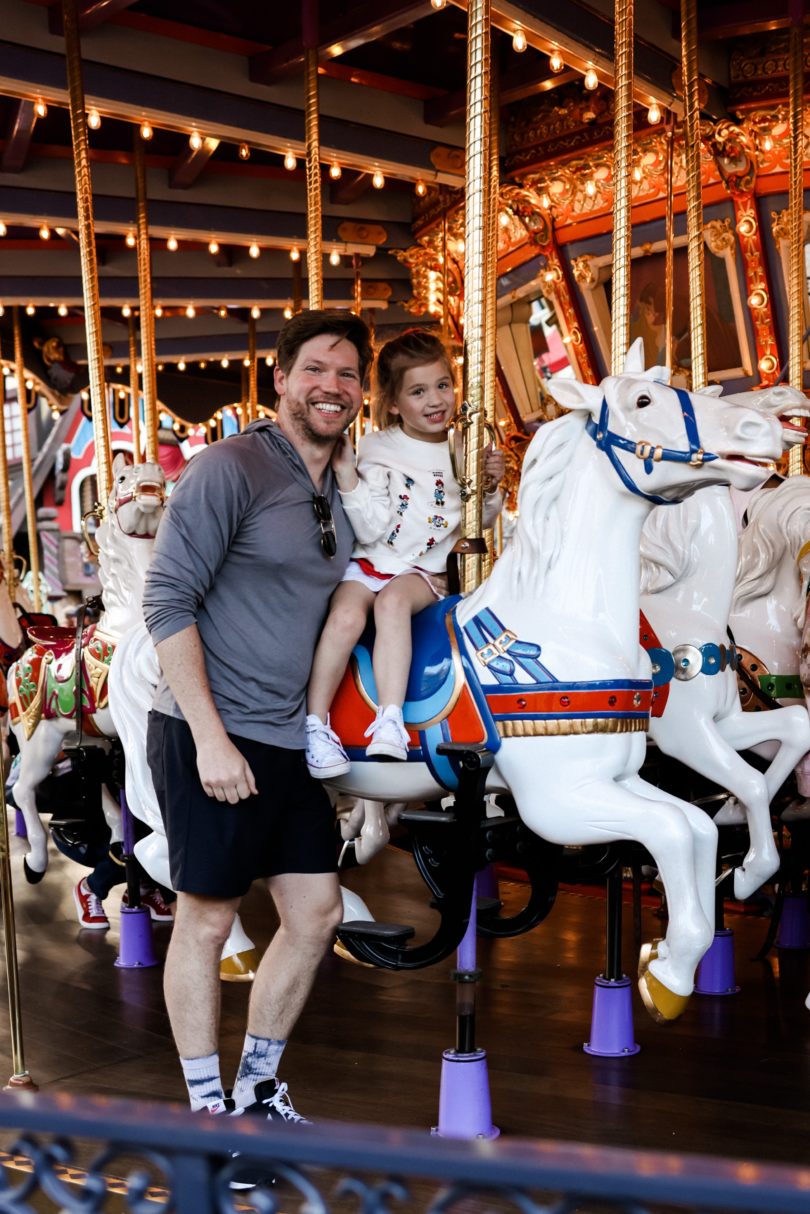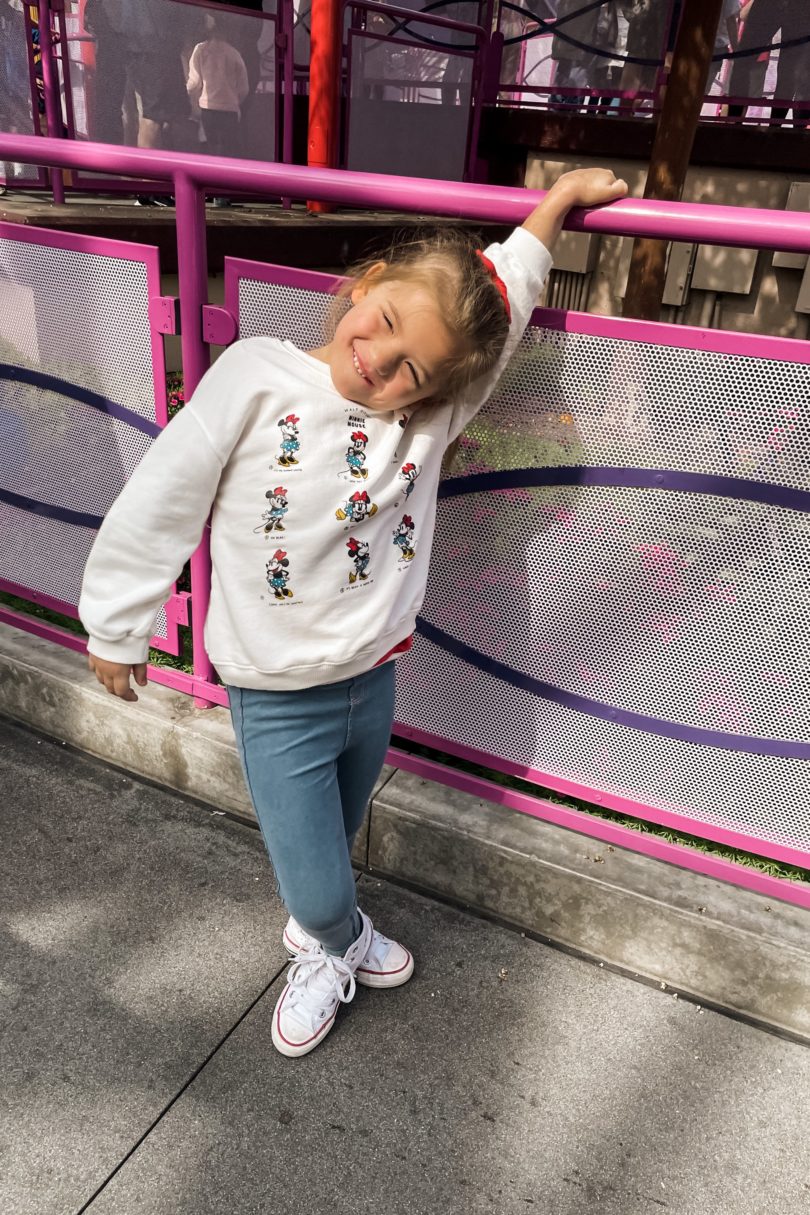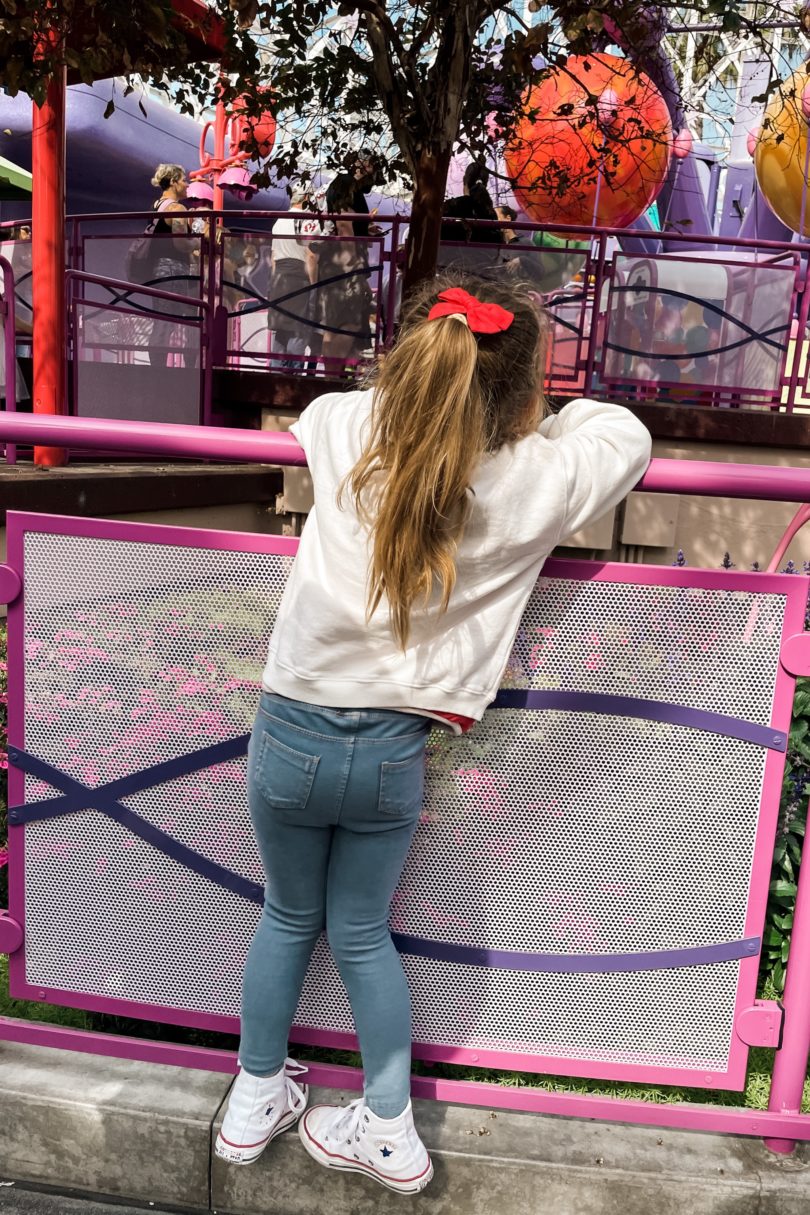 Remember when I said we were having so much fun I forgot to take photos? Yes that was day 3. So thank goodness for iPhone photos right? I started this day off with a big sweatshirt I picked up at Disneyland the few days before and my favorite biker shorts from Lululemon. In fact, I'd suggest that if you want to wear Disney themed items like this sweatshirt but don't have any before your trip, then get something wheel you are there. Disneyland has it all — trust me — and it's fun to get something while you're there and have a souvenir from the trip. I had bought options from Amazon but ended up returning them because I liked the options at Disney better.
This day was cooler so I kept my sweatshirt on most the day until the afternoon. My H&M tee that I sized up in for an XL so it would be oversized was perfect because it was lightweight enough as a layer and worked well when I got warm. I switched back to my Reebok's for the last day because these are the literal best and wore my Lululemon crossbody again because no pockets.

On Gem's, I paired her Disney sweatshirt (again from Zara) with some jeggings because this day was a lot cooler. I brought along   her skort from Target  in case it got warm and I'm glad I did. We switched into it mid day. (The skort is a fave of ours from Target, by the way. She wears the XS.) I paired a red tee just in case she got warm but we could see be Minnie Mouse-esque with her red and black ears. But as you can see, she won me over on getting the sparkly unicorn ears which definitely clashed with the red. Best laid plans, ya'll. We wore her Converse again and they were great!

Bryan wore an Alo top and his Outdoor Voices shorts — which by the way are some of his favorites. He's had them for 5 years and they still look brand new and I wash them literally every week. (Just a small plug for OV.) Bryan was so smart wearing athletic wear because it was sweat-wicking and comfortable. 10/10 recommend.

As far as getting around, we took this stroller here and it was perfect. We could haul around the park quickly and there was plenty of 'stroller parking' when we needed to leave it. I would definitely recommend a stroller for the little ones, even up to 6 years old. It's just really helpful because they can tire easily and it's a nice break for them!