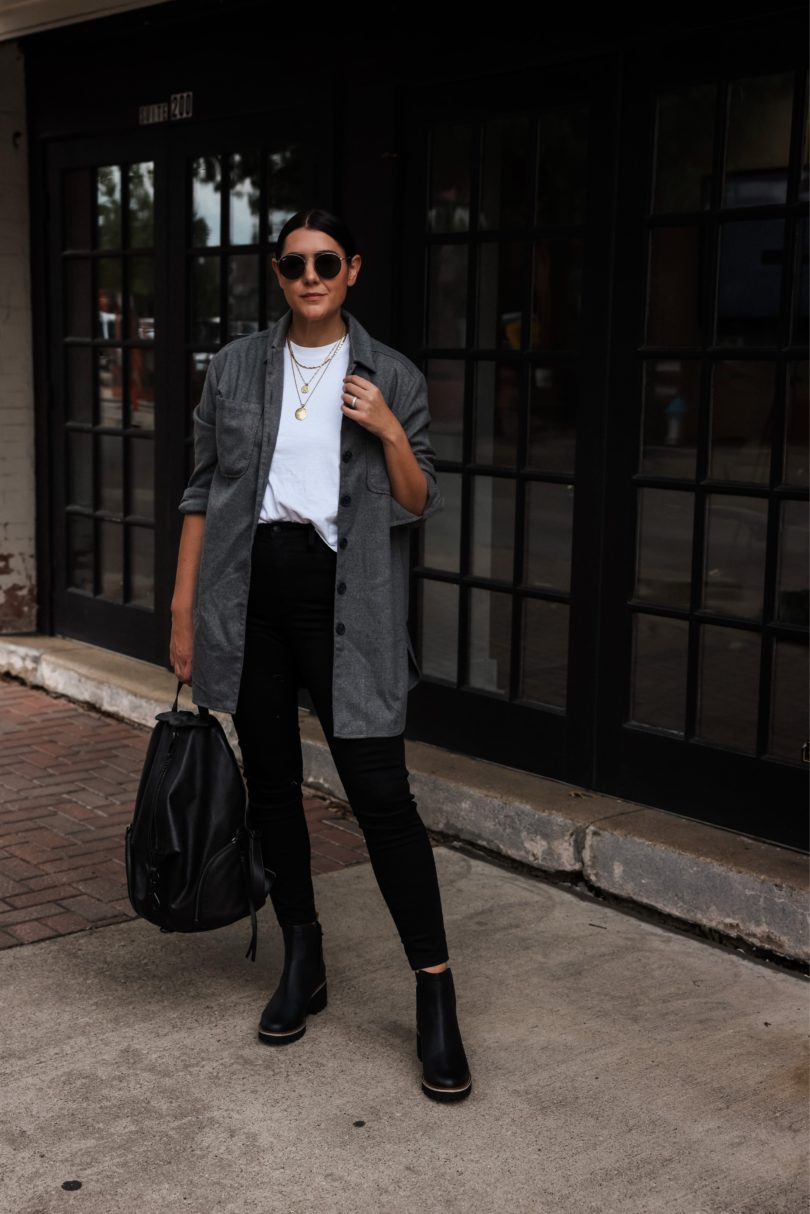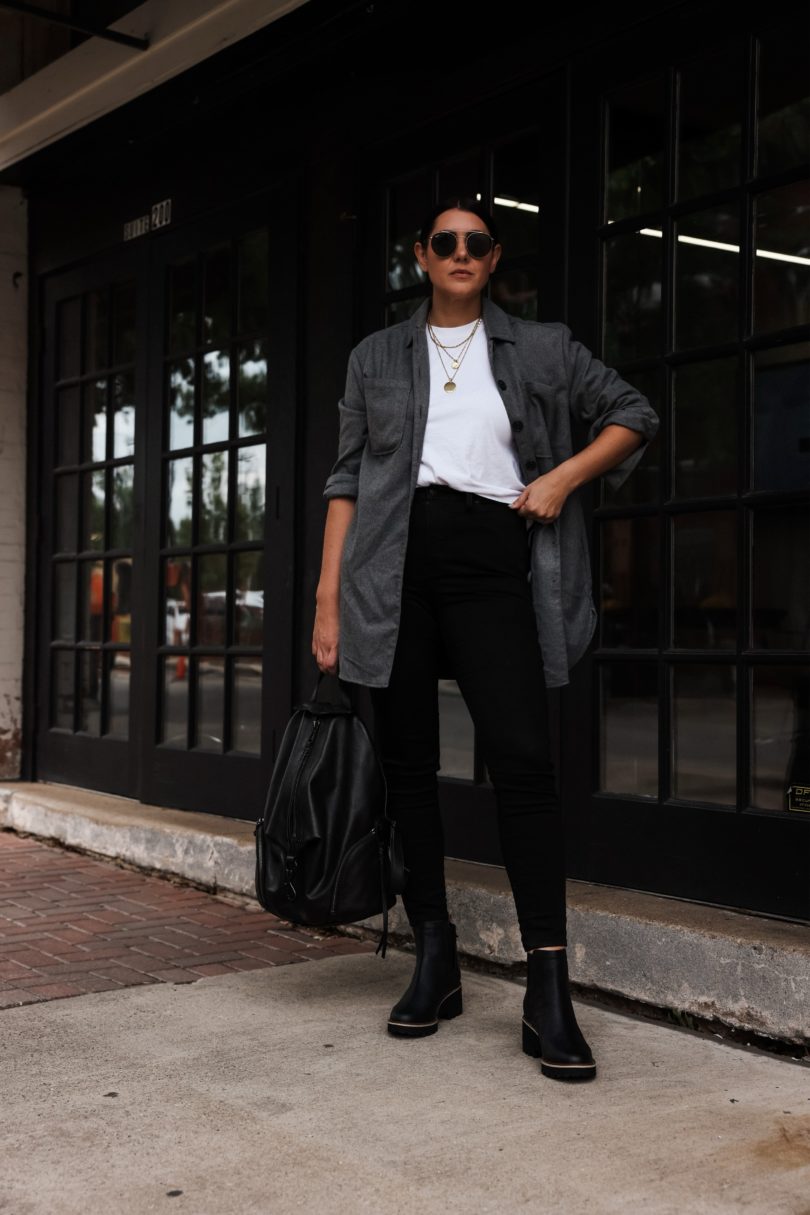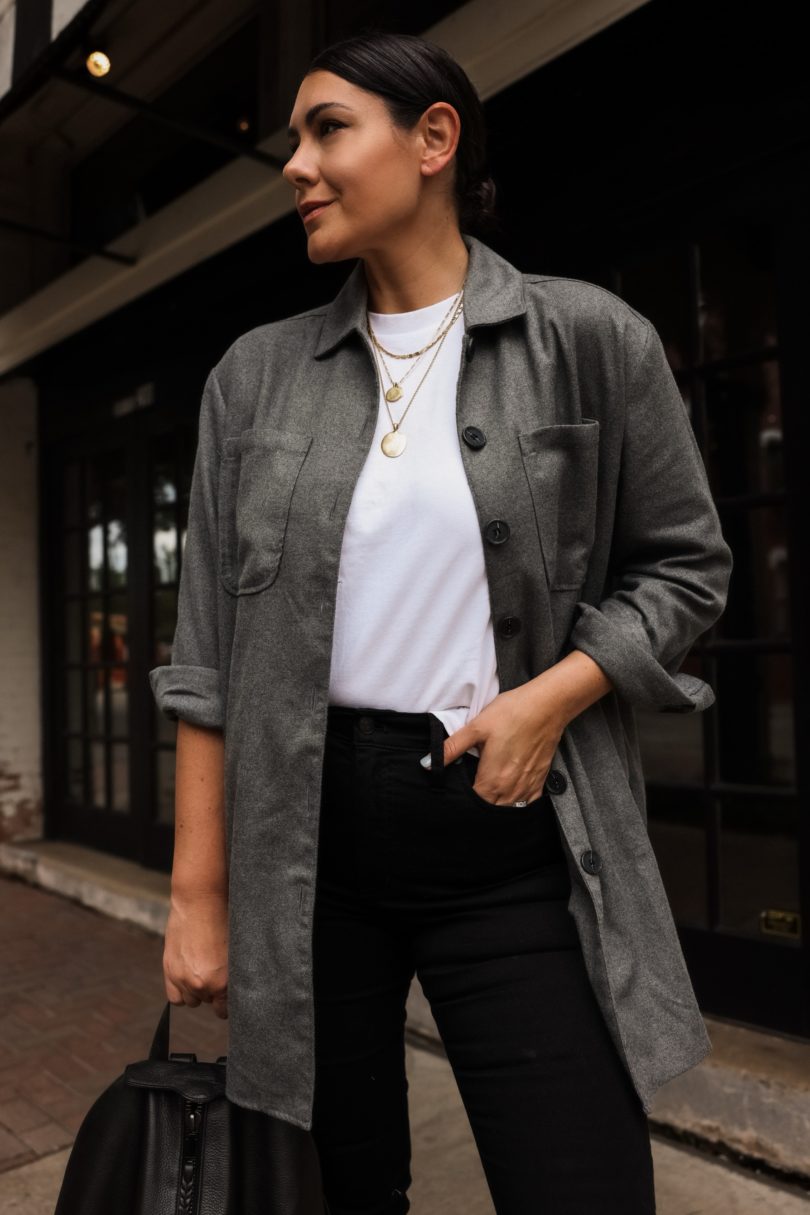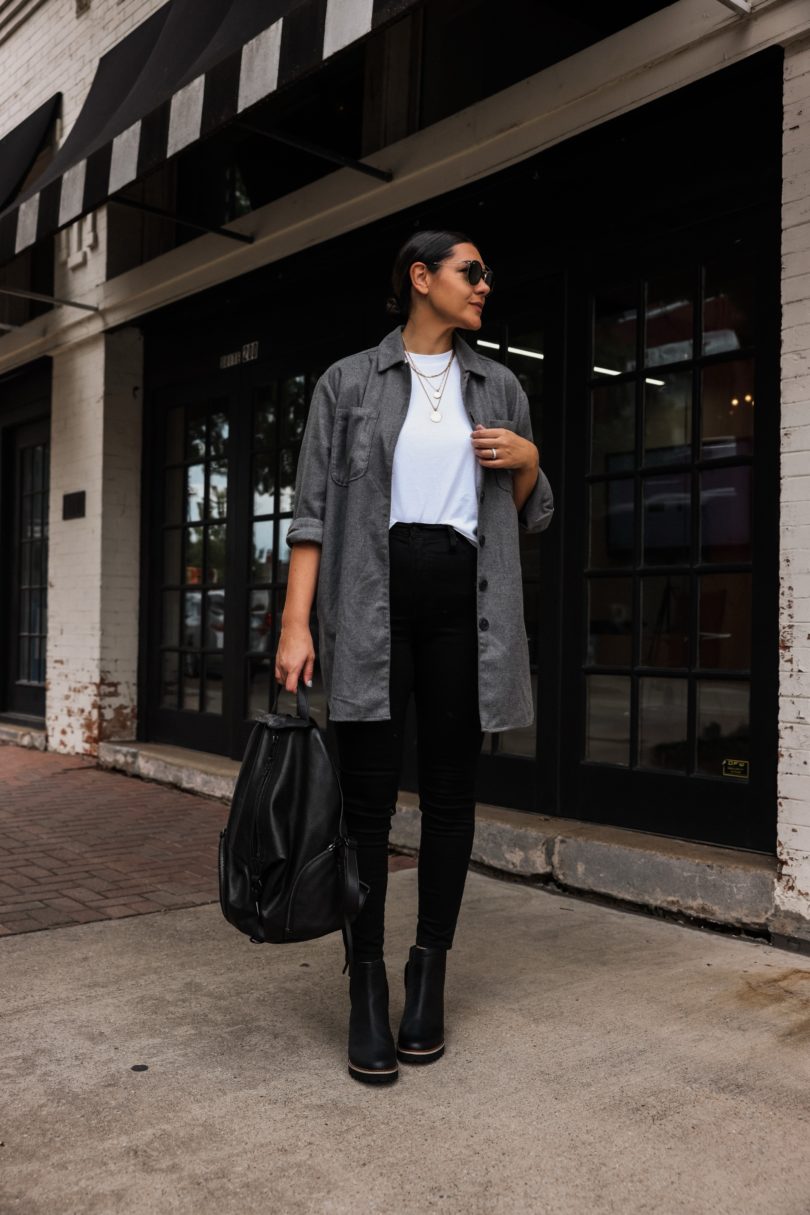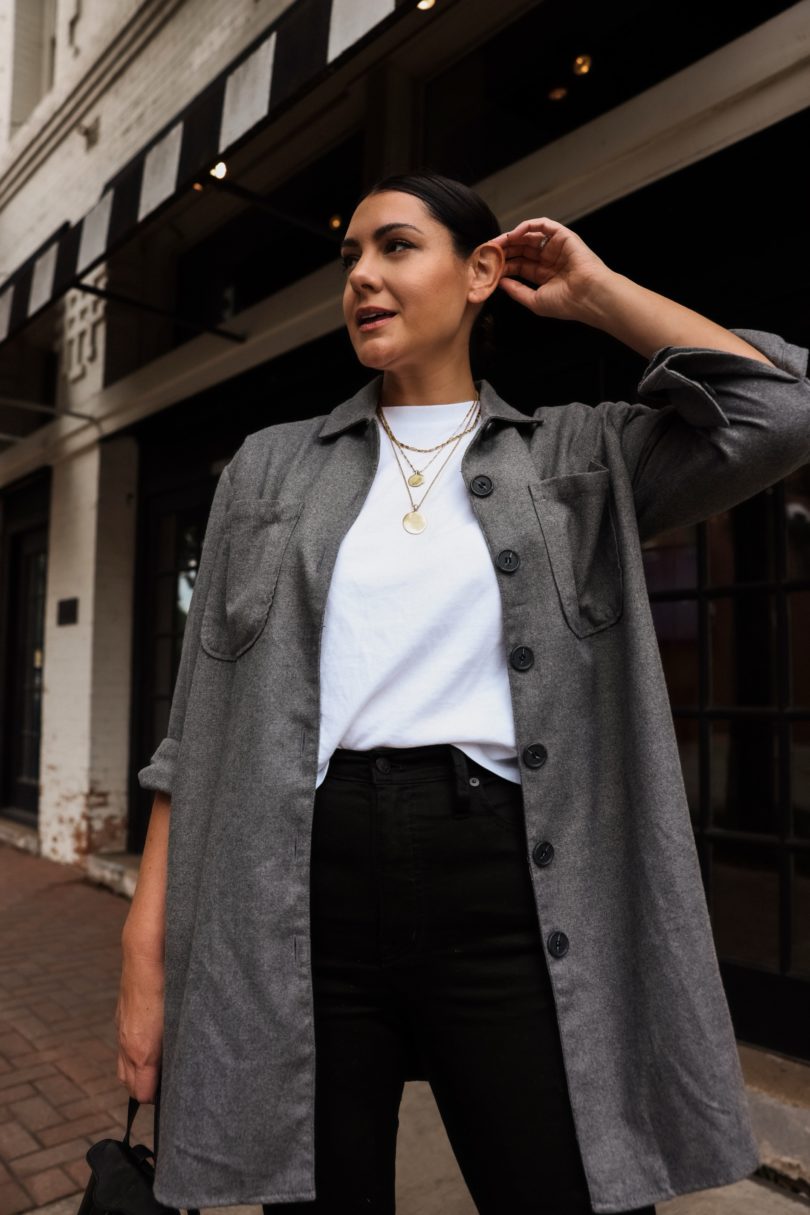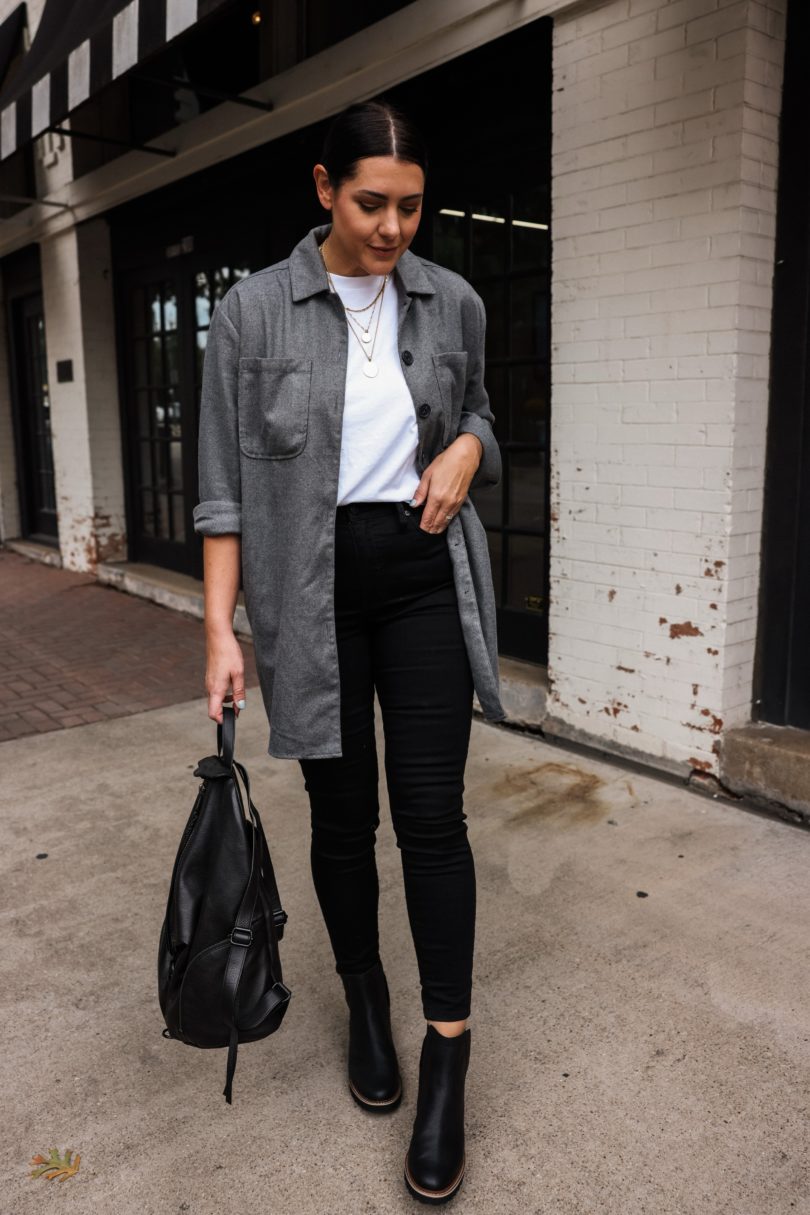 Friends, family, random person who landed her from the 3rd page of Google, I'd like to introduce you to The Shacket. The fall trend you've seen everywhere and I just now figured out how to wear. Sometimes trends take me a second to get my bearings with. I feel like a lot of influencers see a trend and immediately get it. Not our girl, no, I'm like a crockpot; it's gotta marinate in there for hours. In fact, I'd say this Shacket (it's my favorite portmanteau: shirt + jacket, get it?) trend started last year or maybe even the year before, hard to say but last year I just couldn't get behind it. All of the shirt jackets felt like plaid oversized shirts and I look like I'm going to work outdoors in the PNW. (No shade, I actually think I have the build for lumber work.) But this year, the shackets are back and Nordstrom understood the assignment with this one.
What I like about this shirt jacket is that it's lightweight flannel, so it has structure but not too much, so it doesn't feel stiff or like a coat. (I have a shacket coat that I love here!) Plus it can double down as a top or a tunic, if you'd prefer. And I love that this is a true grey, a very light charcoal so it pairs beautifully with black and white AND would work well with brown / cognac accessories too. I am in the medium and it fits me oversized, plus I'm tall so this length is great. I'd suggest a size down if you want it a little shorter or closer fit. For me though as a 6/8 at 5'9″, it's perfect all around.
Speaking of fall trends, I went ahead and just made my list of the fall trends I'll be shopping this year. Obviously The Shacket made the top of the list. Whenever I start my seasonal shopping, I always start at Nordstrom because they have my favorite lines, brands and sizes are always in stock! I love Nordstrom Made brands too because they are high quality pieces you know and love from Nordstrom and they're made in house. Like this jacket is Treasure and Bond, a great 'everyday' line for casual pieces you can wear weekday to weekend. I also love their line BP. for easy essentials like this tee or my favorite bodysuit, both under $15!
Top Fall Trends
Lug-Sole Boots:
This fall, I'd say getting a pair of black lug sole boots (the thicker sole boots) would be your best bet. I love a pair that can work with skirts, dresses and jeans like these from Nordstrom.
Menswear:
Look for menswear inspired pieces, like this peacoat here. I love finding coats that complete an outfit, instead of just feeling like an add-on and this one here definitely feels complete.
The Shacket:
I mean I feel like there is no other explanation needed for this one. Grab a neutral shacket over a plaid and layer to your little hearts desire, like this one here!
Plaid:
It wouldn't be fall list if there wasn't plaid on it, eh? I love this plaid option with the puff sleeve, it feels feminine and just the right amount of updated from a typical plaid button down.
Neutral basics:
This year finding solid, neutral pieces will be the best go-to for fall. Think oversized sweatshirt, joggers, t-shirts in earth tones like brown, olive and cream. Pair them with your best denim or leggings for a chic look. Find this sweatshirt here.
PS: each of these pieces from from Nordstrom Made Brands! Thank you to Nordstrom for sponsoring this post + thank YOU for supporting the brands that support this blog. <3