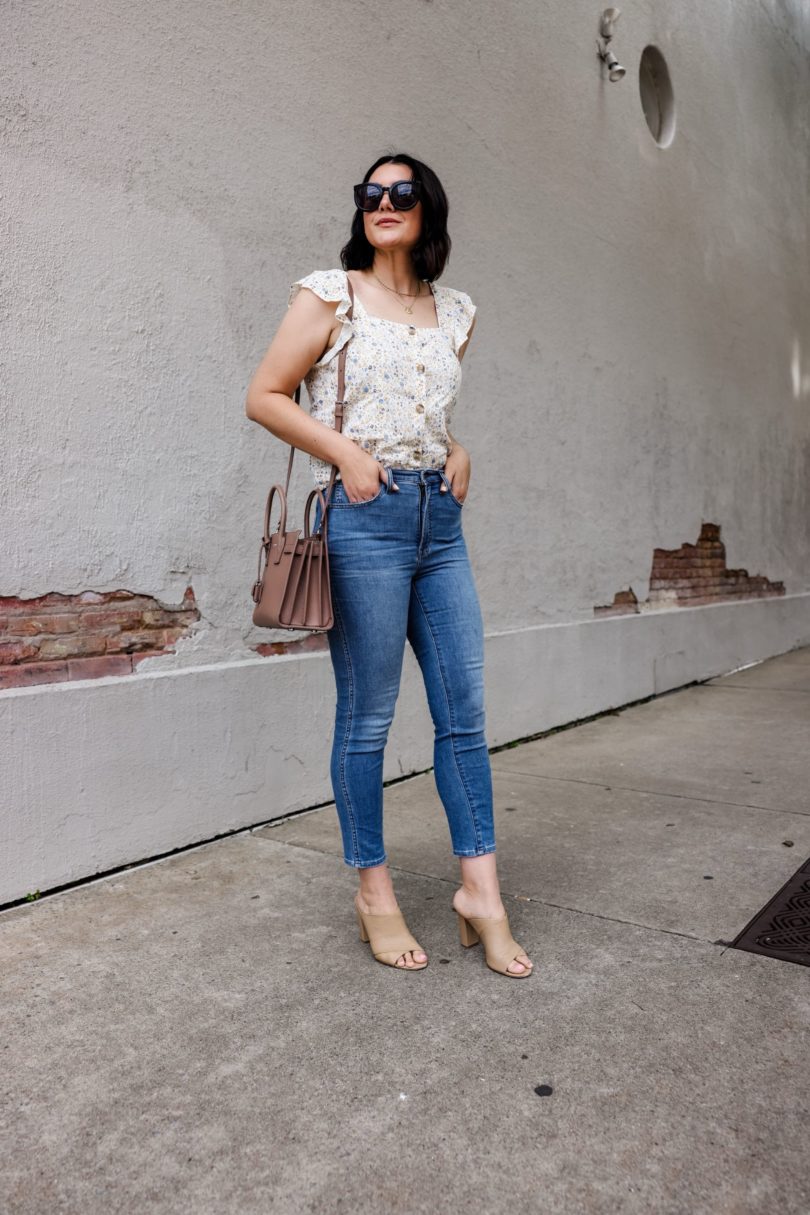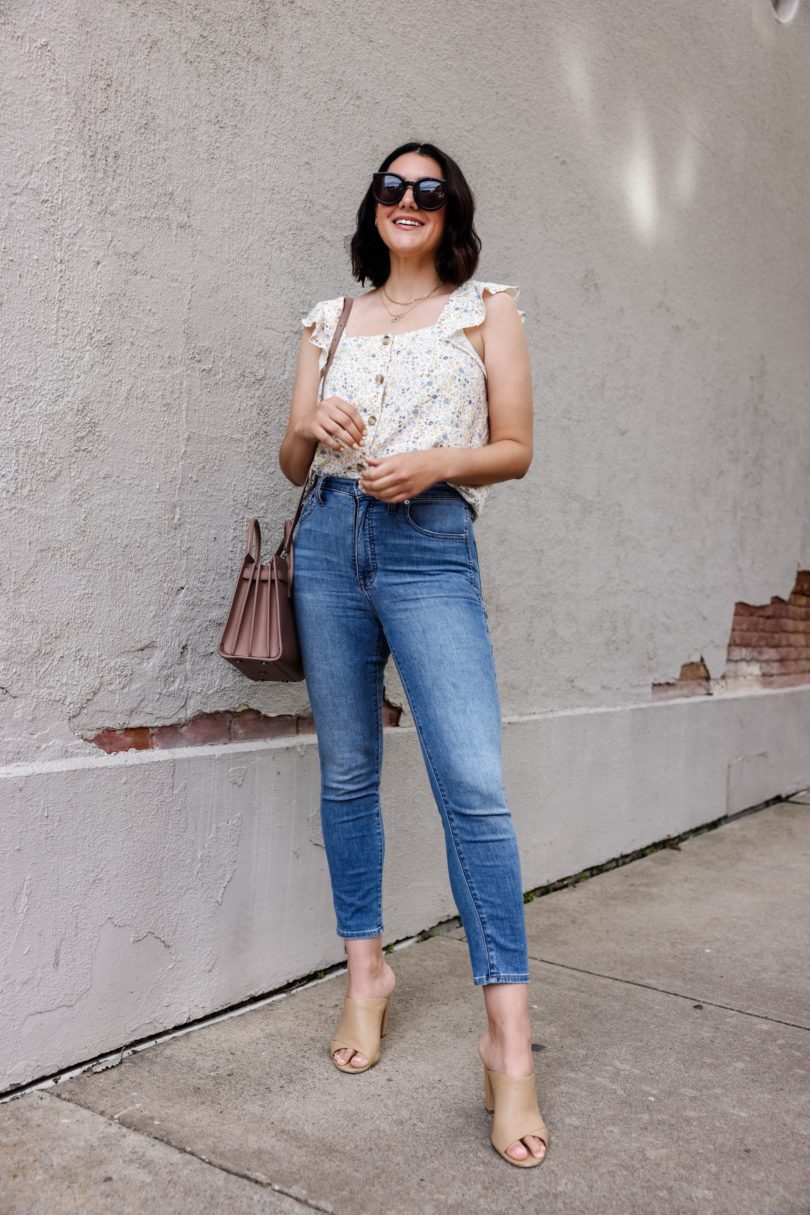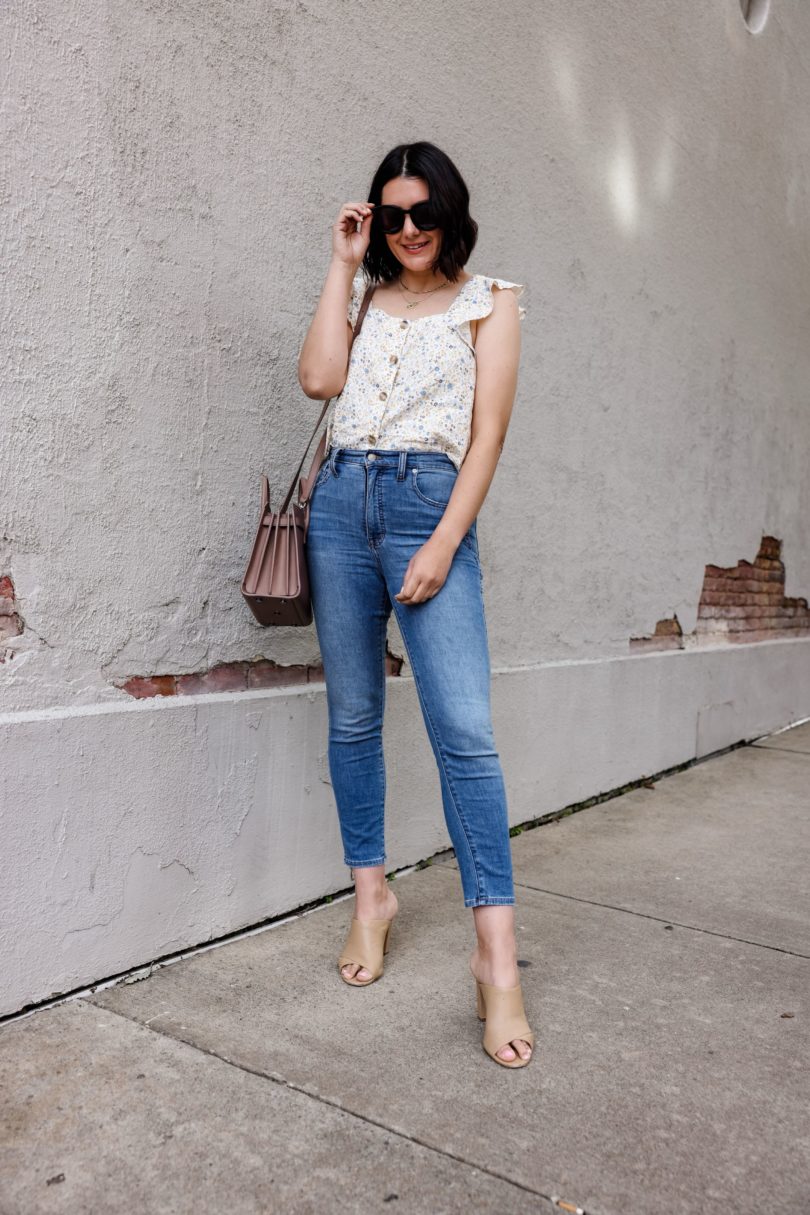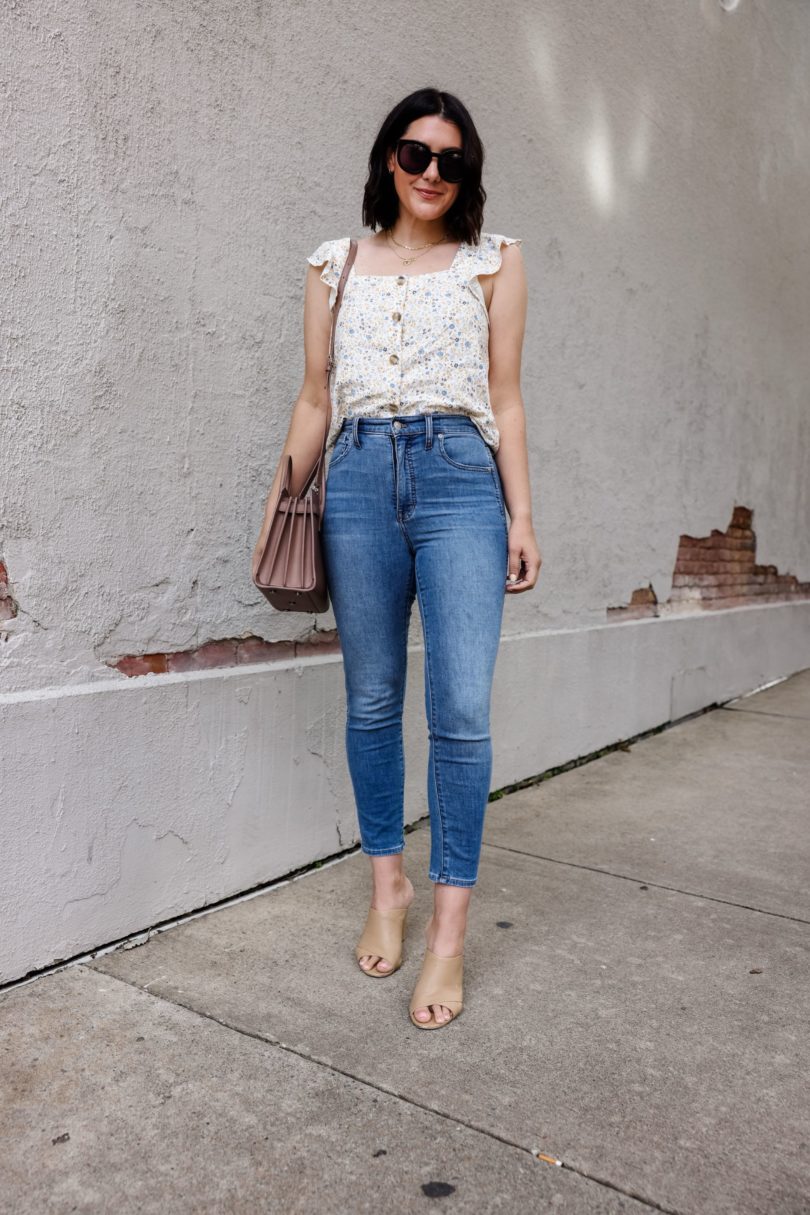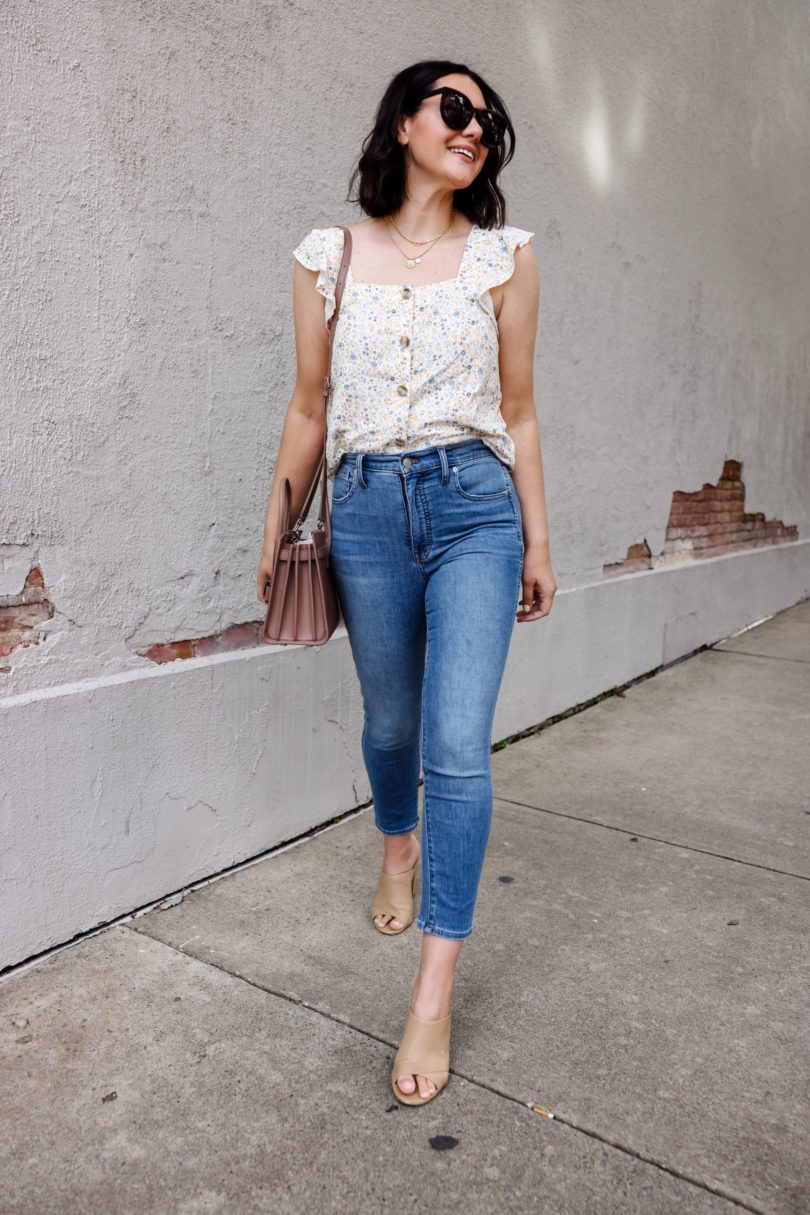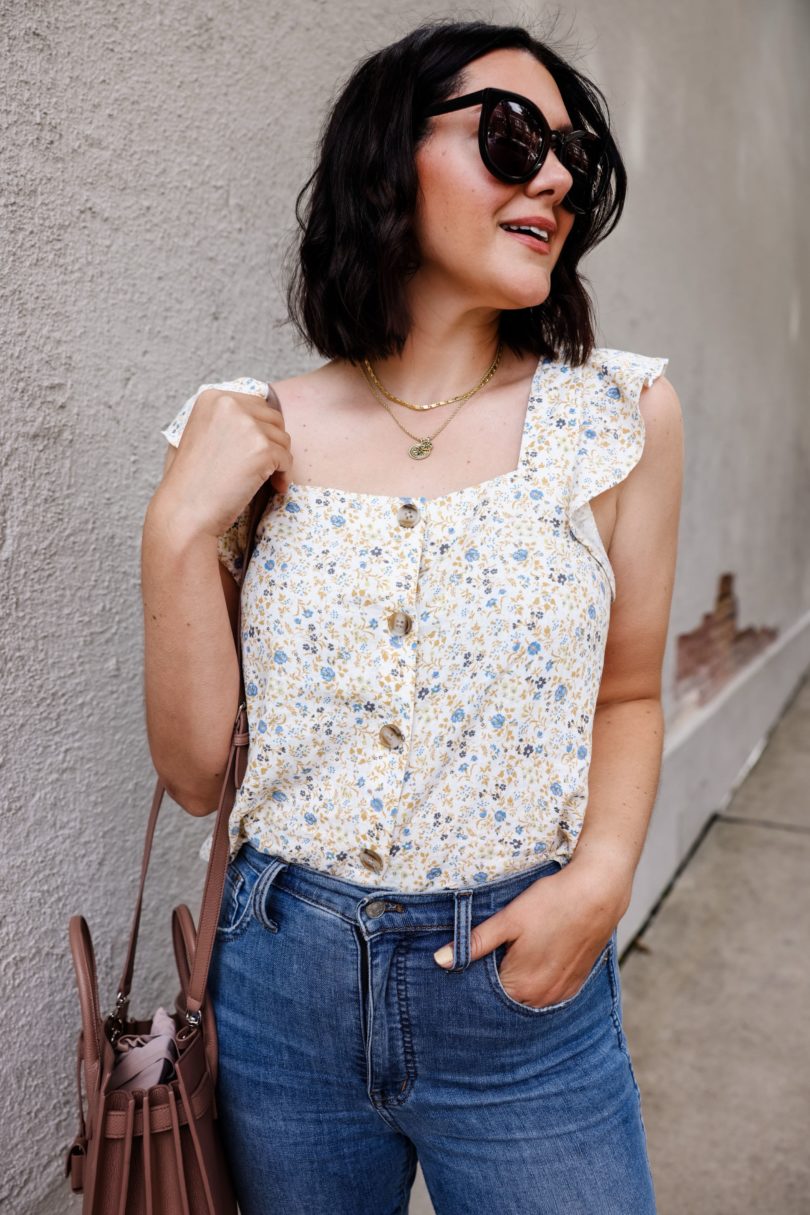 This post feels a bit on the nose right now because it is pouring rain as I write this. This outfit is taunting me because it's what I want to be wearing right now. I want to be outside in the sunshine but instead I'm inside and in a sweatshirt watching it rain. I mean, it's a good sweatshirt but still. JUNE: JUST SHOW UP, GIRL. My body, mind and spirit are ready. And so are my arms. They're ready to get some weird tan lines from short sleeves and sleeveless tops that make it look like I am just bad at self tanner. SUMMER — let's do this.
Okay enough about weather, eh? On to the outfit. These are those summerweight Madewell jeans I was telling you about the other day! Yes, that post was sponsored but this one isn't. And I still feel the same. I will say when I first got them I was a bit confused by the fabric a little because it's light feeling but not thin, in fact it feels more coarse than I was expecting but I think that's the hemp blended into the denim. I realized that as I wear them the softness comes out in full force and they feel like a well worn pair of jeans from your past. Like I feel like I've worn these 100 times but really it's only been like 4. Also did you know I don't wash my jeans much? That's a whole other post for a whole other day.
So yeah these fit true to size — I'm in the 28. They aren't super stretchy as in they don't stretch out a whole size or anything but they do stretch to your body. It's a nice fit. They are higher rise and slightly cropped. (I'm 5'9″ and in the regular length for my tall ladies!) I don't always love a crop because it can go into capri territory real fast on me, but these hit about an inch or so above my ankle and I find that so perfect for summer / spring. You can find these jeans here!
I know I'm partial but I think this floral tank goes perfectly with these jeans. She too is lightweight and honestly a better fit than I was expecting. Sometimes this fabric and button downs + my boobs are not a great fit but this one worked out for me!  It didn't pull at the chest which is a miracle. I am wearing a strapless bra, but you can easily get away with a regular bra. I'm just a masochist.
I am in the medium, true to size. It is in a few sizes at Madewell (here) but it is in FULL STOCK at Nordstrom (here).
PS: my favorite heels from last summer are in stock and ON SALE at Nordstrom Rack!! Find them here. TTS!
Also we are supposed to go to the beach in a week. Guess what the forecast is? IT'S RAIN. -_-