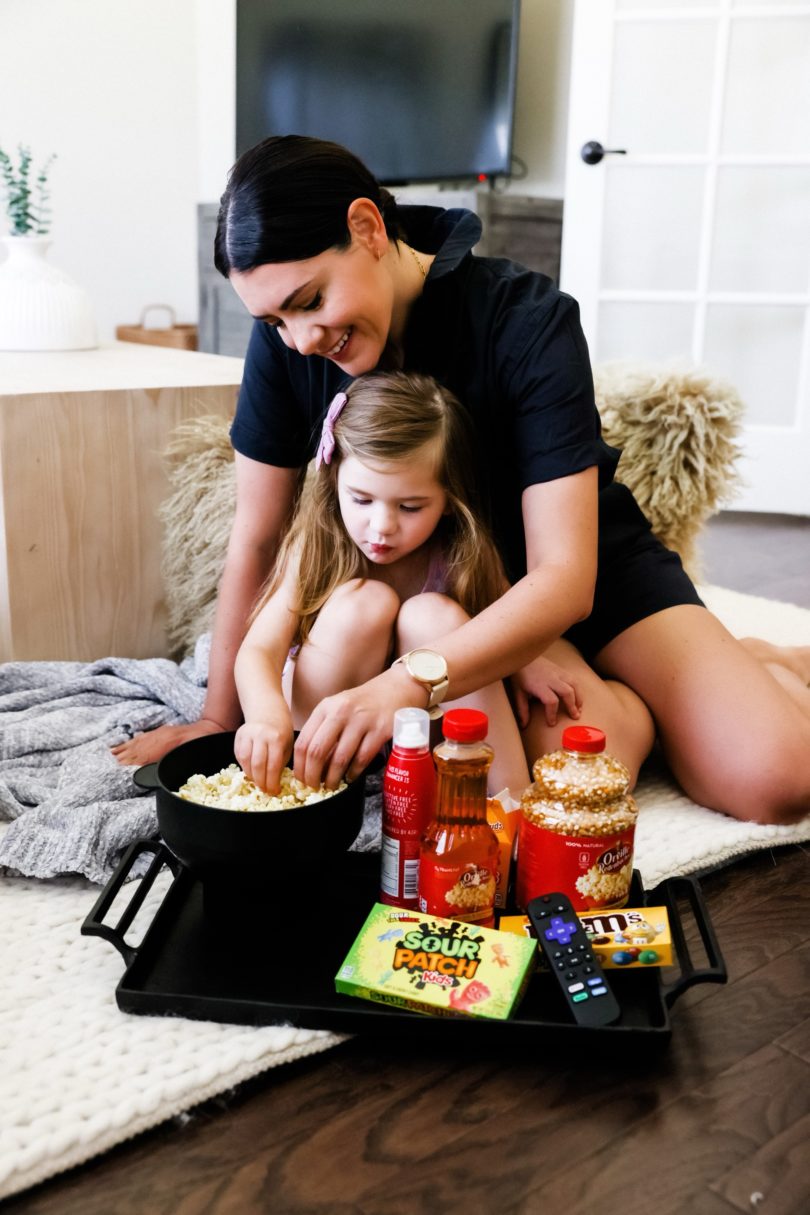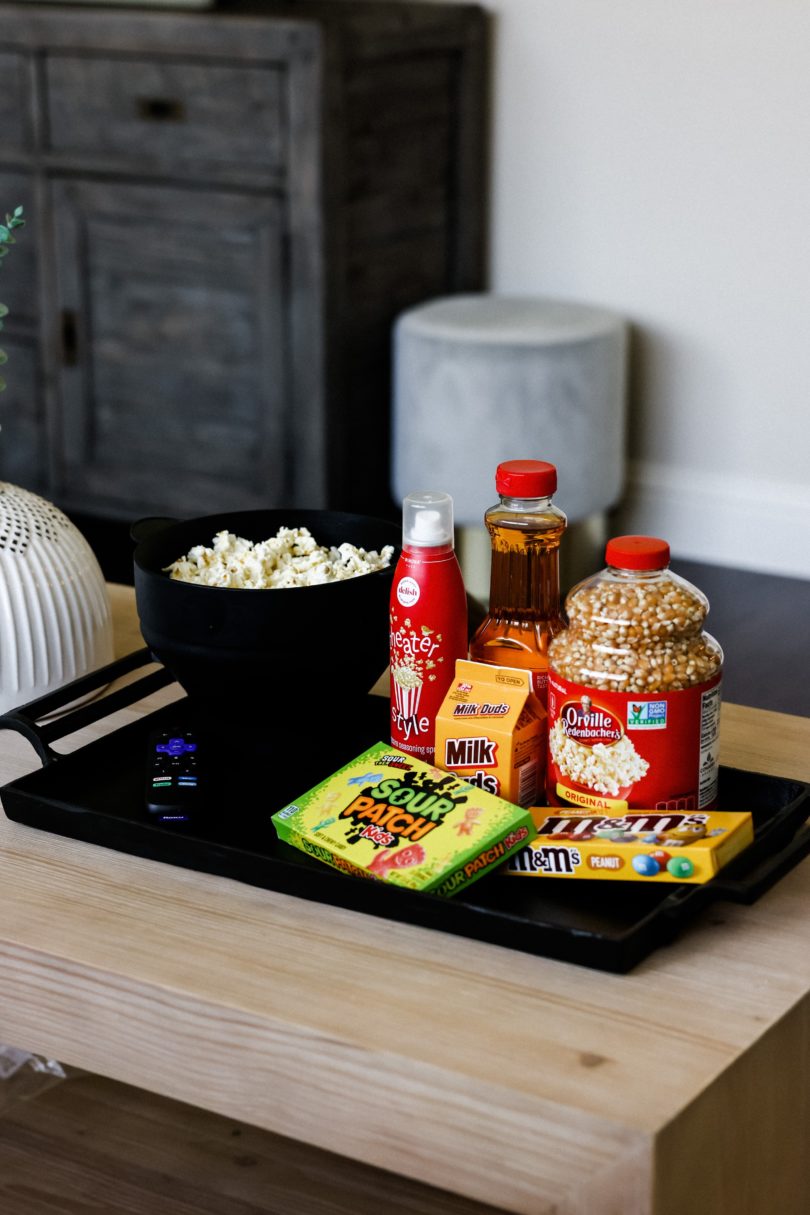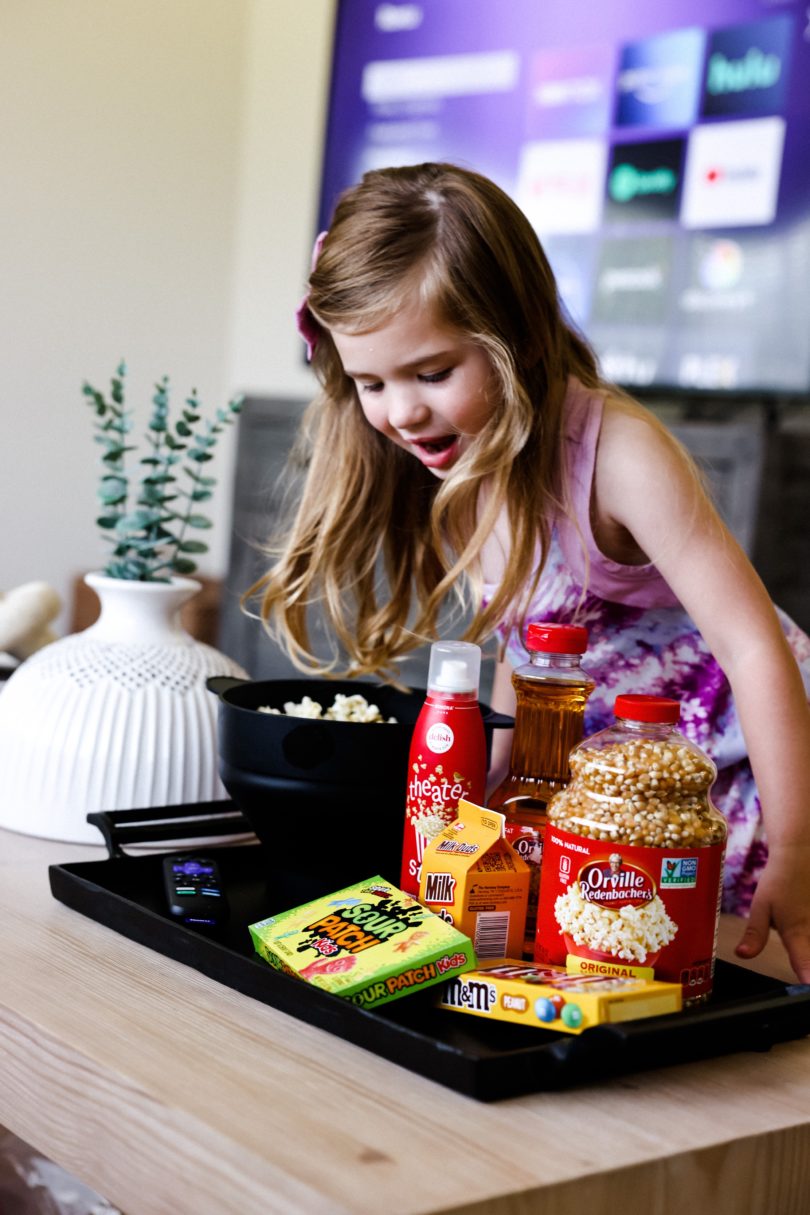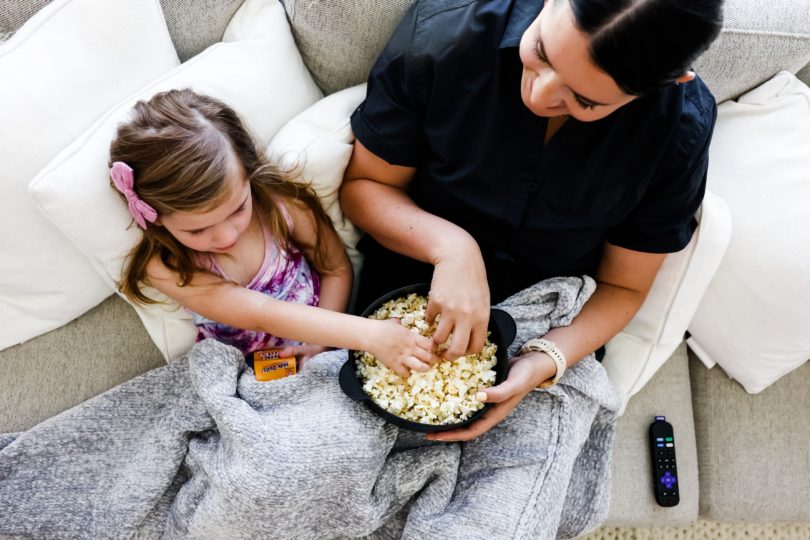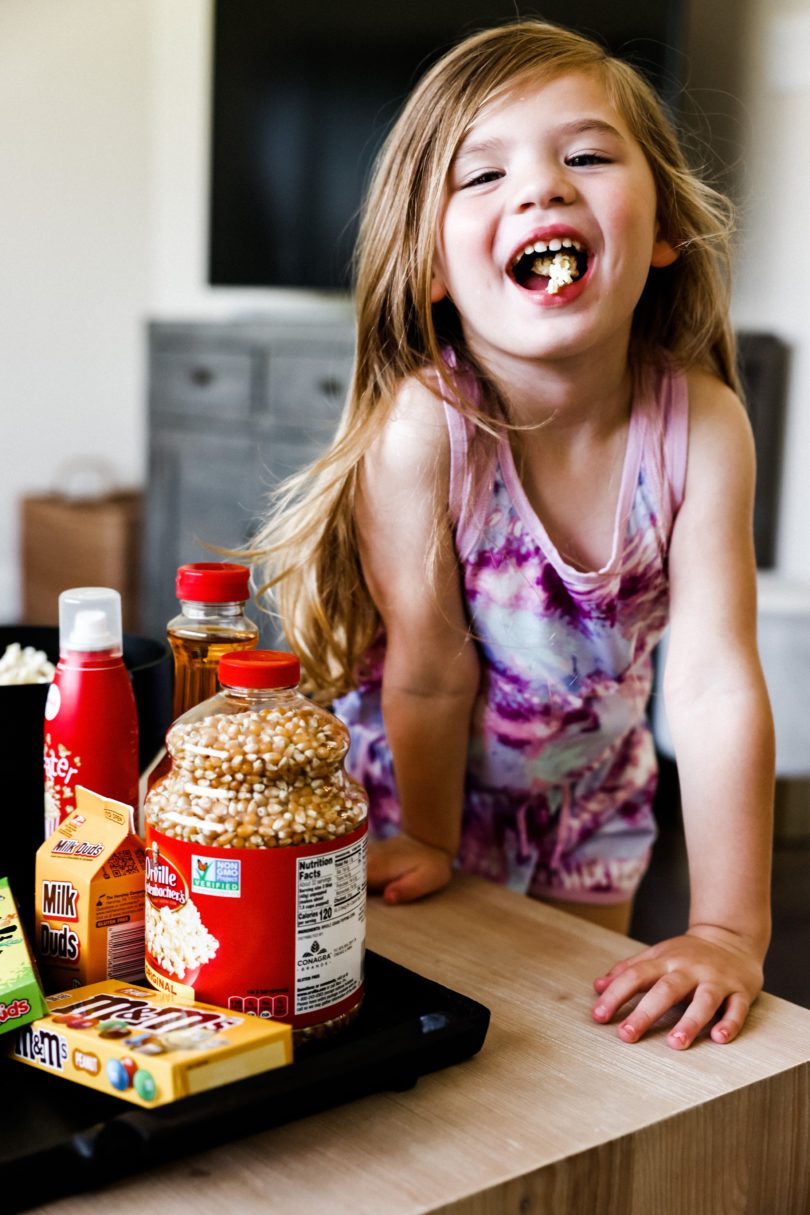 As Gemma gets older I'm finding that we are accidentally creating traditions the I hope we carry on forever. Call it habit, call it tradition but ever since Gemma dropped her nap, every Saturday afternoon B, Gemma and I pop a bowl of popcorn, grab some treats and sit down for a movie. It's her favorite part of the week. She will wake up on Saturday and ask " Is it the weekend? Is it movie day??" and you bet it is. Are we watching Frozen 2 for the 100th time? You bet we are.
Although sometimes, just sometimes, I forget that we are out of our movie day essentials. This is not okay, as I have ONE JOB in this house and it's to have that popcorn and movie ready to go. (Sarcasm very much implied.) Luckily I have Walmart+ and I can have my movie essentials delivered to my door as soon as same day or with 2-day shipping for free! One of my favorite things I've found from Walmart for our Saturday movie day is this popcorn popper! It's a silicone microwaveable popcorn popper and it never burns. It's my favorite way to make popcorn now. I can smell that delicious popcorn now. I've linked all of our movie day essentials below!
Movie Day Essentials from Walmart+

Why I love Walmart+ So Much
I signed up for Walmart+ last September and at first it was a way for me to get groceries delivered contactless, but it has become so much more. I use it for everything we need — toiletries, makeup, groceries, clothes, basically anything Walmart sells I can get same day delivered! Depending on what you need and how fast you need it (hello fellow procrastinators, welcome ), Walmart+ offers a variety of delivery and shipping methods! For example, let's say I waited until the last minute and it's Saturday morning and I need our movie day essentials NOW, I can get it with Express Delivery from your local store and as a W+ member, they waive the delivery fee. (If I really need it quick, I can pay for the 2-hour express for $10!)Or if I can schedule a Free Delivery for any day in the week, as quick as same day delivery from my store with a $35 minimum order (restrictions apply)  And if my local store doesn't have our favorites? I can choose from hundreds of thousands of W+ eligible items and get free shipping from Walmart.com with no minimum order (excludes freight & Marketplace items)!

PS: Free delivery from your store is not just for groceries but for many of the things they sell! From our local store, I got a new Roku for our TV, her cute romper, this chenille blanket, a new dog leash for Carlos, batteries and other random / everyday necessities same day delivery! So unlike other grocery delivery services, I don't have to buy from like 3 different places, on top of my groceries. It's a one stop shop and I never have to even leave my couch. Which is good because I'd hate to miss any important scenes from Frozen 2. 😉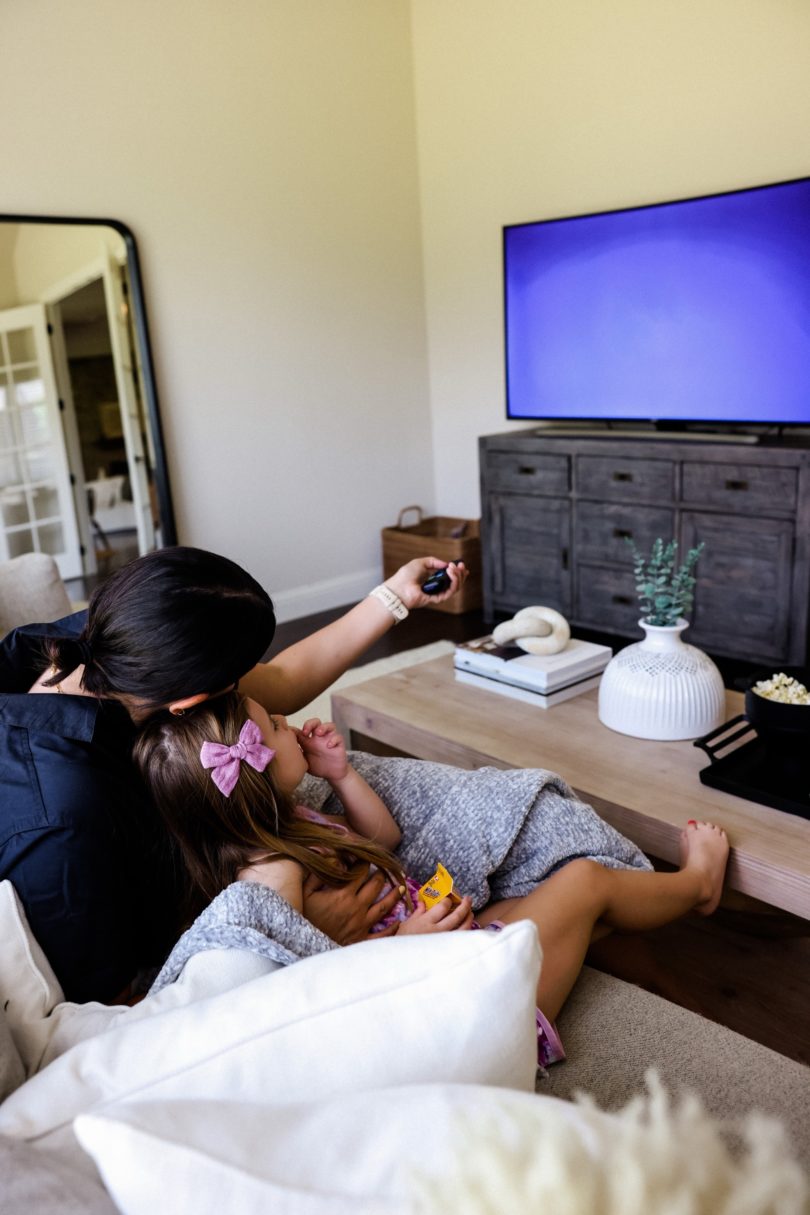 You can sign up for a W+ Membership here!  Not only do you get free as soon as Next Day delivery, free local store delivery ($35 minimum, restrictions apply) but also save 5¢ on gasoline and you can use their Mobile Scan $ Go app to shop in store!  This membership is $12.95 a month or $98 annually. I signed up for the year membership and I will not hesitate to renew this September. But if you want to give it a shot without commitment, try it for a month — with all of the free shipping costs, it's well worth it! Find out more here.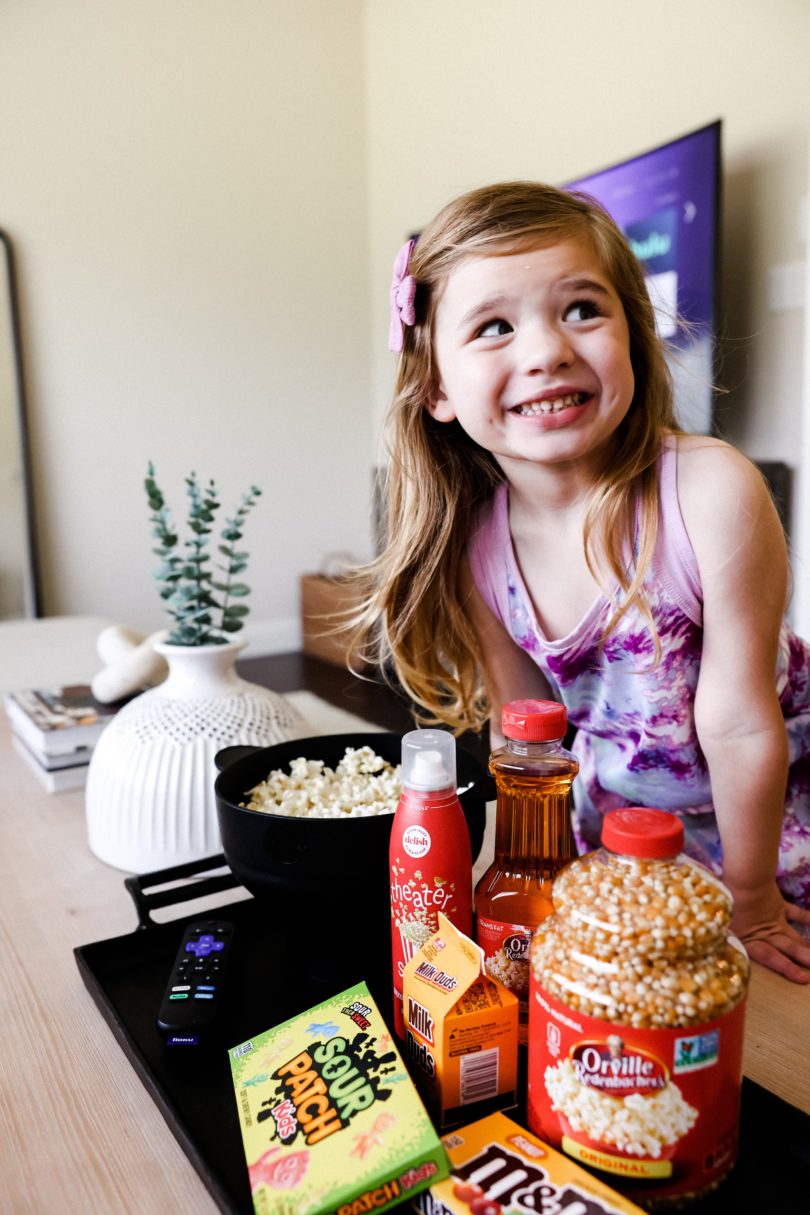 *This post is sponsored by Walmart+! Thank you for supporting the brands that support this blog!