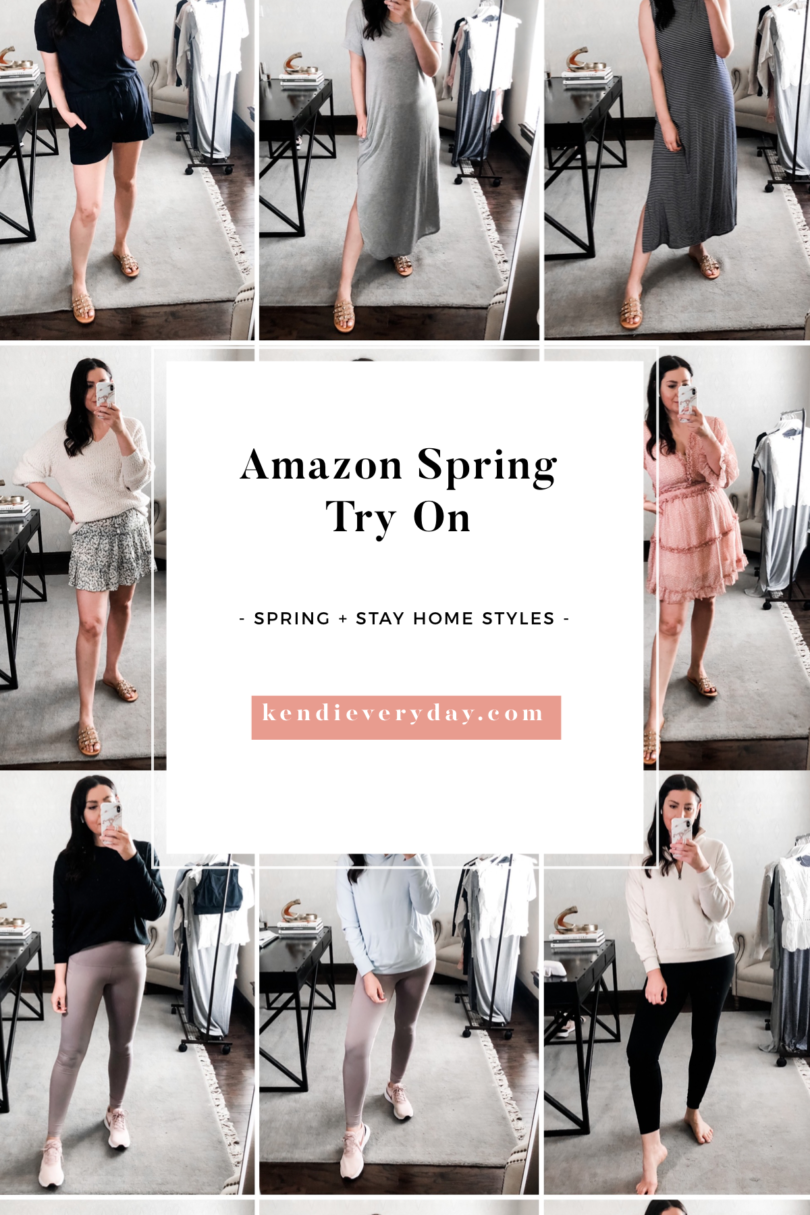 So it dawned on me the other day that I've been doing try-ons for over a year on IG stories and I've rarely posted them here on the blog. Which to be honest is a damn shame. So in honor of changing things up, I thought I'd start posting my try-ons here as well! If you watch them on my stories then this can be a resource for you that might be easier to shop from or gain inspiration from and easier to Pin outfits from — that's been a huge request! And if you haven't seen them on the stories, then hopefully this is new and welcome content. I won't be going into as much detail and … well dramatics as I do on stories so if you want a good time I will suggest following me there. But if you want the basics of fit + quality + details then these posts will be for you!
Amazon Haul for April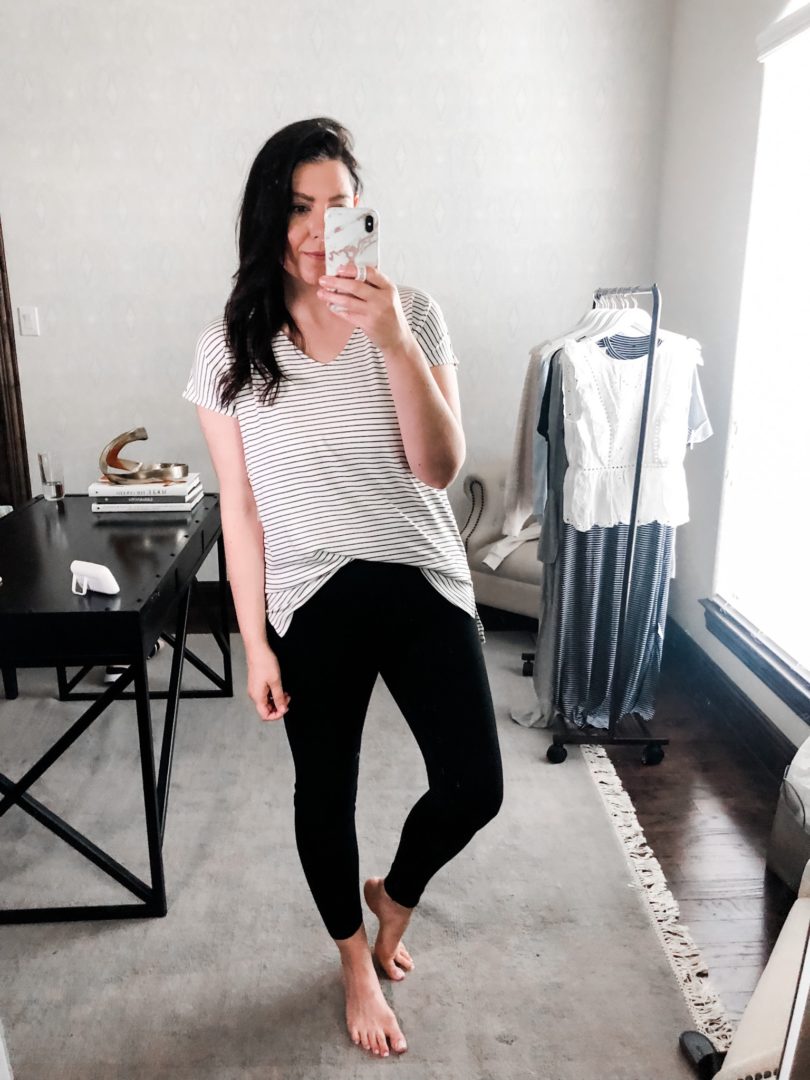 Hands down favorite shirt of the try on! It's this weird thicker knit and I love it. It's so cozy but lightweight enough that you can wear it this summer. I am in the medium and it fits true to size with a little bit of slouchy. I would even say it runs a bit generous so if you are petite, you may want to size down. It has an almost tunic length too, well for me at least. If you are shorter than 5'9″ it may cover your tush, but I can't be certain. Find this top here!
These are my favorite leggings from Amazon, too. The Core10 are really great quality and hold everything in if you know what I mean. I always get the high waist version and I wear the medium. Find them here!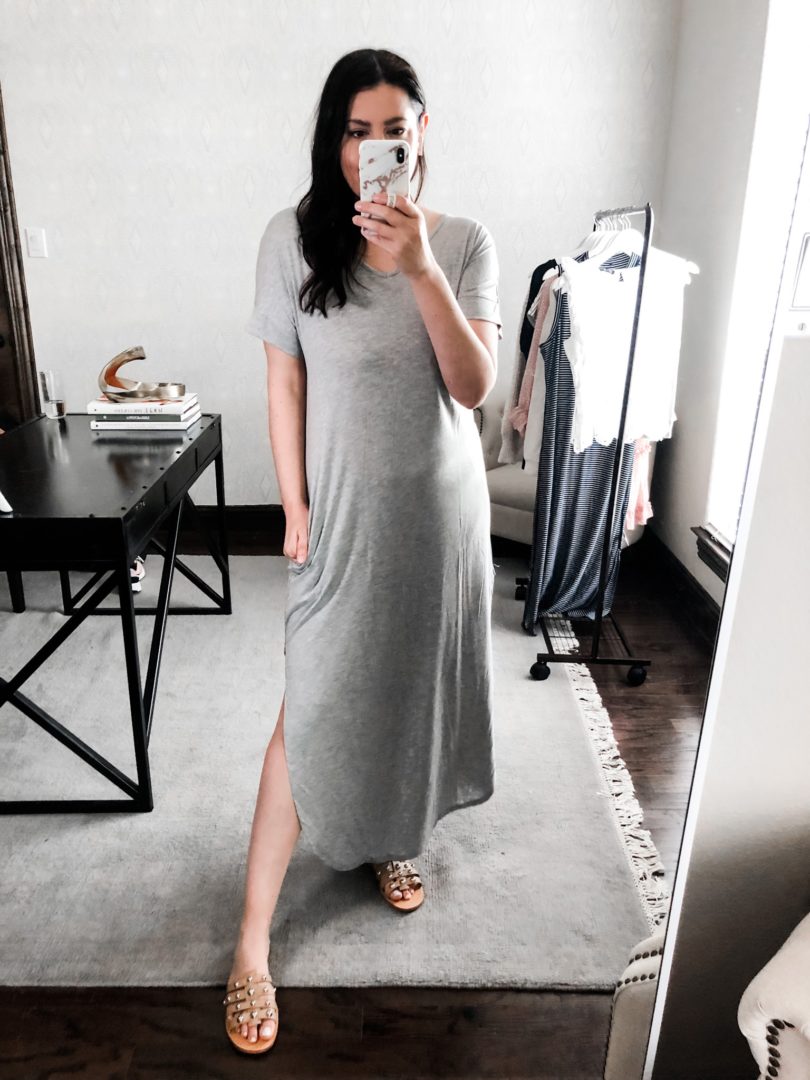 I am in the large of the dress. I prefer sizing up because I like the arm holes to be loose! But overall it's a loose-goose fit and it does fit true to size. If you're typically a medium and don't want giant arm holes, stay with the medium. Find this dress here.
As far as the quality goes, I've had this dress before (I have it in black and a darker grey) and it holds up well and washes well. I always wash this in cold and hang to dry to minimize the fabric from piling because it eventually will (it has a mix of spandex in there which loves to pill with heat.) The other question I got was if it was summer heat prepared and I love wearing it in summer. It isn't too hot and it's a great toss on and go kind of dress, great for vacations too. That is when vacation is a word we can safely use again.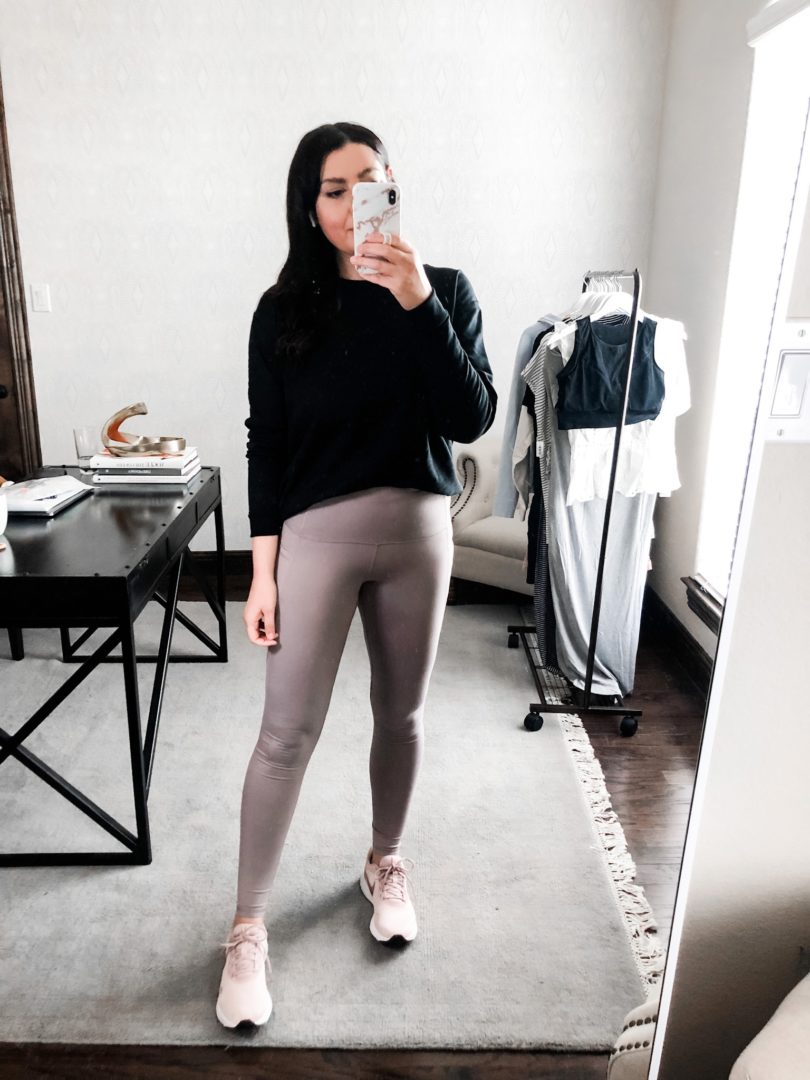 Speaking of cute leggings — these are the C9 leggings. I would say that they feel like a $20 legging and you are welcome to take that in any direction you feel. I am in the medium and they fit like mediums. Also they are plenty long on me, so if you are shorter maybe look for a cropped version instead! Or just wear them over your feet like toeless socks. #creative
I really like the color of these — almost a purple-ish grey and I love the side pocket on them as well. (Just on one side, odd choice but I'll take any pockets I can get.) The downside — they are thin so probably not squat proof (can't relate) and the waist band is pretty thick and it 'rounds out' my tummy and hips. This is true with all of my C9 leggings, so I think it's just the brand and the cut.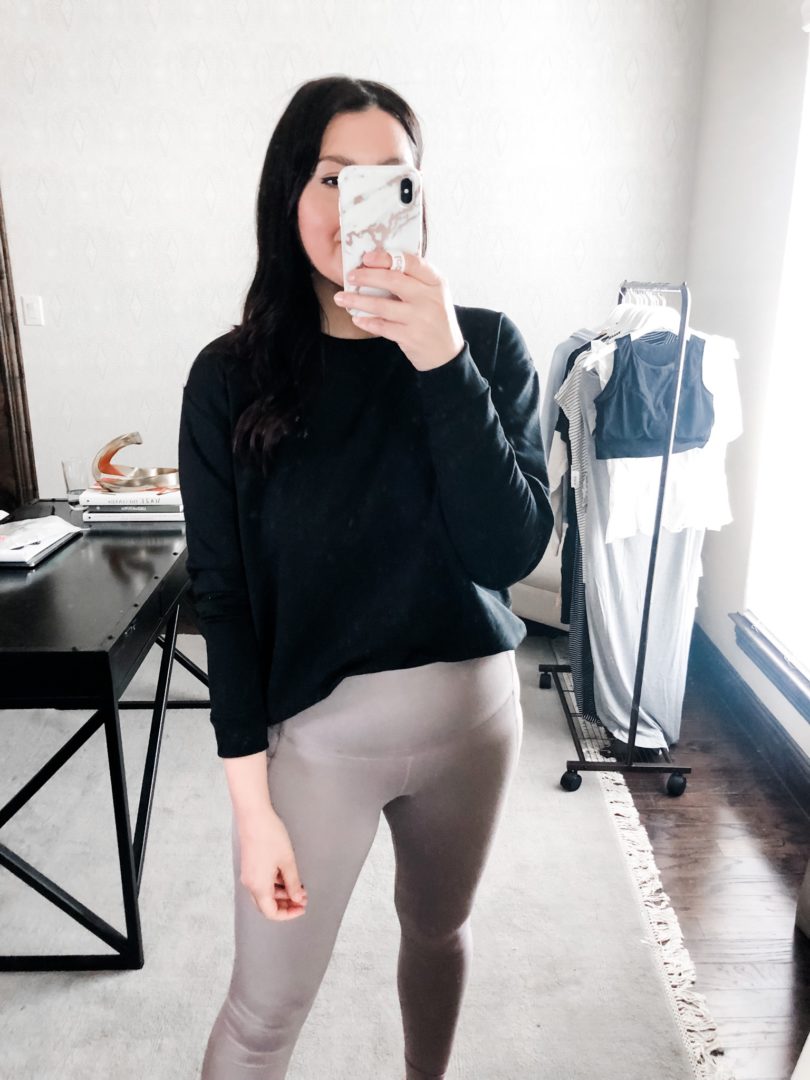 If you are looking for a cute and cheap sweatshirt, I love the Hanes ones from Amazon! This one was like $8 and it is just your typically casual sweatshirt. Not too hot, fit is just right. I am in the medium and it's true to size! Find it here.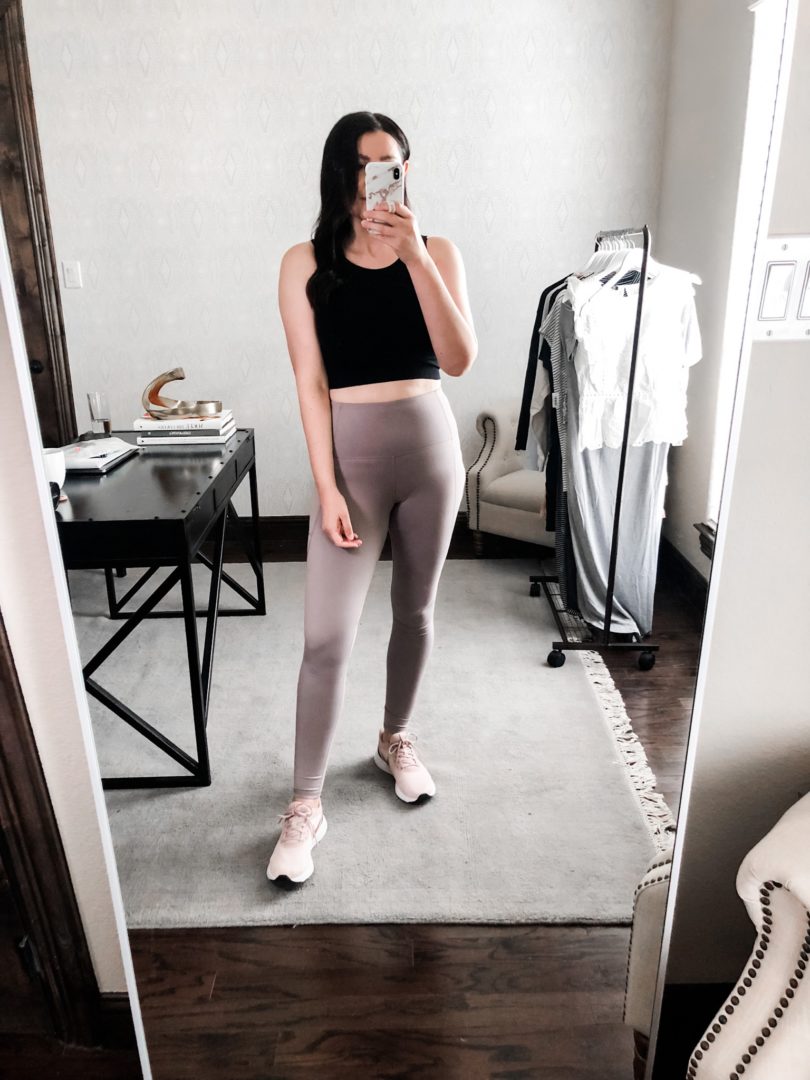 This is the crop top sports bra I won't stop talking about. If you want all the details, find this post here. But I am in the XL and approve of this size. I am a 36D and it works perfectly as a low impact sports + crop top. I would say it's very true to their suggested size guide. Find it here!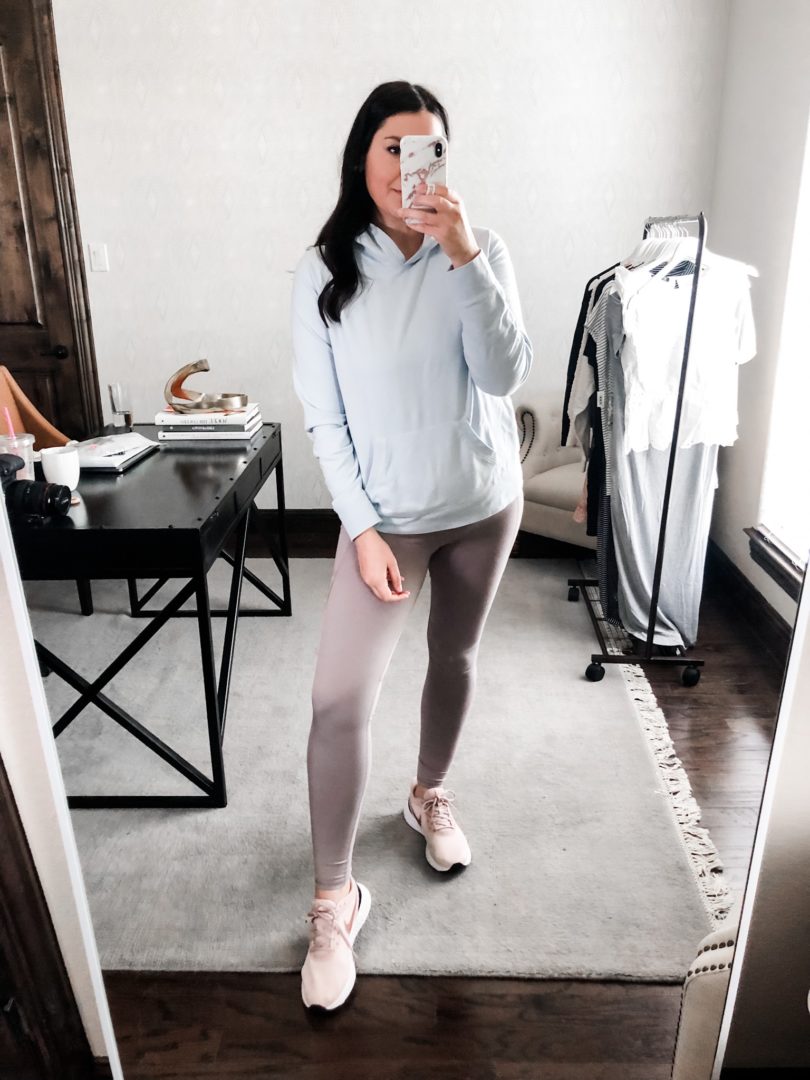 Another cozy option for spring — this lightweight sweatshirt that is SO soft and cozy inside! I love this light blue color but there are lots of options. Per the reviews, I sized up for ultimate coziness and I 100% approve of this choice. I would say if you want it to be a bit more fitted, stay true to size but if you want extra space to curl up in here, then size up one. Find it here!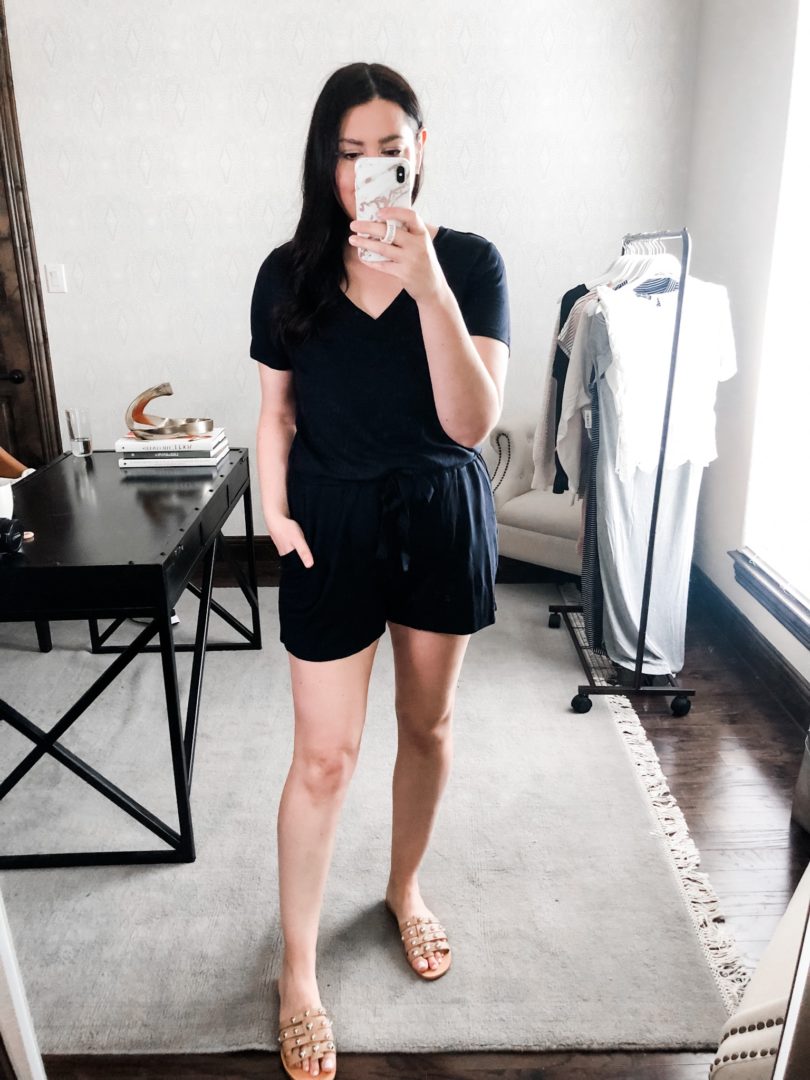 I love this little romper so much. It's been my weekend romper lately. And by lately I mean this past weekend. Wore it the whole time. It's just nice to pull on a one piece wonder that's comfortable and cozy but you look like you at least tried. I had to re-write 'tried' 3 times because 'tired' kept coming out of my brain. Accurate. I am in the large of the romper. I wouldn't suggest sizing up I just wanted to make sure it didn't touch my tummy all weird. It doesn't for the record but it does feel just a tad bit big. I would definitely suggest staying true to size. Find the romper here.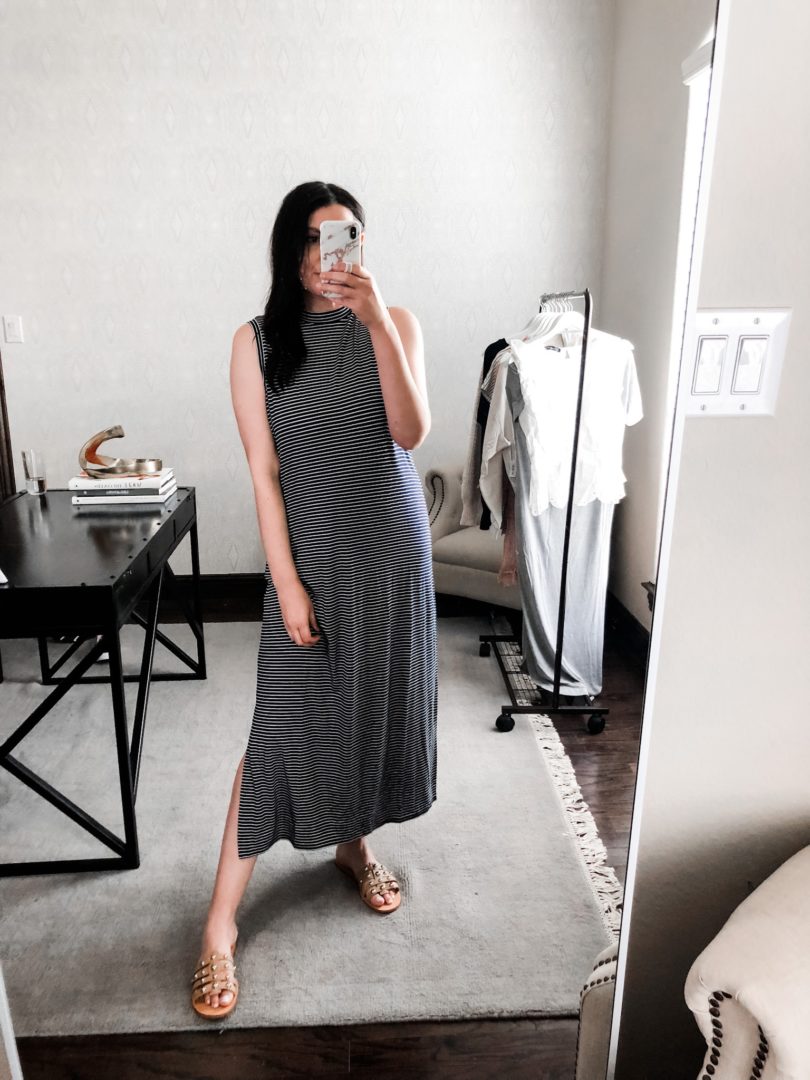 Another lovely cozy dress option here for now and summertime! This dress is so so so soft. I can't even explain it. I'm hoping it stays this way all summer long! I am in the medium and I would say it runs big. It's a loose bodice to began with but the arm holes are really loose. So if you have a smaller chest or you're petite, definitely size down! I quite like this length and the looseness so I'll just wear a bandeau underneath for extra protection on the bra situation. Other than that it's perfect! Oh and regular bra friendly too — a huge plus! Find this dress here.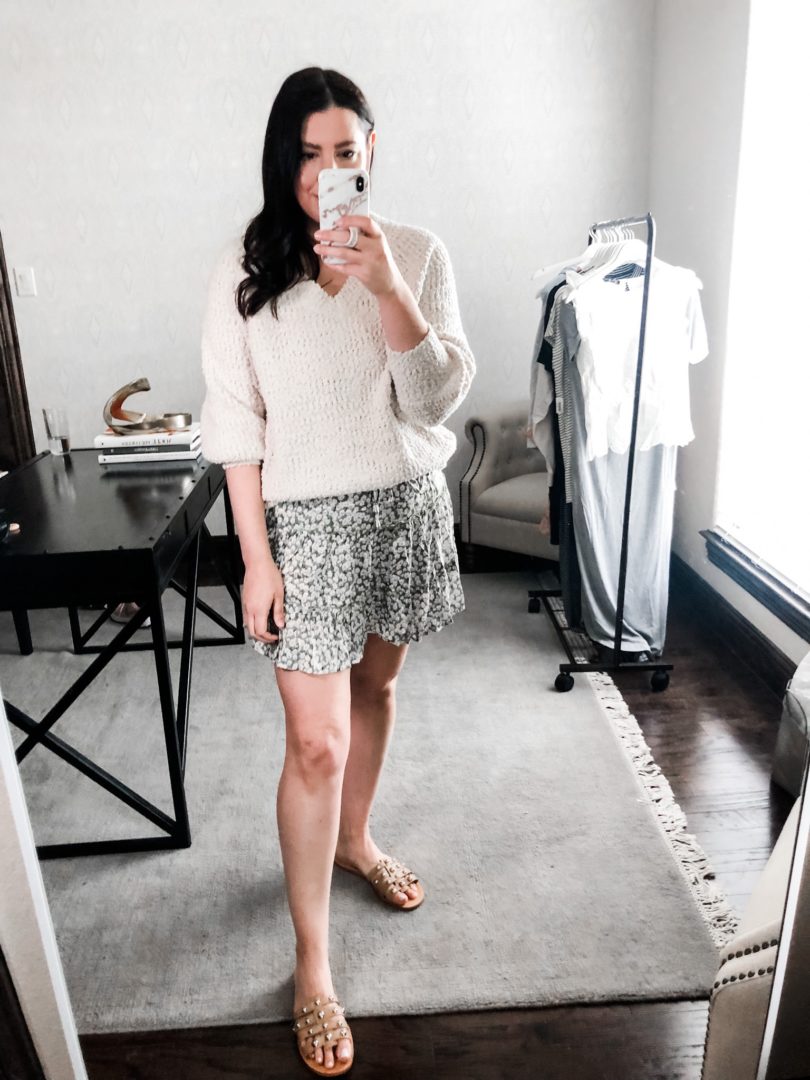 I love this cute little skirt and can not wait to wear it this summer. It has patio + margs written all over it. For now it's in my house with a sweater but imagine how darling it will be with just a simple white crewneck tee and sneakers. I am in the large for length but overall it fits true to size. I would not recommend sizing up because the waist has a drawstring and is plenty roomy. But I'm 5'9″ and skirts can get risky. So size up if you need some more length and you can sling this skirt a little lower on your hips for more length. Find the skirt here.
This sweater — I know it's not really sweater weather any more — but I love a lighter sweater for the late spring days. We are almost out of those days here which is early but I love wearing a sweater with my skirts and shorts. Something about being cold on the bottom and hot on top just screams SPRING to me. Find this sweater here.
This is definitely a someday top but I love it so much. It's just the perfect summer top. Eyelet and peplum together are my summer fling this year. I am in the large and it's TIGHT on the chest. Let me tell you. There is a zipper in the back and we had to have some heavy negotiations for him to stay put but it worked out okay. I am wearing a regular bra here as well. It looks like the only place that's a little sheer is under the peplum because my chest area is covered. A light camisole underneath would be perfect. Find this shirt here!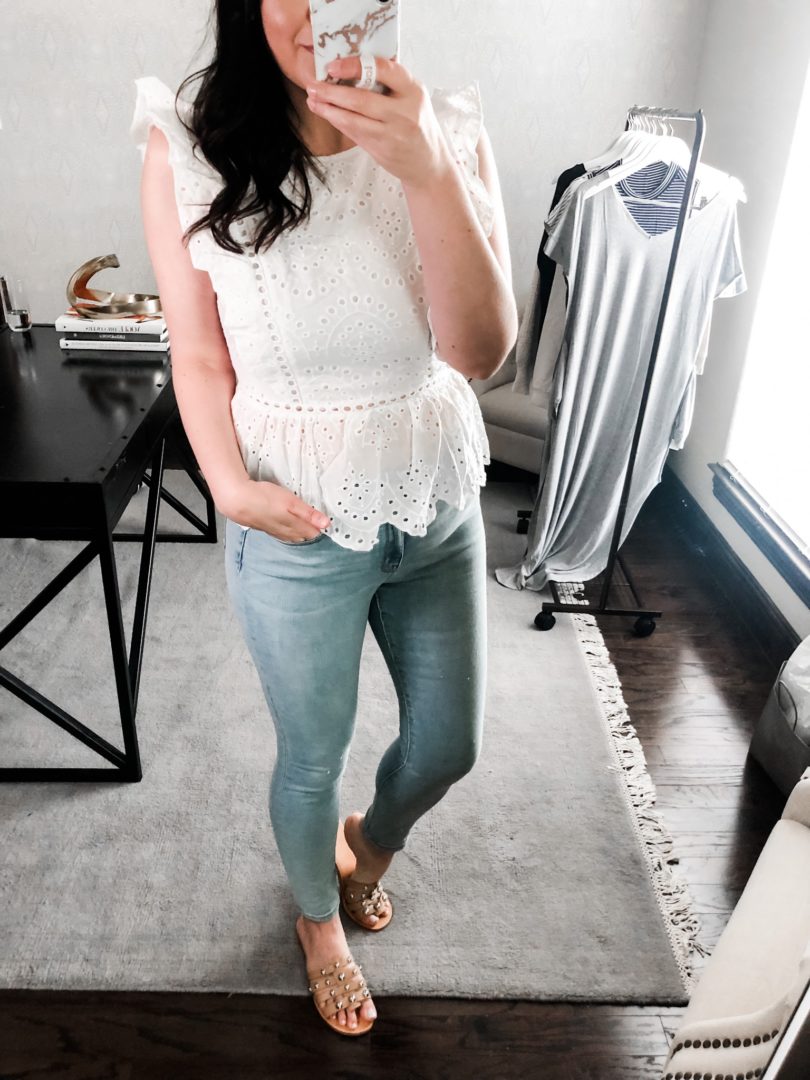 These jeans (sorry to even mention denim right now. read the room, Kendi.) are the Daily Ritual High Rise! I am in the 29R. They run a bit generous in the waist, there is a small gap in the back which is not typical for me. I would say if you have a more narrow waist you could size down! Find them here.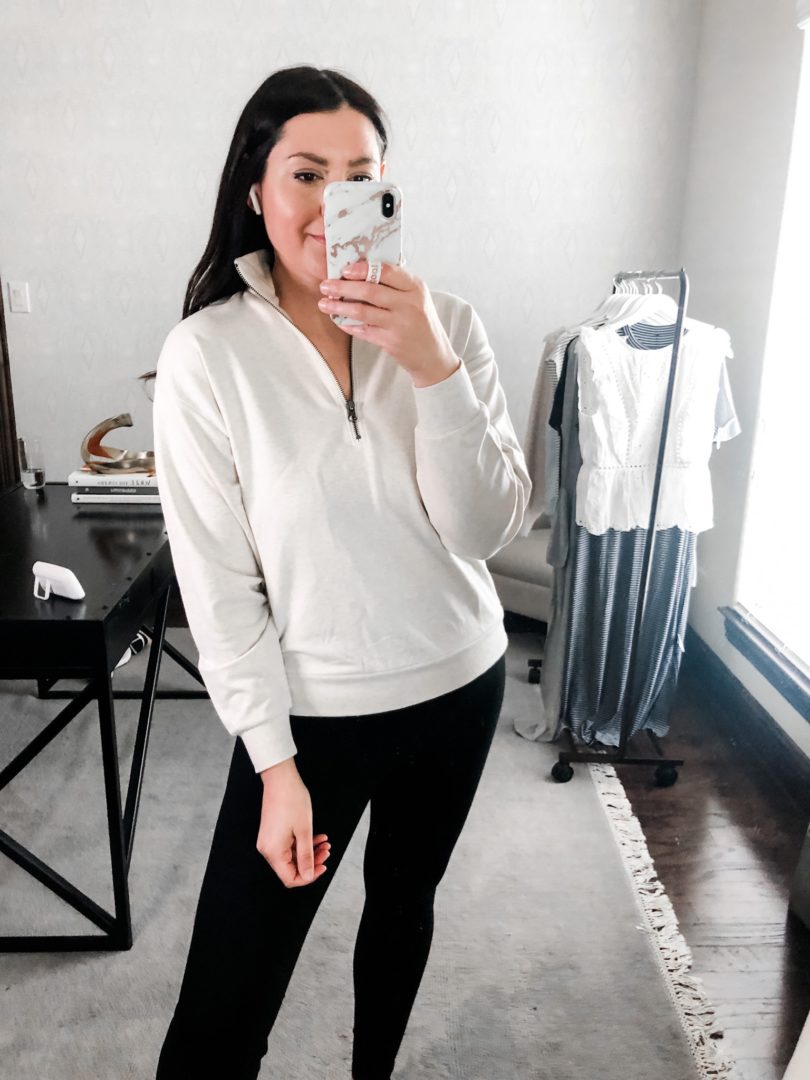 Love this little half zip sweatshirt. Well I don't know if I'd call it a full sweatshirt, more of a thick knit top. Love it either way. It's cozy and comfortable and looks cute with denim shorts as well! I wore it with my leggings here but it will work for early summer too with shorts! I am in the medium and it's plenty generous. I would say size down if you want a more fitted look. Find this top here.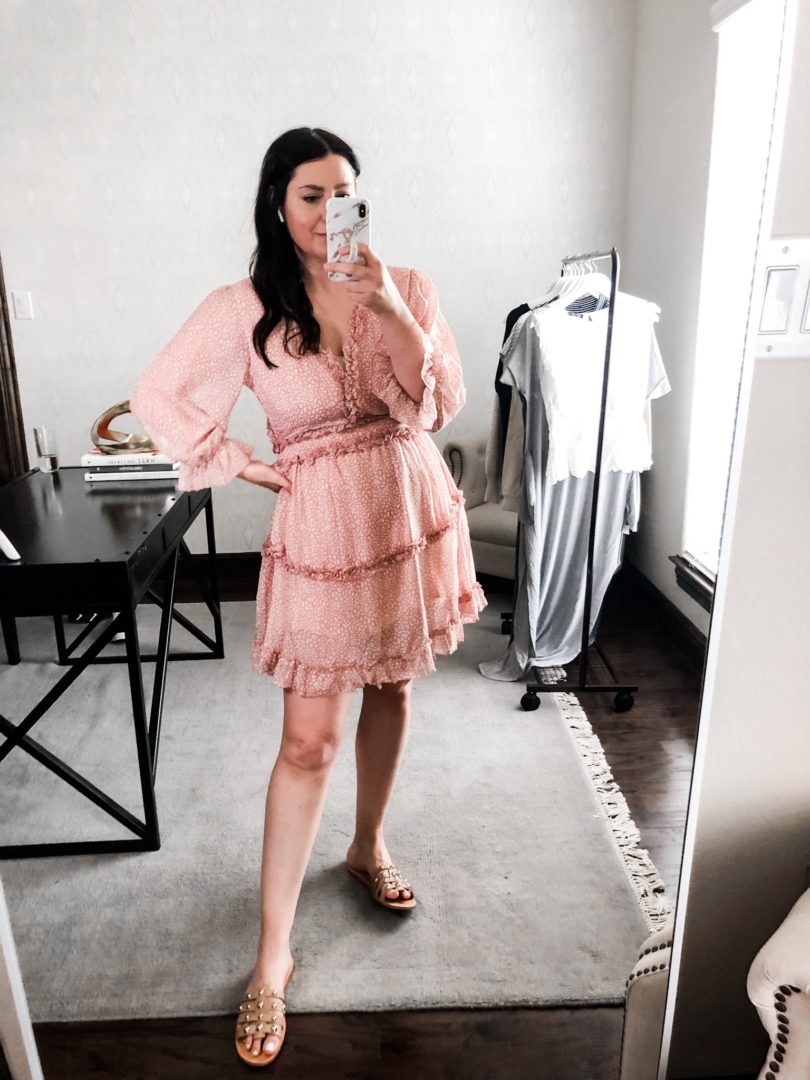 Last but certainly not least — this beauty! GAH. I can not wait to wear this out somewhere but for now, I'm wearing it for drinks on the patio this Friday. Gotta plan ahead 😉 I am in the large because I always expect things to fit tiny but this one surprised me! This is a bit too big, so I definitely need a medium and would suggest true to size. If you have big boobs or you are nursing — this dress is for you! There is so much room here — maybe too much room? Its's a bit sarcastic. In fact I pinned the dress together in the middle because it is a deeper v neck that I expected. Love this flirty dress and it comes in other colors too. Find it here!