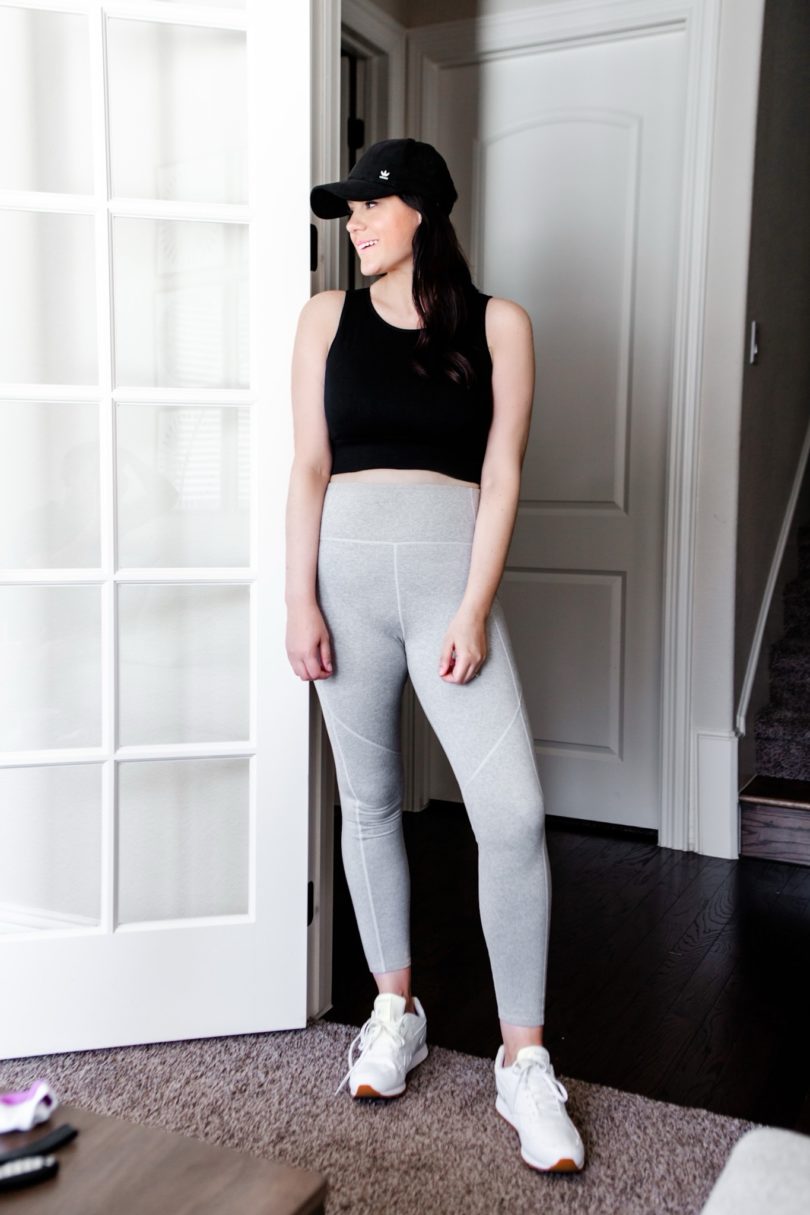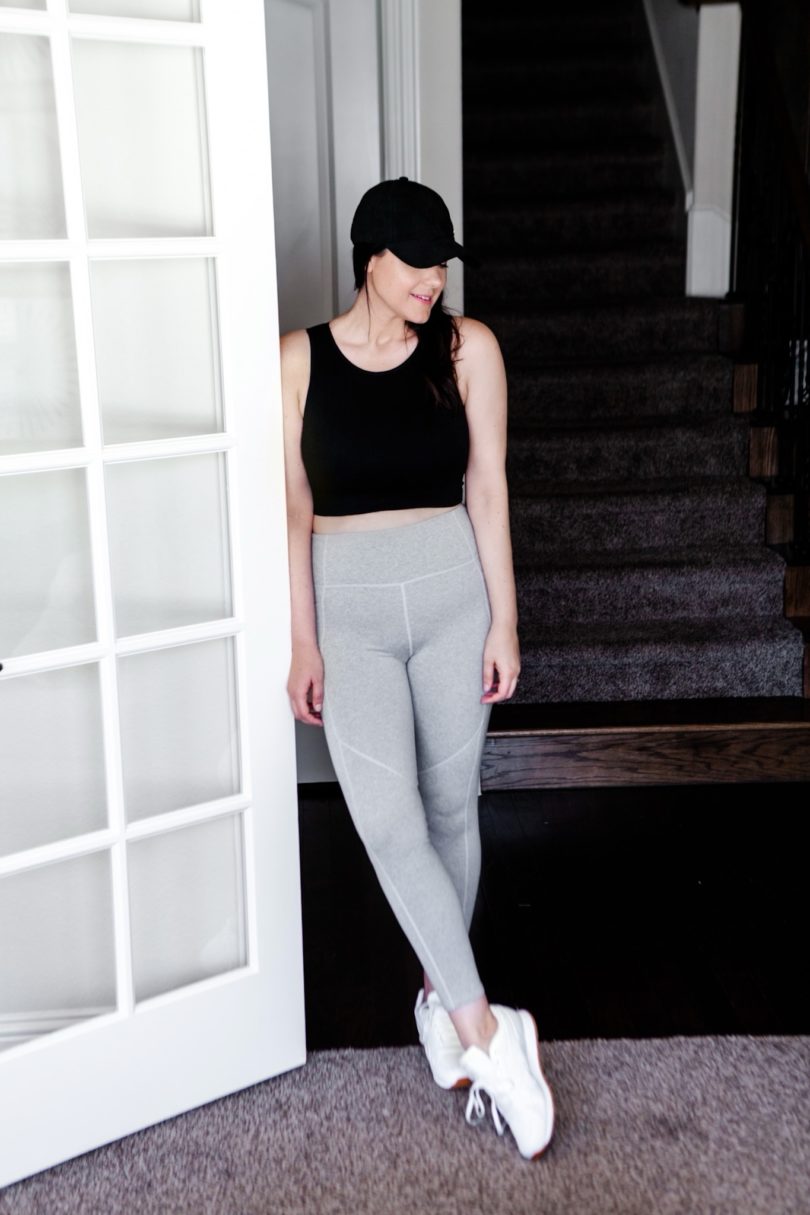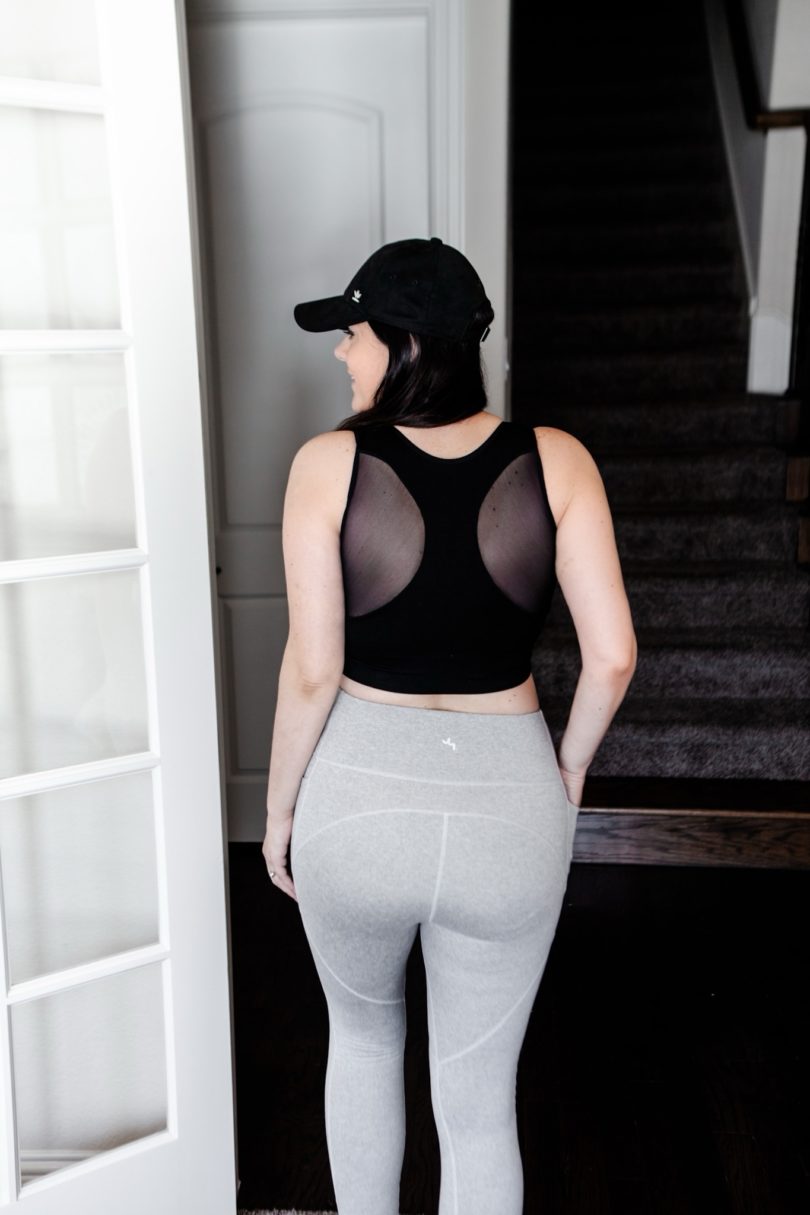 Well, one benefit from being in the house at all times is that I've spent even more time looking at shit online. Which means…I finally found a crop top that works for long torsos + bigger chests. *standing ovation* I started going down all of the Amazon rabbit holes and came up with this crop top/ sports bra hybrid and I want one in every color. I've loved this crop top + high waist leggings look on so many fitness girls but for me it's been unrealistic because I've got big boobs AND a long torso. There's just not enough fabric to go around and stay a crop top. Most crop tops become regular sports bras (looking at you specifically Outdoor Voices) and in fact it's been a comical journey of trial and error in trying on crop tops only to be disappointed.
Until this one. And it's under $20. I MEAN. Living the dream.
So the fit is kind of hard to explain so I'll just lay out my facts. I am 5'9″, 60% water and I wear a 36D bra and usually a large in sports bras. I bought the XL in this crop top sports bra and there is room to breathe. It fits great as a top and if I'm not doing a high impact workout this works just fine as a bra top too. If I were to run (lol) I would need to wear a sports bra under this but that's pretty typical for me anyways. I always double up on sports bras if it's a high impact workout. If I have to explain that to you, then congratulations your boobs are not a daily nuisance.
All that to say I think an XL would fit D+ cups.  I think if you aren't super long in your torso, stay true to your sports bra size. Their size chart seemed to ring pretty true to me, so I would say stick to that sizing guide. I'm saying this all with fingers crossed — it's so hard to size someone from across the internet but damn it I'm trying.

So you probably came here for the workouts. I get it. Let's get to them then! I rounded up a few of my favorite workouts  — some are apps, some are videos and 3/5 are free. Oh and all are very do-able. Except for the last one. But a girl can dream.
All Level Fitness:
Whatever kind of yoga you are looking for, Adrienne has it. You want a challenging workout , you're new to yoga or to just relax or unwind, she has it all! Plus she's a great instructor and just overall so nice to listen to. You can find her website here or her YouTube here.
Specific Area Tone Ups:
I love Cassey and have followed her for a long time on Youtube. It started with her workout videos but I actually just like watching all of her videos. She's unapologetic, confident and inspiring. She may not be everyone's cup of tea but her workouts are! These are great if you are looking to tone up specific areas — she breaks it all down especially in her most recent work out at home videos!
Quick 10-Minute Routine:
Tracy Anderson's 10 Minute Workout 
Have you heard of the TA Method? Well it's the Tracy Anderson method and it hurts. She is a celebrity trainer (Gwyneth Paltrow's to be specific) and her whole thing is to train the smaller muscles to tighten all over. She does a lot of small moves that you think — no way this is gonna work — but let me tell you, by the next day I am so sore. Goop  uploaded this 10 minute workout and it's a great one if you just have 10 minutes to do something. Pair this with a nice walk outside and it's a nice refresh for them muscles.  (Also, I realize Goop and Gwyneth can be very polarizing but this video is for all, I promise!)
Bonus — this is an oldie but a goodie. It's a quick arm workout and it SLAPS. Find it here. Also this video was from 10 years ago — let's all just take a quick moment to thank technology for their improvements to our streaming experience.
Oh and PS — my sneakers are 40% off today with code BIGDEAL!!
The next two are paid apps but definitely worth checking out if you are looking for a more personal trainer approach! 
Full Workout Guide:
So this year I started to get back into the gym regularly, like I was going 2-3 times a week in February + the beginning of March…and then well you know what happened. I've been a bit sad about it because it took quite a bit of motivation to get back into the gym since I've taken a long pause (like years lol)  and I've watch Bryan workout and build muscle and wanted in on his fitness game. But before all of this B had found this app that creates really, really great workouts for the gym using whatever equipment your gym has and he was finding some really great routines with it. Turns out that this app can also work for at home workouts as well! You have the ability to adjust to what equipment you do or don't have as well as your fitness level and abilities. It's a really great app if you are missing your trainer or your typical workout and just overall feel completely lost without the gym and a plan. PS: they have zero equipment workouts too! It's a great app, I can't recommend it enough!
It is a paid app but they are allowing for free workouts without equipment for a few weeks!
Most Humbling Workout:
Have you tried the BBG on the Sweat app yet? If you have, then you KNOW what I mean by most humbling. This workout is basically like someone saying 'you think you're in shape? That's cute.' And that isn't to scare you — wait yes it is. LOL. But I've had many friends who have successfully done the 6 week workouts and came out on the other side feeling great physically and mentally. In fact that's been the the thing that my friends say has been the biggest benefit of the hard workouts, the mental clarity and empowerment.
You notice I am saying FRIENDS. I've made it through week one and my body declared bankruptcy. This was last May. I'm still sore.
All that to say — it is a great at home workout and while I follow Kayla Itsines' workouts there are other trainers in the app for other fitness goals! It is a paid app but if you aren't paying for a gym membership, it's a nice swap.
Find it in the App Store here.
If you have any videos or apps that you'd like to share, leave a comment below!