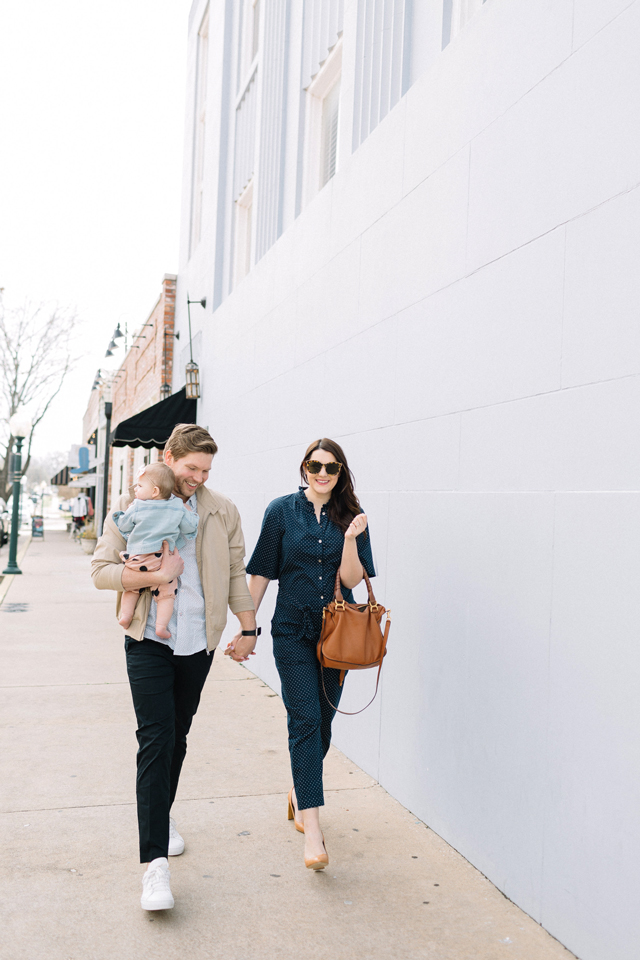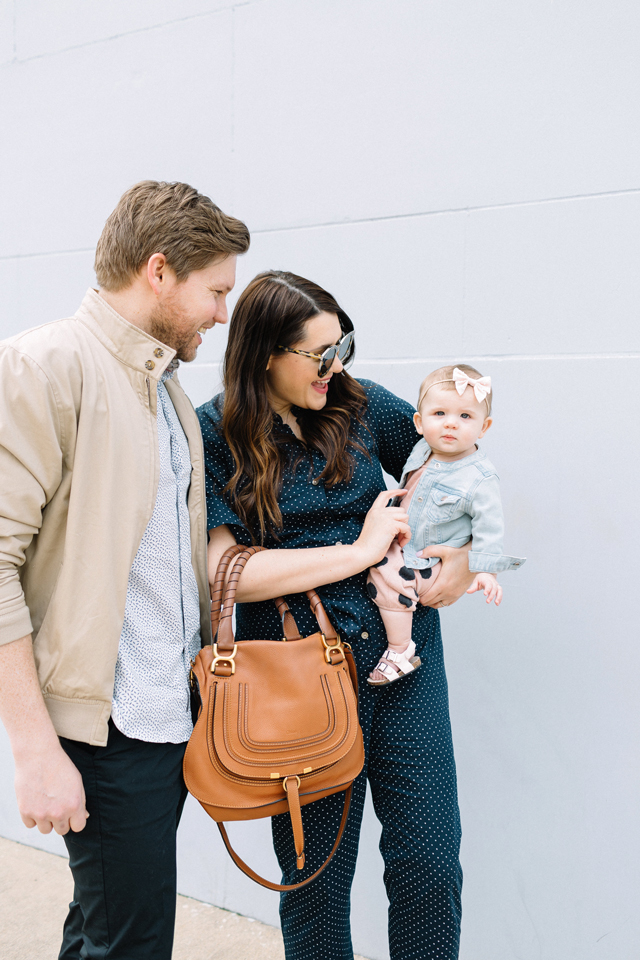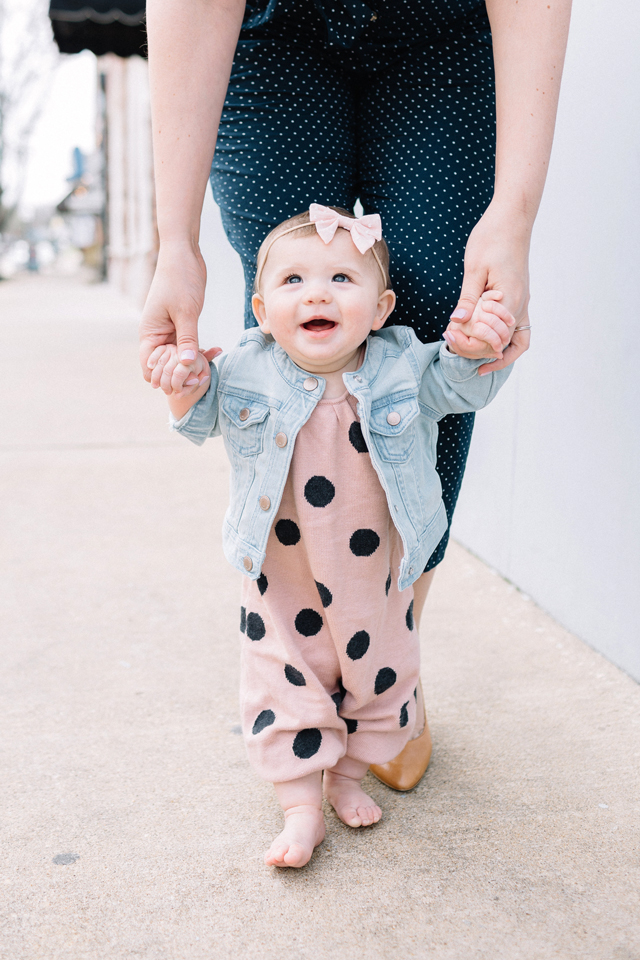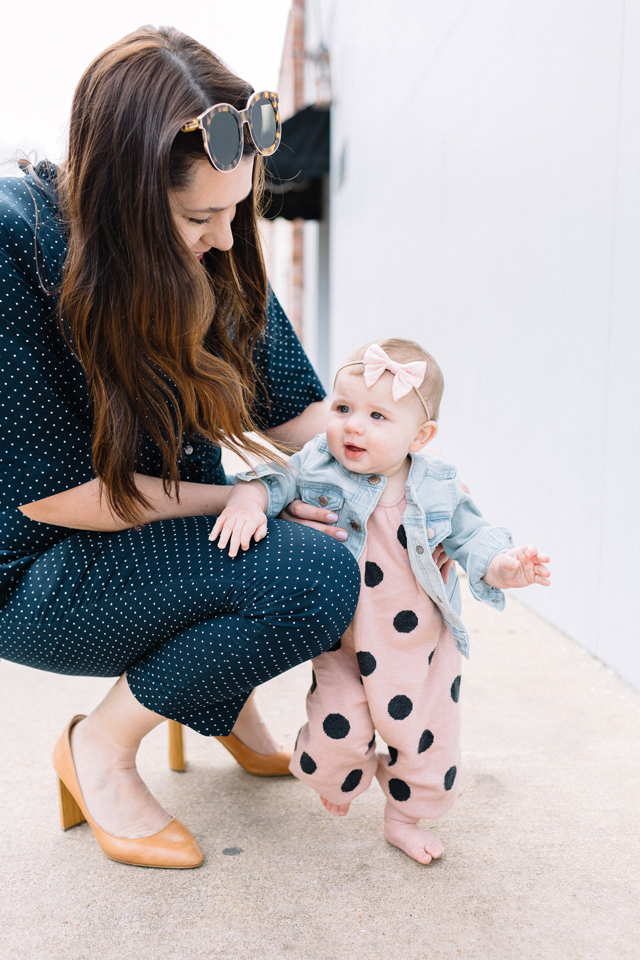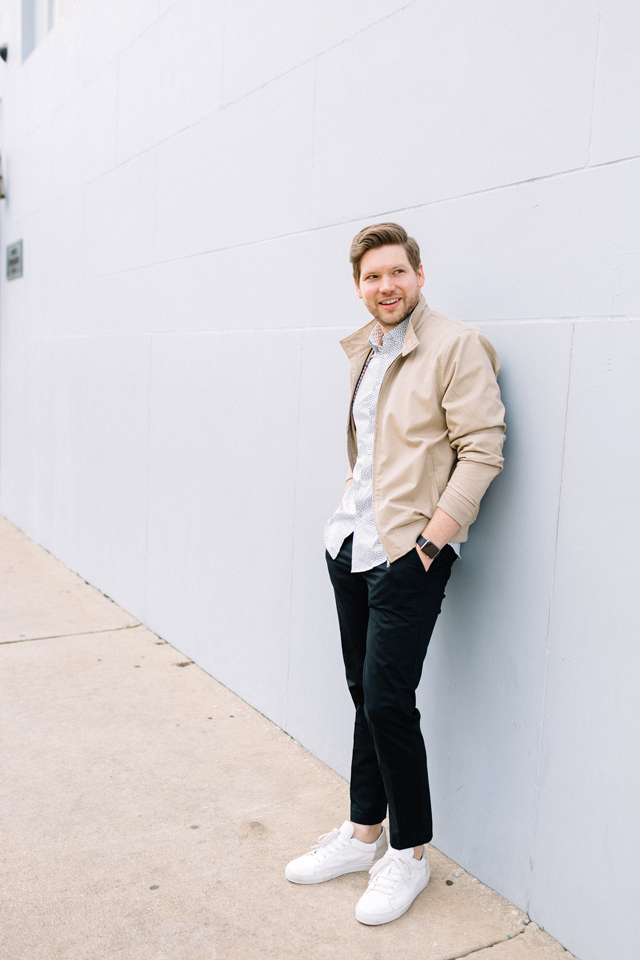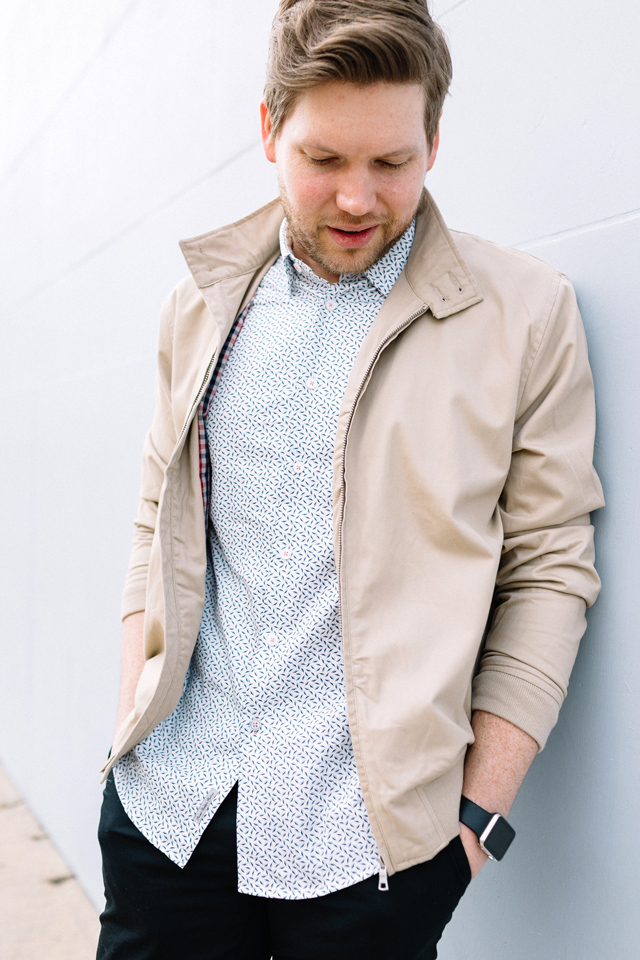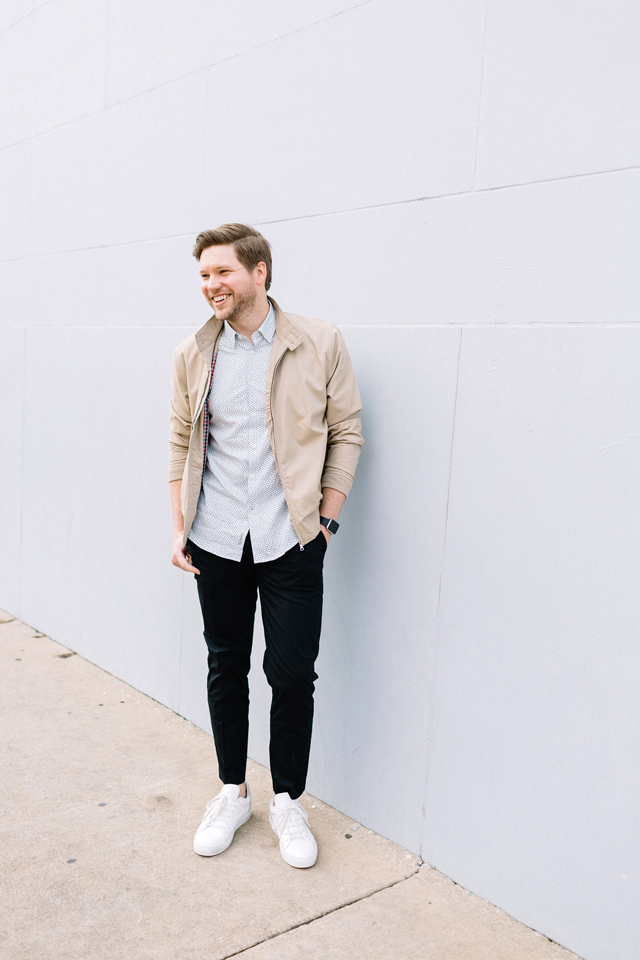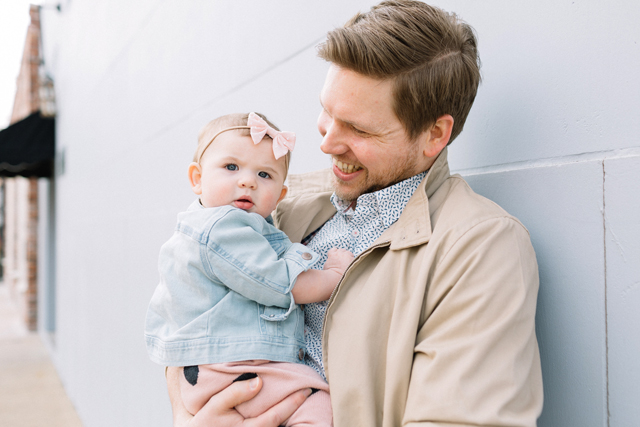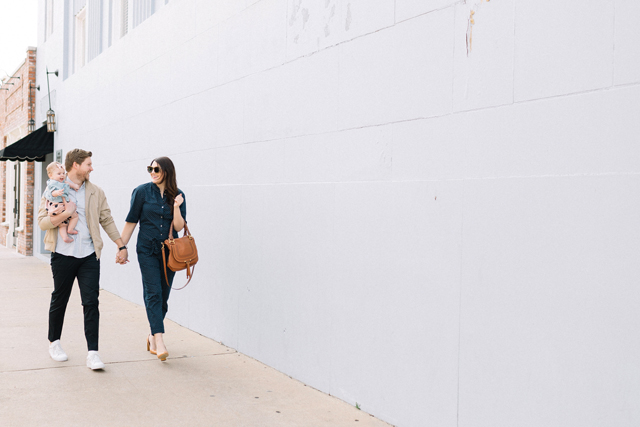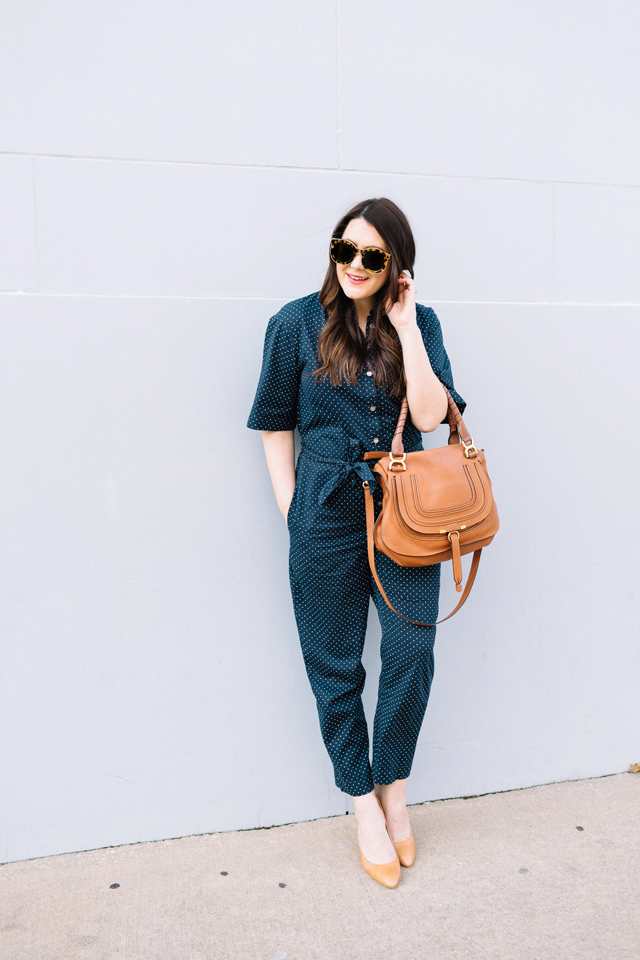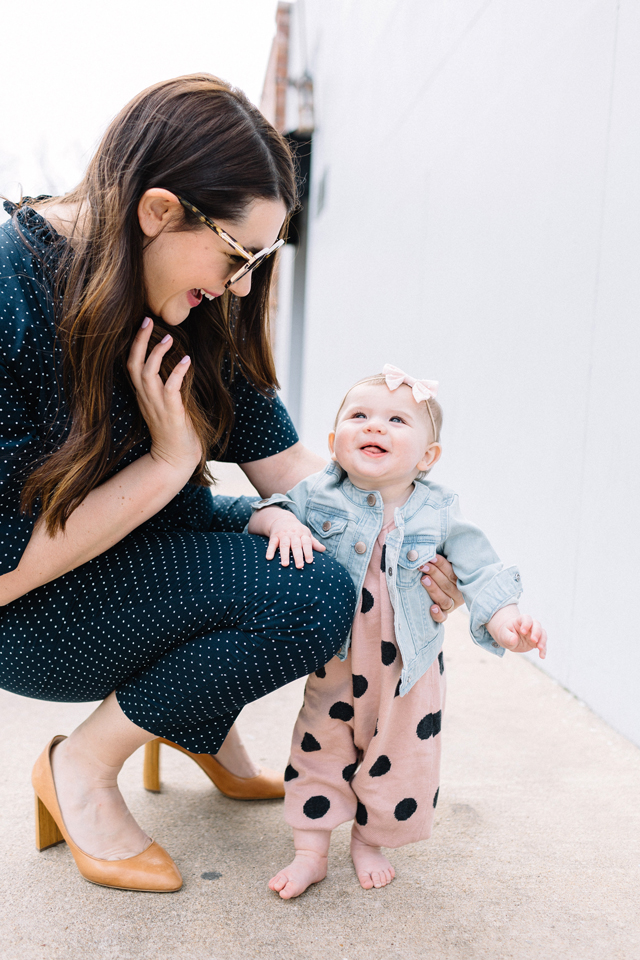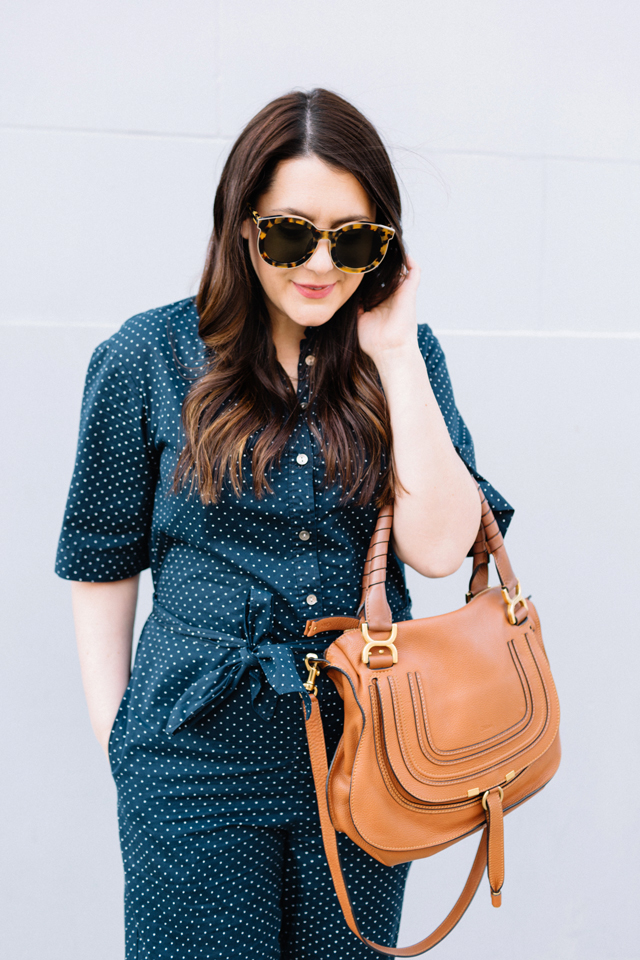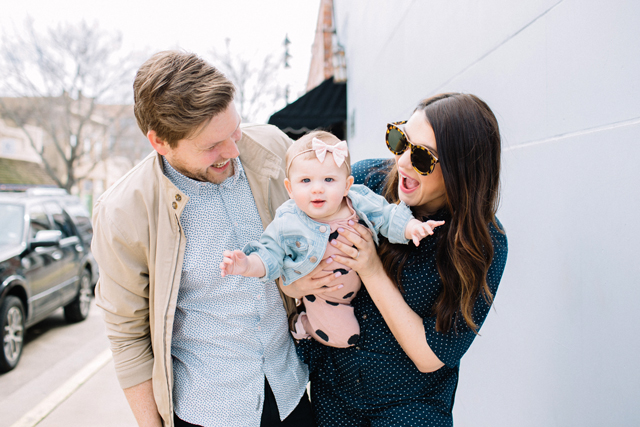 For the record, we all started out with shoes on. (Even Bryan. It was a fight, but he finally gave in.) By about 5 minutes in, we gave up on the shoes for the youngest member of the family. You know what's hard? Baby sandals. They don't tell you this in the books, my friends. No one tells you how to keep shoes on a baby foot. They just swaddle that baby up in the hospital and send you home without this very helpful knowledge. Give them velcro, they said. Velcro should work. They were wrong. Gemma would kick one sandal off as I was putting the other one on, so we went shoeless. On a public sidewalk. I am that mom. If you want to see these cute sandals, IN THEORY, they are here. Also, who knew ankle rolls could be the hottest trend for spring? Gemma knew, Gemma knew.
So I had this vision to have monthly family-style posts and ya'll this vision came true last week. (Thanks to Cassie Loree Photography!) I knew I wanted to do rompers with Gemma and I but Bryan drew the line at a man romper. Actually, he drew the line after Christmas pajamas. Fair enough. We all have our personal boundaries and apparently his is a man romper. Good for him. But he said he agreed to a print, like this Ted Baker button up top he's wearing. Almost a polka dot, too! (for the record he is pro-polka dot) He picked up this jacket from Nordstrom and it's on sale! It's such a nice staple for spring.
I found this La Vie Rebecca Taylor jumpsuit and it was a no-brainer. I love Rebecca Taylor in general and for some reason, I've been really into jumpsuits/ rompers/overalls lately. I go back to the fact that it's because I don't have a baby bump saying 'you can't wear that.' (Although now that cute little bump can wear her own little romper, too. And that's even better.) I just feel like a polka dot jumpsuit screams Kendi. And now it screams Gemma too. I actually found her knit jumper at Zara. And I found her denim jacket at Old Navy. (Here is one with a collar, if you are a purist.) I've linked a few other rompers to the right of this post!
I love that Gemma is out of her pj's all day stage. I don't think everyone goes through this stage with babies but it just was a lot easier when she was little bitty to just keep in onesies. Naps were easier, diaper changes were easier, so onesies all day it was. But now putting little outfits on her every day is so much fun. The only thing she fights is the bow. And the shoes. But I've got a feeling that one day she'll come to love accessories. We will get there.
Or we will go barefoot. 😉