I thought I'd do a quick Wal-Mart haul on here, so I posted it to IG stories yesterday! I realize some of you guys aren't on IG and honestly, good for you. But that doesn't mean you should miss out on the try-ons. So let's get to it!
I've been trying to branch out to some other retailers lately and honestly, I'm happy to be your guinea pig / spirit guide to trying new things. I've got a lot of thoughts about Wal-Mart because they've been coming in hot lately with fashion bloggers, etc. and I'm putting together a post AS I TYPE THIS (okay after I type this) about how to shop their site because it's a mood. But for now I'll just show you what I found recently! Let's get to it!
Also just so you know, I just assume you know this, but I make a small commission if you click through a link and buy something. I always assume that's implied but it might not be, so now you know!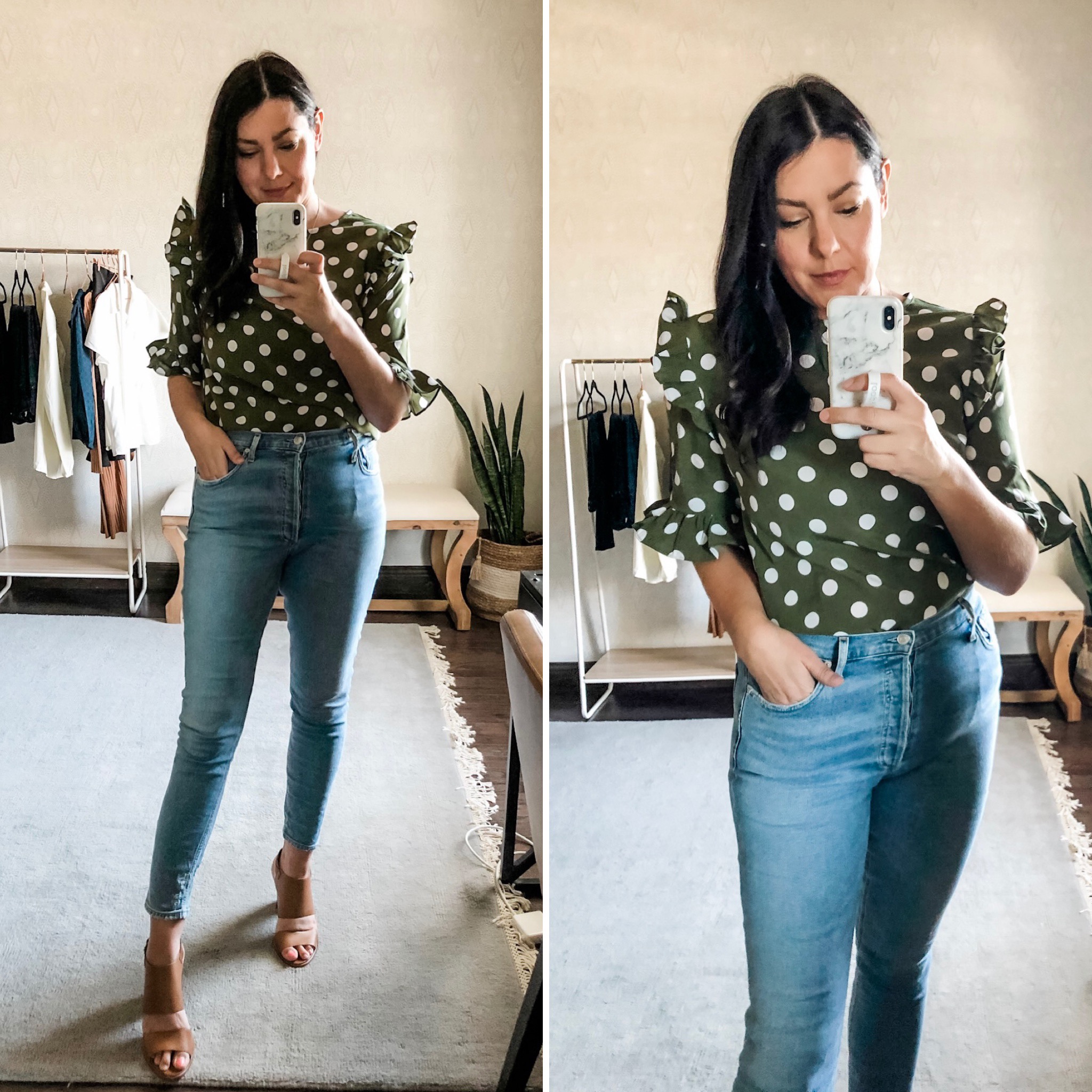 I think my favorite top of all is this polka dot top! Kind of random but kind of cool, too! It's more of a light olive green than the website shows. I like it better in person than online. I sized up to a large for boobs and shirt length. I don't think that's necessary but I do like that it was a bit looser than tighter fitting in my chest. I would say over D chest, size up OR if you're taller than 5'10 and have a long torso, size up. Otherwise stay true to size. (This feels to me more like a junior brand, just FYI.)
It's a nice lightweight option for $25, in my opinion.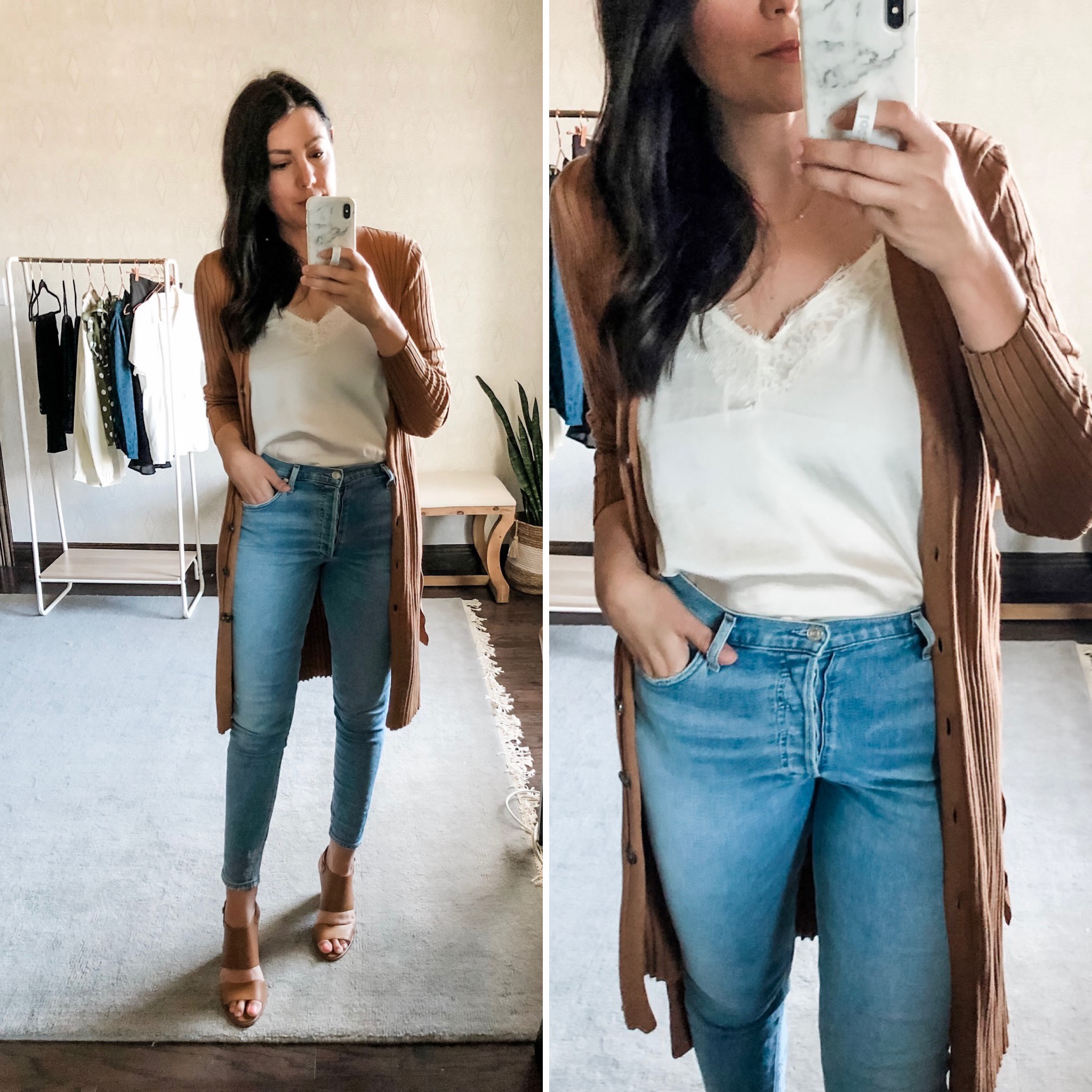 Okay second favorite thing — this cardigan. I actually picked this one piece up in store and really was surprised by it. It was pretty anemic hanging on the rack. But once it's on, it comes alive! I like this camel color because of course I do but it does come in some other hues. I like this one because I find it to be the most classic. So I will say it's pretty long (I'm 5'9") but I like the length because it enlongates my frame and I just think it's a nice updated look for a cardigan. The fabric is a thicker ribbed knit and it comes with a belt too. True to size, I'm in the medium. Again true to their specific size chart of a medium as 8-10. I would probably not suggest this for anyone smaller than a 4, I think it may drown you!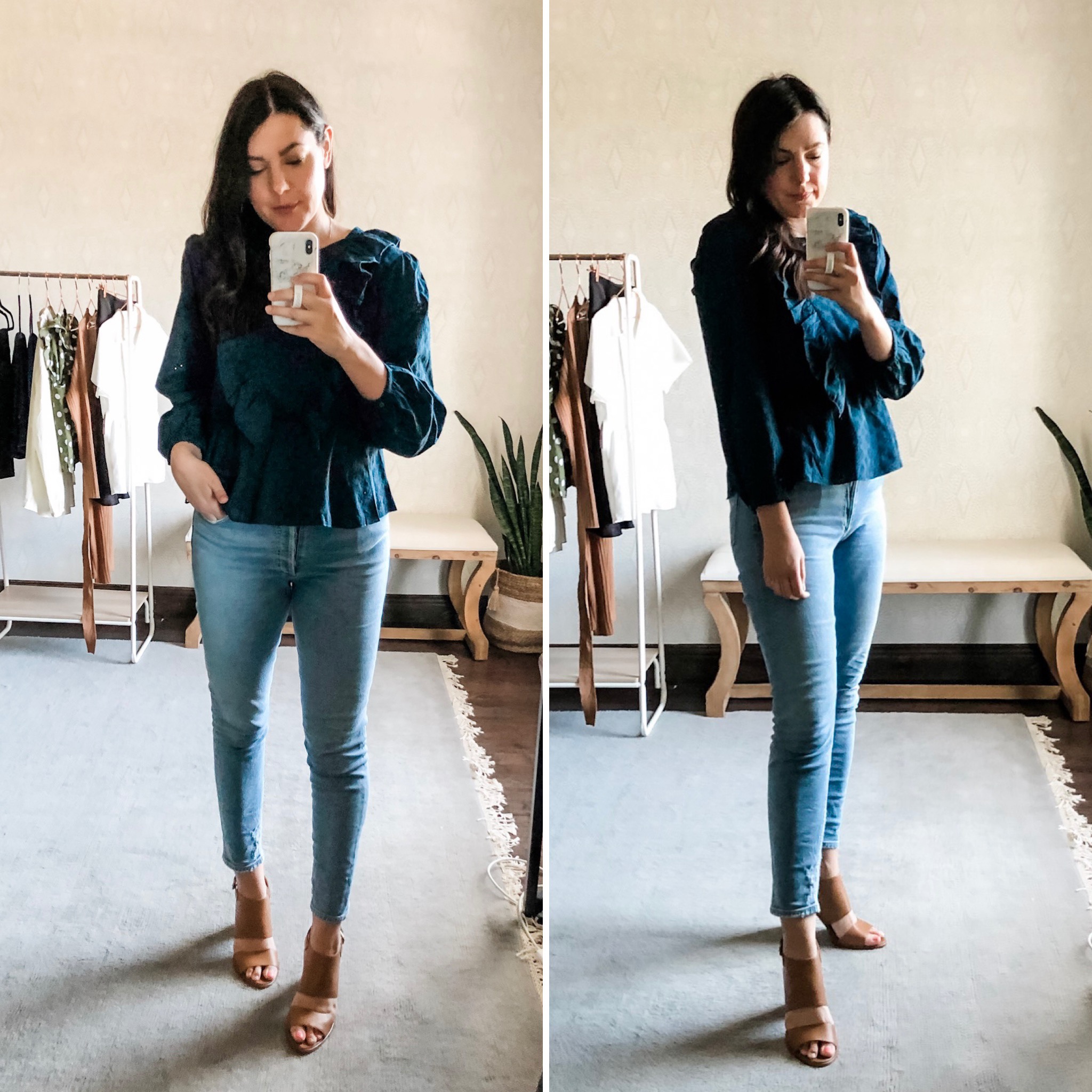 I love this peplum top — it also comes in white but I'm trying to not buy all the white tops. Lord knows I love white eyelet tops. I picked the navy because it feels easy to transition into fall with. I am in the large but I do not support this choice as a whole. I would say stick to your true to size as it runs pretty generous, I just thought I would need the length. It does fit my torso length better in this size but the sleeves are pretty generous as is the middle. Stay TTS.
This next top is just kind of MEH. I want to love it so much but it's honestly so much fabric and it's so sheer. I want to love it but I don't think it's meant to be. Someone on IG told me it looked like pilgrim lingerie and she's not wrong. LOL.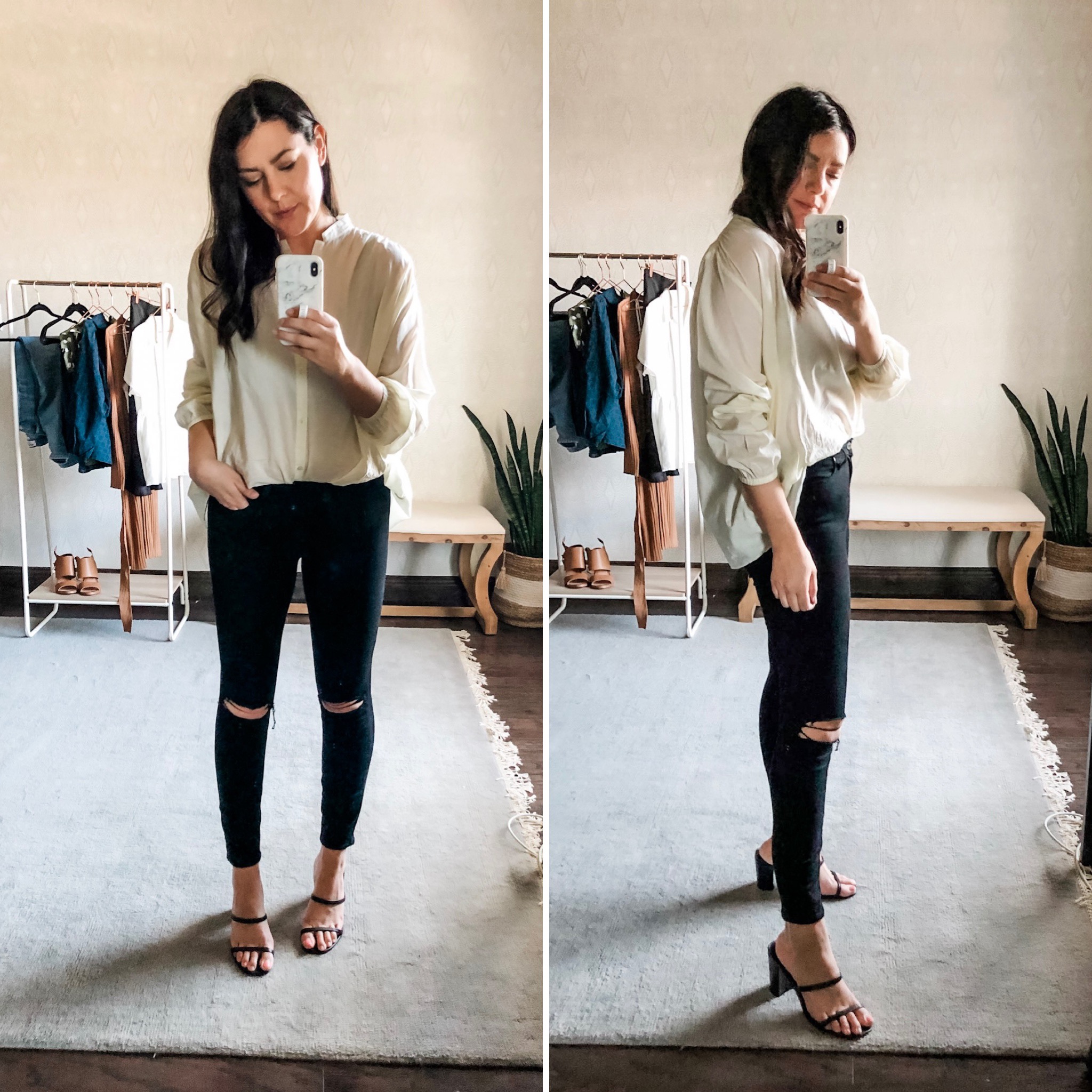 If you do buy this top, please note that it is sheer and will require a camisole! Also size down at least one. This top doesn't really have a 'fit' as it's truly just loose fabric held together by buttons so I don't really think size matters in this case. I could have 'fit' into the XS and there would still be fabric abound. I am in the medium.
Find this top in two colors here.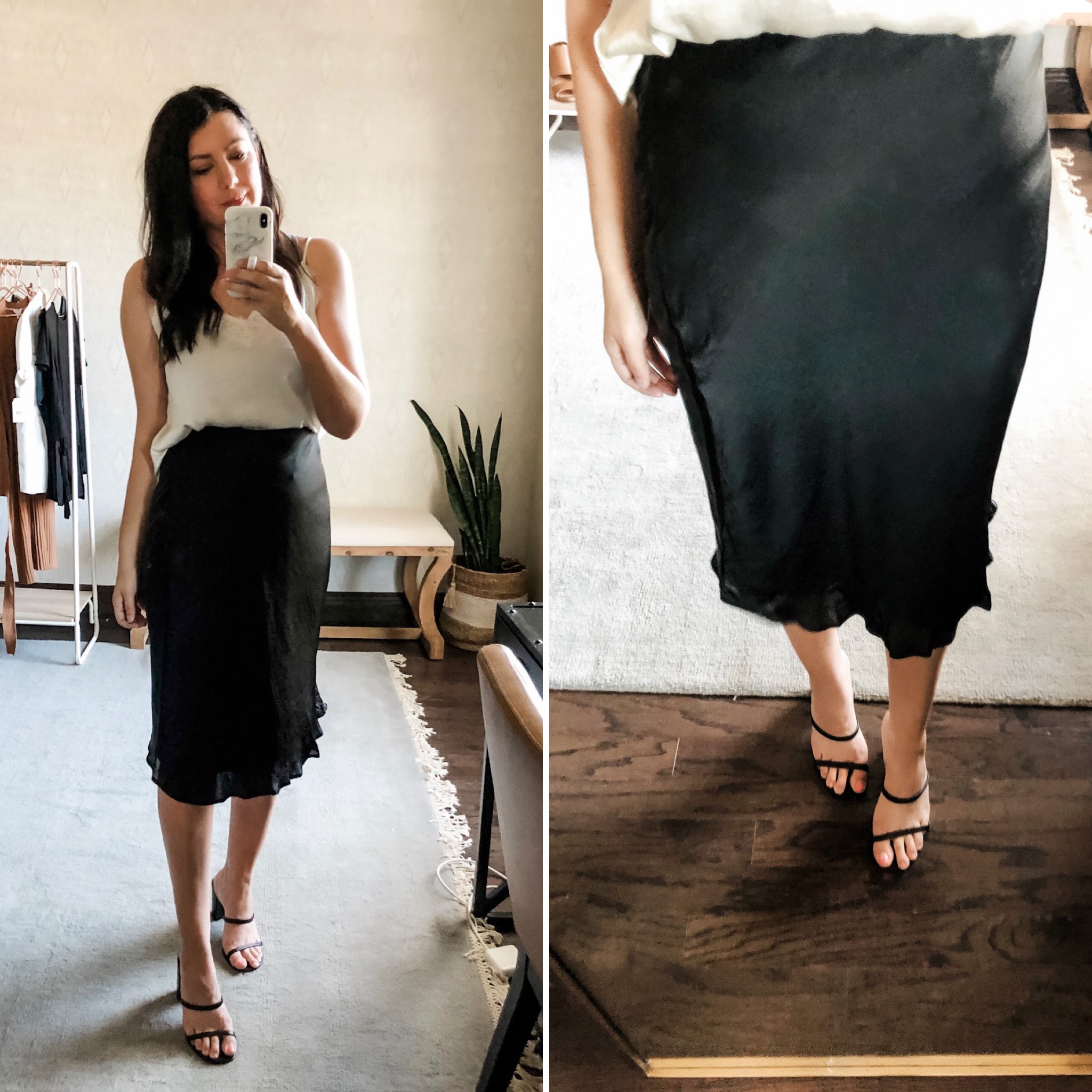 This Midi Skirt is a wonderful alternative to one that sold out from the Nordstrom Anniversary sale. This one is $19 and I'd say the quality is about $19 worth. It definitely needs a hard steam out of the bag, but once you steam out the wrinkles, it looks perfect. The only thing I don't love is that the waist band which is about an inch of elastic is only sewn to one side so that when it's not on you it rolls up. It looks kind of cheap (I mean, it is…) but once on, it makes sense because if they would have sewn it underneath then the skirt would not appear seamless. But it's weird when you first it, that's for sure. So besides that nit picky detail (ha!) it's a nice skirt that's under $20 if you want to try out the slip skirt trend. If you are wanting something to last 10 years, then definitely find a silk alternative to this one. But for a quick trendy piece, this black one is perfect for that.
I am in the medium and I think that it fits pretty loosely for a medium, but I am not mad about it.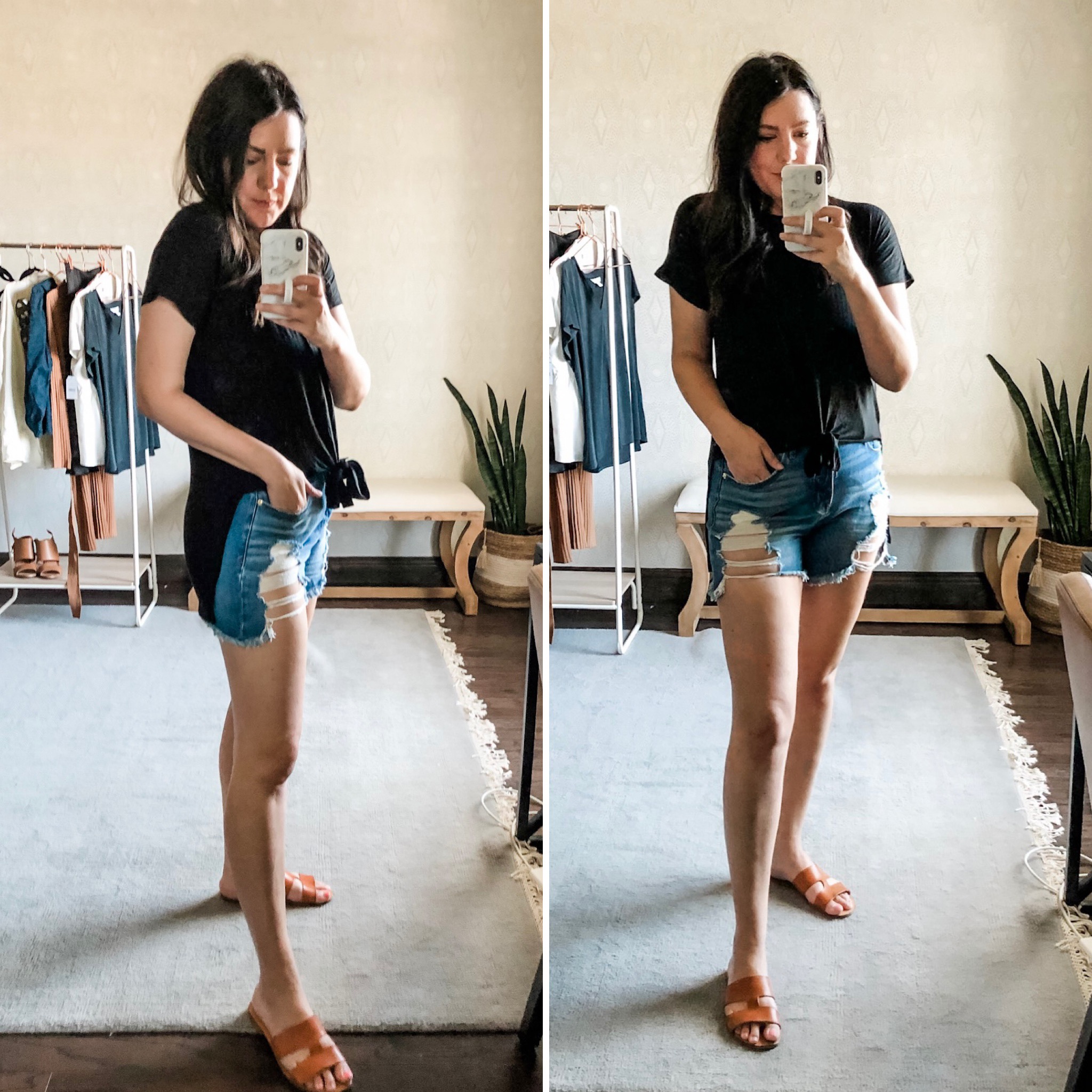 I wore this top last week in this post here! I love it — it's super soft and kind of weird but so am I. 😉 It has a tie front that MUST be tied or it just hangs there, so if you don't like tie front tops this one is not for you. I am in the medium and I have to say it fits a lot longer and looser on me than the model. Weird. But I can confirm I'm in the medium, so do with that what you will.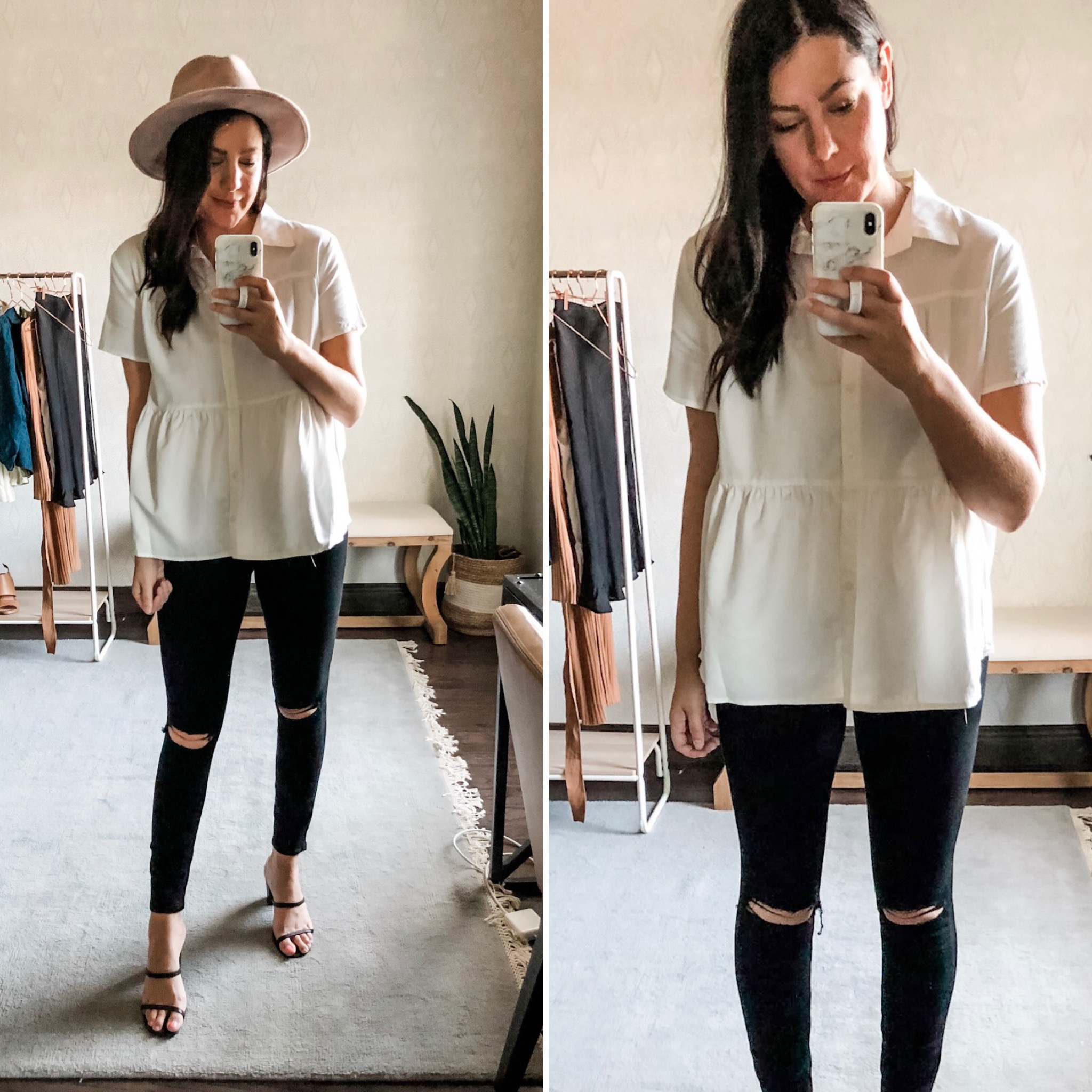 This tiered top is adorable (I wore it here!) If you're looking for an easy top to pair with denim, this one is cute and can be dressed up with heels or mules! I am in the medium, it's loose but true to size. It also comes in the chambray which is darling too!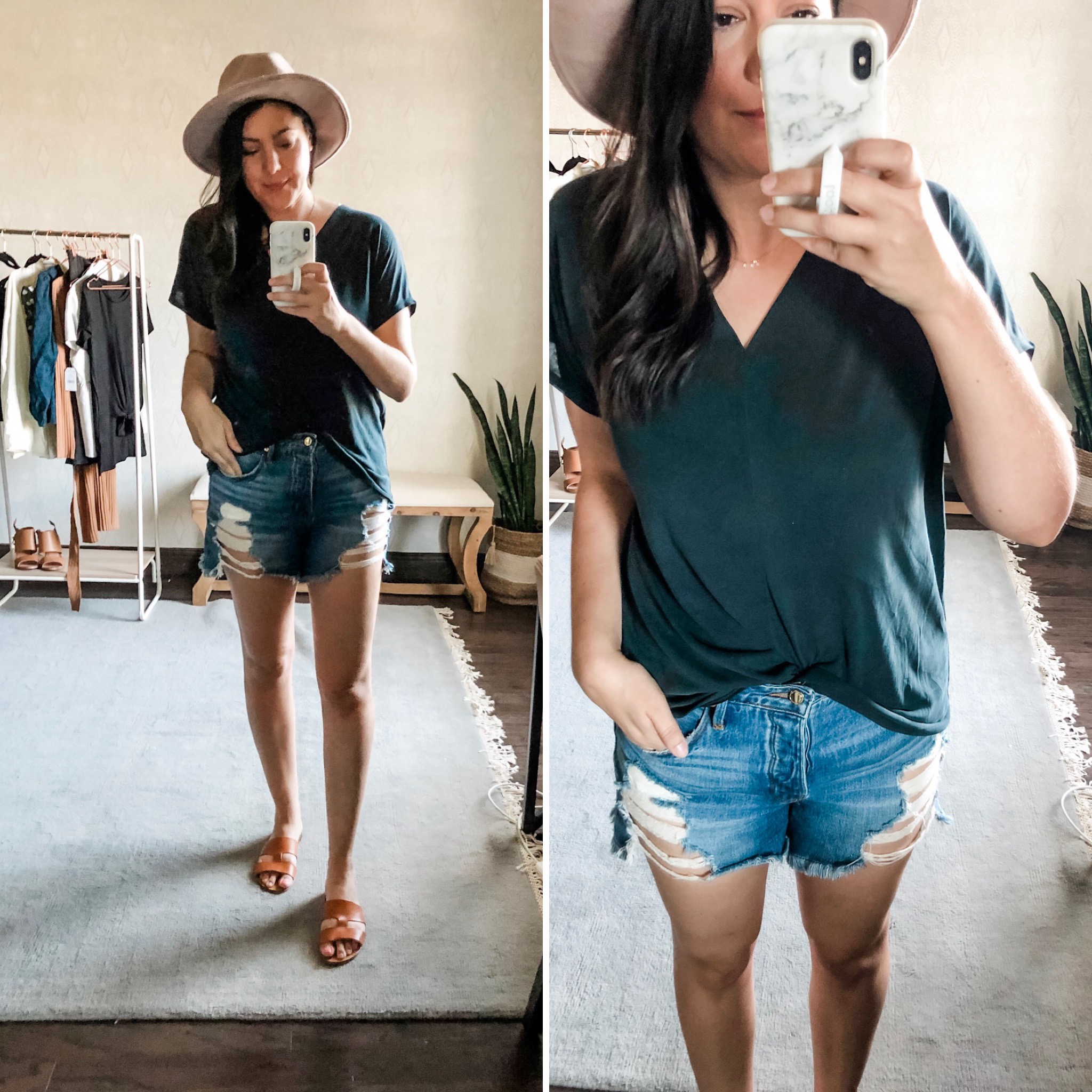 Okay last but certainly not least is this v-neck top. I sized up for extra-slouchyness (not a word) so I am in the large. I do not think you have to size up I just did because I wanted it to be looser. The fit otherwise is exactly like it is on the model. The material is that suede-like knit that I find at Loft mainly, it's slinky and soft. A favorite for sure!
That is all for the Try On — I told you it was a quick one! If you have any questions, leave them below! Hope this was fun for you!