So I am saying 'fall' but I'm really just meaning not as hot around here. It's not fall yet and it won't be for us for a few more weeks but it's just so close I can't help myself. Fall styles are begging to be worn right now so I found a few that I can wear right now and definitely later all from Shopbop. I like Shopbop because it's a cool girl edit, I love their styling and they ship 2-day prime which is honestly reason enough for me. See my finds below!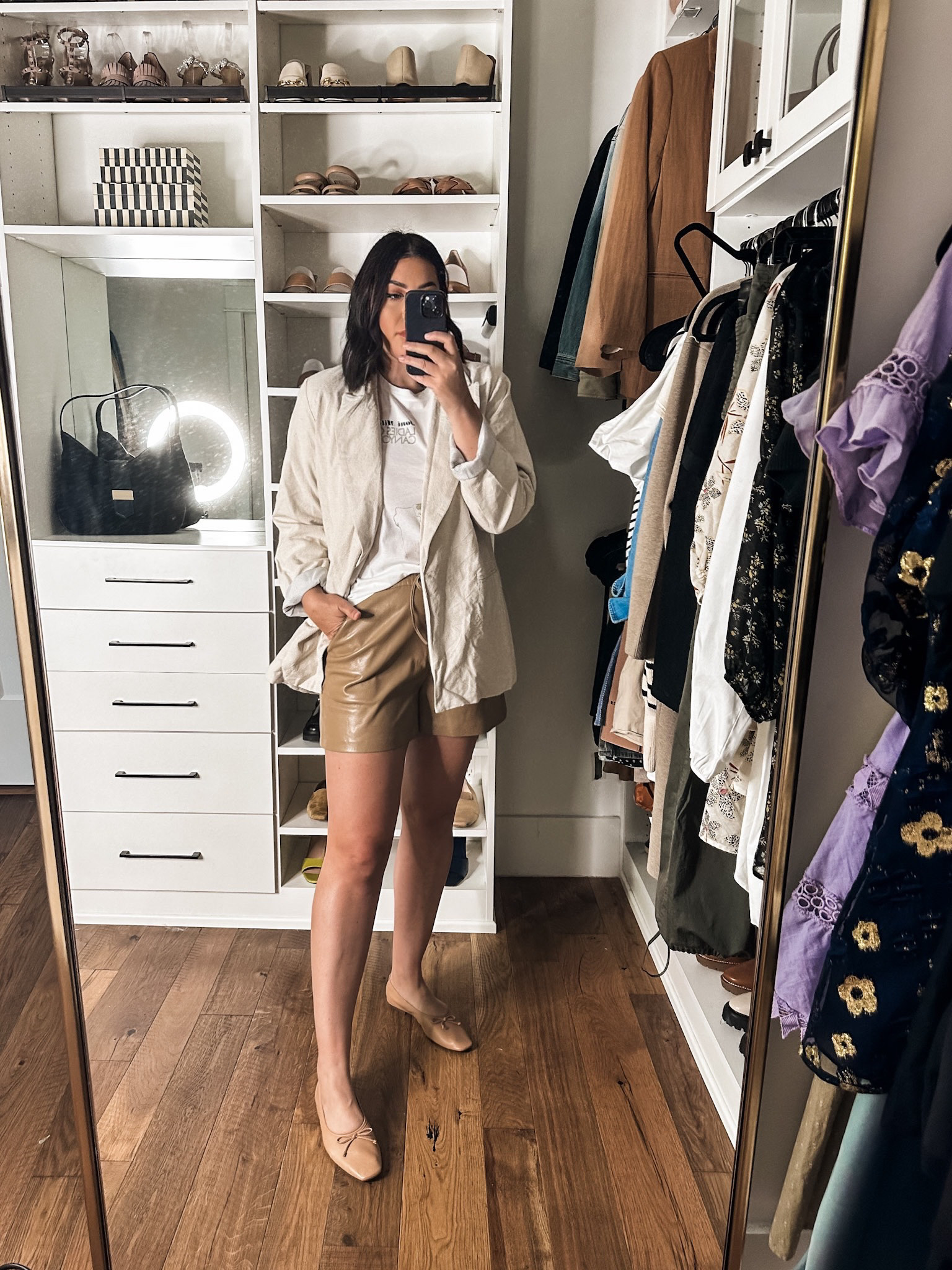 BLANKNYC Bleached Sand Blazer | Daydreamer Joni Mitchel Tee | Good American Better Than Leather Shorts | Schutz Arissa Flats
Ok i love this blazer! It's a nice light hue but doens't feel too springy. It's lined and the fabric feels more rough than linen, which can read more as a spring fabric. My only issue is it is VERY OVERSIZED. I definitely need the medium, not the large which I am in. So size down one if you are in between sizes. Blazers are my hardest fit bc you just never know and I usually err on the side of sizing up to get the right fit, but not this one!
This pair of faux leather shorts are from Good American so the sizing is specific to their brand. I am in the 2 which is like a medium in GA. They are fitting me well so I would say they run slightly big. If I wanted a looser fit I could go up to a 3 but overall I like this fit. The color isn't flesh like (sometimes a nude faux leather can just look like skin which adds a real ick factory to any outfit.) and this is a more brown, leather look for fall. Love the fit, the shorts, absolutely recommend as a transition piece for fall. If you like the look of skirts but don't want to wear a skirt, this is a nice option.
Daydreamer Joni Mitchel Tee | Good American Better Than Leather Shorts | Schutz Arissa Flats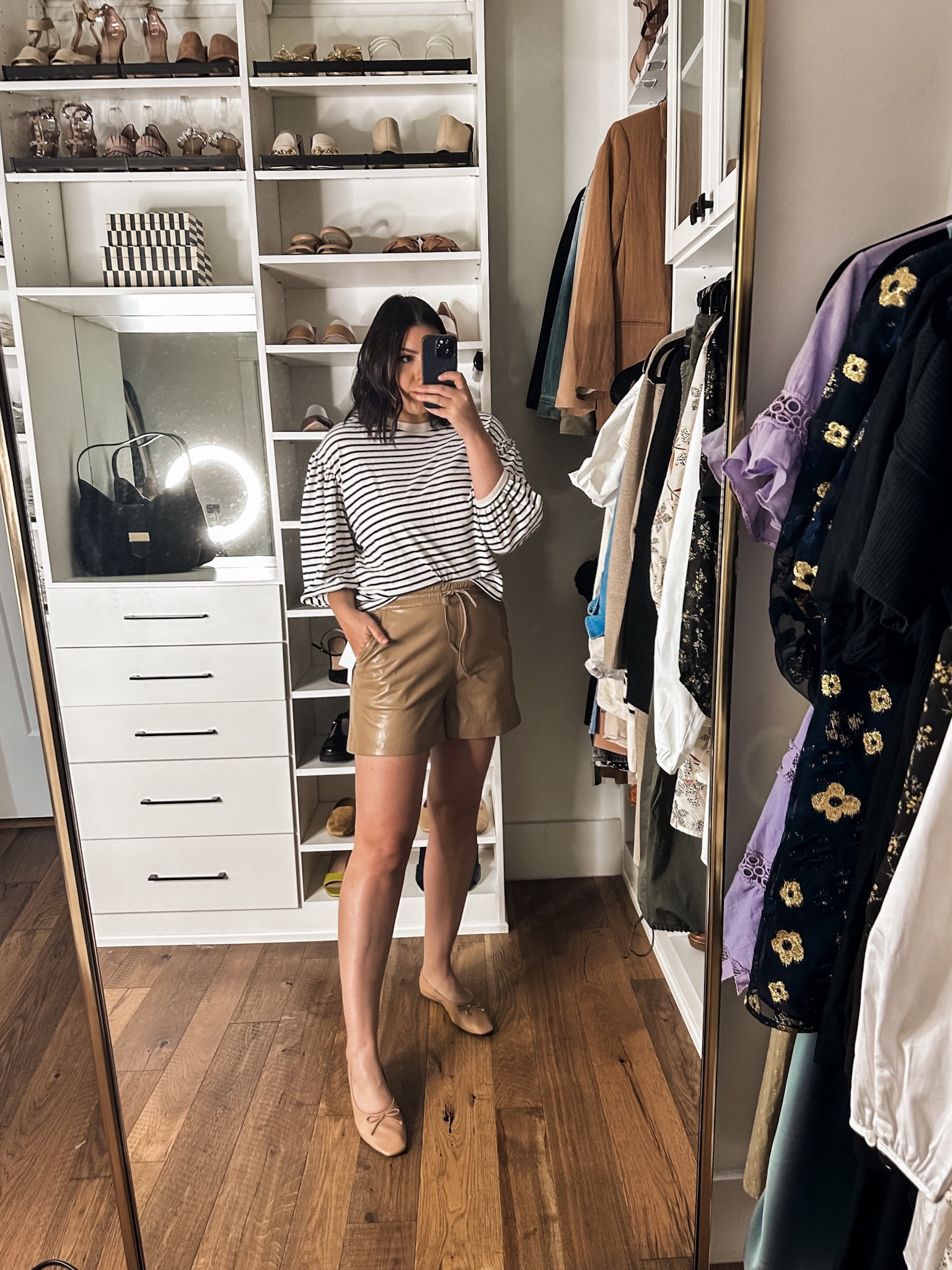 Clare V. Drop Shoulder Tee | Good American Better Than Leather Shorts | Schutz Arissa Flats
This top is Clare V and I dont' think I've tried her clothes before just bags (which I love). This is a puff sleeve striped tee (the puff is at the cuff and the drop shoulder) and it's a really cute fit! I find it runs slightly small and a bit shorter (not cropped) than I would wish for but overall a great fit. I am in the large.The fabric is a thicker fabric, really nice quality with a hint of stretch. Love this tee, I'm really hoping I can find a place for this one to stay in my closet this fall.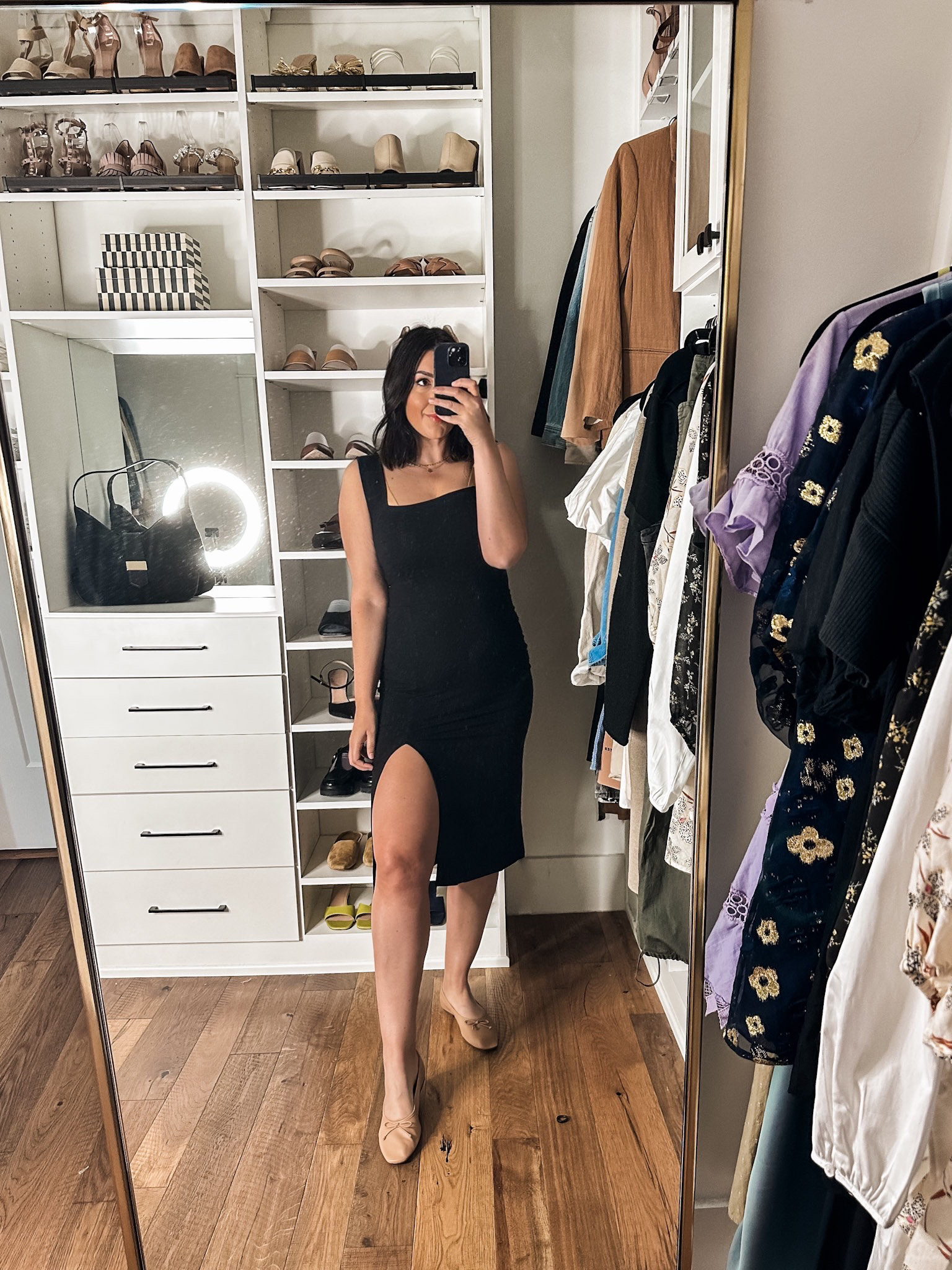 Reformation Cassi Knit Dress | Schutz Arissa Flats
This is dress 2/2 that I am obsessed with. So I've figured that I want dresses that are one and done — like they don't need much styling and I can easily put them on and wear without much fore thought. This dress fits the bill. This is a reformation dress under $150 and it fits like a dream. Thick stretchy knit that isn't compression but is super flattering and smoothing. I love the square neckline which I think is very flattering on me / broader shoulders and the straps are wide enough you can wear a regular bra (you can see my bra here bc she is not regular lol)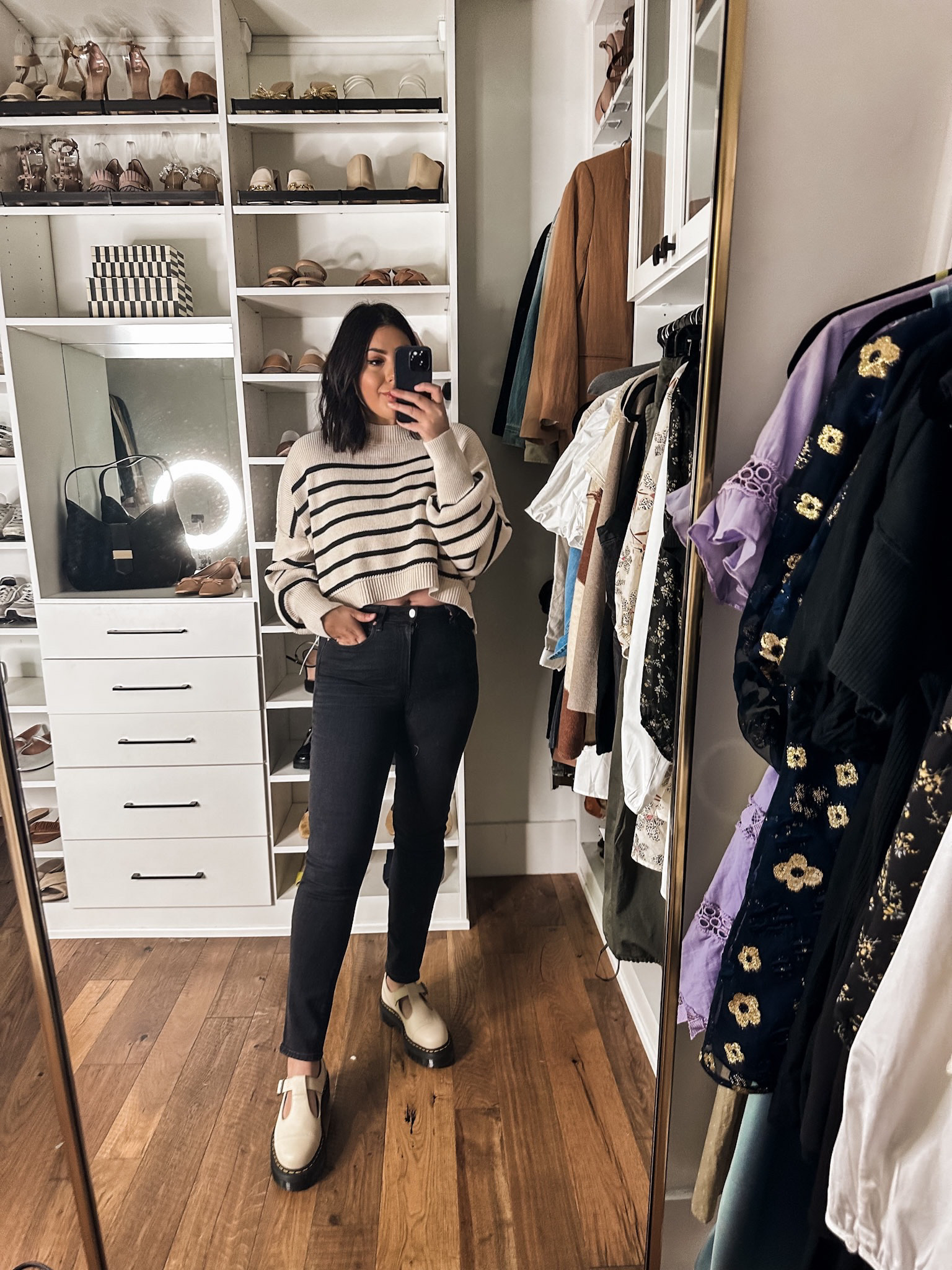 Free People Stripe Crop Pullover | Paige Gemma Jeans | Dr. Martens Bethan Loafers
LOVE this sweater! It is obviously still too warm here for a sweater but a girl can be prepared ok? For that one day it dips below 80 here (lol) I am in the large of this Free People sweater because I saw that it was cropped and I said no ma'am. It still is a bit cropped (as you can see when I raise my arm) but it's a better length in a size up. Works well with high waisted jeans. Under $100!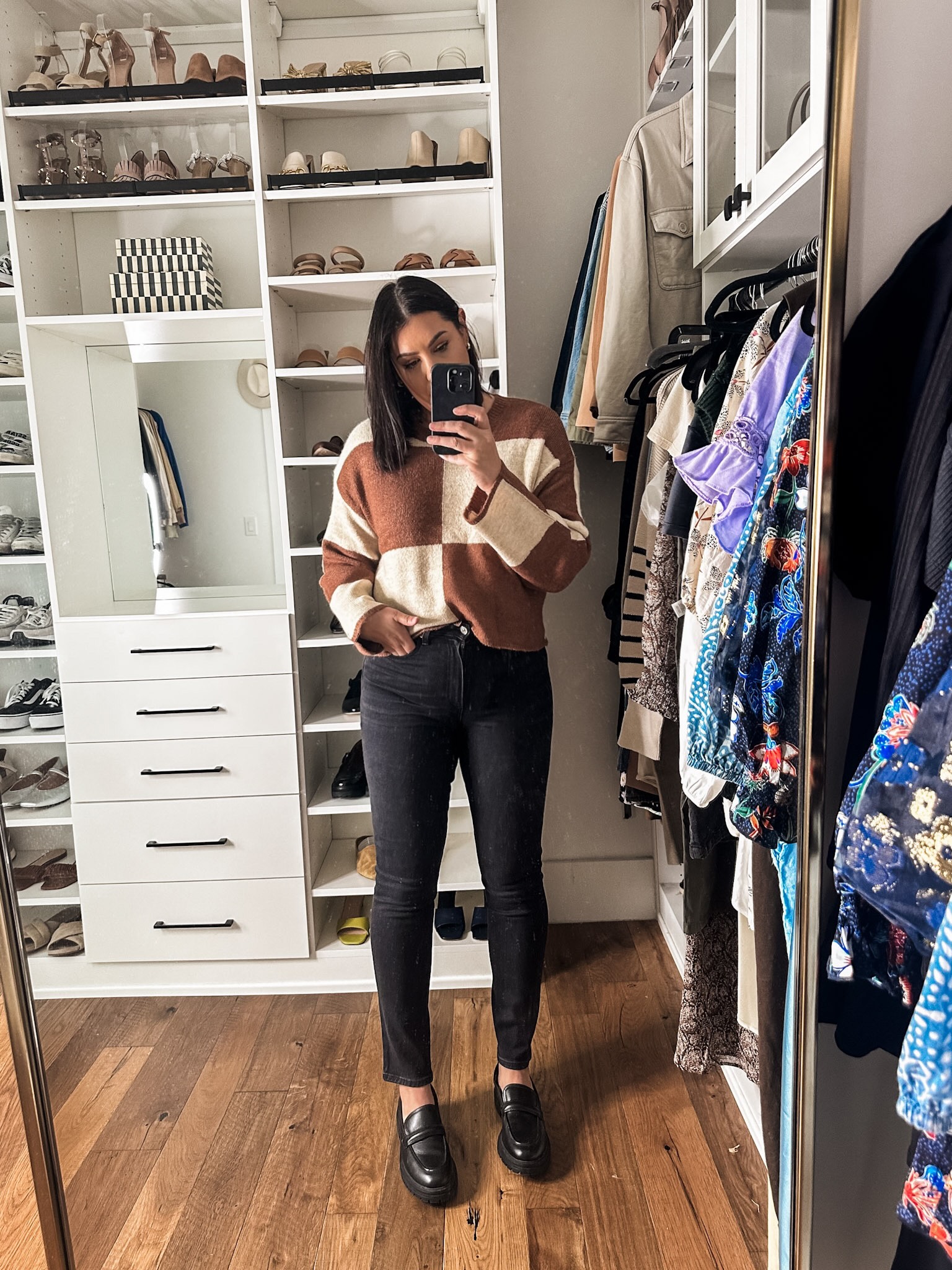 Z Supply Rosi Sweater | Paige Gemma Jeans | Madewell Lugsole Loafers
Another sweater that I wish I could wear right now but alas. I live in the south. I am in the large and I find it runs TTS but if in between sizes and wanting to keep a relaxed fit, go up one size. Also comes in a grey color too!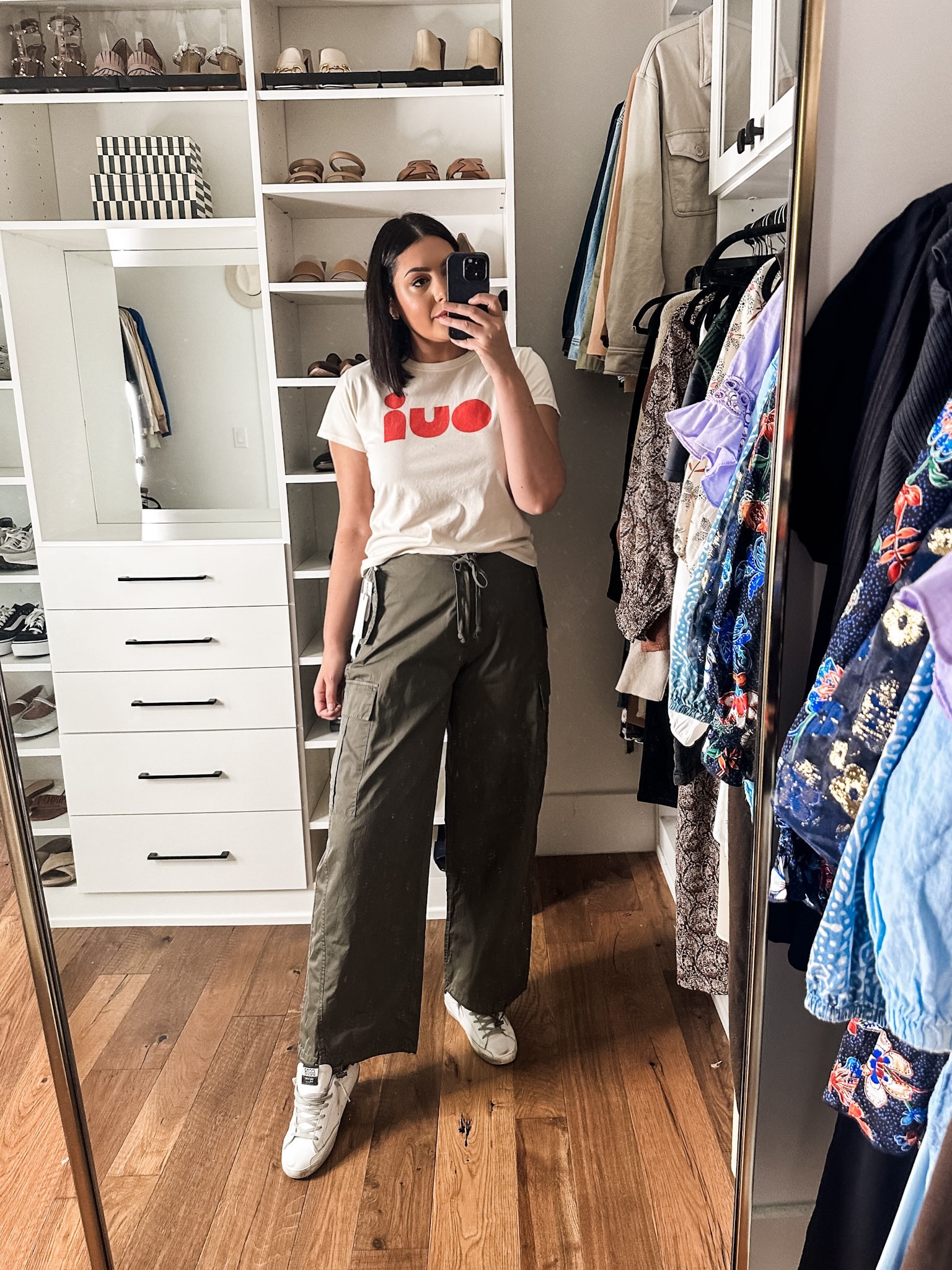 Clare V. Classic Oui Tee | Good American Parachute Pants | Golden Goose Superstar
The 90s called and left a message on your home phone about these pants. I hate to say it but I love them. THey are SO comfortable and the lenght is right, not too long and I can pair with sneakers. Now you can cinch the ankles for a tapered look (the 90s of it all) and that's a cute look too. You can see it on Shopbop here!
I am in the 3, fit is nice and generous. TTS! Lightweight but a nice quality fabric, no sheen and looks nice (not cheap).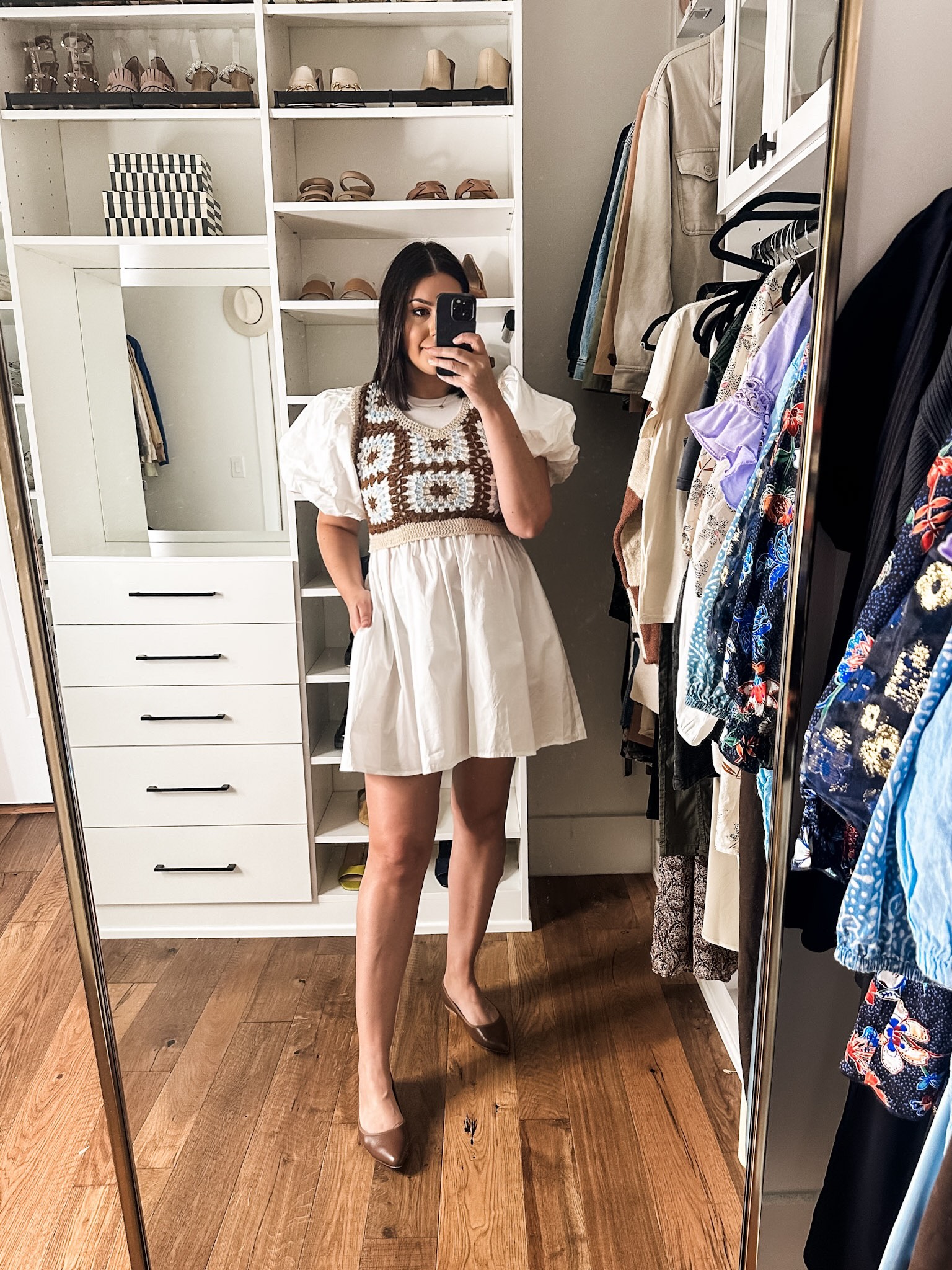 En Saison Mixed Media Minidress | Similar Flats
This dress is adroable and I just couldn't pass up trying it on. This dress reminds me of a very similar dress I wore last year if you remember (??) but this is a different brand. This one fits way tighter in the chest, the dress and the crochet piece are more fitted. I am in the large and my boons are feeling the tightness. So if you have bigger than D boobs, while it's stretchy it is tight.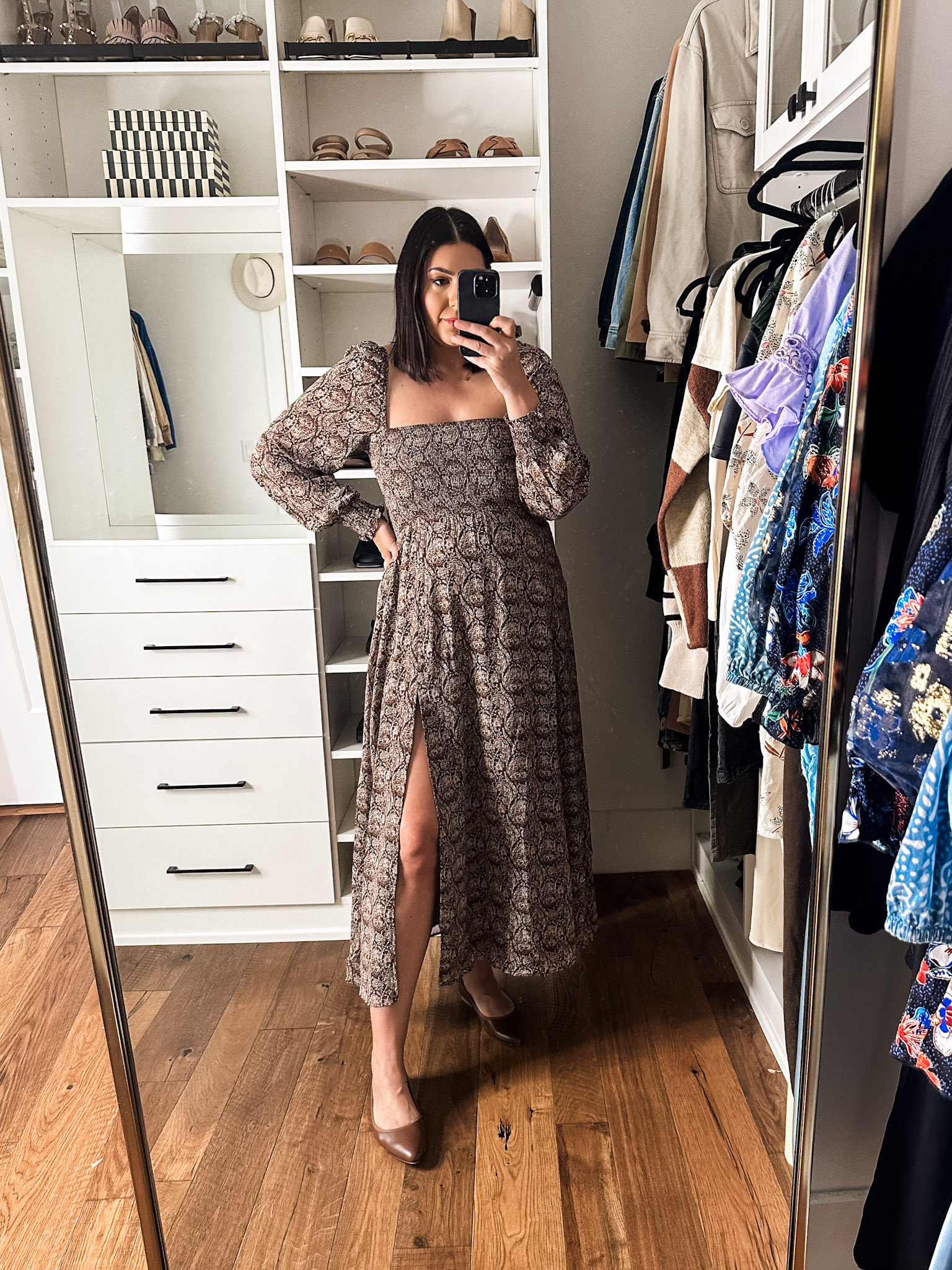 o.p.t. Classic Smocked Dress | Similar Flats
This dress is one of two favorites from this try on. It's gorgeous and it looks like Reformation but not priced like Ref. Done and done. It's fully lined and the top has a ruching, so it's a more snug fit. This is actually where it fits the smallest, so if that's not an issue for you, then stay TTS. For me and my boons, we go up a size. I am in the large and it fits like a dream!The brown is gorgeous and I really want to pair it with tall boots this fall. I am chomping at the bits for boots weather, how about you?