Hi friends! This week's try on featured Nordstrom and I wanted to share a few of my favorite items / looks. Most to all of them are well under $100 (a few things like shoes are over) but really nice pieces x prices! Let me know your favorite look below!
1 / Under $50 Sweater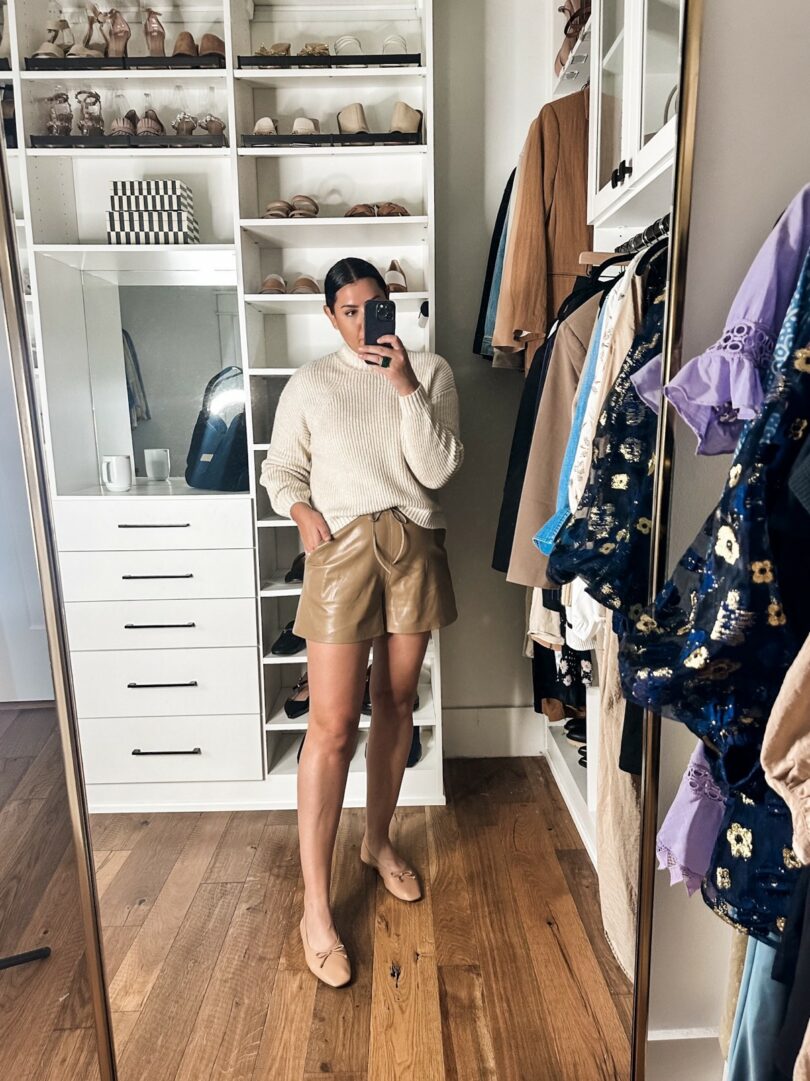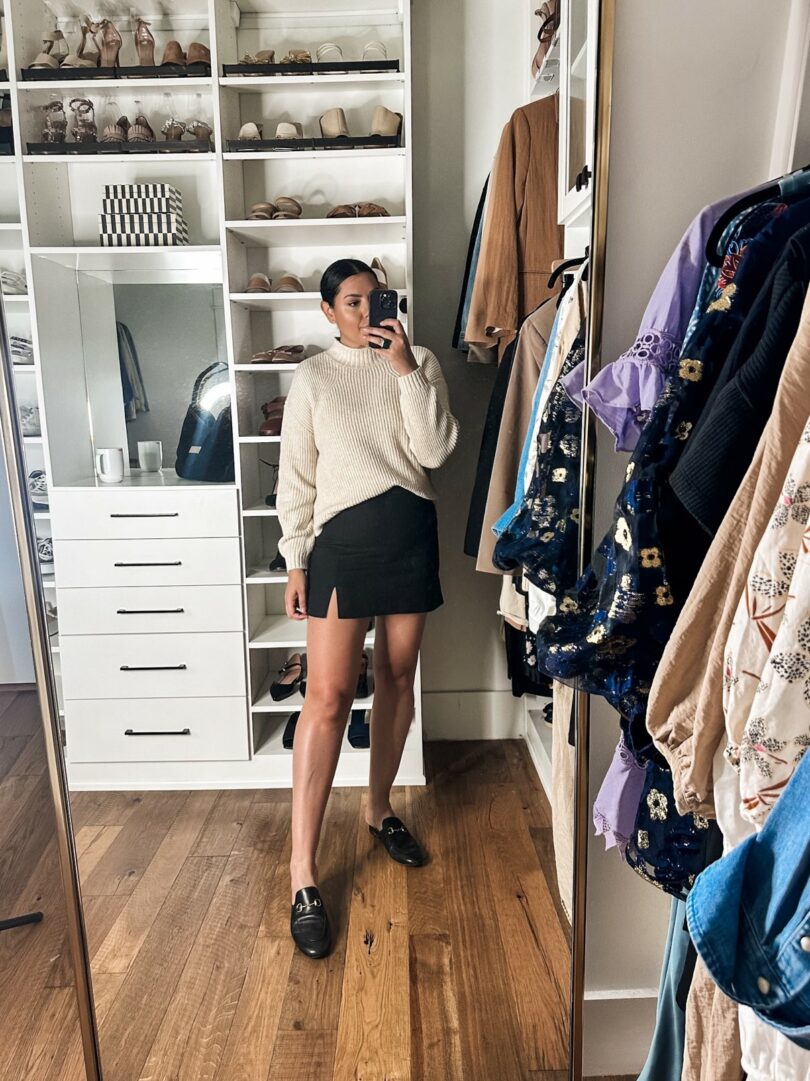 Love this sweater and it's under$50! It's pretty darn warm-ish, I'd say it's a Texas winter weight. It's a gorgeous hue and looks really spensy IRL. I am in the medium, it runs slightly looser, generous. If you want a clsoer fit size down one, but overall a loose TTS.
Shop it here!
Paired with the Good American Faux Leather Shorts (2/M) and & Other Stories Mini Skirt (10).
2 / Double Breasted Oversized Blazer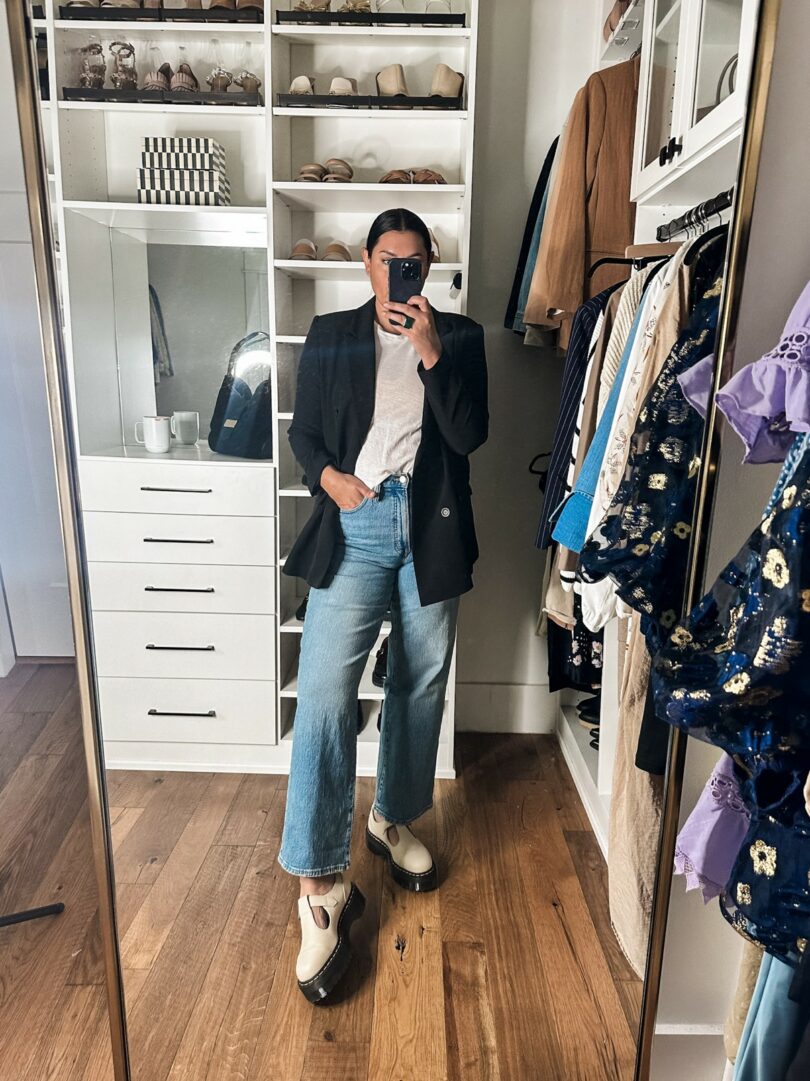 This blazer is less shoulder pad forward, however it's the same fabric as the brown one I'll show you below! It's a thicker crepe feel with a nice amount of structure but not too stiff. This one is double breasted and very flattering. If you are looking for a classic, oversized blazer this is a nice choice.
As far as a classic black blazer, this is a great option under $100! I am in the medium, it runs very oversized. I would say size down one if you want a closer fit.
Paired with an All Saints tee (M), Madewell Wide Leg Vintage Jeans (30) and the Dr. Marten Platforms (TTS).
3 / Floral Mini Dress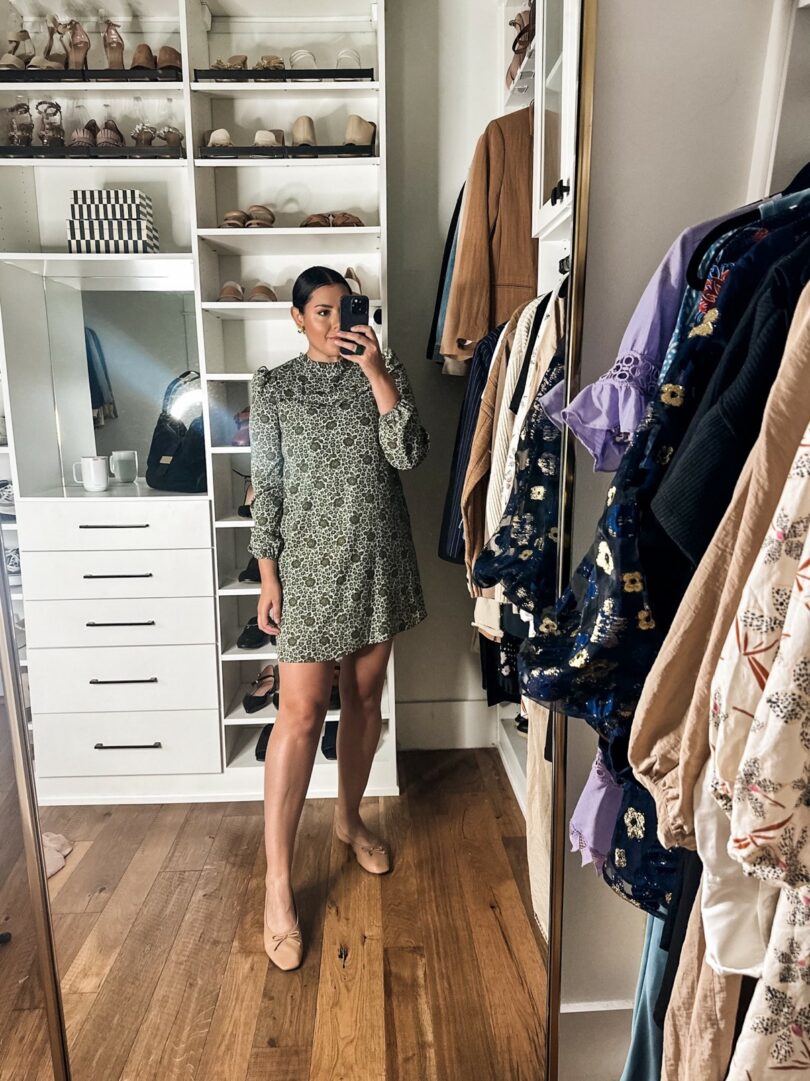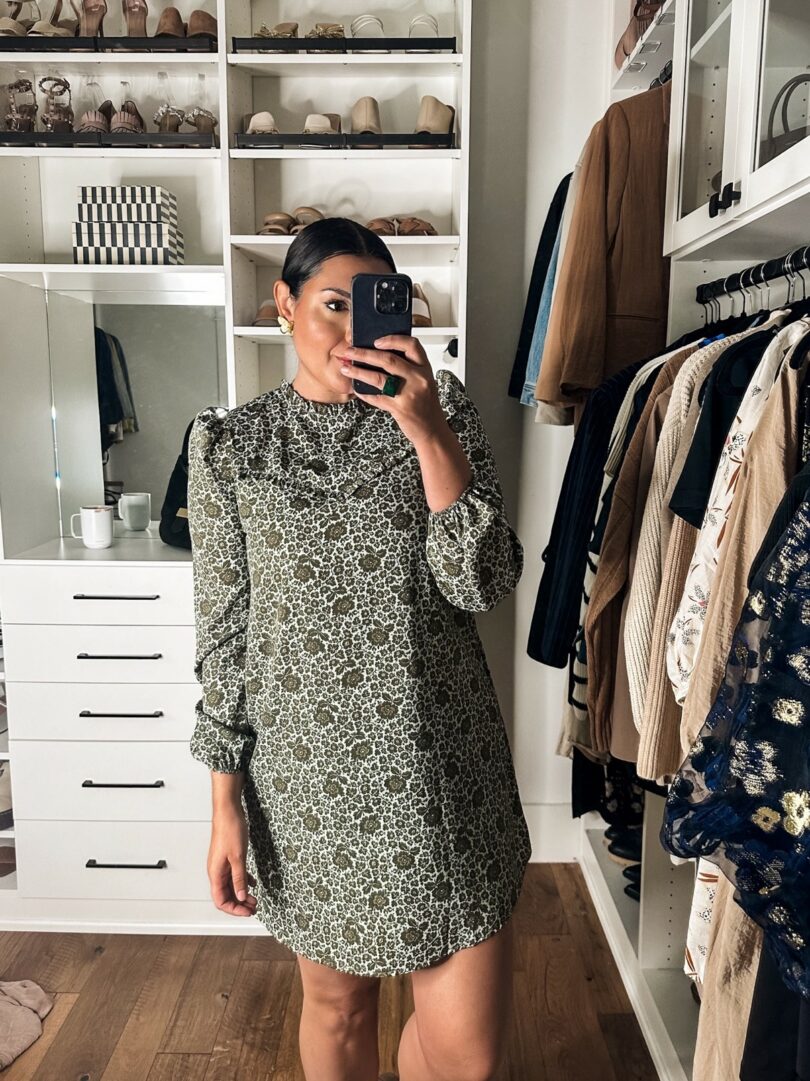 Ok so this little dress is just plain cute. Definitely is asking to be paired with tall boots 😍 I got this green vintage print but there's a cream floral version too! I'm in the medium, it runs a wee bit generously. Tightest fit is at my shoulders / arms, just FYI. It's got a bit of a vintage feel to me, a little bit mod / 60s vibe, no? IDK I wasn't there but I'm just feeling very Mad Men-esque here. 
4 / Matching Suit Set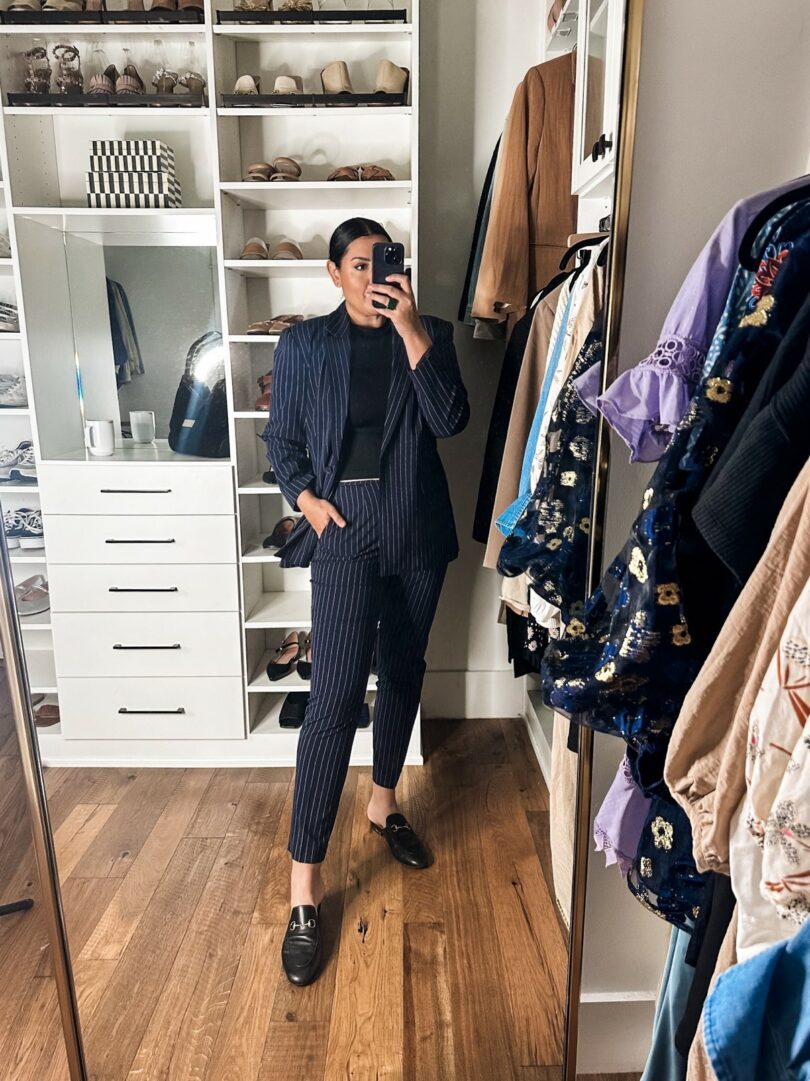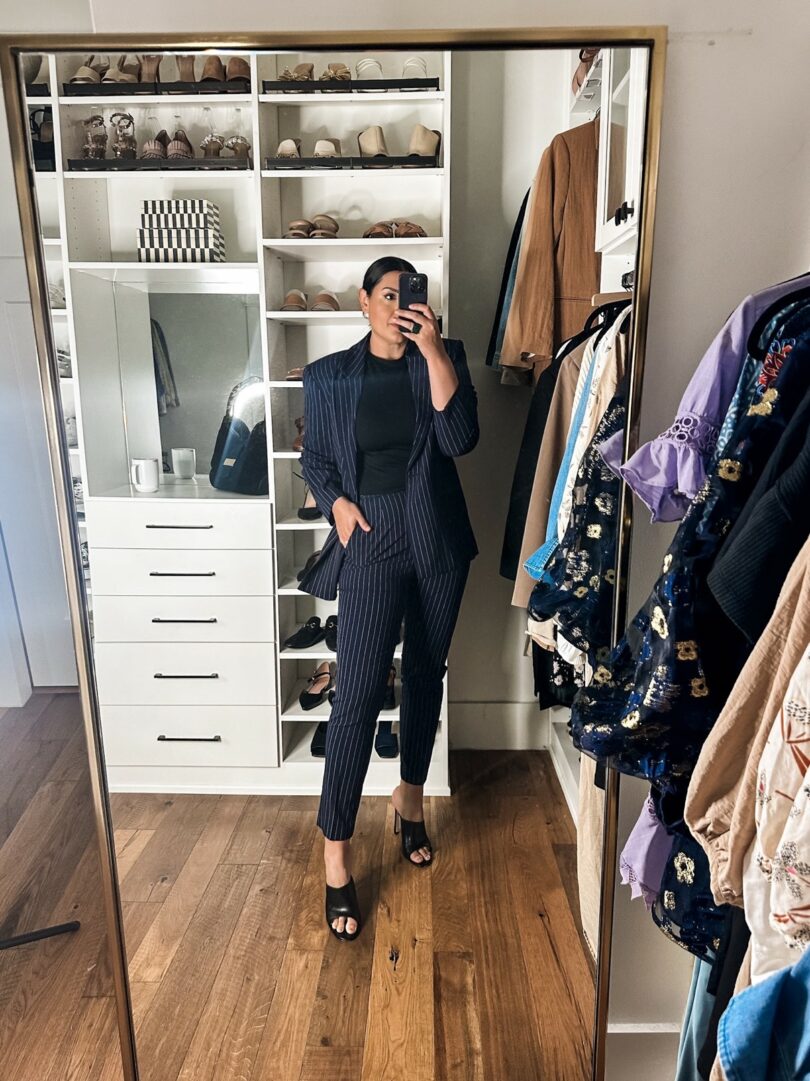 And for the next blazer, it's actually a matching set! This striped blazer is gorgeous and is a bit lighterweight than the other two. It runs slightly smaller, so more tailored so I am in the large here.
These pants are the matching set with this blazer and I know this might not make sense but I am obsessed with this look. I just wish I had someone to fire in this outfit, I feel so boss. I am in the large, they run snug!! These fit okay, but they are the most fitted at the waist. Super cute fit though otherwise. Slight stretch but tailored fit.
Paired with the Target Scuba Top (L) and the Gucci Princetown Loafer and a past season heel from Schutz.
5 / Structured Shoulder Blazer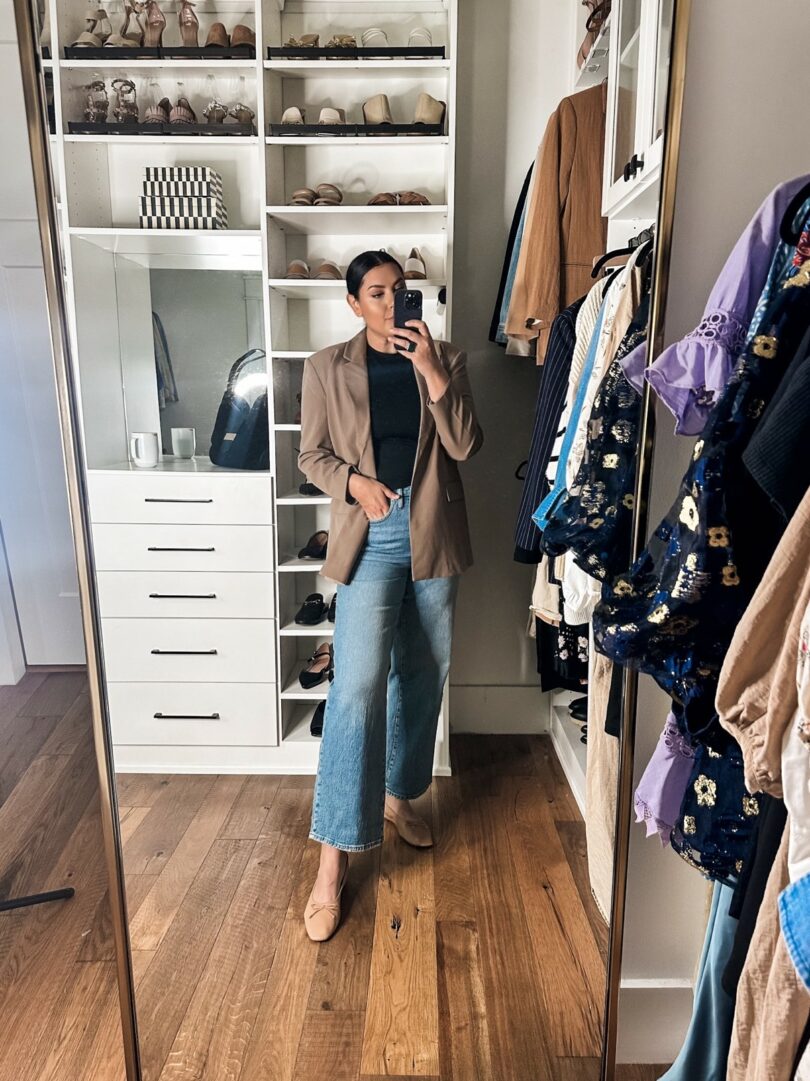 Okay this is the last of three blazers. I guess I was really feeling blazers this trip lol. So I really like this dark taupe one — it's got a strong shoulder / shoulder pad situation here. So if you like that look, this one is for you. It's definitely a shape shifter — I actually like this paired with the wide leg jeans, which shocks me because it's a wider look all the way down. But I feel like it works some how. I can also see this paired with skinny or straighter leg jean as well.
I am in the medium and it fits oversized on me, so I would say it runs very oversized! If you want a closer fit, or a more true fit size down one.
6 / Striped Sweater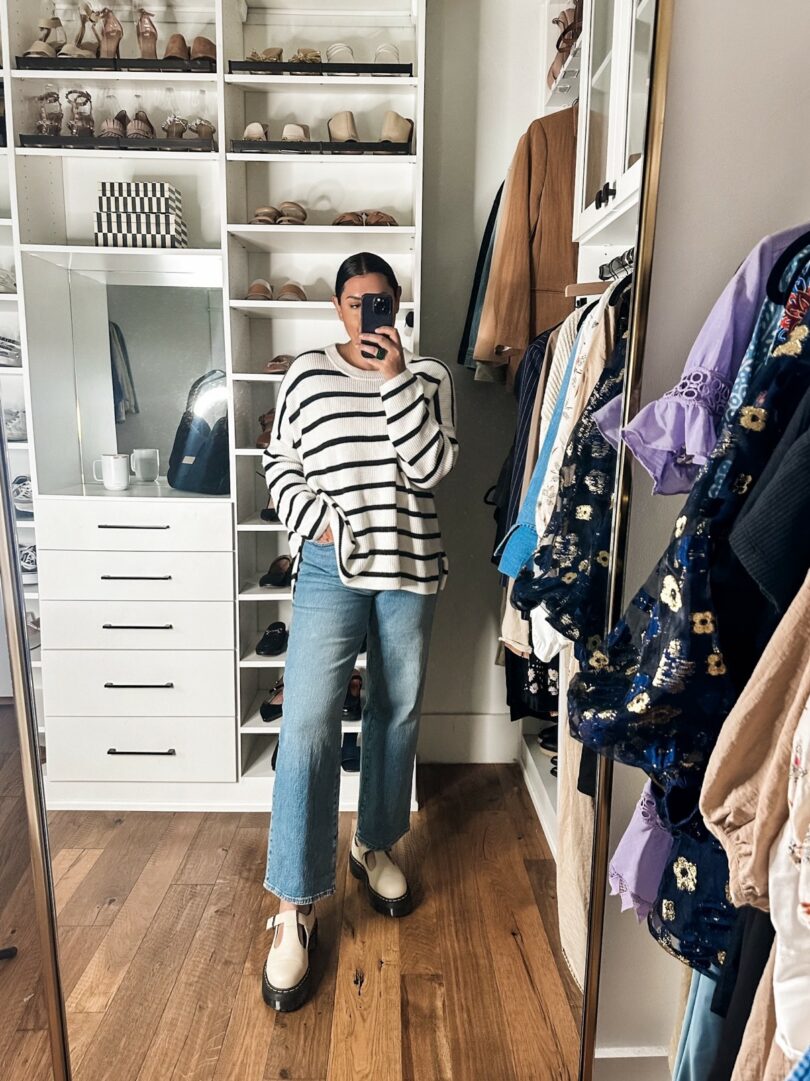 I've shared this sweater this week, so you may have seen it on my blog styled 5 ways and here is another way! WIth wide leg jeans and a chunky boot or Mary Jane. Who saw that coming??
I am in the large of the sweater, it runs very oversized adn generous but I like it being big / loose. TTS but very oversized! Soft and easy to style, etc. It's a nice piece for fall / winter this year.
Also rather you like it or not,  the large / oversized looks are here to stay e.g. looser denim paired with looser tops. I for one love it, but it is a trend right now.
7 / Trousers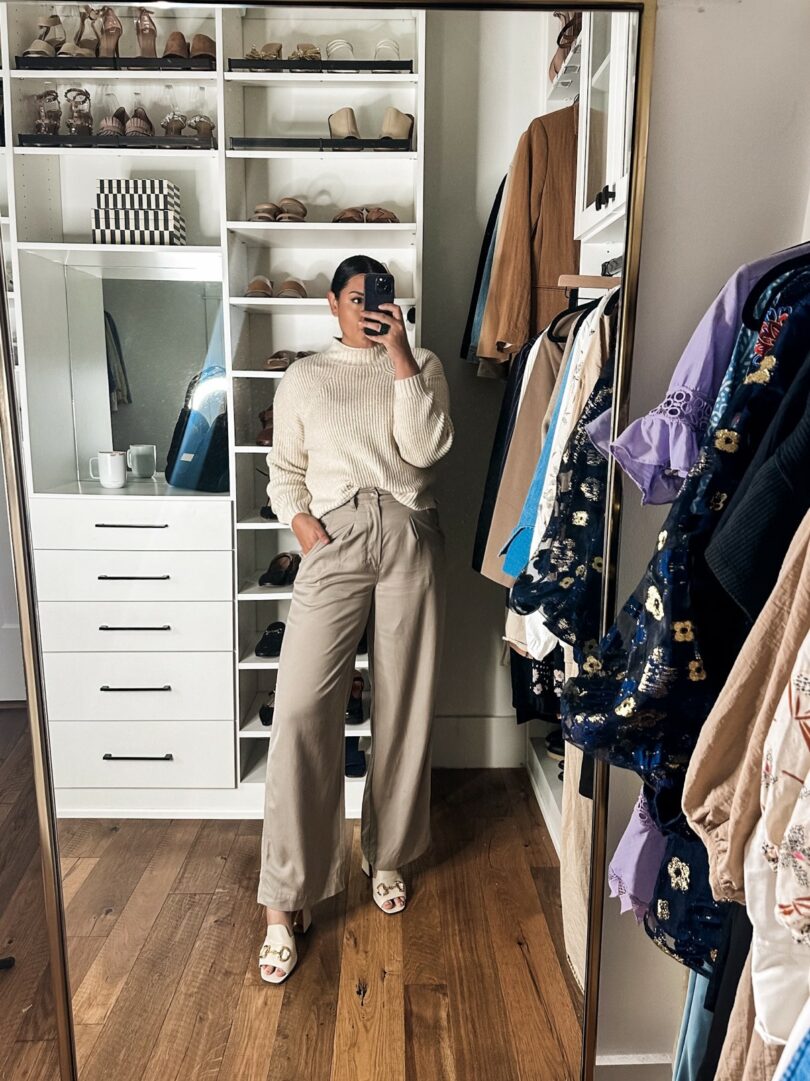 Ok these trousers are Madewell (and originally from Anniversary sale) but I'll be busting them out soon so I thought I'd include them!
I really like the color of these beaucase they are a more grey brown, which pairs really well with black and of course other neutrals. But your shoes will need to read cooler than warmer, just FYI.
I am in the 10, they run TTS. Most fitted at the waist, per usual.