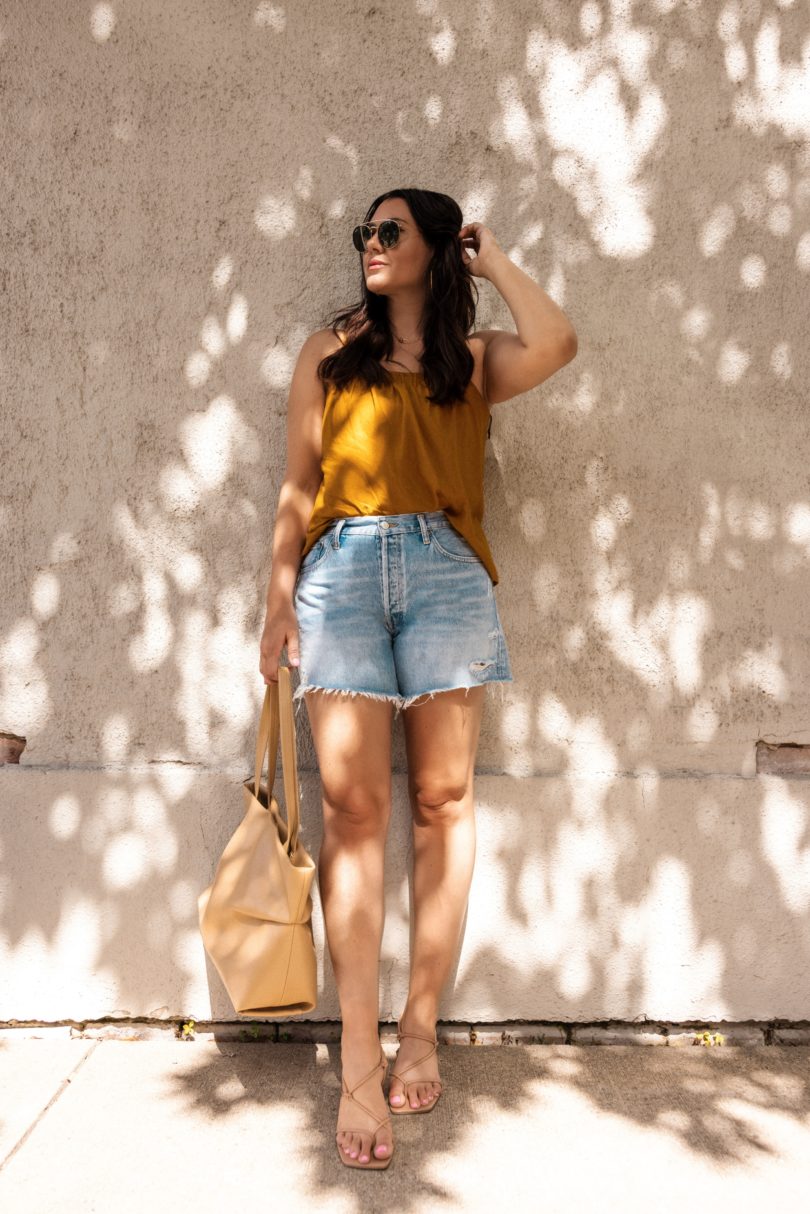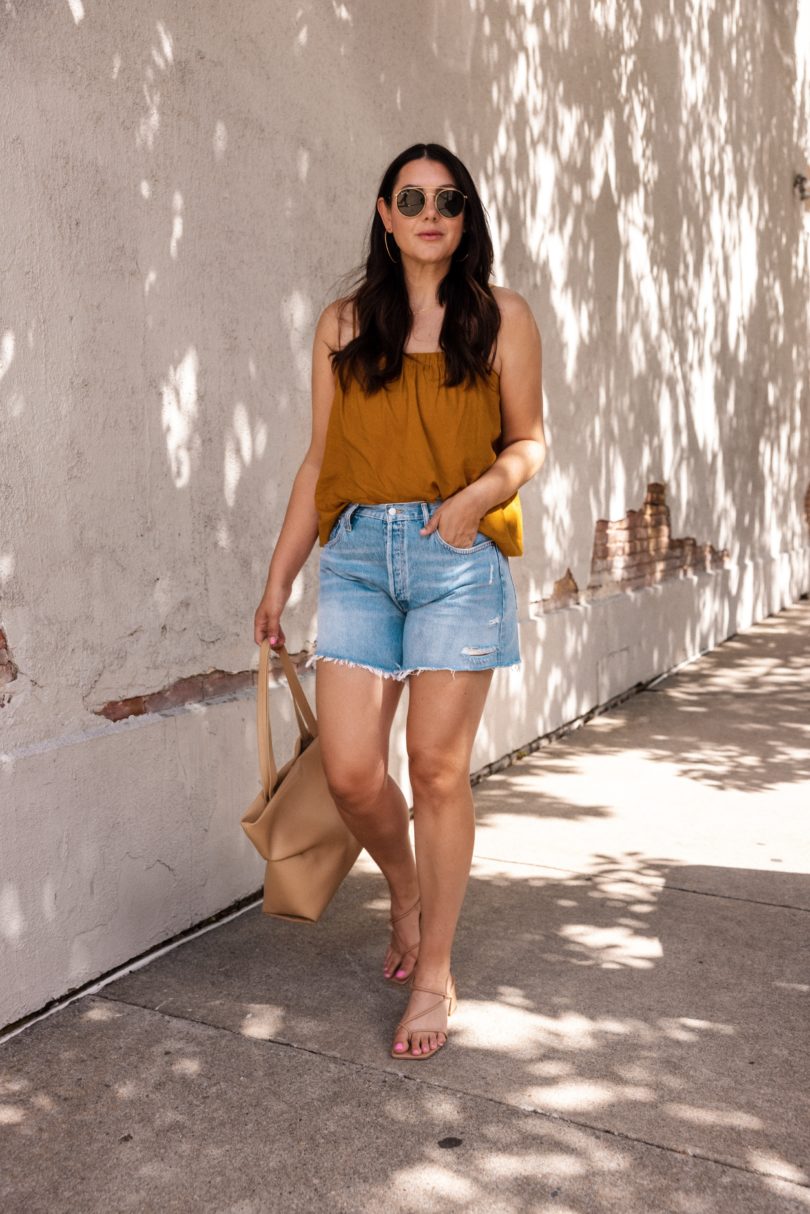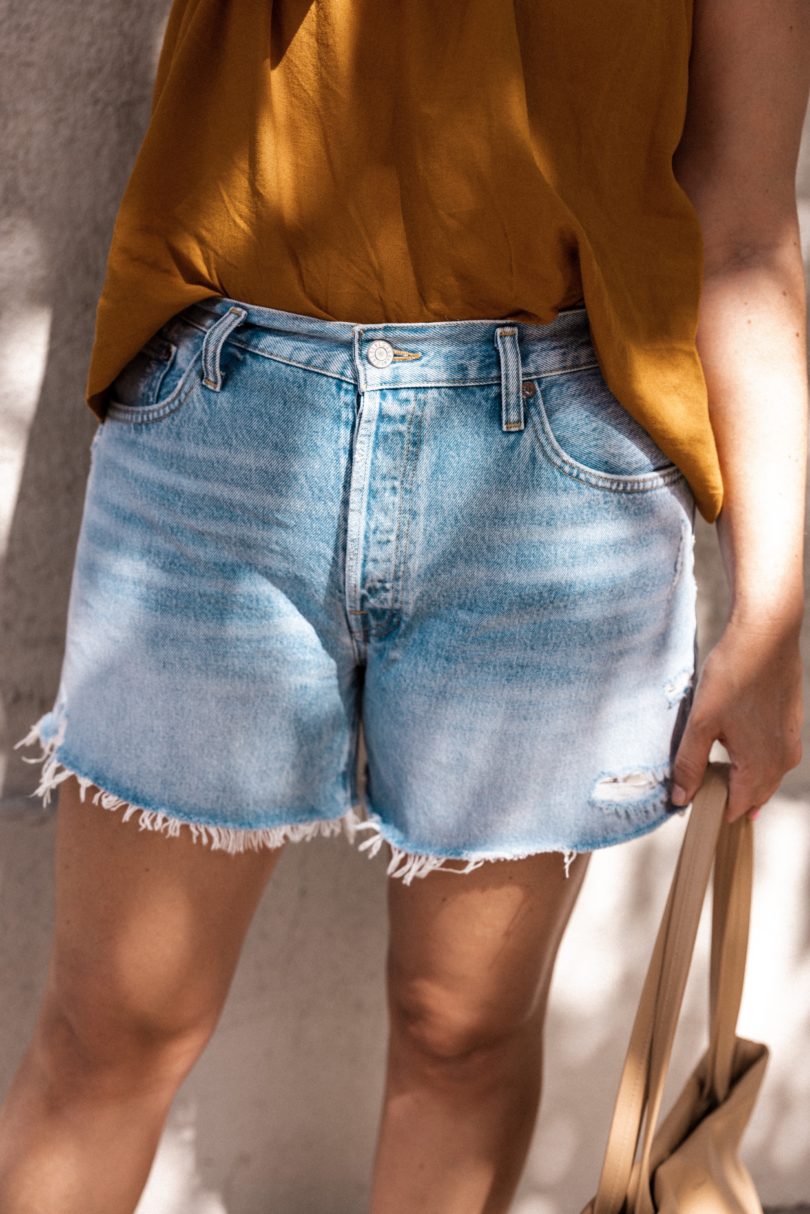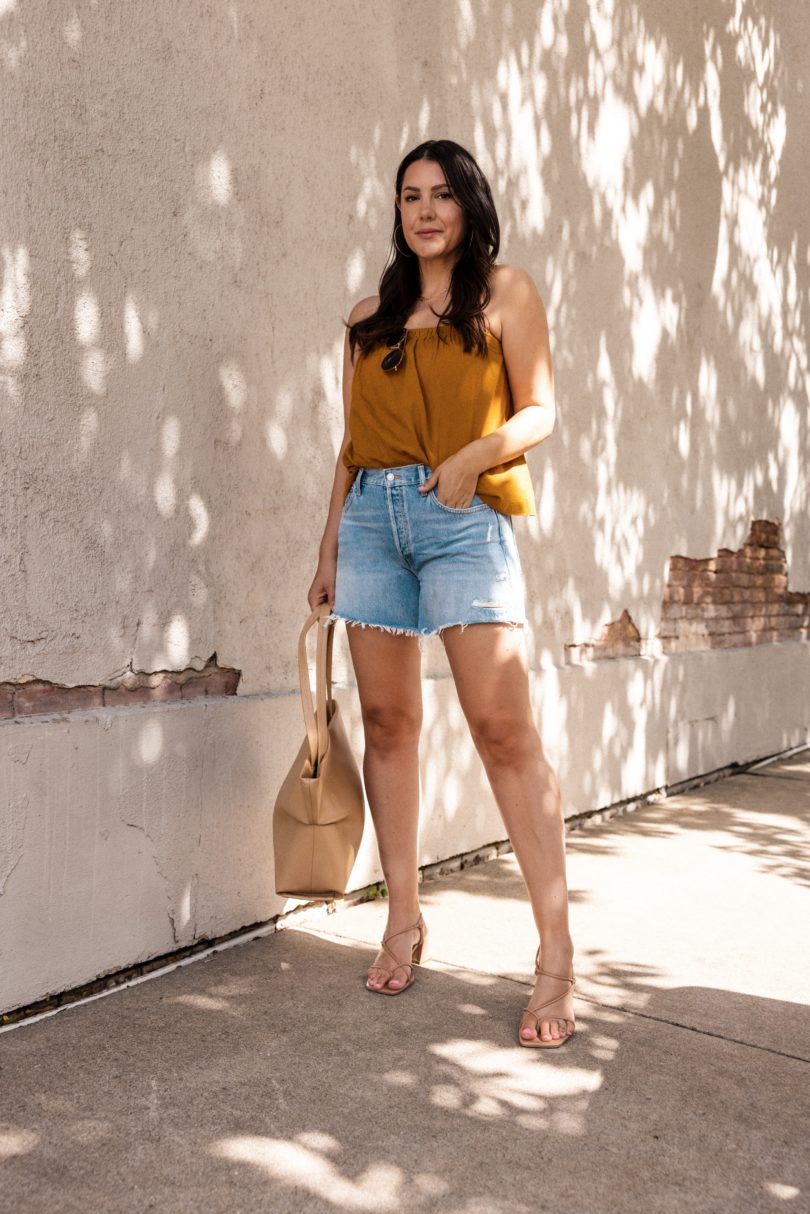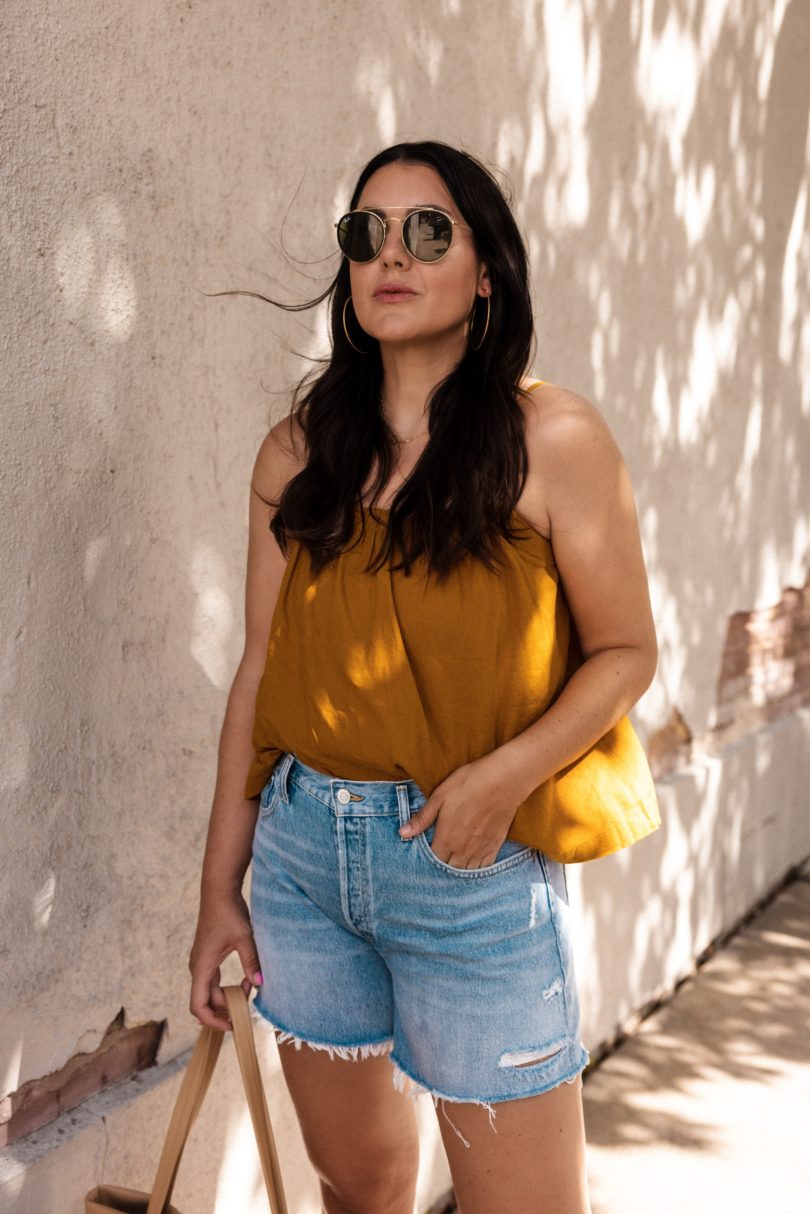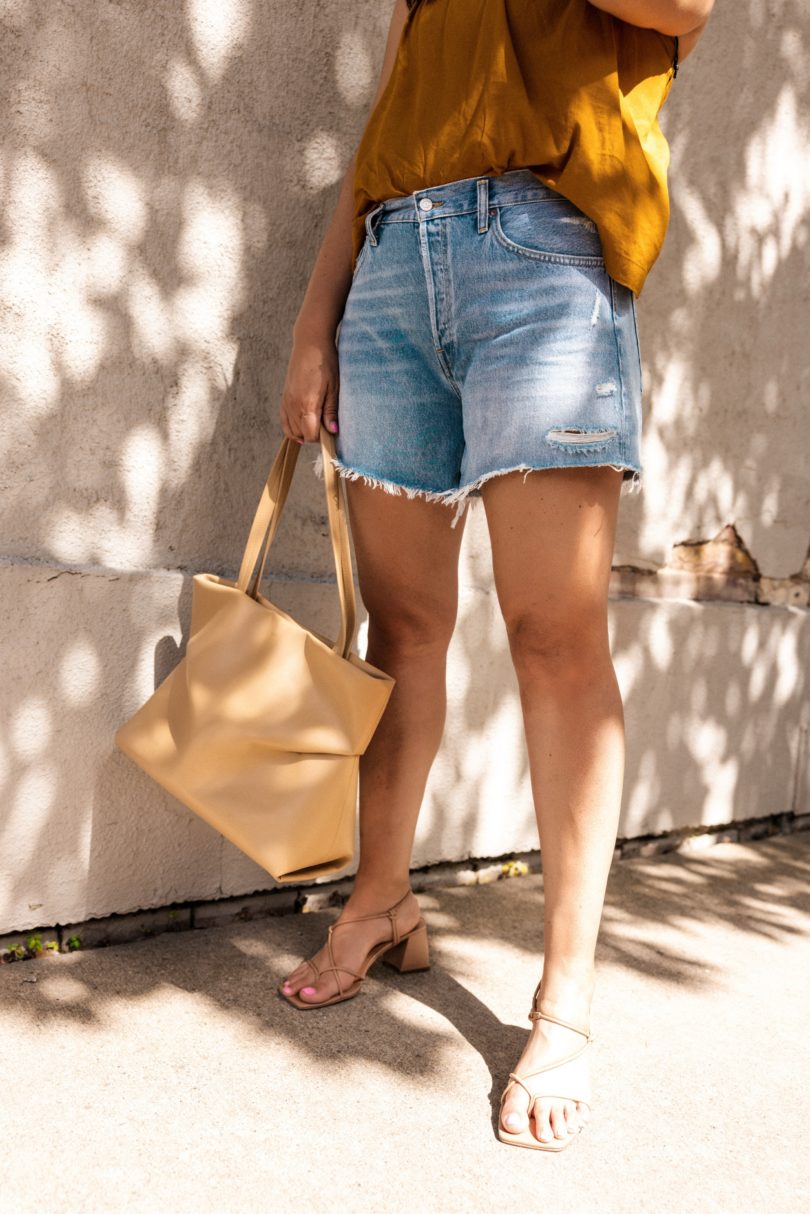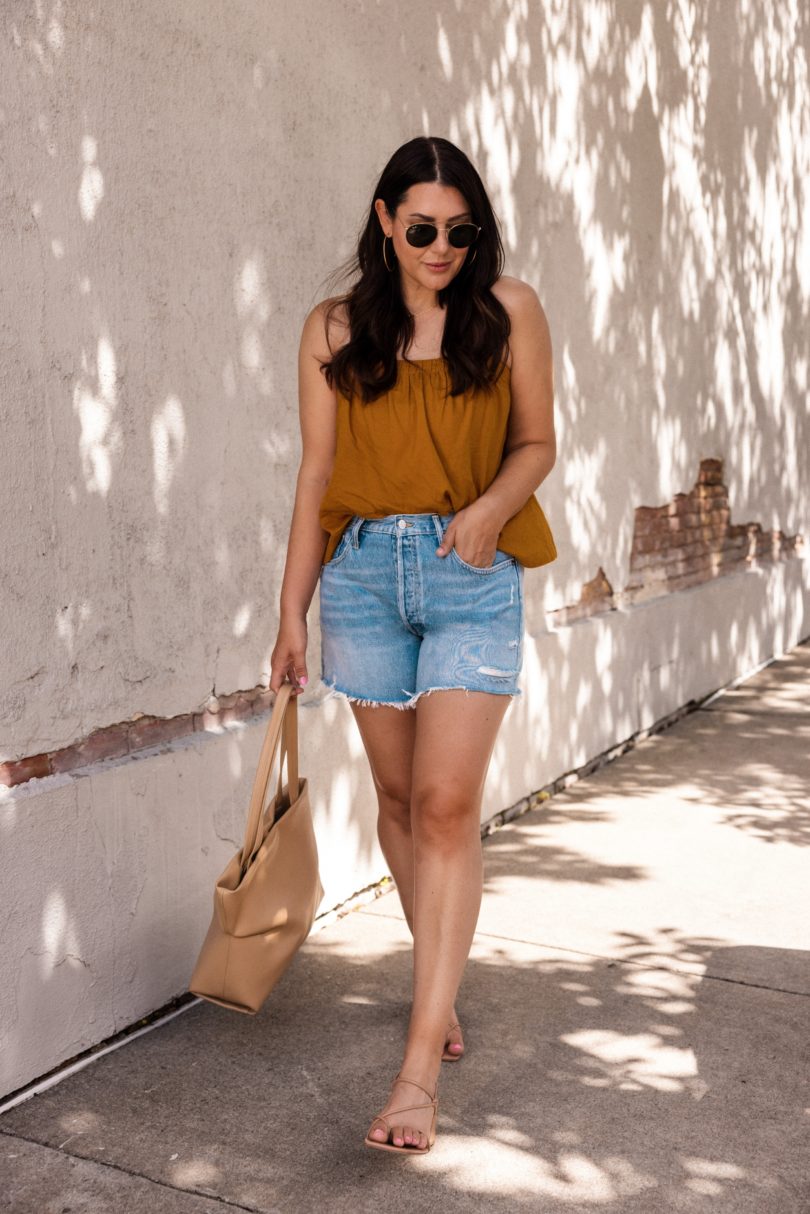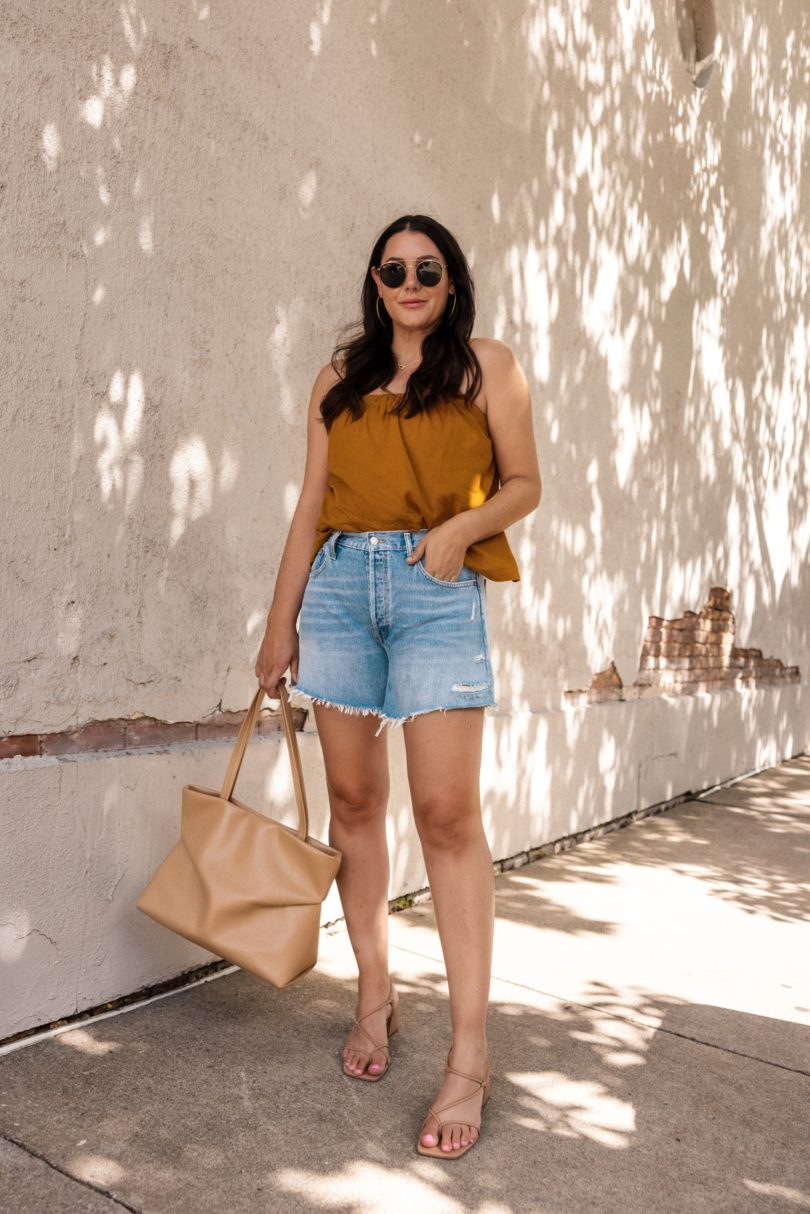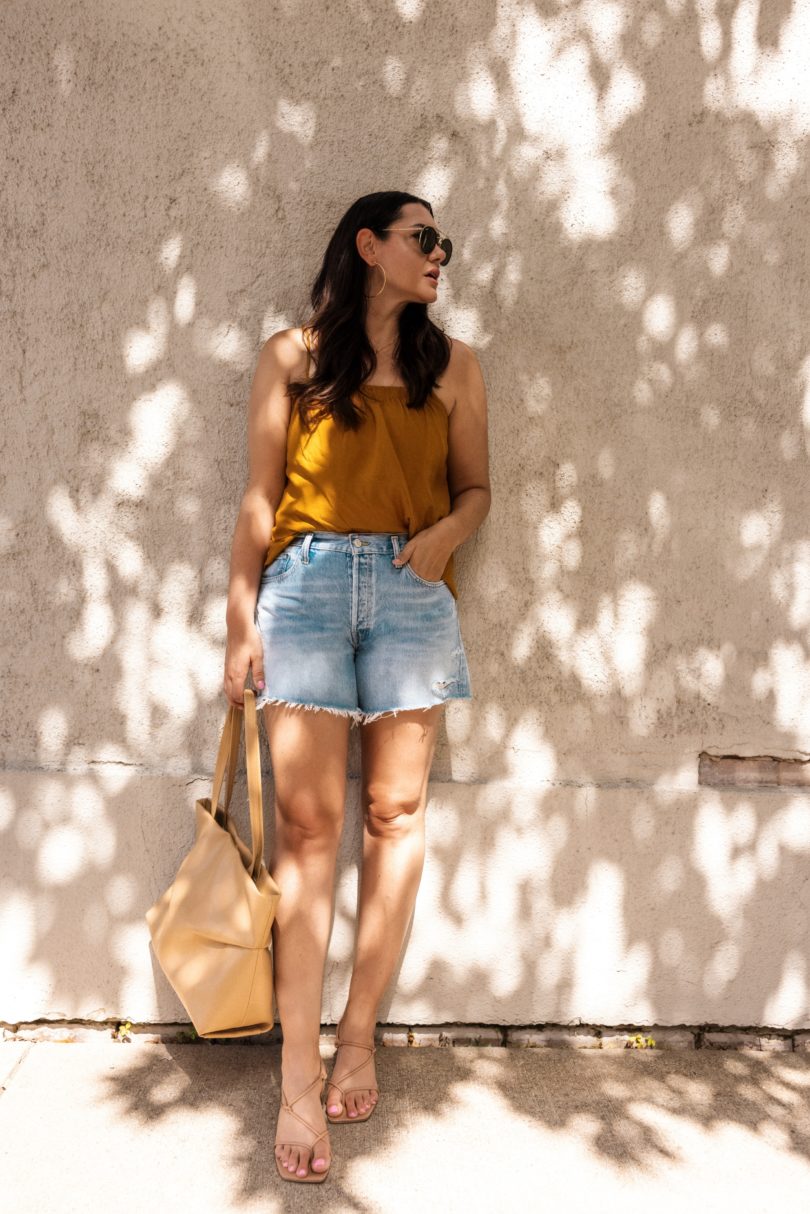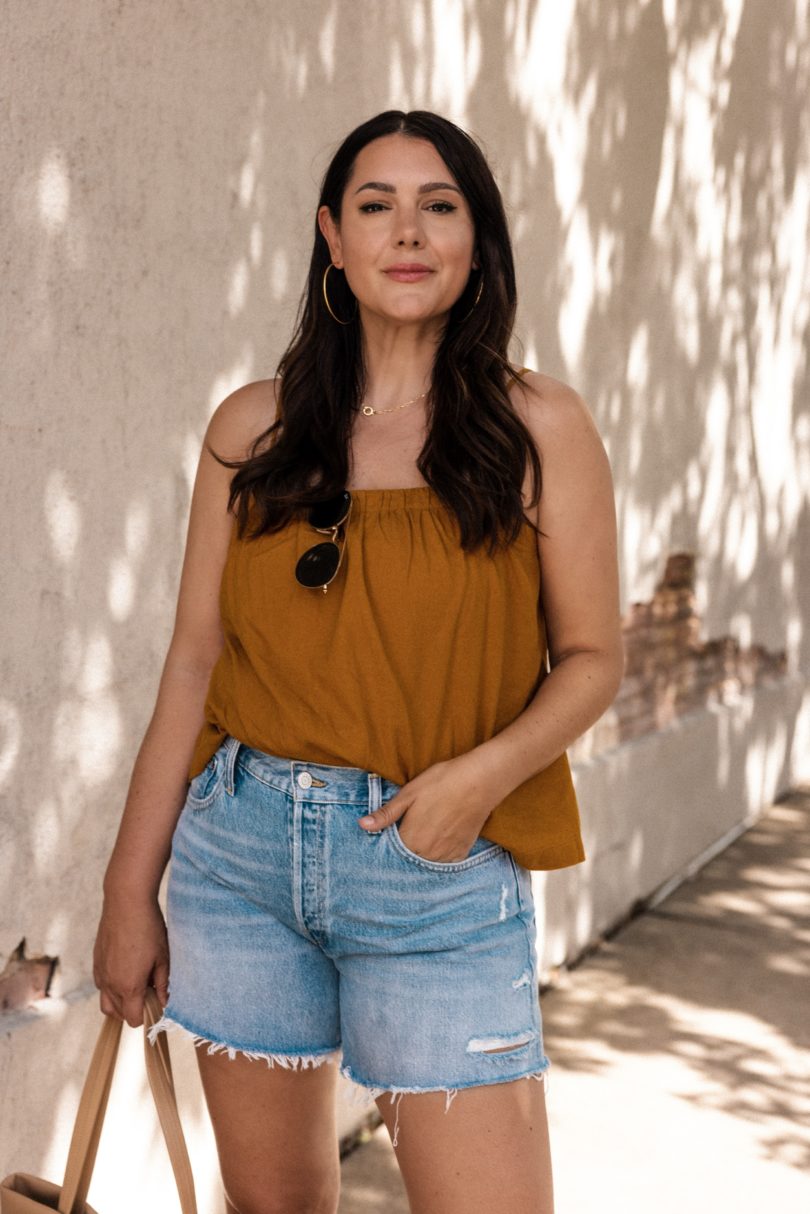 A lot of people dread swimsuit shopping for summer but that's not what I dread. It's the Denim Shorts Shopping that I dread to be honest. I find that denim shorts are some of the most inconsistent fits on the planet. Even if it's the same brand you've always loved or same fit as the year before; even if it's the same size in the same brand in the same style — they will ALL FIT DIFFERENT!?! Which leaves me in a tizzy and also without denim shorts. So then when I go to reach for those perfectly elusive but very essential denim shorts for summer, I come up empty.
However, I do have a brand of denim shorts that fit every year the exact same and it's a breath of fresh summer air. I'm sure I've talked about them before but it's Agolde, specifically the Parker fit. (Also I was today years old when I learned it's pronounced 'A GOLD E' not 'A GOLD A' as I've been loving referring to it for years.) The Parker fit comes in a few different variations but this one is the 'Parker Long Vintage Short in Swapmeet'. At Nordstrom they categorize it as a high rise, but I find them to have a bit of a relaxed rise and a slightly longer inseam. And if you size up in them, they will fall a little bit lower than high rise and fit more mid-rise. (That's how I've styled them here!) I love shopping Nordstrom for denim because I can try different sizes if I need and shipping and returns are always free! If I need to size up or down, I can easily return with no hassle.
Fun fact: Agolde is a brand that started in the 90s but got revived in 2014 (thank GOD) by the owners of Citizens of Humanity and 7 For All Mankind. 
Fit & Fabric
Agolde shorts are 100% organic cotton, so they do not have any extra stretch added to them. However, with all good denim, they will stretch and fit your body after a few wears. I like denim shorts to be 100% cotton because I like how denim shorts age and soften. But if you are looking for denim with elastane, it is not this pair.
This pair is slightly high waisted (Will fit more high waisted if you stay TTS) with a button front, 5 pocket design.
I find that Agolde shorts in general run snug but that could just be me because most reviews I read say TTS. I typically size up in denim shorts any way because I want a relaxed look instead of a super fitted. For reference, in denim I am a 29 but in most denim shorts I wear a 30. I like the extra length (I'm 5'9″) and I like a relaxed look. With these I actually sized up to a 31, but I don't know if I would recommend that for everyone. If you want to wear them a lot looser on your hips, go for it. Size up 1 size, but if you are looking for a regular fit, stay with your true size. For me in most Agolde I wear a 29 in their denim and 30 in their shorts.
Overall if you have curves / hips, I would suggest a size up. If you have slimmer waist / hips, then you'll be fine in your typical denim size.
Wash & Wear
This is one of my favorite benefits of Agolde shorts, they wear and wash beautifully. They stretch out but in a personalized fit way, it's like the denim is learning your body. I like to give them a solid week of wear — no lie all week — and then the fit is perfectly mine. I have a pair of Agolde shorts that are still some of my favorites and have fit me — even through weight loss / gain — that are still in great condition. That perfect worn in denim is what I have now and that's what I love about their shorts. They last and last.
I tend to wash my denim shorts as little as possible (same with denim!) mainly because I like to keep the fabric and fit as softened as possible. When I wash them, I wash on cold and lay flat to dry then I usually give them a steam to loosen up the fibers so they are soft again. Within a few minutes of wearing they return to the fit I love. One more note — the distressing and frays stay put. I don't find this denim to fray more beyond the state of when I purchased them. I find that to be a really nice benefit.
Agolde Parker Shorts

You can find this pair of denim shorts along with the best selection of denim at Nordstrom! Right now this pair is in full stock which is rare for Agolde! Find them here or click on the product above!
____________________
This post is sponsored by Nordstrom. Thank you, dear readers, for the continued support of the brands who support this blog!