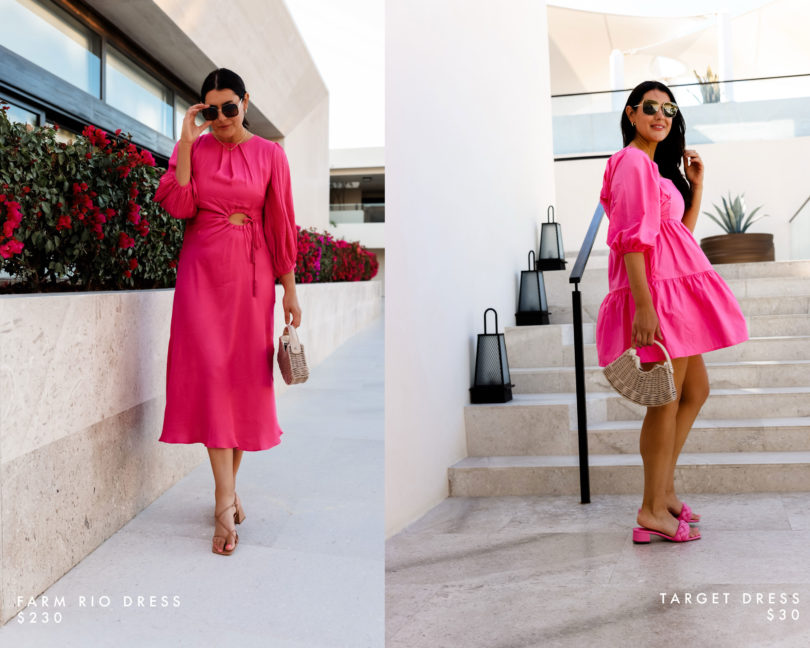 Last week we had our first couples only vacation since we had Gemma. Can you believe that? We've had a few weekends away with a quick road trip down to Fredericksburg or Austin, but since 2017 we have either gone as a family or just not gone at all. Why? Oh because I'm a helicopter mom and I didn't feel like I could leave her until now. She's 4 (well 4 and a HALF she would say) and in preschool so I finally felt comfortable with her getting herself to school, getting herself lunch / dinner and taking care of the house on her own. I'm kidding, my parents took care of her, of course and we headed west to Cabo. 11/10 would recommend going to Cabo, specifically Nobu Los Cabos, at least once in your life. I'm still not over that vacation high.
Admittedly it's been a minute since we've traveled as influencers and my packing game, once strong, needs some tightening up. Wanna guess how much my suitcase was over? 12 pounds. TWELVE FREAKING POUNDS. I am at once proud and ashamed. (It was the shoes, ok?) I had to pay $100 which was the most expensive mistake I made that trip. (You better believe on the way back I was wearing 3 layers of clothing and I was under by 2 lbs. Never gonna make that rookie mistake again.) But all that to say, we shot a LOT of content while we were there. When in Cabo, right?
I've been loving color this spring and this hot pink was just calling to me during this trip. I decided a high-low post would be the perfect opportunity to show these two options — both perfect in their own ways. Check out my two hot pink pieces below and let me know which one is your favorite!
The High: Farm Rio Cutout Dress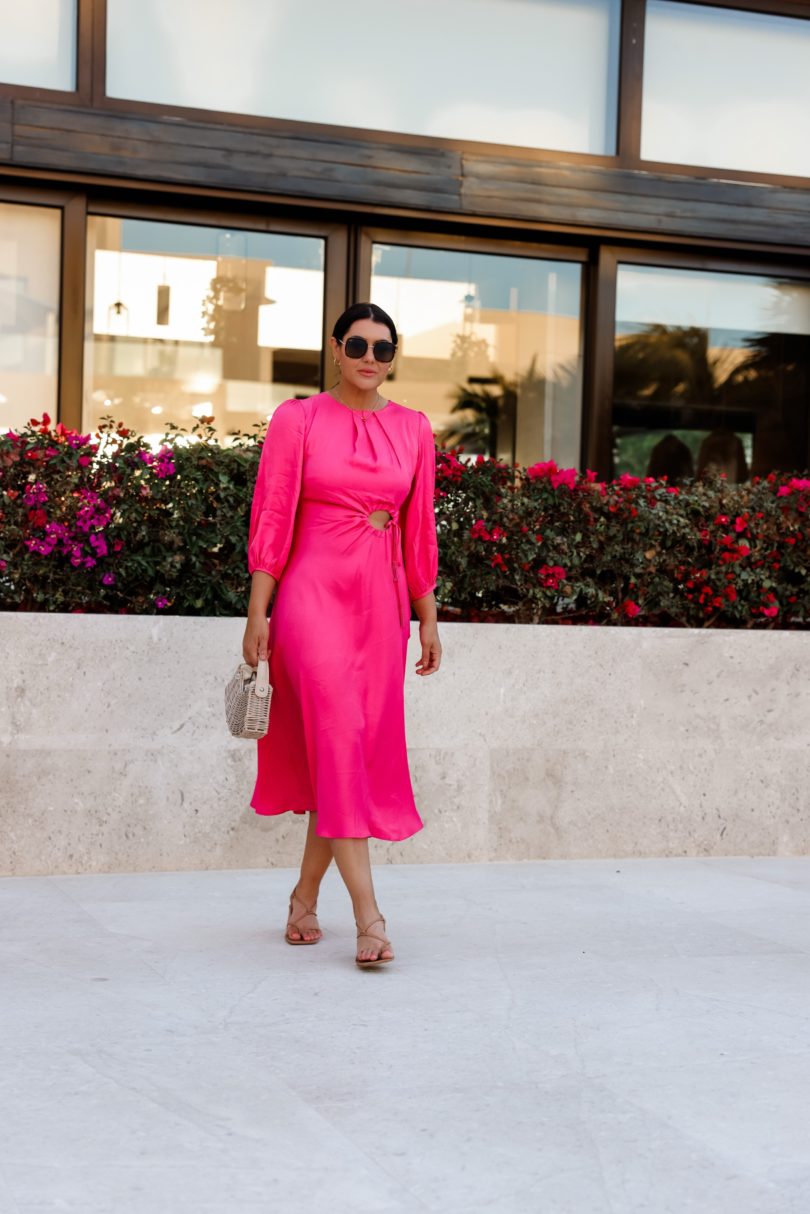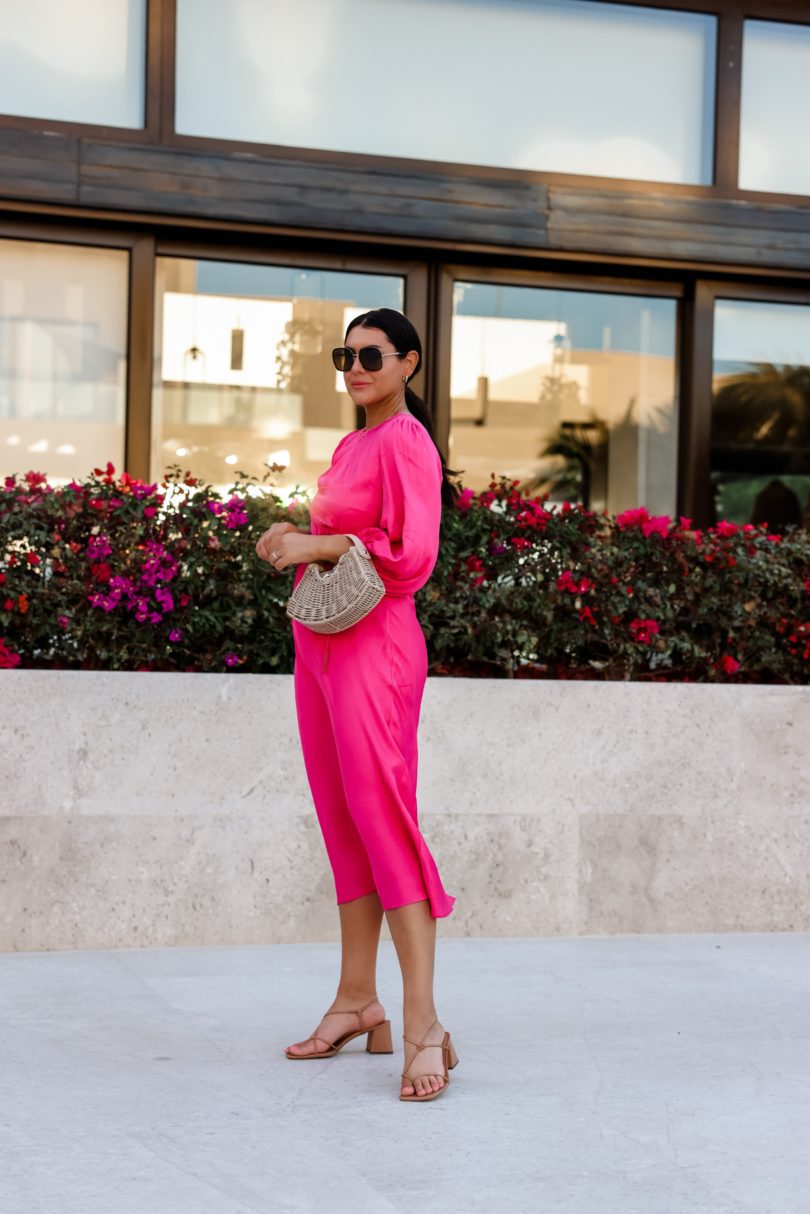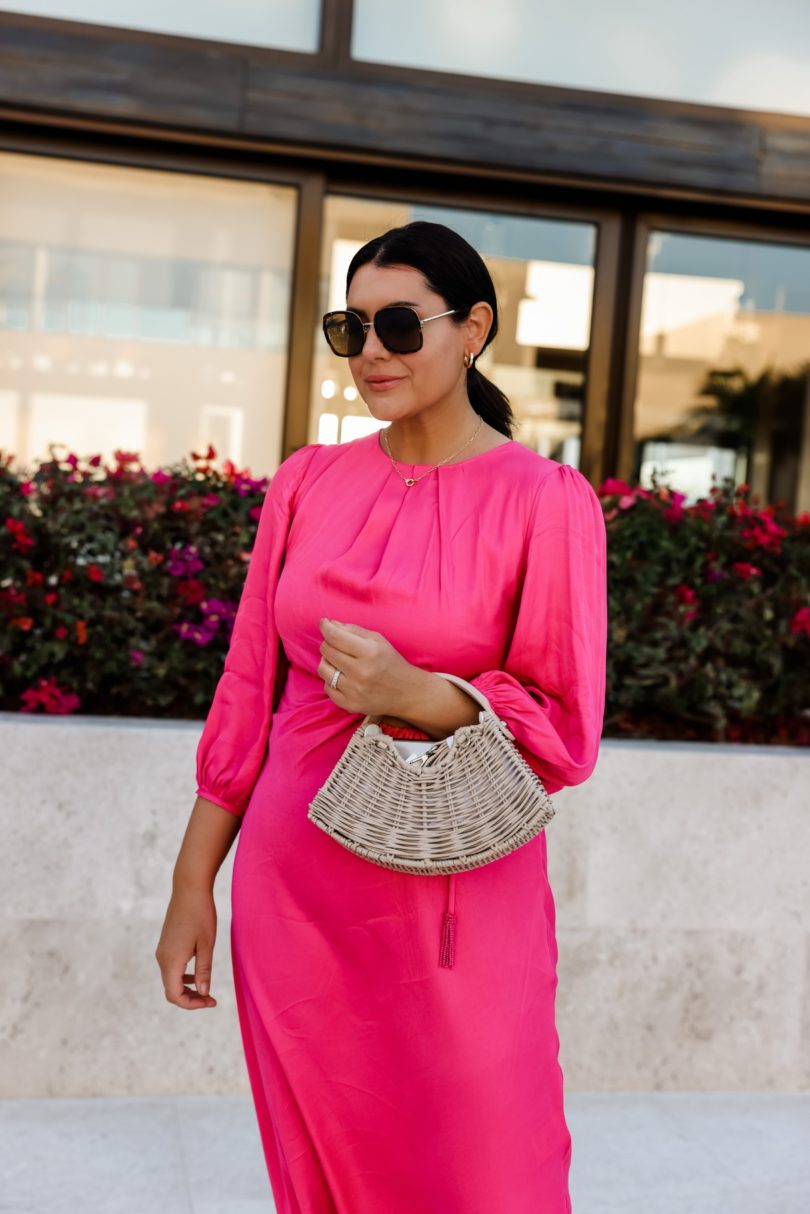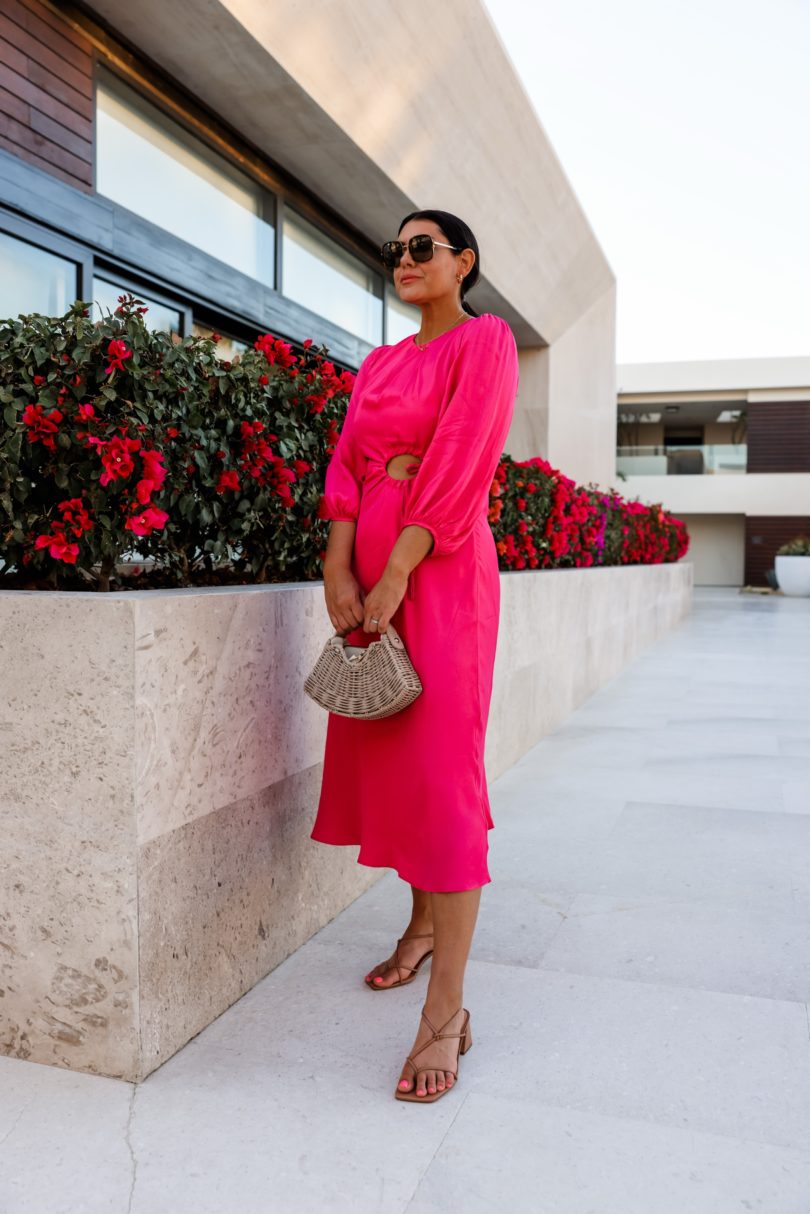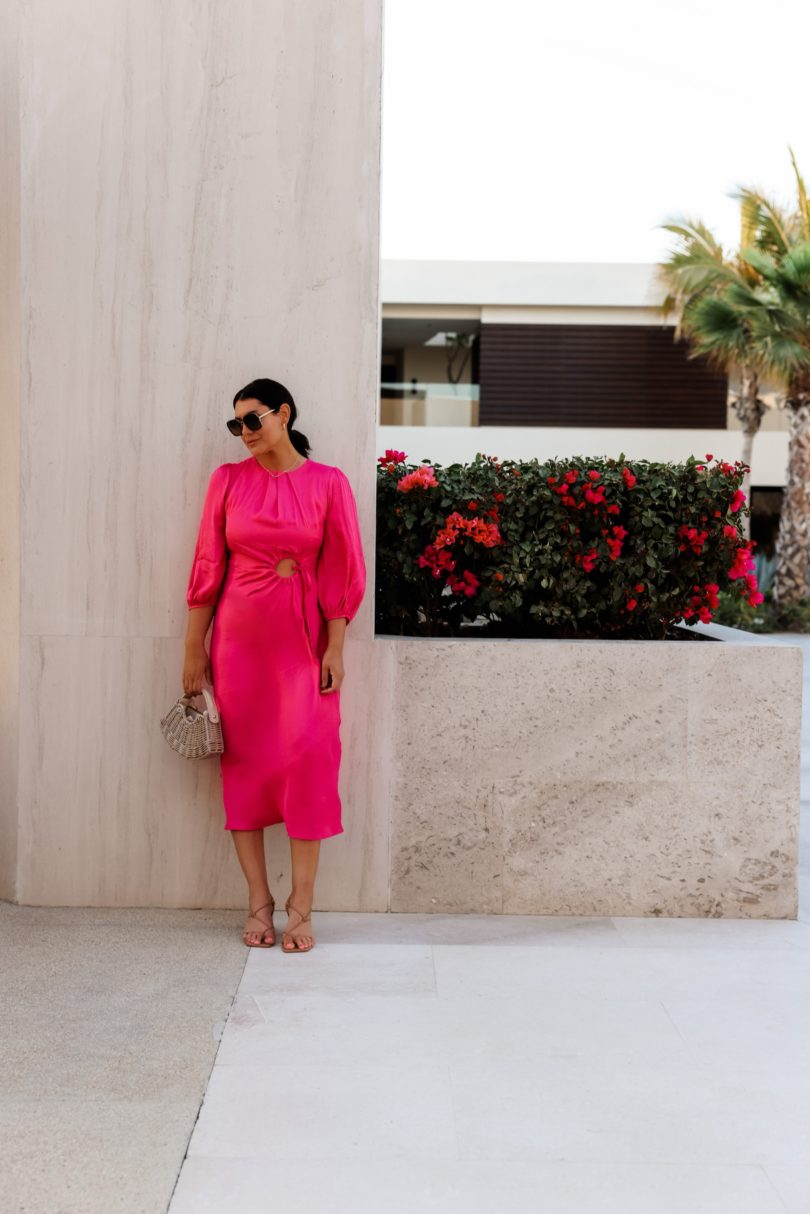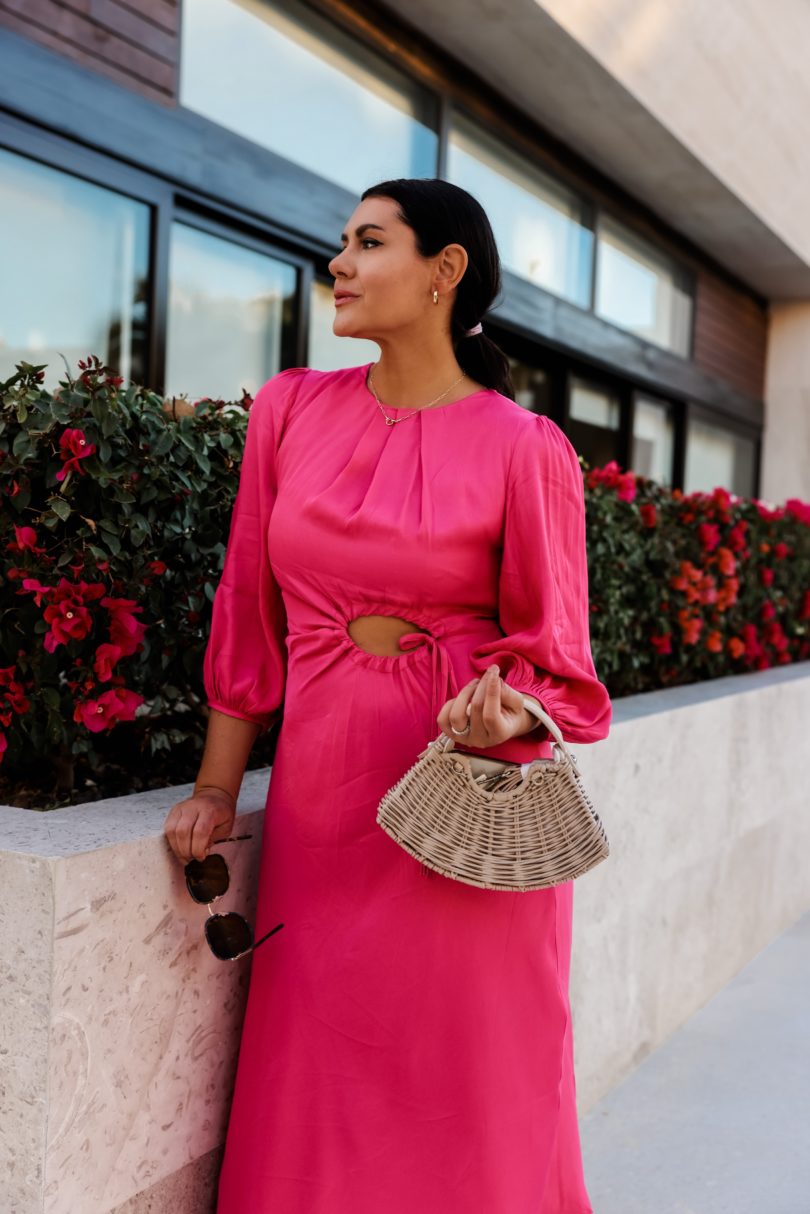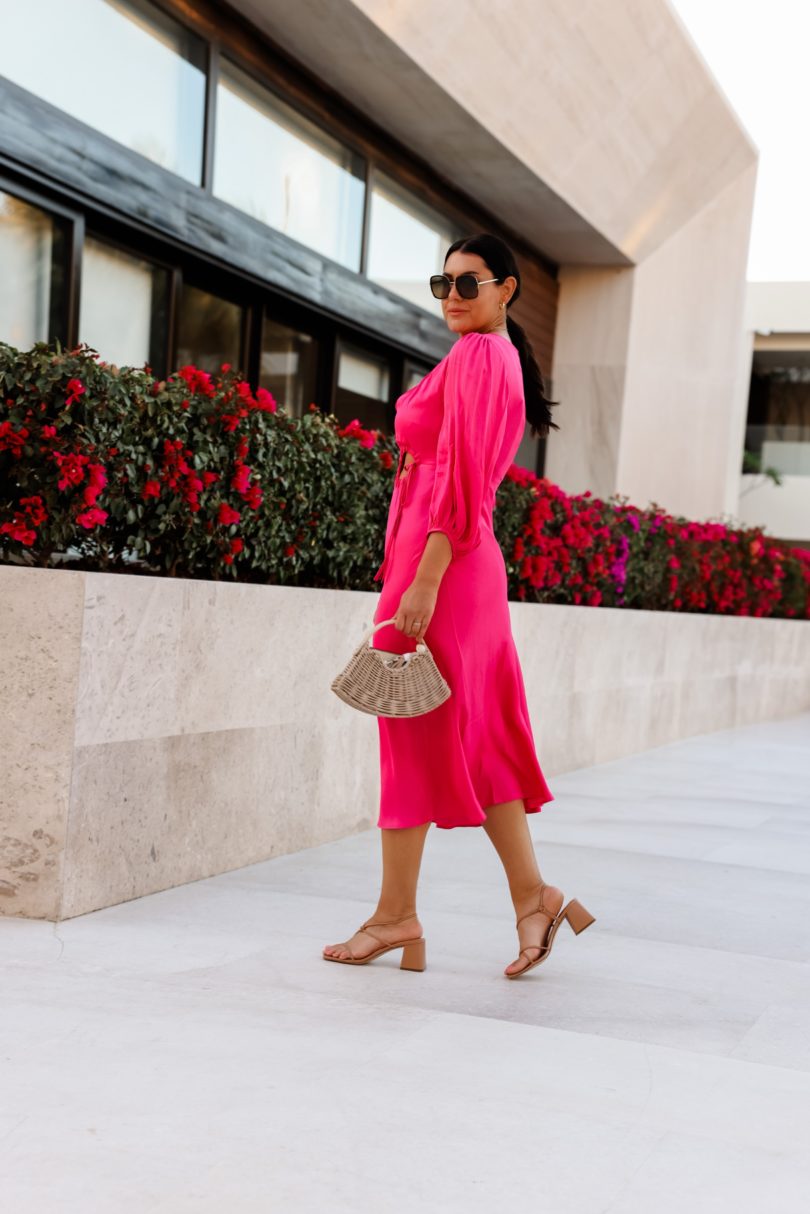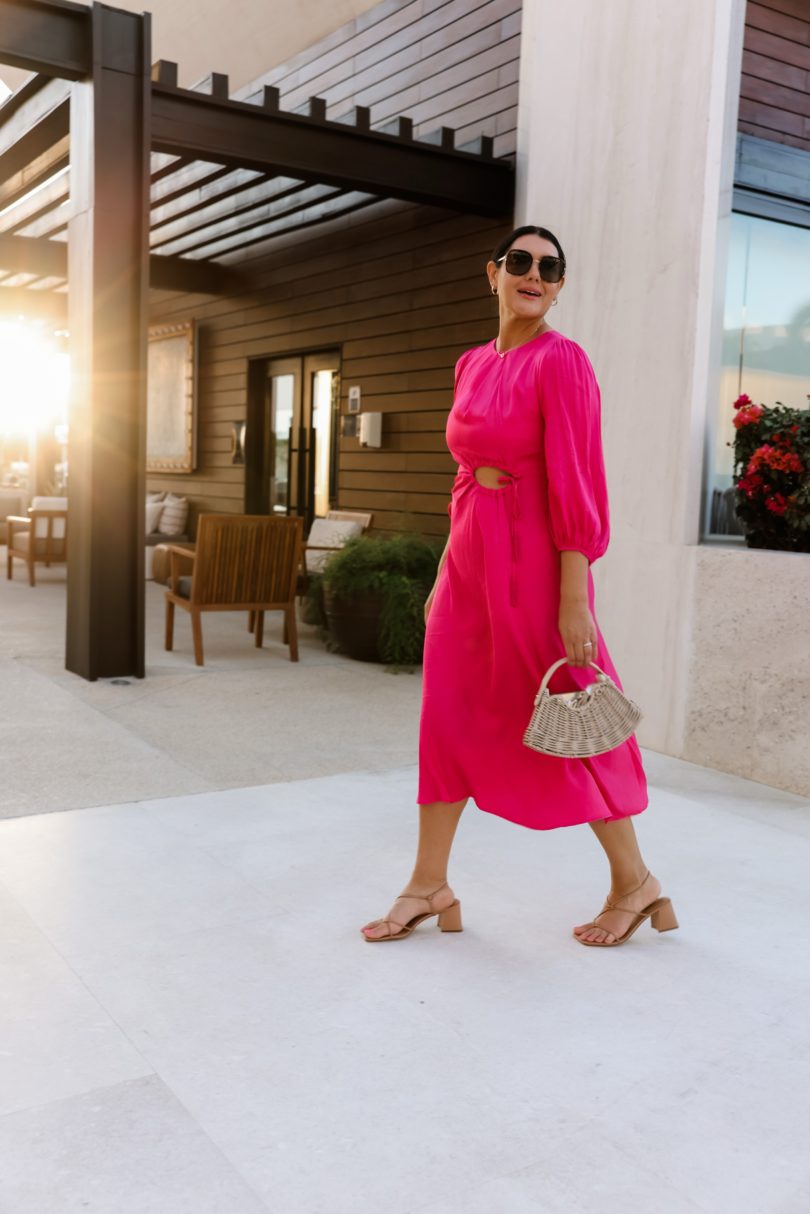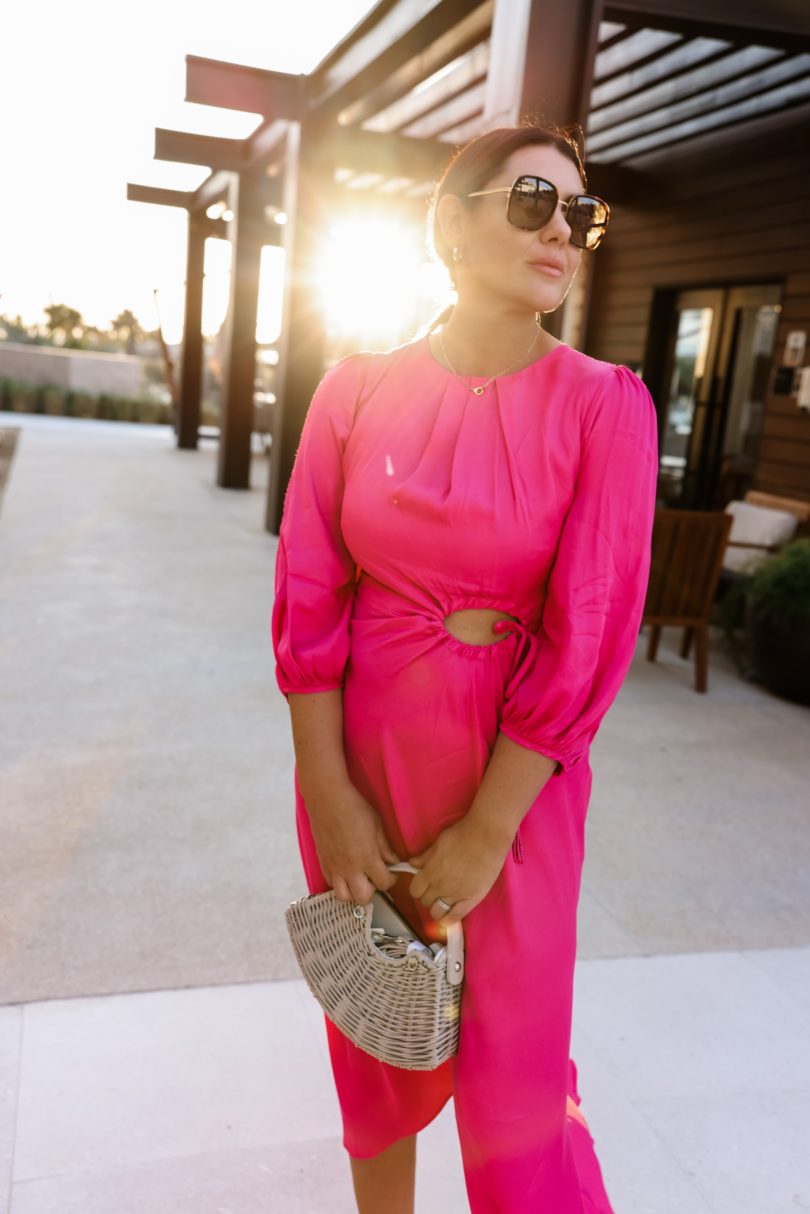 This dress is an actual dream. I love this color but it also comes in a beautiful yellow and a print. I am in the medium and it fits perfectly, slightly loose and the ring is adjustable so you can make it smaller which is nice! I didn't feel like my tummy showed much which can be tricky with this fabric and I laid really well. I did have to steam it, but otherwise it stayed nice and crisp throughout the night. 10/10 recommend this dress. I am obsessed with it.
PS: No special undergarments required here! I was in my normal seamless underwear and regular bra.
Find this dress from Farm Rio here. By the way, I've bought directly from Farm Rio dot com before and it was a great process. I did sign up for their promotional texts and they do text a lot but on the flip side they have lots of sales. Just FYI. You can find the yellow and printed version from Nordstrom here.
OH and also don't buy these shoes. I hate them. Will I still wear them? Probably because I freaking paid for them and wore them on vacation so I can't return now. But they are devil shoes and I 0/10 recommend. I've linked a better option to the right! >>>
The Low: Target Tiered Dress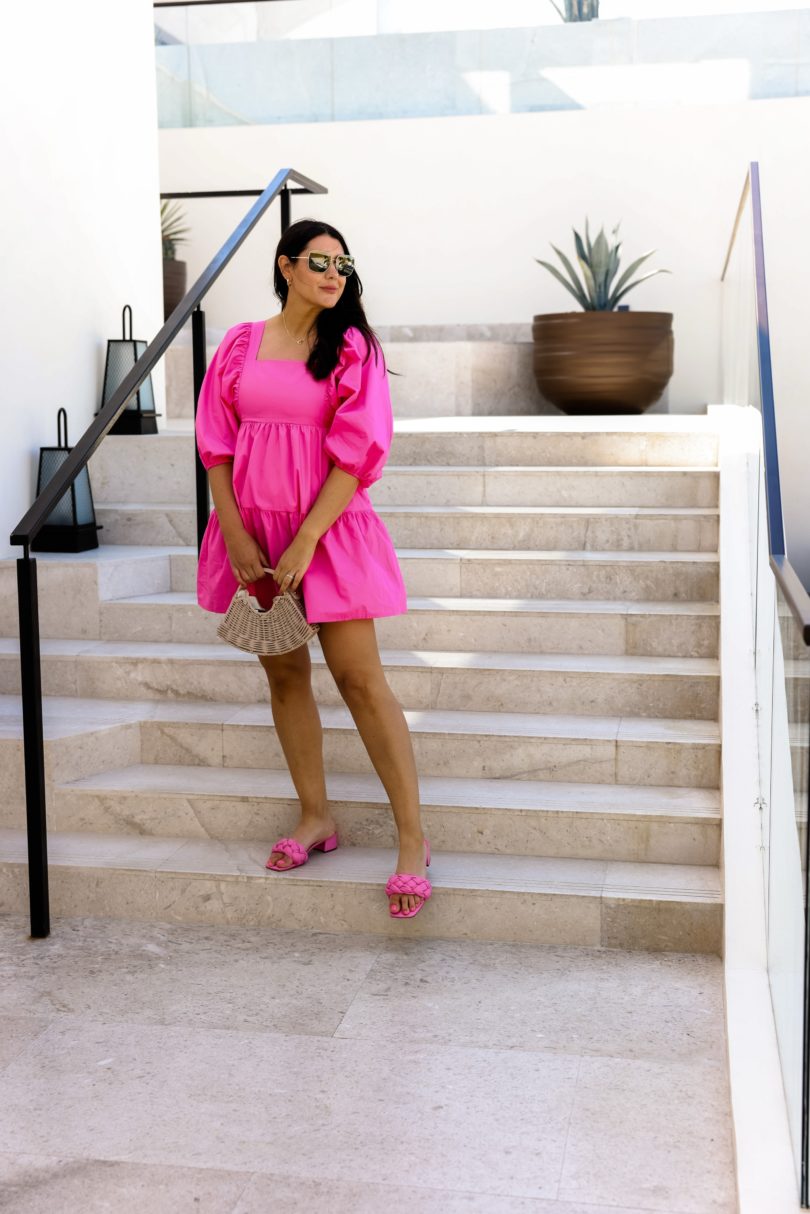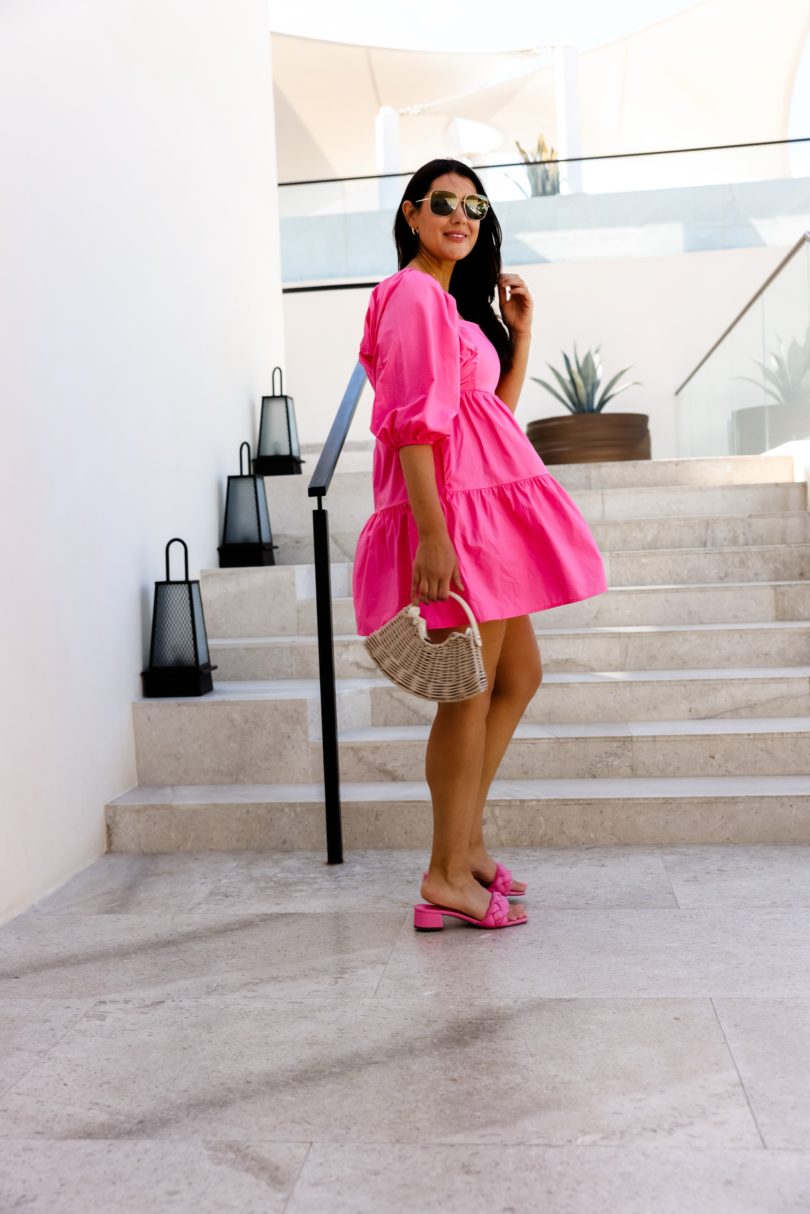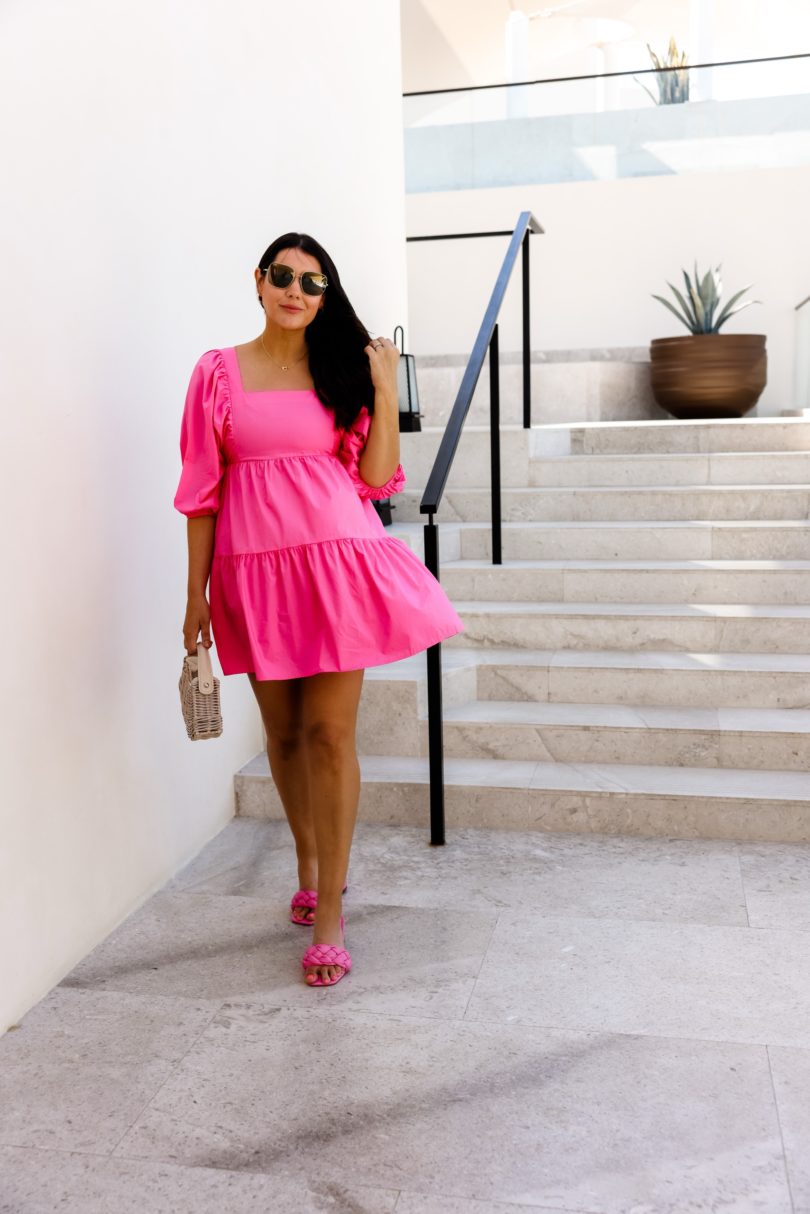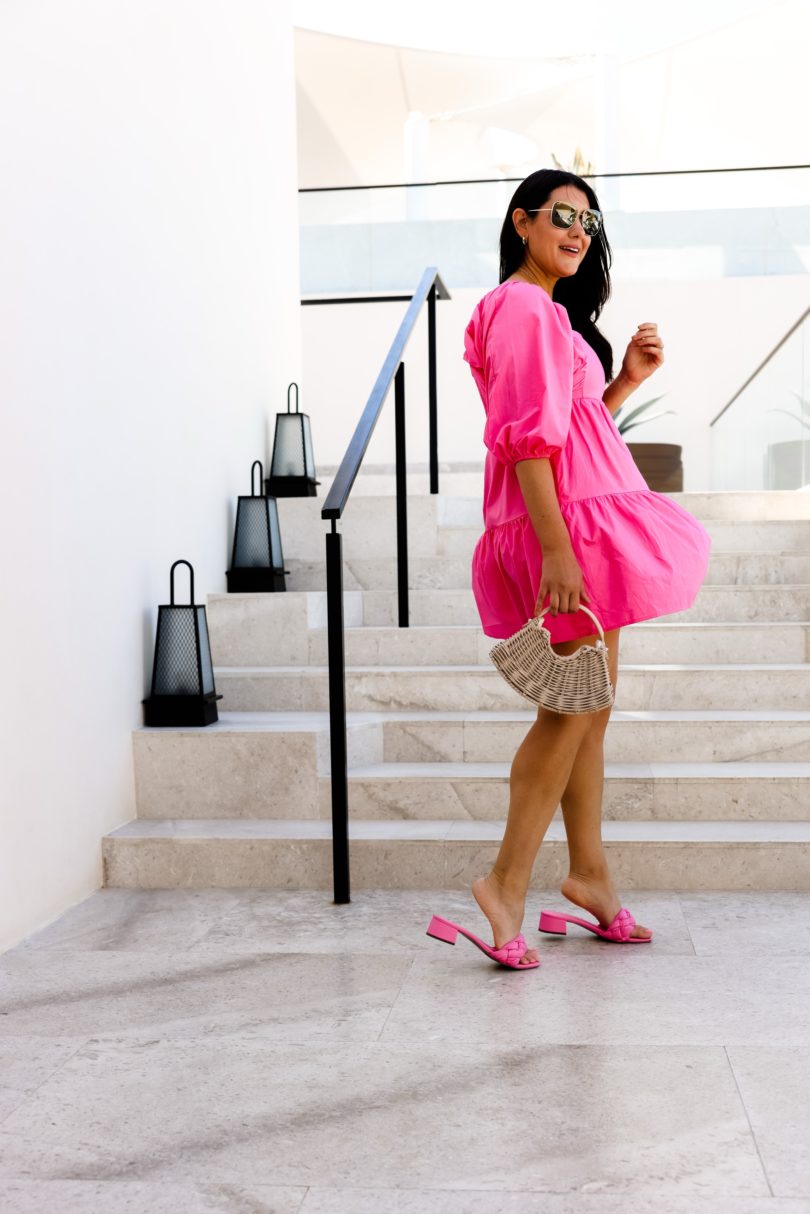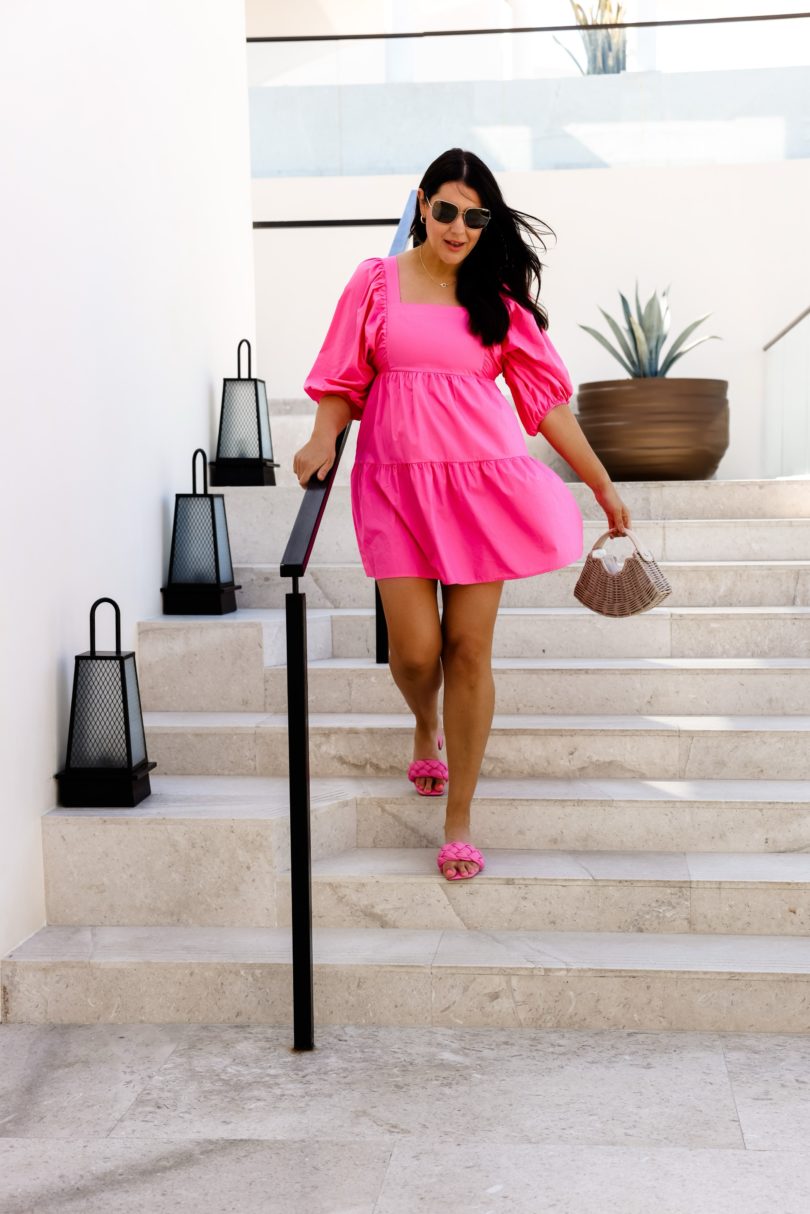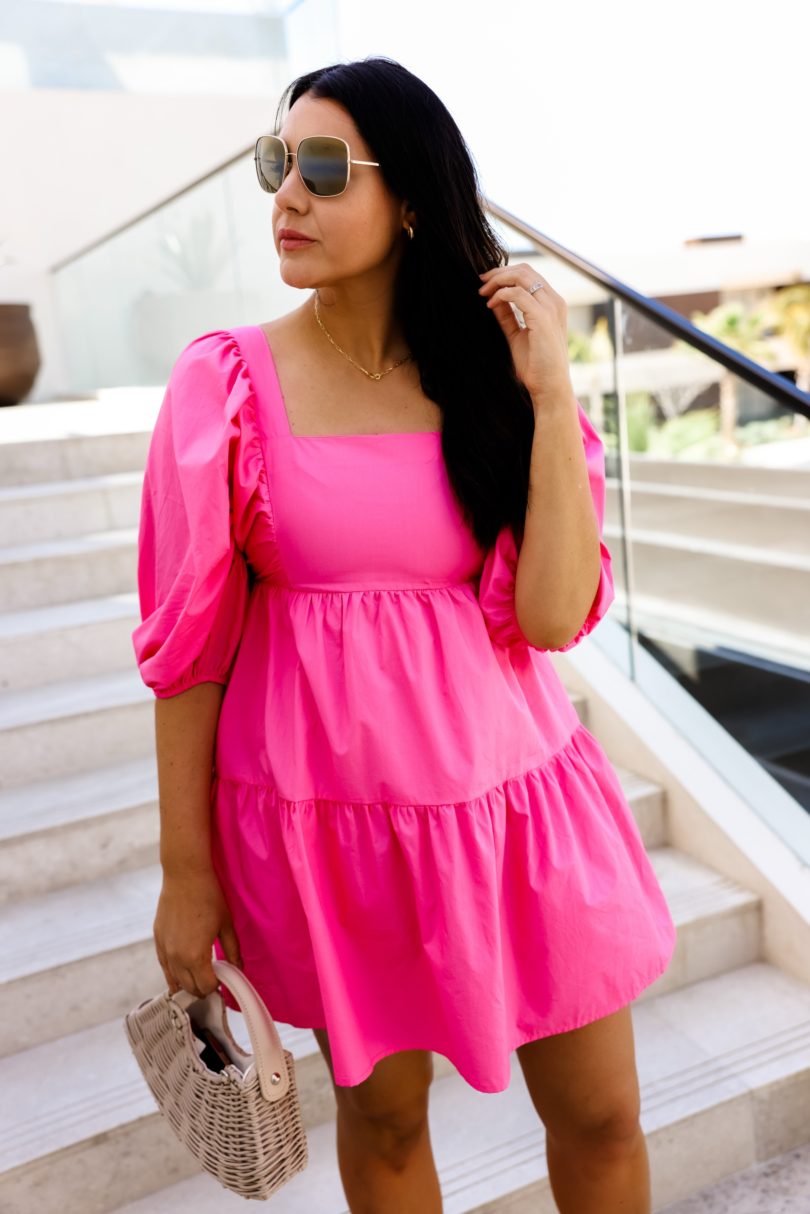 Pro tip with this dress: size down one. It will give you a polished, higher end look, I promise! If you want a more casual look, then stay TTS like on the model but sizing down in this one created a more tailored look at the chest and in the length which equals higher end. Therefore I am in the small, a size down for me.  You can find this dress in many colors, but I'm partial to the pink! Find it here. 
Also, if you are looking for a pop of color this spring these slides are very comfortable and have a very easy to wear heel. They fit TTS and I have no edits for them. Find them under $75 here!