As I think about fall content, I've been really focusing on how I can be a resource for you and your closet. (And of course, I'm always good for a quick giggle here and there.) One thing that I know you ask for is looks for work and capsule wardrobes.. As a few of you guys are heading back to the office and/or are looking for staples for your pre-fall to fall wardrobe, I immediately thought of these black pants from Nordstrom I have in my closet. (I should note — these are wonderful for work from home, too!  Super comfortable and easy to wear all day. Couch desk approved.) They are a wonderful staple and so very versatile. It seems obvious — 'of course black pants are versatile, duh Kendi' – but these are of a different breed. That's right — they're not like the other girls. They are like a jogger meets an office pant. The fabric is a stretchy blend with a flat front elastic waist which creates a professional look but they're comfortable like joggers. Without the tapered ankle they come across more elevated than joggers as well. Plus they're also every so slightly cropped, which I find the be easier to wear with more shoes. Showing a little bit of ankle helps break up a blank pant.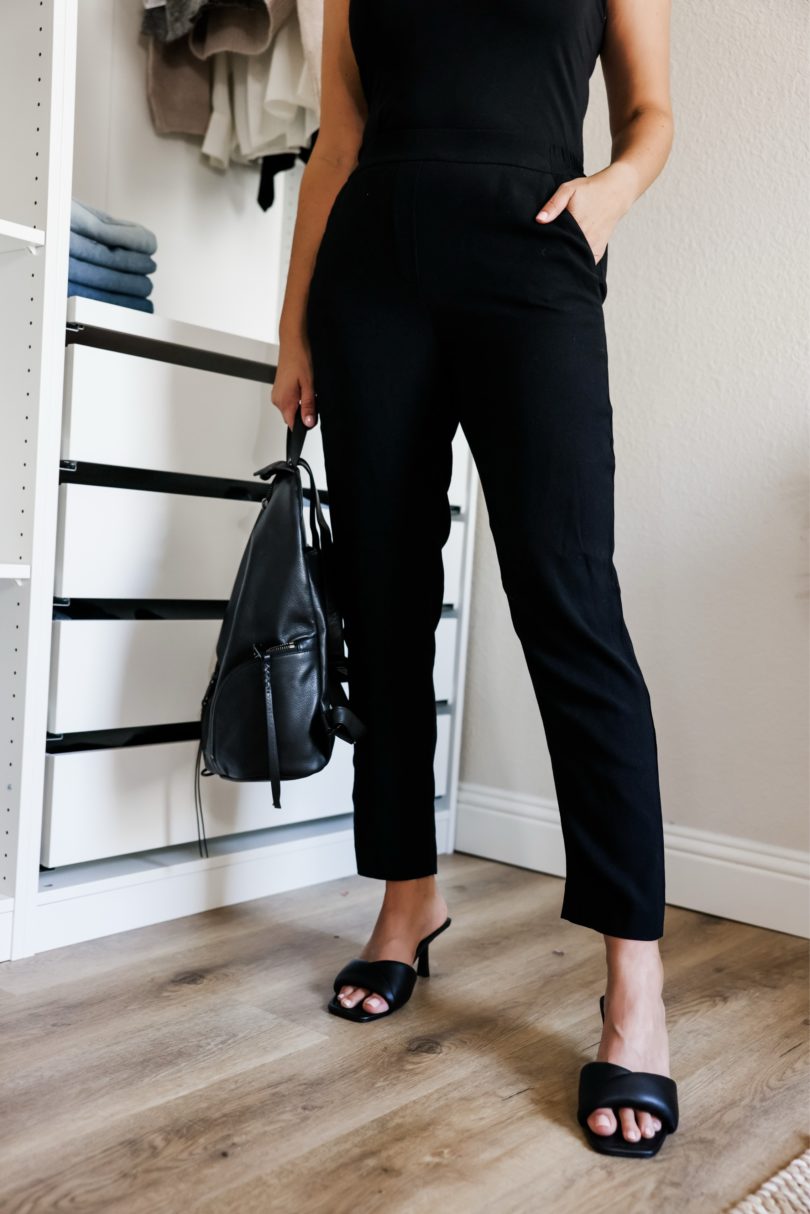 Before we move on to styling them 8 ways, I wear the size 8 in these. Let me explain the fit on me: they are looser in the waistband (but not *that* loose just in a comfortable way) and they're more fitted at the hips and thighs. Not tight, just more fitted there. I would say true to size for me but if in between sizes definitely go up one. Err on the side of slouchy with this pant.
I picked out 8 different tops from Nordstrom and all but one are under $50! Like well under $50, I think I have a few $12 tops in the mix. It just goes to show you that style can be at any price point and you can easily find under $50 price points at Nordstrom! They have high quality basics and essentials at really great prices. Some of my favorite tees have come from Nordstrom's line of essentials and basics like Caslon, Halogen and BP. If you are looking to build your wardrobe on a budget, I'd suggest looking at their in-house brands and start there! High quality because that's just Nordstrom but wonderful prices because they're Nordstrom made. Find their brands here!
Essential Tops from Nordstrom

So I broke each outfit down as to when I would wear them! You don't *have* to wear the same pants every day but if you did I wouldn't judge you. I get it, they're that good. 😉
Sunday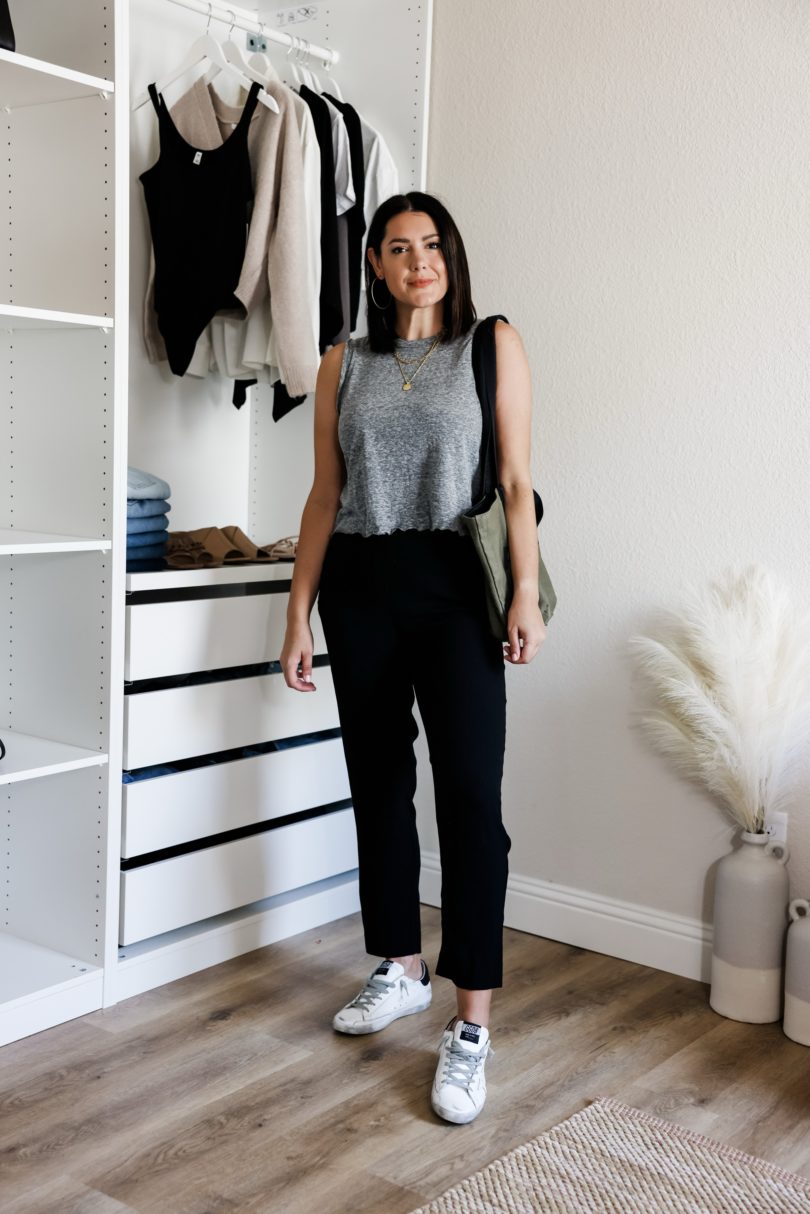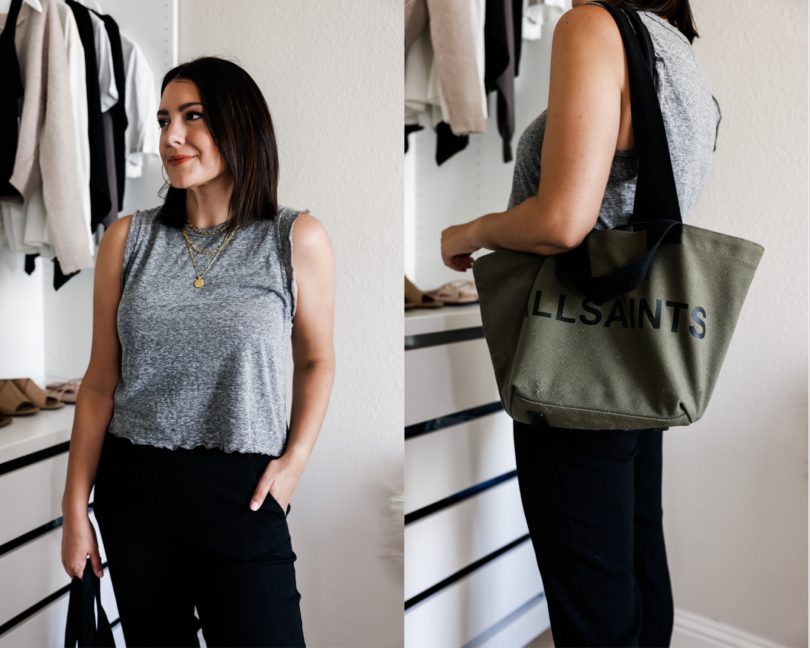 This is one of those easy outfits that I toss on when I just need to run to the grocery store or a quick coffee shop run. Black pants + a relaxed tank is my go-to for a Sunday. Make your yoga pants jealous, you know?
// I wear the medium in the tank. It's SO soft and fit is true to size. Find it here!
Monday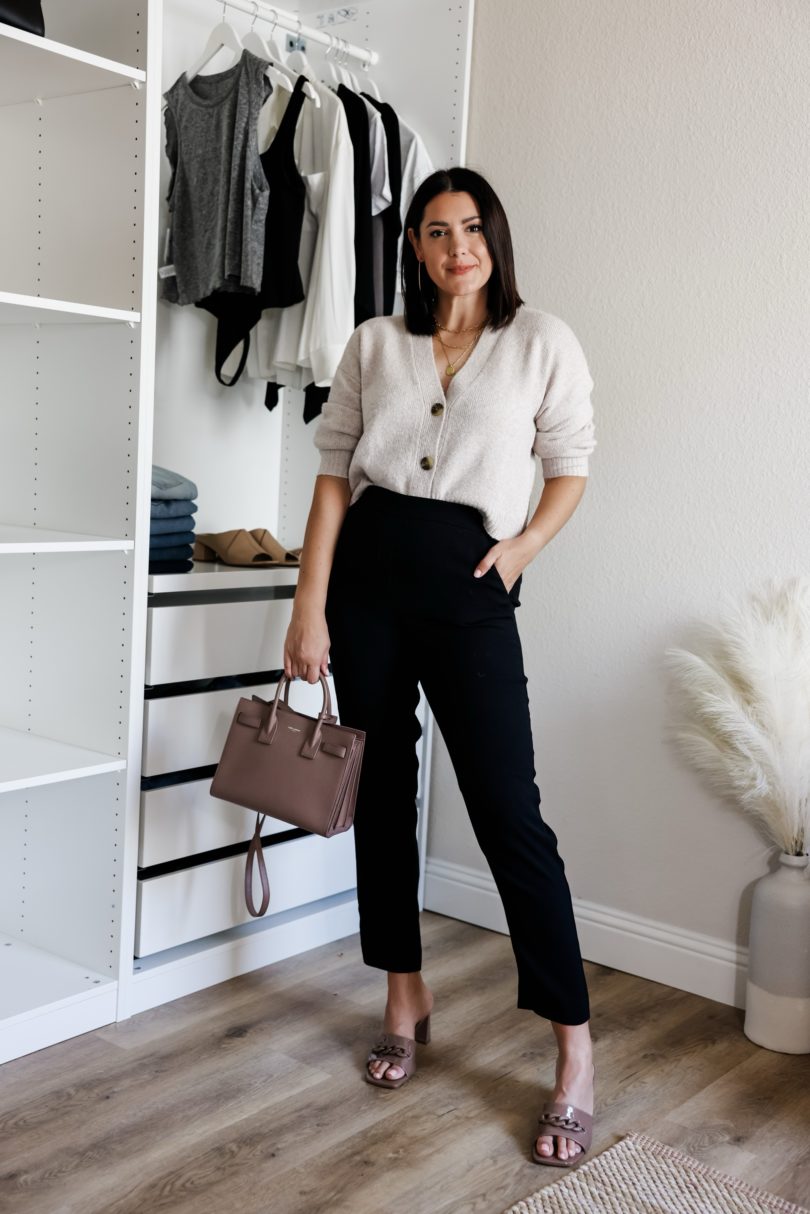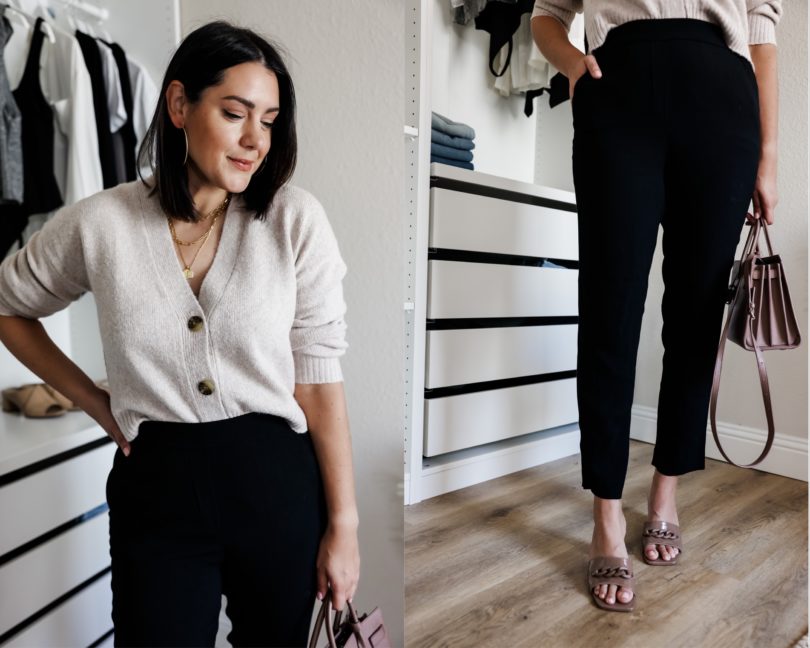 Keeping my inspiration for the office in mind, I always like to ease into the week and is there anything easier than a soft cardigan and easy pants? It makes the pj's to real clothes transition much easier. #facts
// I'm in the medium of the cardigan. I personally don't find it that cropped, especially with high waist pants. I would say true to size, slightly relaxed in the shoulders. It's a wonderful price for this quality — snag it up! Find it here.
Tuesday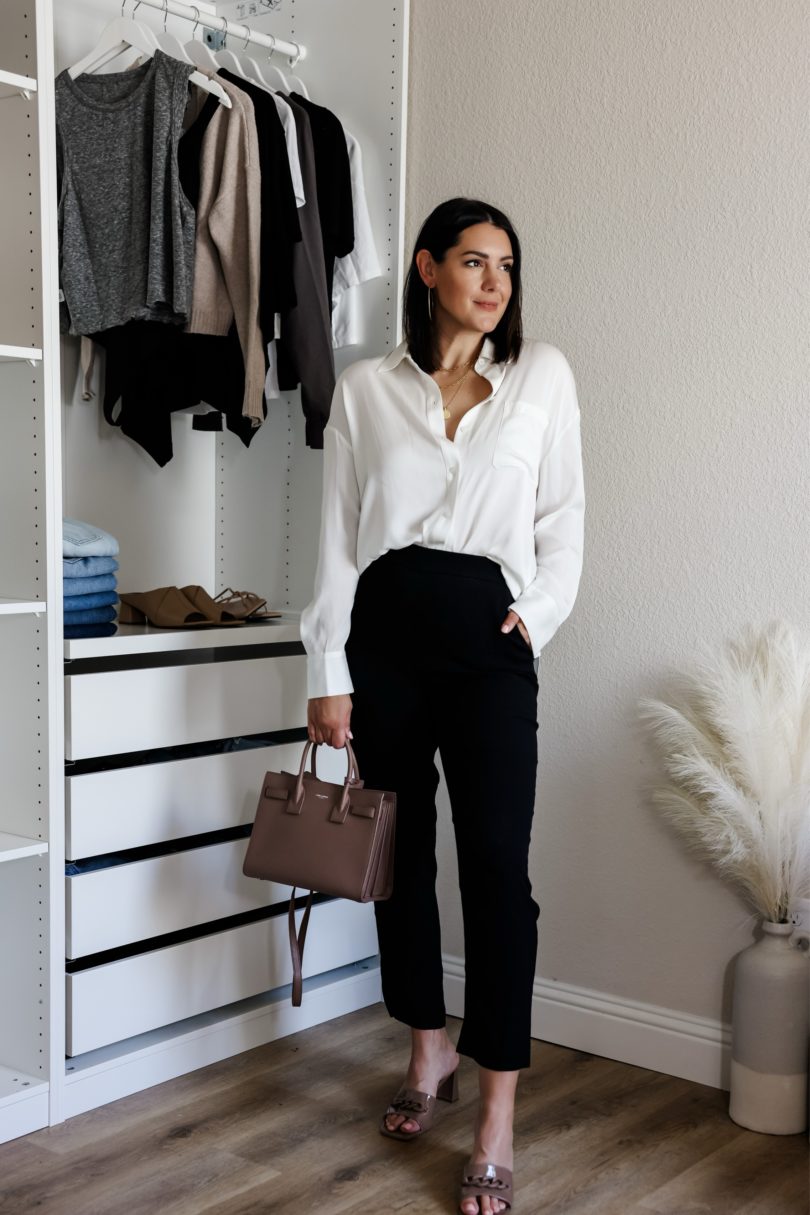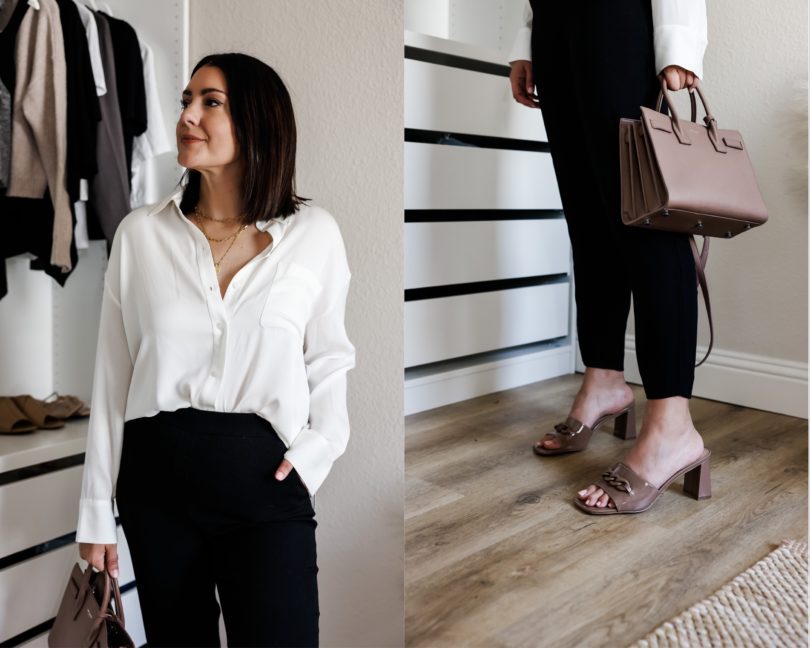 Say it with me: C L A S S I C. This look is just so classic, a silk top and black pants will get you through every season in terms of office wear. This silk blouse has a bit of a bite to her — she's more loose and relaxed than a typical button down. It lends to a more relaxed vibe, so if you prefer a tailored look try this highly rated one from Nordstrom.
// I am in the medium of this relaxed silk blouse. It is very loose, I'd say overall it fits more like a large. I personally love a loose fit, but expect it to fit very loose. Size down of a closer fit or try the alternative one I linked above! Find the relaxed silk shirt here.
Wednesday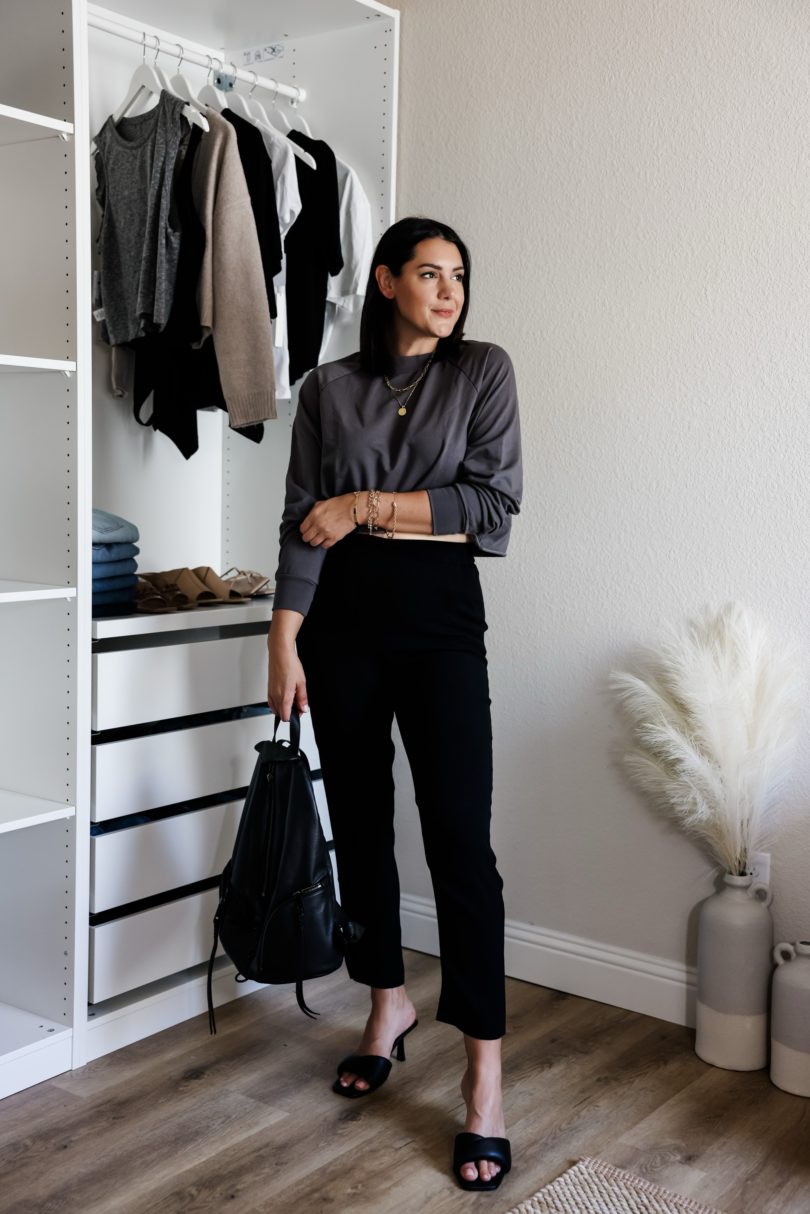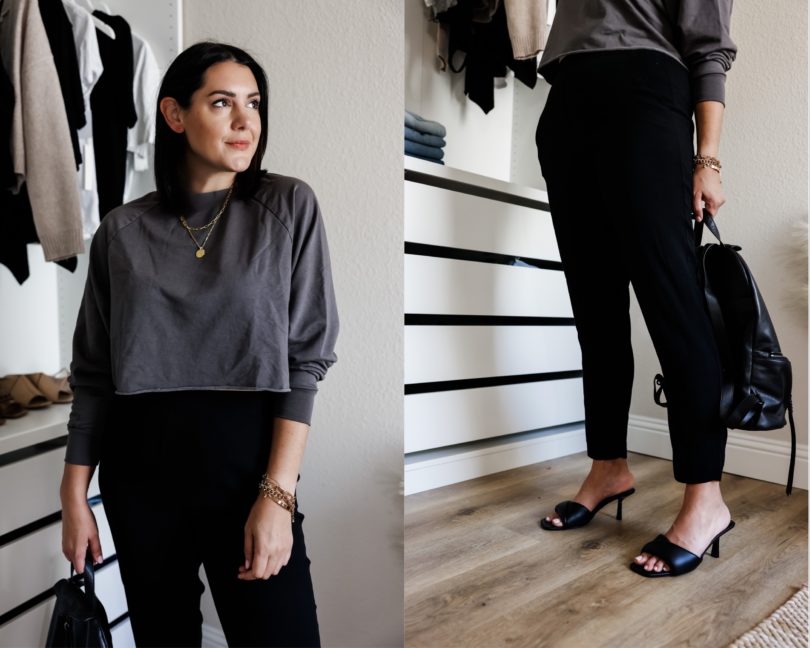 I love taking a typically casual top and mixing it up. Adding heels to this look with layered gold jewelry does the trick. I personally think adding an oversized blazer to this would be adorable. Of course, I didn't think of that until after I started writing this post. Like this one, per se.But take my word for it, ok?
Okay sure, so maybe this one is a bit risqué for the office, so I offer you an option. Scroll down to Friday (night) option, it's a body suit. You could easily layer the bodysuit under this top for more coverage.
// I am in the medium of this top. It's more of a thicker t-shirt or French Terry than a true sweatshirt. It fits true to size and is cropped at around my natural waist. Find it in four colors here!
Thursday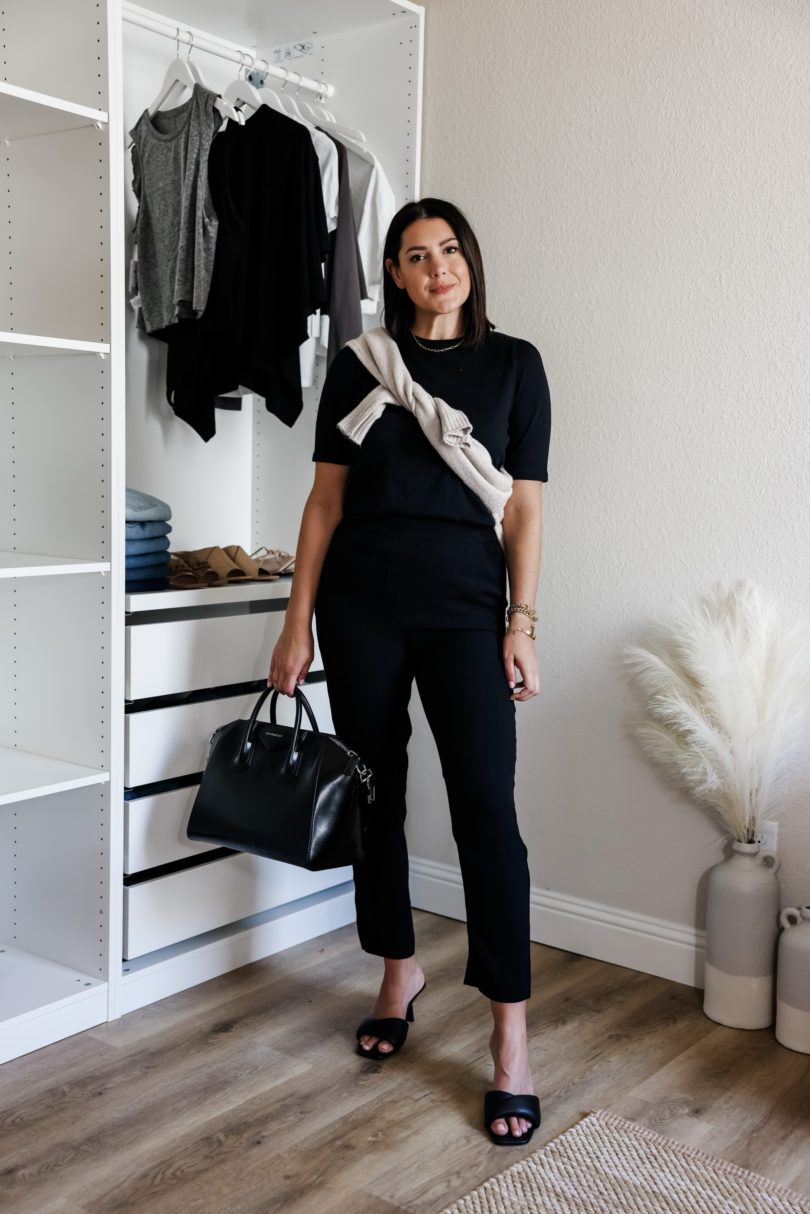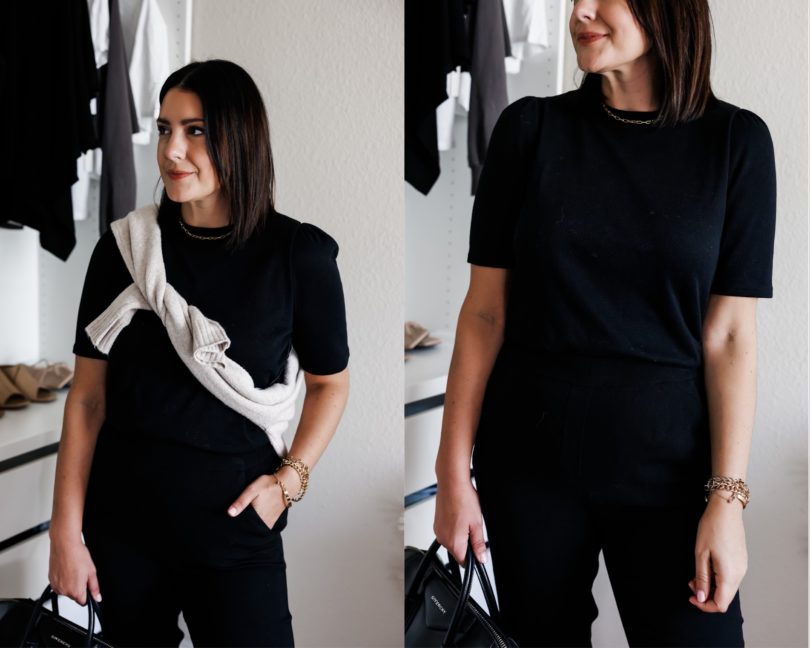 Love it or hate it, I'm embracing this sweater tossed across the body trend. And since I'm always low key cold, I like to have a cardigan with me at all times. (Yep, even in the summer! Places get cold and I'm a wimp, ok?) I think this look is so chic, too.But the real hero here is this top. I have to be honest when I pulled it out of the box I was nonplussed. It just looked kinda blah and I didn't even think I would shoot it with these pants. BOY WAS I WRONG. It's adorable on! Much better on a human than in a flat package.
// I am in the medium of the top and the fit is perfect. The sleeves have the exact amount of 'puff' that we need. It's that soft thermal fabric, too. It's one of my favorites from this post!  Find it here in a few colors.
Friday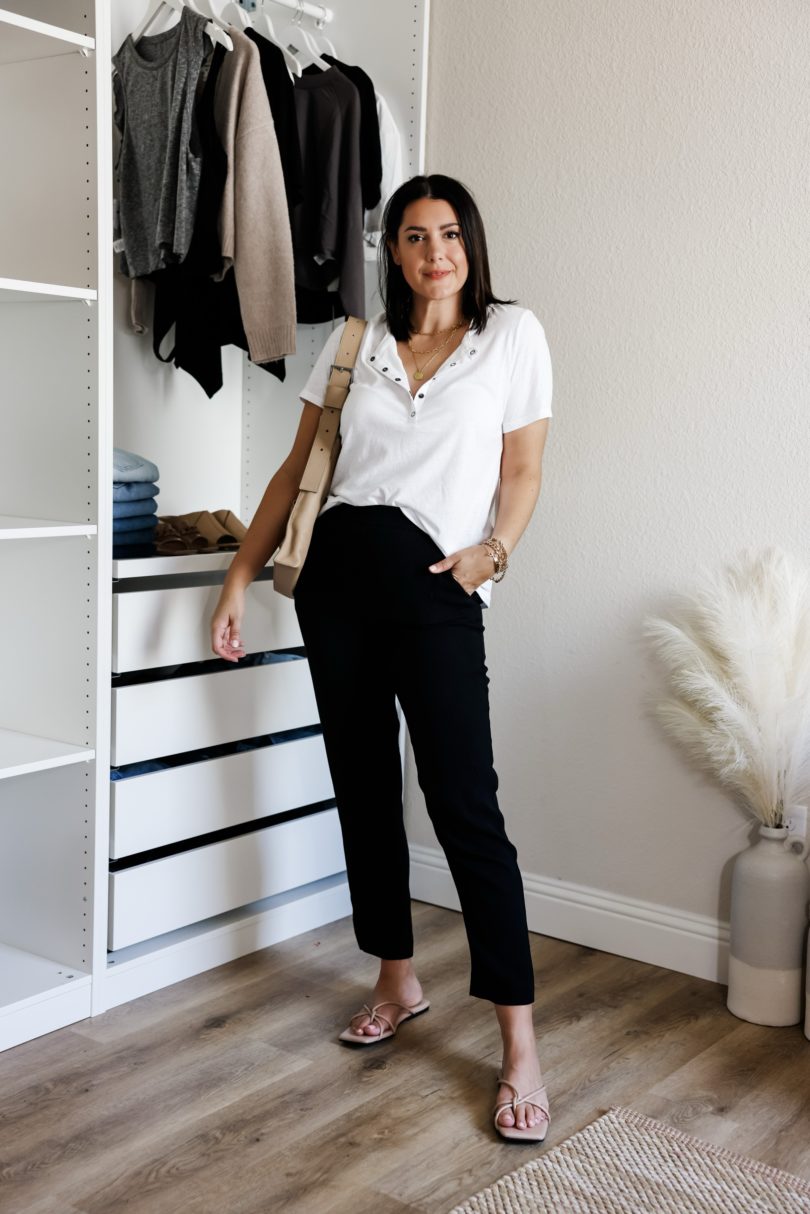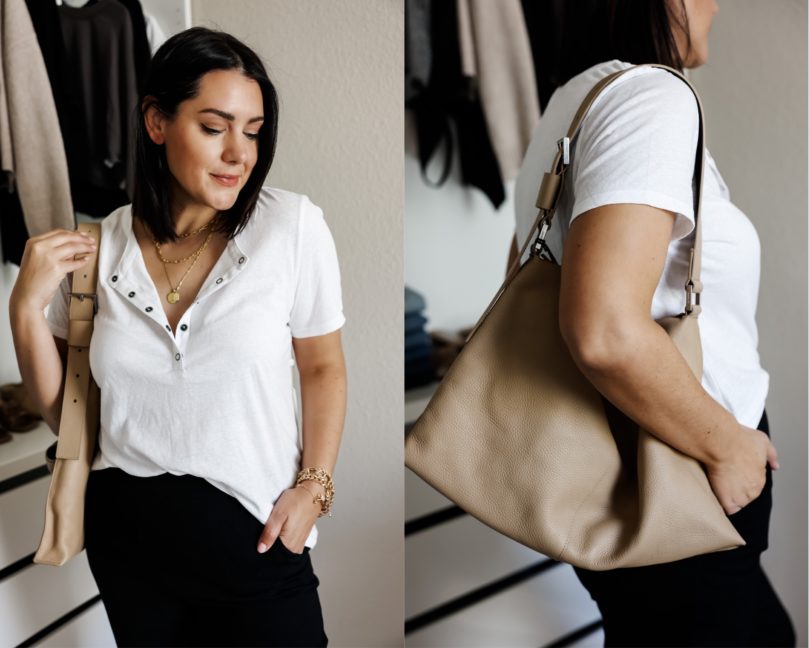 I decided to take Friday a little bit more causally here and paired this super soft button down henley with these pants and some flats. Of course you could always elevate this look with heels or take it even more casual with sneakers. It's a choose your own adventure top. The key to getting away with just a tee are the accessories — I layered my necklaces and bracelets here and matched my tote and shoes to keep the look sleek.
Need a jacket for this look? Add a leather moto jacket to this one. I would keep it slightly cropped just to keep the same proportions as your pants.
// I am in the medium of the tee. It's a relaxed fit and did I mention soft? I would say it's true to size but a loose fit. If in between sizes, then go down a size. Find it here.
Friday (Night)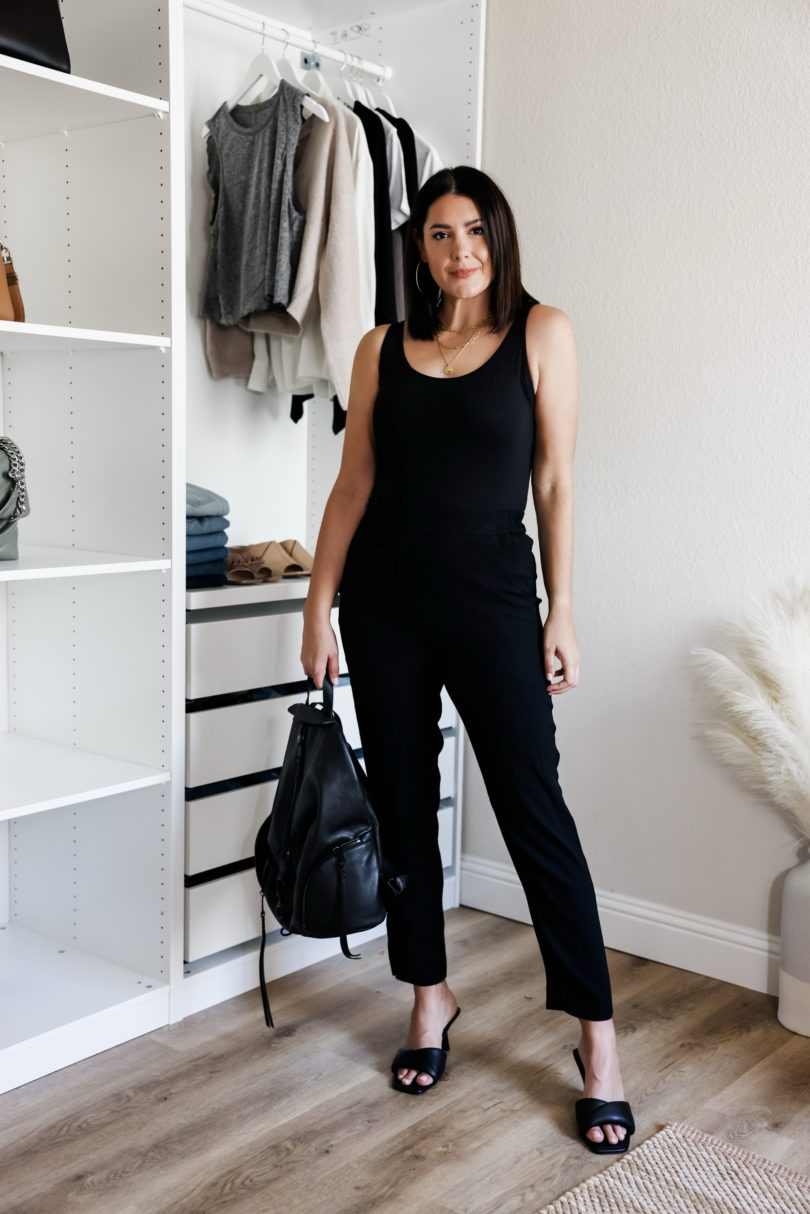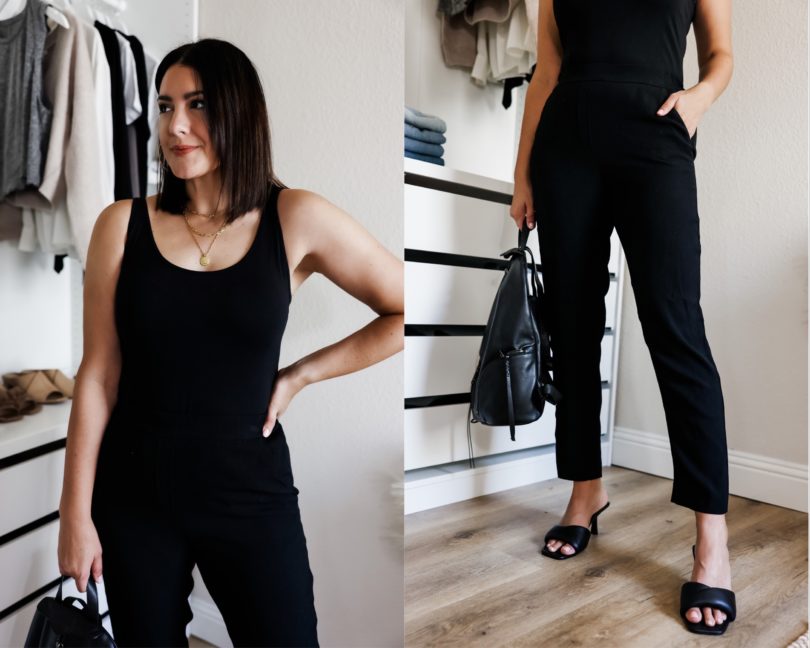 Hey-o! Coming through with that Happy Hour look for you. 😉 What's more chic than an all black outfit? Nothing I say. Toss on this really flattering bodysuit with some gold hoops and you've got yourself any easy date night or happy hour 'fit. (Add that moto jacket or that blazer I linked above for a third piece!)
// I am in the large of the bodysuit. If you need length, size up but overall I'd say it's true to size. I did need the length so I like this size but it fits true to size. It's a thong like strap which is surprisingly comfortable for a body suit! I'm really impressed with this one for just being $12! Find it in a few colors here!
Saturday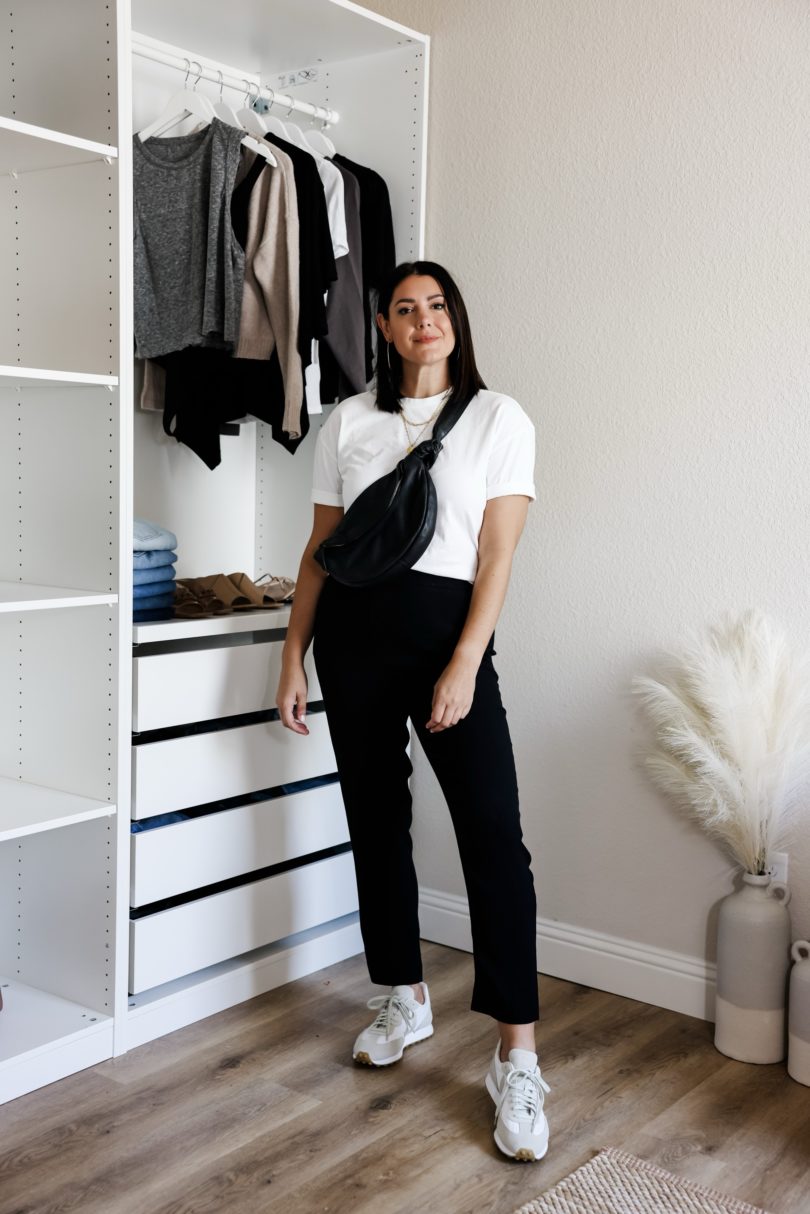 This look just screams she's going to the donut shop with her 4 year old doesn't it? Well, it should because that's where we go on Saturday. Gym, donuts, farmer's market. It's all about balance, you know? Taking a more causal approach to these pants and almost treating them like joggers, I paired them with this loose tee and a belt bag for an easy on the go look. It's cool, it's effortless and it's C O M F O R T A B L E.
// I'm in the medium of the tee and I have my sleeves rolled above. This tee is a nice weight and is slightly boxy with longer sleeves. I personally like this look of a tee because I find it to be comfortable to wear and easy to style it. You can find it under $15 here!
***
Which look is your favorite? Saying 1-8 is absolutely an acceptable and applauded answer. 😉
____________________
This post is sponsored by Nordstrom! Thanks to Nordstrom for the partnership and thanks to YOU for supporting the brands that support our blog!