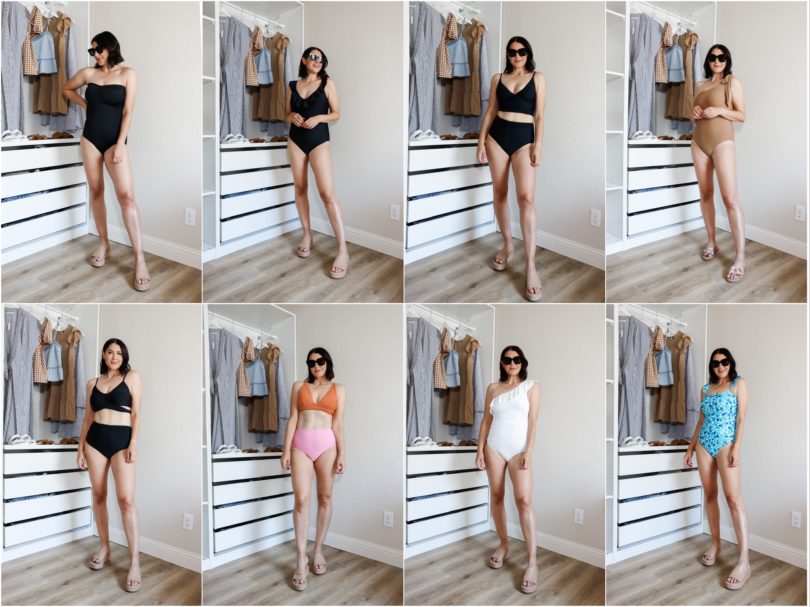 I thought I'd start this week off with some of my favorite swimsuits for the summer! We've got them all — floral, ruffled, plain, cheap, spensy, mismatched. There is no corner l I've left unturned! Each of these have been worn in the pool, or as Gemma would say 'FOR REAL LIFE' and have been washed as well. I like to make sure each swimsuit is of good quality and holds up in the pool and after washing. Each one of these I would recommend highly, as they wash without stretching or shrinking and wear well in and out of water. I'm also super comfortable in each of these. Comfortable for me means that I don't find myself tugging at them around my tummy or thighs like it's too tight and I prefer to be mostly covered at my chest and butt. Each of these all fall within the constraints my own comfort zone, so that's where my rubric for 'comfortable' comes from. Everyone has different comfort levels and mine probably leans more to a modest level, but please note it's out of my own personal comfort not out of feeling shame for my body. I've learned that if I feel comfortable at the pool is when I have the best time. Plus having a toddler around a pool, I like to be able to move quickly and not have anything fall out of my swimsuit or have to constantly mind what I'm wearing.
 I'll leave all of my sizing info and fit suggestions below each swimsuit as well as my suggested coverup, too.
The Cheap One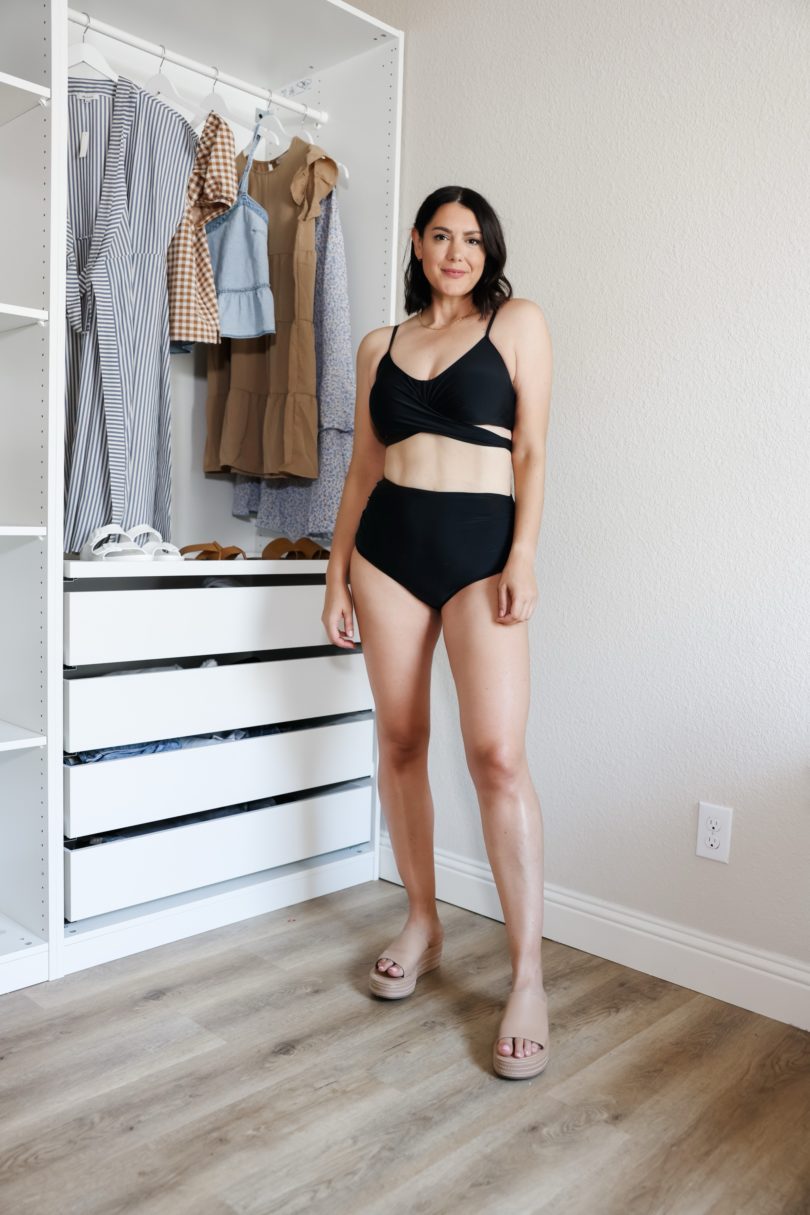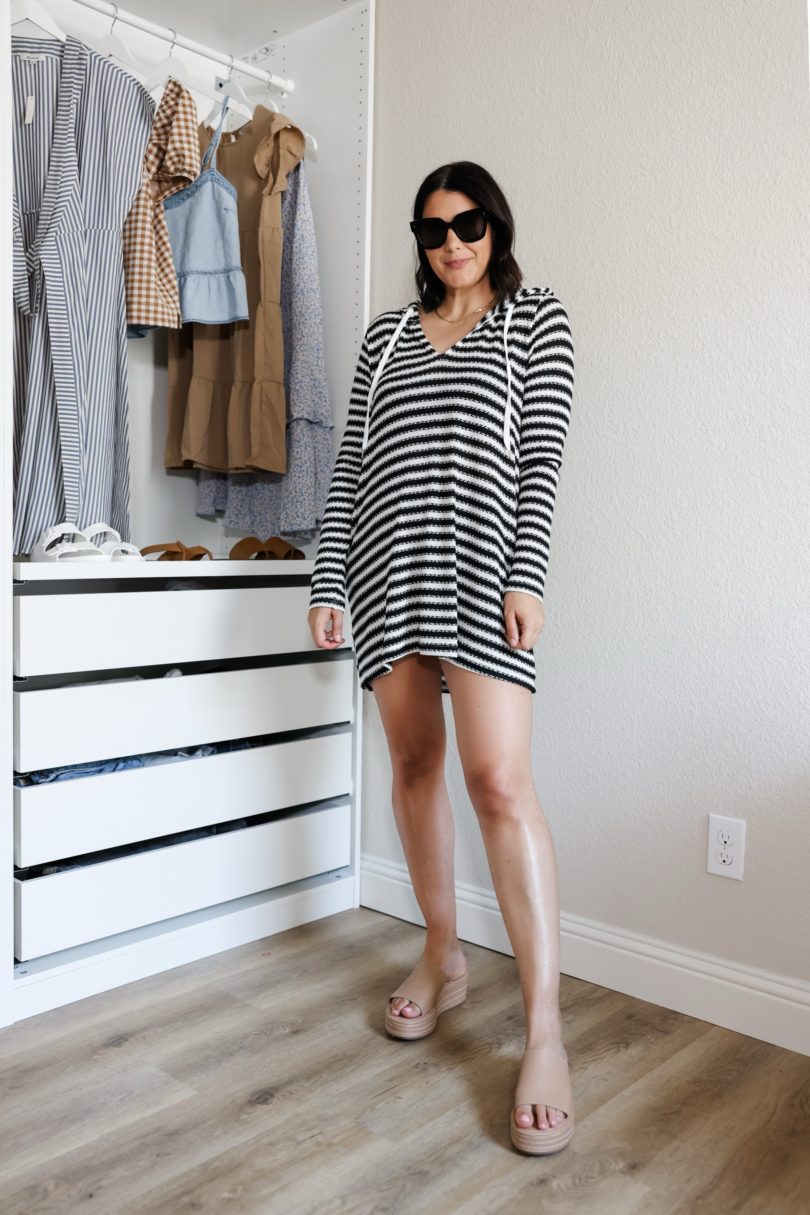 I bought this swimsuit on whim because it was $12 when I saw it online and I thought what's the worst that can happen? It fits truly awful hurts my feelings? Pshh. I've been through worse. So I took a chance on a $12 suit and WOW am I glad I did. The bigger the risk, the bigger the reward is true in this situation. It has great support for bigger chest, the bottoms are actually high rise and it's a really quality suit. I've worn / washed this suit and it stays the same. (I always hang my swimsuits to dry bc I never want to chance a shrink.)
I am in the medium of this suit. It fits true to size. Find it here.
The coverup is from Nordstrom! It runs true to size. Find it here.
The Favorite One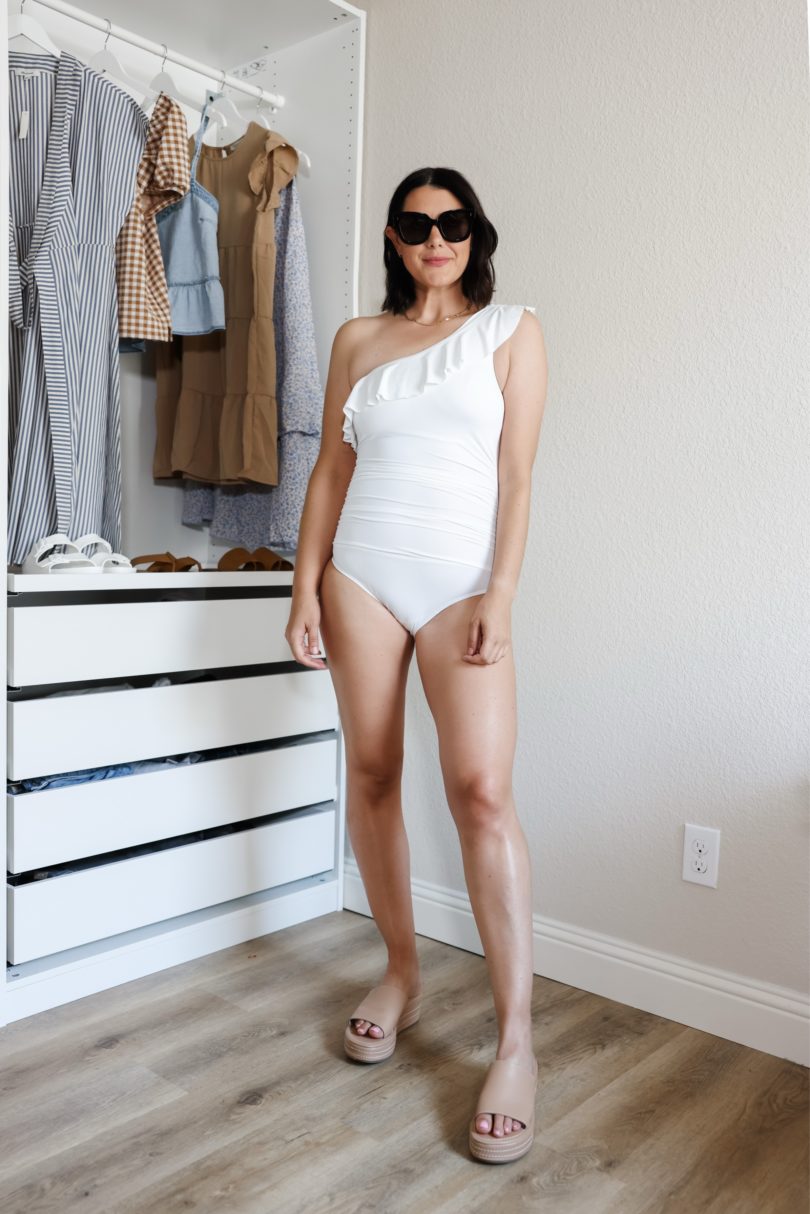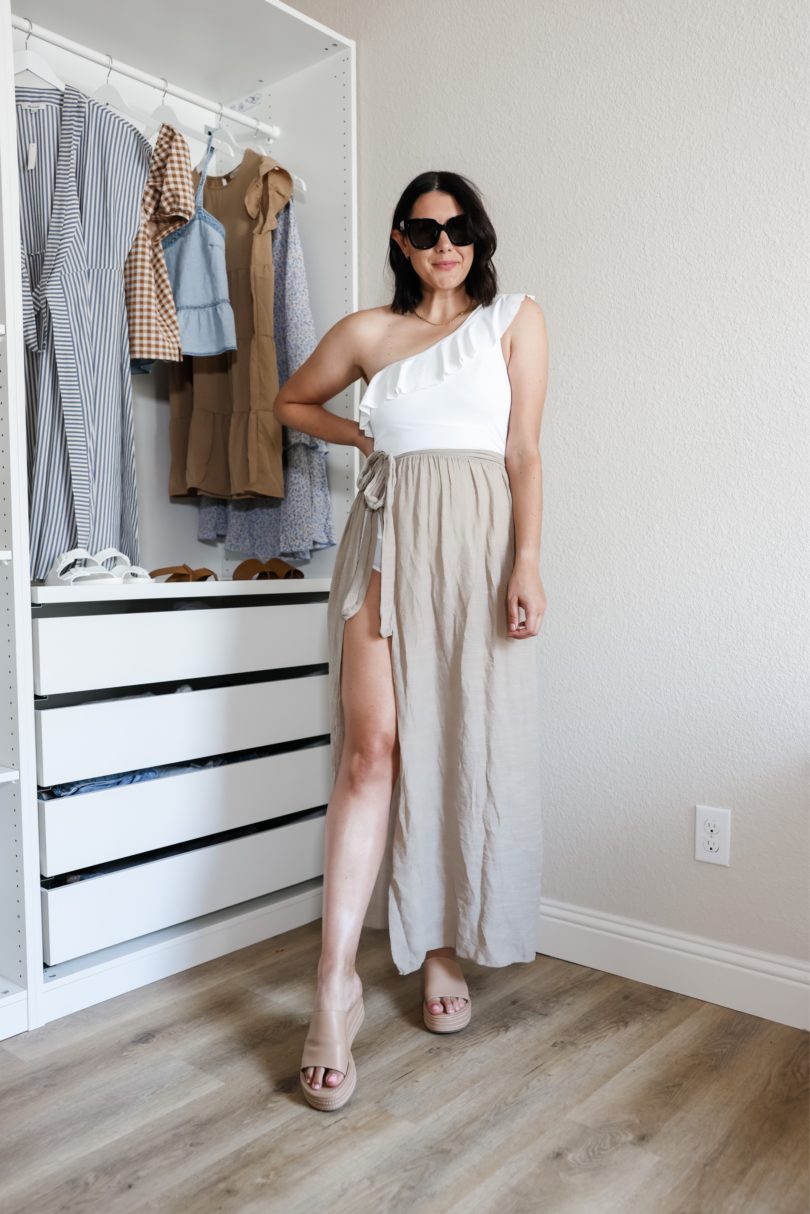 I've talked about this suit before and it is one of my very favorites. I bought the black one the summer I was postpartum and I was THRILLED with how it fit. It was the first swimsuit I'd ever put on and felt 100% comfortable. There is support in the chest (it's more of a smash than a lift though) and there is a tummy control at the waist / hips as well. I decided to buy the white this year because I was feeling flirty, you know? But black is always my favorite.
I am wearing the size 8. It's fairly true to size, as this one fits me best as a 6/8. Find it here.
The skirt is defiantly just a coverup because it's sheer and it's one size, but it fit me just fine! The leg definitely pops out no matter, so if you don't want an exposed leg, then this one isn't for you! Find it from Amazon here. 
The Strapless One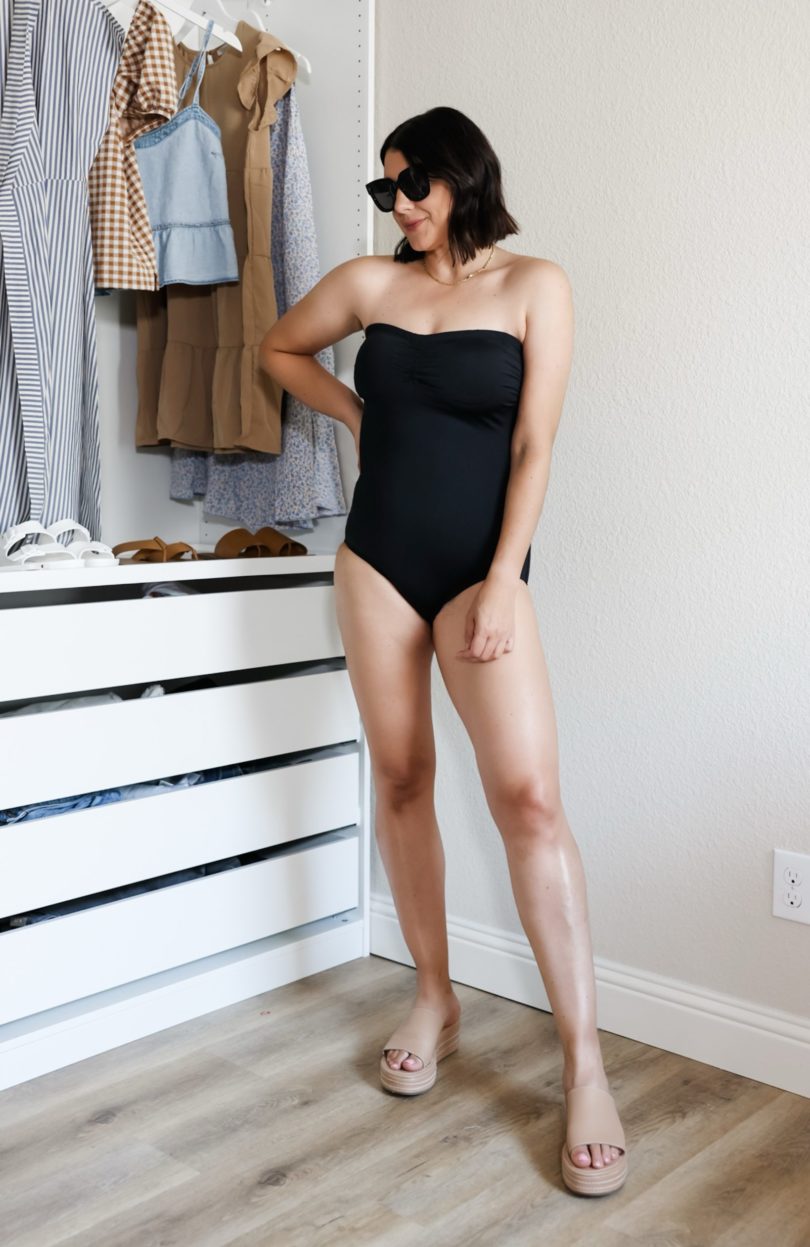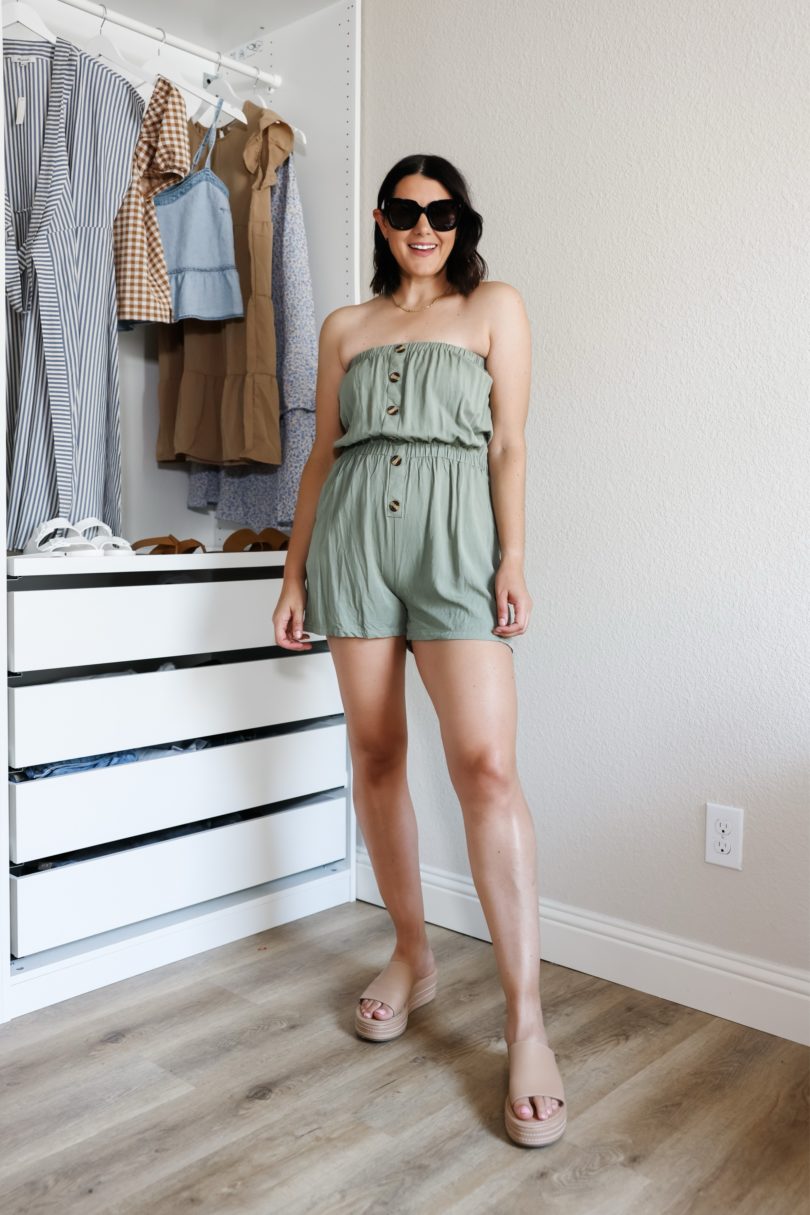 This swimsuit is from the same brand, Hilor, from Amazon that I absolutely love. It is the same fit as the one above, except this one is optionally strapless. Of course for me now it is full time strapless because I've lost the one strap. Typical. But it does come with a halter strap that works well, when you don't lose it. I am in the size 8, true to size for me and plenty of room for bigger boobs!
The chest has cups and a drawstring to keep the swimsuit up as well. Which is alway my fear with a strapless swimsuit or bandeau. Find it here.
I am in the medium of the romper. True to size! Find it from Amazon here. 
The Colorful One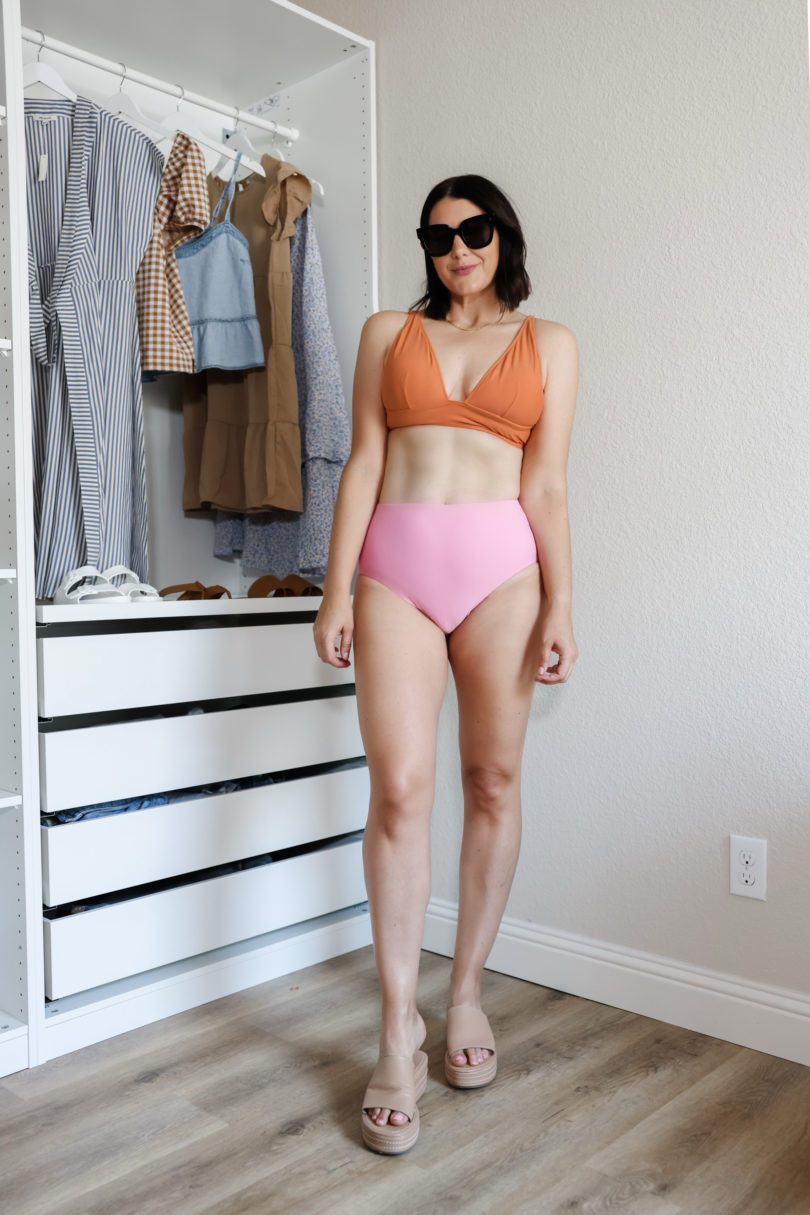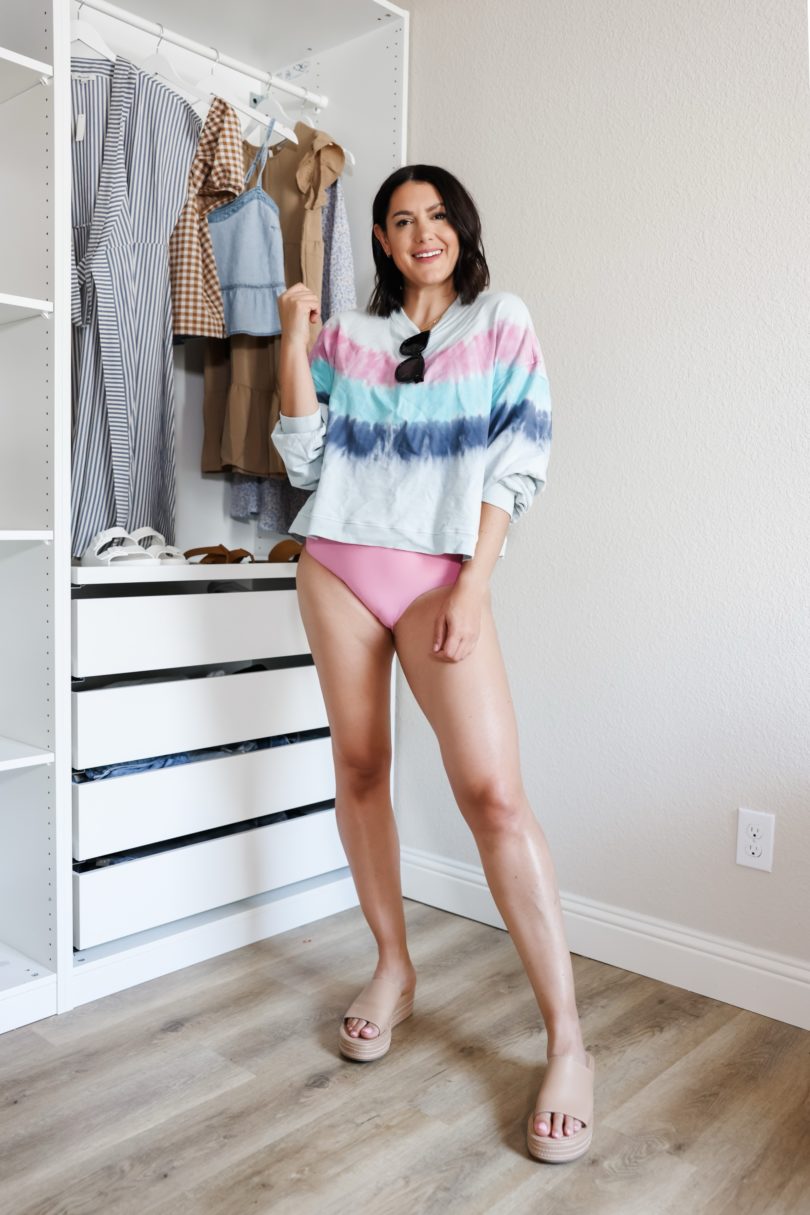 I wouldn't be Kendi Everyday if I didn't have some sort of tacky color blocking this summer, now would I? True story, I saw this exact bathing suit mismatch on the mannequin outside the store and walked right in and bought it just as I saw it. Turns out, store displays DO work.
I sized up in the bottoms and the top and I'll tell you why. The top needed more room so there was no nipslip (is it better if I put it in all one word?) and the I preferred the look of the large bottoms over the mediums, personally. They came up a bit higher and didn't hug my hips as much. I would say size up if you want a bit more wiggle room as well.
Find the top here. Find the bottom here.
The Comfortable One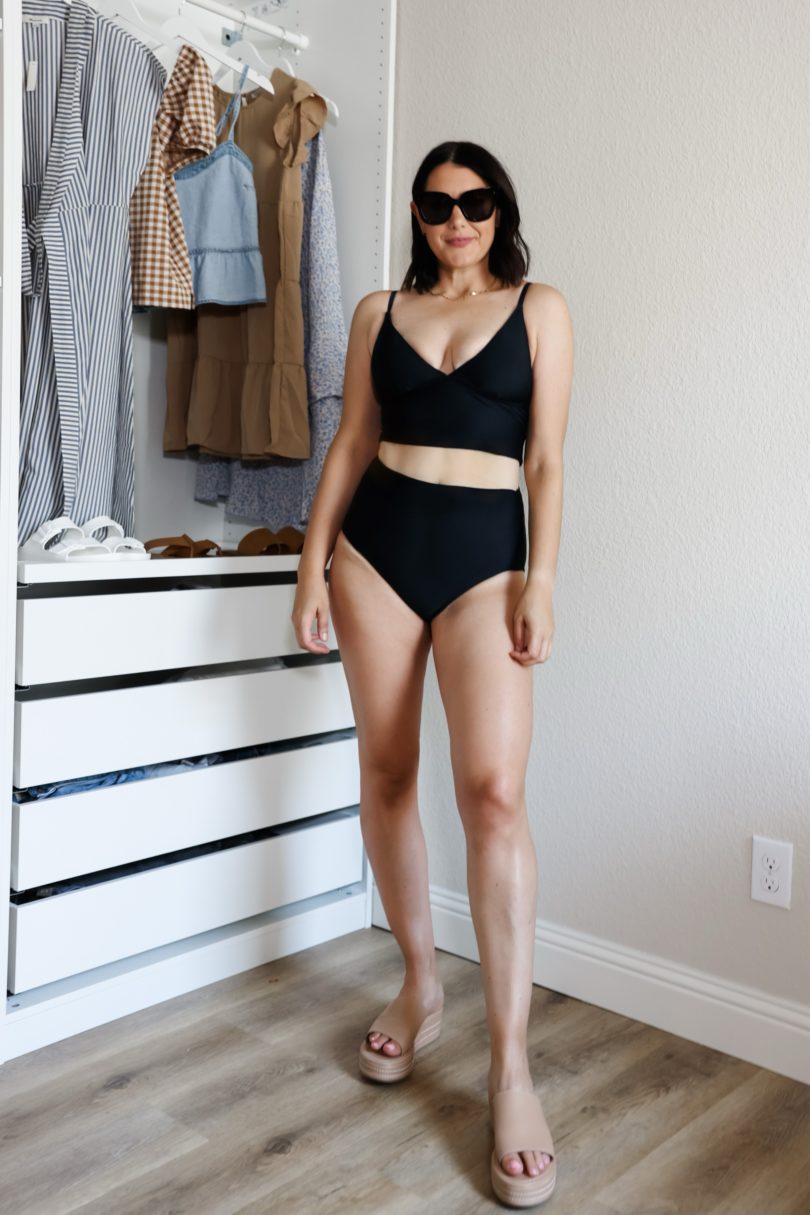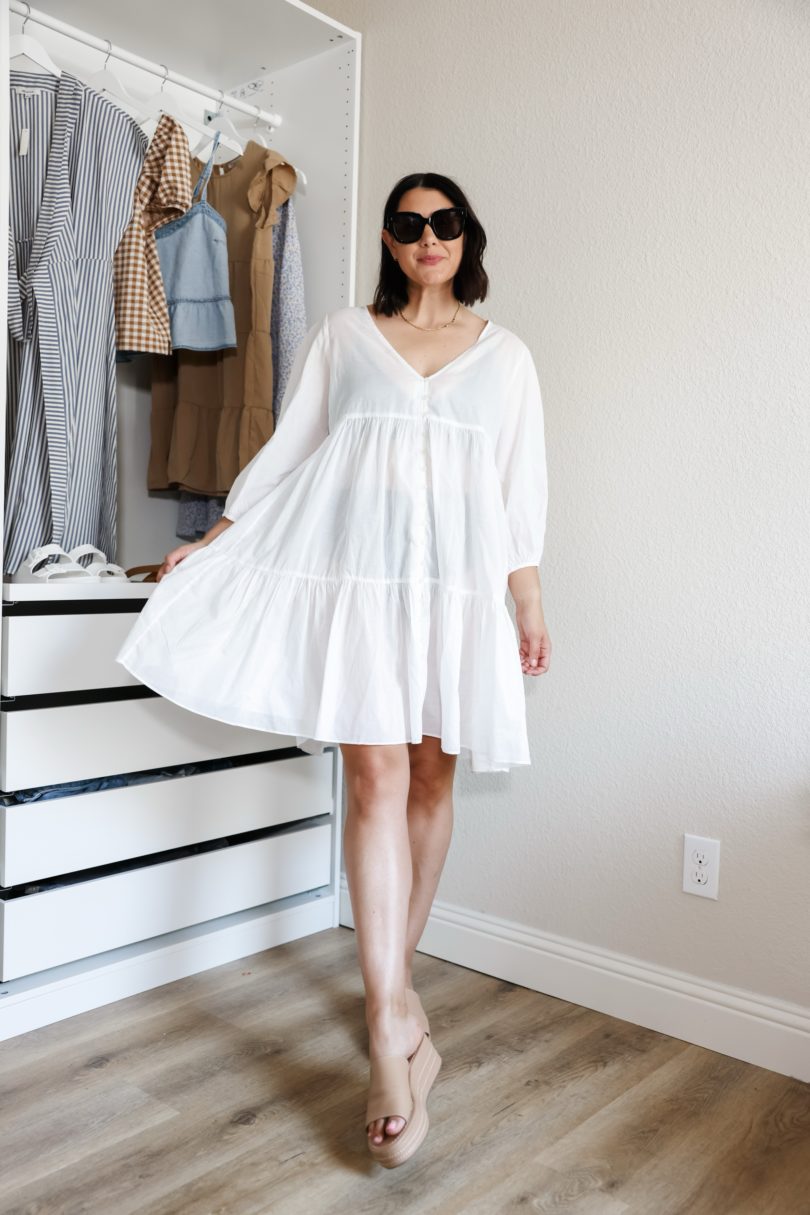 Hand to God, I am not a two piece wearer. But on my 36th year, I have for some reason decided to get me some two pieces. And let me tell you, the stars must have aligned because I have found some of the best swimsuits in years. This beauty is from Old Navy and let me tell you — if you are a long torso'd lady who likes high waisted bottoms and tops that have just the right amount of coverage, then welcome. You're home now. I love this swimsuit for hanging out by the pool with Gemma because it covers my booty, my boobs and nothing falls out when I'm jumping in and out of the water with Gemma. (She's 3 and wild. So I basically need a bodysuit to keep things secure.)
I am in the medium of both the bottoms and the top! True to size! Find the top here and the bottoms here.
The Floral One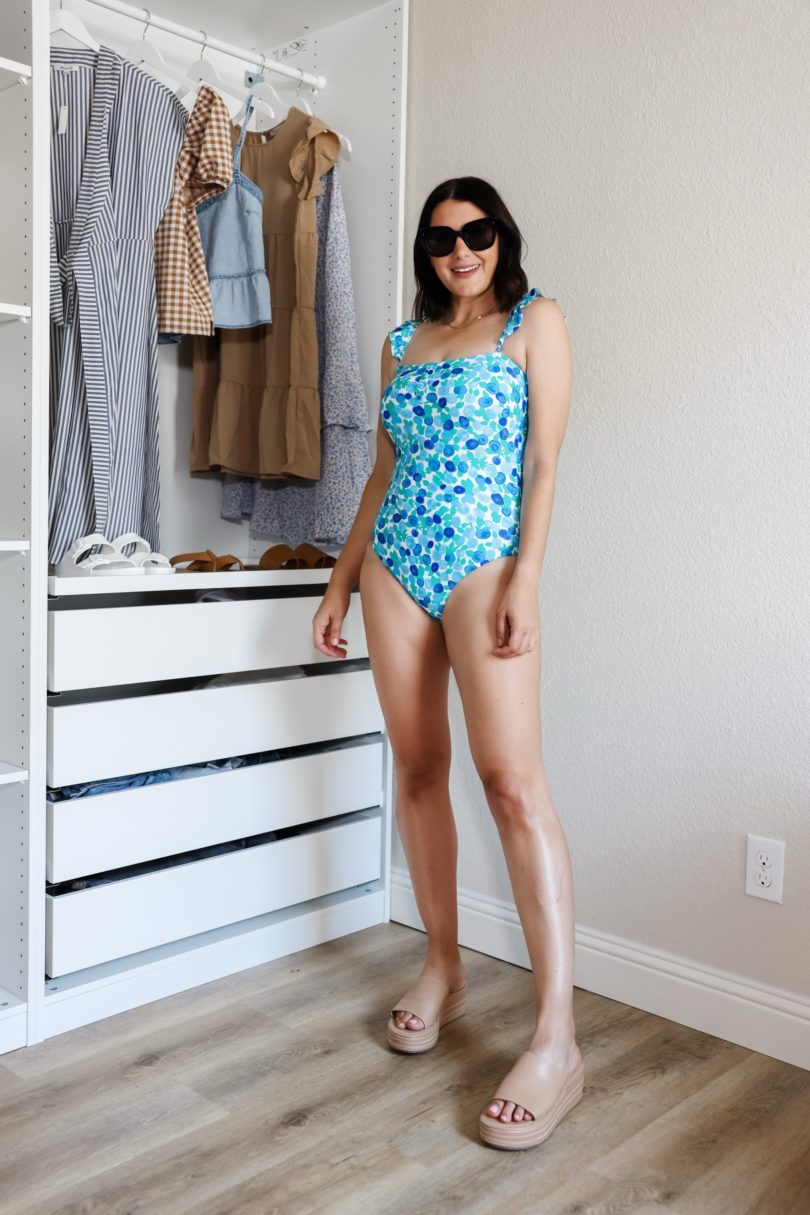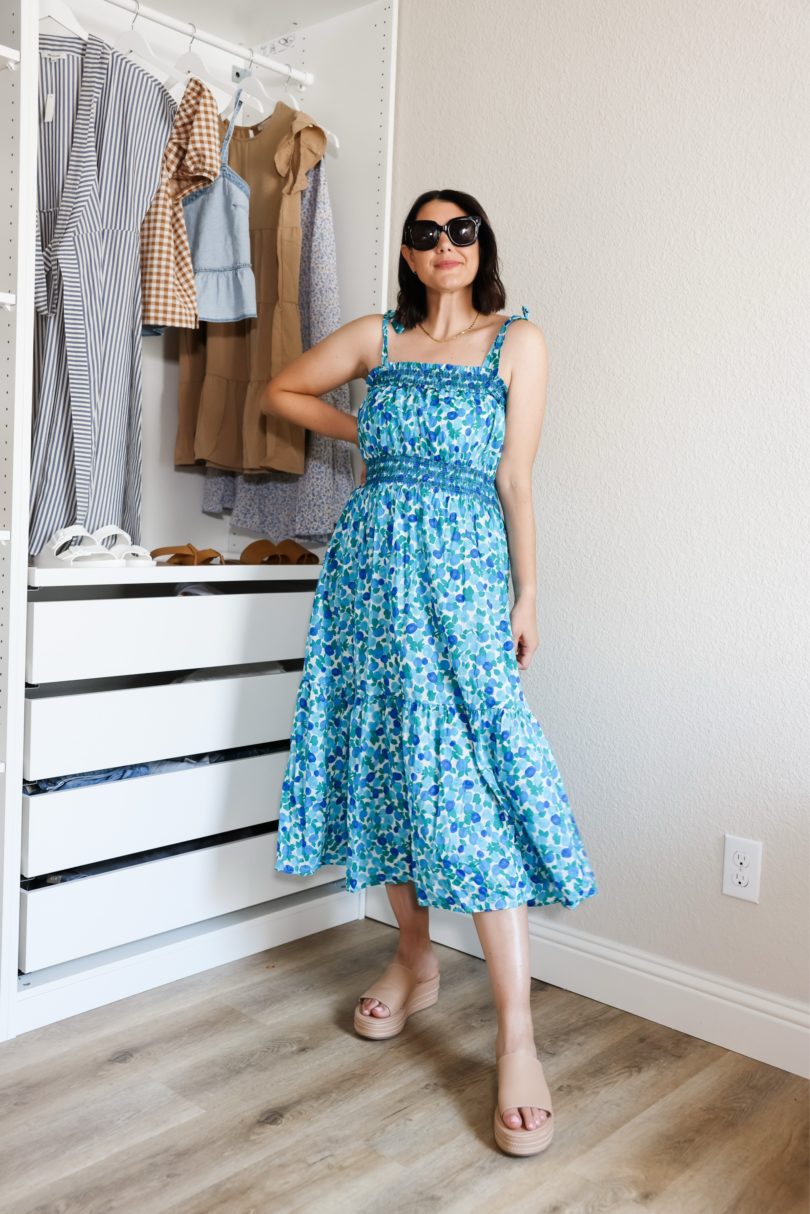 I have a low-key obsession with matching my swimsuits to my coverups. I mean it's not a huge thing, really. It's not a must, like I don't make everyone wait on me to go to the pool while I search the closet for the perfect cover up. At the end of the day I usually just toss something over my swimsuit and go. But I do get a mild thrill out of a complete set. This dress and this swimsuit absolutely thrill me. I found this coverup on sale after I bought the swimsuit too, so you can only imagine my glee.
I am in the 8 of the swimsuit and I approve of that message. True to size and fit is great! Long enough for me as well. I am in the medium of the dress, it is tighter at the chest / under the arms due to the smocking. Size up for bigger boobs! Find the swimsuit here and the cover up here.
The Neutral One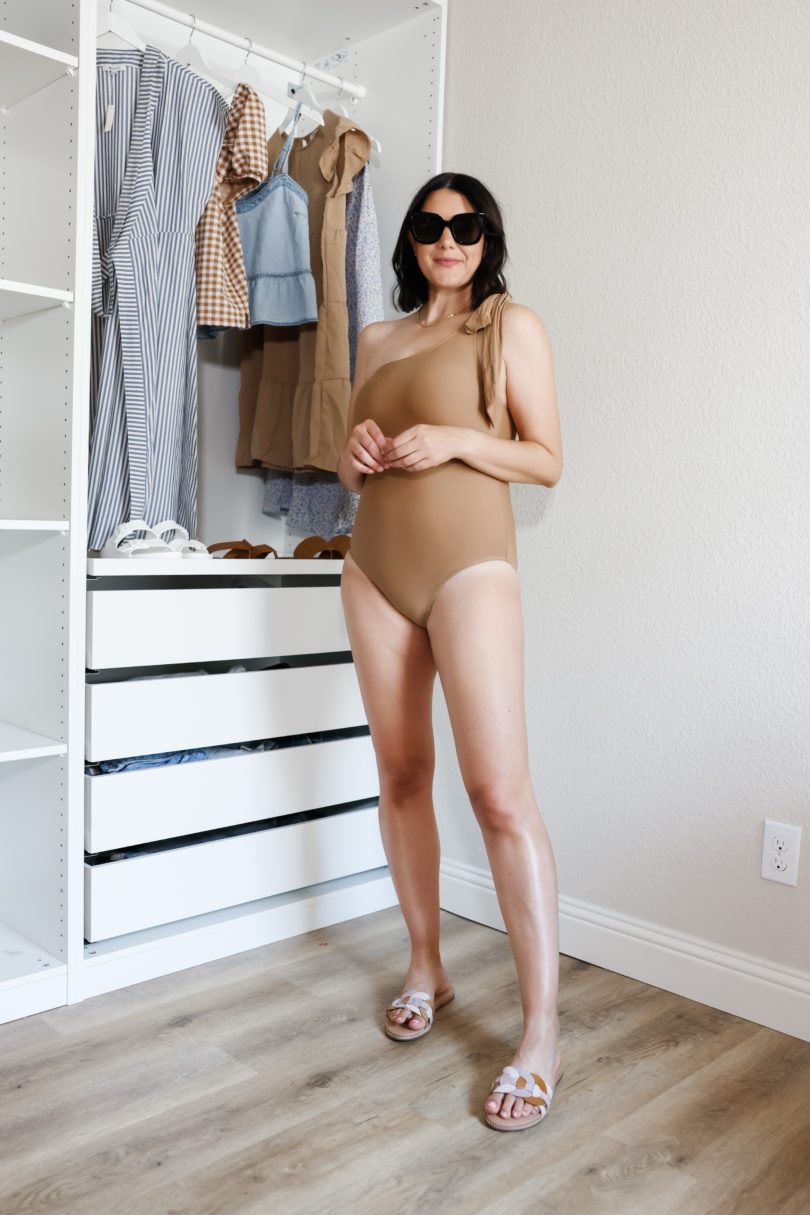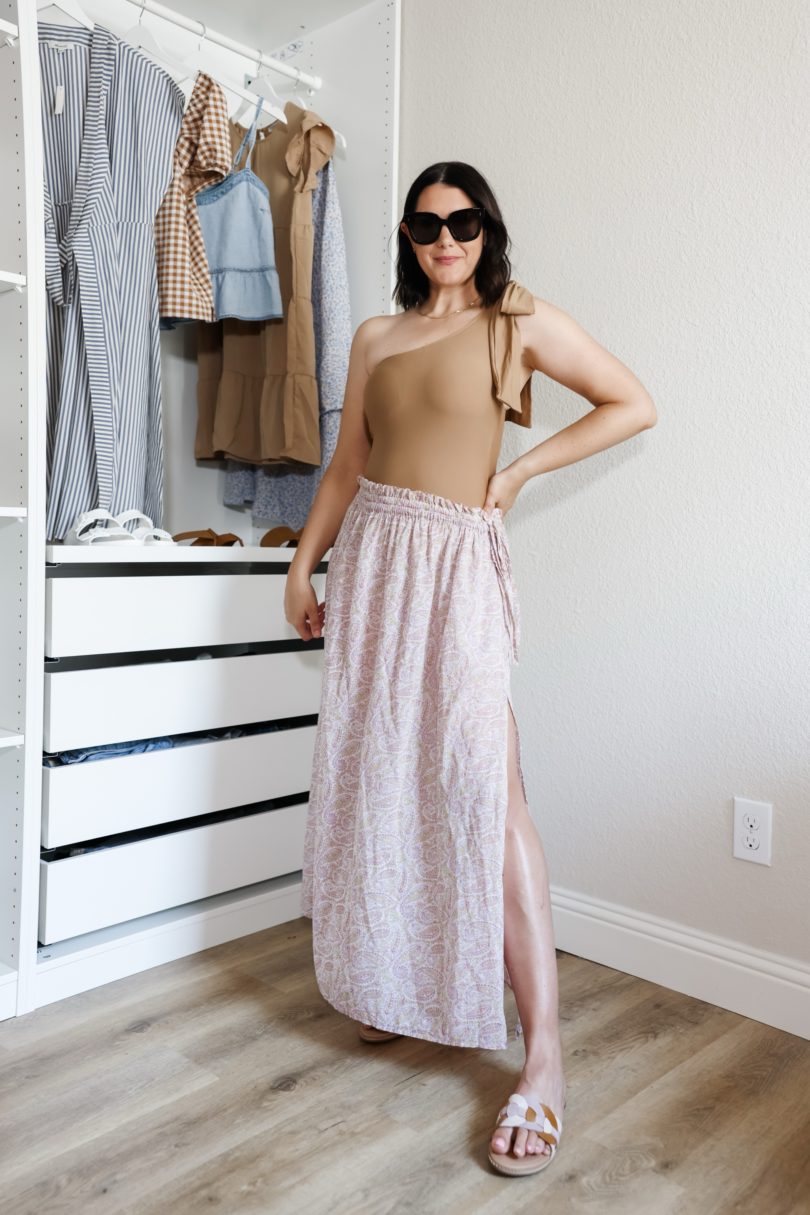 For all my friends out there who are over black swimsuits (you good?) but don't want a bright color (who hurt you?), what about a nice neutral tan? I loved this one from J.Crew even though I do have some issues with the boob area. But let's get to that in a moment. First off love the color and it would look beautiful on darker skin tones as well. Second, I love the tie at the shoulder and that it's actually a tie so you can adjust it anyway you want. Now I had to steam it (womp womp) to get it unwrinkled and fashion it the way it looks in the photos online. Shipping and handling looked like it had a field day with this bow. But it was worth the final look.
My one complaint? It's just a little bit low cut. So it's a personal thing, not necessarily on the swimsuit itself. I feel like it needs about an inch or a half inch so that I could have length in the torso AND up at the chest. But overall it's a nice swimsuit and a good fit. I'm in the 8. True to size!
Find the swimsuit here. Find the cover up here!
The Frilly One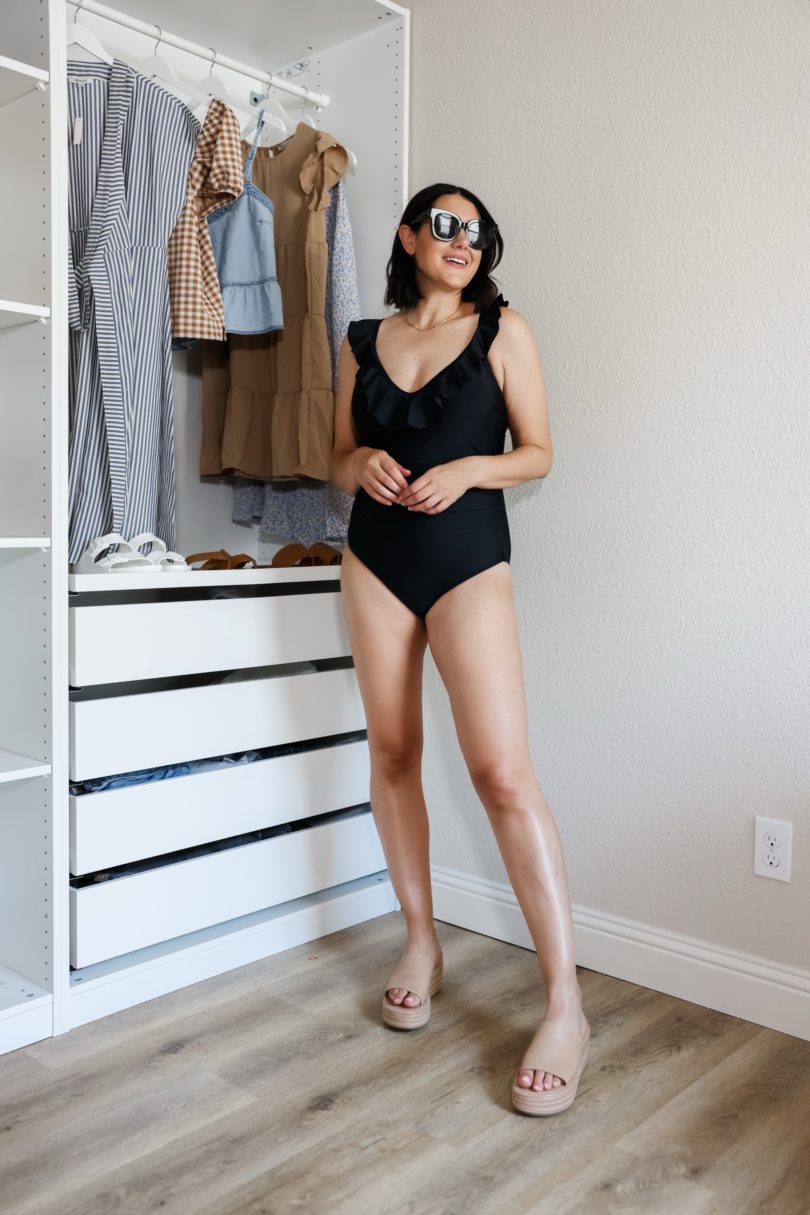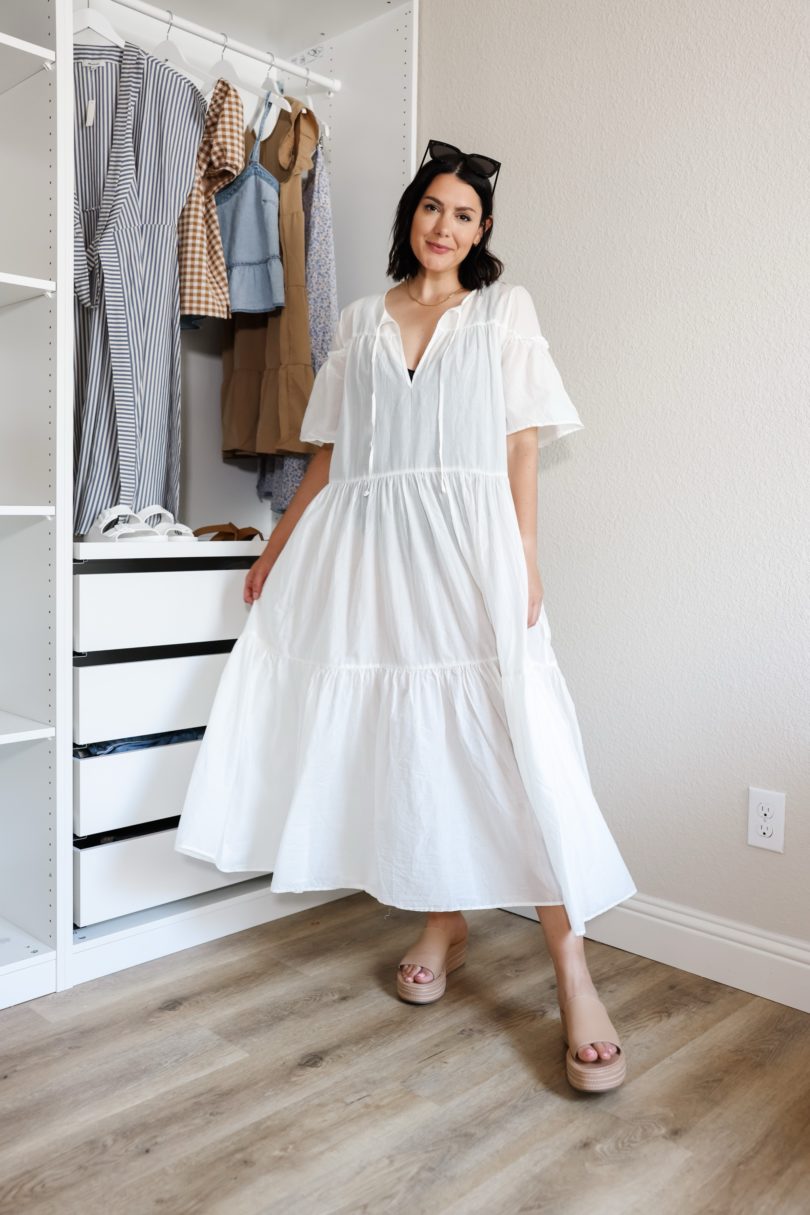 Last but not least, this is another one from the Hilor brand on Amazon. I told you it was fire. This is my 'mom suit' if I had to say I had one. I feel like a damn cute mom in this thing. But I call it my mom suit because it's the most covering and easiest to wear when swimming with kids. I could change a diaper, grill a hot dog AND perform CPR in this swimsuit without thinking twice. Now that's a good suit right there.
I am in the 8 — true to size! Find it here. Find my coverup.