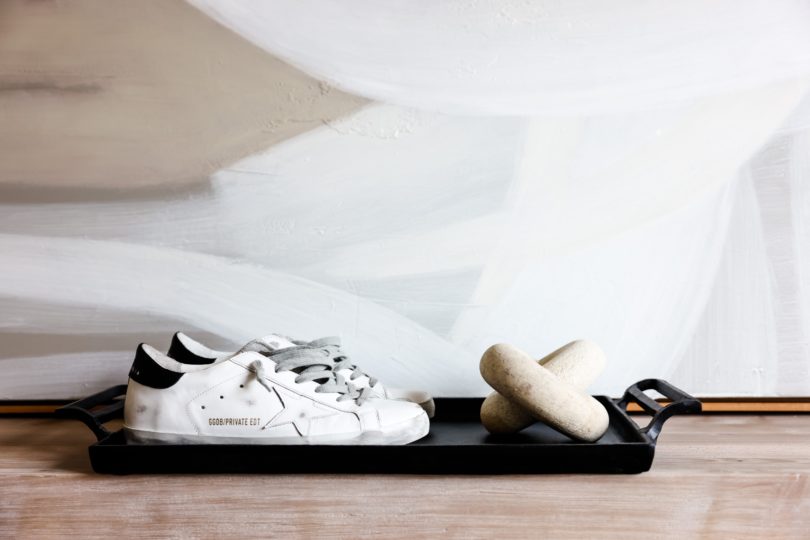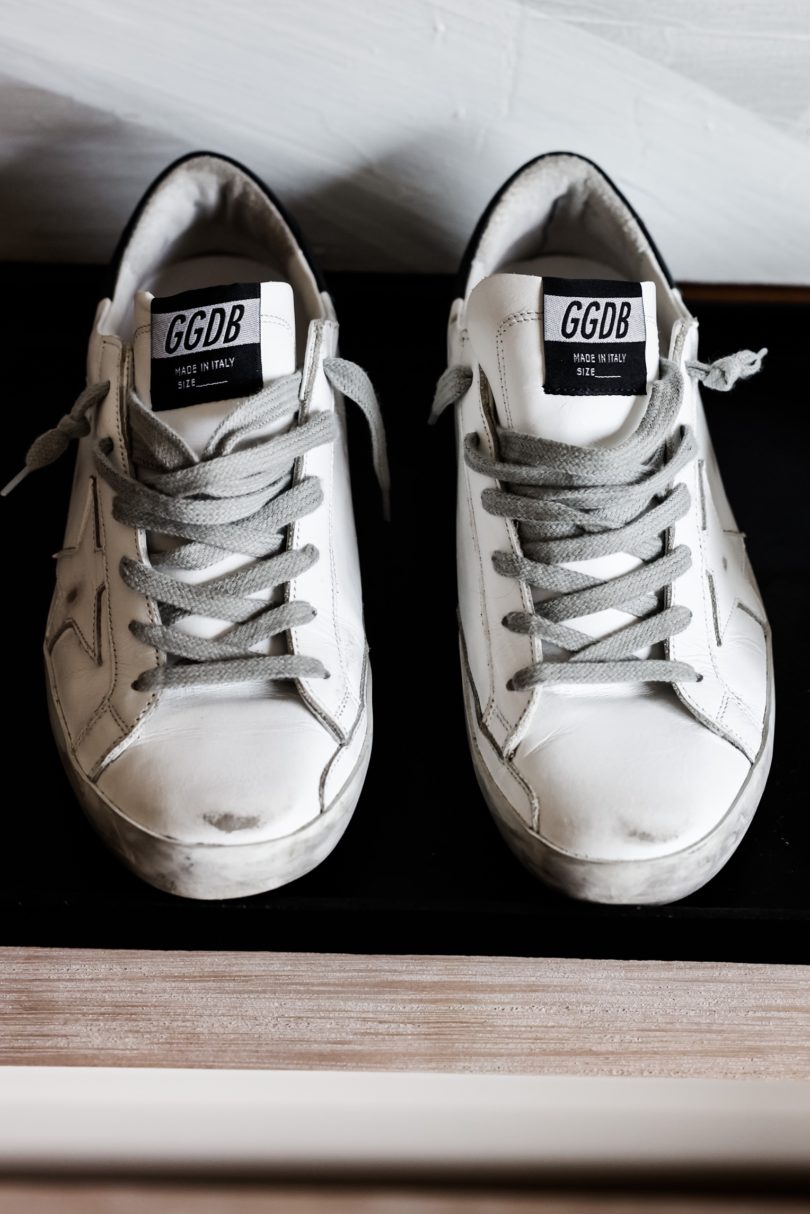 Admittedly, I've tip-toed around my Golden Goose sneakers the last 6 months because I know they are ridiculous. They're one of those things that you hate yourself for loving. Some people have savings accounts, I have ridiculous priced sneakers.
(I'm kidding, of course. Plus I'm gonna cash out on my collection of Beanie Babies one day.)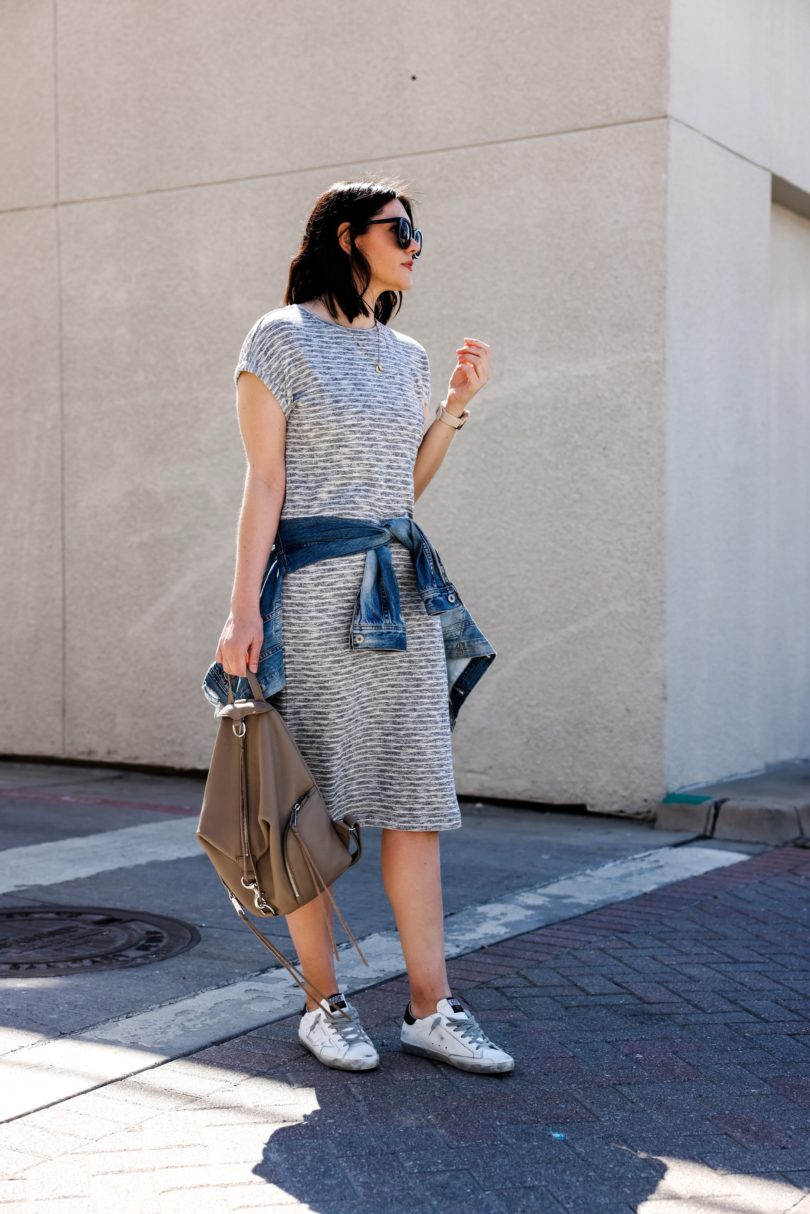 First off, I hated Golden Goose sneakers when they first arrived on the scene. I mean HATED. Why would I want dirty sneakers? Was this a jealousy or actual dislike? I don't know but I as it turns out, I actually really wanted some. I watched them for a full year or two before I decided I wanted to give them a shot. It's been 6 months and I can't tell you how much I love my Golden Goose sneakers. 1) because that sentence sounds like the line in "10 Things I Hate About You" when she says 'I like my Sketchers but I love my Prada backpack." (Inane — is that the word I'm looking for?) and 2) because I am aware of what I do as an influencer. I can't ignore the fact that these are $500 sneakers I'm talking about and while I'm not one to shy away from a designer purchase, however well thought out and intentional, I never want someone to feel pressure to buy them because of me or any influencer. As it turns out, I really do just like them and I wear what I like on here, no matter the price. If something is $20 and I feature it here, that means I like it and I think you would, too. Price isn't the only thing that gives something worth or value in my book.
So I say all of this with this disclaimer: if you are interested in Golden Goose sneakers and want to know if they are worth it, I'm giving my review below. If you feel seasick from even looking at their dirty leather and the price, then keeping scrolling to the end because I've rounded up A LOT of look alike options for you!
So…are they worth it?
This is the number one question I get about Golden Goose. That and what socks do you wear with them. It's hard for me to quantify worth for anyone but myself, as 'worth' is highly subjective. So I'll break it down to a few categories and let you decide: comfort, style, wearability.
Comfort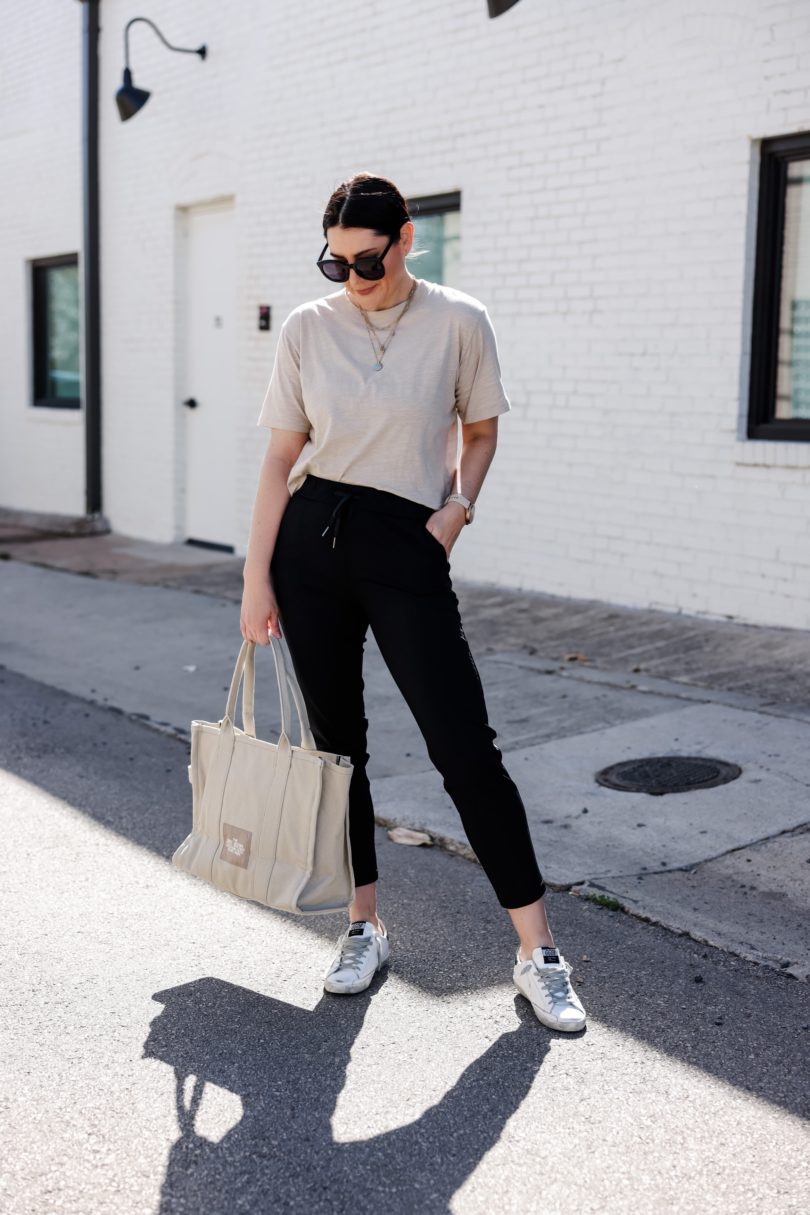 As for sizing, they're kind of all over the place. After reading reviews, I decided to stick with my typical size. I got the size 10 listed on Nordstroms site and when I first got them in I felt like they were too snug. But my greedy ass didn't want to return them so I started wearing them around the house before taking them to the non-returnable streets. As I broke them in, they stretched just a bit and now they are perfect. I would say if you are in between sizes, go up a half size but this is debatable, as some people suggest going down a half size. But for me I need like a quarter of an inch more but not a whole size up to an 11 so I kept the 10. (I will say in EU shoes or designer shoes I'm typically a 41 which bills as an 11. Weird flex, but ok, Kendi.) The back heel is looser which is the saving grace and ultimately made me decide to keep the 10. They have stretched with wear and are perfectly comfortable now.
I can wear them all day, no problem but I'm not a commuter or someone who is on her feet all day long so I can't speak to that. I probably wouldn't wear them all day at say Disney World, but I find them to be nice for all day wear. Comfort: 8/10
Style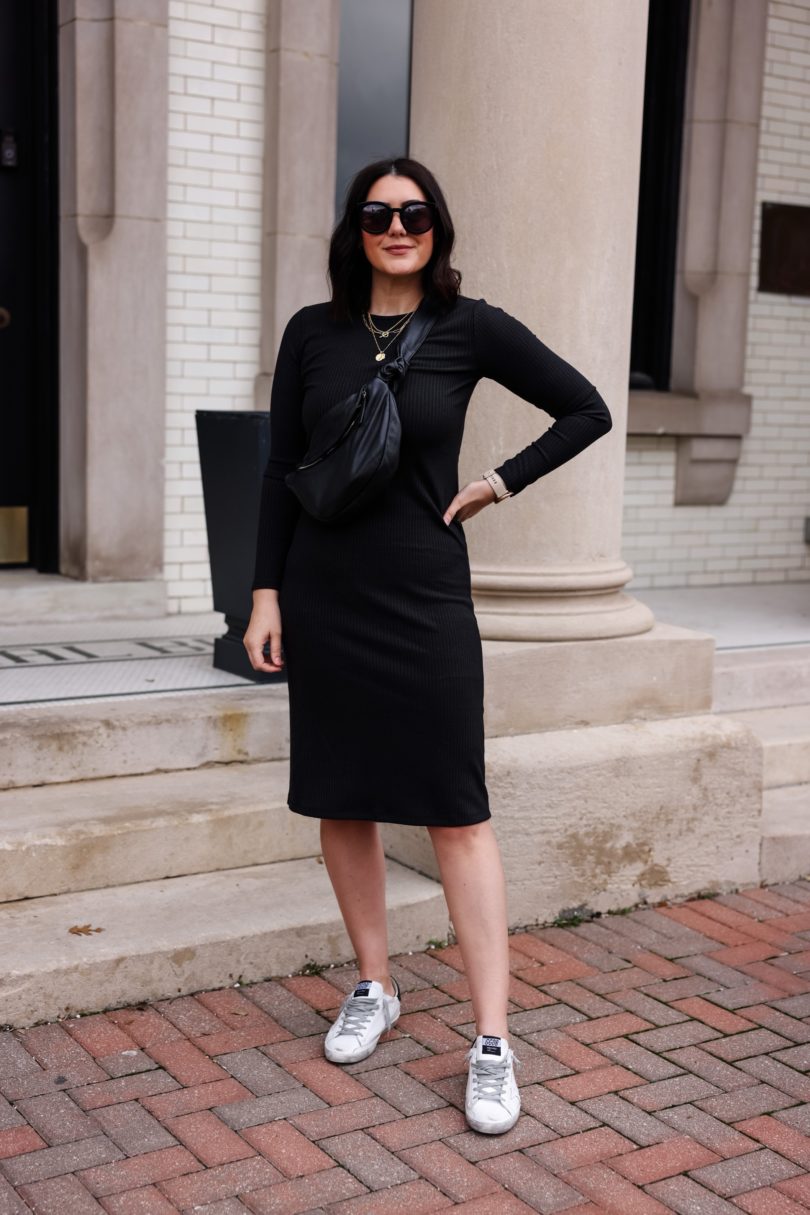 For me, I've found that my personal style is going way more casual than every before. I love this because it also lends to more comfortable pieces, including sneakers. I wear sneakers probably 50% of the time now so having a sneaker that can go with everything is key. This style of sneaker is super on-trend right now and vice versa, most in-style pieces of clothing can go with these sneakers. But you know why I like them so much? They go with everything. (All of these photos are from outfits in the last month. That's how much I love them.) They are the perfect low profile sneaker. (Veja Esplar are a great runner up!) When I say 'low-profile' I mean that they hit below my ankle, leaving my full ankle exposed and the shoe itself is a slimmer cut. It's not a chunky shoe, so it's a flattering look with everything from dresses to jeans to shorts.
I do think that they are a trendy shoe, for sure. But I think this trend will last for years to come because you can't really go wrong with a white sneaker.
Style: 10/10
Wearability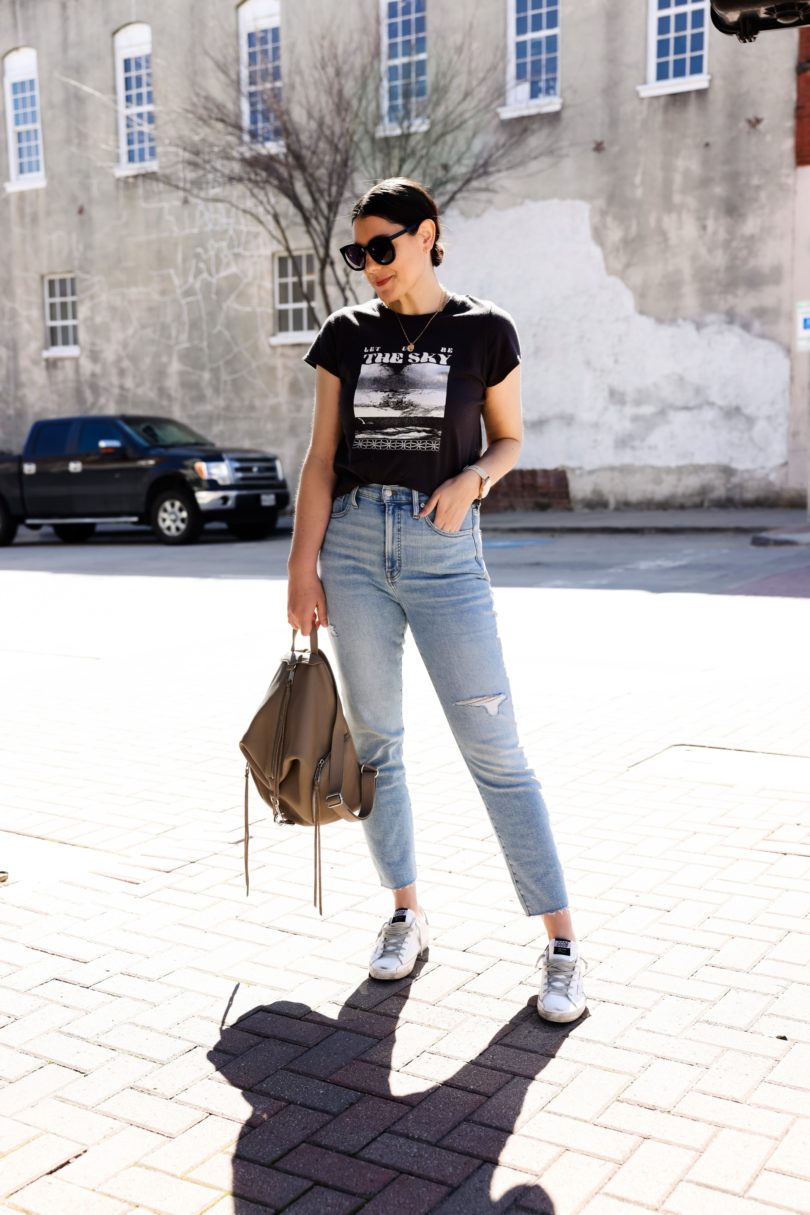 Probably the thing I love the most though is that I can slip them on and go. (This is why you see them so much in my try ons!) I don't even tie my Golden Goose sneakers, I leave the laces untied (they are short for this purpose and I knot one side so they don't slip) and I wear them as slip ons. I personally don't wear socks with my Golden Goose sneakers. I don't have any issues with blisters or rubbing, but if that's not your jam these socks will work with your Golden Goose or any low profile sneaker! The ease of the style and fit on make this hands down my favorite pair of shoes right now.
Wearability test? 100%. 10/10
Golden Goose Sneakers

Overall, yes I'd buy them again and again. That's right I'd trade in my best Beanie Babies for another pair, even if it means adding one more year of employment to my retirement plan. I find that Nordstrom has the best selection but I'm probably bias because I shop there a lot.
But they are not for everyone and say it with me now: THAT IS OKAY! However, a low profile sneaker is a must-have for spring and summer because sneakers and dresses are the best. So I've rounded up some dang close look alike as well as some simpler versions of low profile sneakers or for SEO purposes — Golden Goose dupes.
from left to right, top to bottom:
1. Steve Madden / 2. Amazon/ 3. Amazon / 4. DSW / 5. DSW / 6. Bloomingdale's / 7. DSW / 8. Dolce Vita / 9. Marc Fisher / 10. P448 / 11. Veja / 12. Golden Goose
What are your thoughts — love them or hate them? I'd love to know!