Happy Thursday, my friends! I have had multiple requests to put my try ons here on the blog so I'm going to try to catch up and put my most recent ones here, in case you don't follow on IG or you'd like to go back to reference a style / look. So if you see a few extra try ons in the next few days, it's just me catching up. I'll try to put them up each week, as I do them for those who asked!
So I'm putting two together because Shopbop / Amazon are within the same company. Makes sense to me, so let's roll with it. Shopbop is first, so if it's not your jam scroll down and see the Amazon one!
Shopbop Try On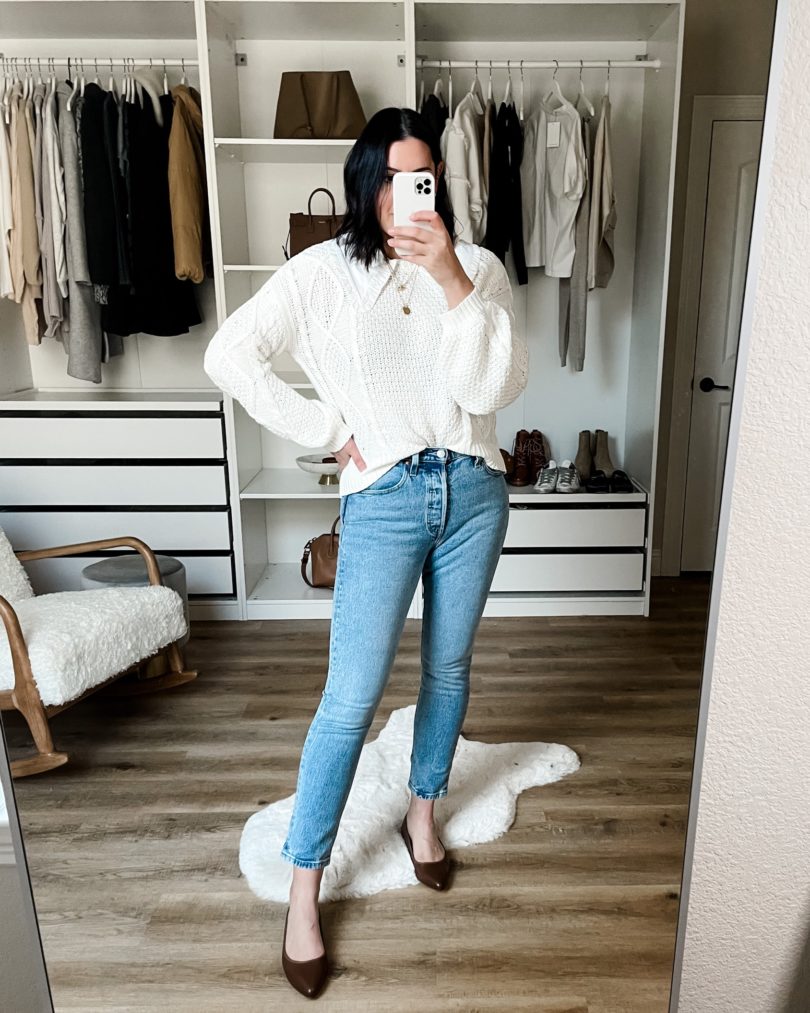 (Line and Dot Sweater/ Levi's / Kahmune flats / Madewell necklaces)
Have you seen this big collar trend on tops and sweaters? I don't quite know the trendy term for it yet so i'm just going to call it a big collar. Let's call it what is is. I don't know why but I love this big, goofy sweater. Do I feel kind of goofy but also kind of chic? Yes and yes. It's definitely a looser fit, so you could easily size down. This is the medium for reference. Oh and I'm pretty sure the collar is removable so you could use it for other tops. If you're into that sort of thing, that is.
I am in the 28 of the denim. They fit TTS for Levi's, there is a hint of stretch but they are pretty fitted in general. I find 501s to be the most fitted at the waist / hips  for me. Oh and the thighs and calves. Okay so they're just fitted in general. But overall, TTS just tight. Find them here.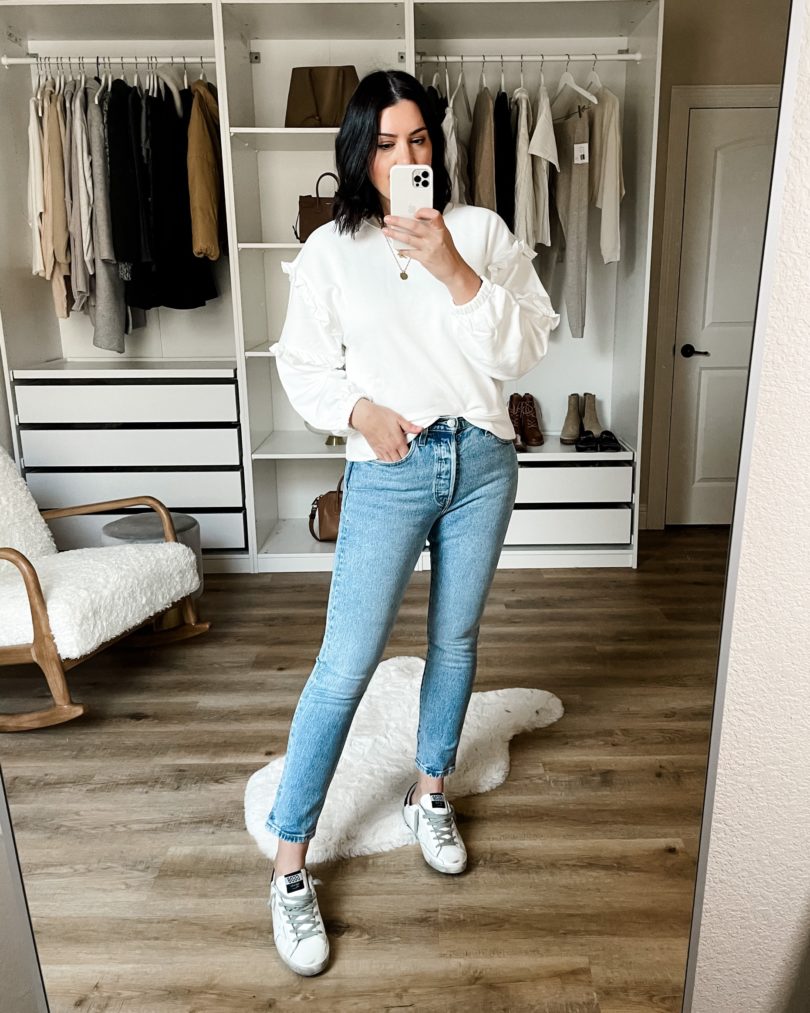 (RM Sweatshirt / Levi's / Golden Goose Sneakers / Madewell necklaces)
I love this Rebecca Minkoff sweatshirt so much. (Here is another post about it!) I think like 50% of my wardrobe now is sweatshirts and I'm 100% okay with it. This one is a fancy one of course, with the ruffles on the sleeves like that. It runs a bit generously, so you could size down if in between sizes and want a closer fit. I am in the medium here and it's blousy.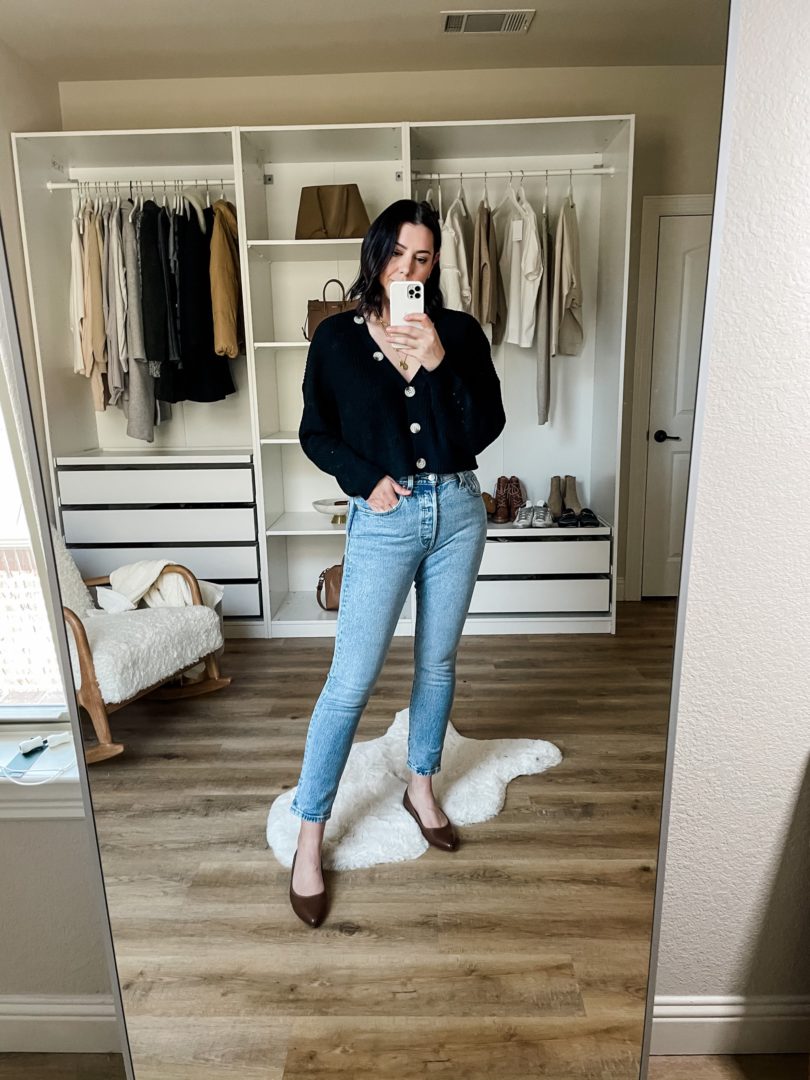 (Line and Dot Cardigan / Levi's / Kahmune flats / Madewell necklaces)
I am a bit torn on this cardigan just because it is SO cropped. I definitely need to pair it with a camisole because it is low cut AND cropped. What a combination! I am in the medium and it's a wide boxy fit. I would say it runs pretty generously actually. Size down for sure.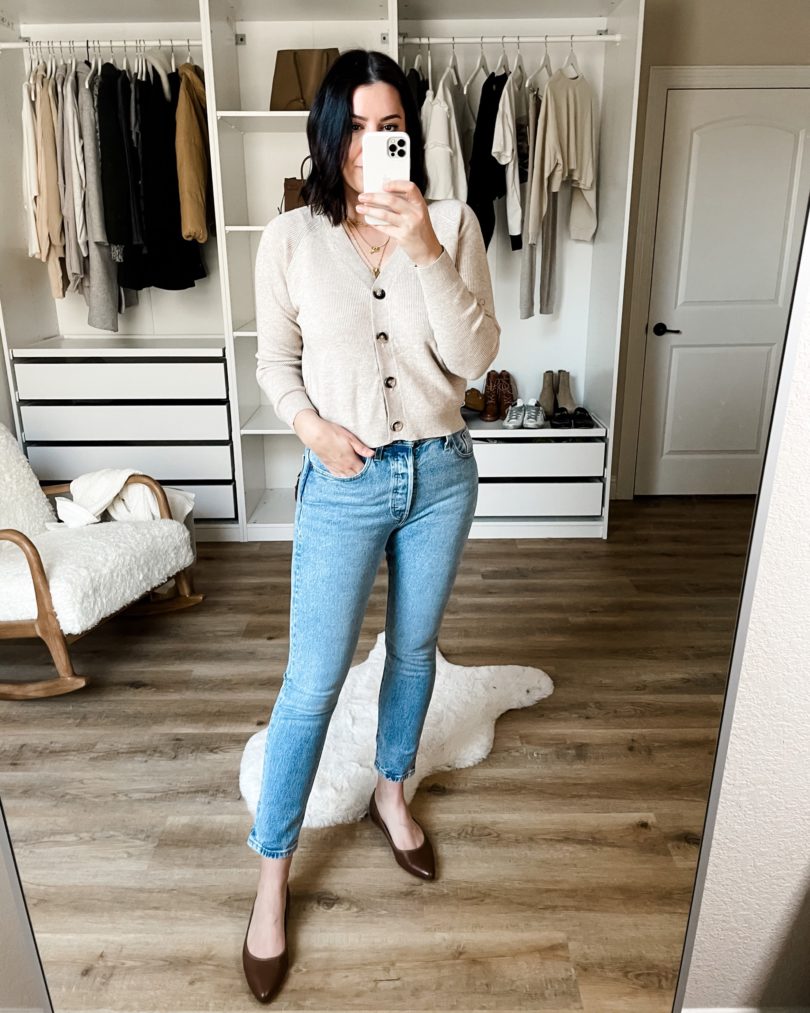 (Line and Dot Cardigan / Levi's / Kahmune flats / Madewell necklaces)
I love this classic cardigan, so much. I was looking for a tailored fitted cardigan and found it in this little oatmeal number here. I am in the medium and it fits just perfectly. It's slightly cropped, with the ribbed hemline hitting right at my jeans waistline.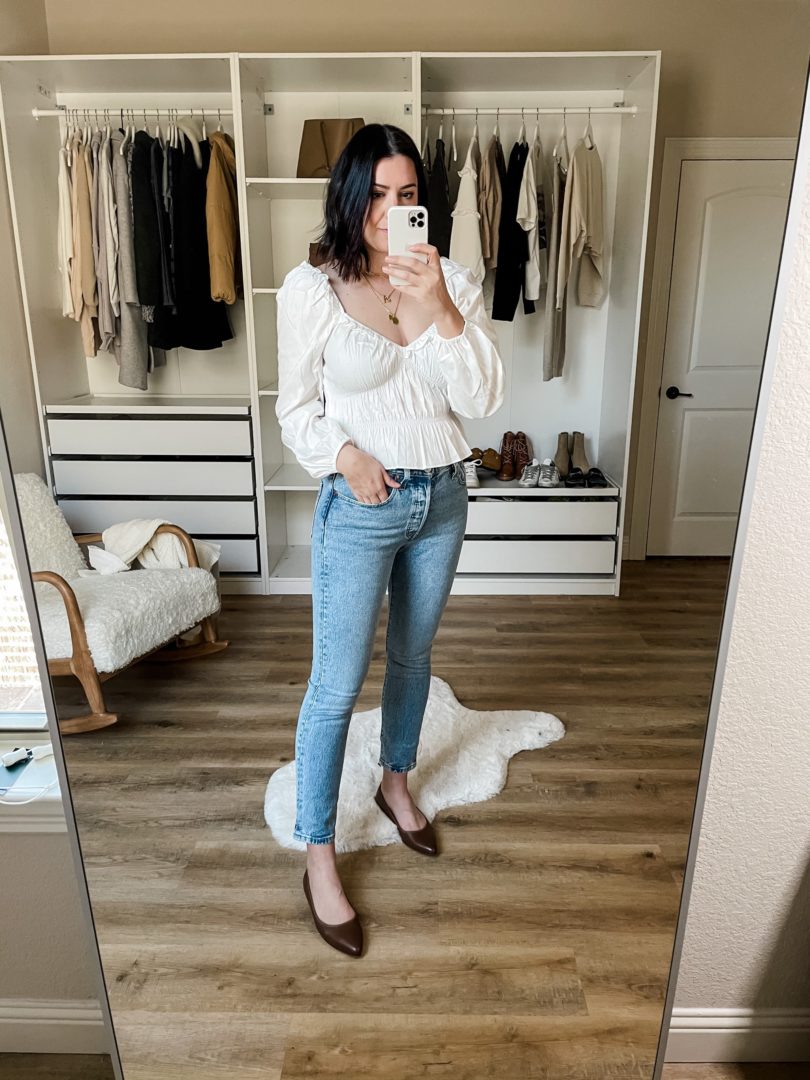 (Reformation Top / Levi's / Kahmune flats / Madewell necklaces)
Every once in a while I find something that makes me miss our old activities — you know date nights, vacations, wearing heels  because it's a Tuesday, etc. One day we will have these luxuries again, right? I tell myself this as I put on another black hoodie and settle under my weighted blanket. I love this top — it's from Reformation so it's more pricey. Reformation is also ALL OVER THE PLACE with sizing. I usually size up in their blouses and dresses to a 10 for boob room and this blouse is no exception. I am in the large and I am using absolutely every bit of this fabric for coverage. I would say if you have boobs at all, you GOTTA size up. Large fits me perfectly.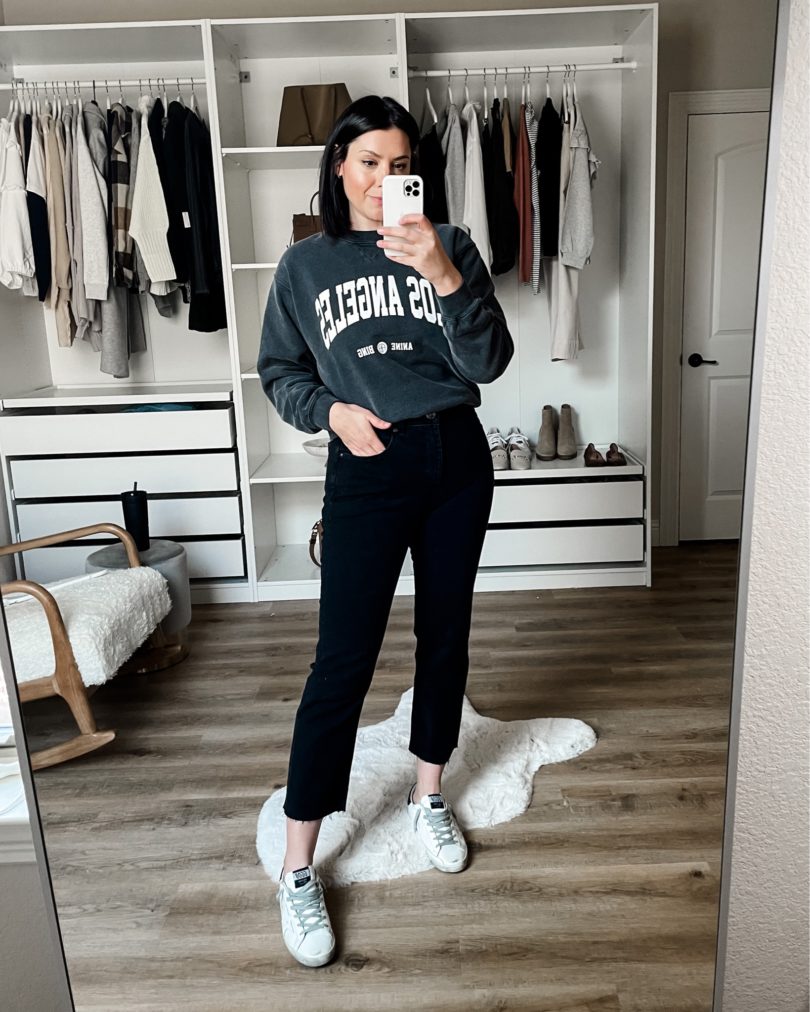 (Sweatshirt/ Loft jeans / Golden Goose Sneakers)
One of my favorite looks from the try on! I love this sweatshirt, as I do most things Anine Bing. I am in the medium and it runs a bit generous so you could easily size down if you're in between sizes. I do like the medium, though because Lord help me I love a loose fit sweatshirt.
PS: these jeans are from Loft! Some of my favorites recently! True to size. The size 28 fit me best. Find them here.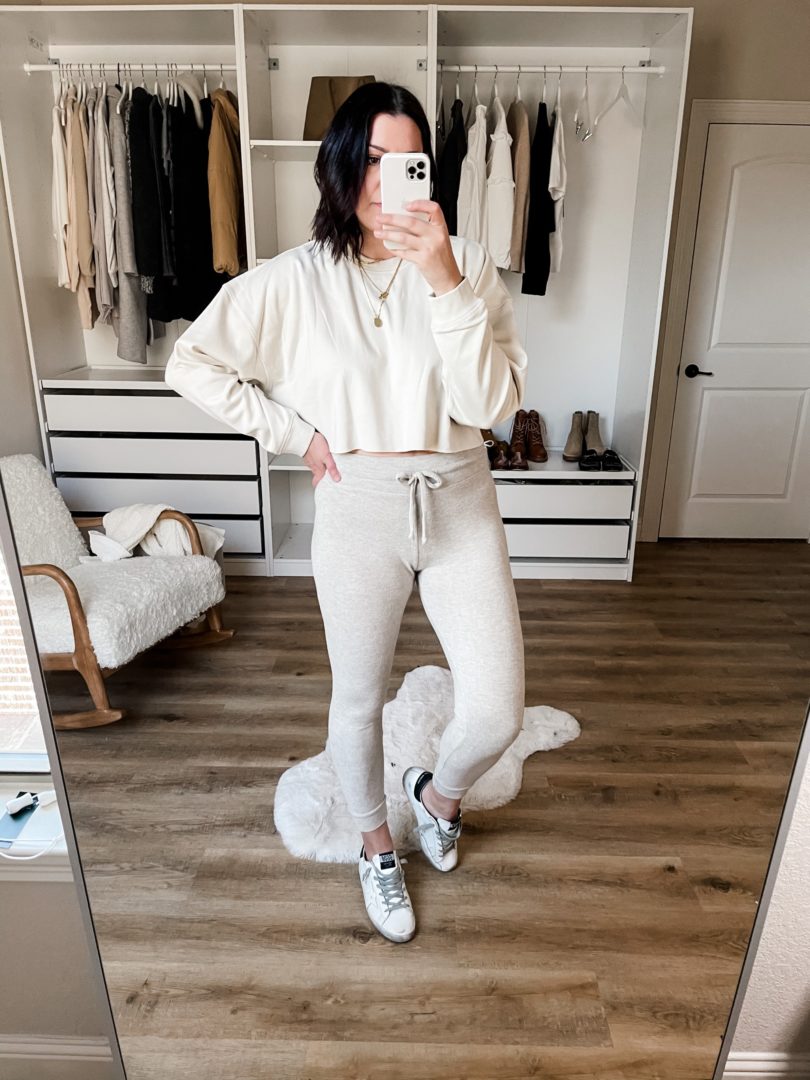 (Cropped sweatshirt / sweater leggings / golden goose sneakers)
If you can't tell by my face in the photo, I'm trying to simultaneously not have a camel toe and suck in whilst also keeping the crop top from cropping. Who said being a blogger was a talentless job? I'm basically cirque de sol'ing here. So yeah — this top is pretty basic — it's a cropped sweatshirt. Good news – it's a great weight, I love the color and it's super soft. Bad news — it's very cropped. I probably shouldn't wear a crop top  but I can't help myself. I love it especially with high waist leggings. But yeah I mean it's a mood and for that I understand if you keep scrolling. I am in the medium, it fits TTS. It's a wider fit though but if you size down it'll just be shorter so I say TTS. I do think you could size up for length, however.
So these sweater joggers I love but I have to tell you that sadly they pill almost IMMEDIATELY. Yes I knew this before I kept them. I have a sweater shaver so pill doesn't get on my nerves that much but I know that it does for a lot of people. And let me tell you, within 5 minutes of wearing them there was piling on the thighs. Slightly disappointing, sure but it's the nature of this soft, sweater fabric. I liked the color, the weight (their thin but warm), and I liked the fit so I decided to deal with the pilling.
BUT. They do pill and you gotta know that. I am in the medium, fit is true-ish. They run a bit generous around the waist, quite loose actually. But I couldn't wear a small, if that makes sense. So I would say unless you're truly in between sizes, stay with your normal size.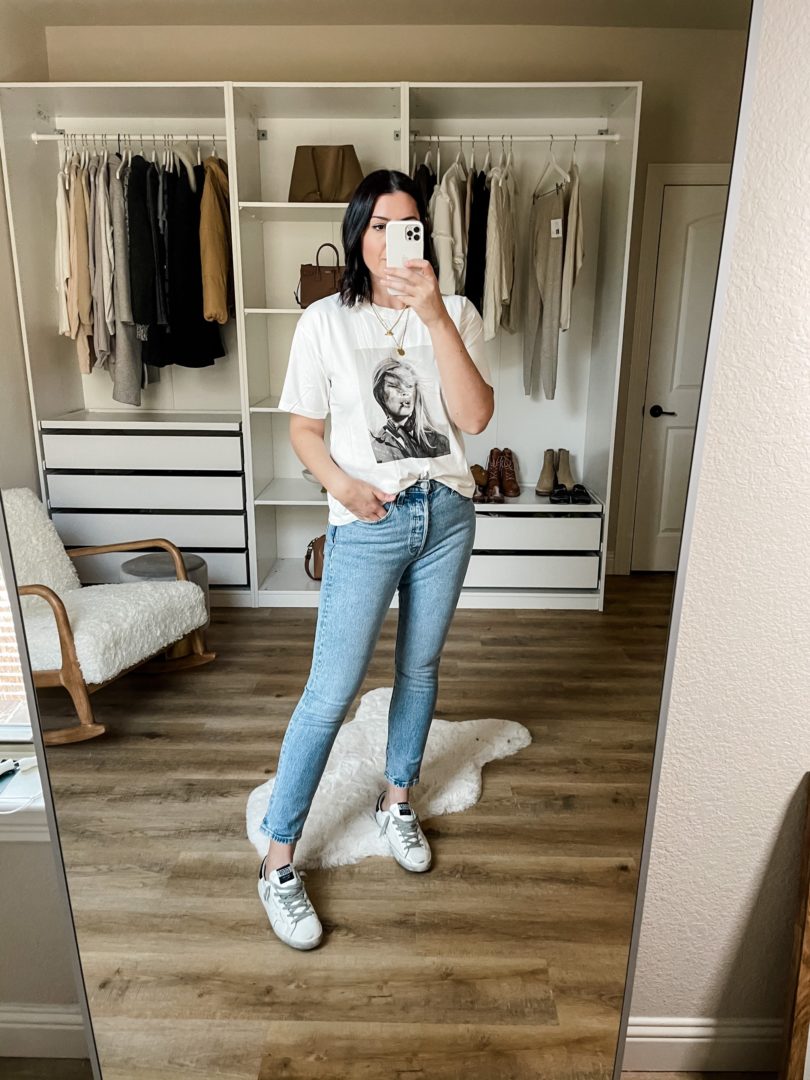 (Tee / Levi's / Golden Goose Sneakers)
This is a tee of a model smoking a cigarette. I don't know why I bought it. We don't have that kind of time to explain my shopping habits. Again it's a Anine Bing tee, my weakness, my kryptonite. It fits TTS — I'm in the medium. It fits a little bit tighter than her other tees, but still looser at the arms and body.
Amazon Try On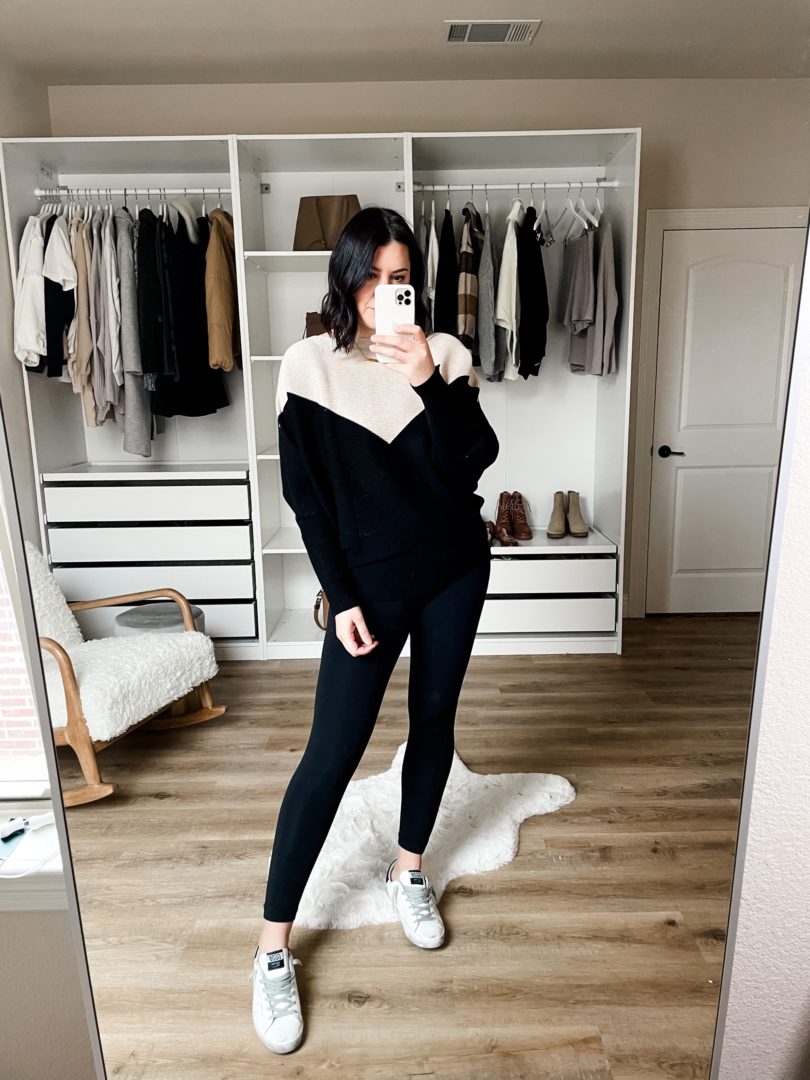 (Sweater / yogalicious leggings / golden goose sneakers)
I said on my Instagram that I felt very David Rose in this sweater and someone suggested a giant gaudy necklace to make it a Moira look. I 100% agree. If it was a white combo instead of oatmeal, it would be spot on for David and Moira. (Schitt's Creek reference — if you haven't seen it, clear your schedule and go watch all seasons on Netflix RN.) I love this sweater (I have it in solid white!) and it's a one size fit. It fits me like a medium and this goes without saying but I'll say it: the fit with vary with different sizes / body types. I think if you are smaller than me, it will be more drapey and fit looser around the shoulders, so you could do a cute off the shoulder look. If you are more of an 8-12, the fit will look closer to what I'm wearing here.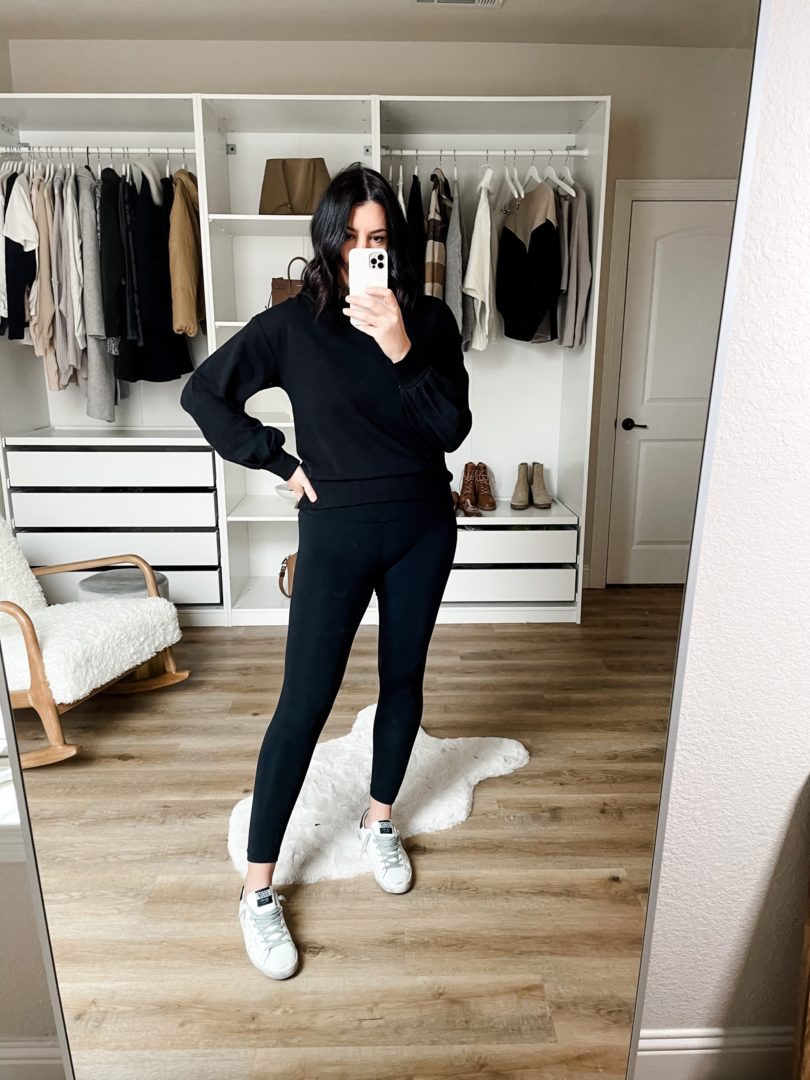 (Hoodie / yogalicious leggings / golden goose sneakers)
I love this hoodie — I mean of course I do, it's a black hoodie. BUT it's a black hoodie with puff sleeves. See the difference? Exactly. I thought that the sleeves would be a bit more exaggerated in person than they actually are. They're quite calm in comparison to the online photo. You just can never tell, until you get it home you know? Anyways, I'm in the medium fit is TTS! It's that lovely Daily Ritual fabric — super soft, bouncy. A nice weight going into spring as well.
These are my as close as I can get to Lulu Lemon leggings from Amazon! They are so soft and buttery. I am in the medium and they fit TTS! Find them here.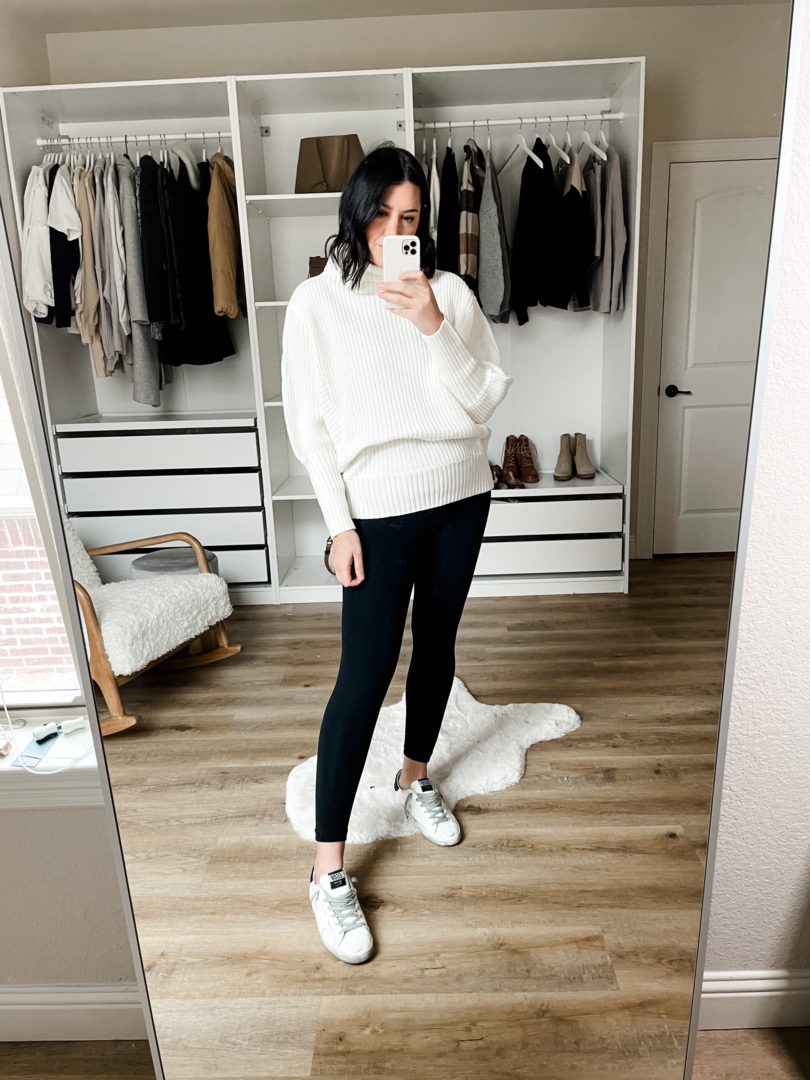 (Sweater / Yogalicious leggings / Golden Goose Sneakers)
Are we over sweaters yet? Probably. So there's something about this sweater, even though she cute:
She stinky and there is no way around it. It's not like BO or anything, just kind of chemically smelling. I am hoping one good wash will take care of it but it is suspect. I do love the shape and fit of this sweater though, so the smell is annoying. I am in the medium so it's obviously very oversized and slouchy. It's not too thick, so it's not overwhelming. I do wish it were softer but we can't have it all, kid. 
The sleeves are dolman by the way, kind of hard to tell here. And the neck is like hella thick — love that for her. So it's really structured and keeps the silhouette of the sweater. Fit is oversized so keep that in mind! I'm in the medium.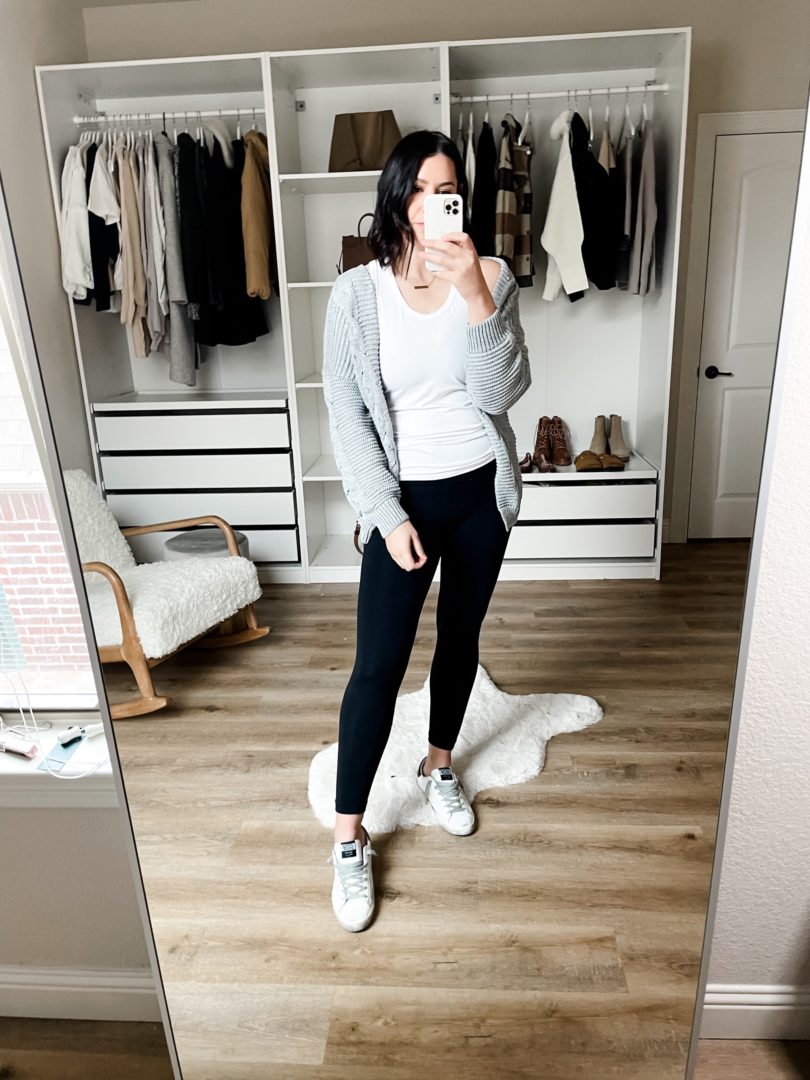 (Cardigan / Daily Ritutal Tank / Yogalicious Leggings / Golden Goose Sneakers)
Okay so this is the second time I've ordered this cardigan because I love it but I want it to be extra slouchy. (Said like the lunch lady in Billy Madison who serves up the sloppy joes while saying "EXTRA SLOPPY!" and if you don't know this reference, lose my number) So I ordered the large this time and…it's not extra slouchy. :/ It does fit larger than the medium but I should probably go up to an XL to get the actual fit I want. But overall I do like this one and will keep it just because three times seems excessive. 
The fabric on this one isn't super soft, but I like the weave design and the structure remains of it. So 7/10 from me, but it's exactly the style I want so it's a keeper!
Fit is TTS BUT if you want it to be slouchier, size up one.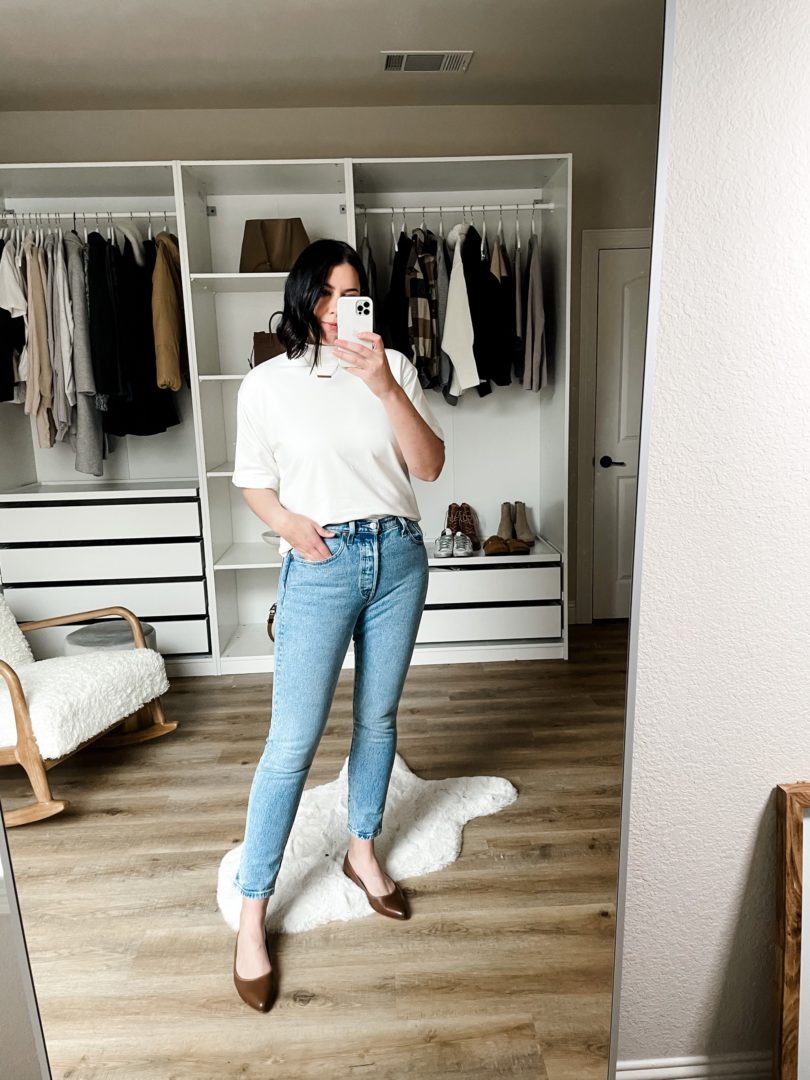 (The Drop Tee / Levi's / Kahmune Flats)
Okay so this tee is different than what I thought it would be. I thought it would be just a lightweight tee but actually — it's a nice weight, like a thicker tee with some stretch to it. I respect it so much more to b honest. And can I just say — this never happens — but this is one of those tees that are so much cuter in person than on camera. Like most of the time selfies are way cuter 😂 but not today. This one I couldn't selfie correctly.
I am in the medium and it's a boxy fit with looser arms, but I would say TTS. The length hits right at my waistband as well, so no crop thank god.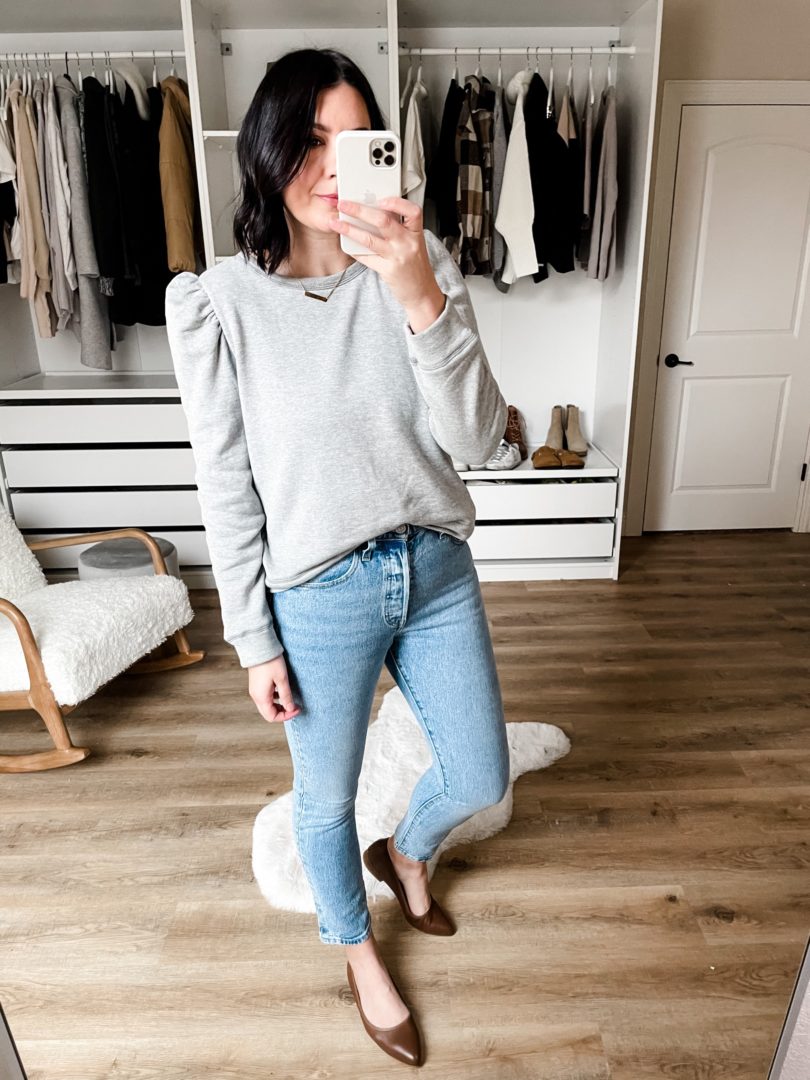 (Puff shoulder sweatshirt / Levi's / Kahmune Flats)
Love this sweatshirt, as you may know! It's such a lovely Amazon find and I'm hoping it's still in stock today. I am in the medium and it fits TTS. It's more tailored / fitted so stay TTS.
(The Drop Sweater Top / The Drop Sweater Shorts/ Feet by God)
Okay so this little set is sold separately but ya'll — it's legit. It's thick and so so soft. I am in the medium of the top but I honestly could have sized down. I would recommend a size down if you want a closer fit. This medium fits more like the large. You can definitely wear this as a normal sweater, because it's cute on it's own — cute bell sleeves, the back has a notch at the bottom hem. Super cute. 
So it's the opposite story for the shorts — I am in the medium and they fit tts. Do not size down in these unless you want sweater underwear. They do have stretch but they're still a thicker sweater knit so when it stretch it also molds around your body, you know? So that's why I say TTS! 
Love this set, so soft and perfect for feeling fancy while doing nothing 👌🏻
___________________
Which look is your favorite? I love the sweater set so much — oh and all of the sweatshirts. This is where I'm at, ya'll. Comfort forever.