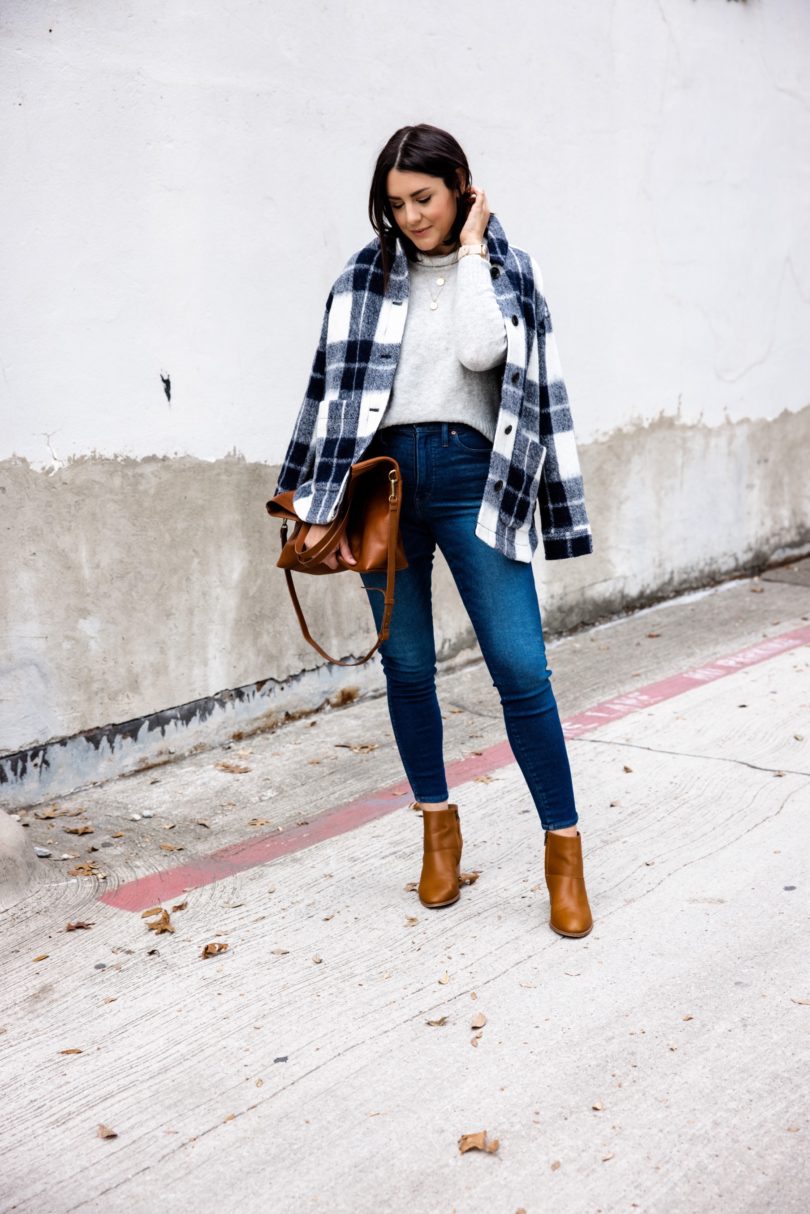 Since we are only a few days into December, I thought I'd share with you the best sellers from last month!

If you bought these: YES, GIRL. I love the jeans — they are stretchy but thick and structured. I sized down to a 28 and I think you could too, especially if you are in between sizes. (I'm in between sizes right now between a 28 / 29. The 29 fits a bit looser overall than I preferred.) I love the rinse too, plus as of today they are still 30% off! You can find them here.

Another pair of denim but it doesn't surprise me because Madewell denim is some of the best out there. AND it's on sale. Plus, she cute. So this pair I sized down in as well, I wear the 28 and recommend sizing down one if in between sizes or if the waist of jeans run generous for you. Find them here.

I love this soft, sweet sweater! I'm so glad ya'll did too! I styled it a few different ways here, if you're interested. This sweater is a one size fits most, but fit me like a generous medium. It will of course fit different on different sizes, shapes and body types but I think it could work for a size 2 to a 12. Find it here. 

I have this sweater in two colors (the ivory and the grey!) and just love it. It's like a hug in sweater form it's so nice. Plus it pairs so well with Spanx leggings! Find this sweater here.

This lovely coat jacket is such a unique piece! I can see why it was a great seller — and it's still on sale! I have the medium and it fits TTS. Find it here. 

I love these booties! Super comfortable and they go with everything. I'd suggest pairing them with an everyday skinny jean (like the number one best seller perhaps??). I live in Madewell booties come fall / winter and these are a great, classic pair. Fit is TTS. Find them here.

Love this wrap dress! I think I've decided that it's for our Christmas cards. (Which we haven't shot yet, by the way — where did November go?!) I haven't worn it on the blog yet but I think it's because I'm saving it for the cards. I've got plans. This dress fits true to size — I wear the medium! Find it in lots of colors here.

Love this dress! It's soft and loose and it doesn't cling — the MOST important feature of any sweater dress. I wear the medium but gotta be honest it runs pretty big. Size down if you want a bit of a fitted dress, of course it won't be *that* fitted but less tent like. Find it here.

This pair of sunglasses on the list came as a surprise to me! But a good surprise because this is my go-to pair of sunglasses for maybe 5 or 6 years now. I can't remember when I first bought my first pair. Let me tell you — if you take care of them, they will last a lifetime. I did NOT take care of my first pair and they lasted 3 years. I'm trying really hard to respect this pair I have now. We've been together for 2 years and going strong, no scratches or bends. You can find this pair of sunnies here.

So this coat is actually one that I just wore this week, so this one came from my coat guide I believe (find it here!) I have it in the grey but now I'm really thinking about this camel color. I mean, if the coat fits..
I sized down to a size 6 just because I wanted a closer fit. The 8 fit fine as well I just wanted it to be more tailored. Find it here.