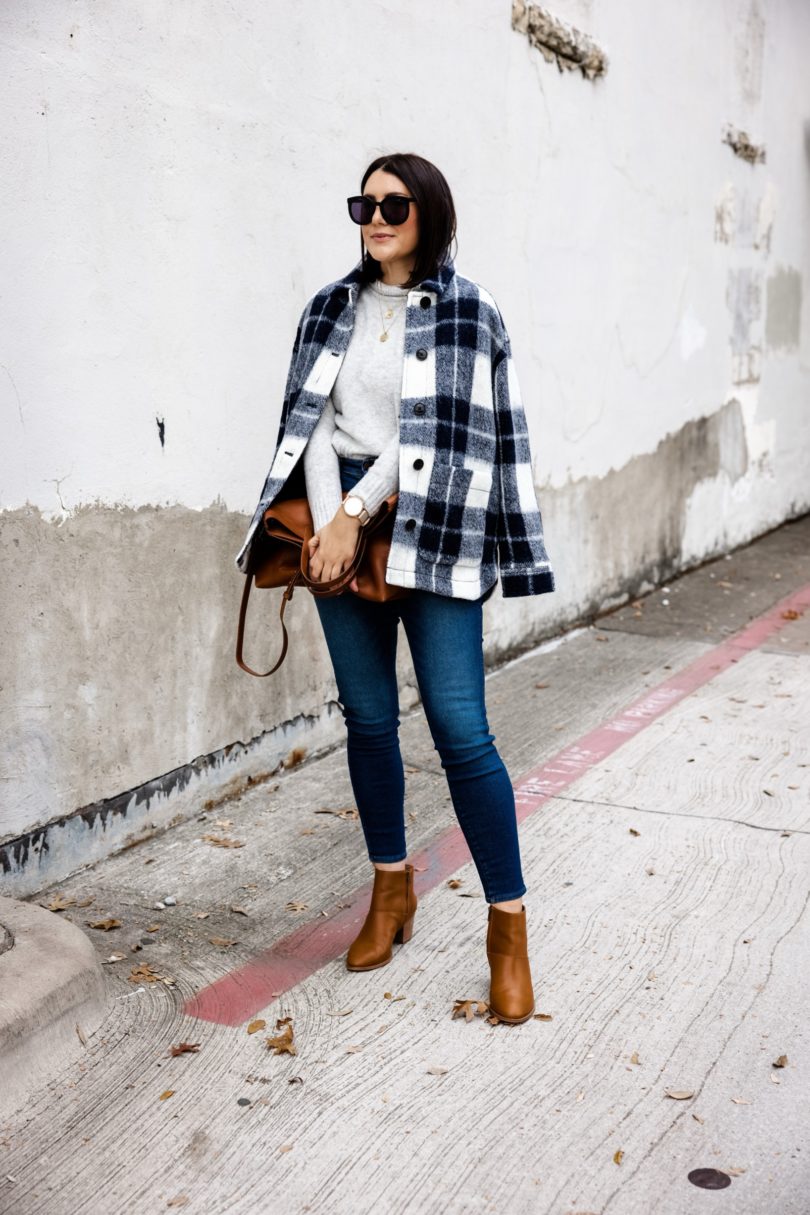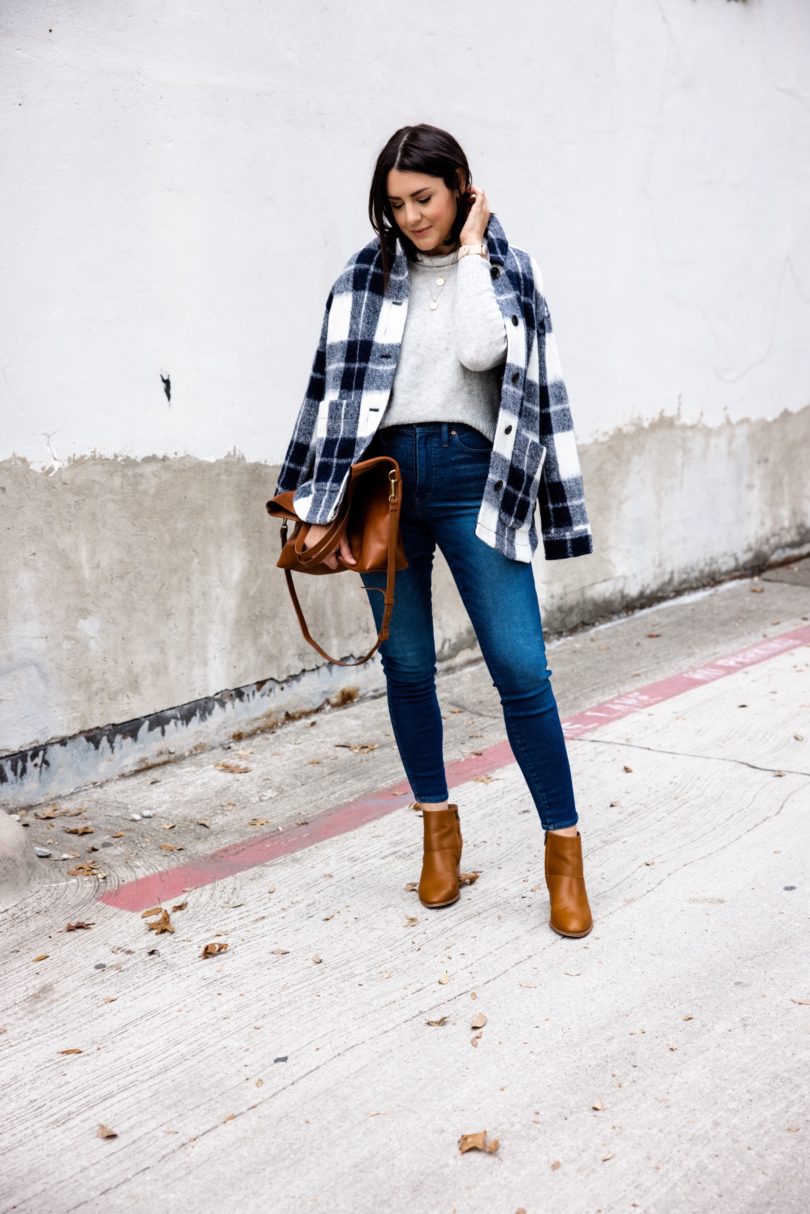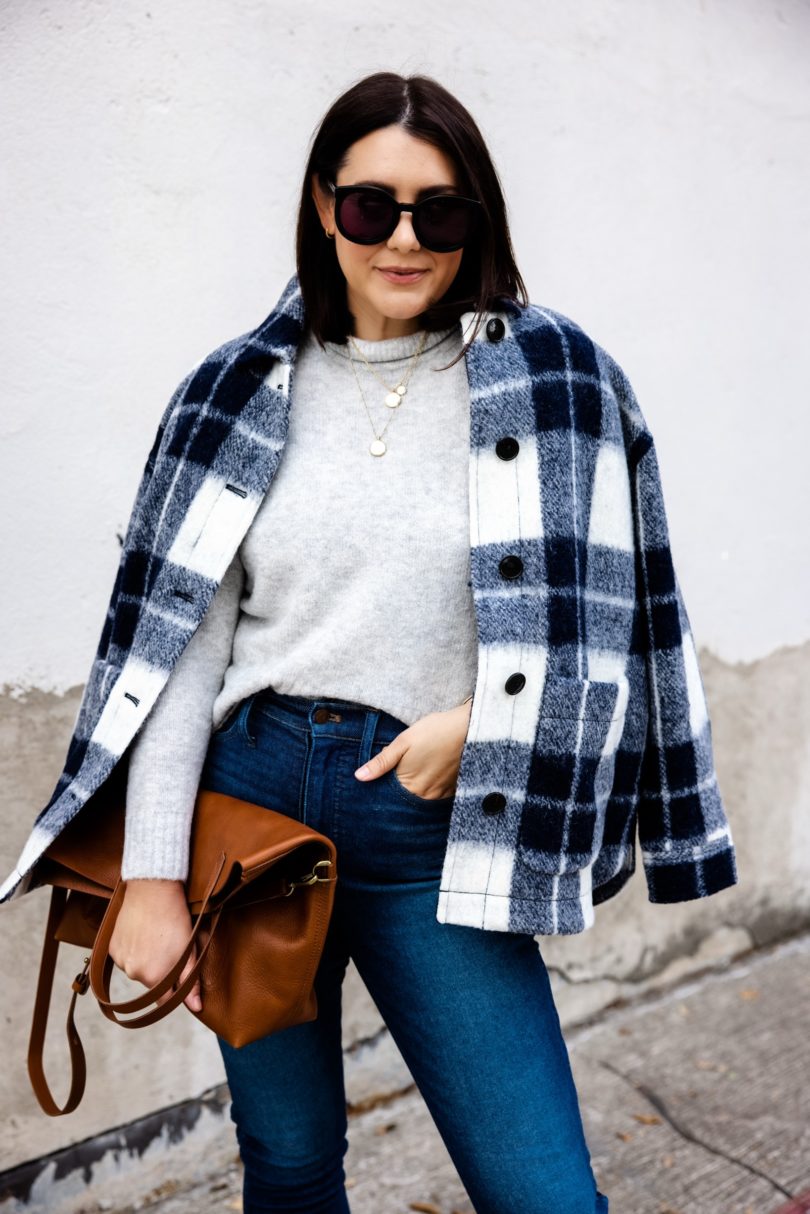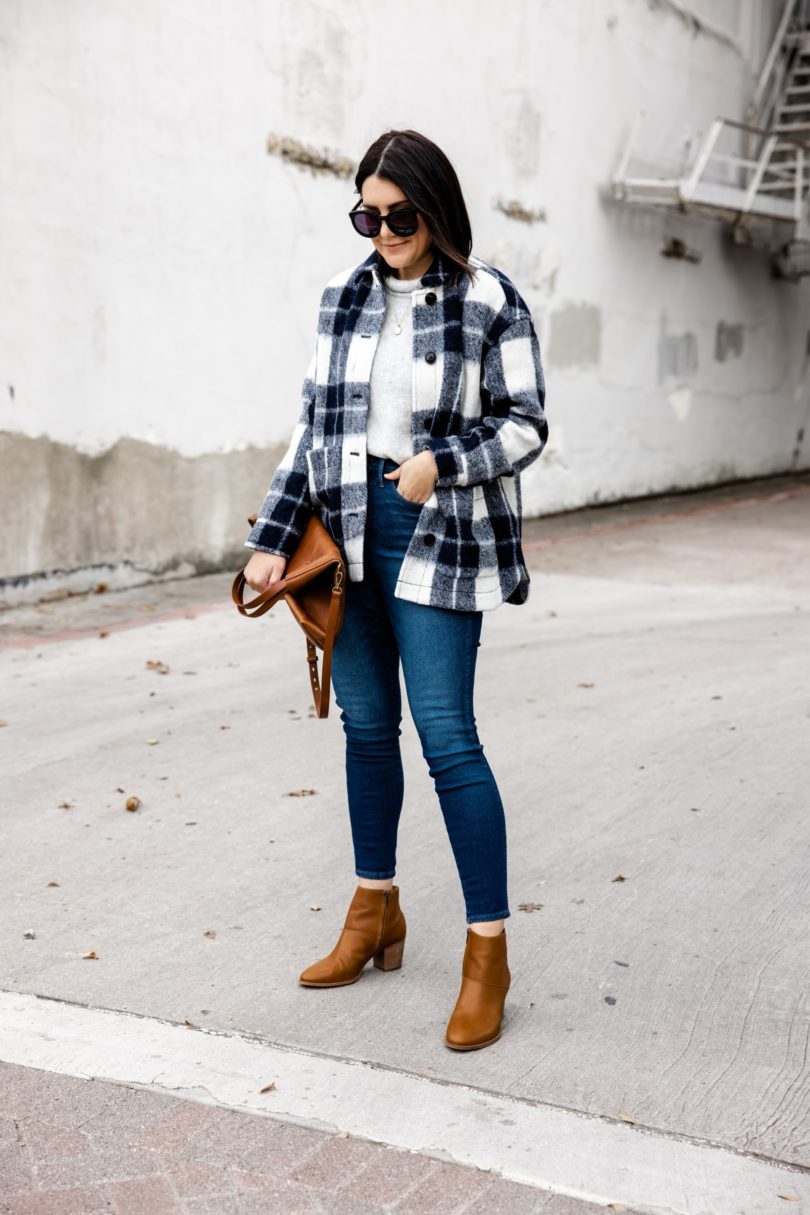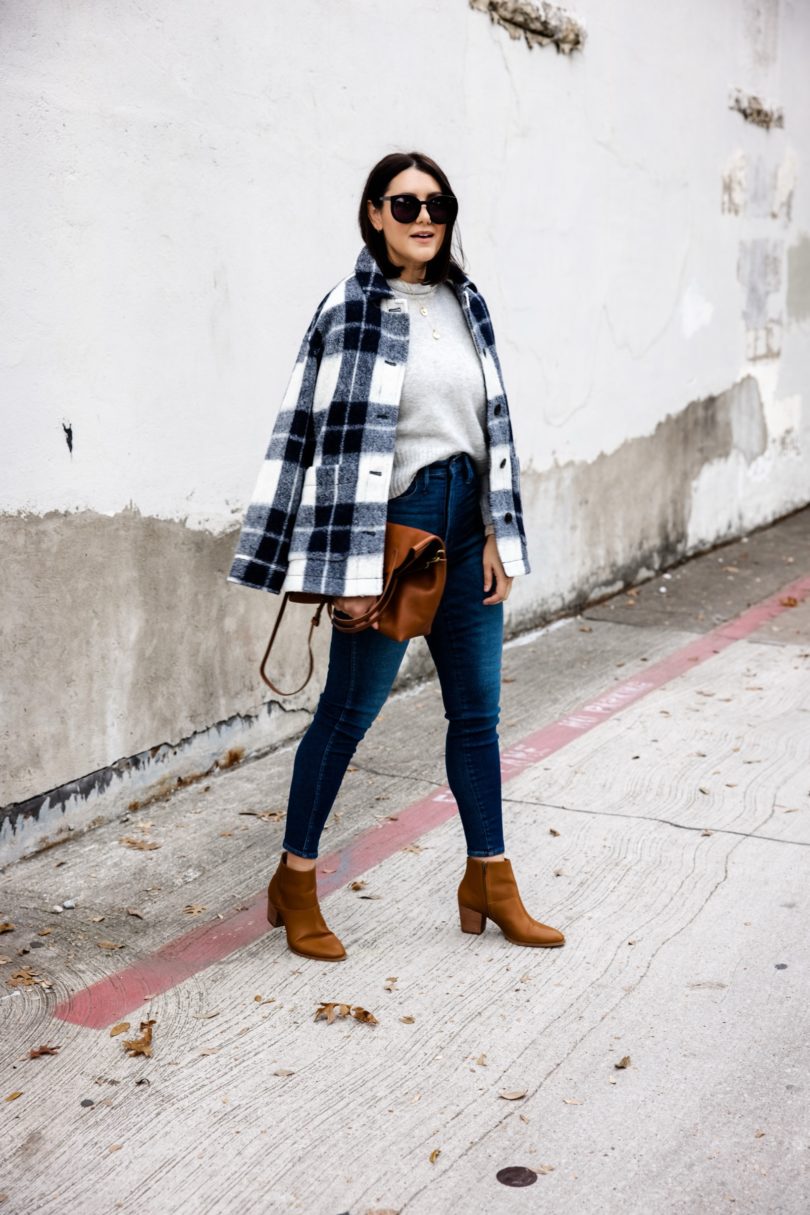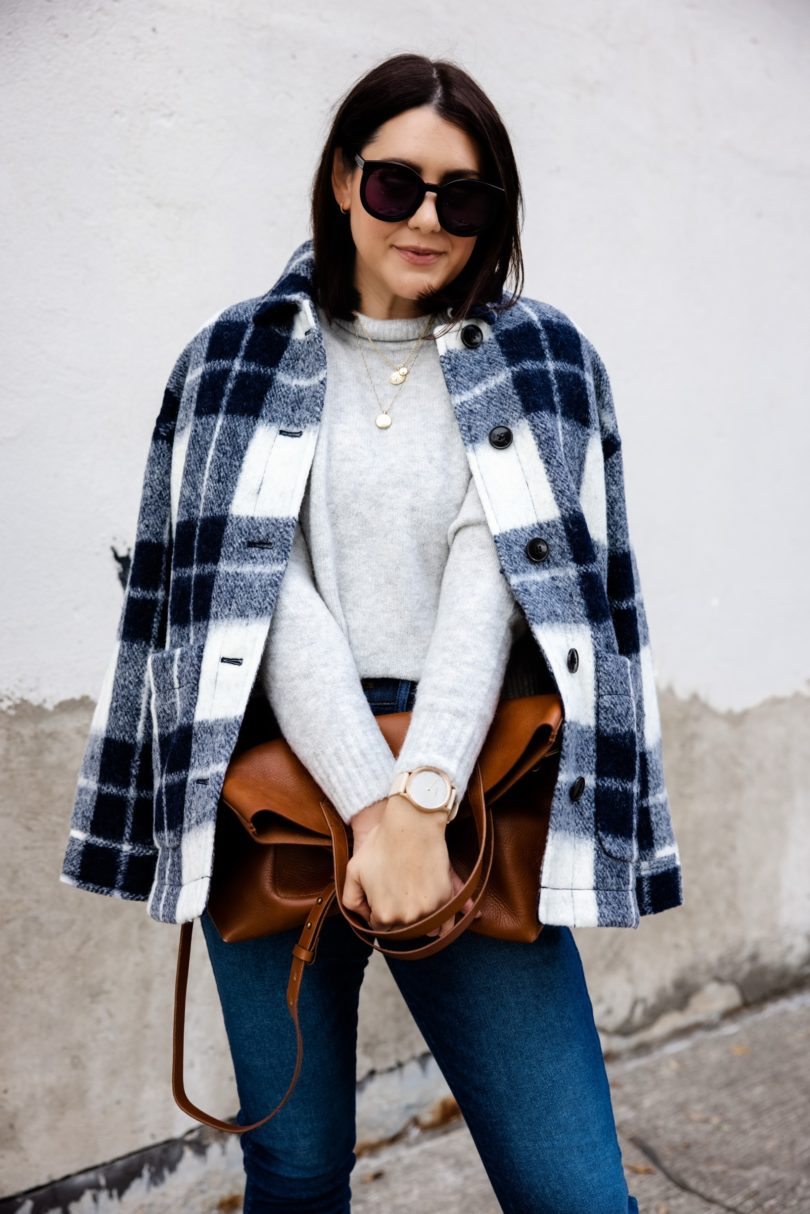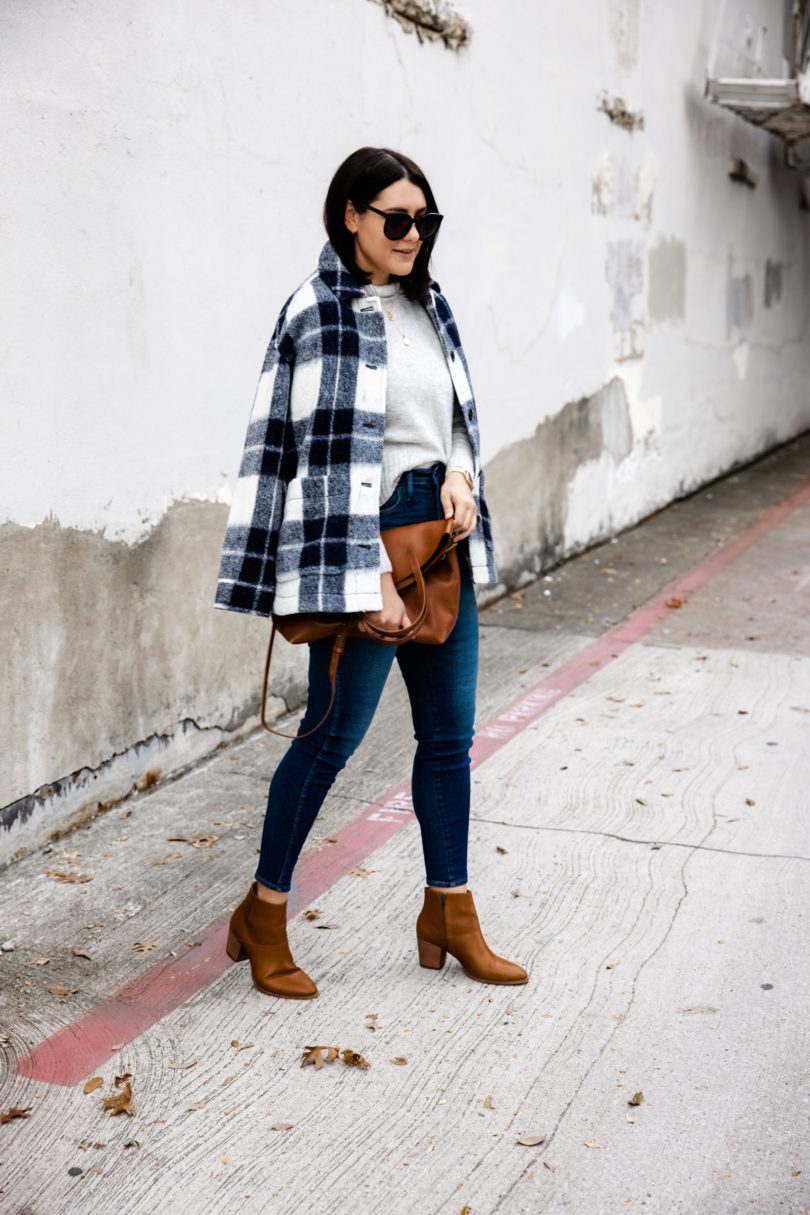 Madewell is having a 30-50% off sale this week which means everything I'm wearing is on sale! (Well not my underwear but don't be weird.) I didn't want to love this coat as much as I do because I'm trying to keep my closet fairly neutral these days with grey, camel, black and white. But navy can be a neutral, right? And plaid — I mean how classic can you get? Mix them together and that's a neutral classic right there. See here is the thing: if you make up all the rules as you go along, you never end up breaking them.
(PS: if you're over my rambling, find the Madewell sale here!)
Honestly though, I didn't think I'd love this coat so much. They say it is a 'shirt jacket' but no ma'am — this is a coat. Or at least a southern person's coat, as I can't speak for those who have real winters. But for Texas? Yeah this is a coat. Maybe you guys up north wear woolen things like this as a shirt? I have no idea and I have no intention of finding out. One time I went to Chicago for New Year's and it was NEGATIVE something degrees and I thought that my insides were going to freeze up and die. We walked to breakfast one morning and I was certain I had frost bite (I didn't) after that brisk 5 minute walk. Was it very cold? Yes. Am I dramatic without reason? Absolutely.  Were there tears? Most likely but my memory escapes me when it makes me look bad.
All that to say, this is a nice option for an everyday coat here or a jacket if you live somewhere actually cold. Plus, enough about function — I just love how it looks. It's classic and somehow reminds me of throwback Kendi. I think me and this plaid coat were meant to be.
Find this coat here! I'm in the medium and it fits oversized but TTS.
I also have to mention the hard-to-see-in-the-photos sweater I have on! It's so, so, so soft and lovely. It's just a classic sweater with a 360º roll neck line. I mean it – the whole thing is rolled and it surprised me. Like a stuffed crust pizza but for your neck. Pizza Hut, but make it fashion.
I'm in the medium and it fits TTS! Find it here.
One last thing: these jeans are to die for. They are this crazy good stretchy fabric that keeps it's structure but also gives lots of stretch. This fabric comes around every once in a while at Madewell and it's the most flattering. I would say if you are in between sizes, size down one! I need the 28 regular of these for the best fit. Find them 30% off here!