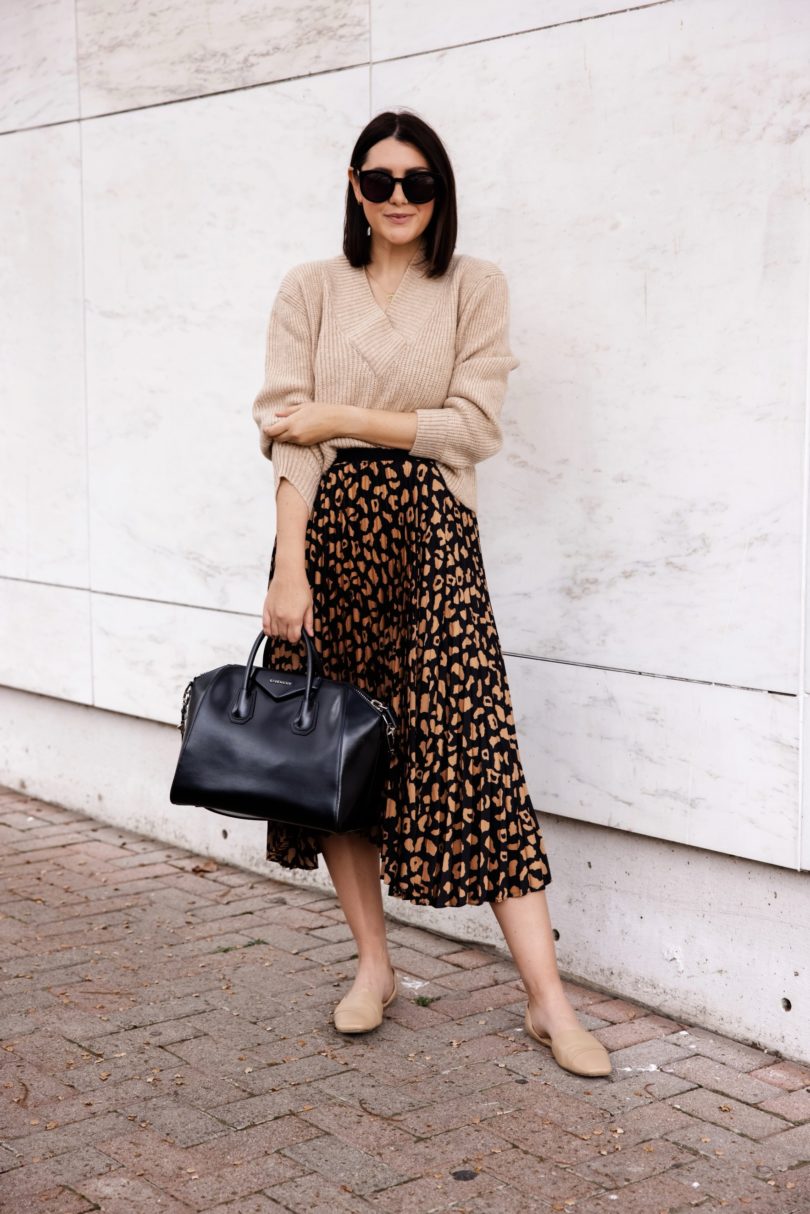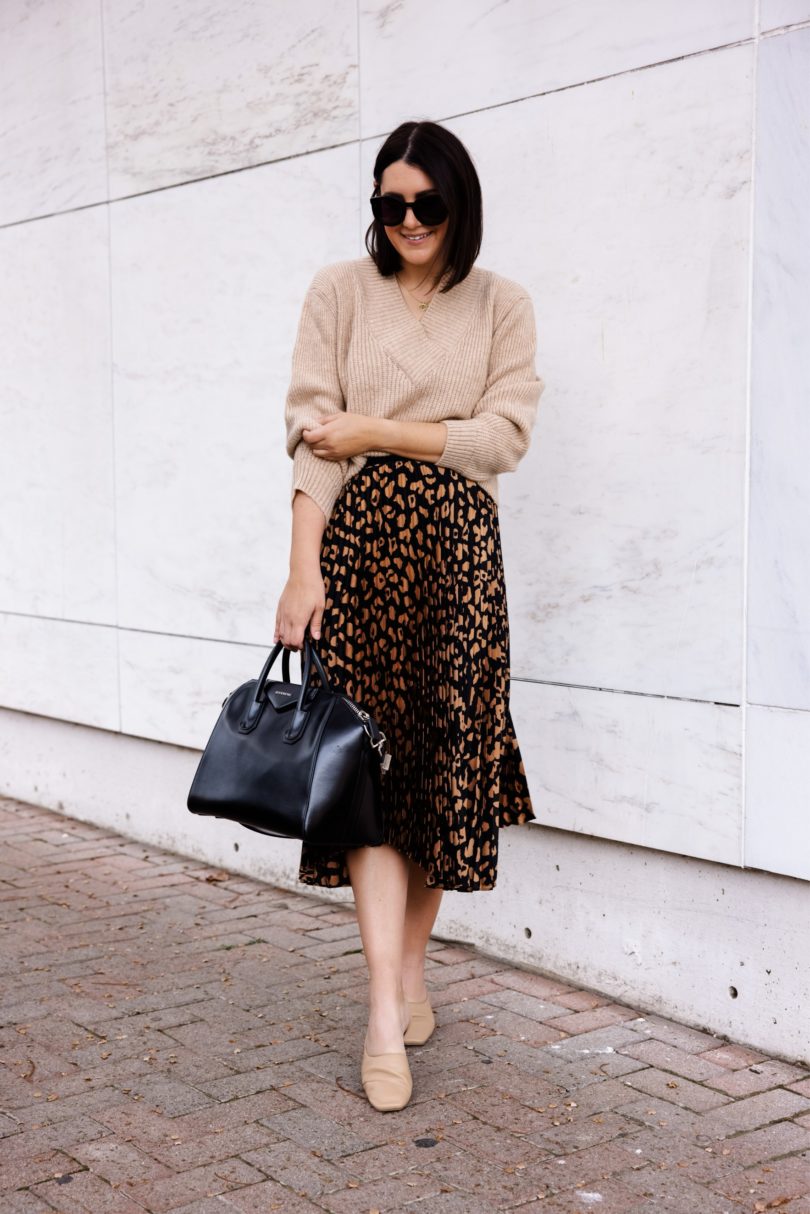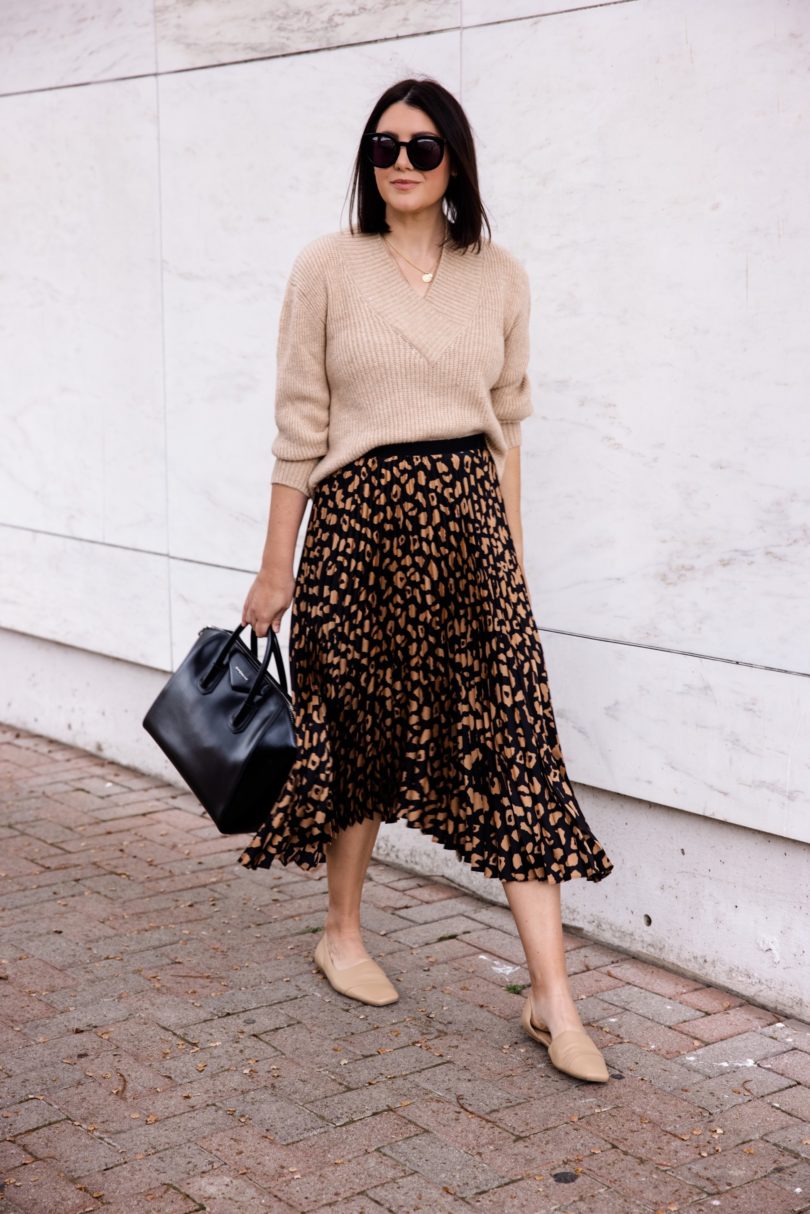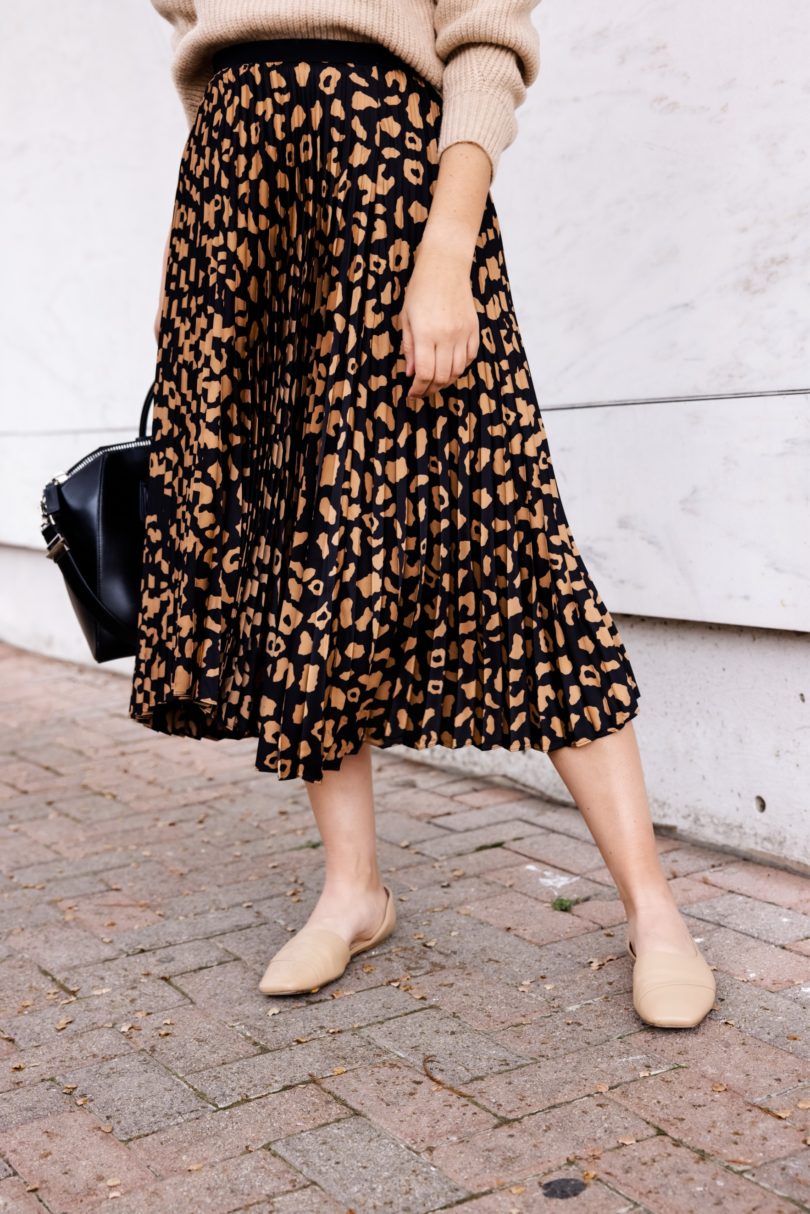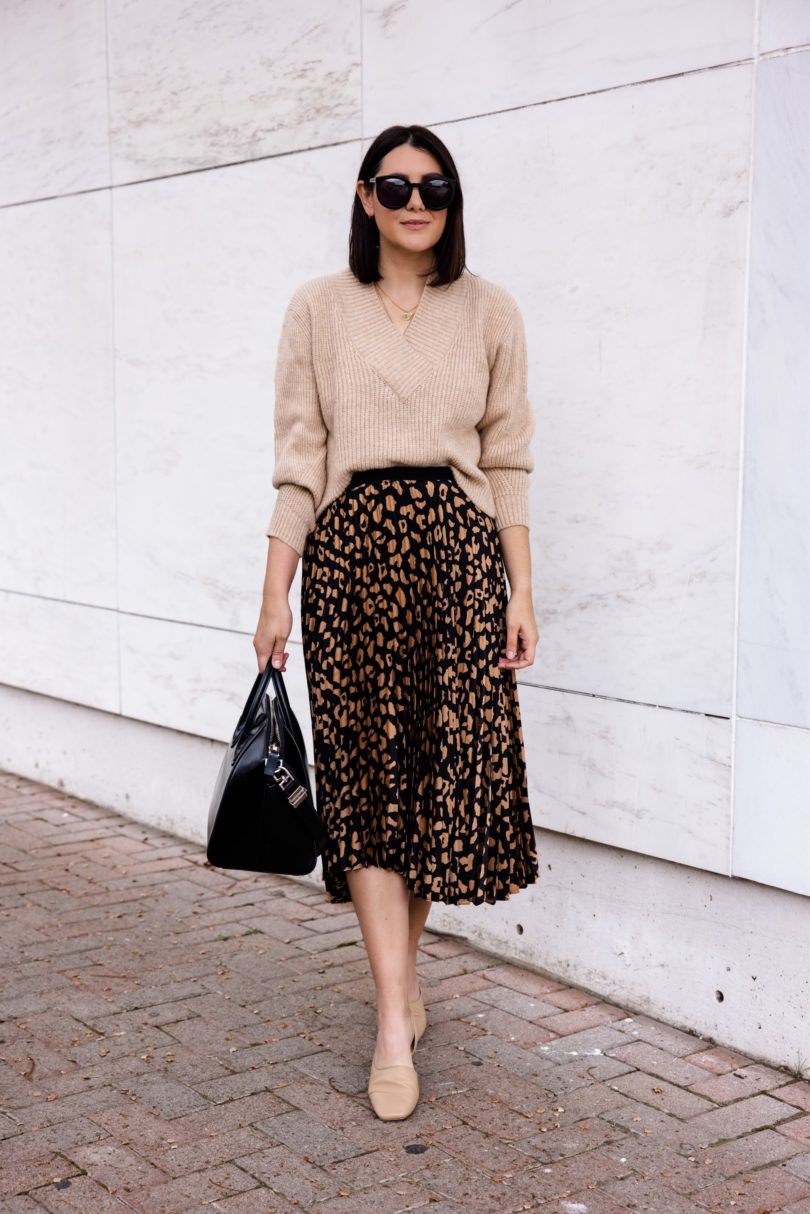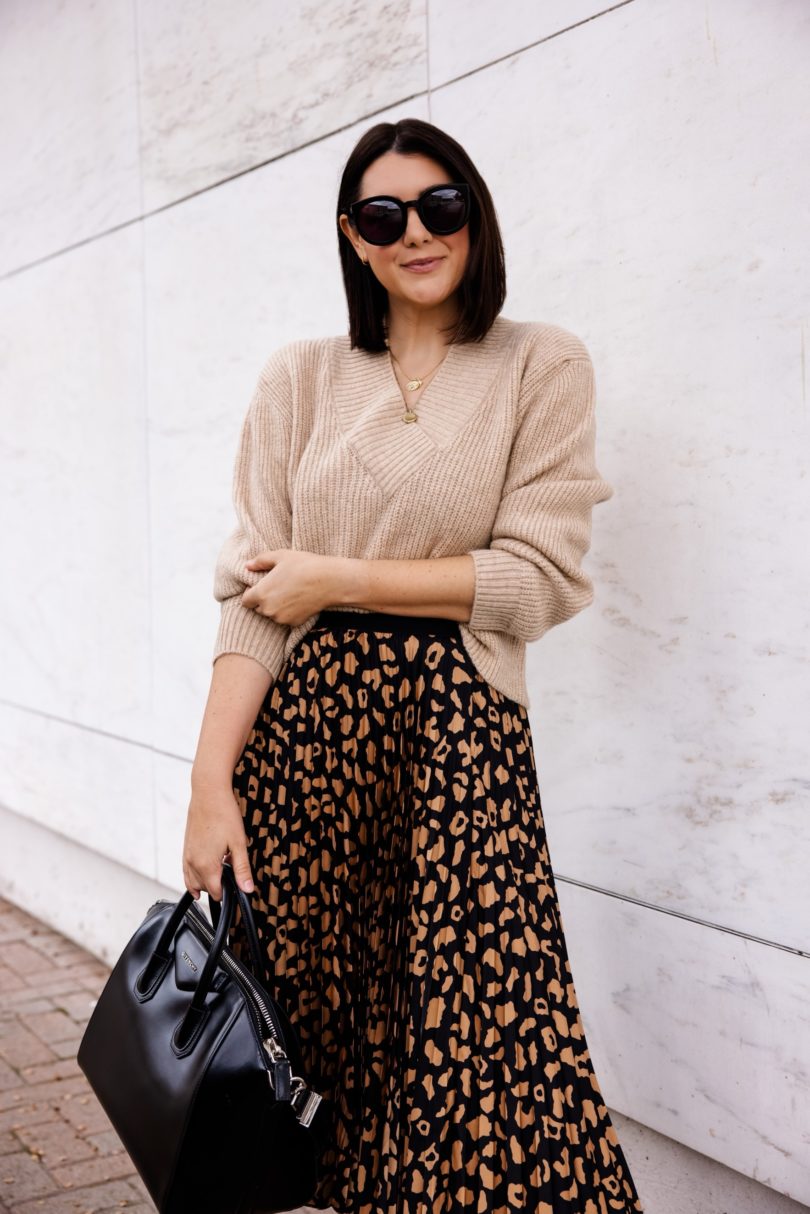 *RIP to all the other leopard skirts out there*
First off, how LUXE is this skirt? Wait I wrote that wrong — how LUXE is this $26 skirt? Your eyes are not failing you — this skirt really is $26! It's a bomb Walmart find, if I ever saw one. I was hoping the skirt would be what I was thinking it would be and it's even better. The fit is spot on, which can be tough with an elastic waist and pleats. (Also, shout out to elastic waistbands. This is YOUR WEEK TO SHINE.) But the skirt lays flat (miracle) and it doesn't dig in (a blessing). The fabric has a nice sheen to it but it doesn't look cheap, which can be tricky with a shiny fabric. We've all been there with a shiny fabric and we are all still recovering from it. To be honest, I'm still recovering from all of my outfits from 2003-2008.
One quirk about the skirt which may or may not be a dealbreaker for ya: it has an asymmetrical hem with the sides being longer than the front hem. A reverse v hem — is that a thing? I just made it up now. It's harder to see on, but when you pull it out of the package and hang it up it will feel more asymmetrical. If you hate an uneven edge, this may drive you crazy. If you — like me — would have never noticed until a few people DM you on Instagram about it — then you'll be fine. I like it because it gives just a bit more interest to the skirt, which makes it look even more high end.
If you're thinking in your head — is…that…another sweater and skirt combo, Kendi? It is. I am hitting a fever pitch with this combo and I can't stop. Expect at least one sweater / skirt combo from now until Christmas. Some people decorate for the holidays early, I dress like I have somewhere fun to go.
Find my sweater here (it runs generous! Size down one. I am in the medium but she's oversized.)
(If you're looking for an under $30 option, this cowl neck would work beautifully too! I would size down one. Or this one has similar sleeves to the sweater I'm wearing here but it's under $30 as well! )
Oh and one last thing before I leave — my shoes have finally made their final descent to Nordstrom Rack! These beauts I picked up this summer at the Nordstrom Anniversary sale for about double what they are at Nordstrom Rack now! They're in full stock, too! I am in the size 10, stay true to your size. And true to your heart.