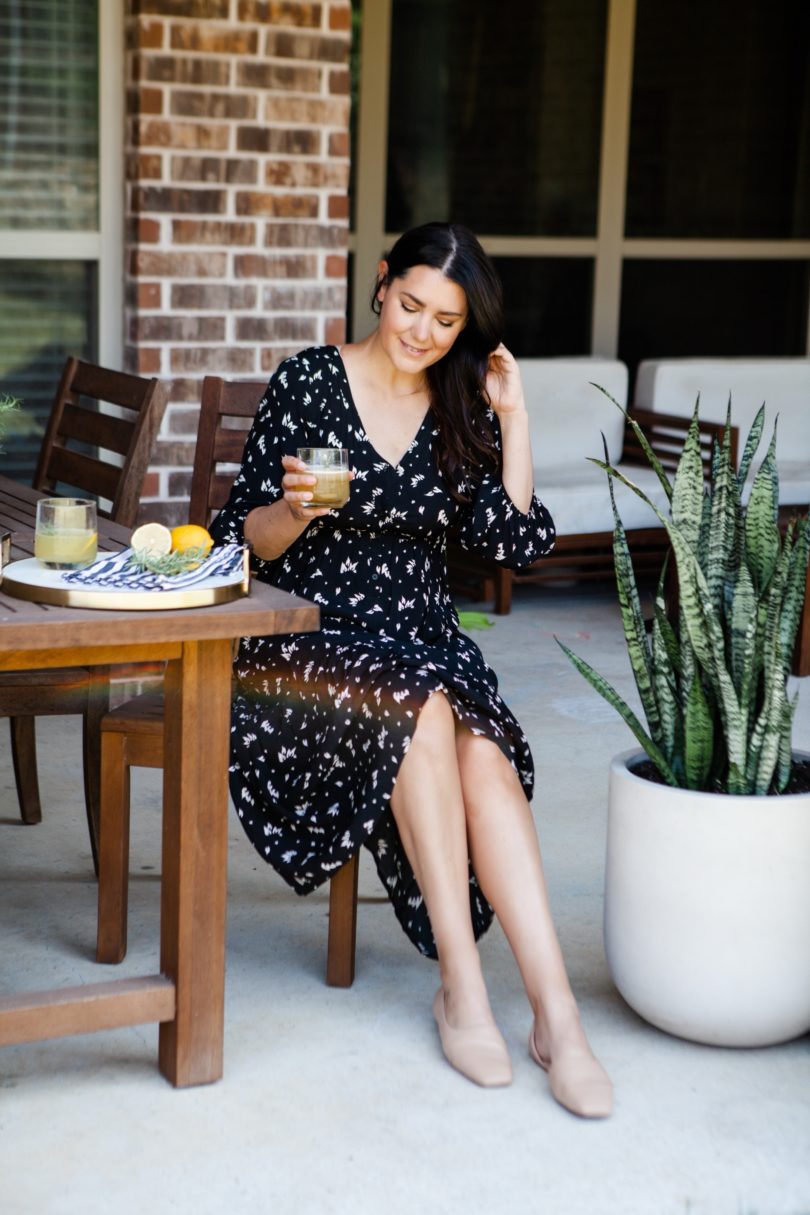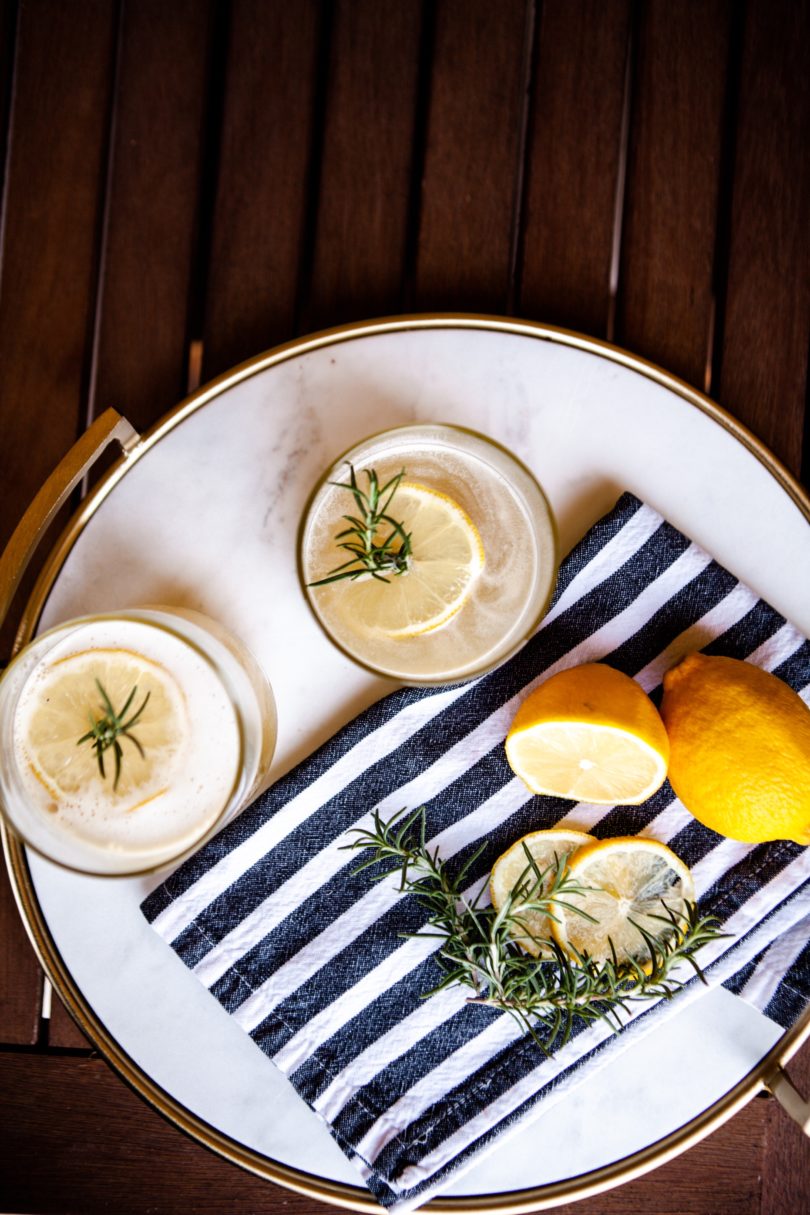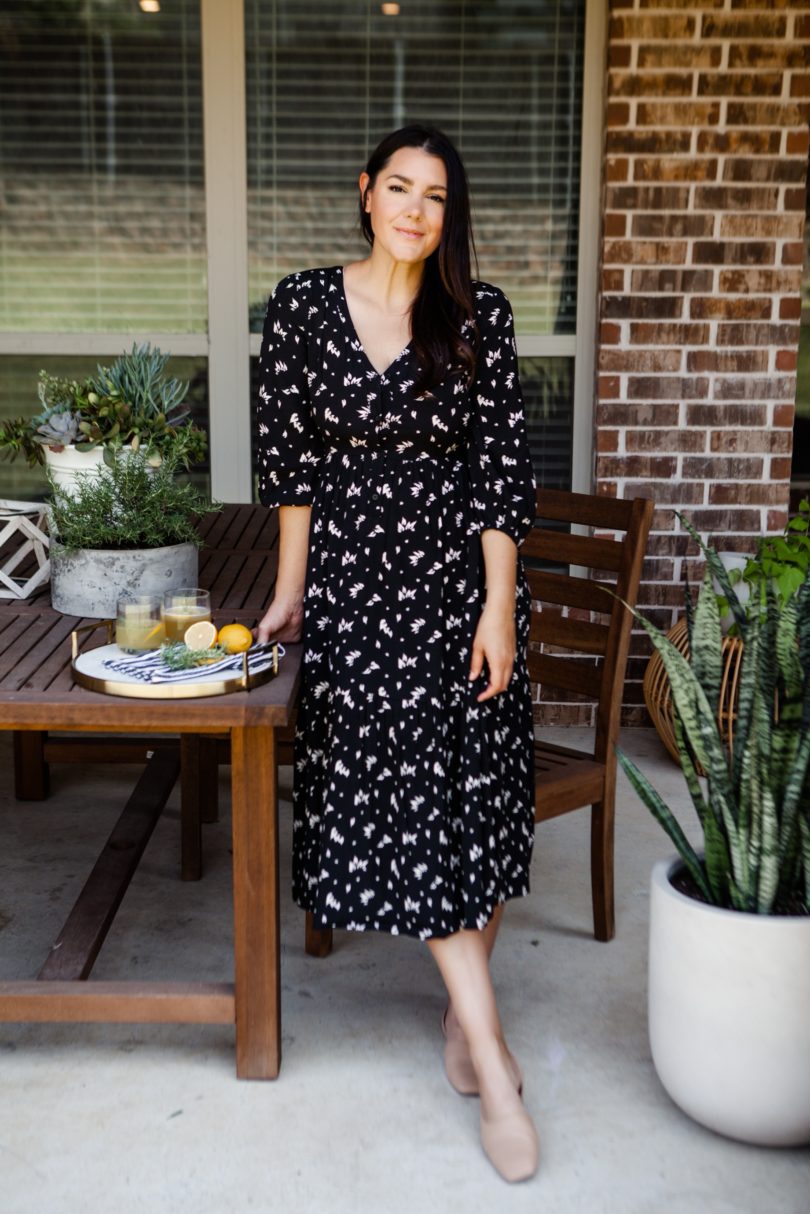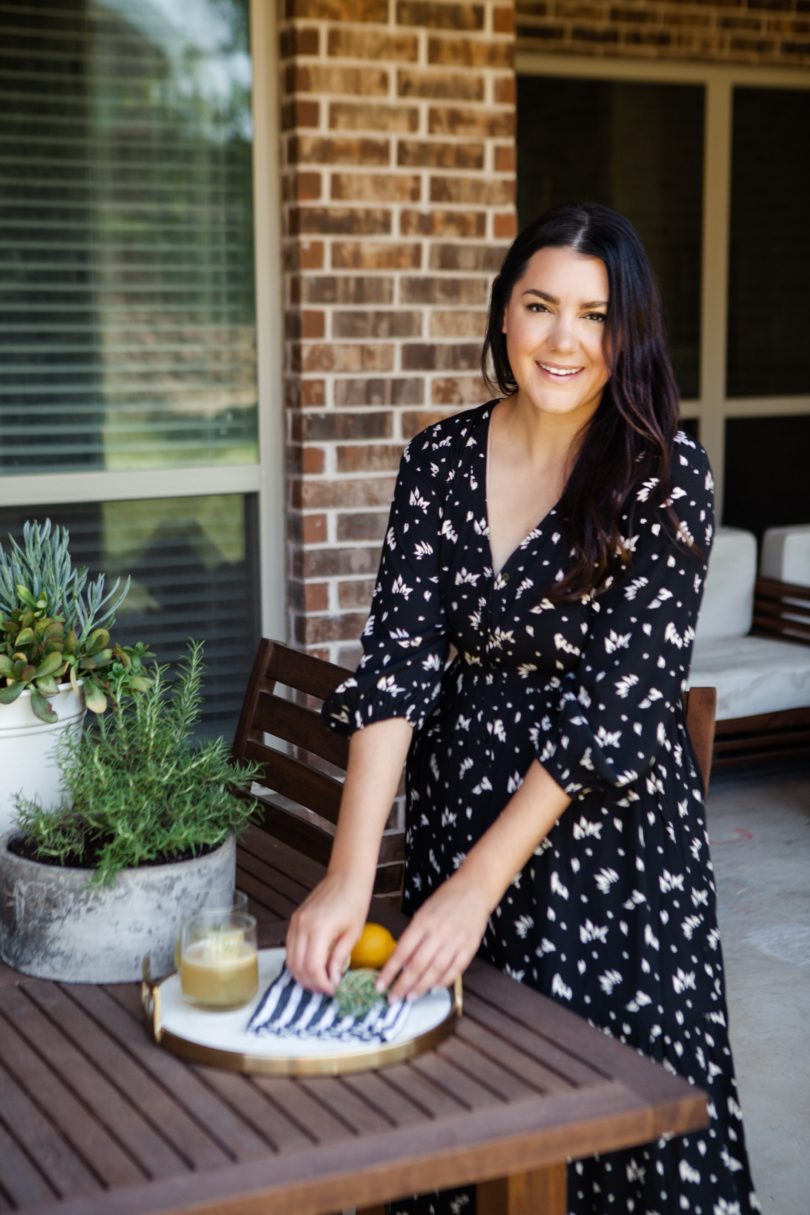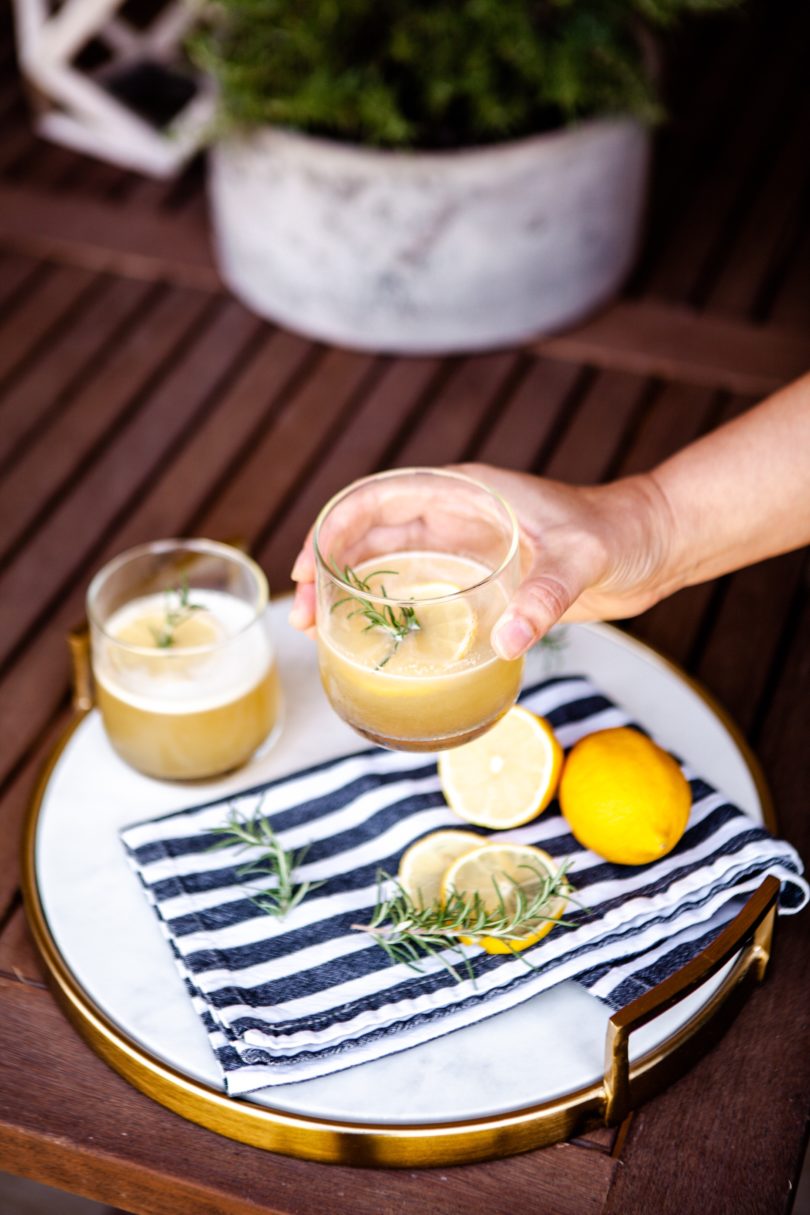 It's Friday and you know what that means — it's drinks and a dress time! This week's dress is from the Nordstrom Anniversary Sale because, well of course it is. I had envisioned this number with my Veja sneakers but…and I hate to admit this…I couldn't find them. This is a recurring nightmare that I have that ends becoming real life multiple times a week. So I chose these nude flats instead and can I just say they are a perfect fit with this dress. You can find my flats here!
This dress is lightweight and easy to wear. I am in the medium but I have to be honest — it is very tight at the chest. (It's a buttoned up situation.) So I would say definitely size up if you need room in the chest! Find this dress here.
So I've been ignoring all the drink recipes out there that involve any type of…what's the word I'm looking for…oh yes, EFFORT. AKA the drinks that tell you to make an infused simple syrup. *eye roll* But I wanted to make something with the rosemary that I've been growing on our patio this summer (#farmer) and all the drinks I found needed effort. So effort it is this week! And can I tell you something? Making a simple syrup might actually be the easiest thing I've ever done. It's pouring two things in a pot, stirring, boiling and setting aside and BAM! You've got a simple syrup. It's called simple for a reason, girl.
All that to say, this is the most efforts towards a cocktail yet and it was easier than I expected. Gonna give this thing called 'effort' a try this year. That's my new year's resolution since the ones I made in January were in the trash by March.
Rosemary Bee's Knees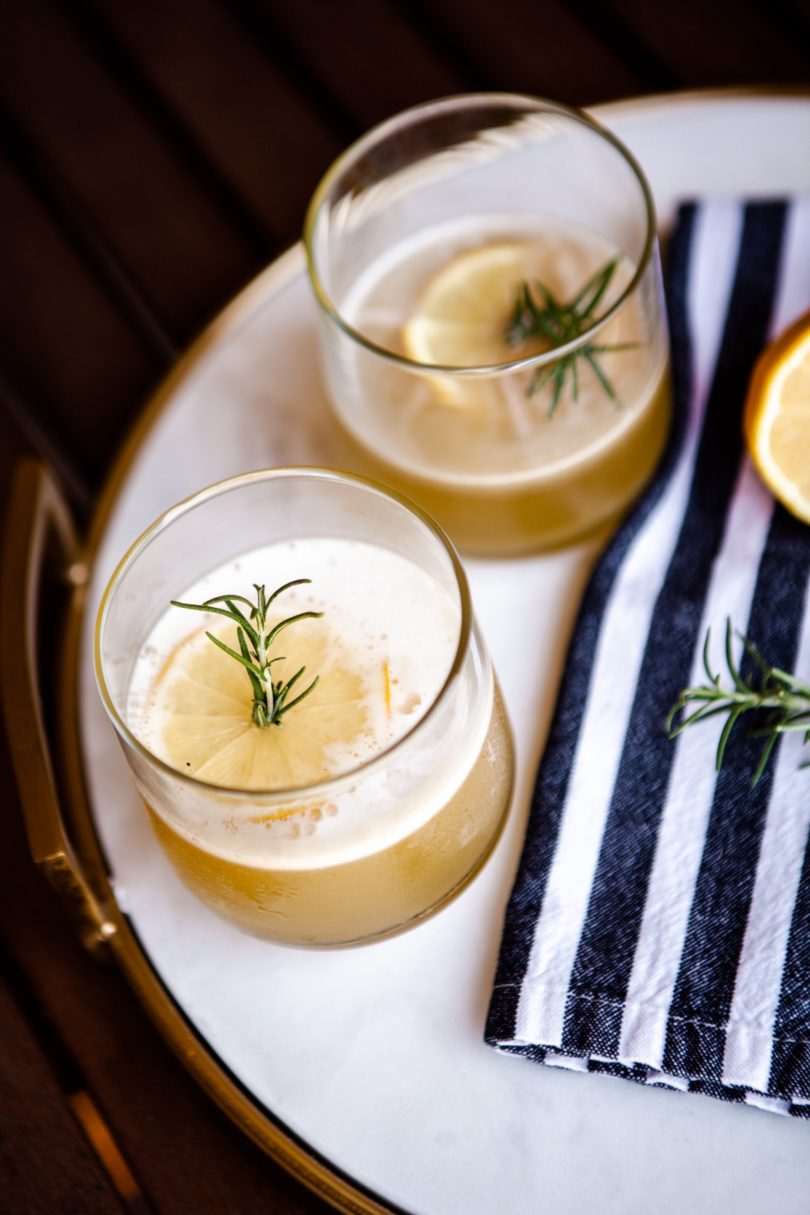 Ingredients
For the Simple Syrup:
1/2 cup of honey
1/2 cup of water
2 sprigs of fresh rosemary
For the Cocktail:
2 oz of Gin
2 oz of Rosemary Honey Simple Syrup
1 oz of lemon juice
Directions:
To make the Rosemary Honey Simple Syrup, pour the water and honey in the a small pot over high heat. Constantly stir to dissolve the honey into the water and add the rosemary sprigs. Bring this to a boil, while occasionally stirring. Once at a boil, stir a few times to make sure the honey is dissolved and combined fully. Remove from heat and let the syrup come to room temperature with the rosemary sprigs. Strain the syrup into a container with a lid and keep refrigerated for up to 2 weeks.
Add 2 oz of Gin, 2 oz of the Rosemary Honey Simple Syrup and 1 oz of lemon juice to a shaker with ice. Shake the cocktail with the ice and pour into a glass, adding a simple garnish of a rosemary sprig or a lemon slice — or both!
variations
*If you want to swap out the gin for bourbon, I've seen that variation of this drink as well! I'm just not a whiskey drinker.
*The original recipe calls for 2 oz of lemon juice, but we found the lemon to be too overwhelming, but you can add up to 2 oz of lemon juice if you prefer a more tart drink.
*I'm not saying you should but…if you wanted to add a champagne floater to this, you will not be mad at it.
*If you prefer a less sweet drink, add about 2 oz of seltzer water or sparkling water to this drink! It will make the drink a bit more fizzy and less sweet.