I would say from the last three of four Nordstrom Anniversary Sale there has been the infamous Vince nude flat. Last year this flat sold out pretty early on (the Darlington, remember that one? Good times.) This year they have thrown us a real curve ball — not one, but two pairs of Vince flats. What are they trying to do to us?
So I decided to take one for the team and I ordered both pairs to compare. Oh my god — it's a comPAIRison. I won't make that pun again but I do want you to know that I recognize it and adore it. The #Nsale opens up to Insider level of card holders today and then to the public on the 19th. So far the inventory is holding on these babies, but history has shown that when this sale opens to the public — and/or other bloggers find out about them — they fly. So let's get to the review!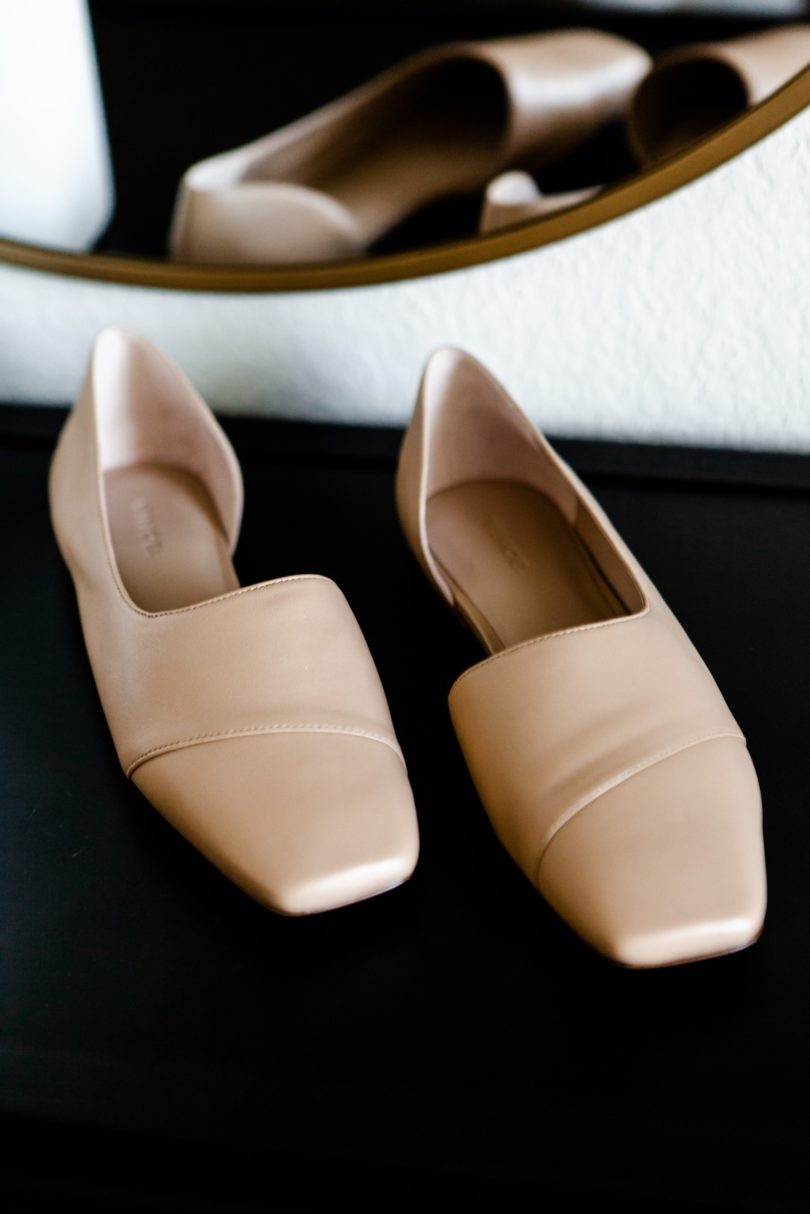 This pair of nude Vince Flats are my choice, my favorites. I will be honest — I turned my little nose up at them at first. It's the square toe, I'll be real. I'm just a pointy toe flat kind of woman and a square toe can be tough. But you know what…these are great. Very flattering, just as flattering as a pointed toe. It's because the square toe is a softened angle and the ends still taper, so it creates a really beautiful line. The sole of the shoe has structure and a slight heel. This is my favorite type of flat; it gives the shoe structure and a leather sole lasts a really long time.
I have given these flats a good wear the last few days and they are very comfortable. They fit true to size, (I'm in the size 10) which usually in the past I've sized down a half size in their flats but for me these are true to size. As I was breaking them, I did notice that the back heel rubs on my ankle at first. I do think this is just as I break them in, but I wanted to mention that. (PS: you can see them in an outfit here.)
This was actually the initial pair that I ordered because I liked the look of these best in photos. But when I got them in, I didn't love them on my foot. Let me explain: these flats are gorgeous, buttery soft leather and the prettiest color of nude. The way that these flats fit are more like a glove — I know 'foot glove' isn't the prettiest description but hopefully you understand what I mean. This leather flat 'molds' to your foot and moves with you. The sole is rubber, so there isn't as much structure or support to the shoe, which is why this shoe and I parted ways. I like a flat with a stiffer leather (the Cyder flats above) and a leather sole. These are buttery soft, very comfortable — like the Everyone Day Glove, but I prefer more structure and shape in a flat. I found that these just kind of looked like my leg went into a nude colored hoof, if that makes any sense at all. Horse girl but make it fashion.
So as you can tell, my complaint with these is purely subjective. I prefer a structured flat and these are a softer leather that will mold to your foot. Wonderful quality, beautifully made, but not my favorite fit. They fit true to size, as I sized down a half step and definitely need the size 10. If you like a more fitted, softer leather flat, this one is for you.