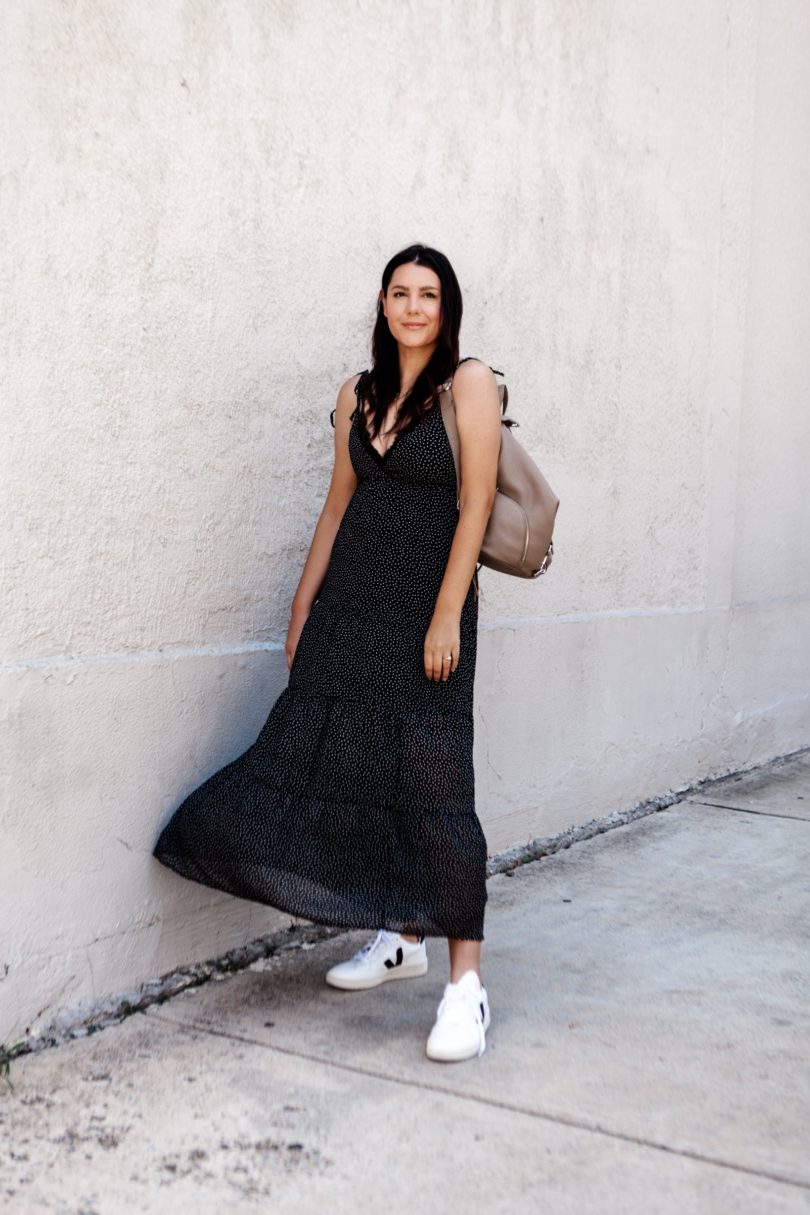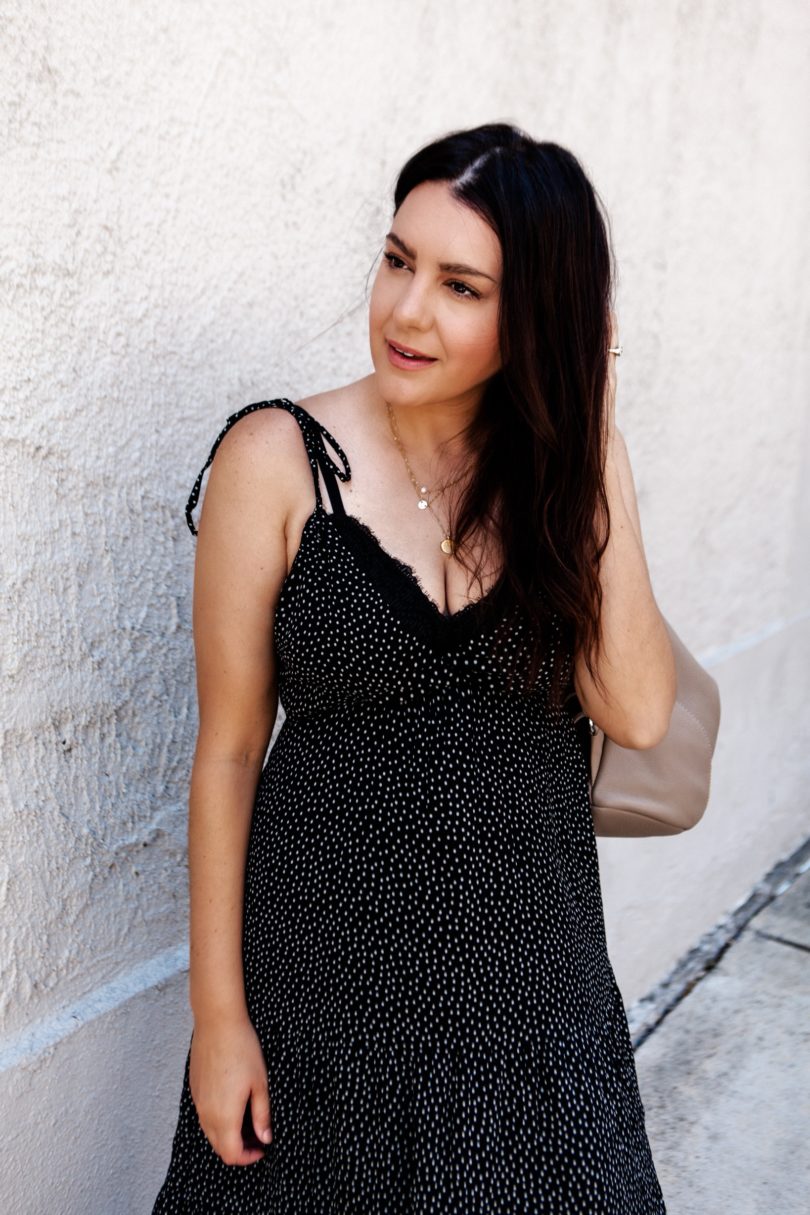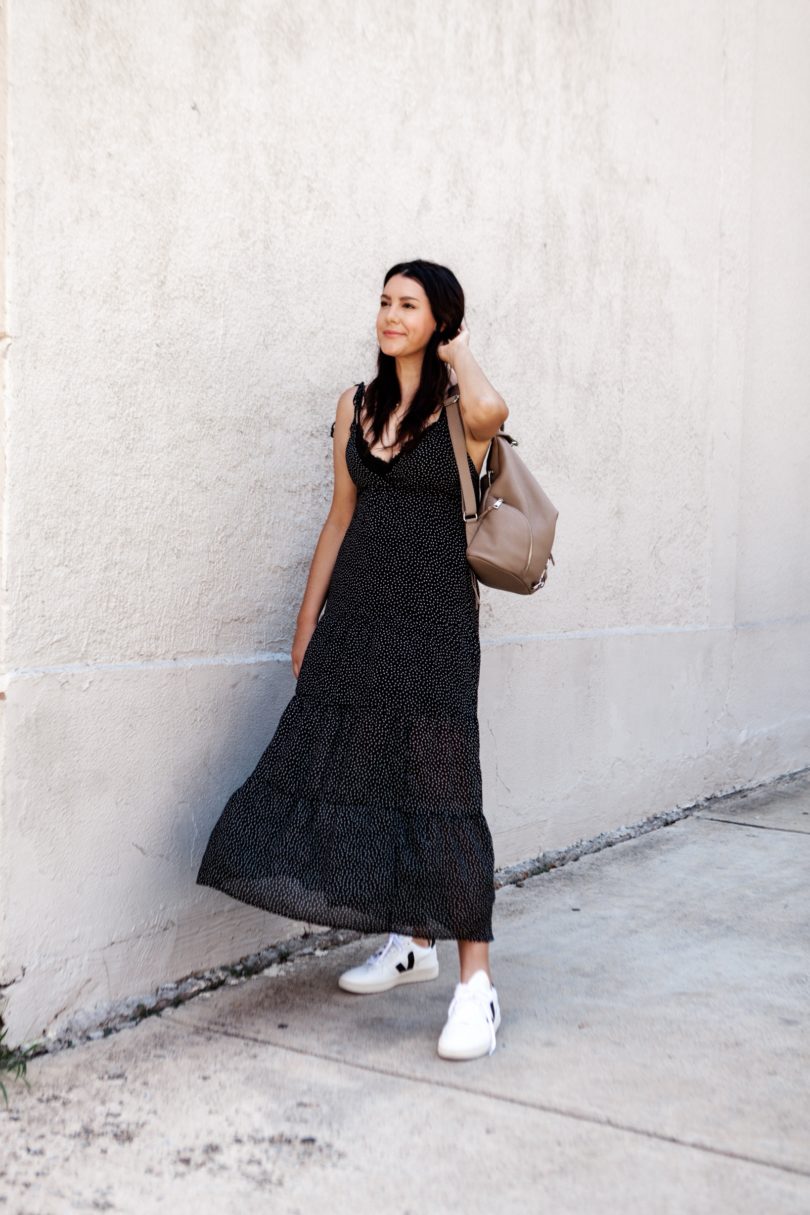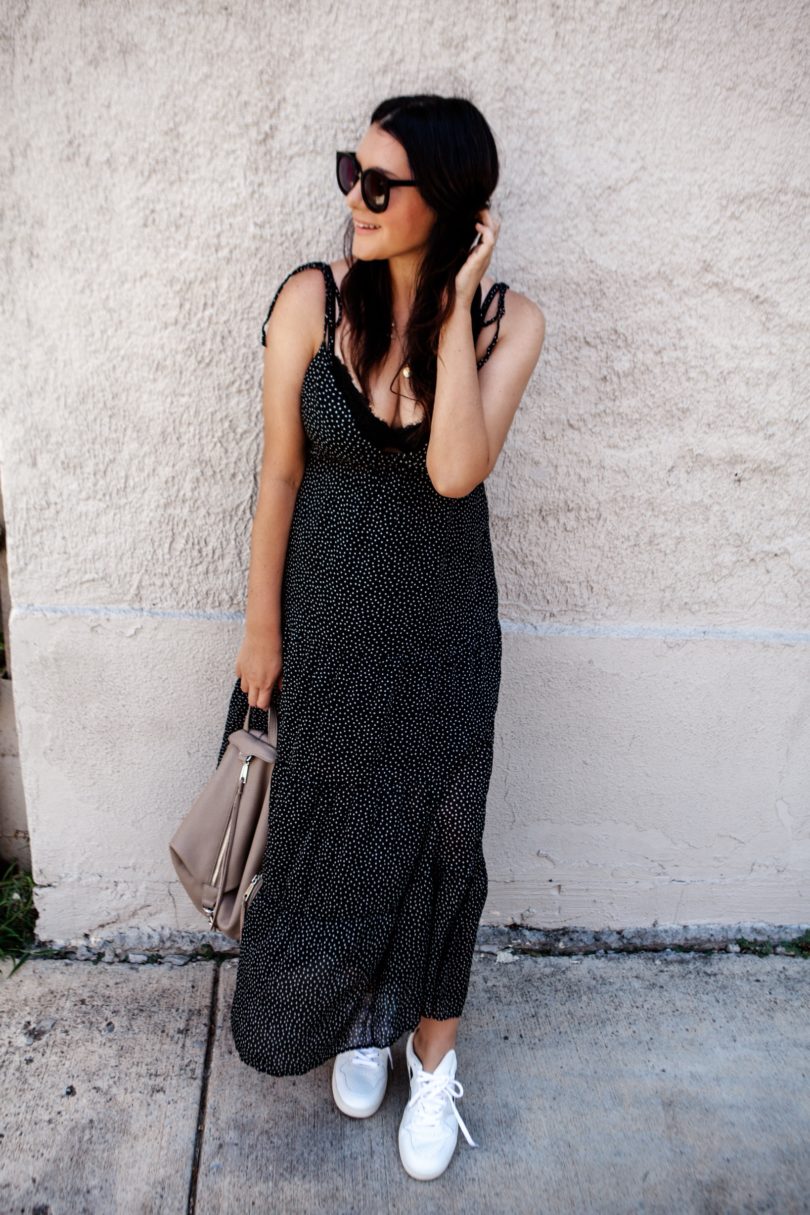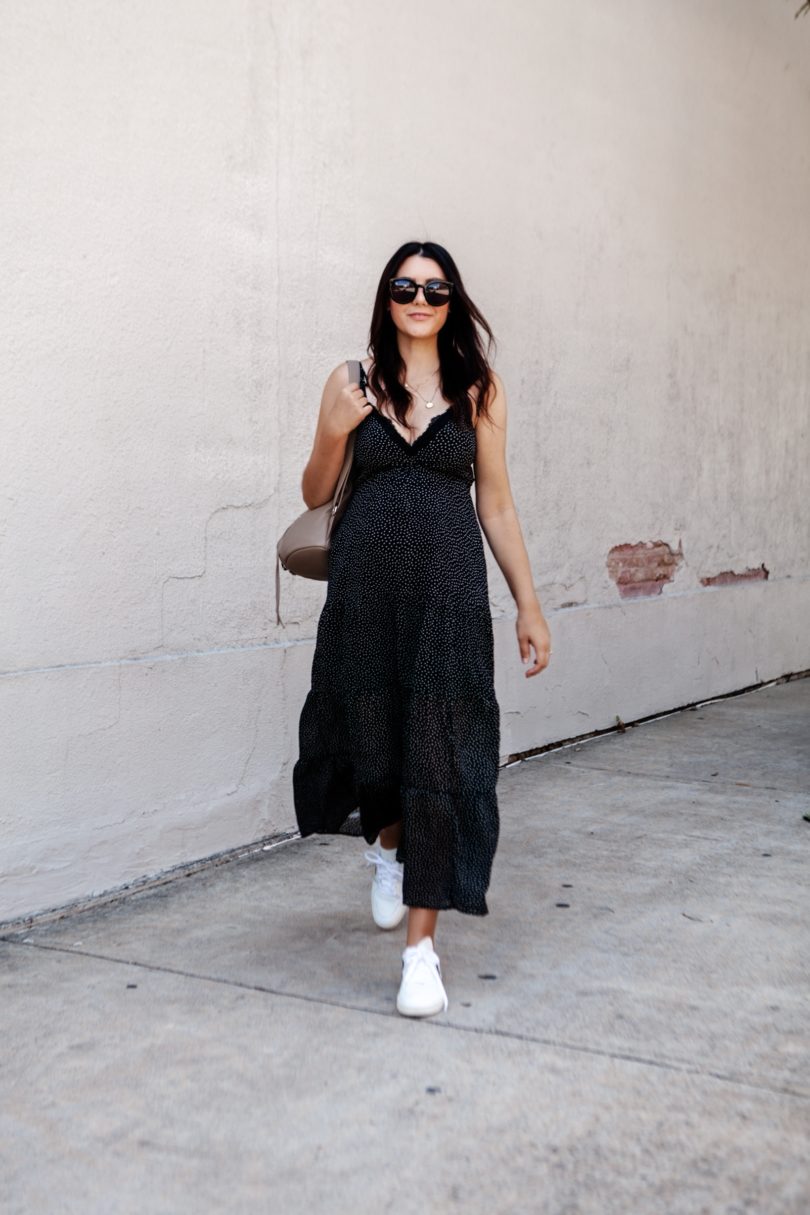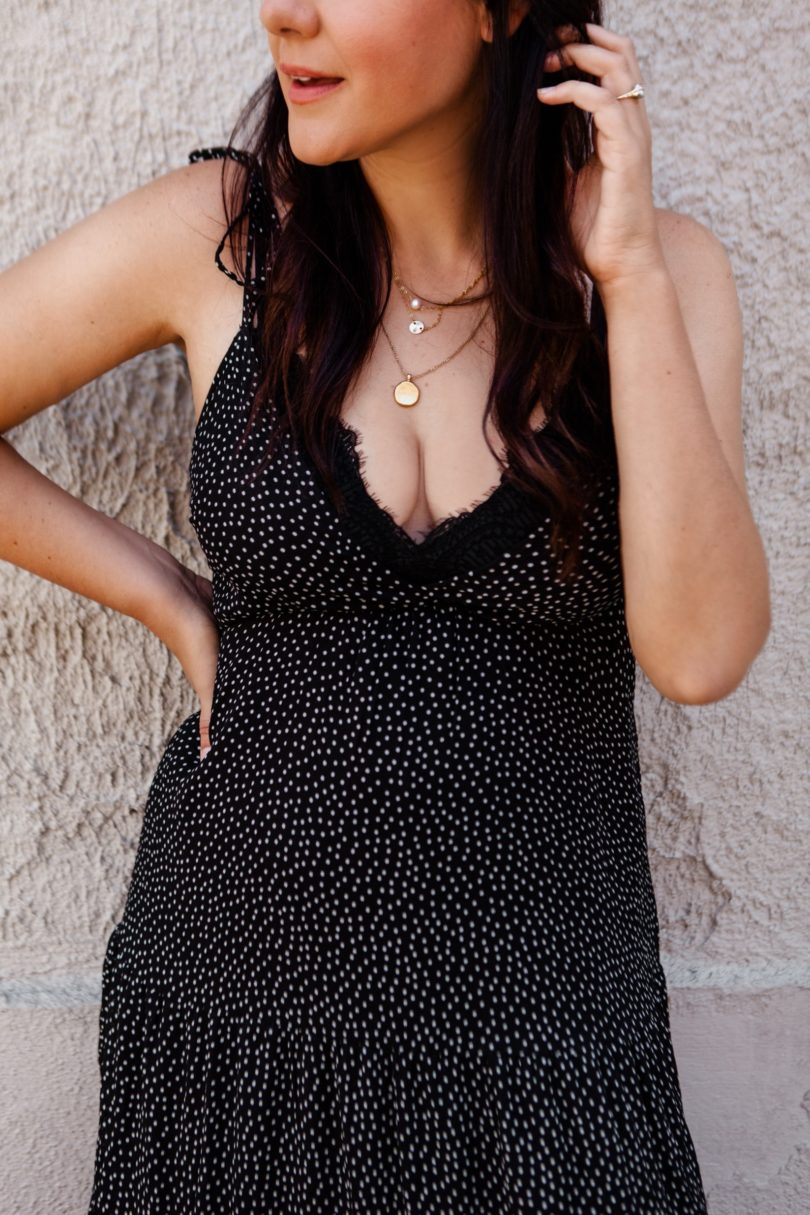 I feel like I have to put this out there every year but I will again this year: I promise am not obsessed with touching my hair, it's just really effing windy outside. I noticed that a lot of my poses recently were the same — hair to the side, hand on hair. But it's the only way we can get a photo without my hair whipping itself violently into my face. I swear to God, I will look out my window and the trees won't be moving AT ALL and then lo-and-behold we get a camera out and BOOM! A gust that could knock a small man to his knees hits comes out of absolutely nowhere and I can kiss my good hair game goodbye. This usually just happens in the spring time but since we weren't out shooting this spring I personally think the wind has a vendetta against me and saved his bullshit for this summer. That's just my own personal belief, the science behind it is shaky at best.
Okay speaking of bullshit, this dress is super low cut and I didn't think it was going to happen for me. But then I was slowly perusing through Target because this is now my happy hour and I stumbled upon like 20 different variations of bralettes as to which I bought three of the said twenty. This one is a really, really great solution for a low cut dress or top, because it can hold your boobs in while also giving more coverage with the lace. I would NOT say that this is the *most* comfortable bra I've ever worn OR that the support it gives rivals that of my college best friend, but it's gets the job done. (You can find it here.) In fact, I'll tell you my best secret for bralette's like this but it's just for you, my dear reader who pushes through my streams of consciousness day in and day out just to hopefully find one gem to cling on to: I put bra inserts in shitty bras to give my bosoms more lift and shape. I also do this in swimsuits if they have absolutely no support. I have these here.  And I don't know how well they work because I have nothing to base the results off of, but I like them so *chefs kiss*
Is this the weirdest post you've ever read on here? Surprisingly no.
All that to say, this dress is  from Abercrombie (random) and on sale and is selling out it looks like. But this dress is VERY similar and not as low cut, which looking back on it may have been a better fit for me, but hindsight is 20/20.
Find this dress here and a few similars below! I am in the medium of this dress and it fits TTS. I would suggest a bralette with this dress if you are blessed in the chest.