Since being in our house since roughly mid-March, we've gone through some phases with our cooking. First phase: the Costco stock up. Second phrase: let's help ALL the small businesses with food pick up from local restaurants. Third phase: see how many meals we can make from the air fryer + french fries combo. Fourth and last phase: just cook like normal. That's right, Kendi, just do what you've BEEN doing for all of these years. Normal — what a concept. So I went back to our tried and true recipes and thought I might share some of our favorites here, if you guys like that! I am no gourmet chef but I'd like to think that if you came over to my house for dinner, you'd leave full and happy. And you might even ask me for the recipe. So from my kitchen to yours a few of our favorite 'Everyday' recipes. 


Before quarantine, we would usually have pasta on Friday night and sometimes friends would come over and share or sometimes we'd keep the carbs to ourselves. We deemed it Pasta Friday and we'd either try a new recipe or stick with our tried and true's. This one is a favorite for about 10 years now. When I was a vegetarian back in the day, I scoured the internet for new recipes because I didn't really know how to be a good vegetarian. I ended up finding some of my favorite recipes that I still cook to this day and this is one of them! I found this recipe from Jen Loves Kev way back in the day and we've tweaked it to our preference.
If you love pesto, pasta and a little kick of spice then you are going to LOVE this recipe. It's so easy, too! That's why I like pestos — it's a toss in /  grind in a food processor and voila — you've made a fantastic sauce. So let's get to it!

Spicy Pistachio Pesto Pasta

Ingredients
2-3 cups or 1 bag of spinach or arugula
1/3 of unsalted pistachio nut meats
1-2 jalapeños
3 tbsp of olive oil
1/2 cup shredded parmesan
4+ cloves of garlic
1/4 tsp of black pepper
1/4 tsp of coarse kosher salt, or to taste
2 tbsp of lime or lemon juice
Directions
Slice the jalapeños in half lengthwise and scrape out seeds. I like to leave a few in depending on how much heat I want in the pasta / how hot the peppers are. If you want basically no heat but the flavor of the peppers, scrape ALL the seeds out and use two small jalapeños. If you want some heat, leave about half the seeds on one medium jalapeño. This is a recipe that you will want to tweak to your own preference, but we prefer some heat so we leave the seeds in.
In a food processor, combine garlic cloves, jalapeño, spinach and pistachios in food processor and pulse until blended. (We LOVE garlic so sometimes we add 5-8 cloves depending on the week we've had. Again, if you aren't a garlic lover, start with 4.)
Slowly add in olive oil while pulsing and lime juice. Add more lime juice if pesto is too thick, but don't over power the pesto with lemon or lime juice.
Add the cheese, then salt and pepper to the food processor and blend once more. Once everything is blended and creamy — you are looking for a creamy but textured sauce, do a taste test to see if you need more salt / pepper.
From here you can make ahead, refrigerate and keep for about 5 days. OR you can get your salted pasta water boiling. Make sure your pasta water is salty like the sea! A well salted pasta is a perfect tasting dish. I like to boil my pasta al dente and save about a half cup to a cup of pasta water to create a creamy sauce. Once I drain the pasta, I toss them back into the pot on a low heat with some scoops of pesto and I slowly add in some of the reserved pasta water and stir. You probably won't use all of your reserved water but it's nice to have on hand. Keep alternating between a scoop of pesto and a tablespoon of pasta water and stirring over low heat until your pasta is coated.
Look! You've created a nice creamy pesto sauce and it was super easy! 
I like to add in a few pistachios to my bowl and some Parmesan on top! *chefs kiss*
We use penne or farfalle (bow tie) pasta on this and find it to be the best for the pesto to stick to! But you do you! Also you can use this pesto on grilled chicken, in a roasted vegetable bowl or on paninis! I like to reuse it for all of those things.

Quick note:
 I know up there I said pistachio nut meats and you probably had a visceral reaction to that phrase. But I get them from Trader Joe's — they are unsalted and perfect for recipes! If not you can use unsalted pistachios, just unshelled them and that will be great! Here is the bag from TJ's if you want to look for them next time.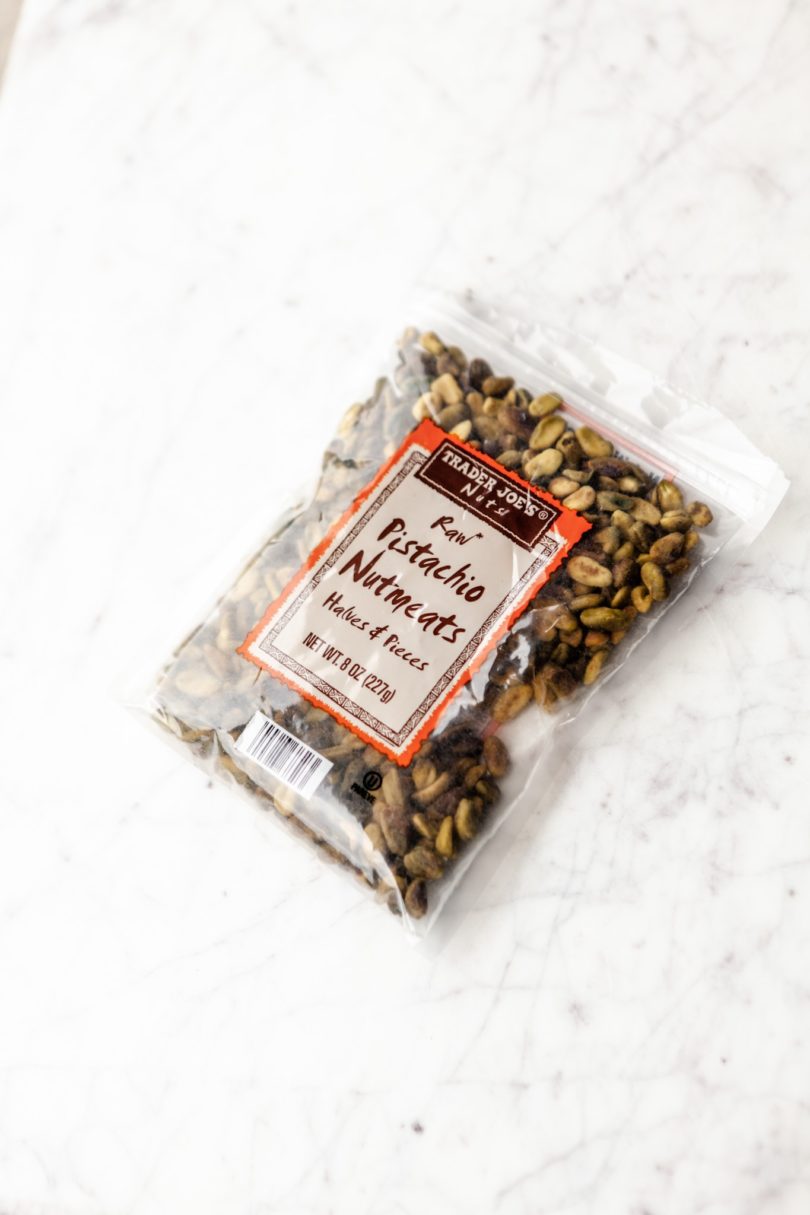 Let me know what you think about Everyday Kitchen! I'll try to get a new to you recipe each week!