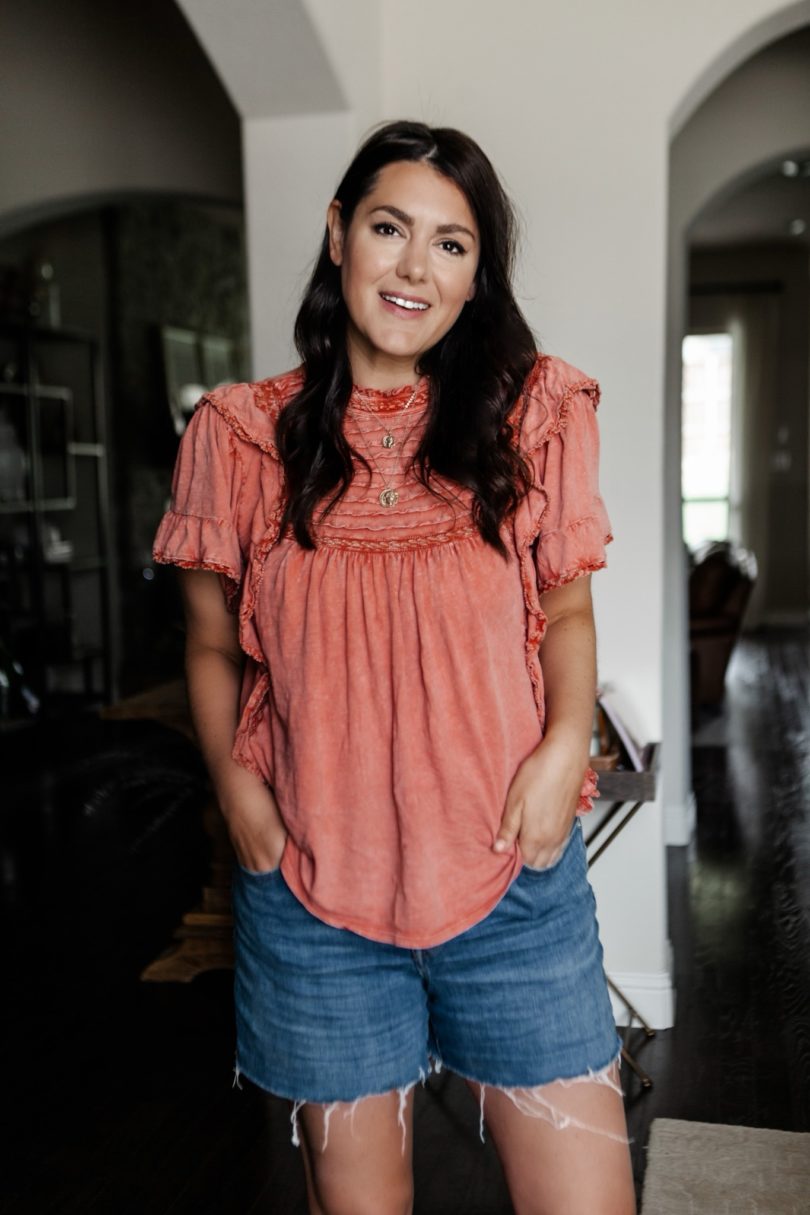 So a few weeks ago I did a post on some new cut-off denim shorts for summer that I just love. I gave you a full review but I got a lot of requests for longer denim shorts and you know I am here to please! So I have rounded up some of the best (in my opinion, of course!) longer denim shorts!
So these are the Madewell High Rise denim shorts but they are uncuffed! I almost like them better uncuffed for when I want a bit of a looser fit and more length. (I'm in my tried and true Madewell size, 29.) This pair is quite versatile, which sounds weird I know, but they have a lot of stretch in them so if I want them to bit a bit looser on my thighs, I uncuff them and push them a bit more closer to my hips to give more length and a looser fit on my thighs. For a more fitted look, I'll pull the waist up closer to my belly button and the leg fits higher and tighter, almost more like a biker short. Find them here and see below!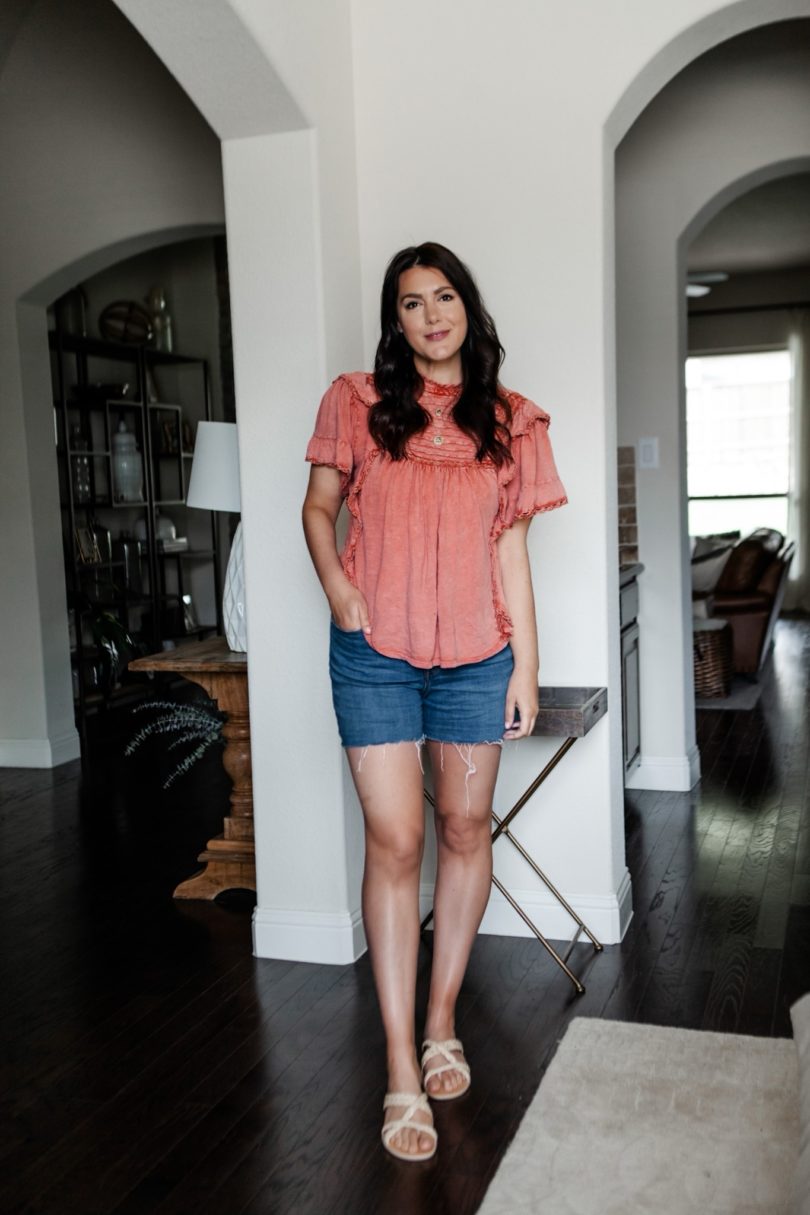 I know, you're probably adjusting your glasses because yes the difference is pretty minimal but I do like that I have options on fit / length with this pair. Leave it to spandex to give me some much needed room.
All that to say, this is the longest pair of shorts I own. HA. It's true though. And I would venture out to say that they are not even that long; they're on the short side of longer, I say. But I am #1 fan of the shorty shorts club, although they will not let me be a member. I'll try again next year. Every time I see a pair of longer shorts that I want, they sell out because the Bermuda short is IN this year. I've got to hop on this trend train this summer.
So I went to great lengths to find some longer shorts for you guys! From 4″inch inseams to 11″ inseams, I've found some of my favorite brands representing longer lengths this year.
left to right:
Madewell High Rise Shorts (shown cuffed) / Treasure & Bond Distressed Shorts / Frame Rolled Shorts
Wal-Mart Boyfriend Shorts / Good American Shorts /
Madewell Shorts / AG Denim Shorts /Wit+Wisdom Shorts
Agolde Denim  / Nordstrom Shorts / Target Shorts
Mother Tomcat Shorts / Levi's Knee Length Shorts
A few notes
 * the 11″ inseam is to your knees if you are at least 5'9″. If you are going with this length, I would say to keep your sandals nude and sleek because you'll want to elongate your leg as much as possible. Why? Because you are basically dividing yourself into threes with this long short and keeping your legs + shoes neutral gives you the illusion of looking taller, sleeker and not as cut into thirds. This short CAN work but you don't want to cut yourself off with chunky shoes.
* Look for shorts with some stretch — at least 2% spandex! If you get into a 100% cotton situation, trying to get the fit on the first time may be more difficult since we are all shopping online. I find Madewell's to always be pretty spot on.
*This is a personal preference but I typically size up in designer denim shorts or Levi's, especially if they don't have stretch. For some reason, I always find that I'm about a 30 in most shorts whereas I'm usually a 29 in denim. I don't make the rules, I just reluctantly live by them. Madewell, Target and Wit+Wisdom are the exceptions here. I stay with the 8 equivalent in all of these.
*I own the Madewell High Rise shorts (shown here uncuffed), the Treasure & Bond Distressed Shorts (I have the 29). And while I don't own the Wit + Wisdom Absolution shorts, I've had a pair of their denim and I am true to size!
Side note — this top is my FAVORITE! I actually was going to do this whole post about how I keep wearing this outfit over and over recently but it turned into a shorts guide! I know this isn't the most blogger outfit ever, but it's so easy and comfortable. I literally wear this outfit at least once a week — so why not share it right? I am in the medium of the top and it fits perfectly! Find it here. Oh and my shoes are so comfortable too and just $30! Find them here.