We are a little behind today because it has been an absolute swamp here this week. Like our windows were fogged up it's been so swampy here. Pretty sure I saw an alligator too but so far no one has believed me, not even my toddler. We finally got under 100% humidity (this is without it raining, mind you), 0% chance of good hair and a small peak of sun that was enough to shoot these photos today! Hooray for sunshine and a long weekend. Even if this quarantine has basically been one long weekend we never woke up from. And by weekend I mean nightmare.
NOW ON TO THE DRINK + A DRESS!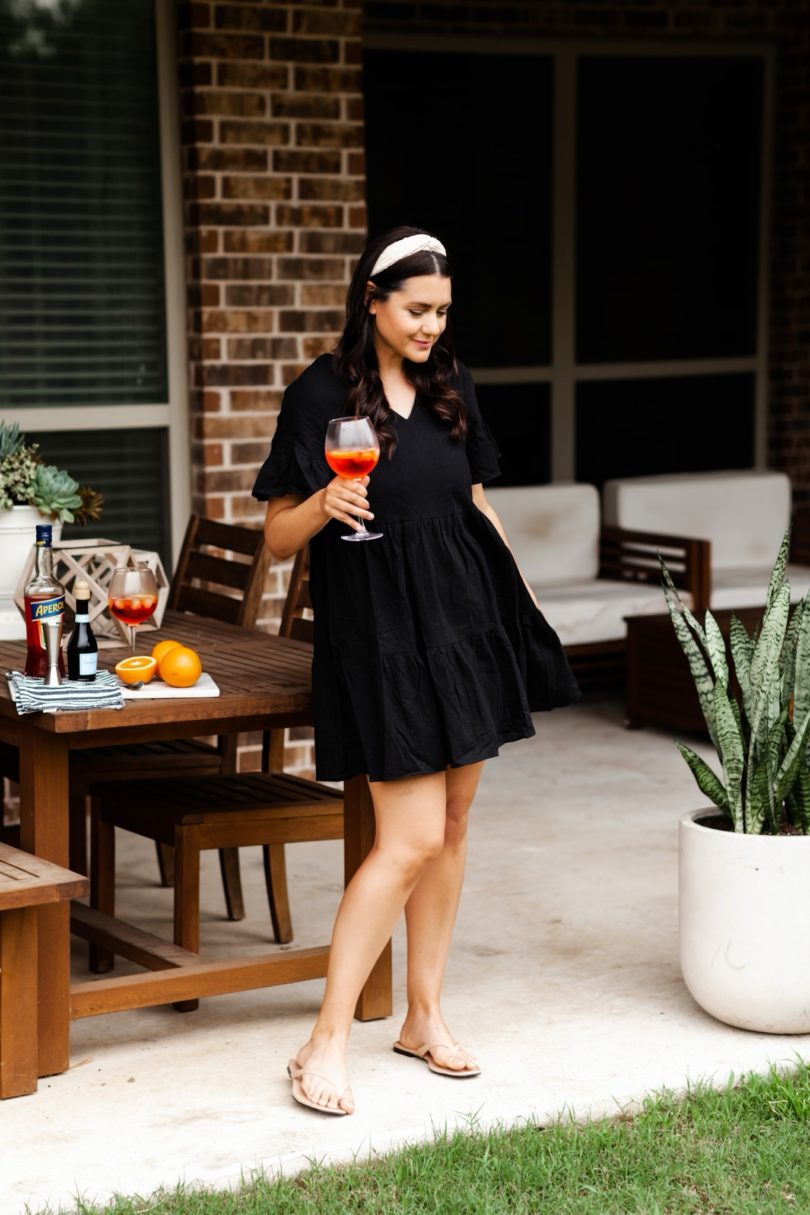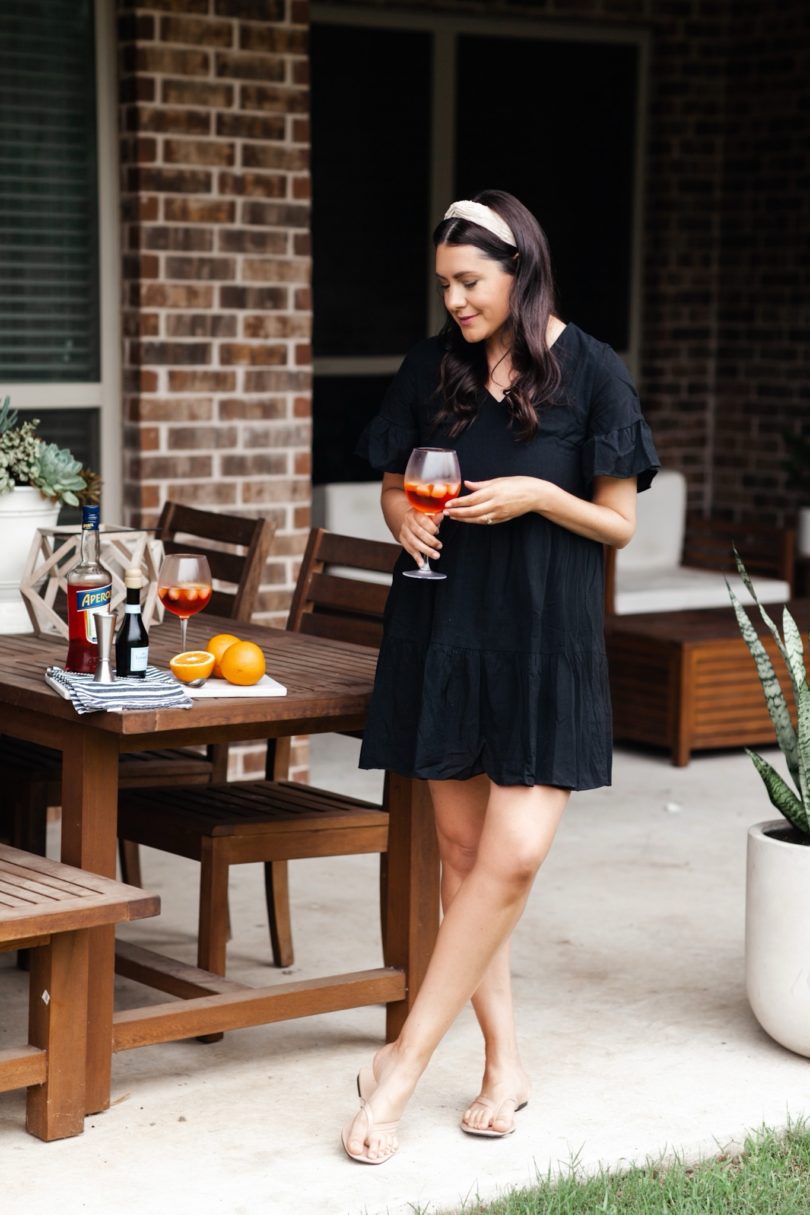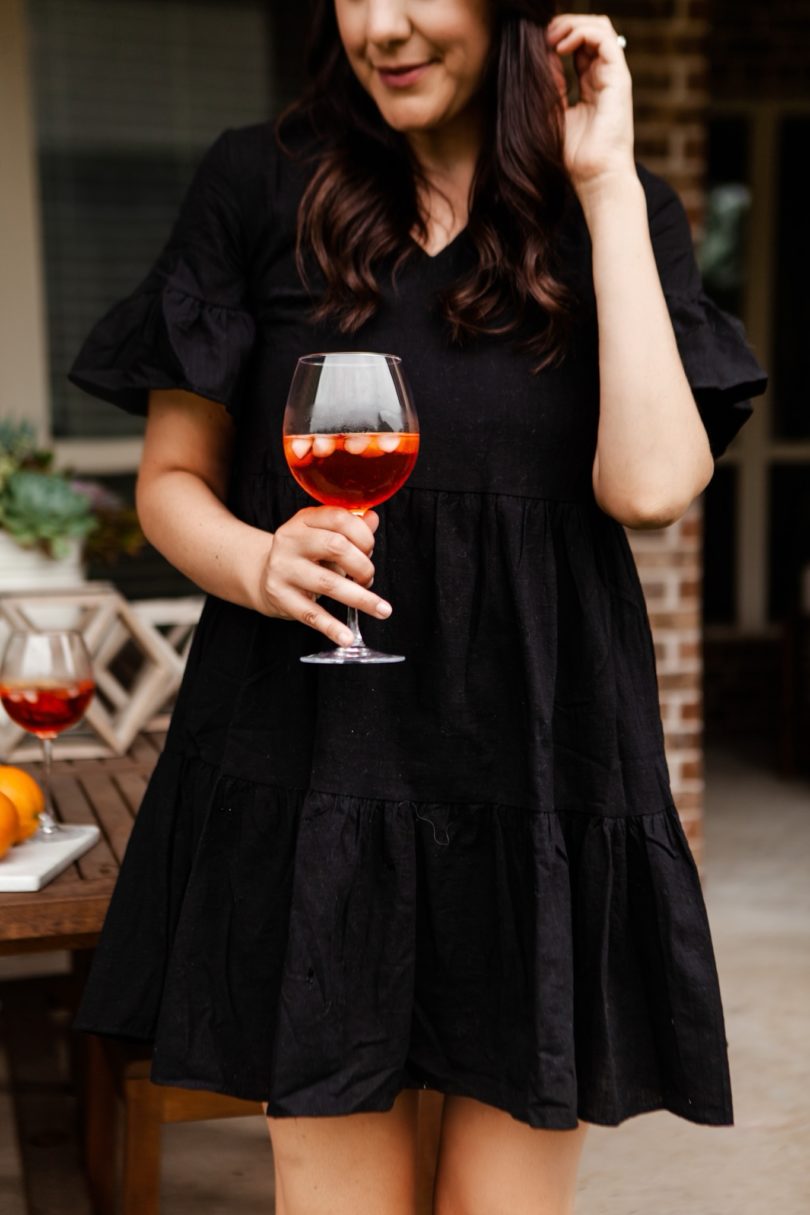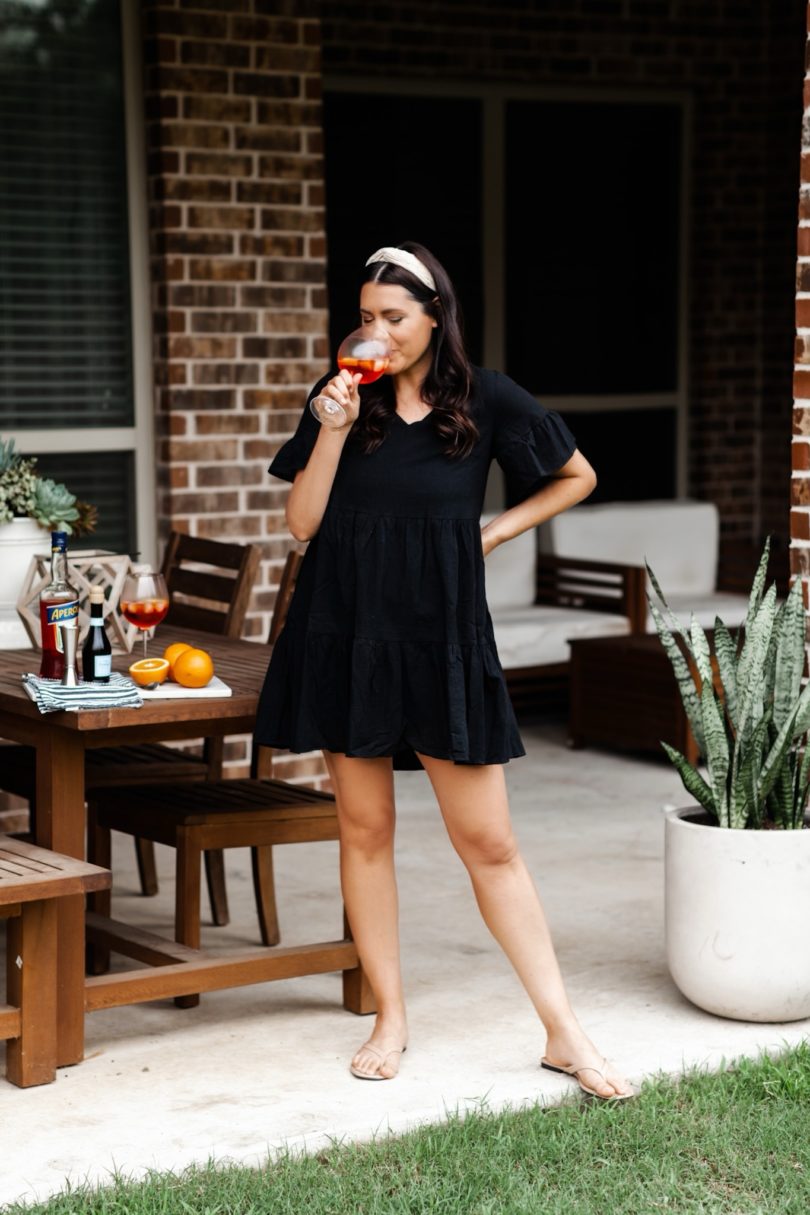 This week's dress is a meant for summer dress. It's loose, it's tiered, it's black so it hides all of the stains I tend to accumulate nowadays. (Again I blame quarantine.) I seriously put this dress on and teared up a little. The fit is spot on even though it looks like it doesn't really fit at all. PERFECT. Also it's under $30. You can find it here!
(I am in the medium and the bodice is lined.)
For real though I want this dress in every color. Would you be mad if every Drinks + a Dress post was just this dress for the rest of summer? Y/N. Lemme know.
Aperol Spritz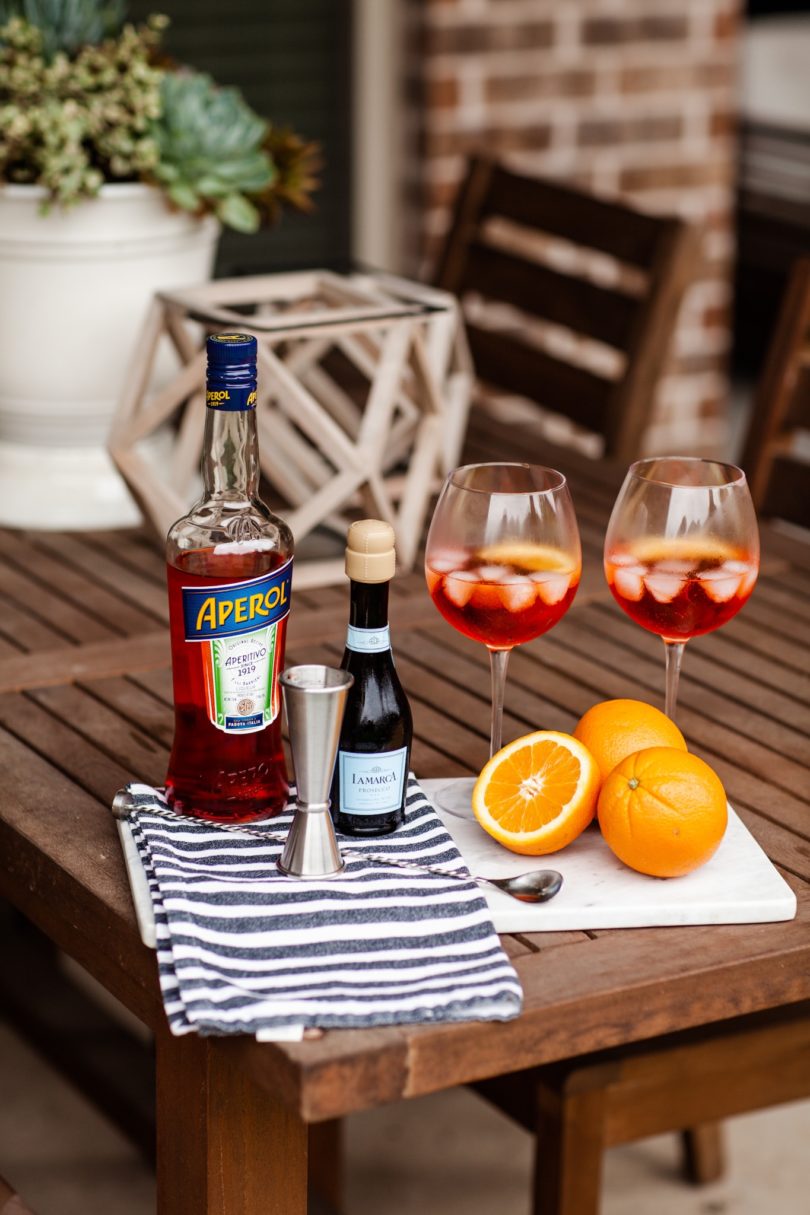 So this week's drink is brought to you by the one, the only Bryan. Resident photographer, bullshit put-upper-with and overall nice guy. He makes a pretty mean cocktail too so he suggested the summer classic, Aperol Spritzer. I had not had one before and it was pretty darn refreshing without being too much. I will say it has a more medicinal — or as Bryan calls it 'herbal' – flavor to it but if you hit it with a bit more champagne, it flows really well for a summer happy hour.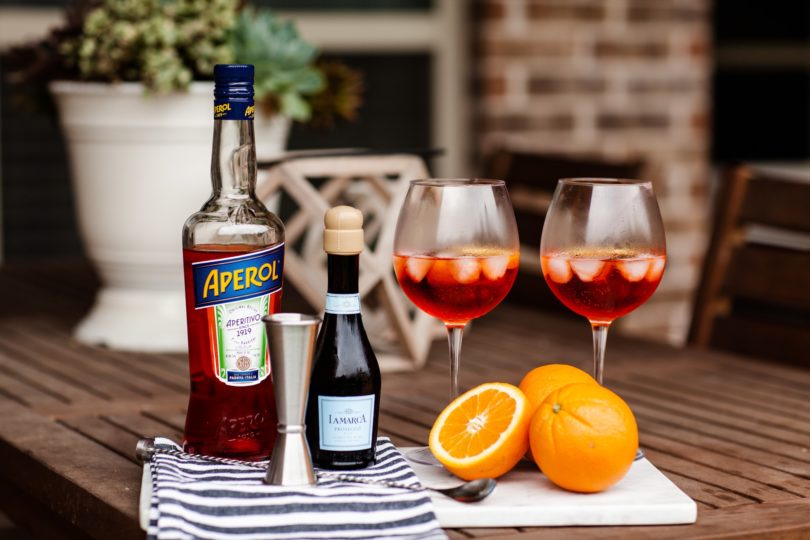 Ingredients
3 oz Prosecco
2 oz Aperol**
Splash of soda
Orange slice as garnish
Ice
(We reduce the Aperol to 2 oz for less herbal notes, however the most popular recipes call for 3 oz.  But I preferred and liked it best with 2 oz. ) 
Directions
This may be the easiest drink to make and you can NOT mess it up. However, if you do mess this up, I'm going to need you to pass the bartending duties to a friend, ok? Pour the Prosecco, then Aperol (I prefer 2 oz) and a splash of soda into a glass. Make sure your soda is fresh, too! You're going to want the bubbles. Lightly stir, THEN add your ice. Add a slice of orange as a garnish, if you fancy like that.
That's it! Enjoy it!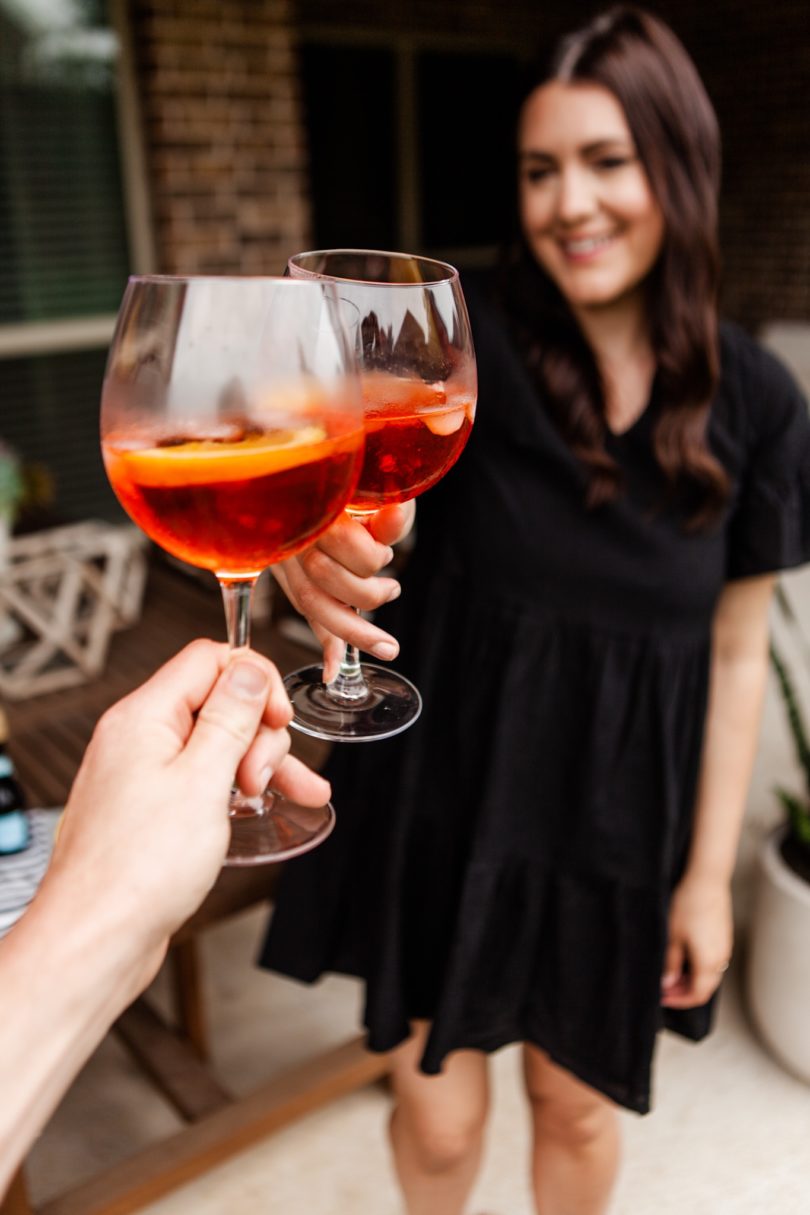 I hope you have a wonderful Memorial Day weekend, friends! Cheers!