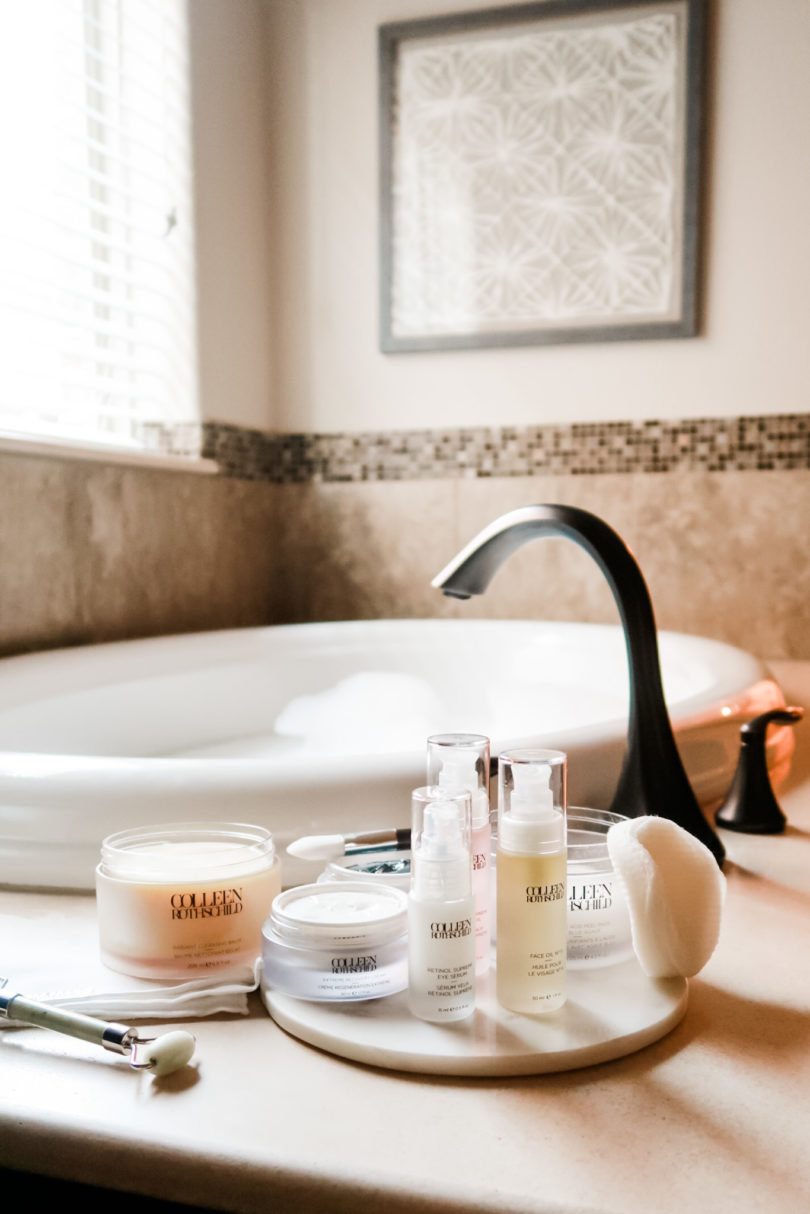 Before I even start this post — I want to mention that my favorite skincare line Colleen Rothschild is having their Anniversary Sale this week! You can get 25% off your order if you use code 6YEARS! Okay now onto the post!
I started really taking care of my skin after I turned 30. I am NOT saying this is the way to go; if I had to go back I would tell myself to start using all of the products starting in my 20s, but you know — hindsight is 20/20. Plus it's not like I would have listened to myself anyways. But when I started using Colleen Rothschild's products that was when my skincare regimen became a routine. Much like my makeup post, I've tried a lot of products over the years but I've found my favorites in Colleen Rothschild. I know they are a sponsor of this post and I've worked with them for many years, but that is the smallest perk. My skin has not changed for the better.
Since a part of my job is to take pictures literally all the time of myself, I can usually tell when something, even something small, has changed about me. I can say that since using these products I've listed below that my skin has more vibrancy, less fine lines and I rarely have a breakout when I do my nighttime skincare routine regularly and consistently. So let's get to the list! I'll list them in order of how I use each product every night!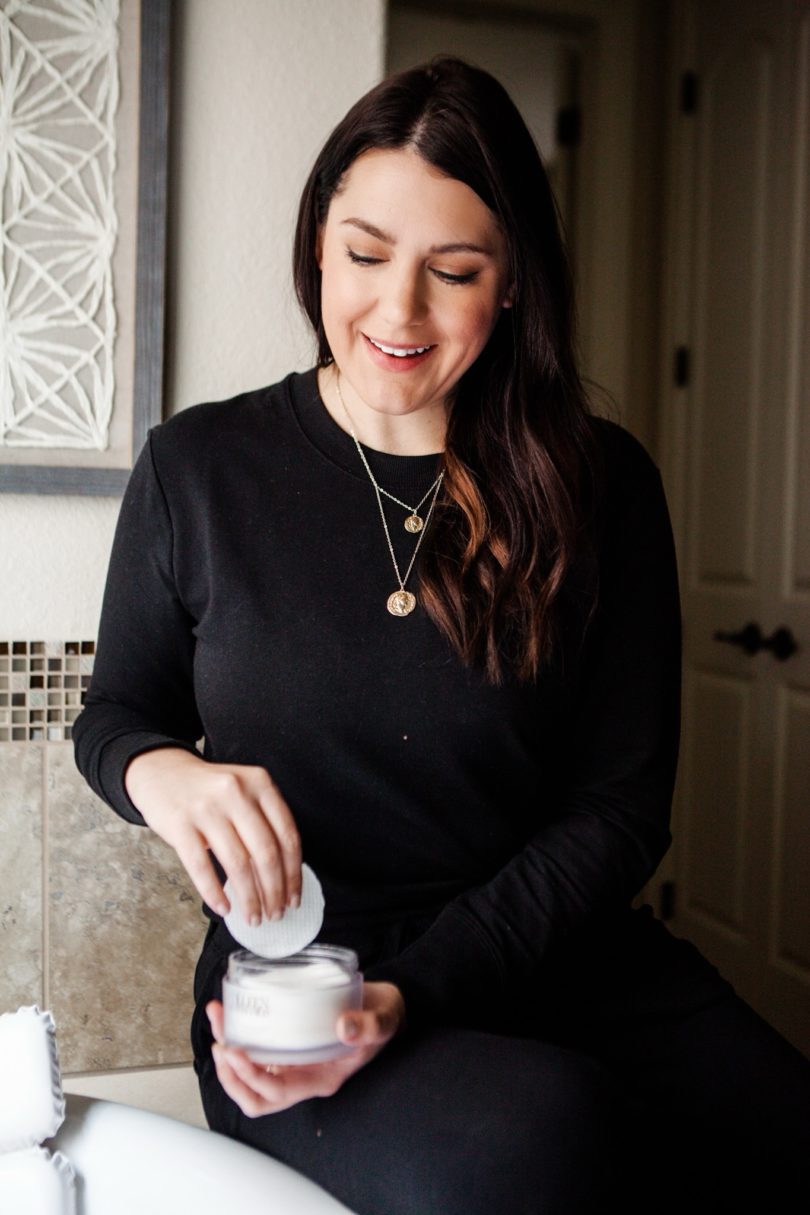 Step 1. Radiant Cleansing Balm

I know I talk about this on every post but this cleanser really is my favorite beauty product. A) it gets all of my makeup off every time B) it feels so luxurious each night and C) it keeps my skin so soft but clean. I used to think in high school that a dry face was a clean face but I've come to realize that using this oil-based balm I can have moisture and cleansing in one. Find it here.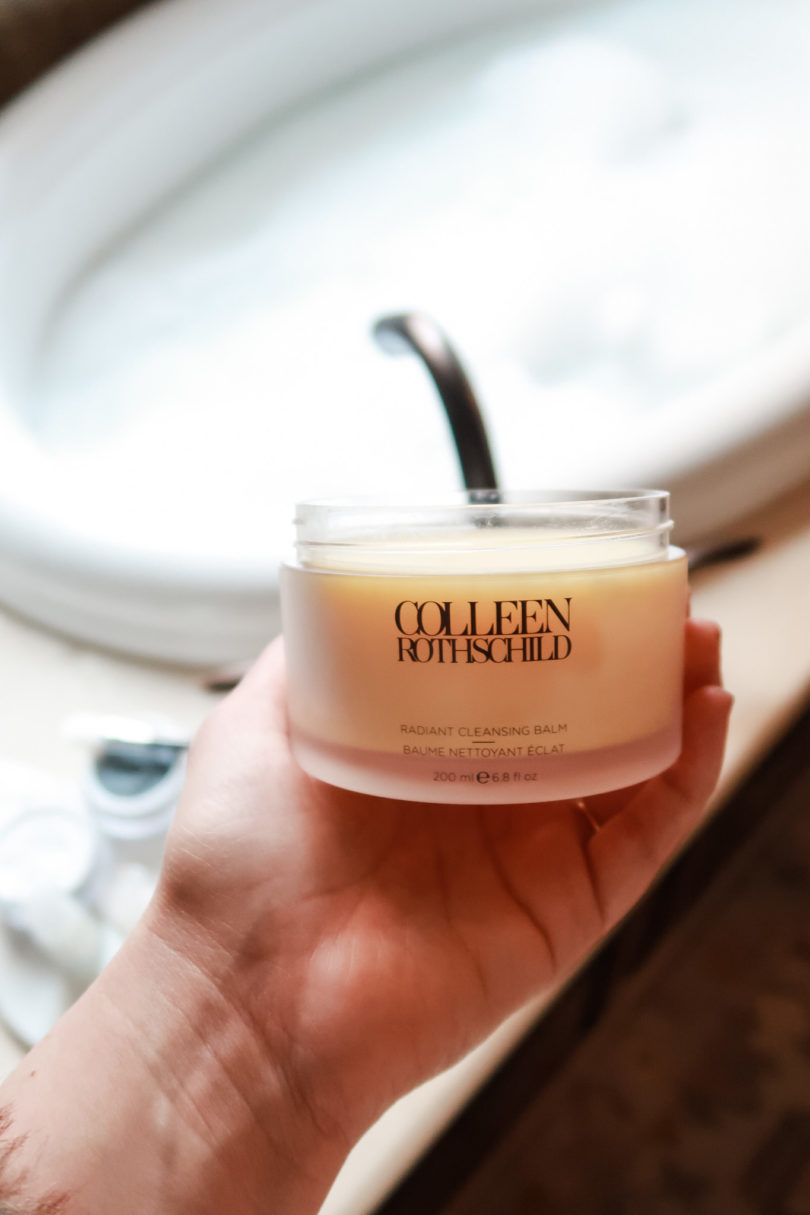 Step 2. Glycolic Acid Peels Pads

I *just* added this step to my routine (this actually replaced my toner which I now use morning only) and I love it. It gives your face a bit of a tingly feel and dries in a few minutes so you can continue with serums / lotion. These peel pads are to aid in anti-aging and giving your skin that glow you've been missing. Find it here.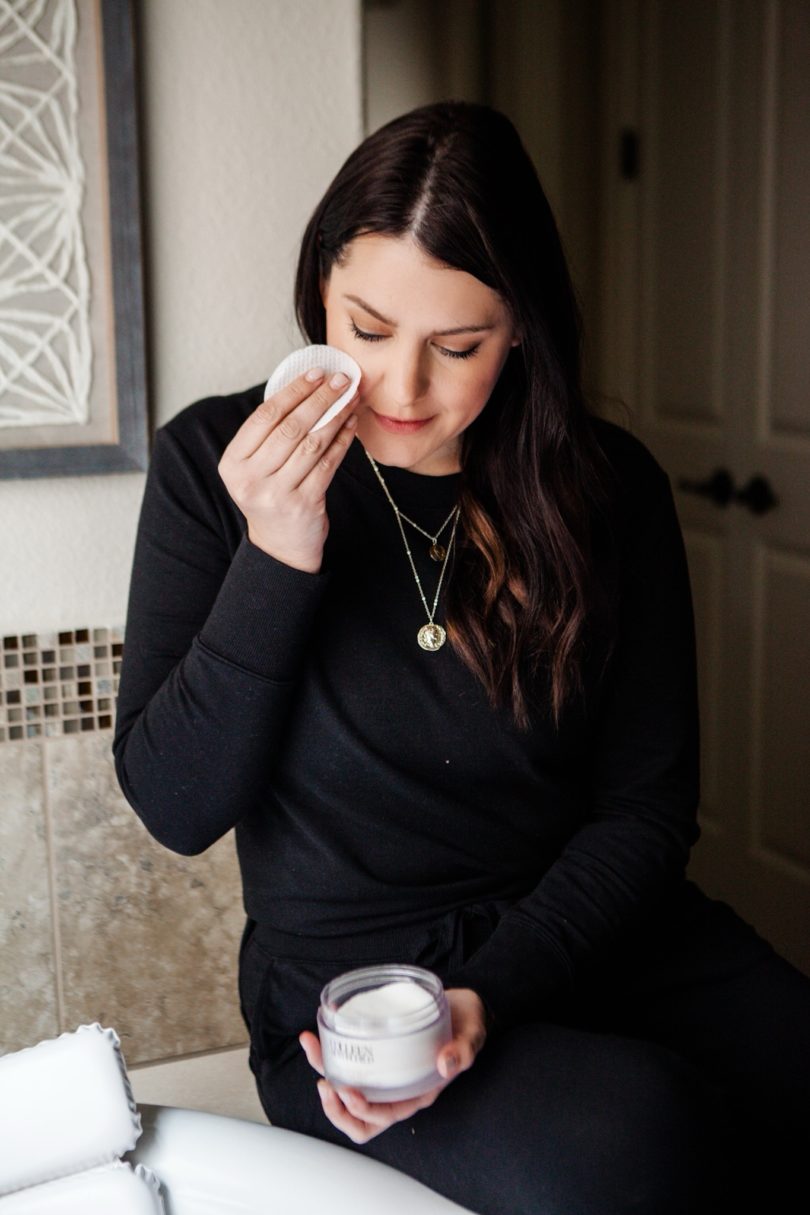 Step 3. Retinol Supreme Night Oil

I LOVE this serum. At first, when I first started using oils and serums, I only used the Face Oil No. 9 from CR Beauty. But then I decided to go a little bit further down the anti-aging rabbit hole and I started using this occasionally at night. Well after seeing such great results when I would actually stick with it, I decided to make it an absolute essential part of my evening. So after the Glycolic Acid Peel solution dries, just a few minutes usually, I pat this on my face and neck. Sometimes I'll add my jade roller to the routine (this is usually a morning time must but if I have time at night, I'll do it as well!) It helps smooth out the serum and then I let this sit for about 30-60 seconds before my next step. Find it here.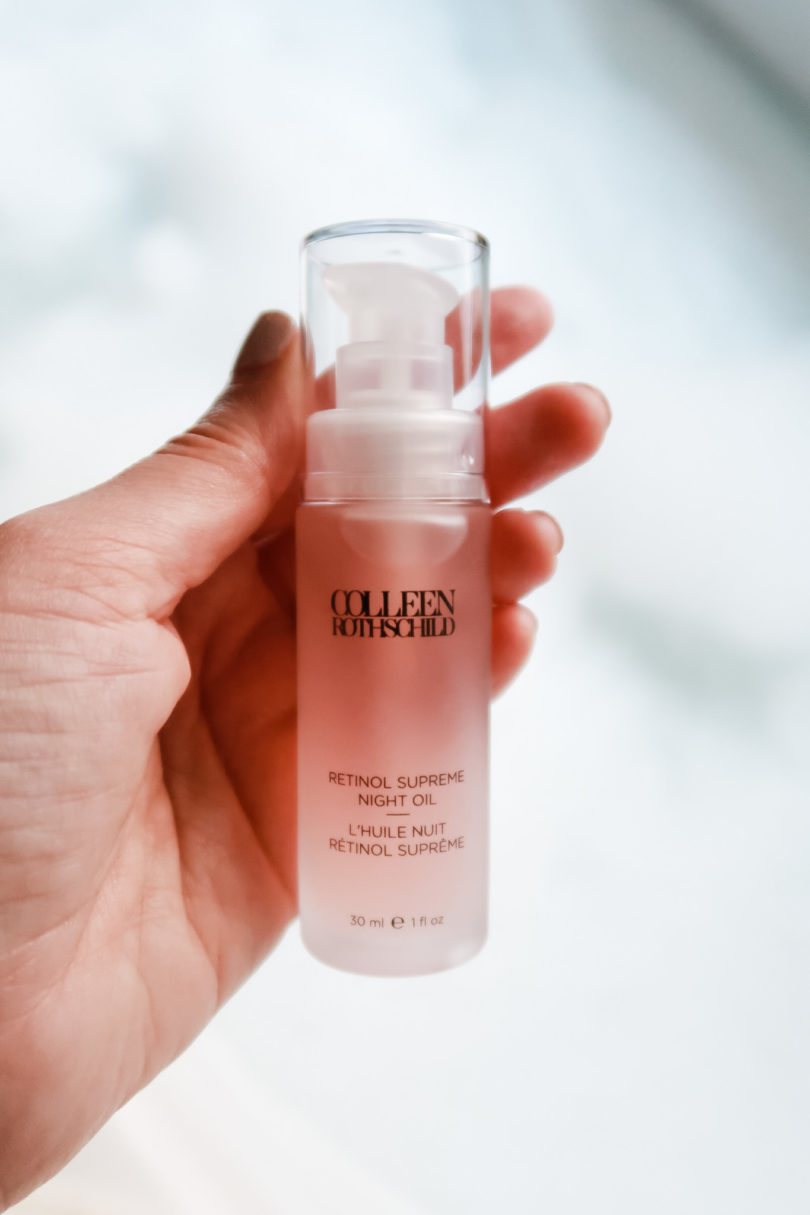 Step 4. Retinol Night Eye Cream

I use this super creamy lotion just on the side of my eyes and underneath. It's really, really creamy so a little dab will do you. It goes on super smooth and almost like a mask. Since your skin under your eyes is thinner, I try to be super careful and just lightly pat with my ring finger the moisturizer on. By morning my eyes are bright and moisturized! Find it here.
Step 5. Extreme Recovery Cream

No evening would be complete without a smattering of this lovely moisturizing cream. I mean just lovely. It feels like I'm giving my skin a hug. It's not oily, it's jus the right consistency too. You think because it's so moisturizing that it will be thick but it's actually a pretty lightweight lotion. I use it all over and my evening routine is complete!
My skin care routine actually takes a shorter amount of time to do than writing this whole post! Maybe about 5 minutes total from washing my face to the last step of the Extreme Recovery Cream, even with waiting / drying times. I say all this because I used to think that I didn't have time to take care of my skin but that's not true — I DO have 5 minutes each night to take care of something that takes care of me. My skin has never looked better, too. It's hydrated and happy, which is a big thing to say in the middle of January. Find it here.
*Bonus Step: Weekly Face Masks

I will say this — I use her masks about 1-2x a week, depending on when I can sneak in a full bath at night. I always do a mask in the bath because I usually have a full 30-45 to myself so it's the perfect time to pamper. My very favorites are the Clarifying Detox Mask which is great if you need to really deeply cleanse your skin and start over. It's non-drying though so somehow it draws out the gunk but leaves moisture in. And my other favorite is the Pomegranate & AHA Resurfacing Mask. this one is a perfect exfoliation routine and I love using this one at least once a week. Plus it just makes my whole bathroom smell delicious!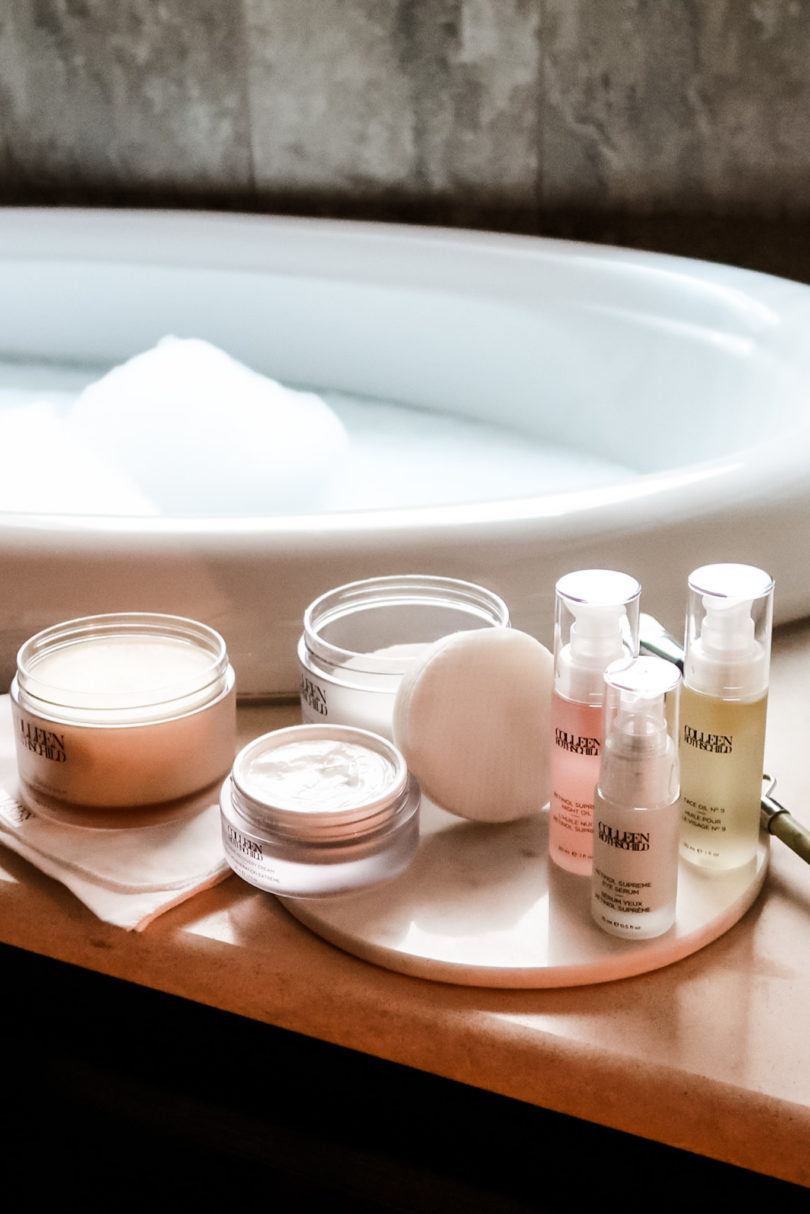 *Special thanks to Colleen Rothschild for collaborating on this post and for being a longtime supporter of this blog! All thoughts + opinions are my own. Thank YOU for supporting the brands that support KE.