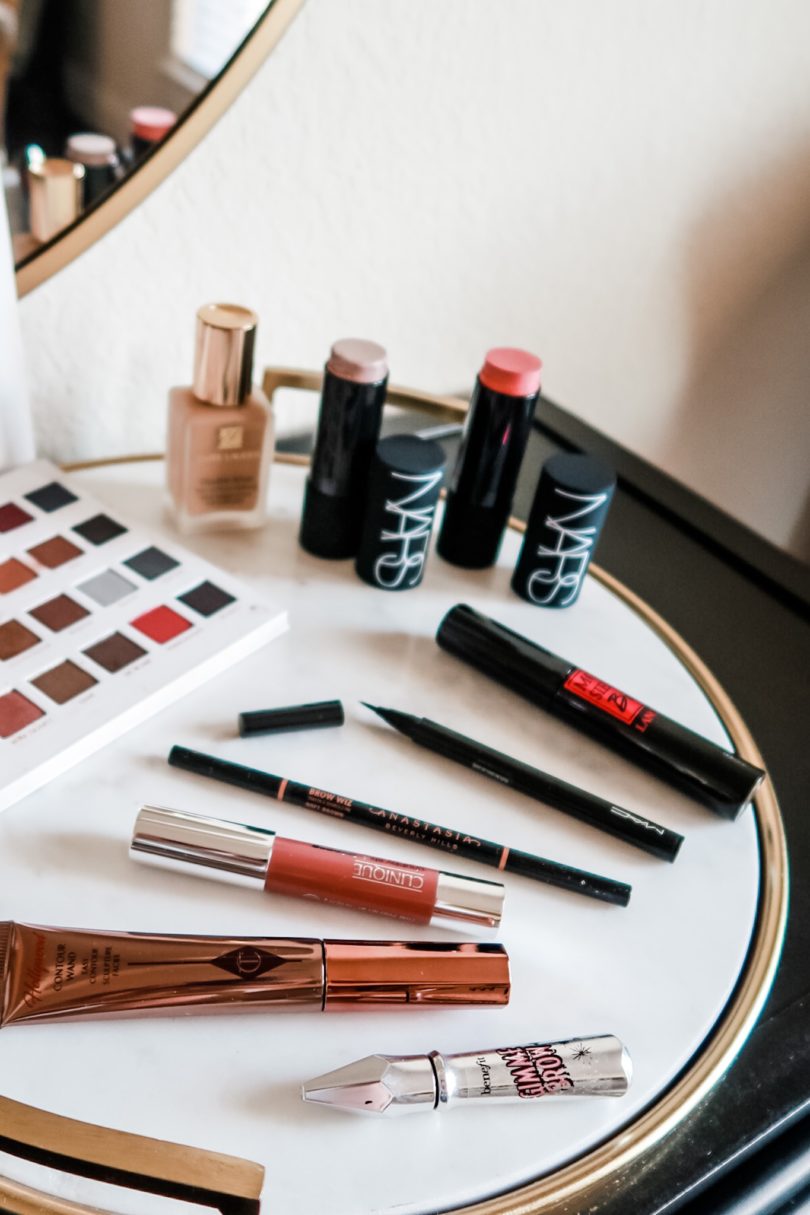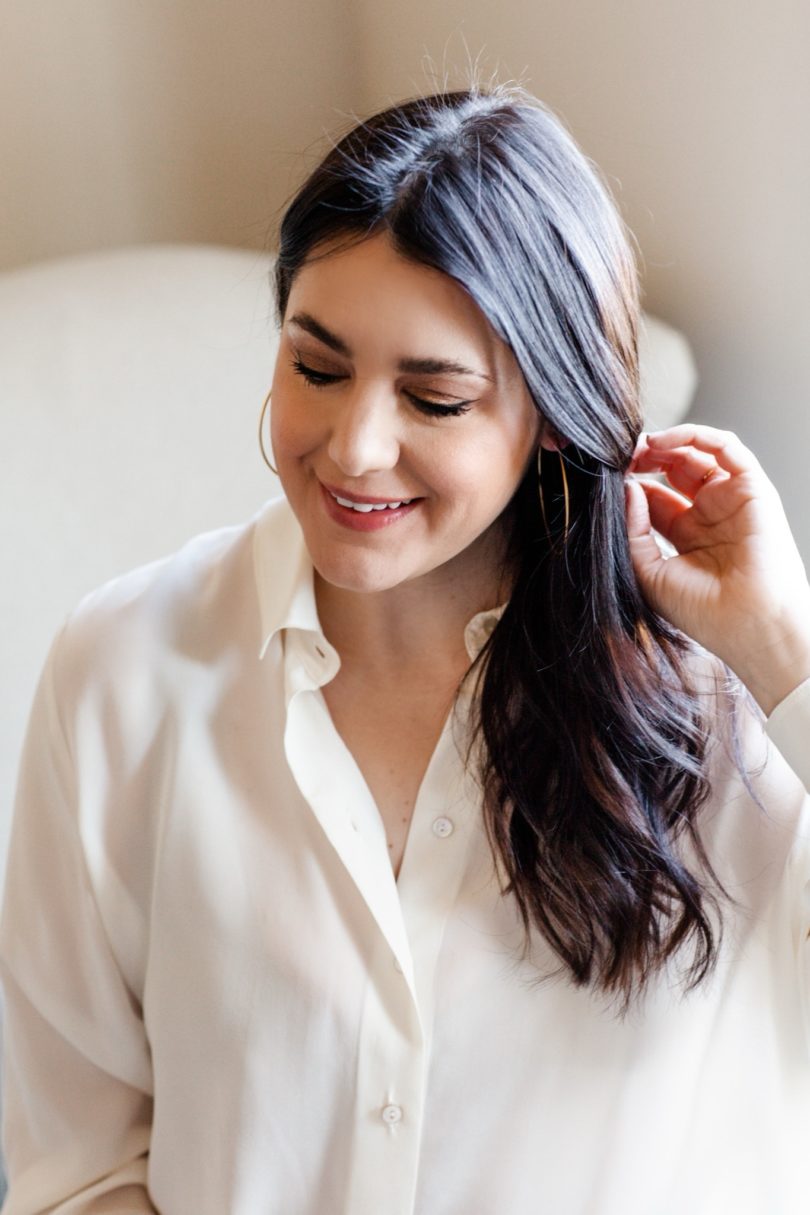 In my 20s, I always felt as if I needed to try as many new and different beauty products as possible. I steered away from having favorites just in case there was another product out there that was better than what I was using now. This habit, on one hand, meant that I've tried a lot of products over the last decade or so. And on the other, I proved myself completely wrong. What I ended up doing was slowly, one by one, finding my favorite products and keeping them stocked in my bag year round. I don't always share a ton of beauty posts, but I wanted to share my favorite beauty products that I use every day.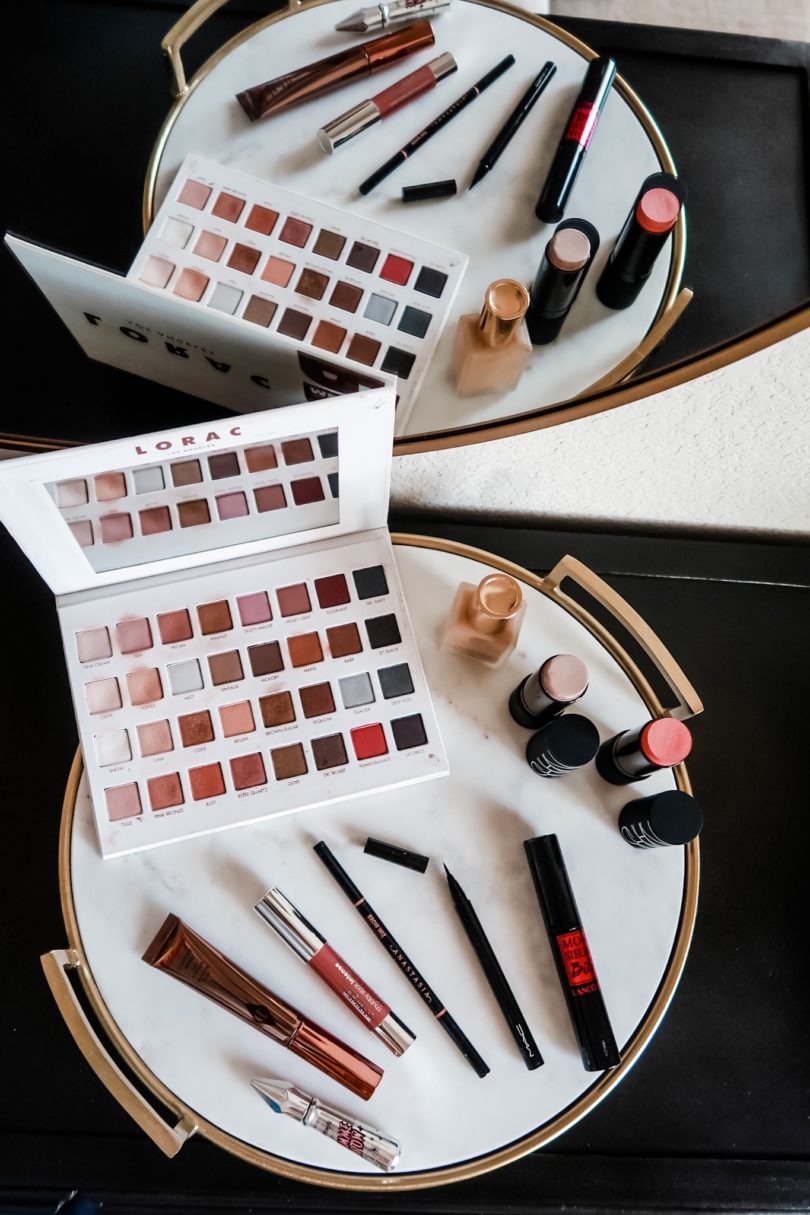 (Please excuse my well-loved eyeshadow palette that is full of smudges. I know there are a few stains on there but it was hard to get the color off without running my beloved eye shadow palette. On the flipside, you can see my most loved colors by the smudges.) 
Favorite Foundation

Estee Lauder Double Wear Stay In Place Foundation | $43
I needed a bit more coverage when I turned 30-ish, as I used a tinted moisturizer for most of my 20s. I have gone all over the makeup counter at Nordstrom to find my favorite and lo and behold, I found one via internet reviews. I fought trying this foundation for years — for no other reason other than pure rebellion because it seems like everyone uses it and loves it. But alas, I love this foundation — and I get more compliments on my 'perfect skin' when I use this foundation. Little do they know that this foundation is what they are seeing instead. If you're looking for a medium coverage foundation that literally lasts all day long (and works so well with a primer), then give this one a shot. All the reviews are true. It's a winner.
Favorite Eyeshade Palette

I randomly bought this palette a few years ago from Nordstrom using some Notes that were about to expire. I had no idea that I was buying my FAVORITE eyeshadow palette ever. I've tried them all and this one takes the cake. The colors are vibrant, they stay on all day and this particular palette has a wonderful range of shades. True story: I got this new palette last Christmas (2018) and I cried when I opened it. I still tell B it was one of the best surprises. Sounds dramatic because it is. Drama is my water.
Favorite Blush + Highlighter

NARS Multiple Stick in Oragasm and Copacabana
I ended up buying this NARS Multiple Stick (in orgasm) right after I had Gemma because I was trying to streamline my makeup routine as much as possible. I ended up LOVING it and it's been a staple ever since. It's a build able foundation so if you want more color, just keep layering it on. It's smooth and fail-proof. I ended up giving the highlighter hue (copacabana) a shot and love it as well. It gives a nice glow but again, is a smooth application even for a highlighting dummy like myself.
Favorite Contour

Charlotte Tilbury Hollywood Contour Wand
I typically do a simple contour on my cheekbones, jawline and around my hair line and I love this contour wand from Charlotte Tilbury. It makes the application easy and this formula blends out beautifully. 100% recommend if you're looking for an easy contour product.
Favorite Lips

Charlotte Tilbury Matte Lipstick in Pillow Talk & Clinique Chubby Stick in Curviest Caramel
This one is actually a tie between an old favorite — Charlotte Tilbury Lipstick in Pillow Talk and a new to me Clinique Chubby Stick in Curviest Caramel. I love the lipstick for when I need to look a bit more classic or pulled together. It's been my go-to for years. (It's basically all I wear in blog post photos) But I wanted something to just throw on when I needed color but not a full lipstick look. Lipgloss feels too sticky for me and I can never get the shade I want to — they always end up too vibrant or too pale. I found this Clinique chubby stick and I absolutely love it. It's moisturizing and it has the perfect amount of color for everyday. These two will never leave my makeup bag.
Favorite Eye Brow Pencil + Gel

Anastasia Dipbrow Pomade, Anastasia Brow Wiz, & Benefit Gimme Brow
For my eyebrows, I get asked this question a lot, but I use Anastasia Browdip Pomade if I really want a full brow look or for my everyday I'll use the Anastasia Brow Wiz in soft brown and the Benefit Gimme Brow as a gel to hold the shape and color.
Favorite Mascara + Eye Liner

Lancôme Monsieur Big Mascara & MAC Brushstroke Liner
I've been using this Lancôme Monsieur Big Mascara for about a year now and I love it. It creates THICK lashes and doesn't seem to flake off for me. I pair this with the MAC Brushstroke Liner which I find the easiest to make a cat eye, as it's just like holding a pen and it glide on like a marker. If it's an easy application, it's a favorite for me.
Favorite Tool

If you aren't using a Beauty Blender, I have to tell you — you've got to start. It is hands down my favorite tool I use daily. I use this from concealer to foundation to blending out my contour, highlight and cream blush. It's my favorite tool — just make sure to wet it fully, squeeze out the excess and you'll be good to go!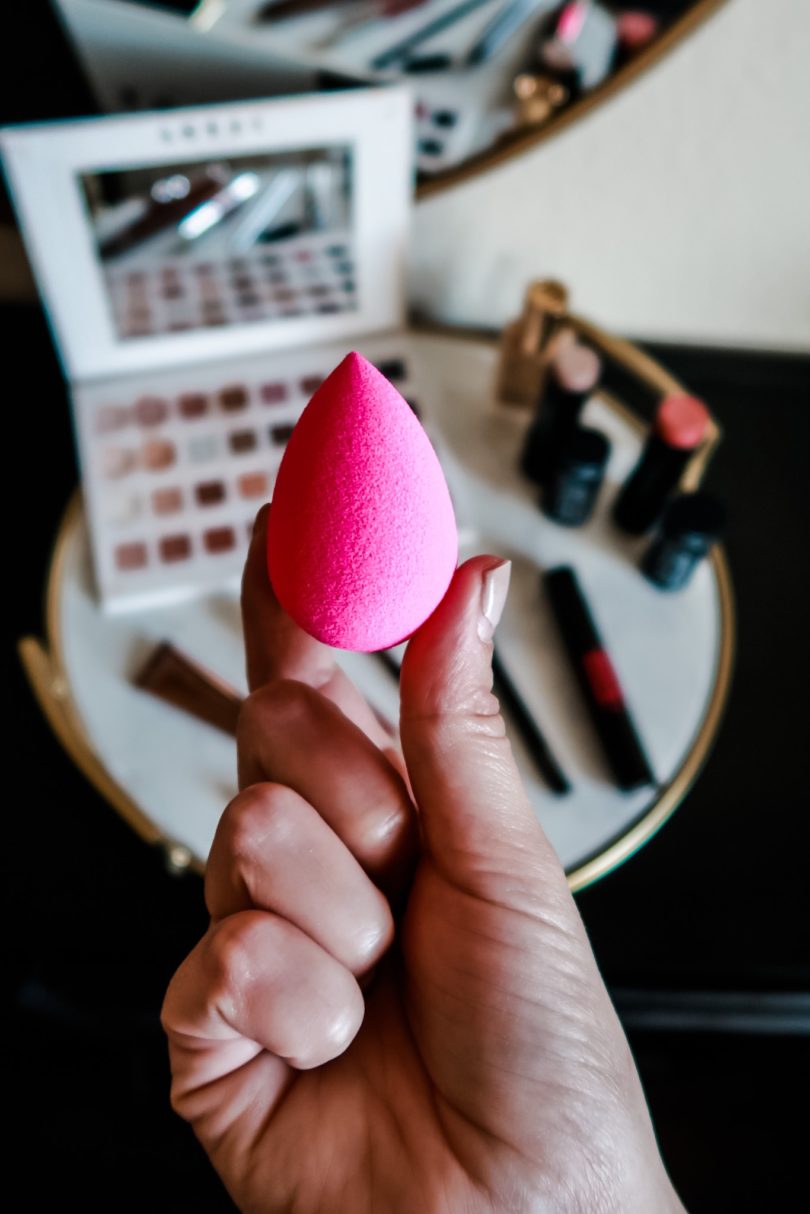 Updated!
A few asked me about my favorite setting powder and concealer, so I have updated this post with both options. Just a quick note: I have been on the search for a perfect concealer for years so I'll link the best I've found so far but if you have any favorites, let me know! I've tried the lot – ha! 
Favorite Setting Powder

Laura Mercier Translucent Loose Setting Powder | $39
I have used this Laura Mercier Translucent Setting Powder for so many years I can't even remember our origin story. All I know is that this powder is silky, lightweight and goes on easily. Sometimes on no makeup days when I'm just a bit oily, I'll give my face a little one over with some powder and it just creates a nice matte look. Just a side note: this jar of powder will last you well past the expiry date! Not saying I use it past that date but just saying it is A LOT of product! Well worth the price for the amount of product you get.
Favorite-ish Concealers

Laura Mercier Flawless Ultra-Longwear Concealer | $29
NARS Soft Matte Concealer | $30
As I said above, I'm always on the lookout for the perfect concealer — the one that completely covers my natural dark circles under my eyes, which are only deepened by the toddler years. I have been using a layered look of concealer (I use the wand first under my foundation then the creamy one on top of my foundation) and it seems to be doing the job!
I've used the Laura Mercier concealer for a few years when they discontinued my very favorite formula, which to be fair was tar like so I'm sure I was one of a handful of people who loved it. And my recent favorite is the NARS Soft Matte Concealer, it gives a nice, crease-free finish to my overall look. Plus it's nice for a quick blemish cover, too! Together they are pretty perfect for maximum coverage. 
________________
*thank you to Nordstrom for collaborating on this post! And thank you for supporting the brands that support this blog!