The year is 2020, the month is January. And I, Kendi Everyday, am saying the same thing I say every year. New year, same resolutions.  BUT this year I have different terms: I am going to be kind to my body.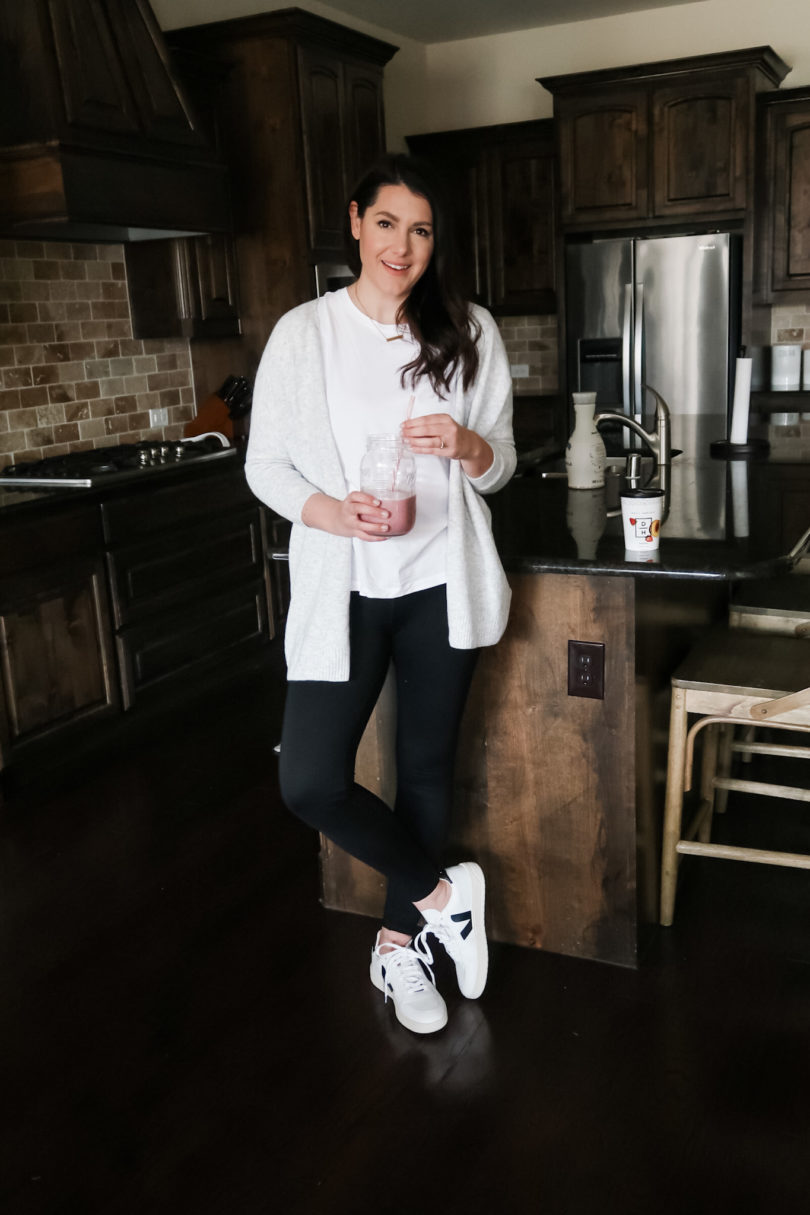 Now in other years I've said it different ways or set big goals— like I'm going to exercise every day or I'm going to do XYZ diet, etc. But this year I'm trying a different route — no diets, no unrealistic exercise routines. Instead, I'm being thoughtful and kind to myself. Thoughtful with what I eat and kind with how I treat and talk to my body. This includes exercise, but the exercise I like to do that makes me feel good, not the kind that makes you feel bad about your own limitations. And with food, it's food that makes me feel good. I tell Gemma all the time how we eat our fruits and vegetables to grow our muscles and strengthen our brains and one day it hit me — I thought, well you too, kiddo. So it's settled — move more to make my brain and body happy and eat good to feel good. It's just that simple.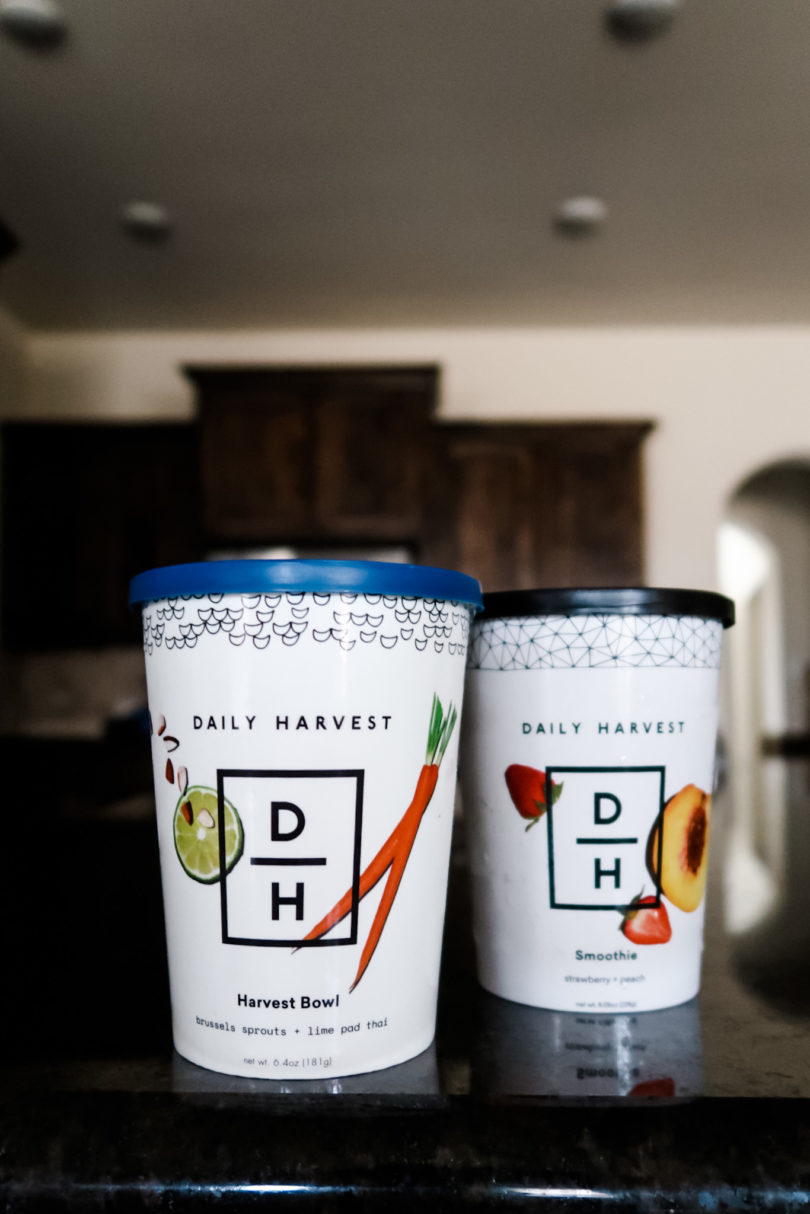 One change that I've already implemented is to stop drinking so much coffee all morning and to start getting some nutrition. Daily Harvest has been a huge game changer for me because I am nothing if not lazy and they make it so, so easy to create healthy habits. I'll give you a quick rundown of Daily Harvest — this is a monthly delivery of smoothie cups, harvest bowls, oatmeal, lattes (don't tempt me) or bites that are all made with superfoods, fruits and vegetables. They come frozen so there is no pressure to make them right away, I store mine in my freezer and grab one when I need a quick out the door smoothie or lunch bowl! It has been a life saver for me because I'm always running behind and I'm usually hangry and those two are a deadly combination for anyone in my way. Plus I've learned that if I don't eat at home I will 100% eat out and it's usually always fast food. And that leaves me feeling tired, cranky and just overall kind of nasty. I'm telling you, this new year is changing me for the better. I can feel it. One smoothie at a time. 😉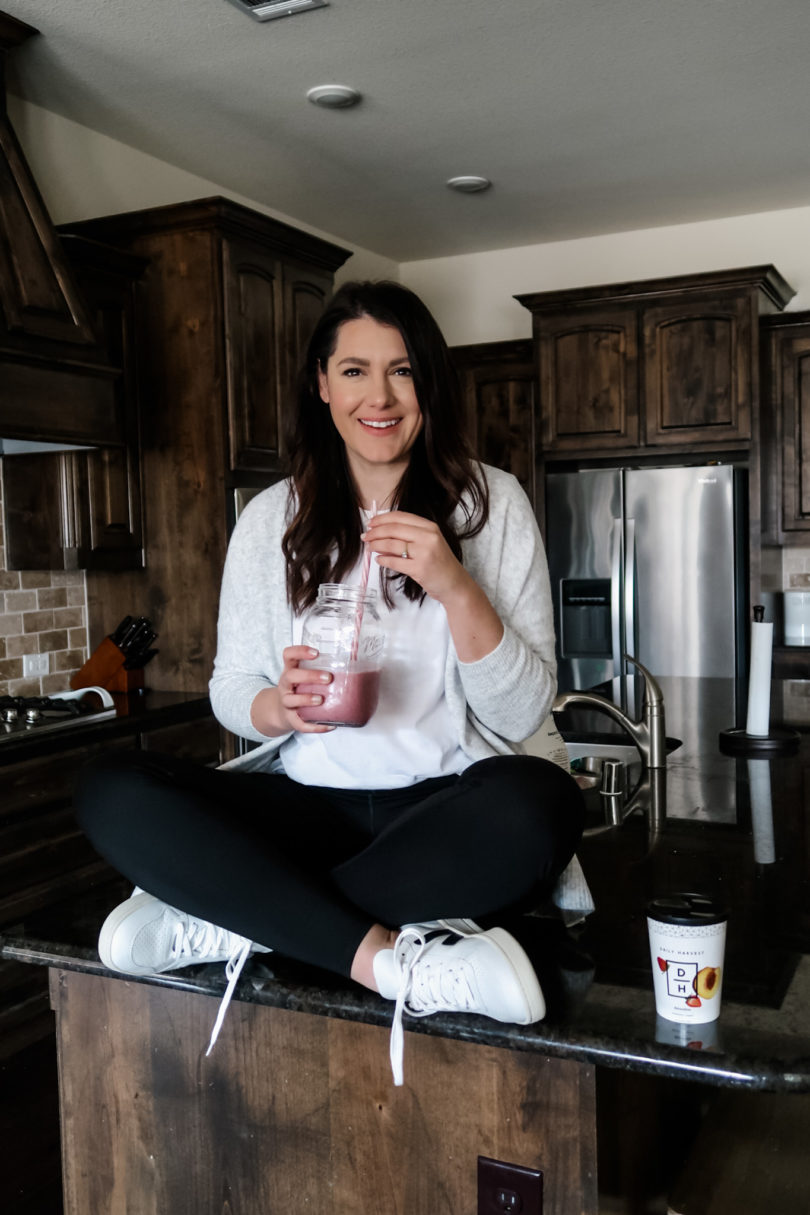 I wanted to show you just how simple it is to make Daily Harvest a part of your everyday routine! Below I have a smoothie and a bowl routine and it's seriously the easiest process and it's all so healthy! Read on and find my special promo code for $25 off your first delivery, too!
The 3-Minute Smoothie
This below is the smoothie cup that is delivered to your door and everything that is in it is clearly printed on the side! They make it so easy to know what you are about to enjoy (plus the nutrition facts are on their as well!) Okay are you ready to see how easy it is to make this smoothie in three steps? You're not, but that's fine.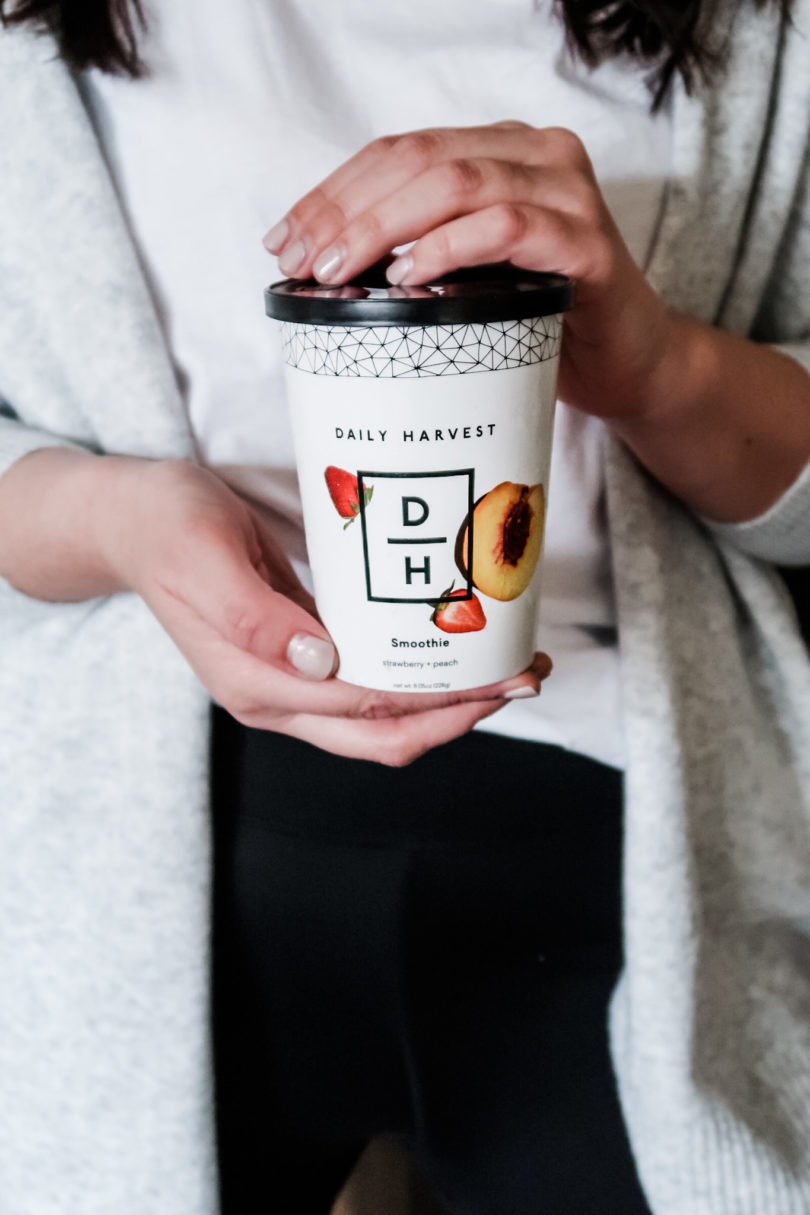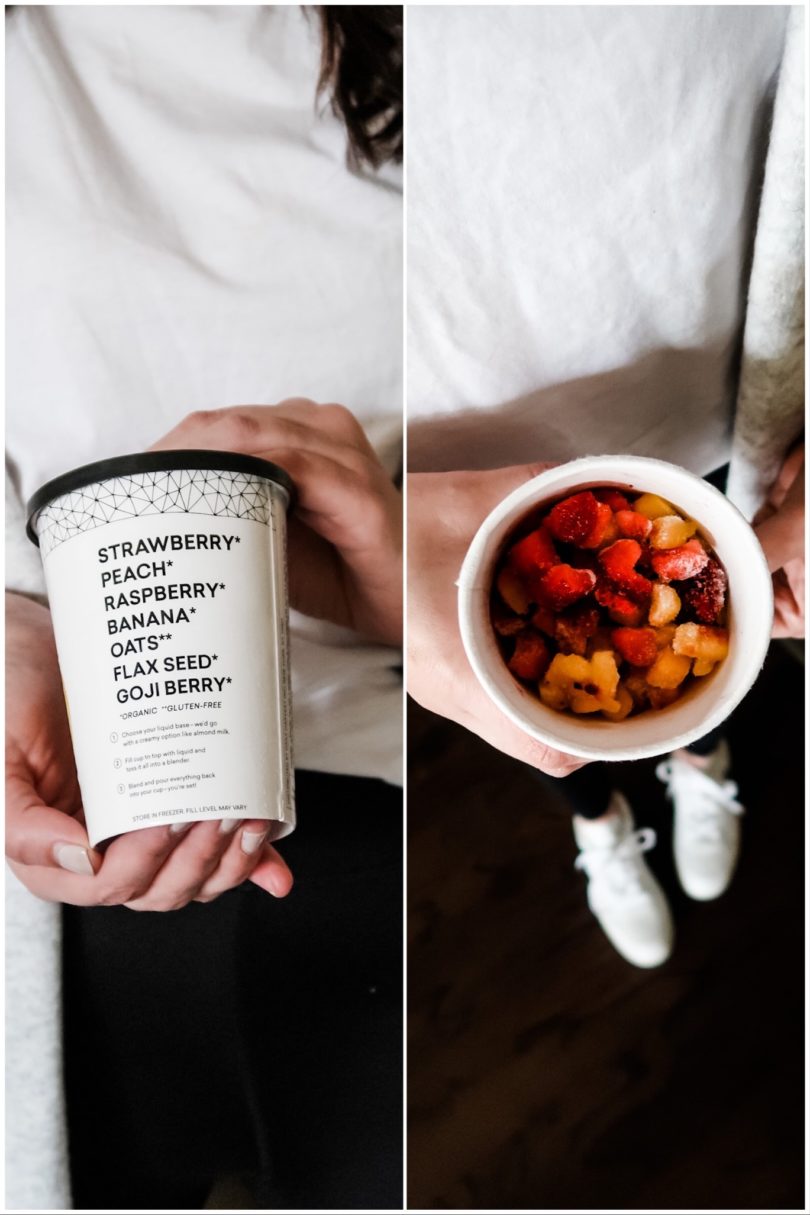 1. Step one: choose your liquid. I'm always an almond milk kind of gal but I you could do any liquid you wanted! (I also think adding in a Greek yogurt would be delicious too! But that's just me.)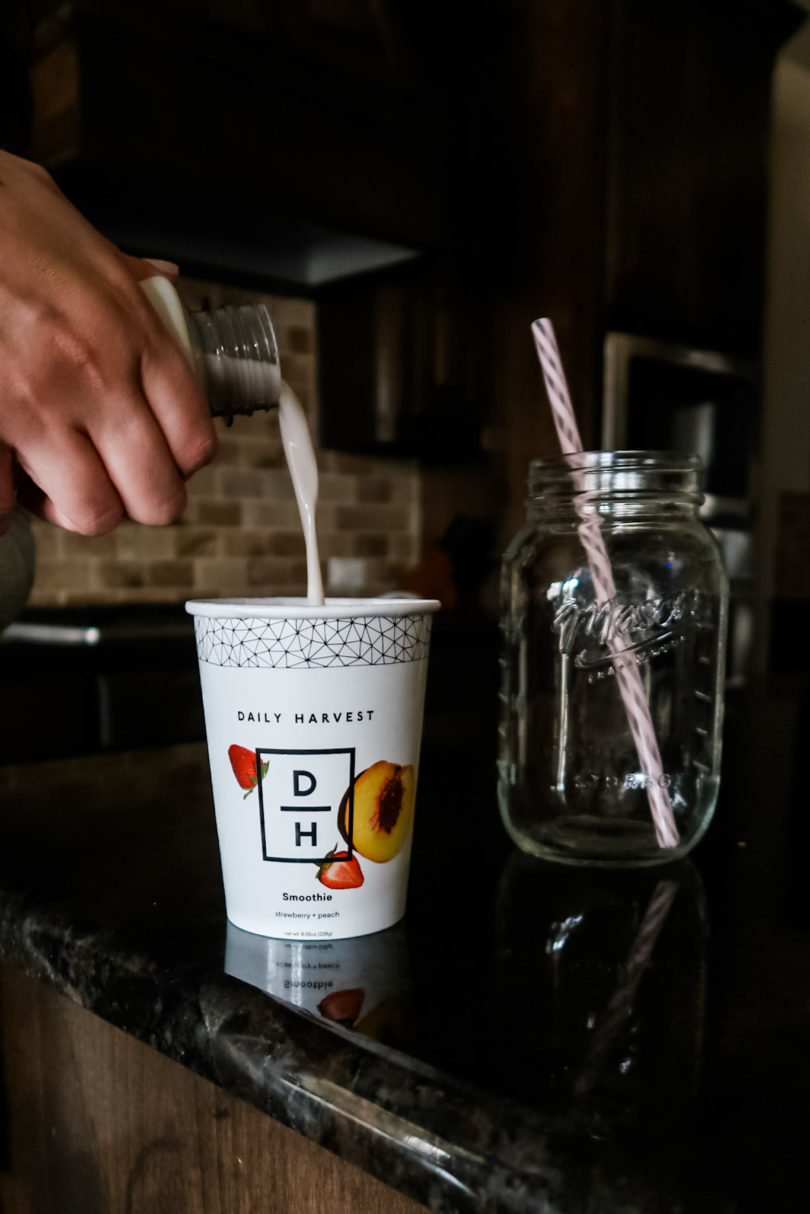 2. You simply add your liquid all the way to to the top of the cup and then add the entirety of the cup to the blender.Blend.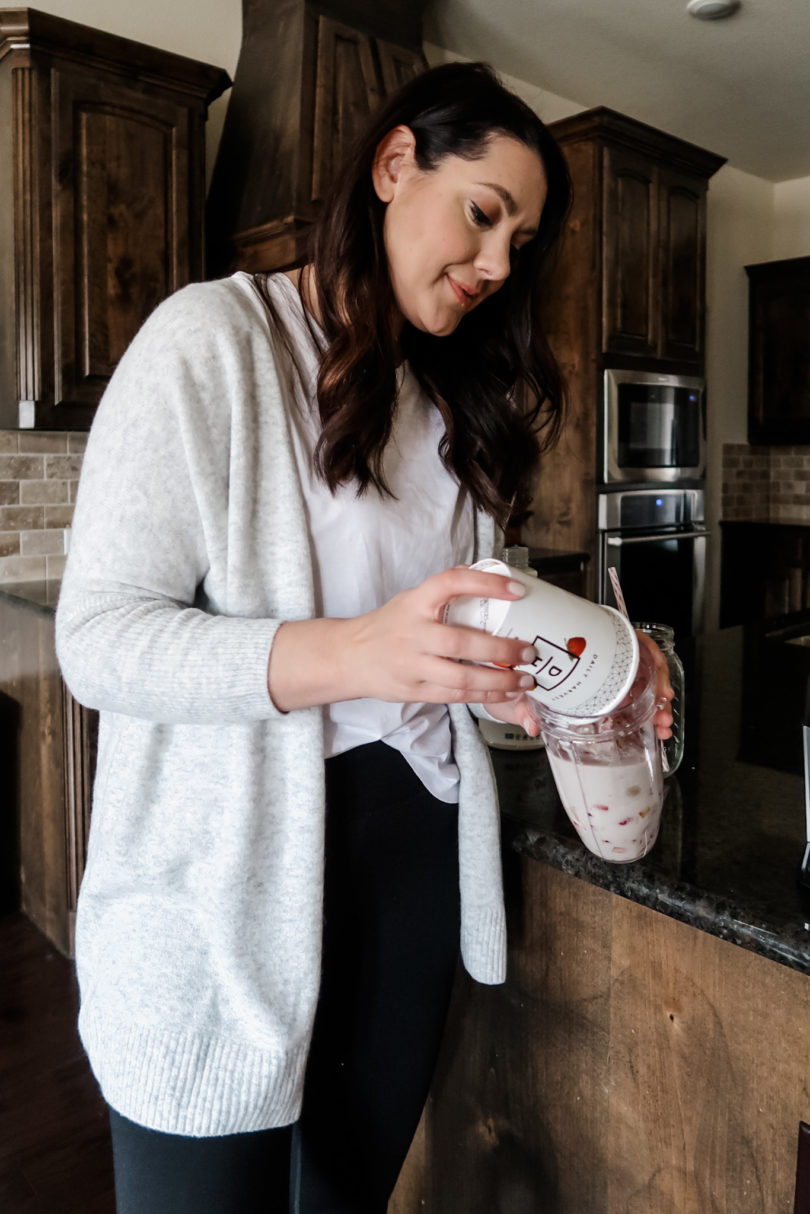 3. Enjoy.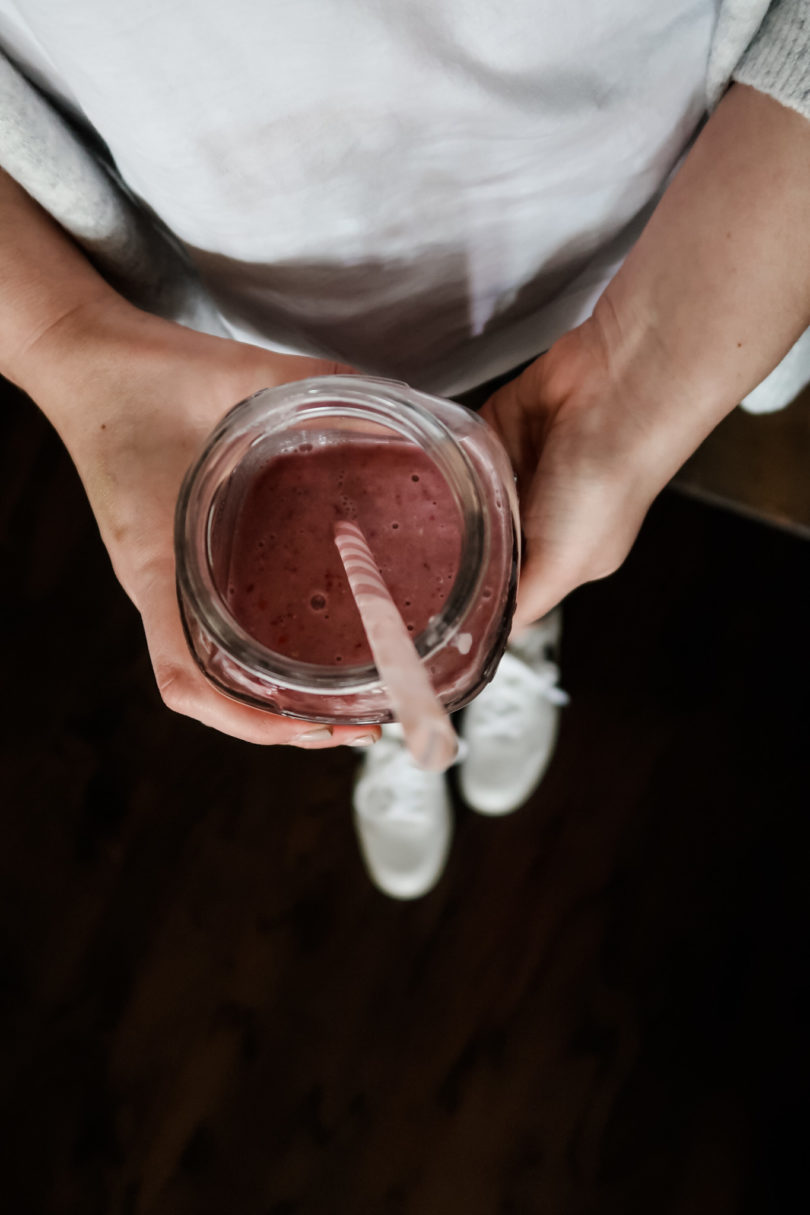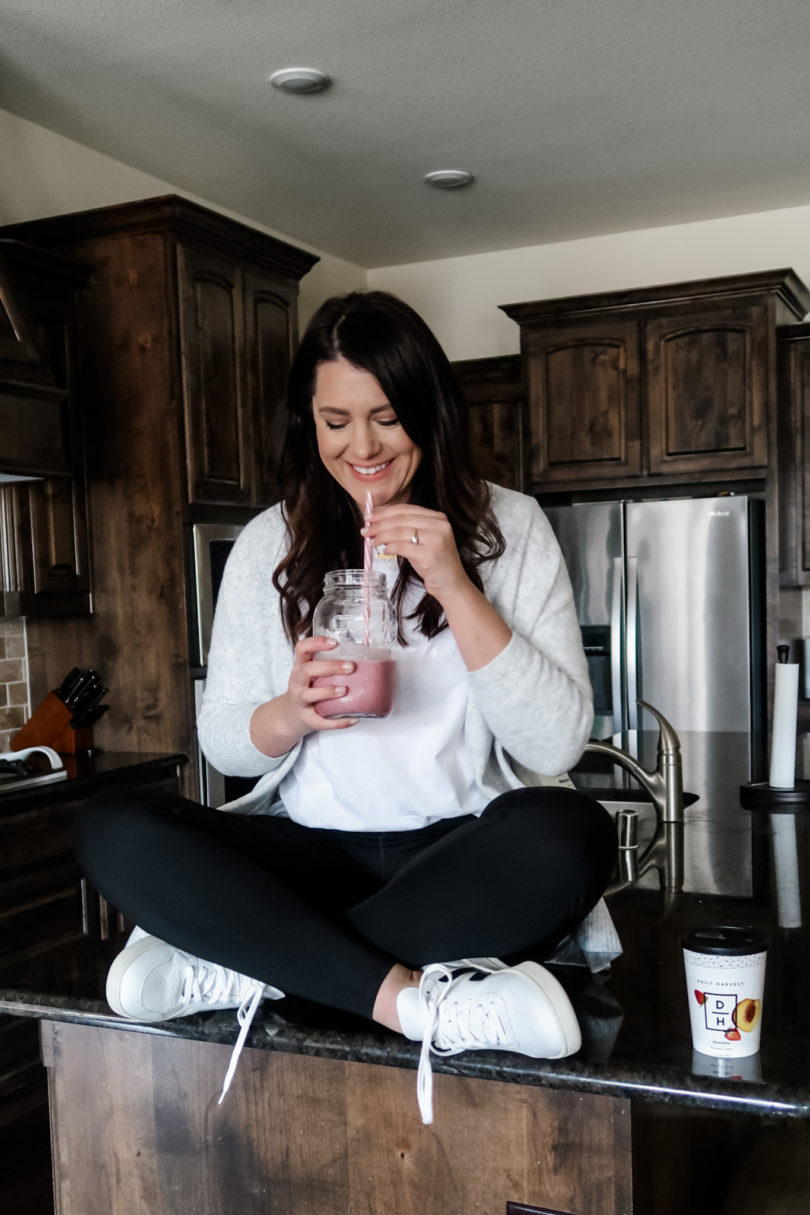 You can also use the cardboard cup as your smoothie holder if you like! I'm really going all in with my mason jar and reusable straw, but I do like that you can use their cup as well! This Strawberry + Peach one was so good — one of my favorites. I also like the Chocolate + Blueberry and the Ginger + Green! All are delicious! Plus you can add in whatever you'd like to make it more personal — collagen powder, a little almond butter or some coconut on top! Get crazy, girlfriend. It's a smoothie. You can't mess it up.
5-Minute Lunch
So I work from home many days or I at least force myself to go home for lunch nowadays and coming up with new lunch ideas has been …well let's just say this: I eat the same sandwich everyday. SO when I saw that they had harvest bowls I was like — wait this could be a real game changer for my boring lunches. I was so surprised that these too came in little cups! And just like the smoothies, they have simple and clear directions that make for a quick and healthy lunch!
Brussels Sprouts + Lime Pad Thai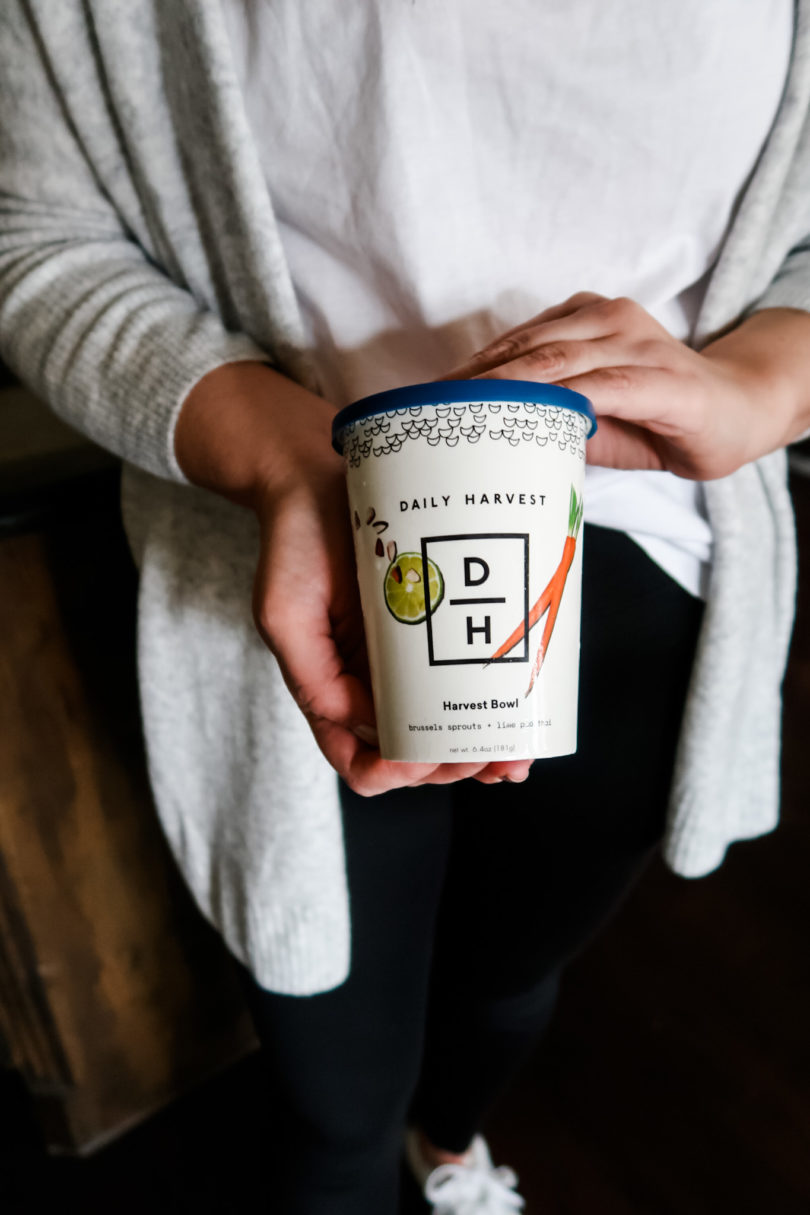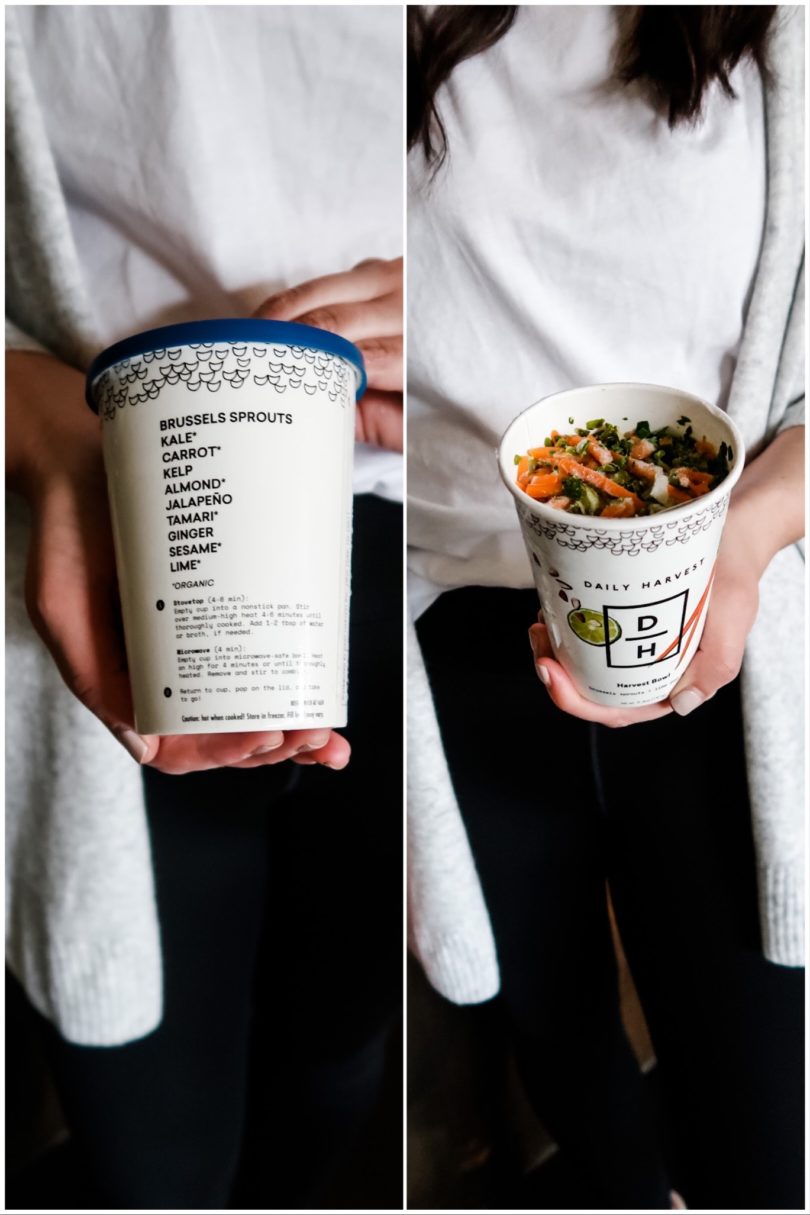 1. Warm it up!
You can heat your veggies up on the stove or microwave — either way it will turn out great! I usually have some time to make lunch (I'm just #lazy) so I decided to warm mine up by the stove. I just tossed the contents of the cup in with a little bit of chicken broth and within 5 minutes I had a lovely warm lunch!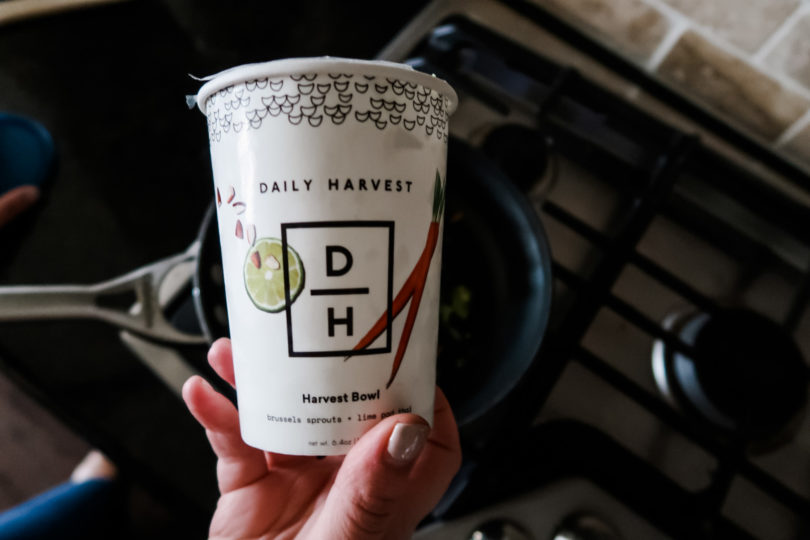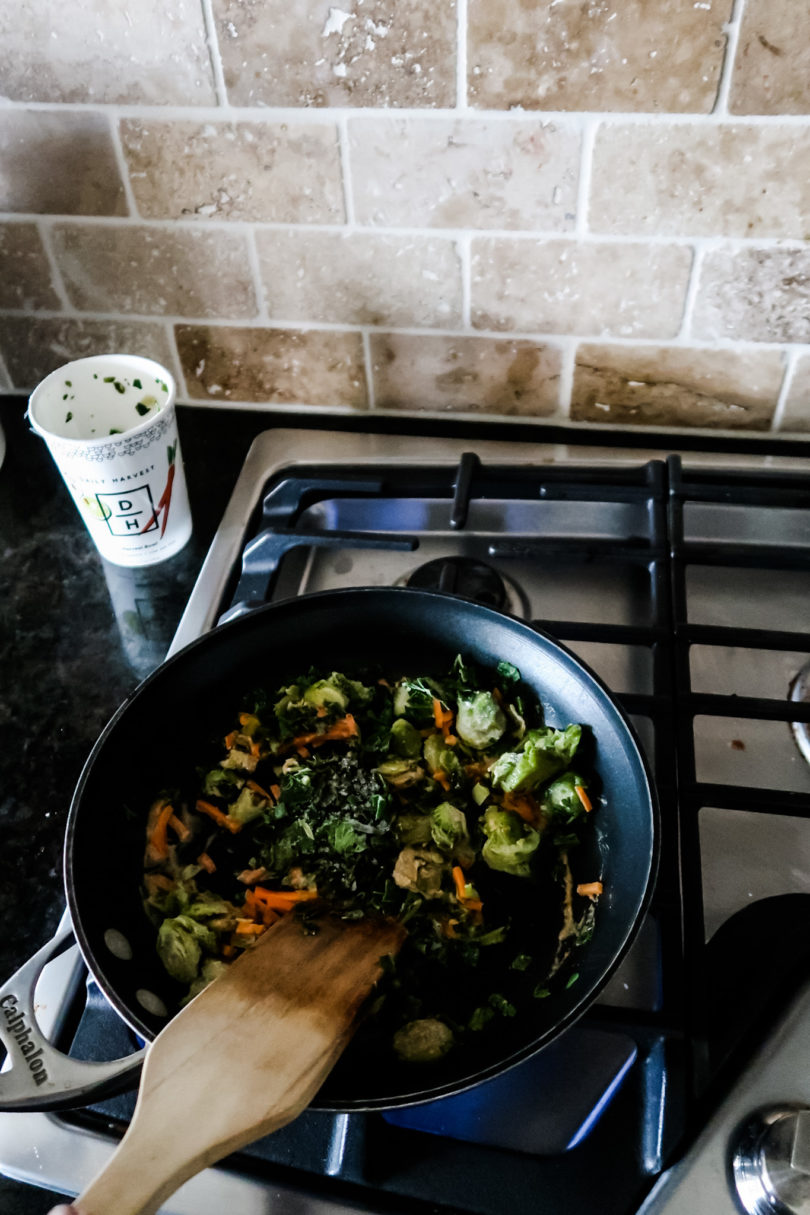 2. Make it your own!
For me, I wanted to add a bit more protein to my lunch so I also warm up some quinoa to go with this Harvest Bowl! Then I top it with a little sriracha because this Brussels sprouts bowl is already spicy — might as well just go with it right? 😉 You could add an egg on yours or put your veggies on top of brown rice, quinoa or noodles! It would taste just like a stir fry but so healthy!\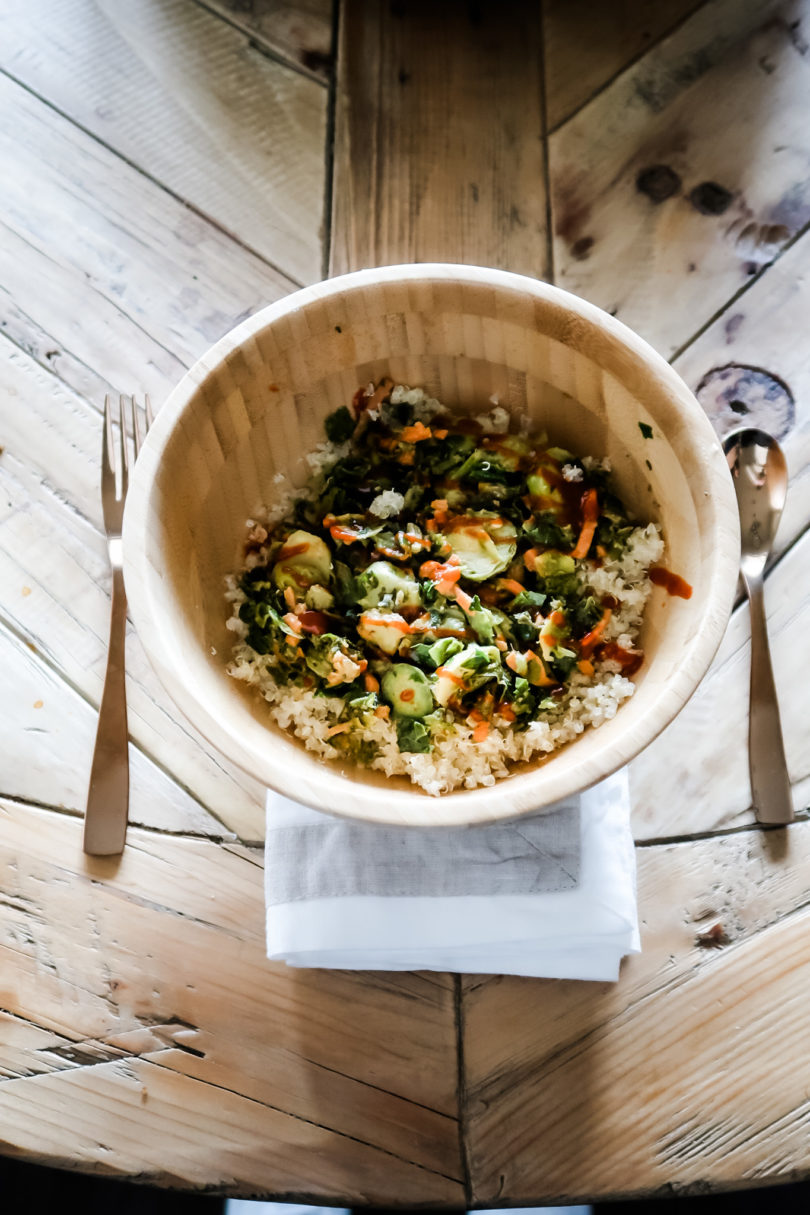 Look how healthy that lady is up there. So fresh, so healthy! 10/10 recommend if you are looking for healthy options on the go! My favorites that I tried are below and you can use 'Kendie' at checkout for $25 off your first delivery!
My Favorites
Chocolate + Blueberry Smoothie
Brussels Sprouts + Lime Pad Thai Harvest Bowl

***
*special thanks to Daily Harvest for collaborating on this post and providing me with my first box! I'm a smoothie subscriber for life now 🙂