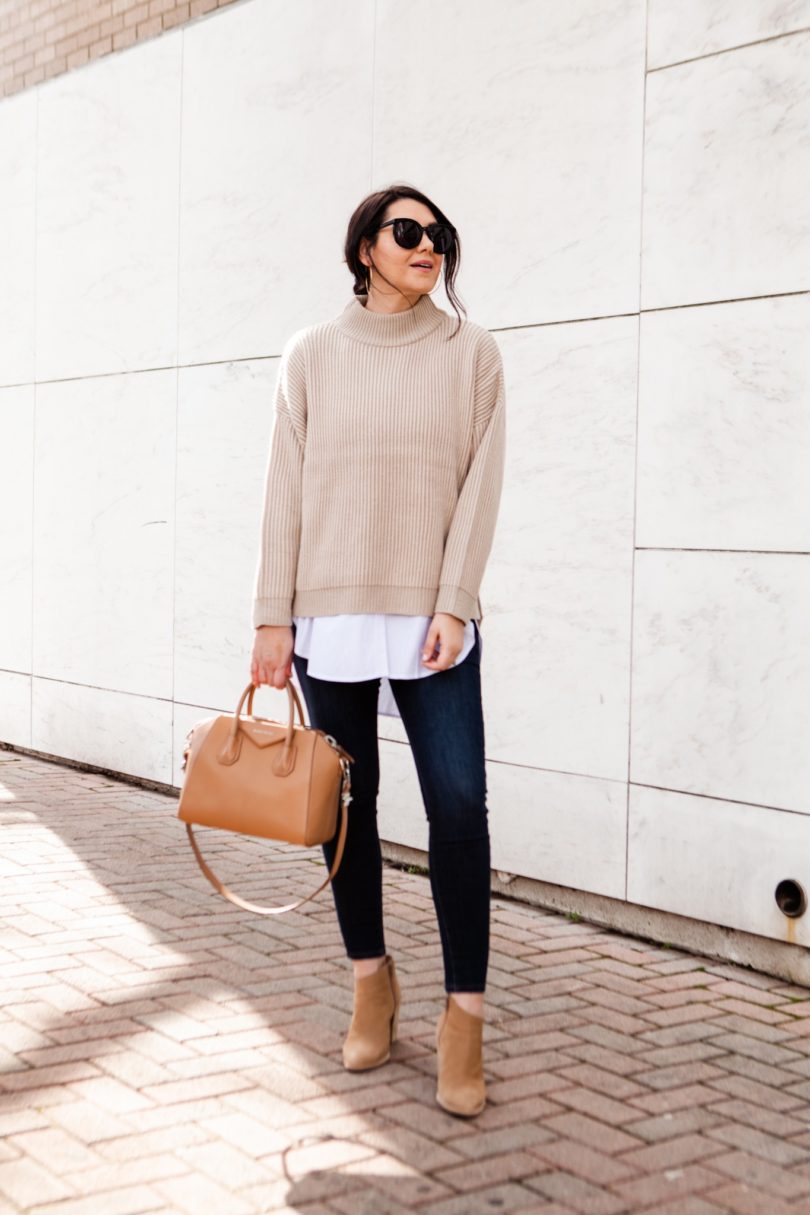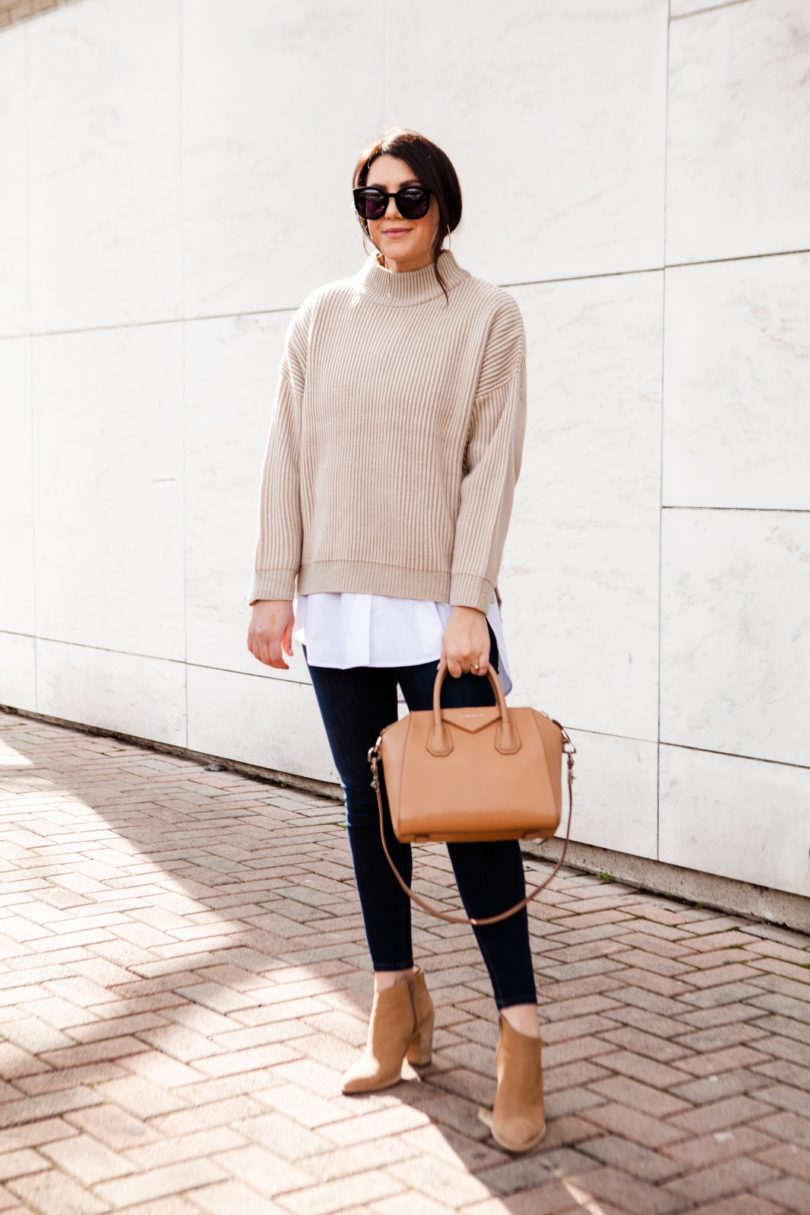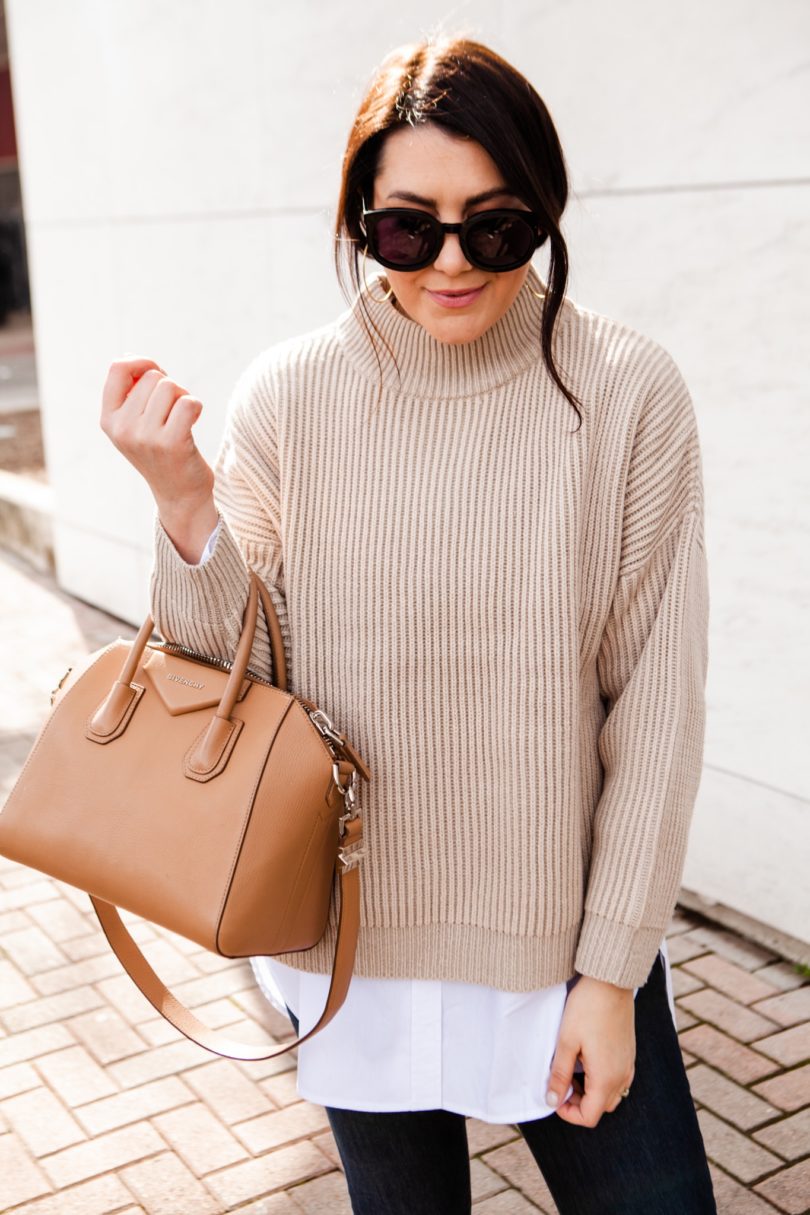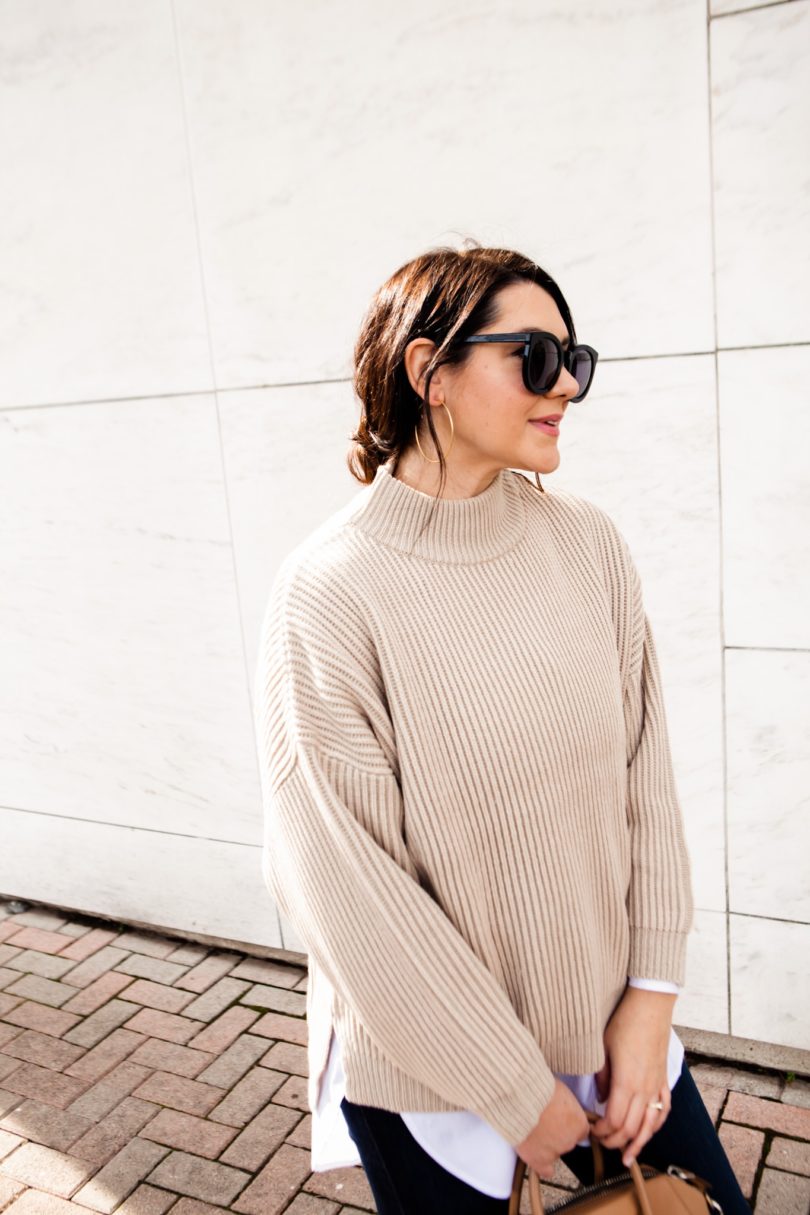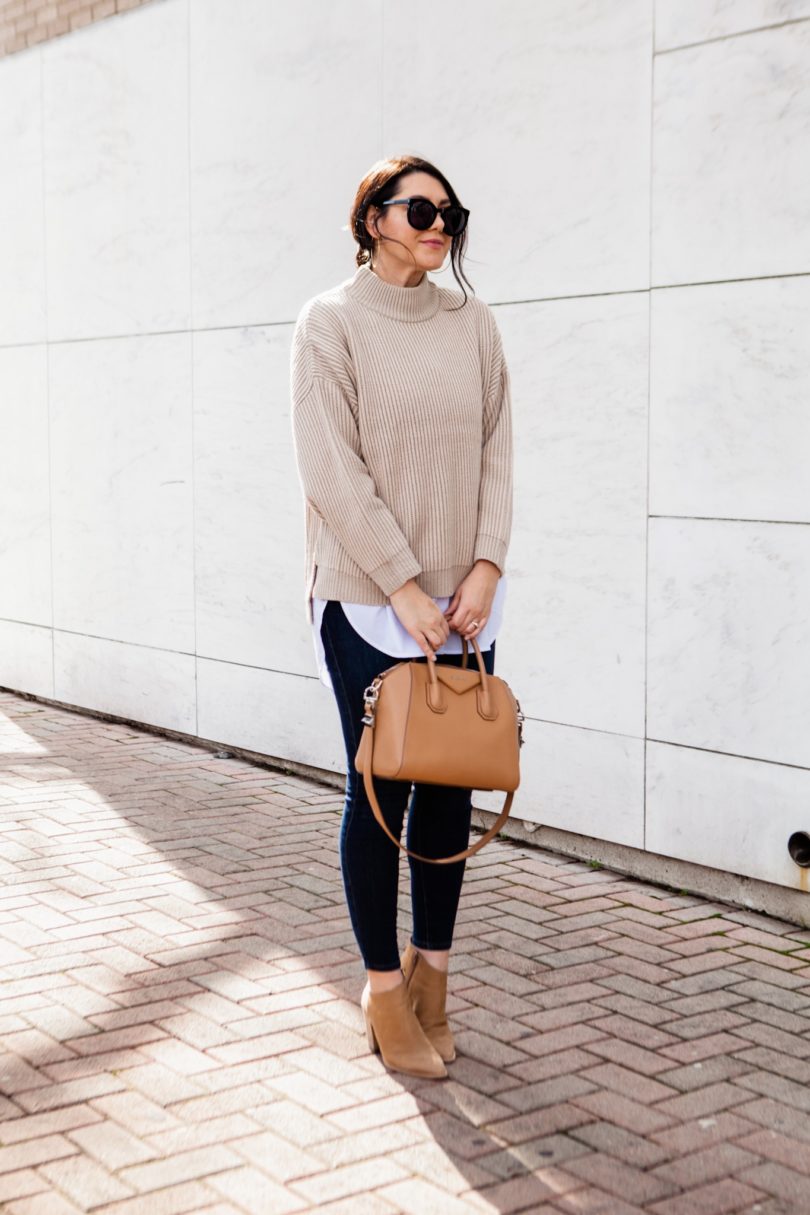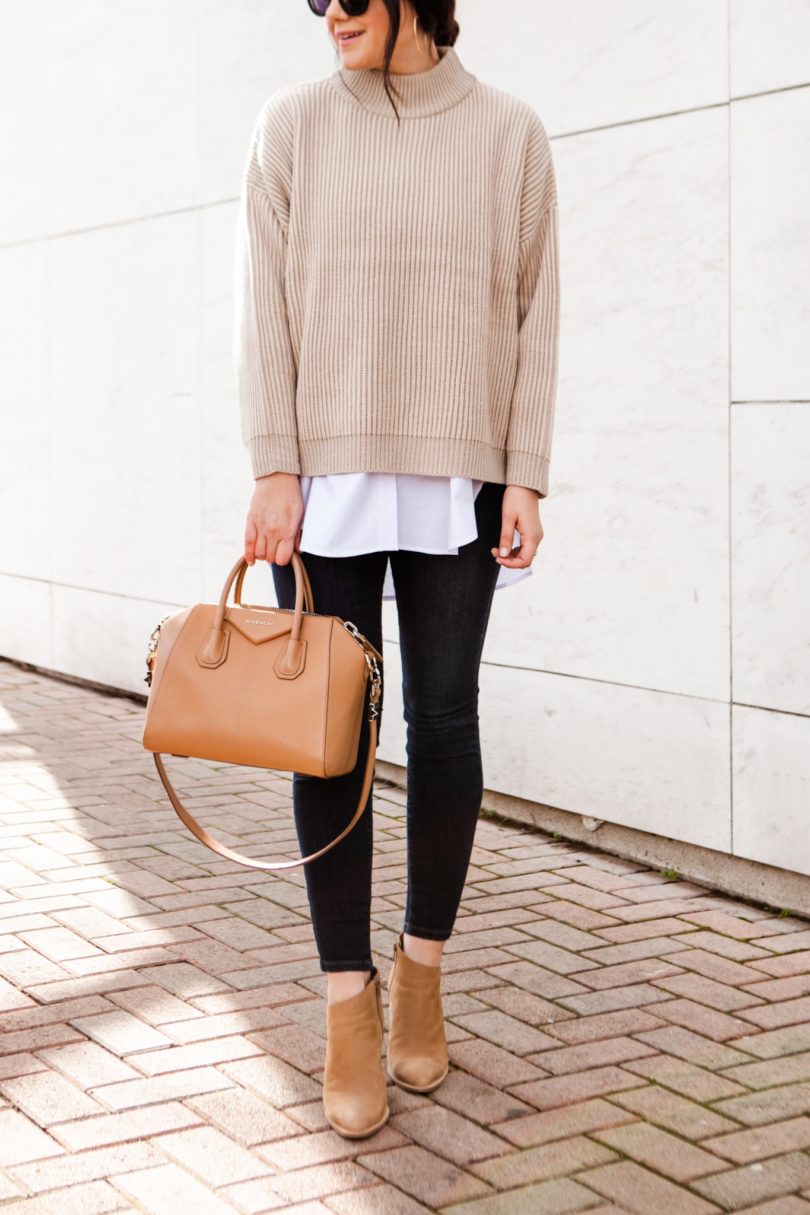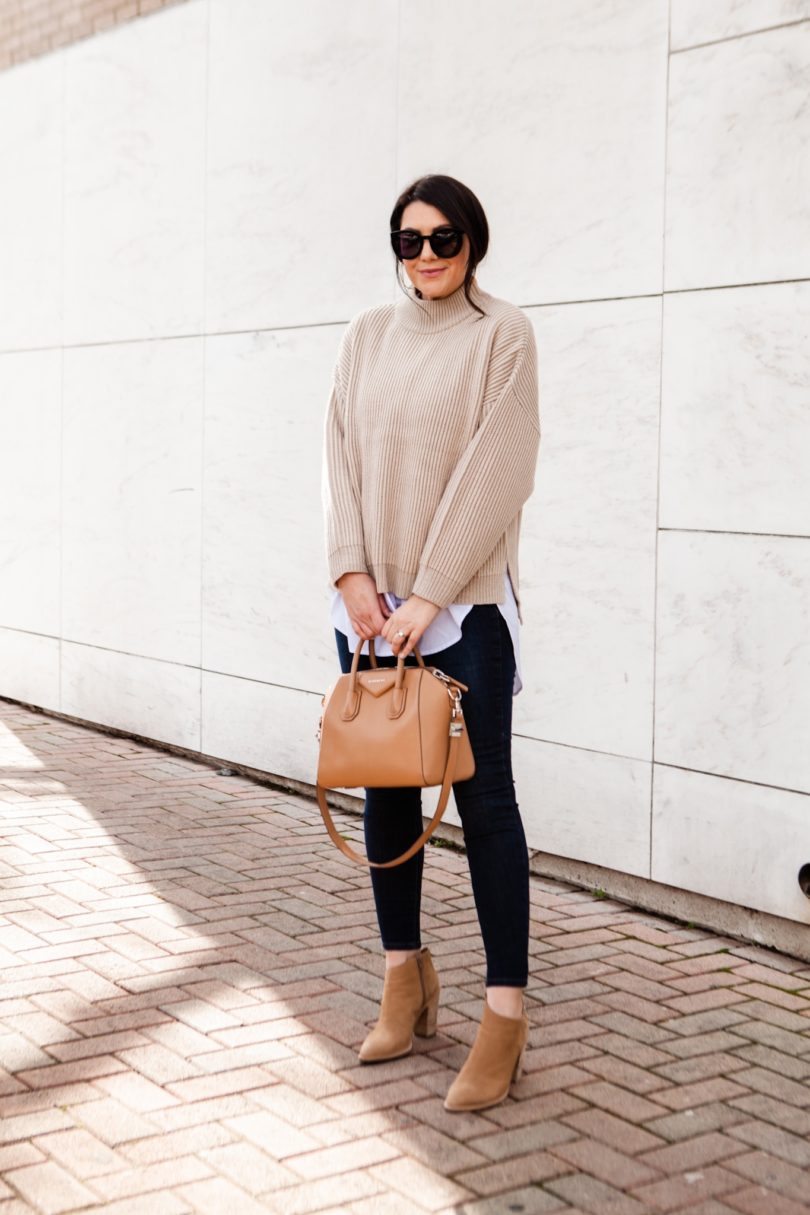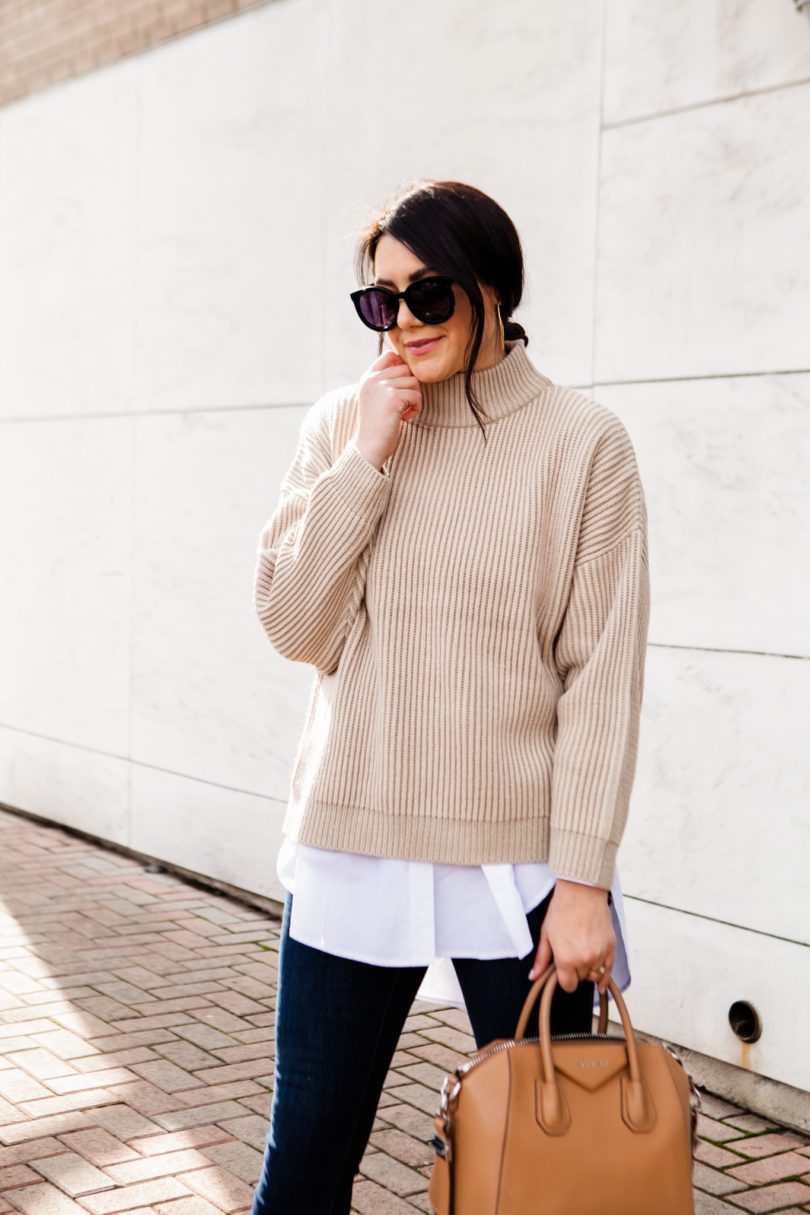 Look I know what you are thinking. You saw the title, opened this post with a side eye thinking that advice about layering for winter is RICH coming from a native Texan. But what I lack in winter weather, I do make up for in a plethora of styling advice. Plus when we were first married, B and I would travel in the winter because it was much cheaper than in peak season and we wanted to see places like Chicago, New York, etc. Therefore I learned to layer quickly. I didn't say it was *cute*,  I just said I learned to layer. Plus because I'm a Texan my blood is automatically very cold (take that as you will) so even the slightest north wind makes me want to bundle up.
Let's talk about the universal issue of layering in the winter: you look like a sausage. I didn't really know how else to say that, so let's just be blunt. If you layer incorrectly, you end up looking like you are low-key smuggling a sleeping bag under that J.Crew v-neck sweater of yours. So how about we don't do that any more? I've got 5 tips to help you layer without looking like a caterpillar wearing human clothes.
1. The lightest layers first.
I hate to say this but did you know that most styling advice is actually the most logical way of thinking about something? I think sometimes we complicate style and fashion because that's the beauty of fashion — it CAN be complicated and beautiful. But when it comes to styling techniques, logic and simplicity is key. When you need to layer, start with lightweight layers first. And I mean lightweight, remember — layering is a marathon not a sprint. Examples include a tissue-weight turtleneck, a really lightweight button down as shown here, even just a t-shirt or a tank. You want something that can essentially be invisible underneath your other layers and then build to a heavier layer with the heaviest layer on the top. (For example if you need a lot of warmth for layering, start lightweight tank or camisole, a tissue turtleneck then lightweight button down. Go from thinnest to heaviest in your layering build.)
2. Make the main layer your hero piece of the outfit.
When you are ready for your main piece (i.e. my camel sweater above would be considered my main layer here), this piece needs to have some structure to it. By that, I simply mean that it can hold it's shape over the bottom layer. The best way I can explain this is for you to think of the opposite of this — think of a cashmere sweater or a classic J.Crew sweater (both are linked for examples). These sweaters will absolutely not hold their shape against the lighter layer below, even if its just a t-shirt. They will cling to the layers and they will start to warp and take shape of the lower layers. (I think you know what I'm talking about — we've all worn this J.Crew sweater with a button down underneath and you could see every single button underneath it.) So instead, find a sweater or sweatshirt that has less 'give' than a soft sweater. Keep your soft sweaters for warmer days or to wear under a jacket or blazer as the bottom layer. You want to look for fabrics like cotton, acrylic, or wool. Anything that is a thicker weave or knit will be perfect for this top layer.
3. Create depth with different proportions.
The absolute key in a stylish layered look is to have differentiations in your layered pieces. So here I have a longer button down shirt than I do sweater. If my sweater was just as long as this shirt — well. I mean. Let's not even visualize this mess. So instead I am creating a visual interest with my layers, you can see my layers underneath and it looks effortless. I love the idea of high-low styling with sweaters and a layer underneath, especially with the rise of cropped sweaters around. As long as your under shirt is at least 4" longer, you will create a elongating effect that looks so chic. The same works with a turtleneck but in an opposite direction. You are creating a different proportion with a turtleneck under a v-neck sweater. The under layer doesn't have to show but if it doesn't, you want to be able to see each layer in some respect.
4.  Wear neutral and complementary tones.
When layering, keep your tones within 2-3 colors. You don't want to have SO many different layers AND colors that it starts to look like you are trying to board an airplane without paying for a carry-on. However, you DO need to create the colorblock look so having a break in colors is necessary. The easiest way to keep to this rule is to make sure your under layers are all a neutral color — white, grey or black. Then keep your top layer to a complementary color. I obviously love a camel color so pairing a white blouse underneath looks clean and classic. As long as you keep your multiple colors to a minimum (2-3), then your layers will look clean and fresh.
5. Use accessories as layering pieces.
I know you may not necessarily think of a hat as a layer, but it absolutely is when it comes to styling. A scarf is more sellable as a layer, but a hat seems like, well, just a hat. But to complete a fully layered winter look, think in terms of small. What small piece could I add to a) create warmth and b) complete the look? A beanie, a wide brim wool fedora, a baseball cap — all can finish the vibe of your look AND give your warmth when you need it. Tossing on a scarf that ties in the whole look with your outerwear or coat also gives your look more detail and depth and again gives you that extra layer of warmth. I like to keep neutral colored accessories on hand that pair with most of my outerwear options! Grey, camel, black and navy are all great options that can work with most coats!
So if you live up North and you do this every single day — what tips do you have to share? Leave them below!