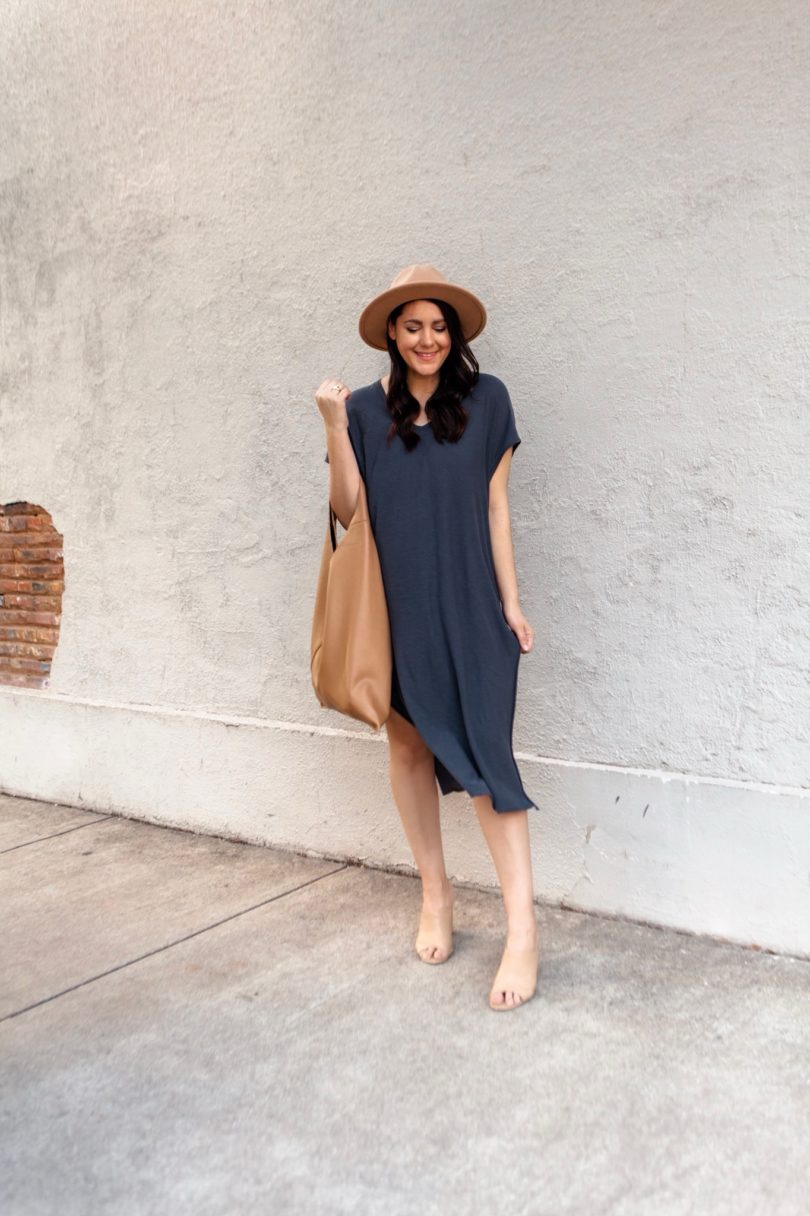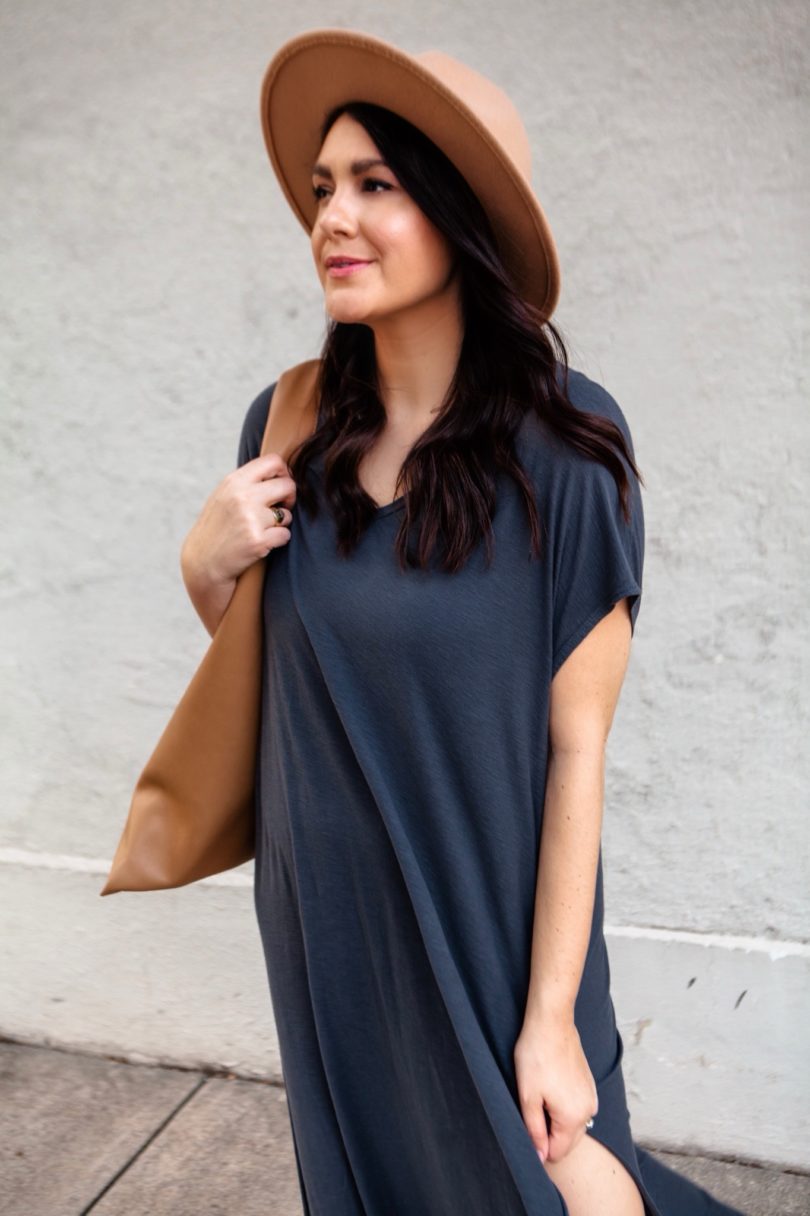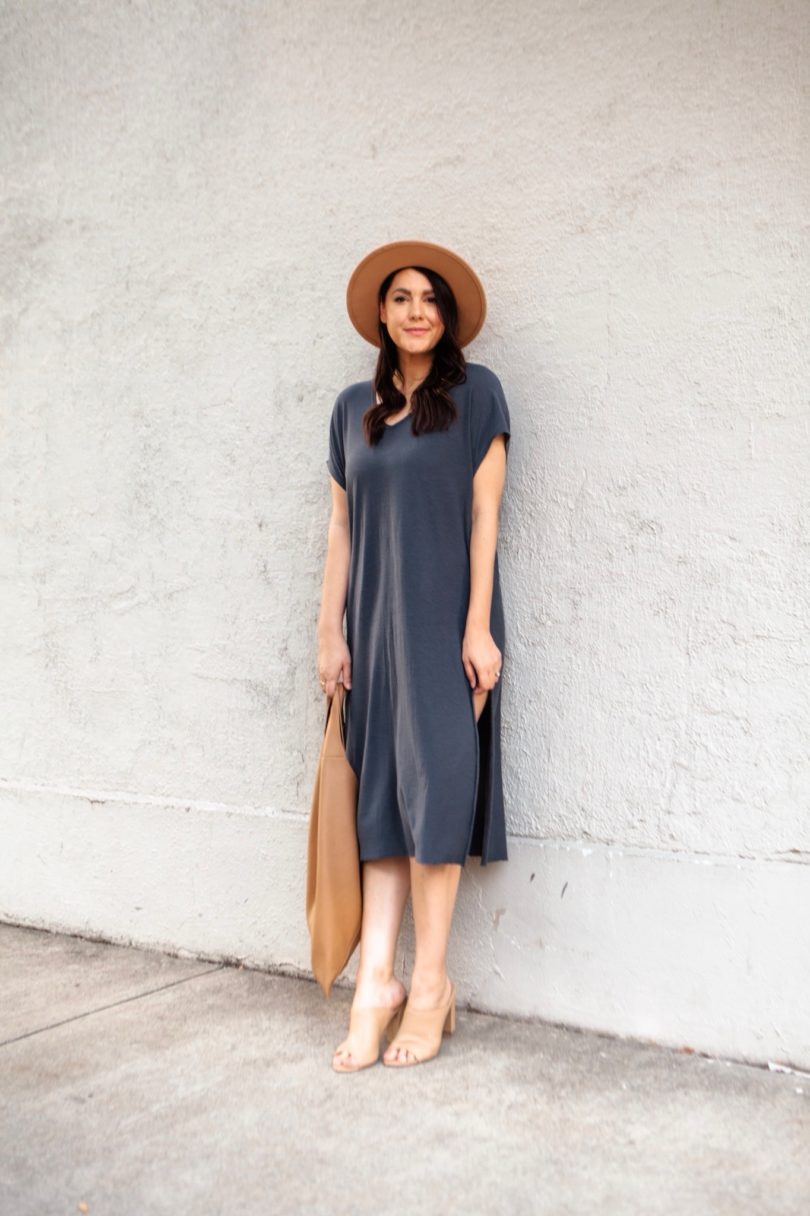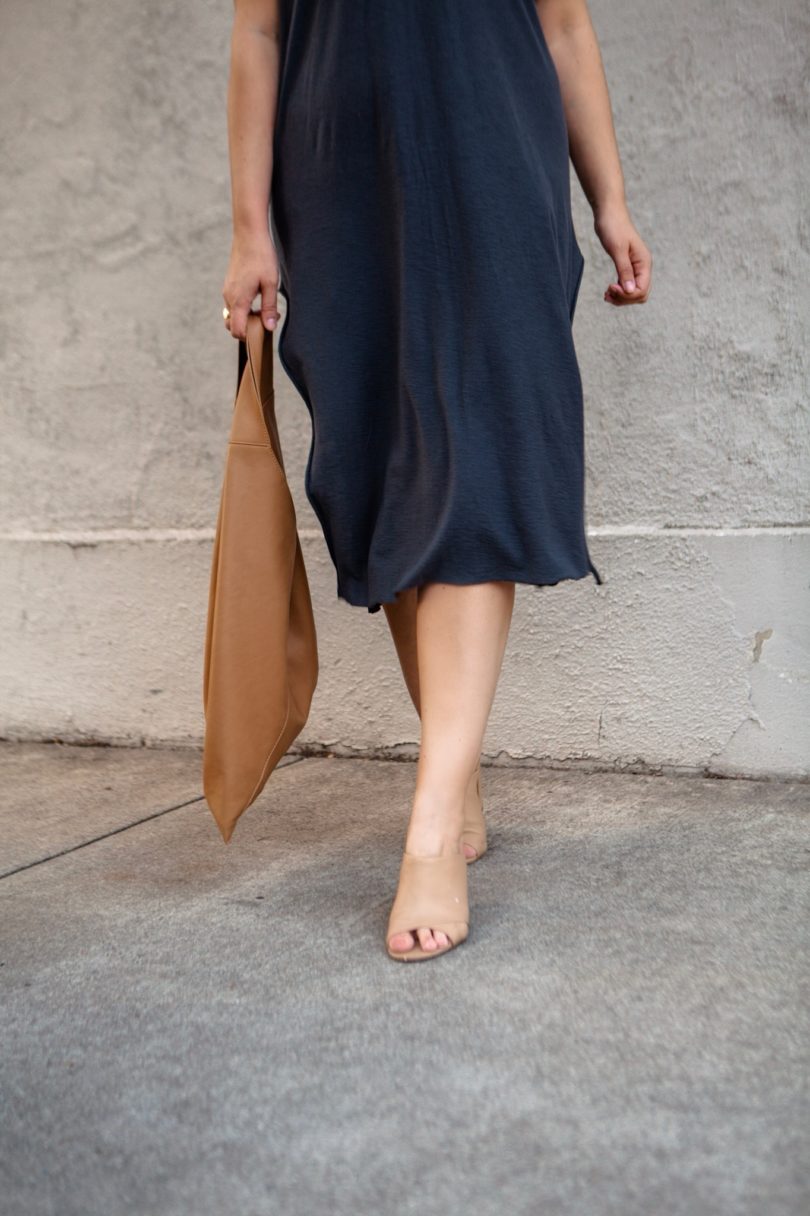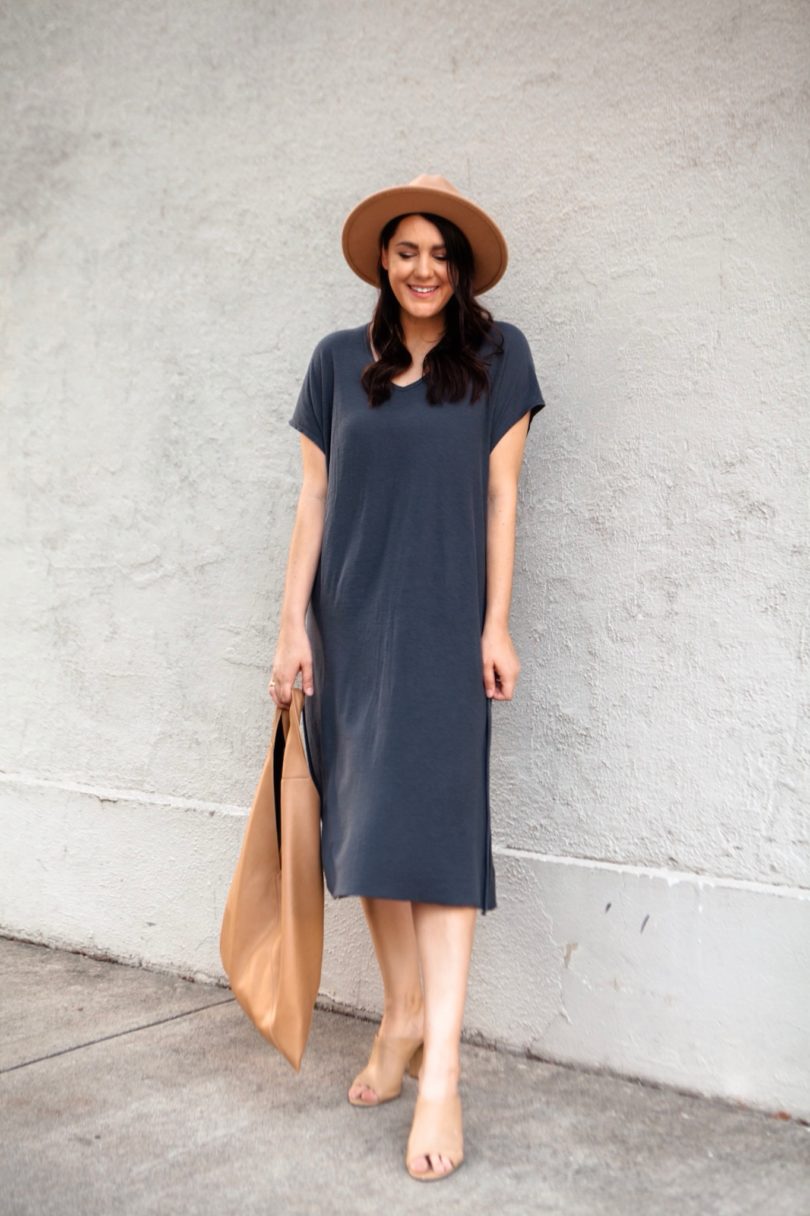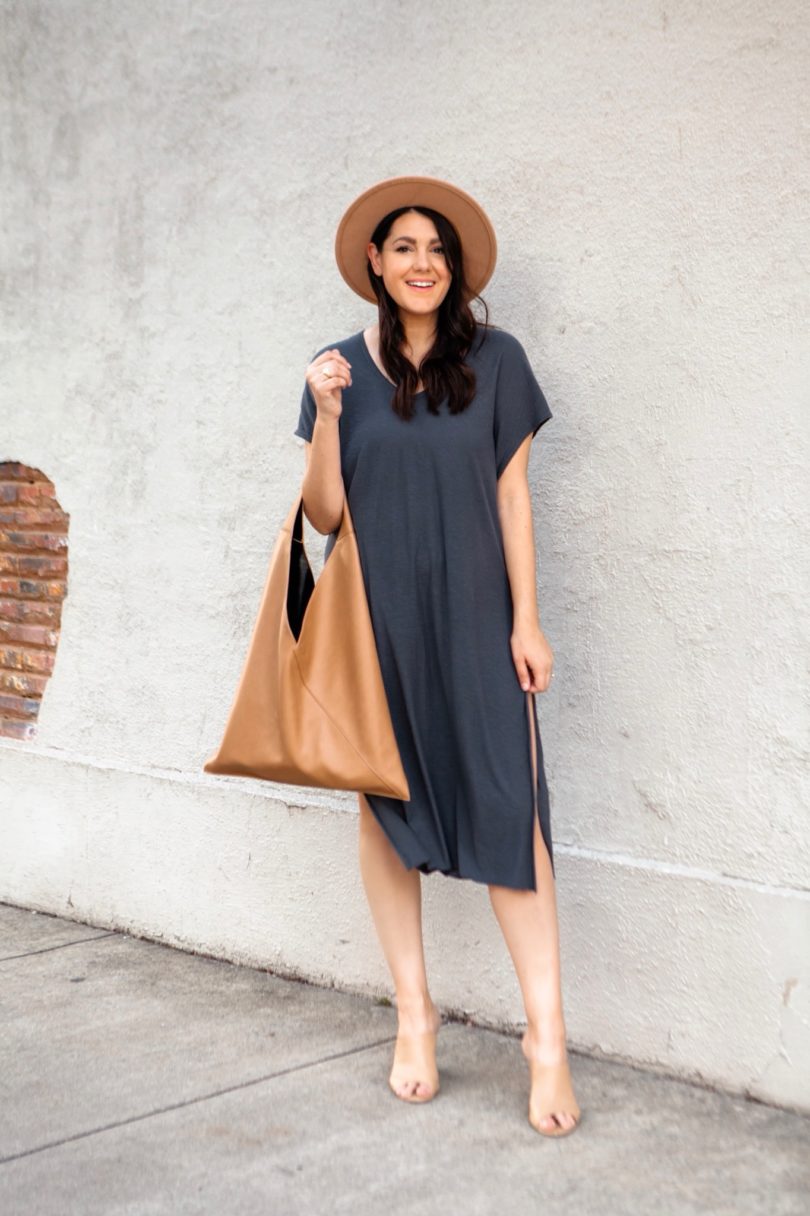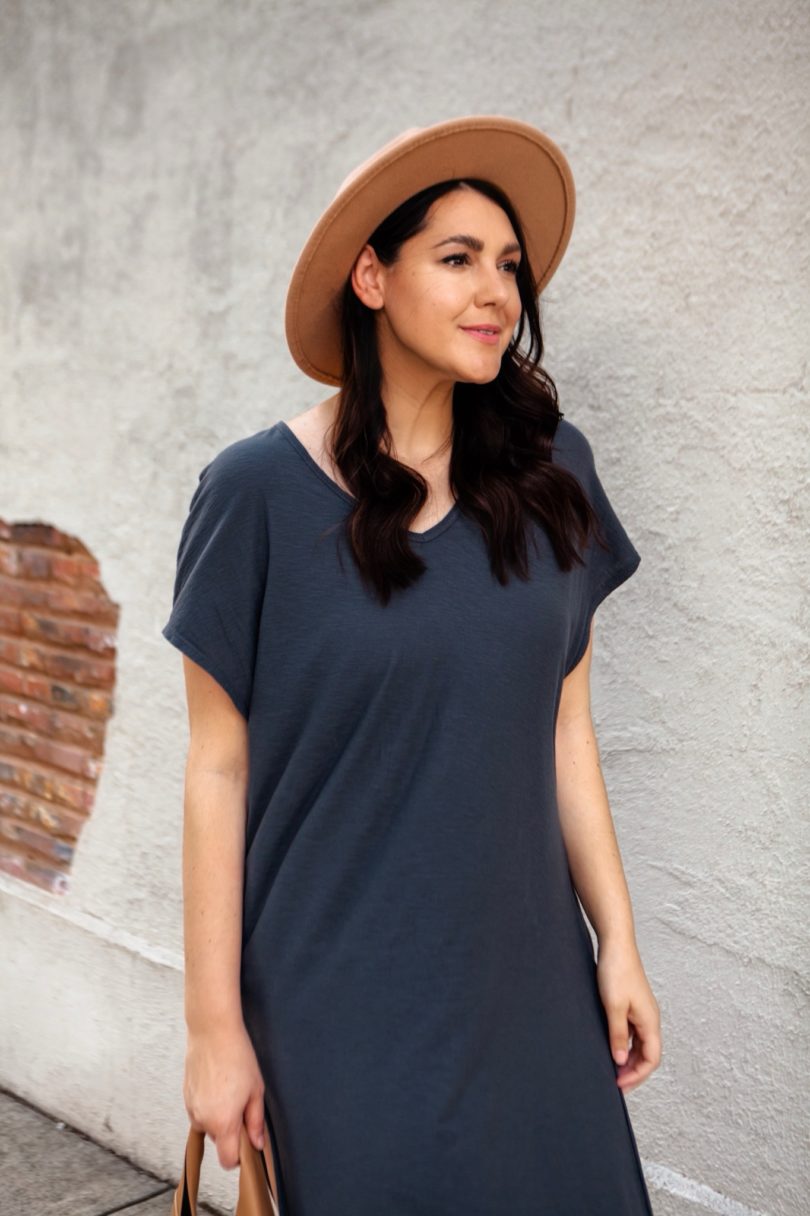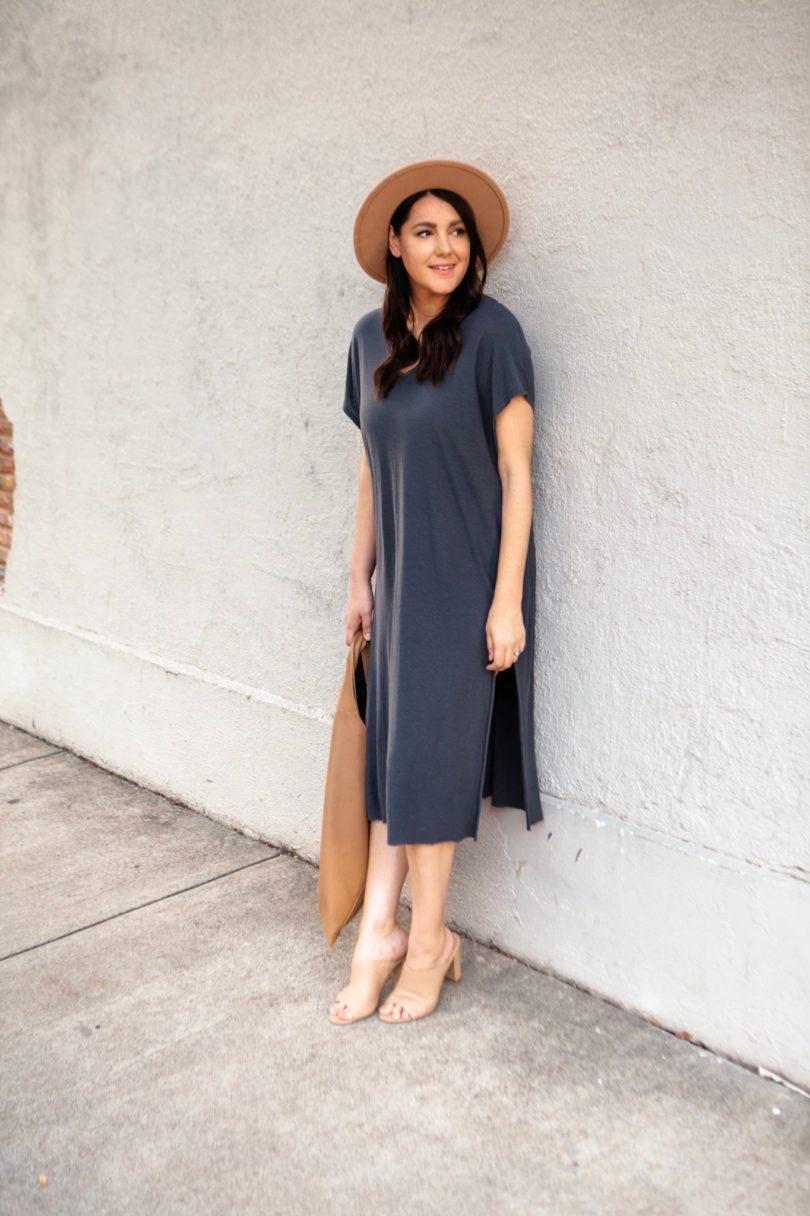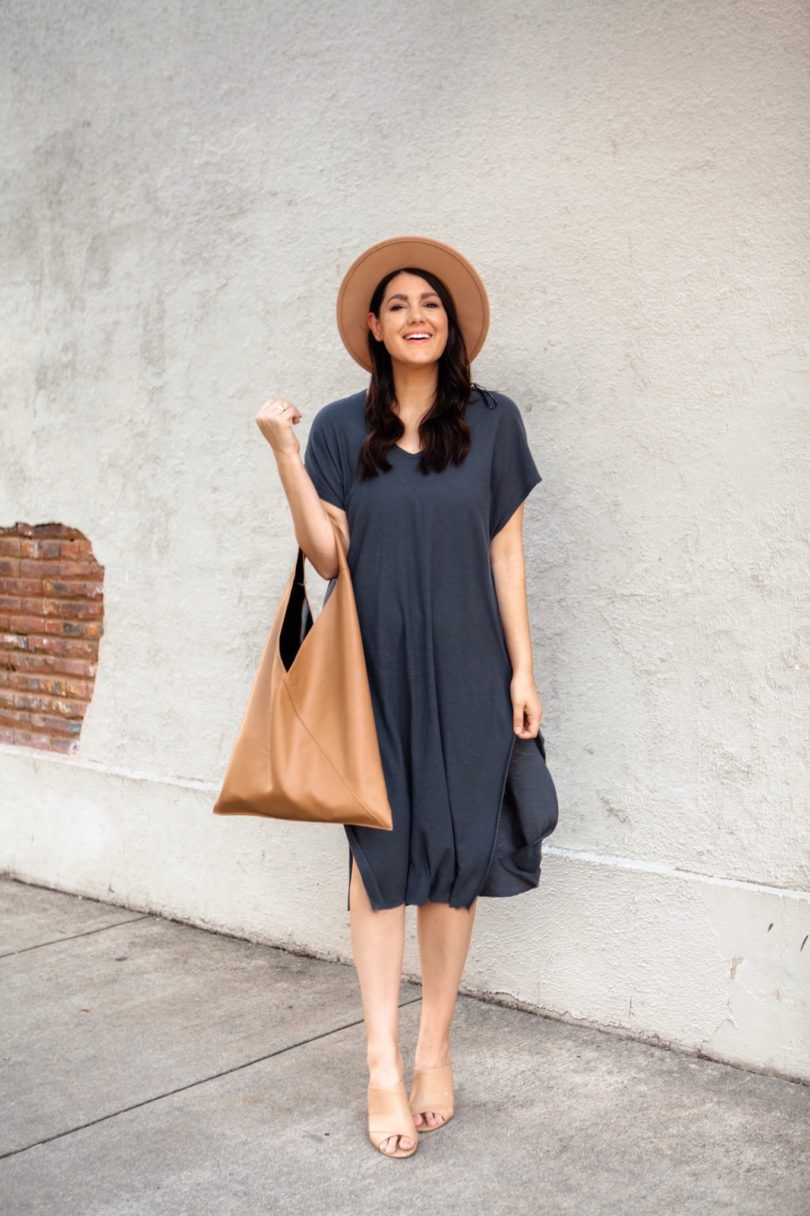 If I've felt a little slow on here lately it's because my time has been split a bit more between the store and the blog. (Oh and baby, husband, life, too!) We are finally ready to launch our fall collection that we've spent so much time curating! Let me walk you through it!
Oh but first. THIS DRESS. It's the dream. When I saw it at market I was like, yep that's my fall dress. It's cotton and modal blend and it is so soft but not at all clingy. Do you know how nice that is?
One caveat of this dress — it has a pretty high slit. It's about where my denim cut-offs come so it doesn't bother me and I wear my smoothing shorts / biker shorts underneath it so nothing is shown. But I just wanted to tell you so it wasn't a surprise. I am 5'9" so it will be higher on me, but it is more of a risky look. You can easily pair this with leggings though and it works just as well!
If you like this fabric (super super soft by the way) but in a different form, this dress is also a favorite! I'm not kidding when I say it's pajama worthy but obviously we will silently nod to each other in agreement that we would *never* sleep in our clothes. *wink*
You can find this dress here!
So back to the collection and the new mission of our shop. Over the last year we started to visualize the direction we wanted to take the shop toward. We wanted to slow down the inventory process, curating and creating 4 specific collections for fall through holiday, instead of our huge monthly drops or weekly mini-drops we were doing this spring. I wanted to make sure every single piece we found was something I would wear, something that would be easy to style, and something that could fit easily into YOUR everyday. We've also made the decision to do more limited quantity runs, so pieces may sell out quicker than before. We are able to free up money for high quality styles by doing this, so be sure to be on our email list or follow on IG so you know about our restocks! We will restock everything on the same day, when we have them! 
Back in July, I asked our customers what do you want to see? And we got an overwhelming response for more natural fabrics — which are quite honestly hard to find! Well, hard to find in a approachable price. But we did it. We found some amazing linen tees that I'm obsessed with ( I want all three colors), these two slightly quirky blouses that are 100% cotton (one is here and the other is here!), and we found a line of sustainable bamboo fabric that's made in the USA (find them here!). All of these are under $60 (the linen gets just a bit more expensive but the quality is amazing!)! Although a smaller part of our line, we are still a work in progress but I am SO excited to be able to find affordable pieces in fabrics that make sense for you guys. 
Many people had asked if we would continue the supersoft basics that we had when we launched last fall. That specific line of basics came from a vendor that we loved the styles and specifically the lower prices, but as time went on we didn't think that the quality was there. We've since found another line of super soft knits and we are giving them a go! Currently we are stocked with an essential everyday tee — same supersoft fabric, but this tee is Made in the USA! You can find it, true to size, here.
Other worthy of noting items: this cardigan is seriously the softest knit. I might as well call this a pajama in real life shop. Acceptable PJs. 😉 I also LOVE this finely knit cardigan, perfect for right now! It's like a fake layer you know? Which is what we all need right now since we are faking fall. 
Oh and this animal print dress. DROOLING over it. Don't worry, I kept the one I drooled on. 😉
You can find the entire collection here!
**I wanted to make one note to our petite and plus size customers: as we are changing up our brands and lines we carry, we have relaunched with a new mission to bring sustainable and responsibly sourced fabrics, natural fabrics and USA Made items into our store within our approachable prices and quality standards guidelines. Since we do not design or manufacture our own products, we are not in control of what sizes are available in every style. With this we are trying new brands and vendors, some of which do not have extra small, petite or plus sizes  available. If there is an option for XS or plus size, we will include this style in our collection! If the option is not available, we have let our vendor know of our interest and our customers interest in providing a more complete inventory. Currently there are a few XS in the shop and there is a bamboo / Made in America tee for sizes s-2X. We know it's not enough and we are working to find the right products in all sizes without cutting corners with quality or style.
We ask for your patience in building our plus size inventory back with high quality pieces we find, as all of our inventory needs to meet our standards of quality and style. I sincerely thank you for your understanding as we figure this out and just know, you are not forgotten about. I have a handwritten list of each and every one of our plus size customers and you guys are priority. It just make take a little bit more time to find the right lines for us and you.
Lastly — thank you for supporting the shop and this blog. And by support I mean, you reading this right now. I know not everyone can shop so you reading this post, liking a photo on Instagram, leaving comments or DMing me — that is all support and I appreciate every single bit of it. All the heart eye emojis and all the feels to you from your internet BFF. Wait — we're best friends, right?