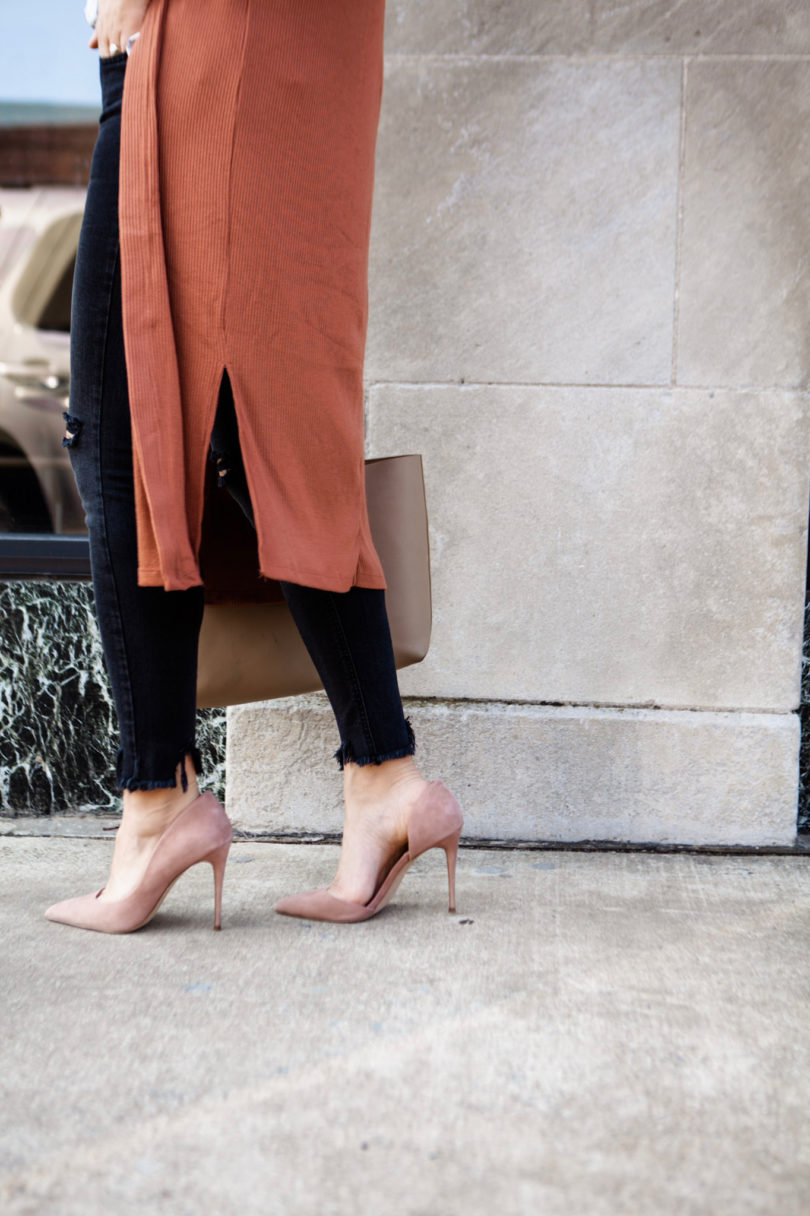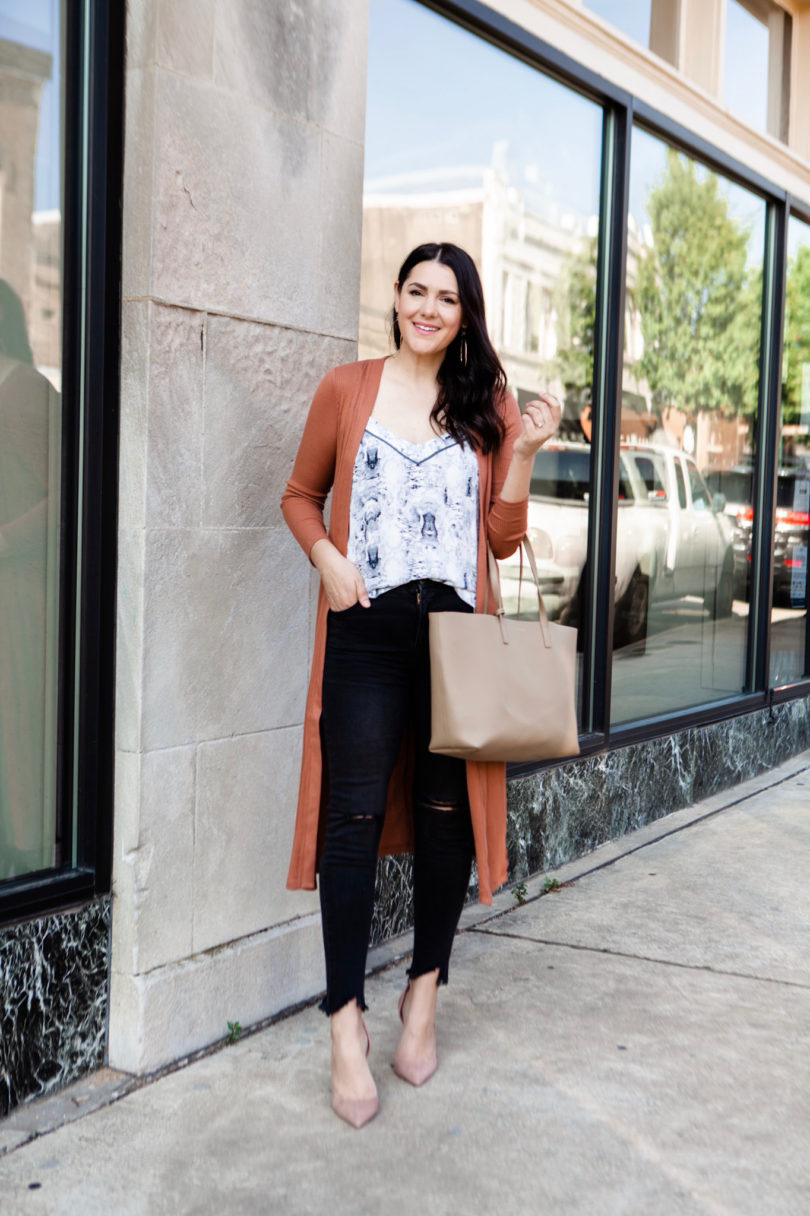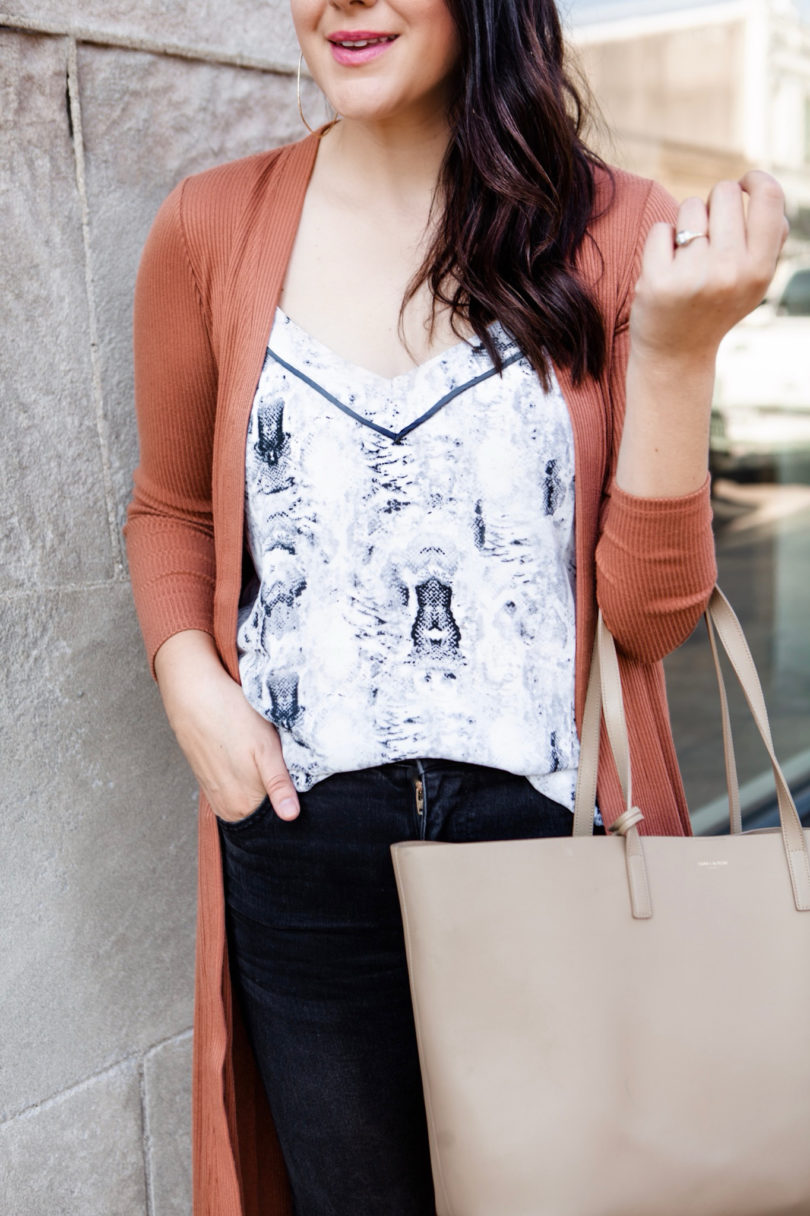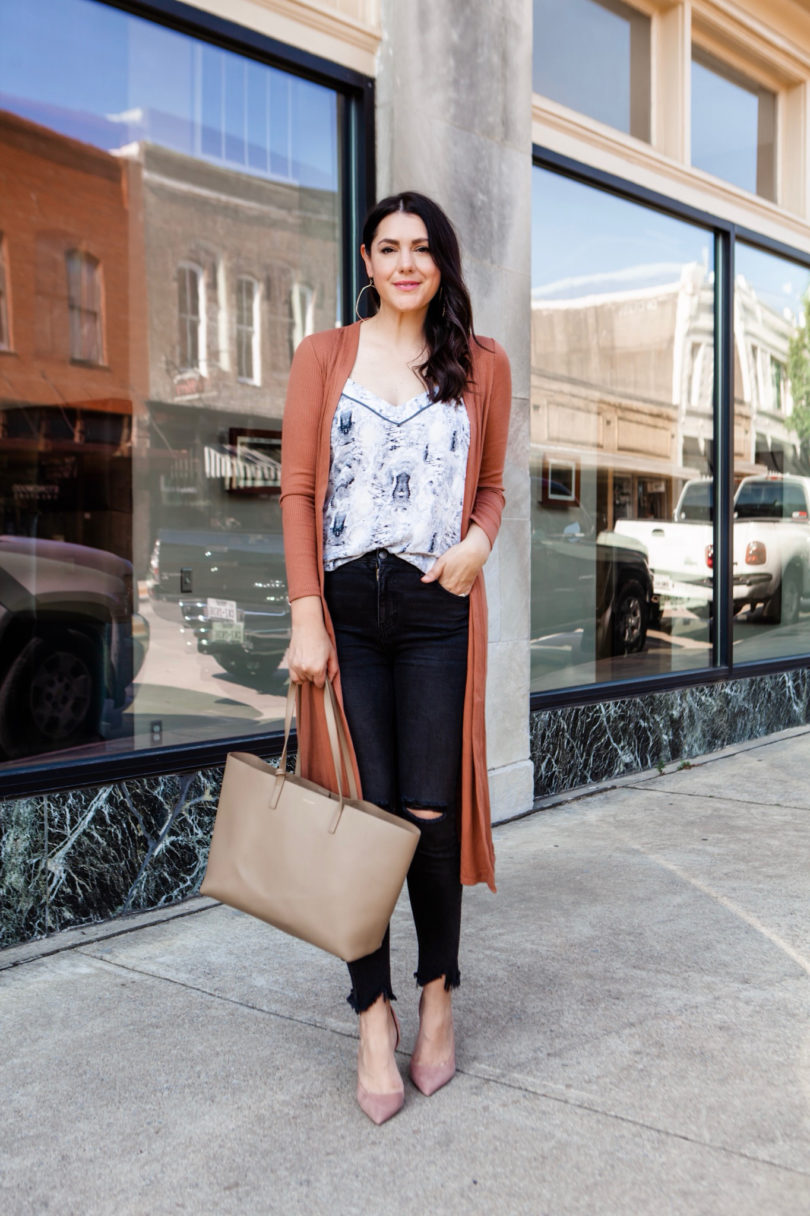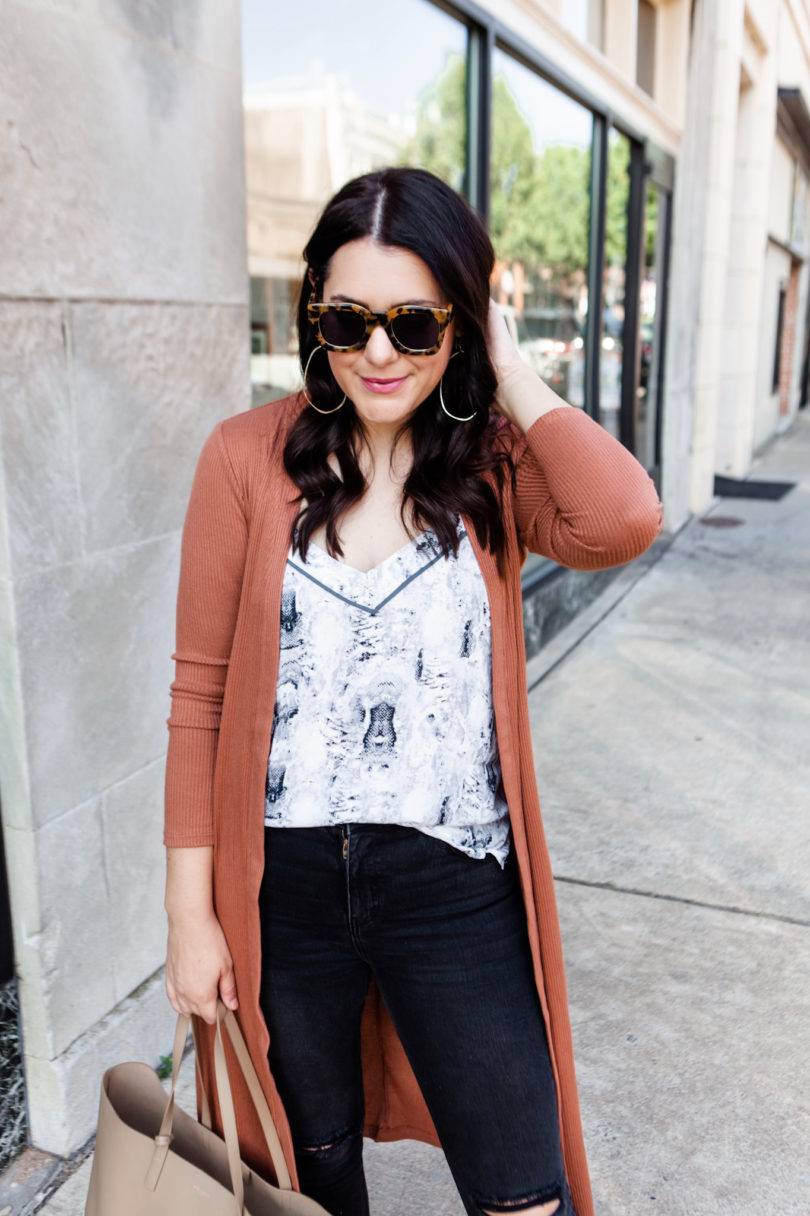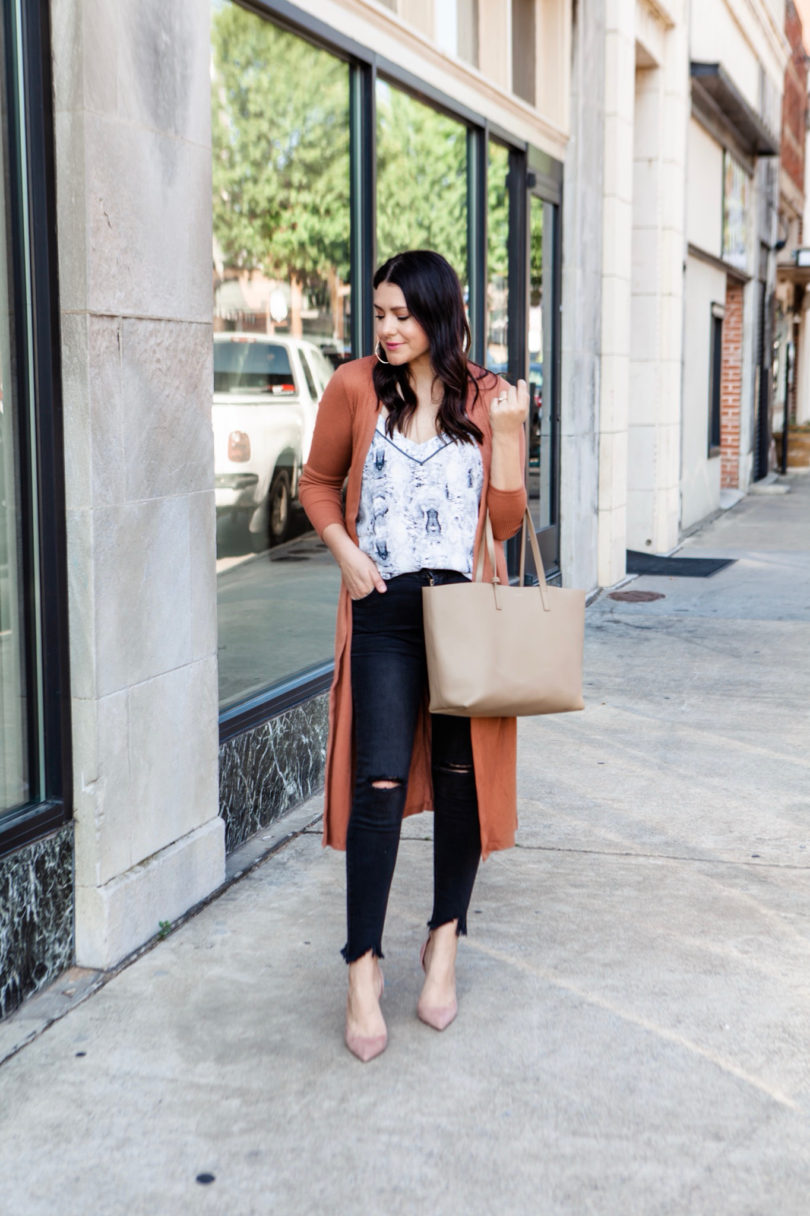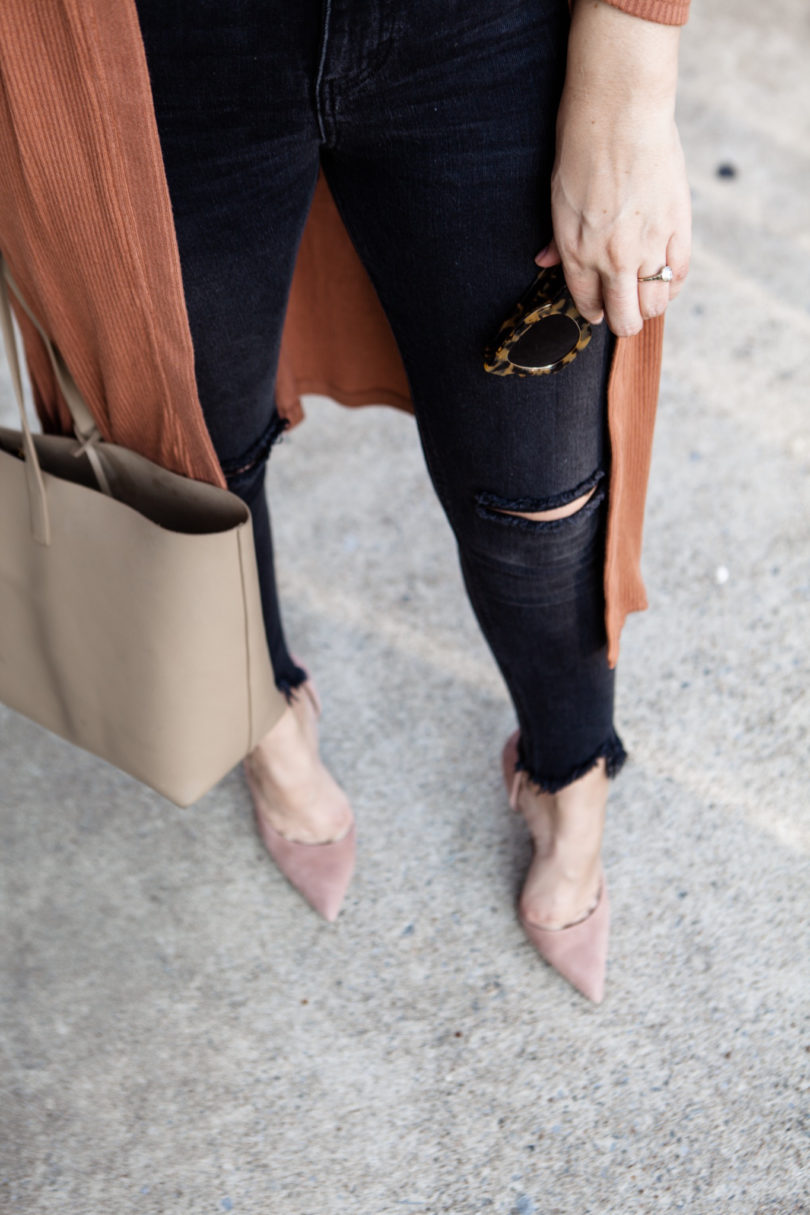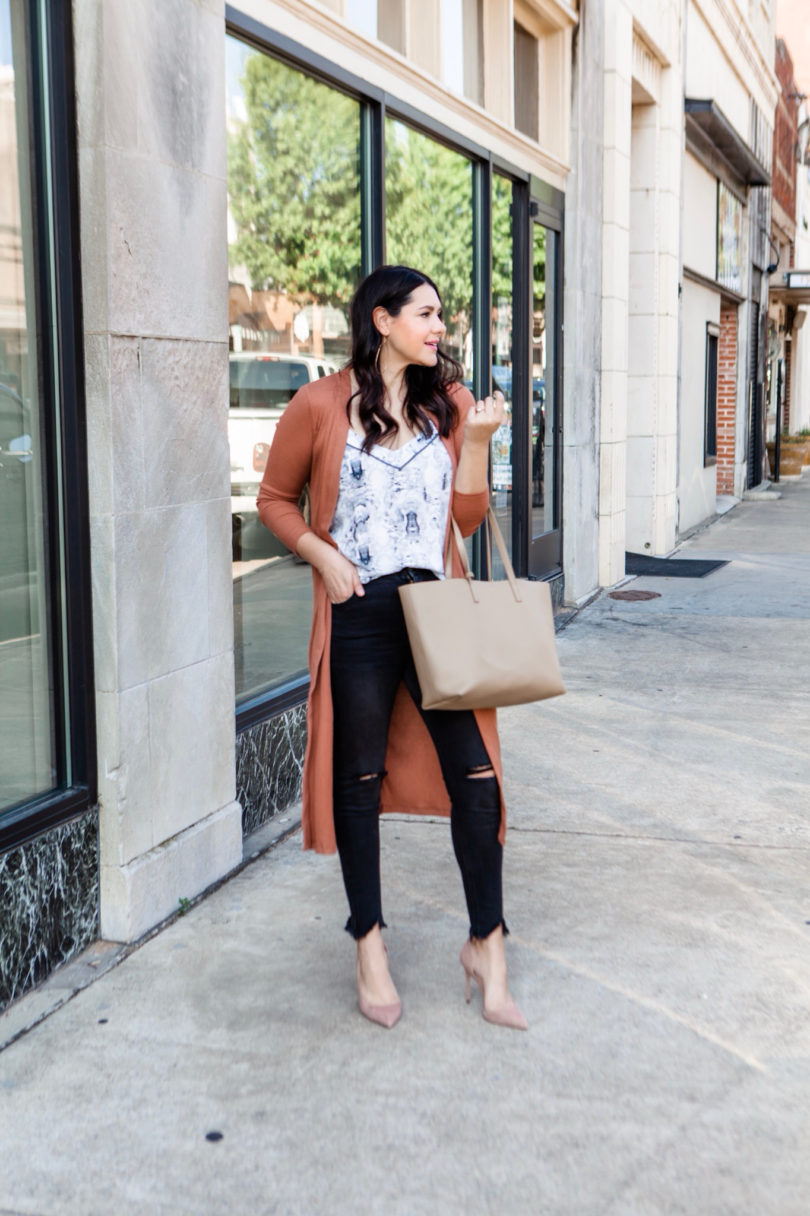 Happy Friday before a long weekend! If you're reading this on next Tuesday, that means you had a really nice weekend and I applaud you for that. If you are reading this on a Friday, at work, then I raise my coffee mug to you. I'm at my desk this morning and then B and I are heading to see my best friend from college! Which reminds me that we've known each other since we were 19 which in turn reminds me that college was a long time ago and it feels like 15 years is gone like that. Why does it just feel like yesterday? Someone please explain time to me because I'm afraid before we know it Gemma will be in college. Tell me this is not how it works?
That's too deep for a Friday. Let's talk about cardigans!
I picked up this cardigan from Target this other day and it's the perfect weight for going into fall. I won't say it's perfect for right now because it's still summer here but once a light breeze blows through town, I'll be popping this gal on! It's a nice rust/spice color and I personally think it can pair well with a lot of colors this fall. Black and ivory look great with it, if I do say so myself. But this color can pair well with olive, navy and I'm going to throw a curve ball at you — a rose hue. The colors would play off each other well with an unexpected color palette for fall. (Go with blue denim if you are going with the rose / rust color combo!
I am in the small because it's the only size they had in store but I like that it fits a bit more snug on me. I would say stay true to size and expect a looser fit at the arms or size down one! You can find it here.
I'm also living for this snakeskin camisole. Okay that's dramatic — it is not literally my lifeline. But I do really like it. I'm in the large because #boobs and I appreciate that I sized up. Thank you past, Kendi. You did me a solid. The straps are adjustable but I definitely recommend sizing up one if you need length or boob room. If not, stay true to size!
Oh and I am just now remembering — I was going to make this whole post actually about these $20 jeans. I got too excited about the other pieces that I skipped over the best part — these jeans are TWENTY DOLLARS (and 49 cents. Weird price but…okay.) You know me — I love me some denim and I love Frame or AG or Levi's or Madewell jeans. Those are my only go-to's now. I truly had zero expectations for these jeans but I liked the double knee rip and thought I'd give them a shot in the fitting room. Plus it went with a lot of the tops I tried on. (Pro tip: I like to find something similar to what I have at home to try on tops with. It helps me visual if I would actually wear the piece. This also makes me spend more money, so…is that a tip or a caution?) I picked up the 10 because it was the closet to my size they had and thought they'll work for the fitting room. But you guys, once I got them on — and let me tell you it took some effort and sweat because they be tight that way — I loved the fit. I love the double rips, the frayed hem and I couldn't believe the flattering fit for $20. They are a thicker denim with a small bit of stretch. I would personally suggest sizing up one size. They are a very tight fit at first (like 'is this going to button?') but they loosen with wear and fit perfectly from there. I am in the 10 here and I'm 5'9" for length reference.