*This post is brought to you in collaboration with my very favorite skincare line, Colleen Rothschild! They are having a Buy One, Get One 50% Off sale this week! Find it here!*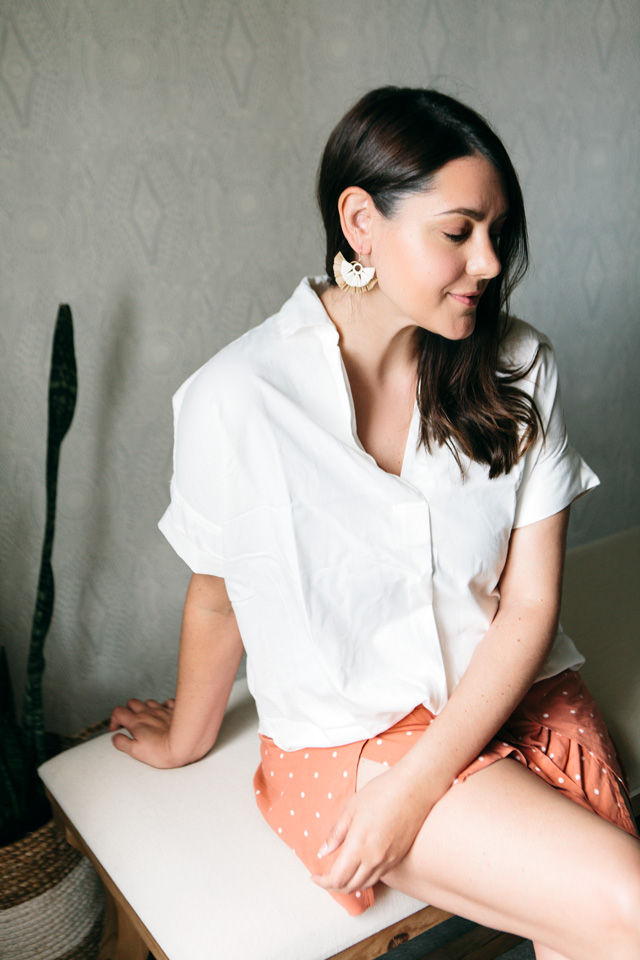 Summer is the time that my beauty routine changes the most. I tend to go with a lighter foundation or just a tinted moisturizer, a little bit of bronzer/blush, and just a swipe of eyeliner and mascara. (My brows still take a solid 10 though. Priorities.) It's not that my work schedule has changed or really anything about my day-to-day, but there is just a summertime vibe that I like to match with my wardrobe and my beauty routine. Easy does it in the summer is my beauty motto. But in order to have a go with the flow glow with my makeup routine, my skin has to be clear, clean and hydrated. I wanted to show you how I use 4 specific products from Colleen Rothschild to get my skin that just right glow for summer.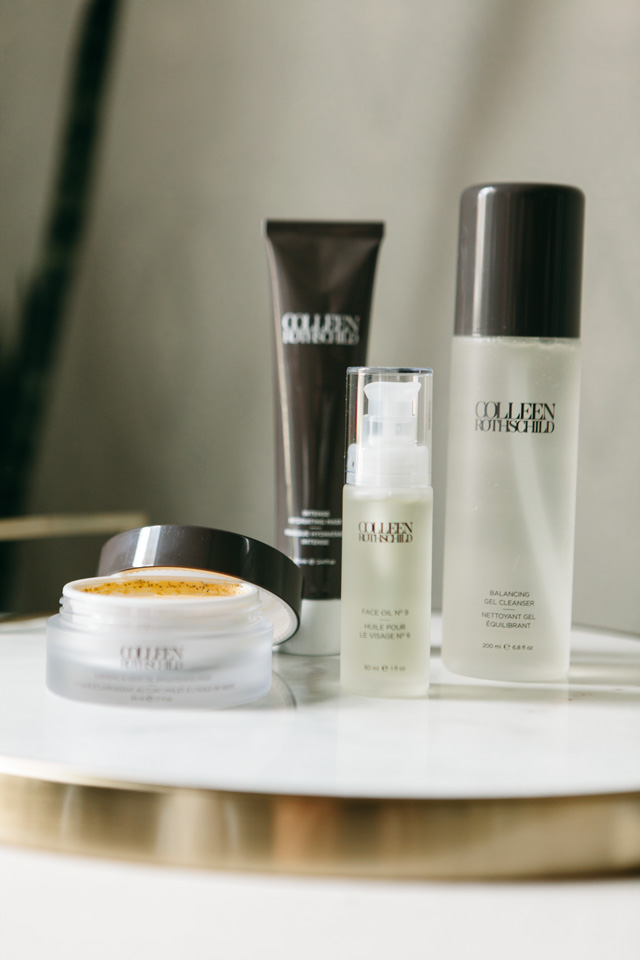 I wanted to make one quick note before I start: I've worked with Colleen Rothschild a lot over the years of my blog but all of my admiration for the brand started with my experience as a consumer first. I started using her products in 2014 and quickly became obsessed with this lightweight lotion (I've used this every day since 2014! It's never failed me.) I love being able to work with brands that I've been a fan of for a long time before we even have a working relationship. With that being said, I've been able to try almost every single one of her products over the years and I've not found one item I didn't love or see results from. I've been fortunate enough to be I've been able to edit my beauty routine into just a few favorites from her line that I use daily or weekly and these items I tend to switch out seasonally or by my skin's changing needs. I've seen my skin stay consistently the same for years — which is a high compliment when I know that my skin is always aging.
My summer glow up routine consists of 4 steps: Cleanse, Exfoliate, Moisturize and Hydrate. I've broken down my routine and favorite products below! This week only Colleen Rothschild is having a Buy One, Get One 50% Off Sale! Use code BOGO50 at checkout! This is an amazing discount for her products, so if you've been wanting to try her products or you need to stock up, now is the time! Find the sale here. 

Step 1: Cleanse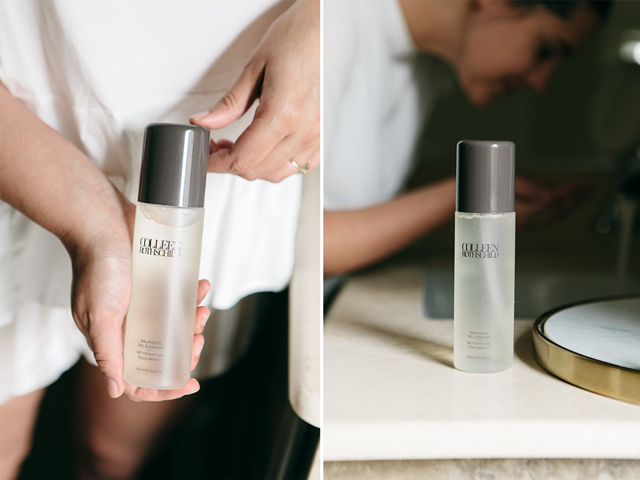 If you've read my posts about Colleen Rothschild Skin Care before, you know my full-blown obsession with the Radiant Cleansing Balm. (It's a cleansing oil that feels luxurious on your skin!) I continue to use this as a double cleanse at night before my night time skin care routine (Face Oil No. 9 + Mandelic Acid Radiance Serum OR Retinol Supreme Night Oil). But my everyday cleanser, I started using this Balancing Gel for morning and night cleansing. It's a lightweight, gentle cleanser that makes my face feel soft and clean with one wash.
Usage: This cleanser lasts for about 6 months+ for me with daily use. 
Step 2: Exfoliate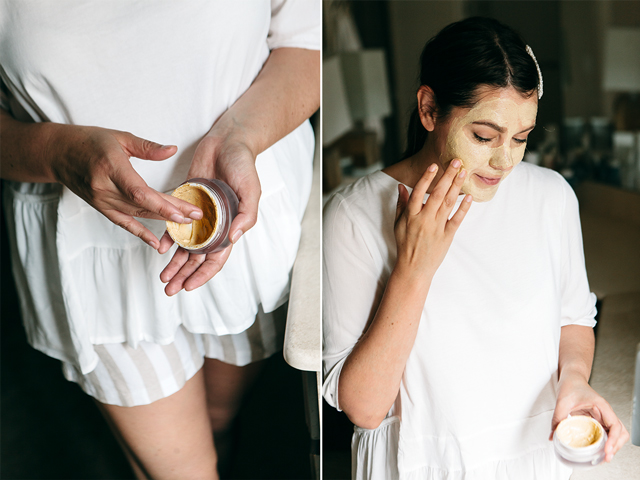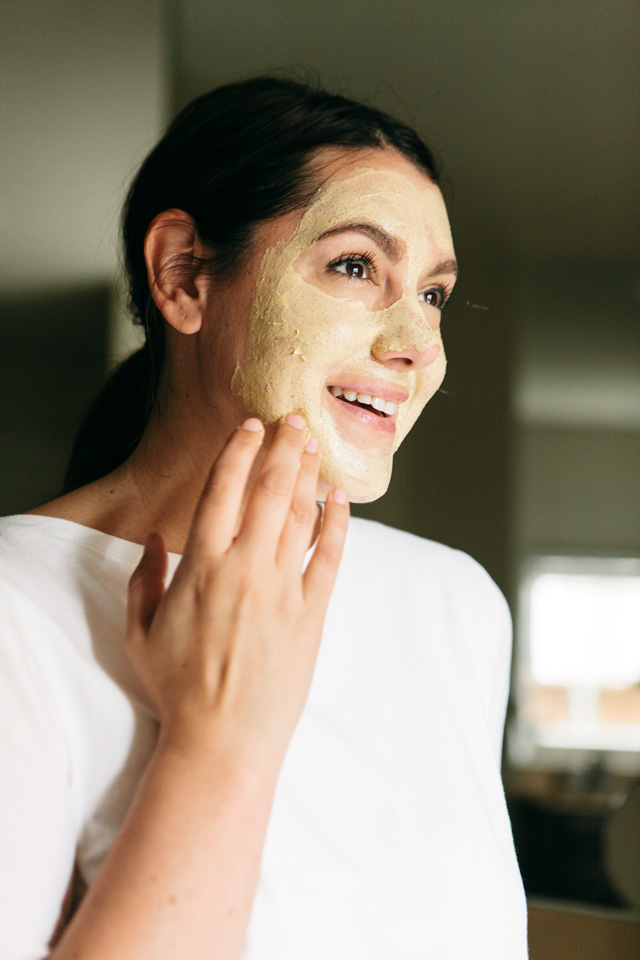 About 2-3 times a week, depending on when I have time, I try to use an exfoliating mask. I've recently started using the Tumeric & Neem Oil Brightening Mask and I love it. My skin is instantly softer, brighter and the texture of my skin feels less uneven. This mask you leave on for 10-15 minutes and rinse right off, no harsh scrubbing. If you prefer a chemical exfoliate, I've also been trading the Tumeric mask with the Pomegranate & AHA Resurfacing Mask. I love this one as well! It has a bit of a different effect than the Tumeric & Neen Oil Mask, which I think is a gentler exfoliant. The Pomegranate & AHA Mask gives you a little tingle and you can leave it on for just 5 minutes, so it's nice to use if you're in a pinch. I find that this one makes my skin a bit smoother and calmer. Both are wonderful masks, you can't go wrong with either!
Usage: Since I use them on and off a few times a week, I go through these masks about every 1-2 months. 
Find the Tumeric & Neen Oil Brightening Mask Here
Find the Pomegranate & AHA Resurfacing Mask Here
Step 3: Moisturize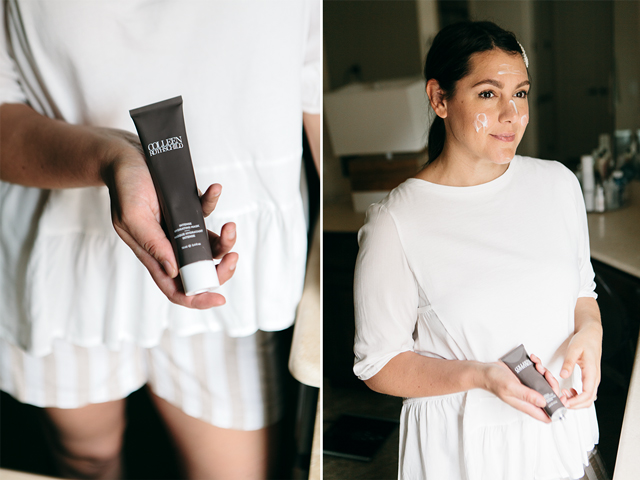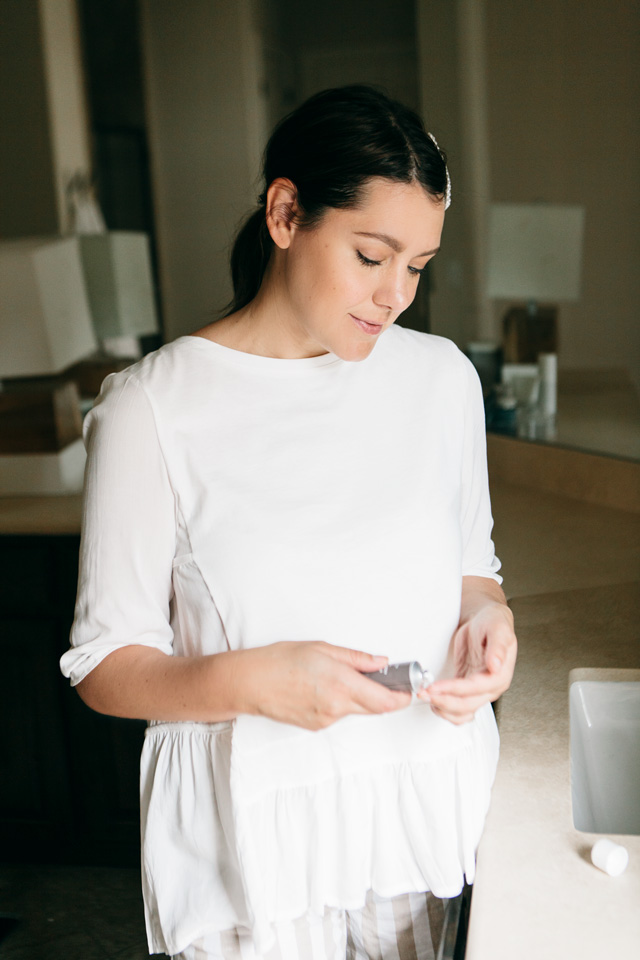 This next one is probably the most important step after cleansing. Keeping skin moisturized and hydrated is one of the keys to having that summer glow. I know that we tend to think winter as the season to moisturize the most but I find my skin to be drier in the summer. In order to have the best foundation for my makeup free days, I use the Intense Hydrating Mask at least once a week. This one is optional to wipe off or leave on overnight and I tend to leave one overnight and wake up with the softest skin ever. This is one of Colleen Rothschild's best sellers and typically sells out during sale events like this — so if you've thought about buying this product before, grab it up! It will sell out, no doubt. Find it here!
I've even convinced Bryan to use this mask and it's helped his usually always red skin dramatically. He is hooked on it. It helps even his skin tone and yep, moisturizes his usually pretty dry skin. (I have full clearance to talk about his skin like that. He was cool with it.) If you're looking for an intense moisturizer that will not break you out, this is the one. It's lightweight but intensely moisturizing.
Usage: Using this 1x weekly, this tube lasts about 3-4 months. 
Step 4: Hydrate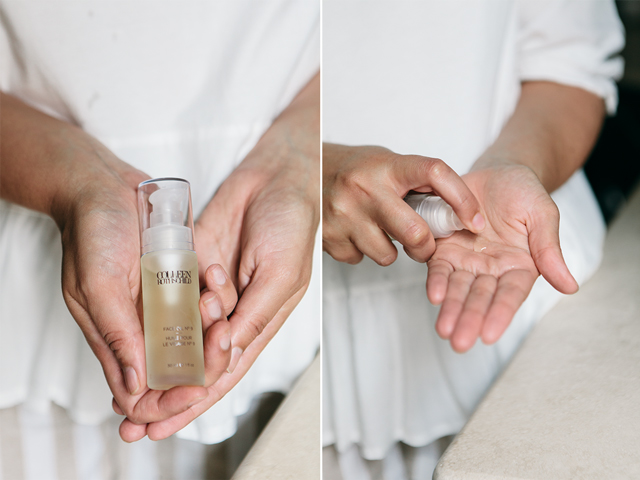 I know you're thinking that moisturizing and hydrating sure do sound a lot alike and in theory, sure they both do a similar job. But I find that keeping my skin moisturized with a daily lotion and a deep mask once a week is essential to keeping my skin clear and soft. I add the Face Oil No. 9 on top of that moisturizer to keep things glowy and my skin tone even. I use this oil day and night; in the morning right after I wash my face, immediately so it has time to soak in before I apply my daily moisturizer and makeup. This oil takes about 5-7 minutes to be fully absorbed. I know it seems counterintuitive but it does NOT make your face oilier, in fact, it keeps my skin's natural oil at bay. Once the oil is absorbed I go in with my moisturizer which takes about a minute to sink in and then I'm on to my daily makeup routine. After I wash my face at night, this oil goes on over the Mandelic Acid Radiance Serum (I only apply this to my fine lines on my forehead) and I use this on my face, neck, and decolletage. I've noticed a significant decrease in the appearance of my fine lines since I began using this oil consistently. It's in my top 5 products from Colleen Rothschild, because like your own children it's impossible to have a favorite.
Usage: Using 2 pumps twice daily, I can get about 6-7 months worth of product from this bottle.
My fresh face for the summer, courtsey of Colleen Rothschild's amazing skin care line.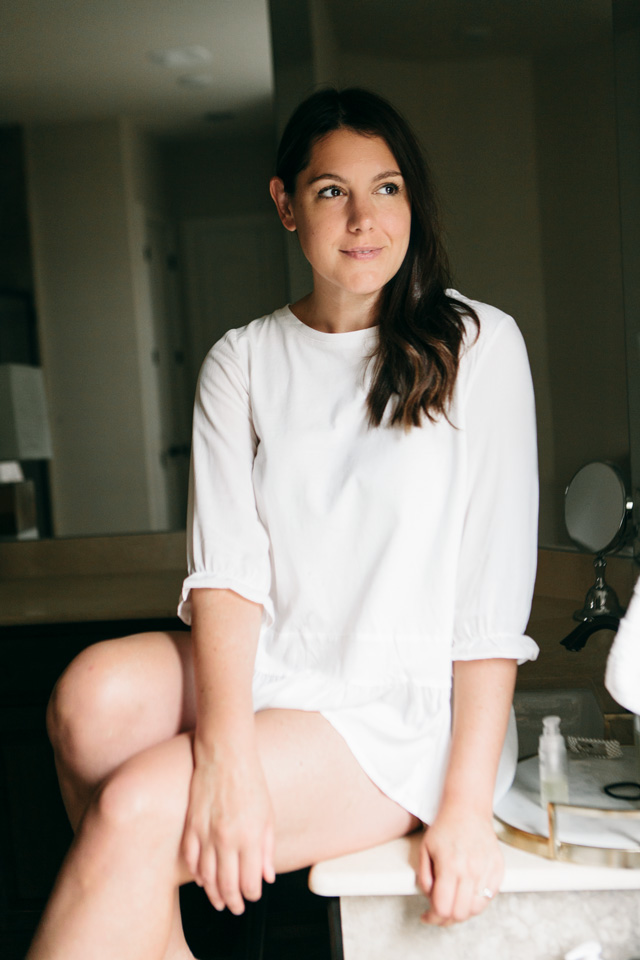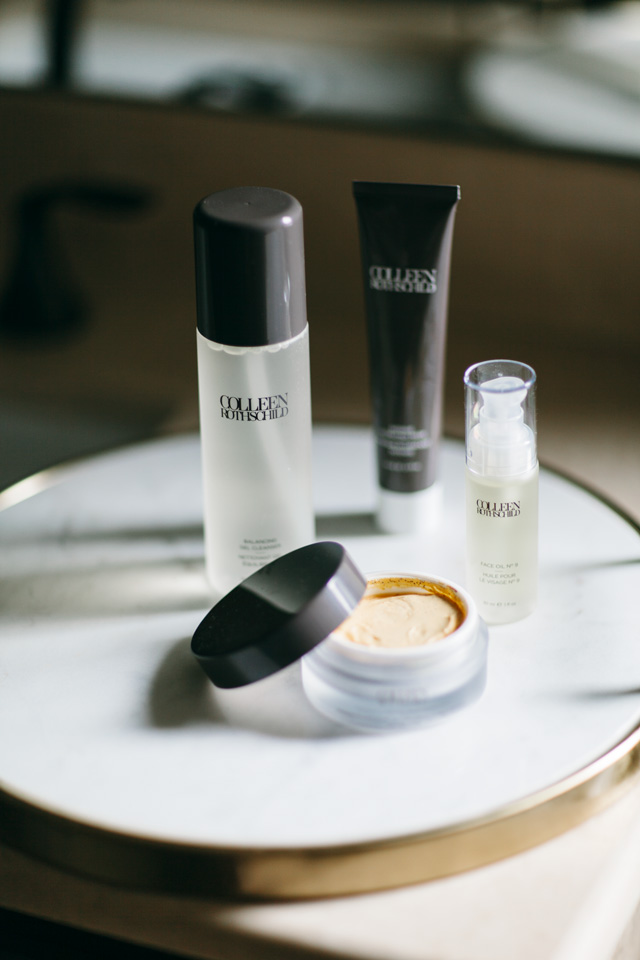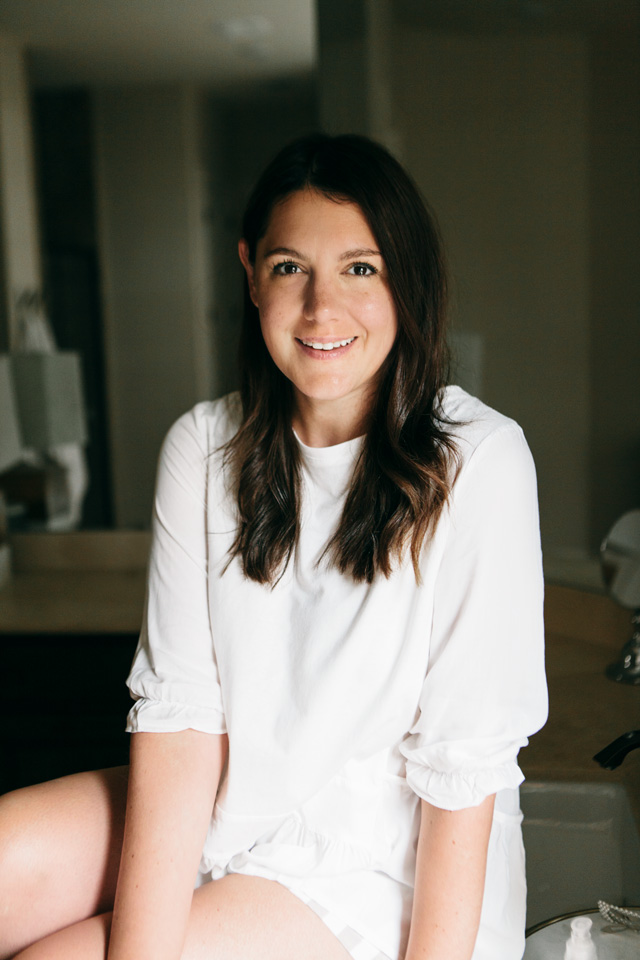 Hurry! The sale ends Sunday, June 9th! Use code BOGO50 at checkout for 50% off your order.