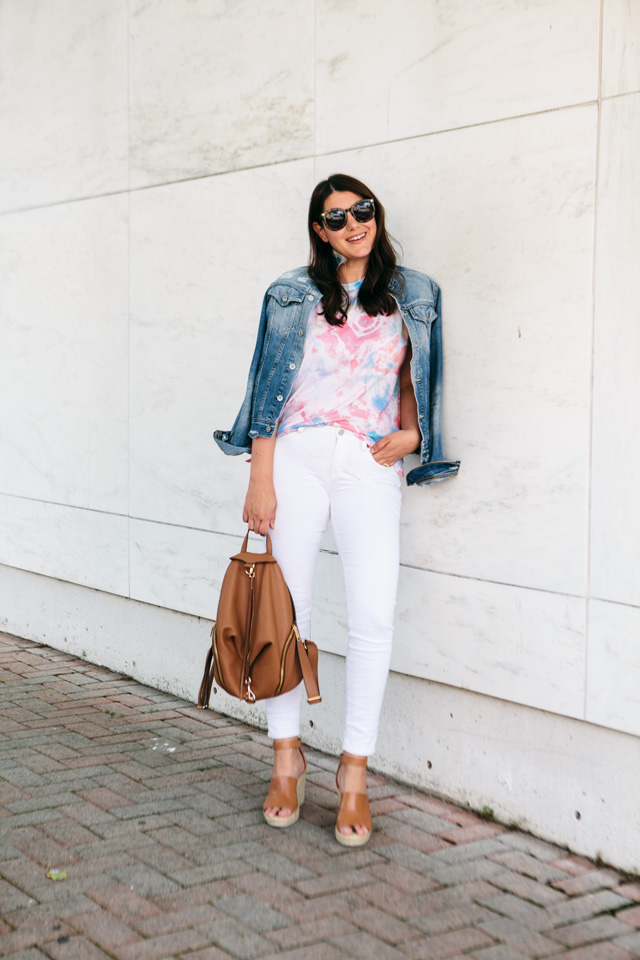 In all of my wildest 90s dreams, I never thought I'd see a day when tie-dye would come back. What I'm about to say is going to age me, but I'm pretty confident in my skincare routine, so I'm good with this: back in the 90s we would tie-dye our own t-shirt dresses or even better do you remember the paint splatter trend? We would DIY that too. There was nothing we wouldn't attempt on our back porch and then turn around and wear it. The sky was the limit in the 90s; the weirder the better. And I've always been this way — if there was a trend, I went 100% into it head first. So after my fling with tie-dye from the approximate years of '94-'96, I just never thought I'd see this pattern return in a way that would be wearable ever again. Anything goes for kids, so tie-dye for kids/teens doesn't surprise me. But adults? This trend was intriguing to me. When I first saw it, I thought that'll die soon….and then it didn't. How could a woman style this and make it look classic? I thought. I was up for the challenge.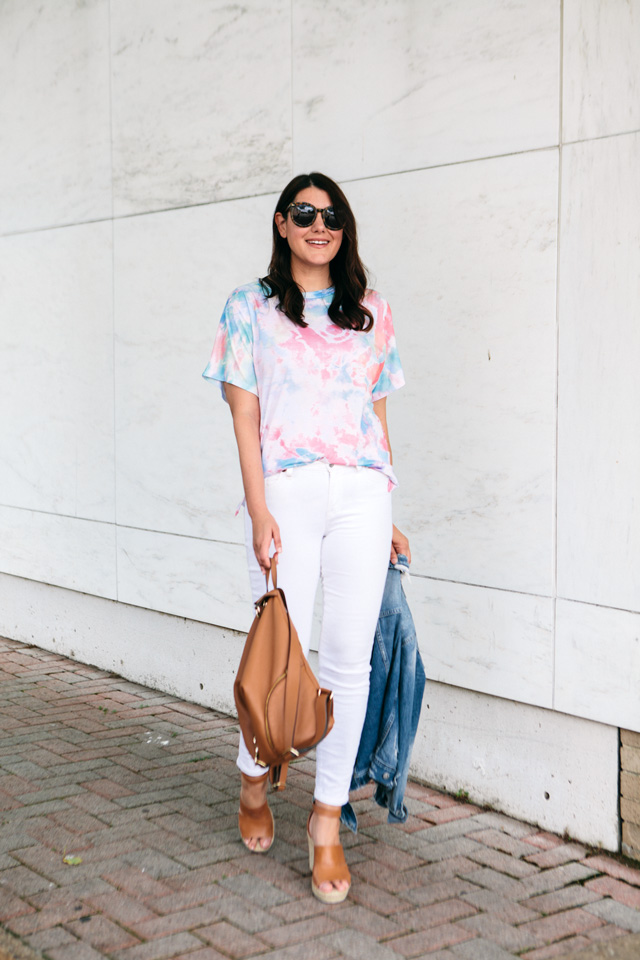 We ended up ordering a few tie-dye pieces for the store just to give the trend a nod and I've loved these pieces. This tee is from the shop and it's super soft and has little flutter sleeves. It's a nice balance of brights and pastels so that the trend doesn't feel too in your face about it. It's tie-dye 2.0; the grown-up version. I wanted to show you guys how to wear this trend two ways (honestly I wanted to wear it three ways but TRUE STORY my closet is a mess right now and I lost a denim skirt in there. I'm too afraid to go in to find it, so two outfits it is!)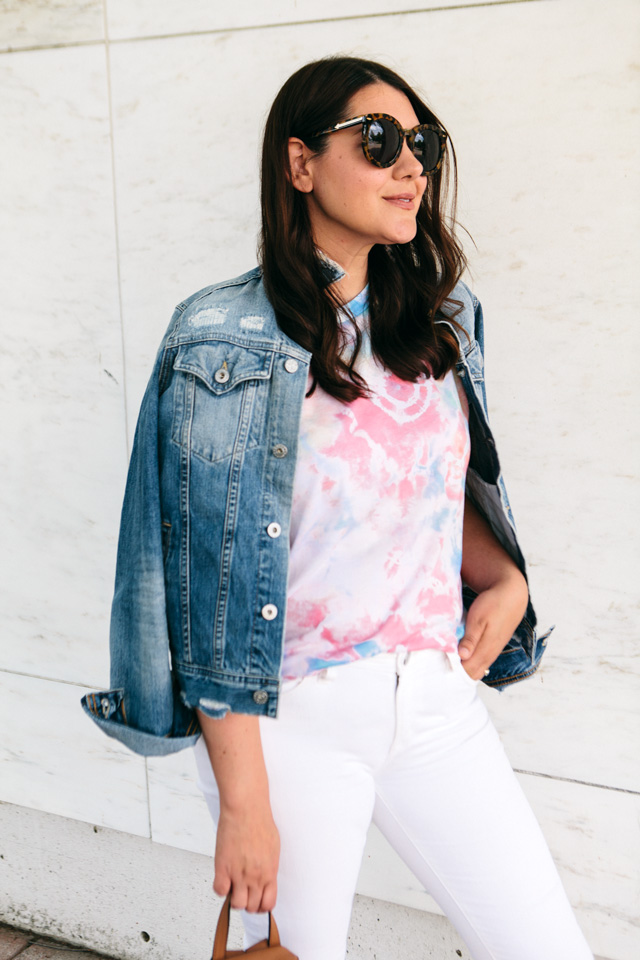 White jeans were obviously my first choice — if you need a classic look, go with white denim. That's just the rule in the summer: when in doubt, wear white. I was pleasantly surprised as to how much this dressed up this very casual tee. A little wedge action and neutral leather accessory really bring the outfit together. Plus I wanted to add to the blues in my top and a tossed on denim jacket does the trick to make this outfit come alive.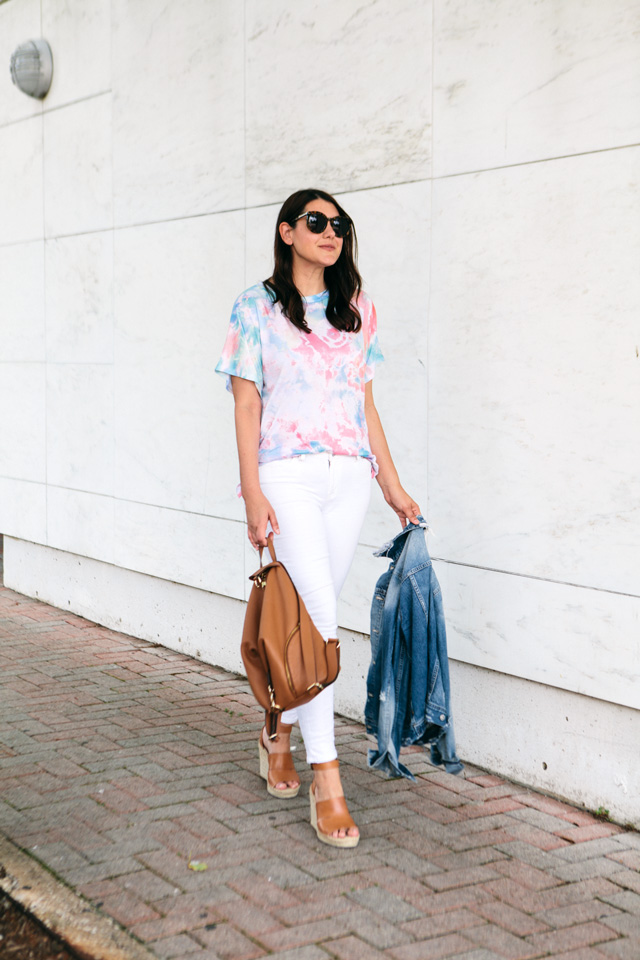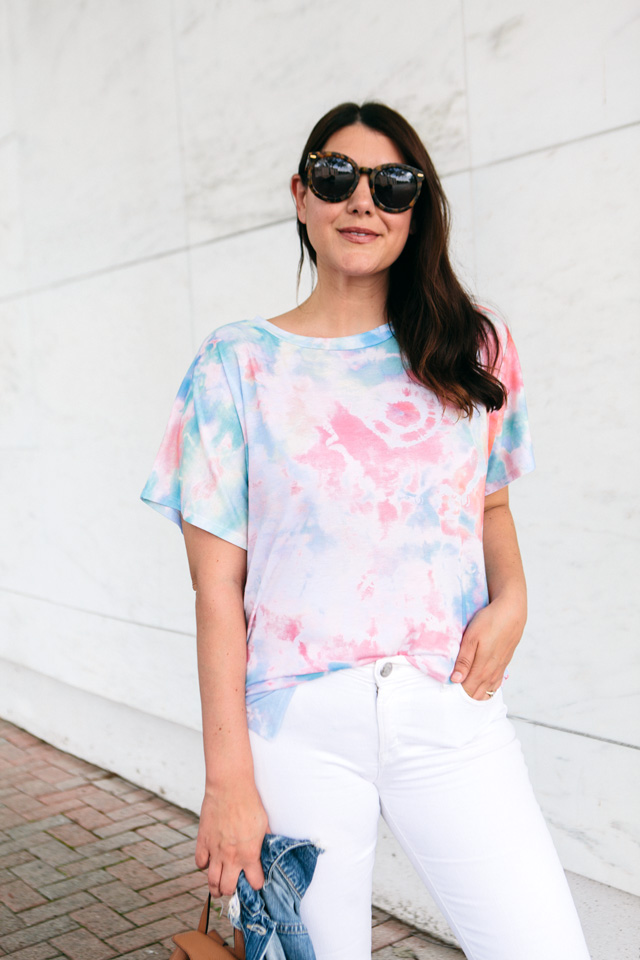 I would be willing to say you don't even really notice my tee, instead, you notice the outfit as a whole. That's how you know you've successfully integrated a bold trend; the outfit makes the statement, not the single piece.
Full outfit here

And for my next trick…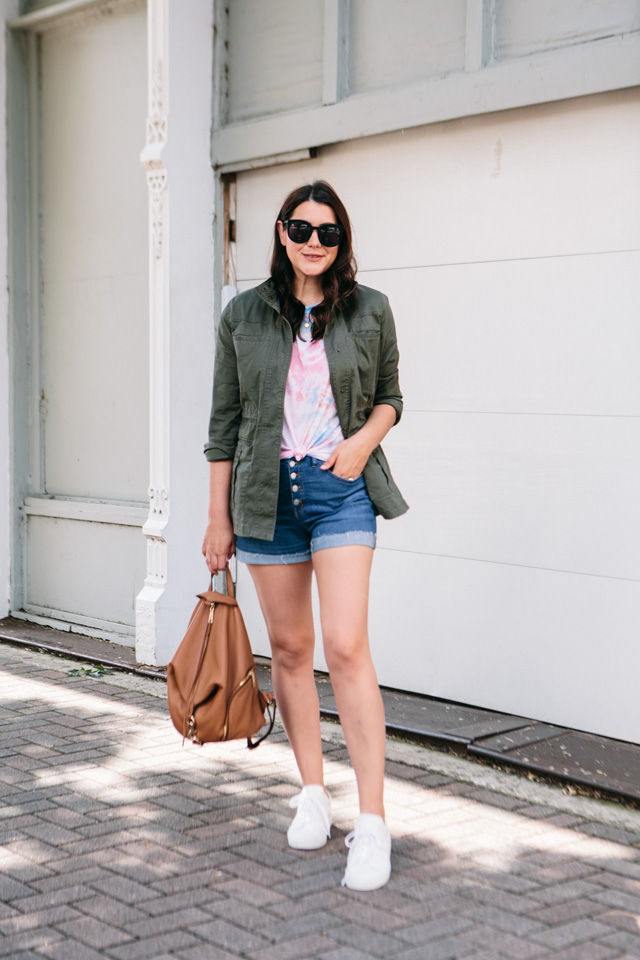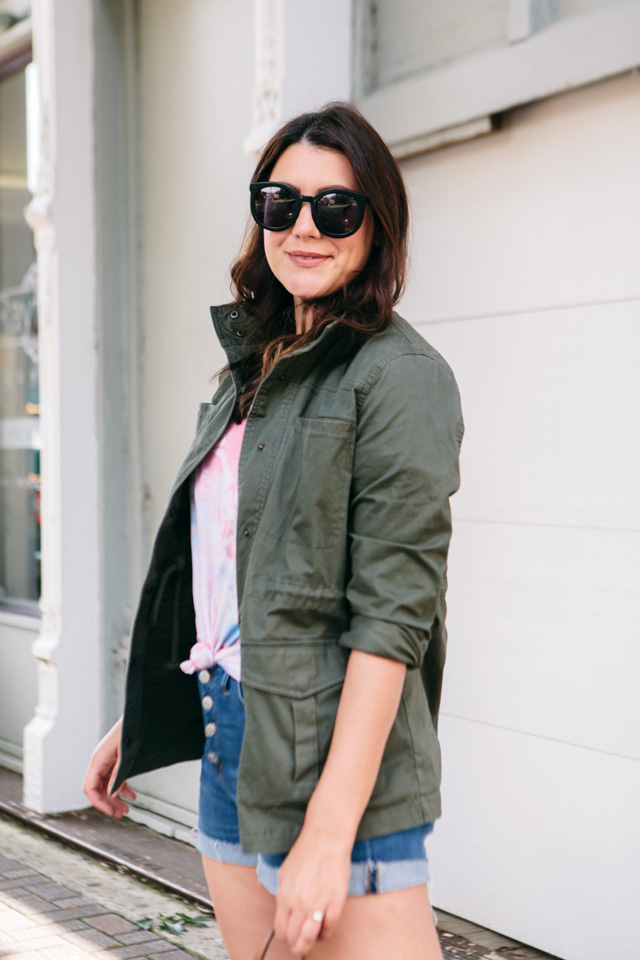 Would it even be summer and would I be a blogger if I wasn't in denim shorts? That answer is nope, it's actually a requirement for us all. I think the easiest way to wear this bold trend is to dress casually but with a little twist. Denim shorts are a no-brainer in a good way if in doubt go denim (and if hot, go shorts). But with the tee alone, I felt too casual. Throwing on a structured jacket brings this trend to an elevated level and a bit unexpected. I love this utility jacket I picked up from Target for our trip to New York last month, I've been wearing it non-stop ever since. (If you wonder why I wear jackets in warmer weather, we have heat outside but inside is always freezing because of the A/C. So summer months I usually always have a jacket or cardigan on hand for the back and forth temperatures.)
Find My Utility Jacket Here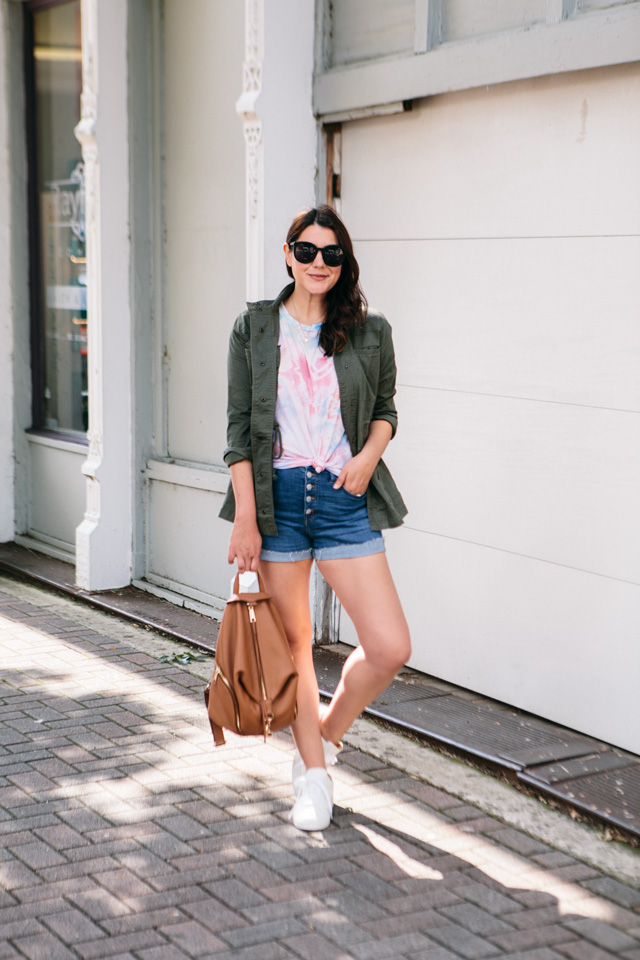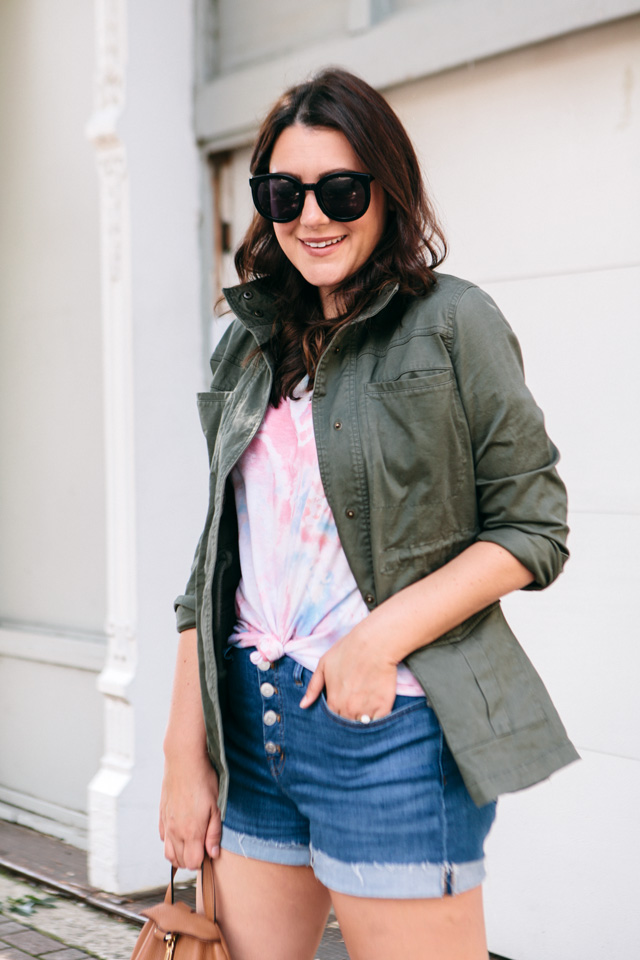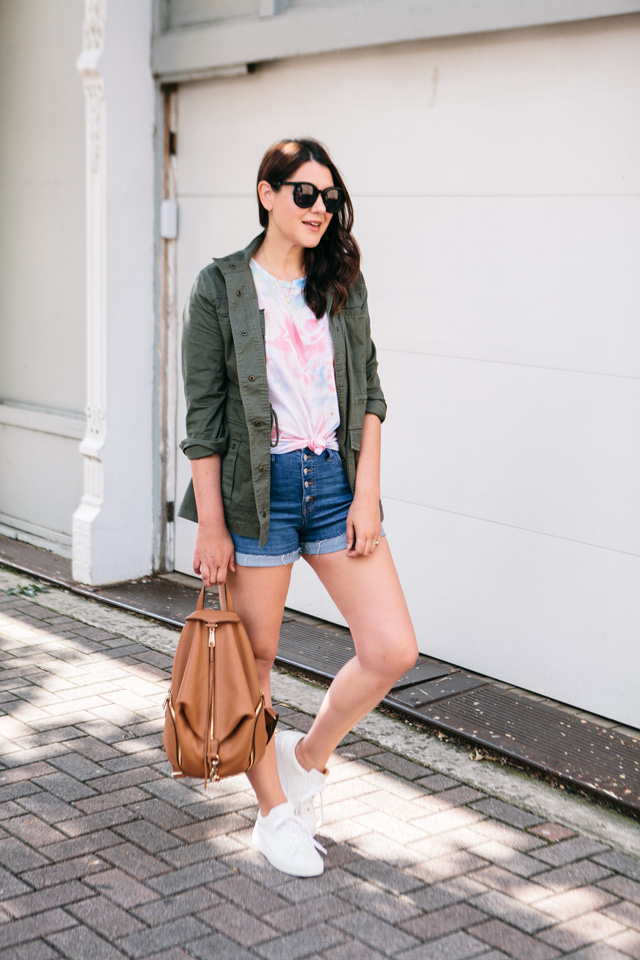 Have you picked up white sneaks yet for summer? These are my favorite white sneakers (Stan Smiths are a close second.) These are from the brand Greats.  ., a startup based in New York but made in Italy and they are well worth the price. Super comfortable and the leather never really breaks so they always look brand new. I wore these all weekend in New York and seriously they still look clean and new, showing no signs of the city. You can find these sneakers here or a similar pair here!
Full Outfit Here

So how do you feel about tie-dye this summer? I obviously love it, but I think it has to be done with intention. I pulled a few pieces I found from a few different retailers that I just love! I kept things pretty subtle, so if you're a newbie to this trend you can feel at ease with trying a bolder look!