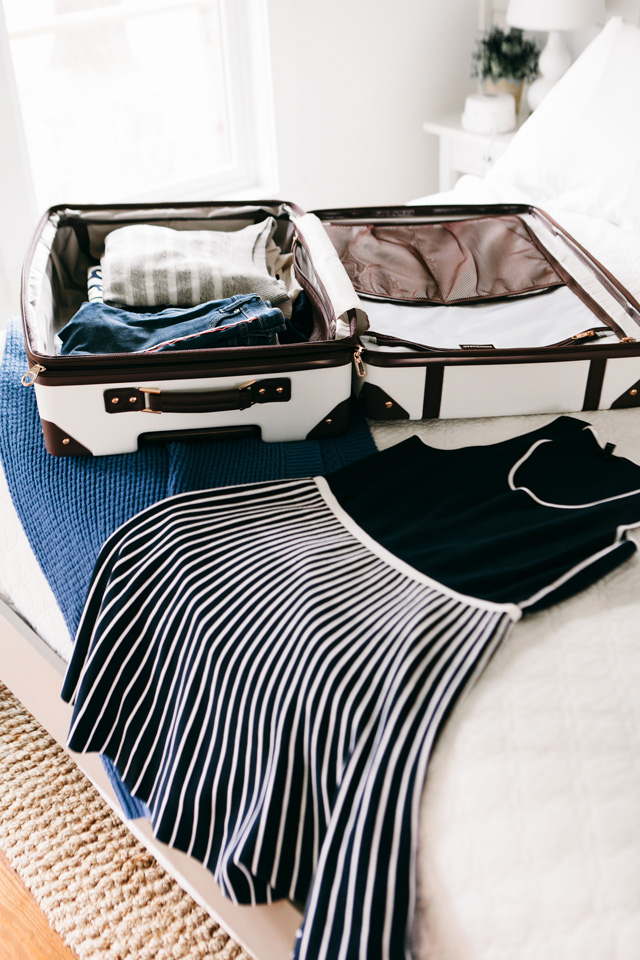 Are you ready for one of my largest post ever? Not only are we talking about the most versatile item you can pack this summer but if you keep reading, I did a little mini remix with 10 items that you could easily pack int0 a carry-on! (Just FYI: the suitcase I used is not a carry-on because I packed for Gemma and I in one, but I can confirm that all of these items fit in one carry-on or travel cube!) We are about to be in travel season and since Bryan and I are feeling brave enough to start traveling again with Gemma, I started thinking about how best I want to travel this year. I like everything to be in as few bags as possible but I'm always the overpacker. Of course, the thought of remixing came to mind and the thought of what I could get the most out of my suitcase was my biggest question.
 Since travel season is here, let's talk about the MOST versatile item you can pack this summer. You can't go wrong with this item in your suitcase.
If you haven't already guessed by my photos above… the most versatile item I think you can pack is… a dress! You may have been thinking 'oh it's a pair of shorts or a nice tee' but I find a nice dress is a piece that you can mix into so many ways and is such an unexpected twist. (To be fair, keep those shorts and tee in your suitcase too! They will come in handy later!) Of course, one way to wear a dress is in the most obvious way — a simply accessorized look to let the dress speak for itself. I paired this Banana Republic knit dress with a nice pair of nude heels and this adorable white purse that literally goes with everything. (Side note — this is the perfect size to travel with! Plus you can turn it into a crossbody, which you know I love!) This dress folded perfectly into my suitcase by the way and came out with no wrinkles. Talk about a dream dress!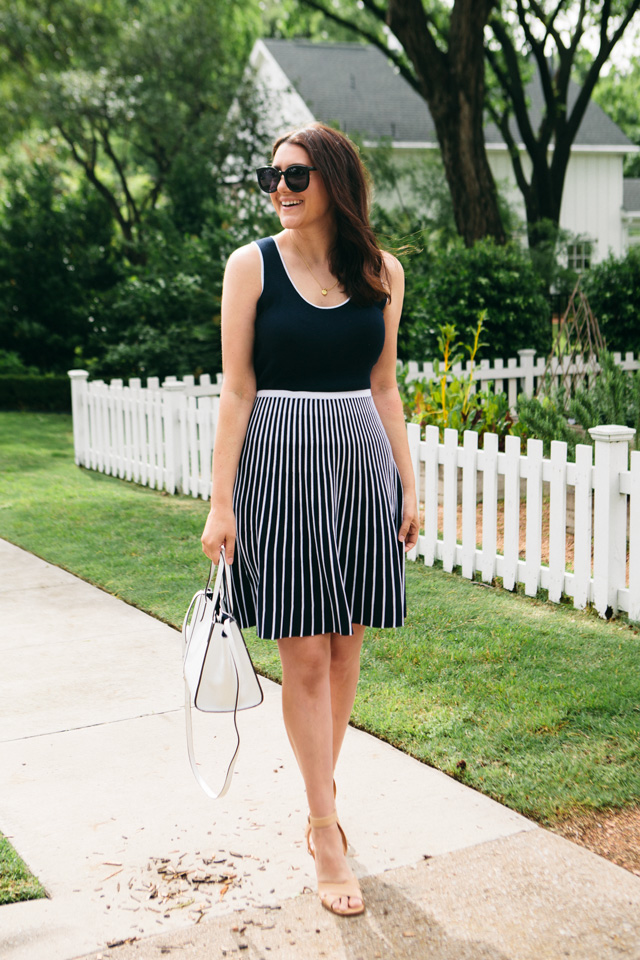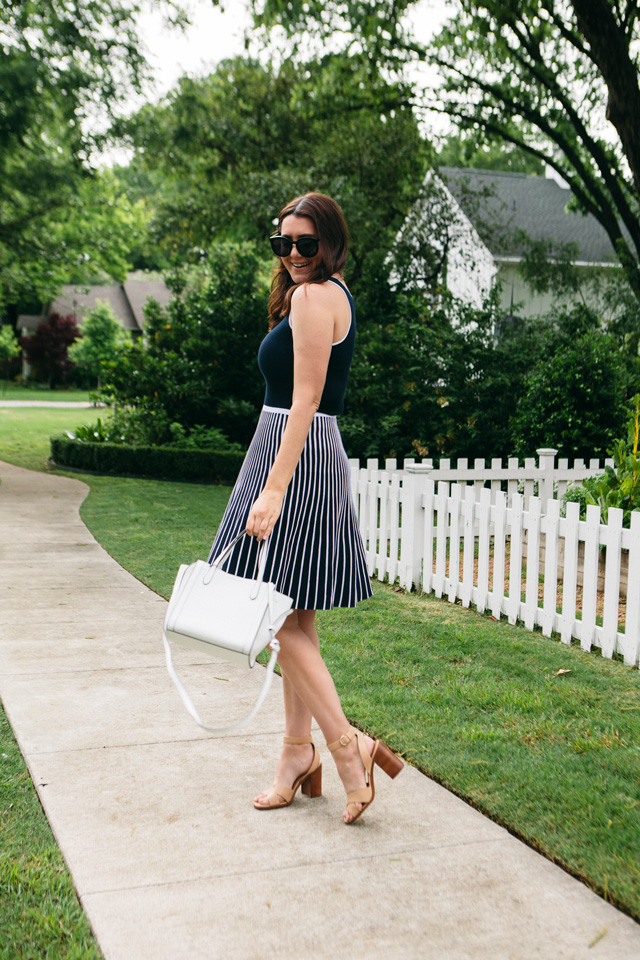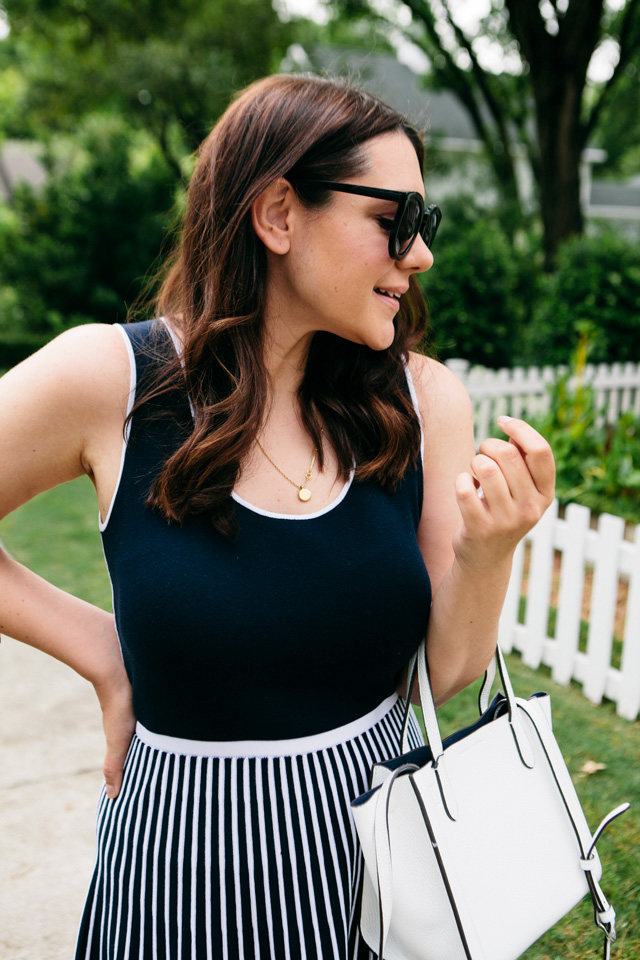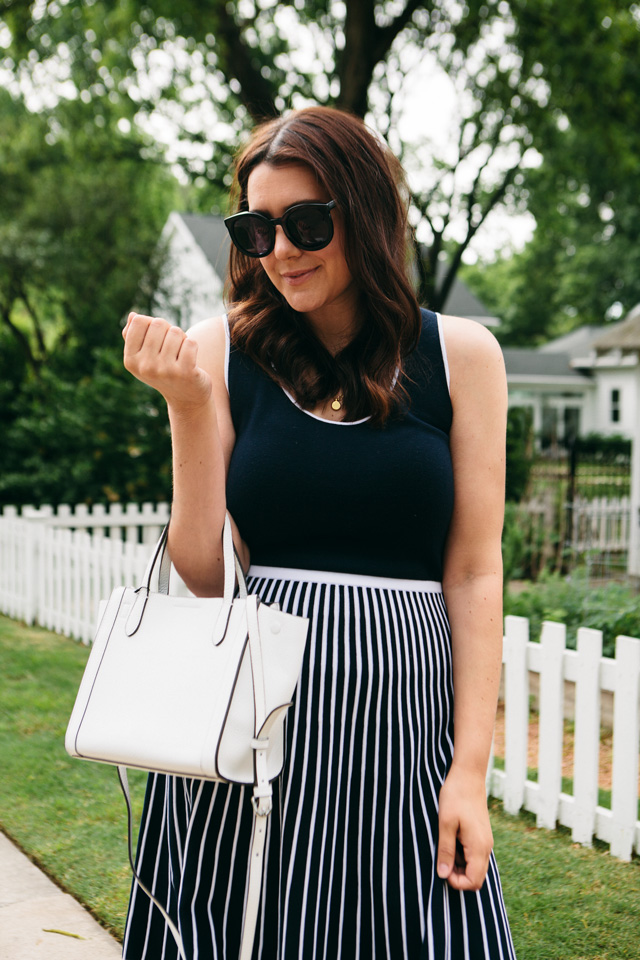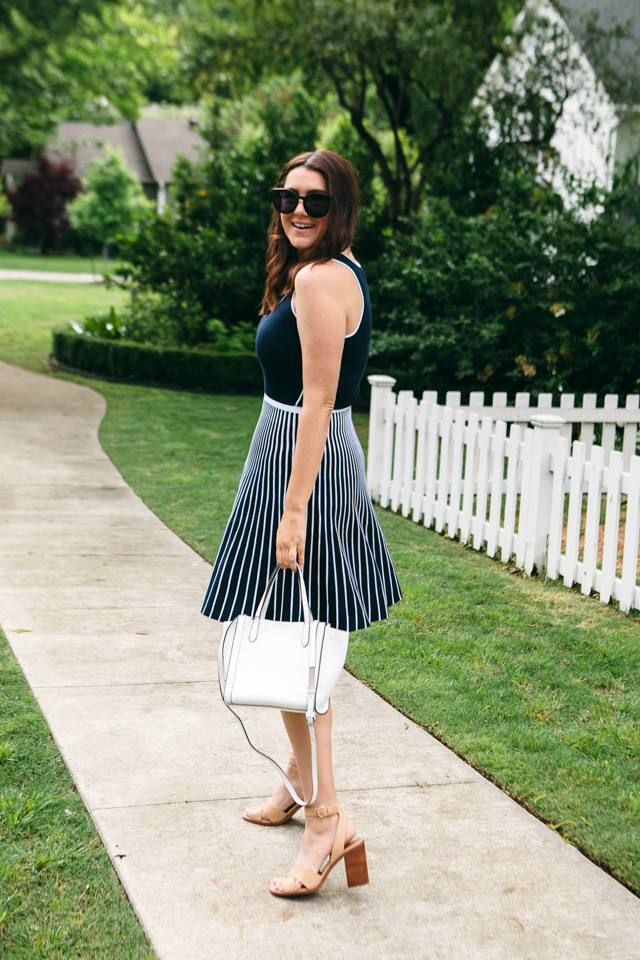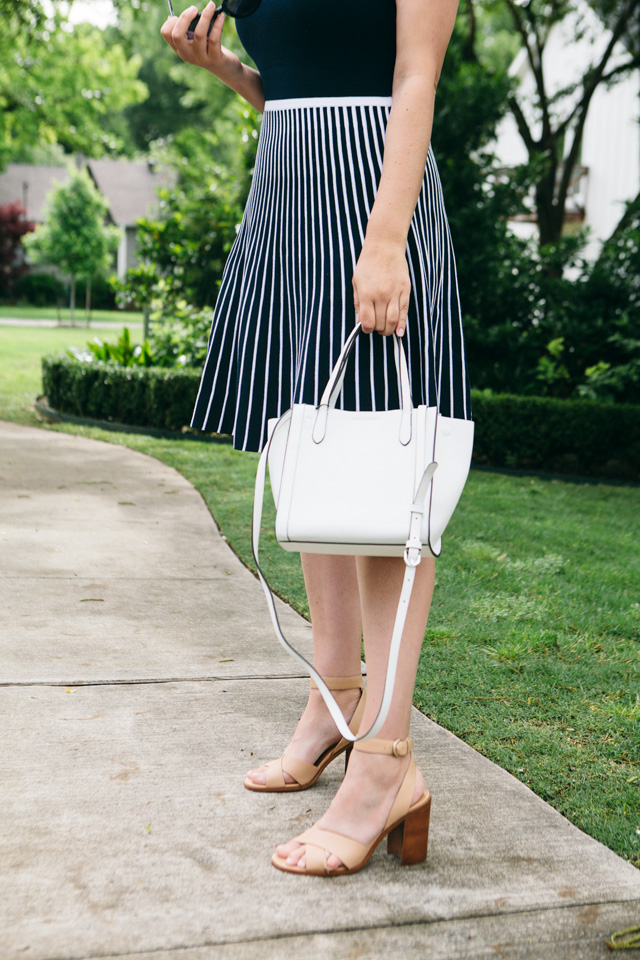 Banana Republic Fit & Flare Dress / Banana Republic Small Crossbody / Marc Fisher Heels
So simple and perfect, right? But here is my favorite reason to bring along a dress — you can easily turn it into a skirt. A quick layer of a sweater or a top over the dress and boom! You've got a whole new unexpected look that honestly even your suitcase didn't even see coming. You could also toss the sweater over your shoulders if this layer ends up too much for later in the day. How very casual chic of you, my dear.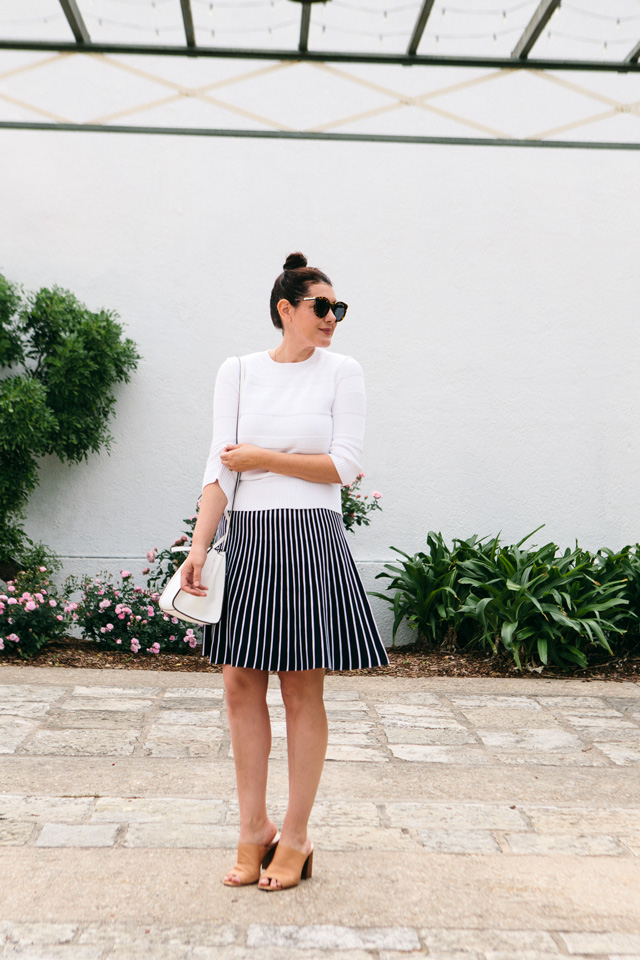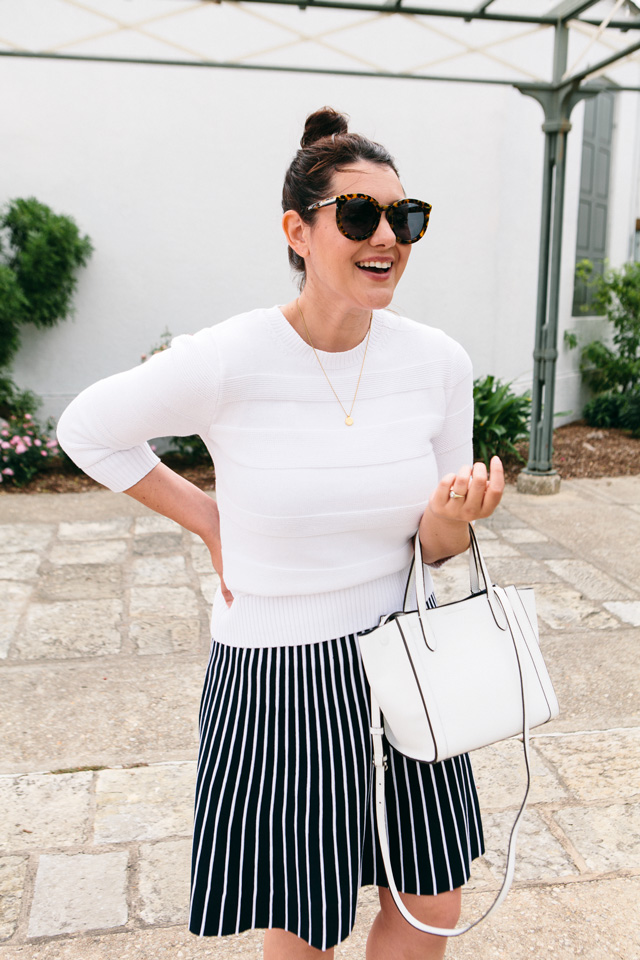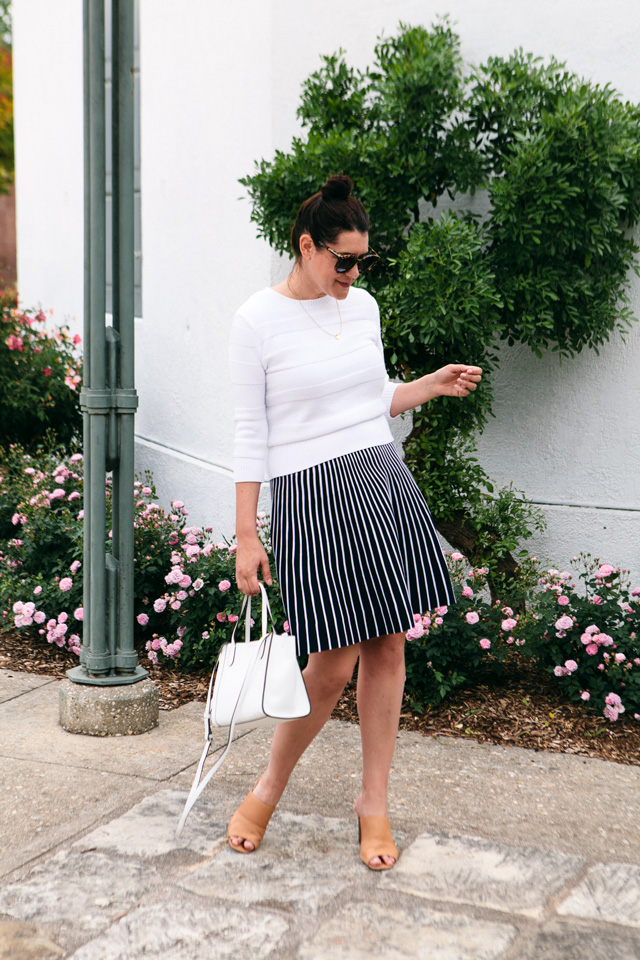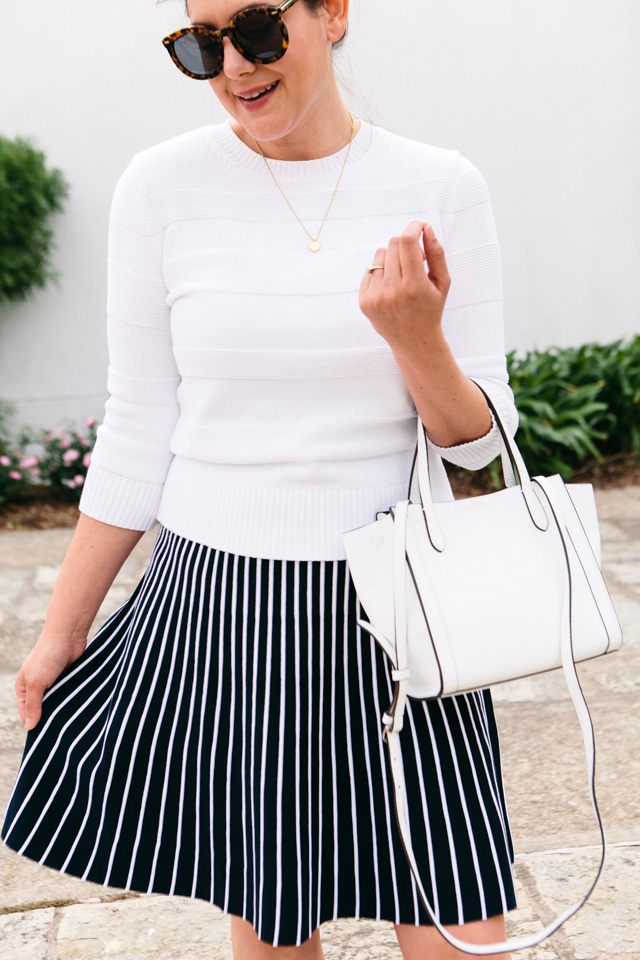 Banana Republic Sweater / Banana Republic Knit Dress / Banana Republic Purse
Another way to layer this dress is to tie a tee over the dress as well, again using the dress as a skirt. This dress isn't too thick so the layering doesn't create too much fuss and is super comfortable to wear like this. I layered this adorable graphic tee over the dress and tied it in a knot at the front. Such a cute way to get extra wear out of the tee and the dress!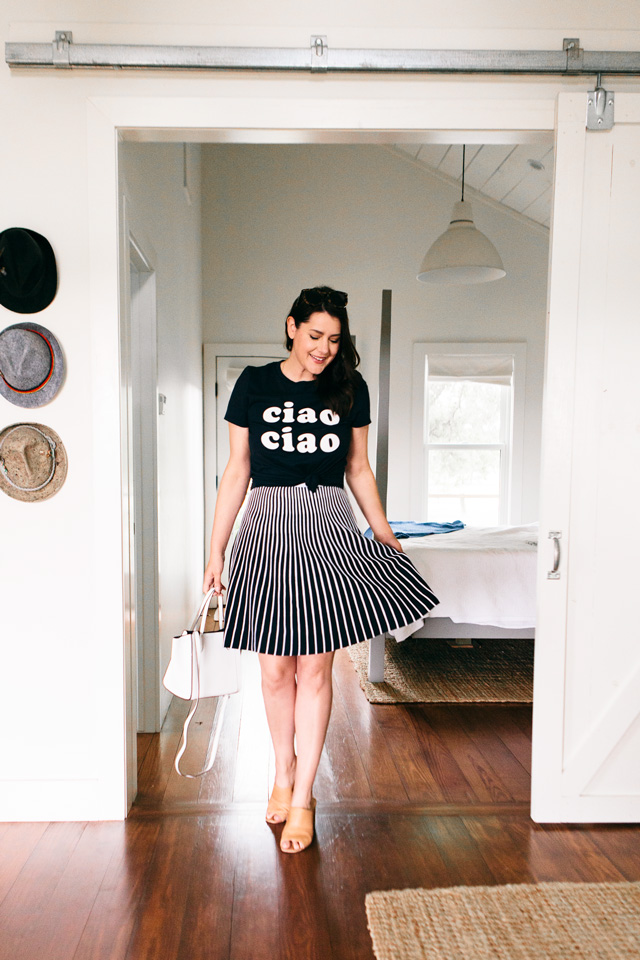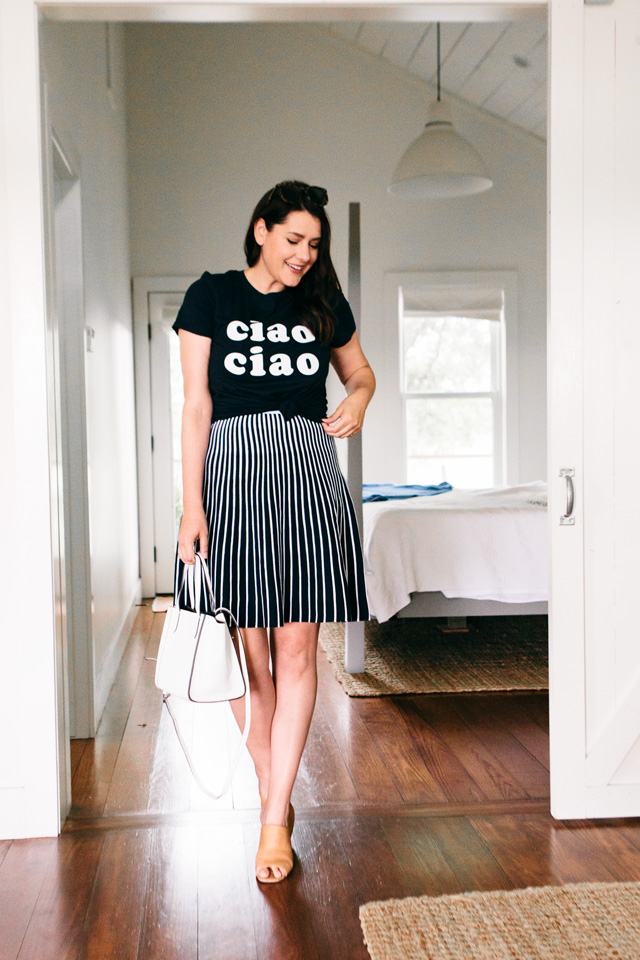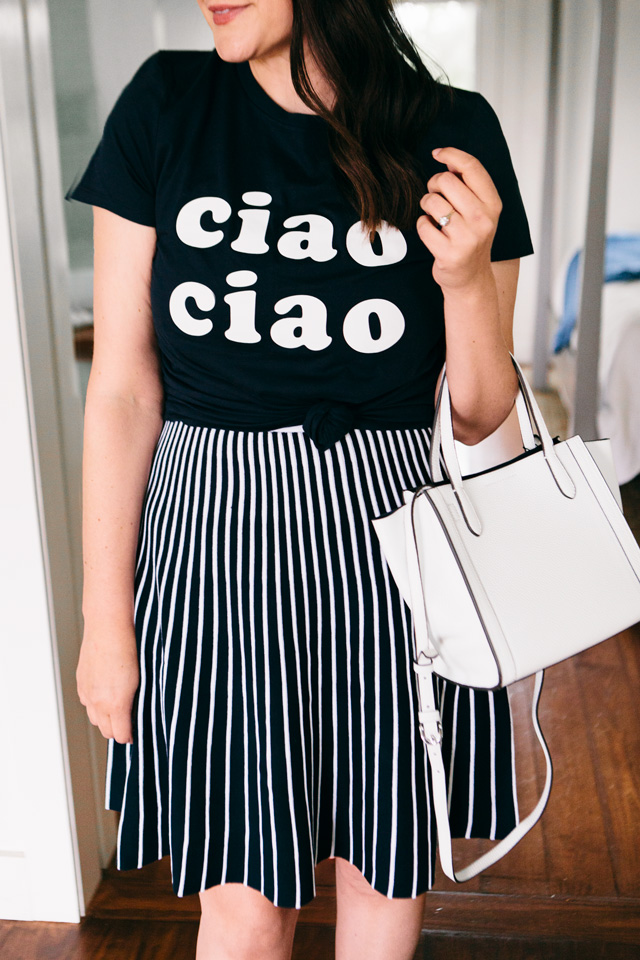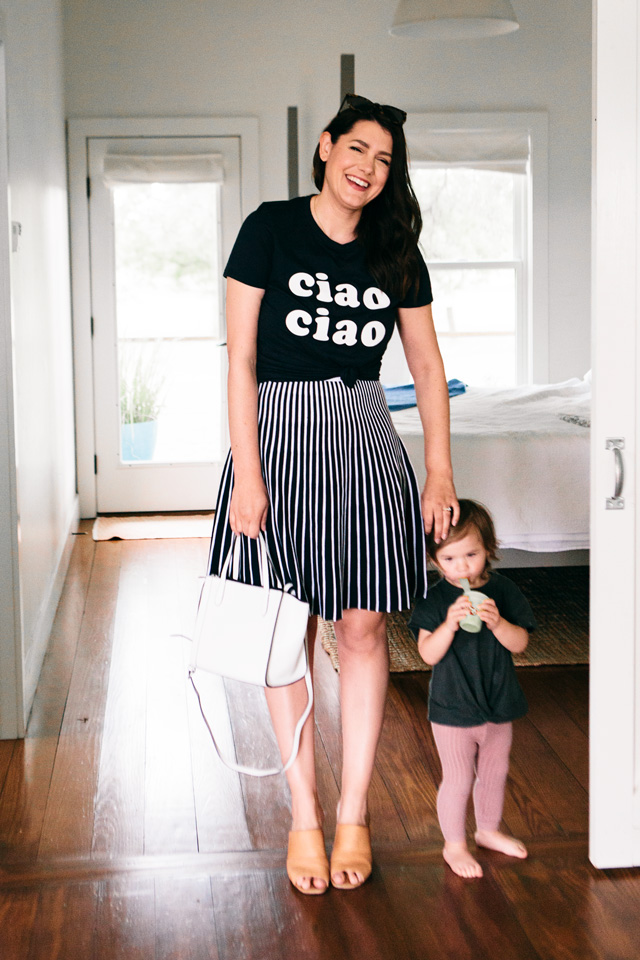 Banana Republic Tee / Banana Republic Fit & Flare Dress / Similar Mules / Banana Republic Purse
Gems wanted in on the photoshoot happening. 😉 I couldn't say no. Please note her accessory of a can of play-dough and a spoon. It really completes her look.
In the spirit of packing a carry-on to your best potential, I picked out 9 other items from Banana Republic to help me create a maximized suitcase with 18 full looks. There are so many more combinations you could do! I just didn't get to them all on this weekend trip! If you are one of those people that overpack because you want options when you arrive at your destination, then this post is for you. Options don't always have to mean more items, it just means you need to pick the best items. And I have two more dress looks below! Scroll down for the full remix!
A Weekend Remix For Your Carry-on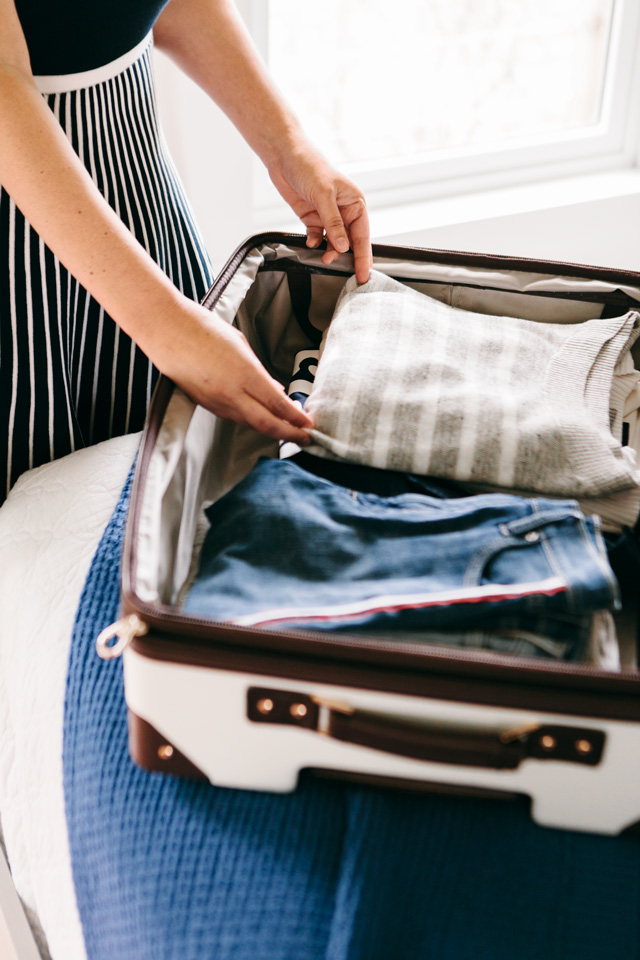 Shop the items in the remix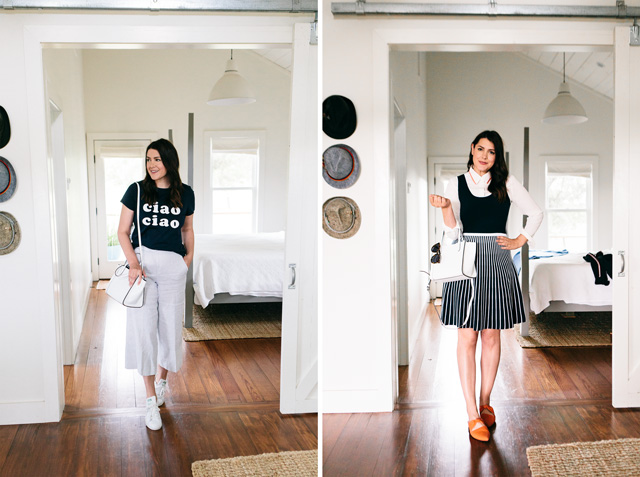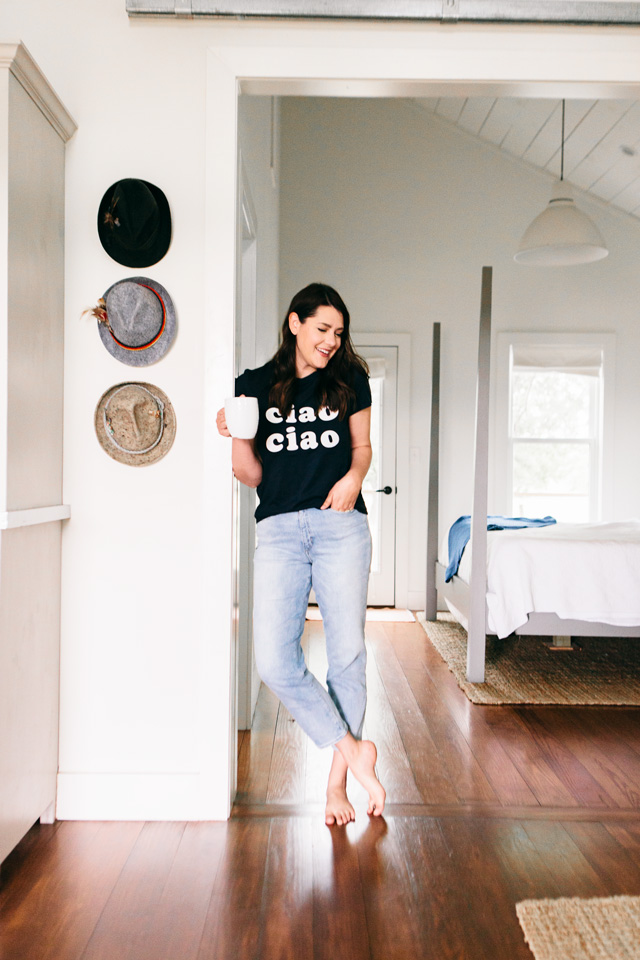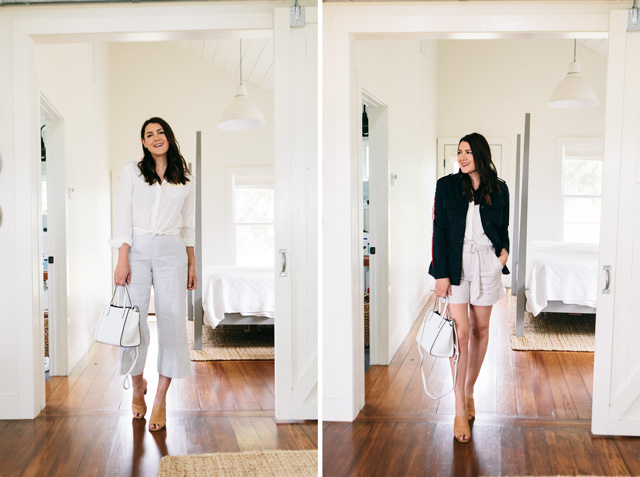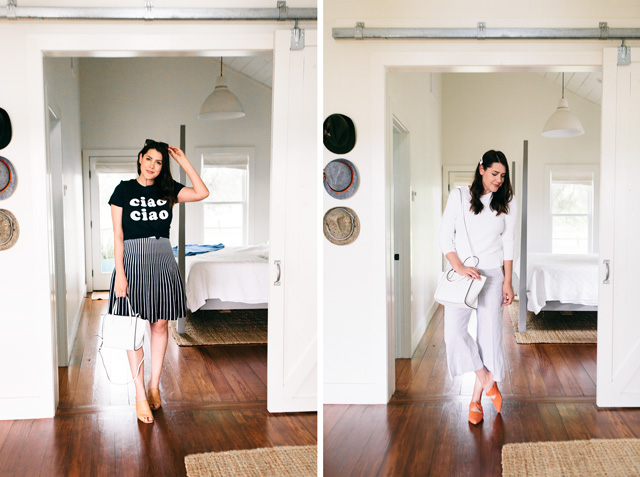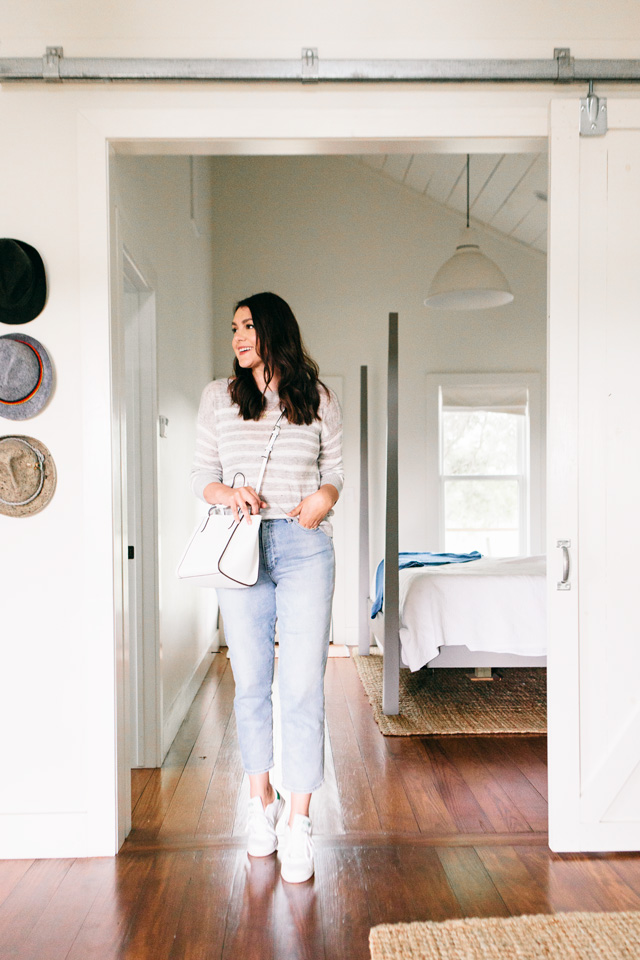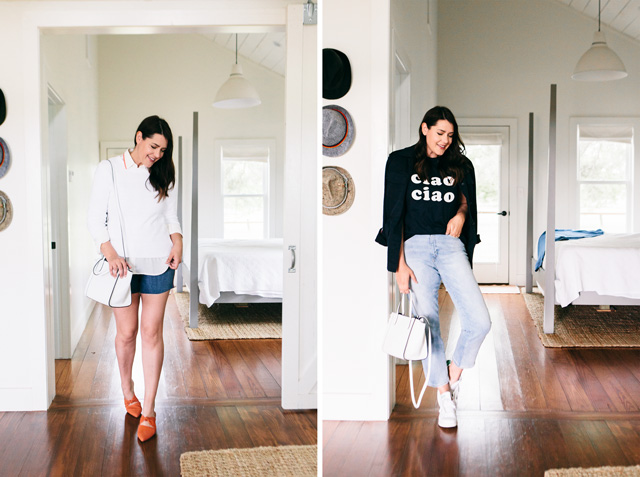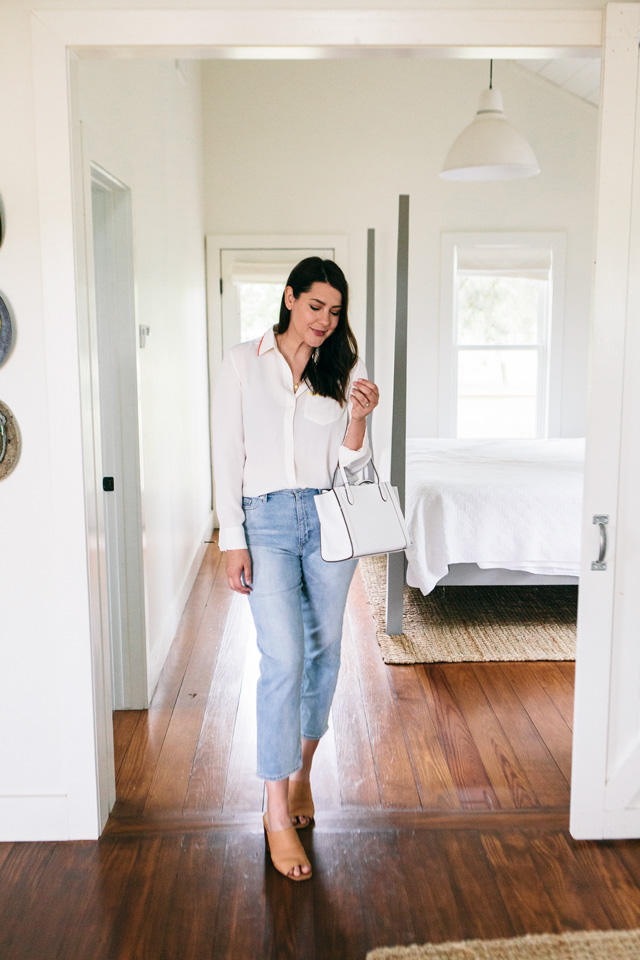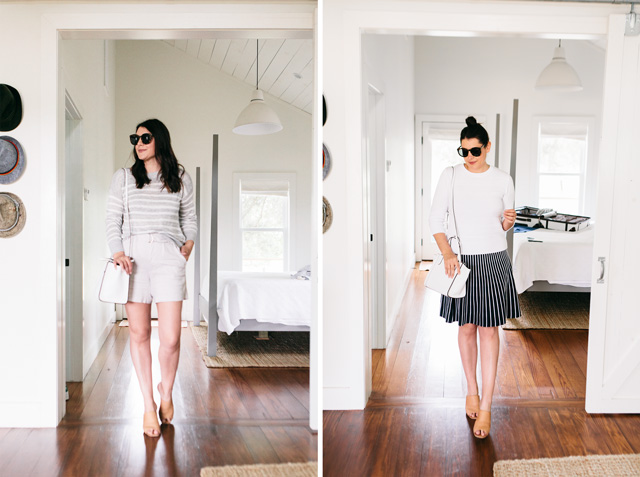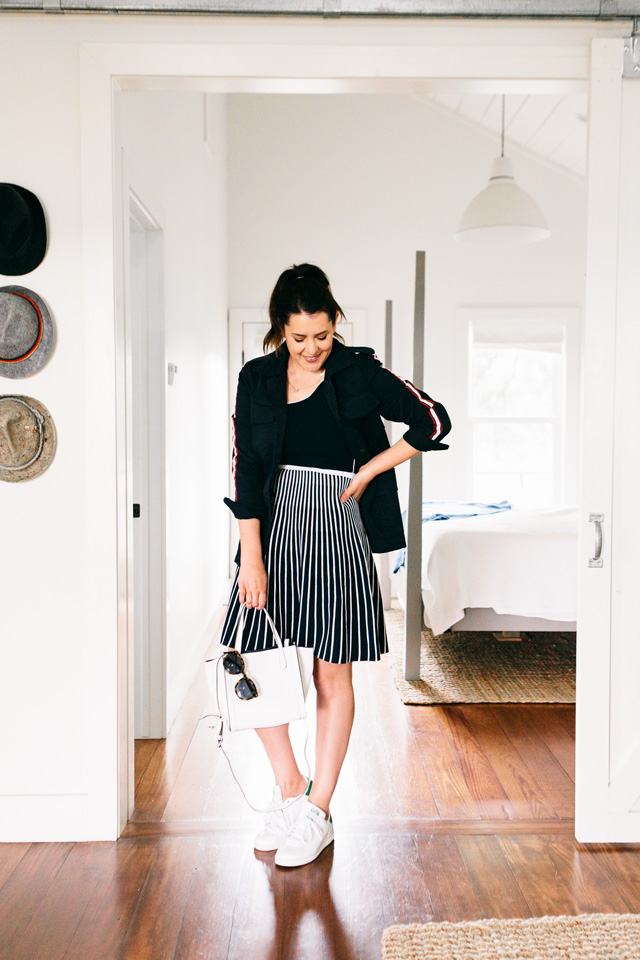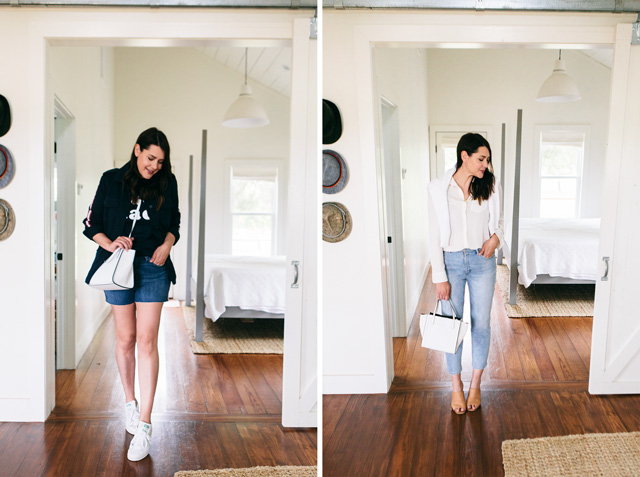 Keeping items in the same color-family is the easiest way to make the most of your suitcase, but it certainly doesn't have to be boring. Mixing patterns and prints keeps your outfits looking different and updated while using the same pieces! Which look is your favorite of this weekend remix? Let me know in the comments below!
---
Special thanks to Banana Republic for collaborating on this post! They provided me with items to remix, but all thoughts, opinions and styling is my own! And thank YOU for supporting the brands that support this blog.