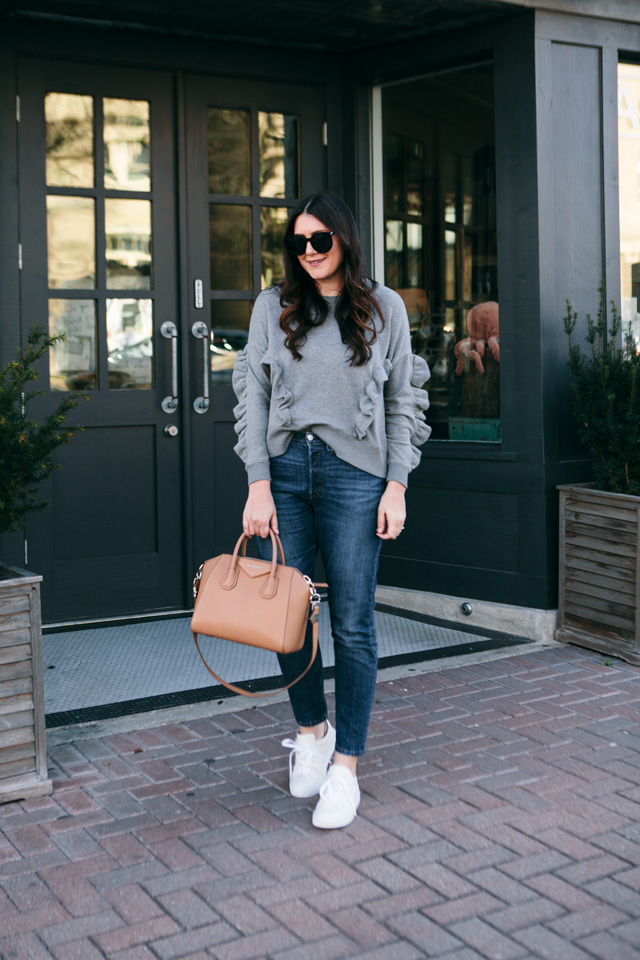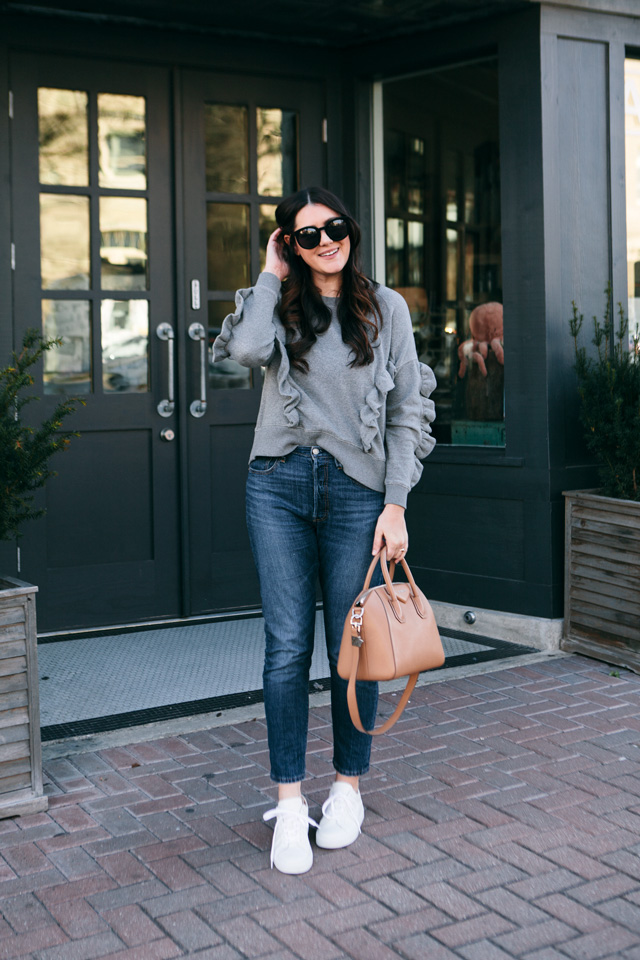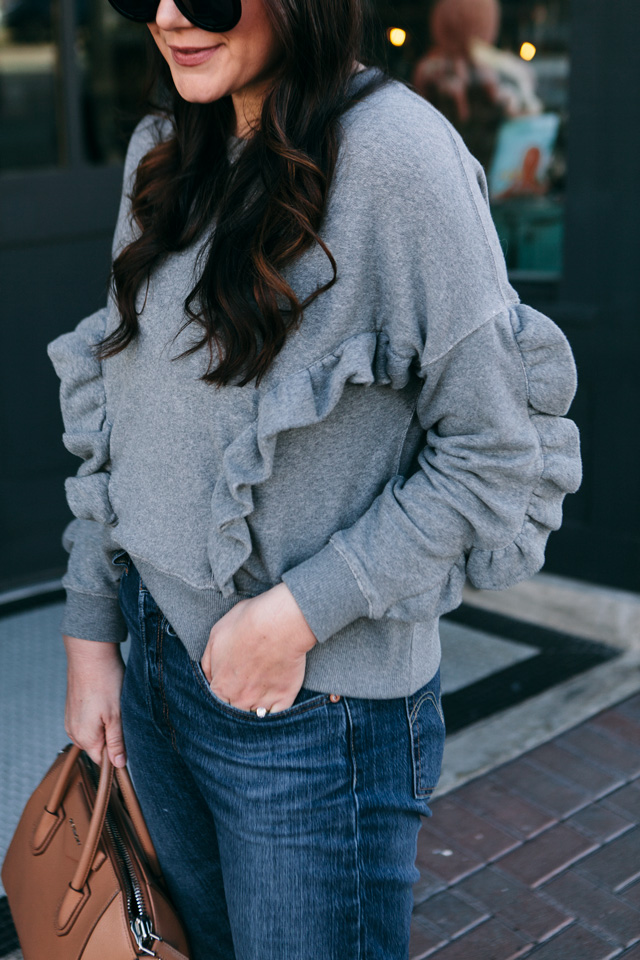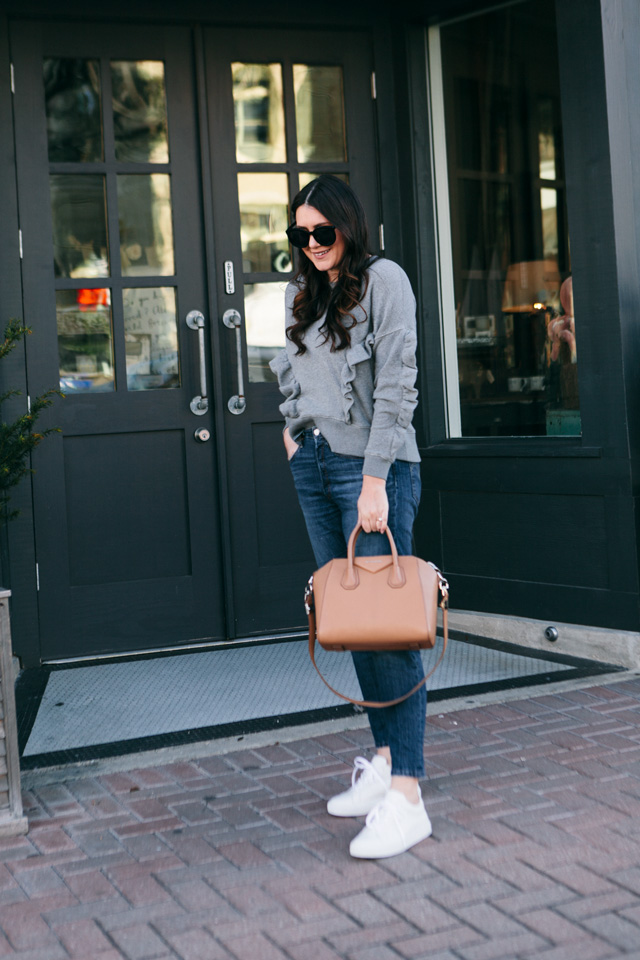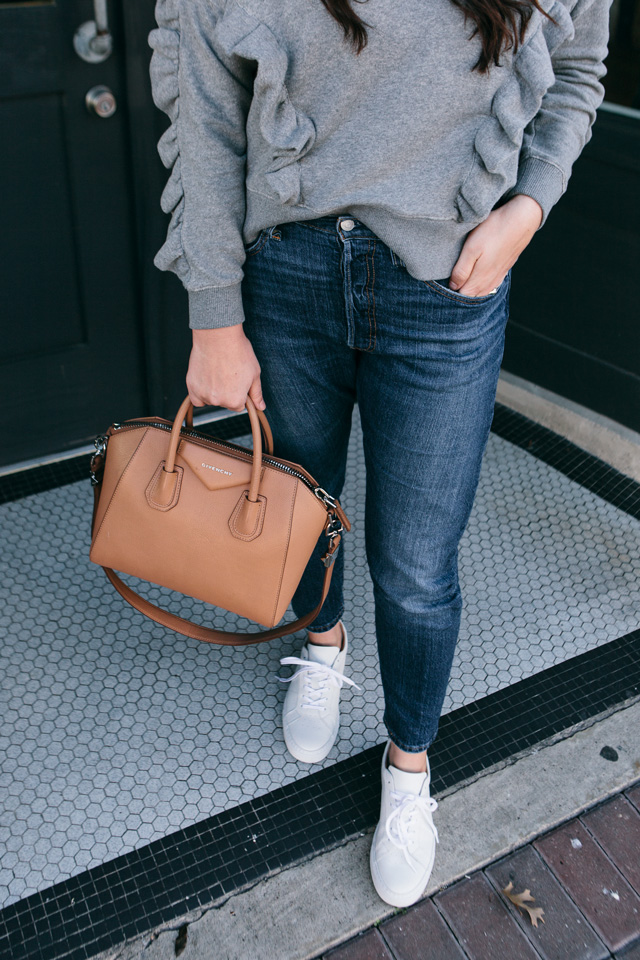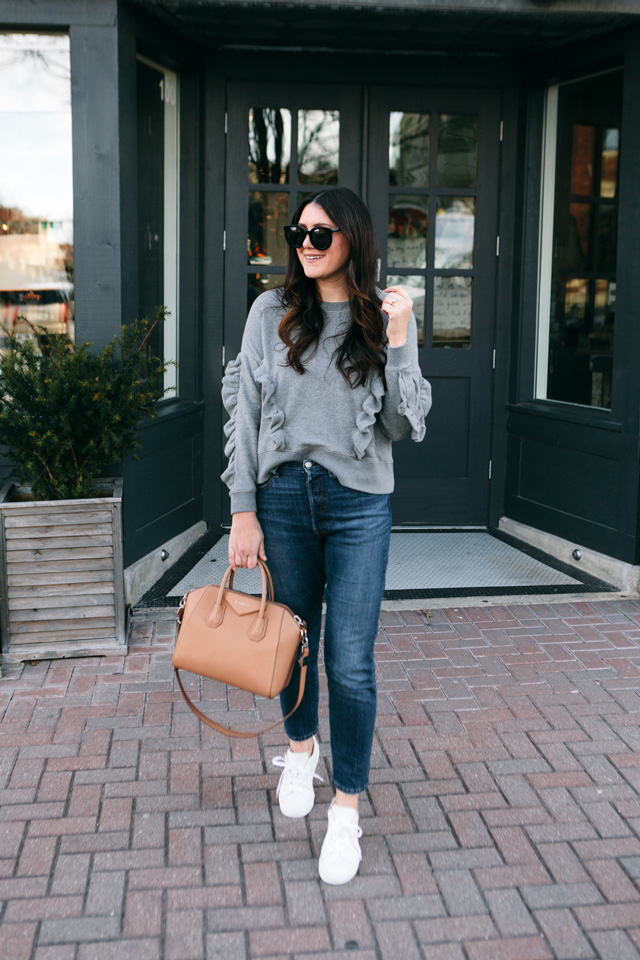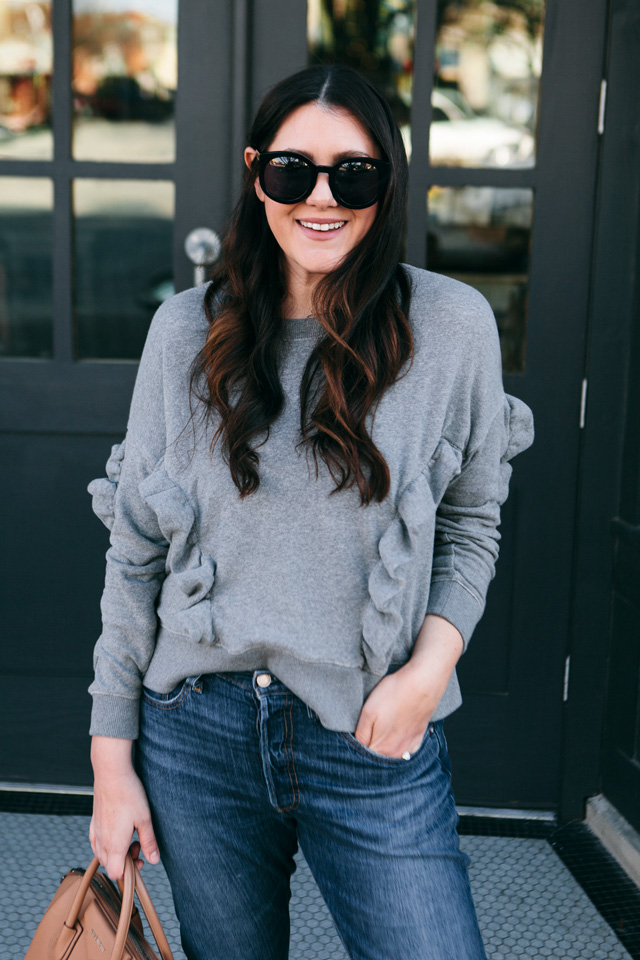 Do you know that even after all this time on the internet (going on 9 years!) I still get a bit apprehensive to see my style change? It's a subtle change; a natural progression that has quietly lead me to become more and more casual each day. Being a mom has changed my style more than I thought it would and our work is at a warehouse most of the day so I don't need to be prancing around in hard to wear heels or dresses. (Now I just prance in sneaks.) As we were shooting this outfit yesterday, I told Bryan I love this but I get so nervous to post outfits that are so casual. He countered with 'but do you like your outfit?' and I knew where he was going to go with the conversation, so I didn't press on. He offered the same encouraging words he has had for me over the last 9 years: it's okay to be you now.
***
 The other day I saw a couple walk out of Starbucks as I was getting my iced coffee and my head instantly turned. I usually see the same people at this particular spot so it's usually a quick run in and out with rushed hellos. But I'd never seen this couple before and they caught my eye; the woman was probably mid-20s and dressed in exactly something I would have worn in my 20s. She pranced out of Starbucks with that only-annoying-because-I-don't-have-it-any-longer 20-something youthful energy, dressed in a beautiful dress and stylish heels; honestly and absolutely overdressed for McKinney, Texas on a Tuesday at 8 am. I smiled as she walked off, happily overdressed. I looked down and saw my yoga pants and sweatshirt and in comparison, I felt dull. Not necessarily in comparison to her, but in comparison to how I used to be. Seeing this stranger catapulted me into thinking about my past style versus where I am today and I instantly became nostalgic. But does nostalgia mean regret or remorse? No, not necessarily. I let myself think about this for a while. I definitely have things that I miss about my past style; a beautiful dress, impractical heels, and perhaps competing to be the most overdressed in the room. And of course, there are always pieces of clothing that I'd love to invest in this year that I haven't in the past few years because of pregnancy + the days of infancy. By the end of this conversation in my head, I realized my nostalgia was warm and kind. Memories wrapped in outfits past, reminding me of days that I've truly loved and have been incredibly lucky to have lived. I looked back down at my yoga pants and thought: it's okay to be you now. 
***
The thing I've always loved that about style and fashion is that it changes with you, even if you don't realize it. I like that I can look back on my blog and see exactly where I was in each stage of my life. Expressing myself subtly through a piece of clothing, even if I didn't realize it at the time. Now as I feel myself settling into a daily style that is quite different than how I used to be, it scares me a bit. The word settling is actually quite unsettling. A lot of fashion blogging over the past decade has been built on the outrageous or the bold, and I find myself reaching for things that couldn't be closer to the opposite. I wouldn't say I 'struggle' with my style in my 30s but I feel the pressure to be more definitive with my style than I was in my 20s. I find that there is something less experimental about your 30s and more 'expert': you should know who you are by now, shouldn't you? But the truth is, I'm just now finding out who I am — or maybe that sentence should read: I truly like who I've become. I've tried on a lot of hats, for lack of a less on-the-nose term, over the years and the ones I've found in the last 17 months (mom + shop owner) are my favorites. Well, and also: blogger. But that feels more like a soul mate than a hat.
As I find myself being drawn to easy pieces like this outfit for my every day, I hope you can find the same inspiration you have in the past. but I understand if you don't. I've built our life with Kendi Everyday and — how do I put this into words? Since I've built my blog with a different style, it's scary seeing your style change and wondering if that will change everything else. And not only my style but the content on KE, I'd love to write more and share more. That's actually one of my New Year's Resolutions is to pull my phone out and share more. (I'll write more on this later.) But changing something that has worked for the last 9 years feels like trying to move a mountain with your bare hands.
At the beginning of every year, I like to start with a clean slate. Literally. I wipe my computer clean of files that are bogging it down and I move the important files of the past year to a hard drive. I literally start with a fresh computer. (I actually haven't done it yet and it's driving me insane. December 31st, it doesn't bother me but come January, that desktop better be empty.) And I'd like to do the same here. I don't want to erase my proverbial hard drive of Kendi Everyday; I'm proud of what this place has become, but rather I want to move forward with a clean slate. And maybe this post was more for me than for you; which truth be told is why I don't write a lot on here anymore because I absolutely hate sharing my personal life. If you know me in person, you know I'm extremely private. (Don't remind me of the irony that my profession is a blogger.) But I'd like for us to get to know each other again and the only way I can do that is the way I do with true friendships: opening up and sharing. And I hope you feel comfortable to chat as well. I'd like to move forward with more engaging posts and I'd love to hear your thoughts too.
So since you've made it this far and while this post was more cathartic for me to write than probably for you to read, I will offer this again to you and me: it's okay to be you now. 
***
---
This post started off as a daily style post. This is what I originally wrote before I stopped and went another direction. 🙂
I bought this sweatshirt on sale and you can too! I love when that happens because usually if I get something on sale it's long gone by the time I get around to blogging it. You can find it on sale here at Nordstrom or at Madewell here. It's also adorable in this beige color, too!
I told you that I am living in these sneakers. I am having to slow my roll every morning to not throw these pups on. I do giggle every time I see photos of them because they photograph so white. Like holographically white. I promise they aren't ghost shoes, but they do look nice and crisp in person and they've stayed clean for the first 20 days I've had them. They are by the brand Greats and you can find them here!