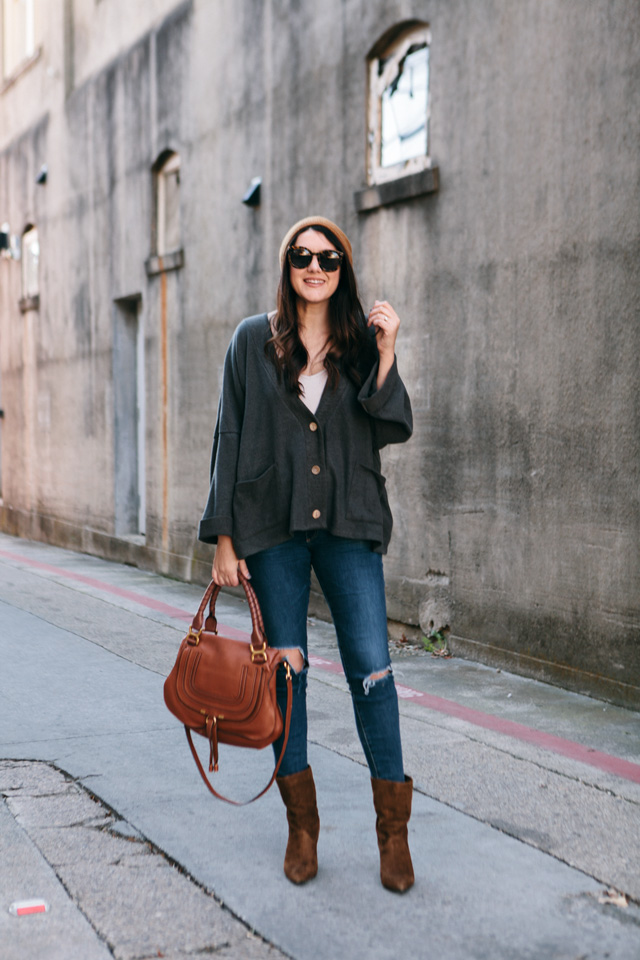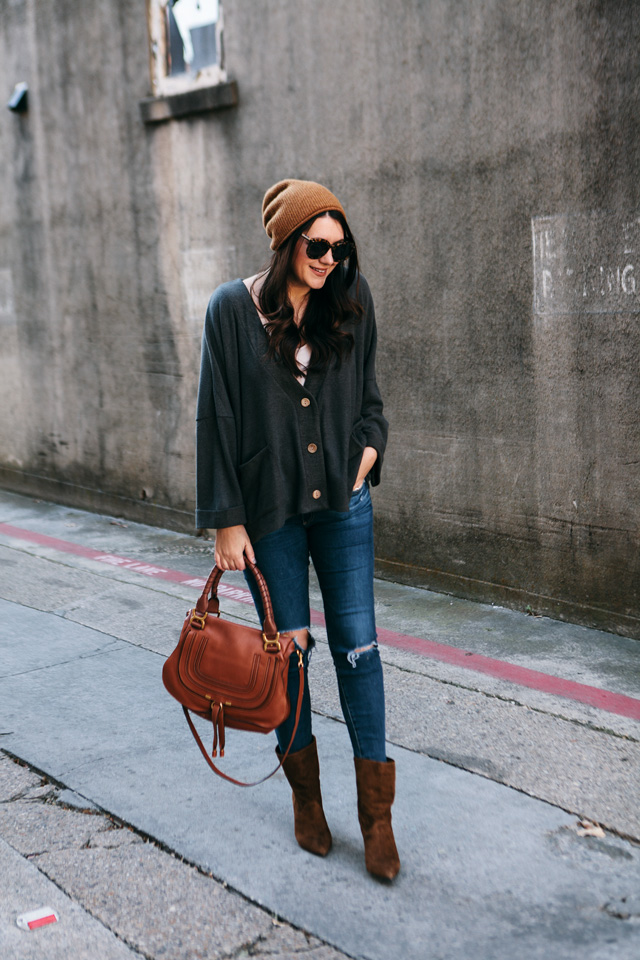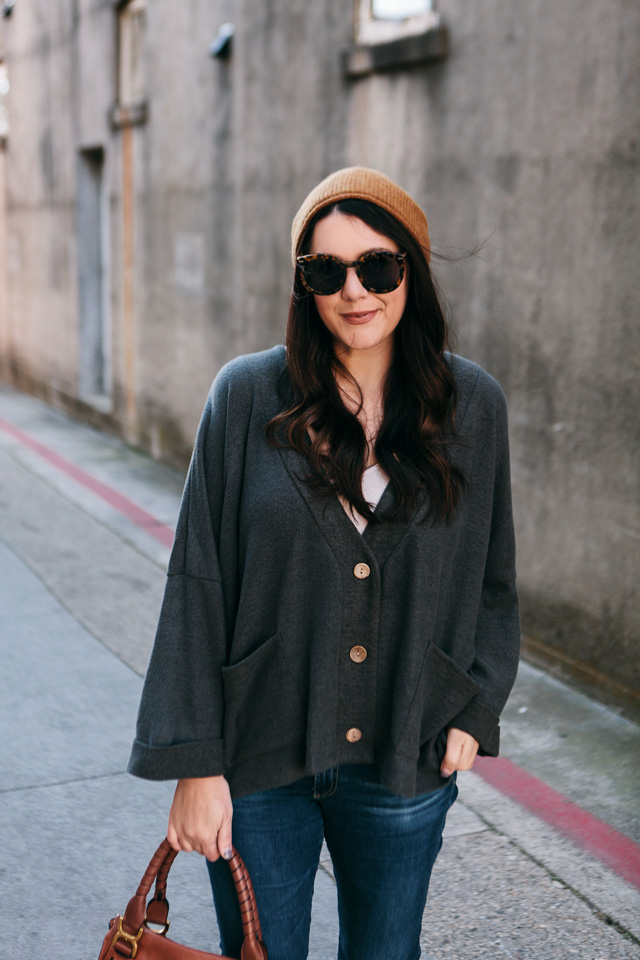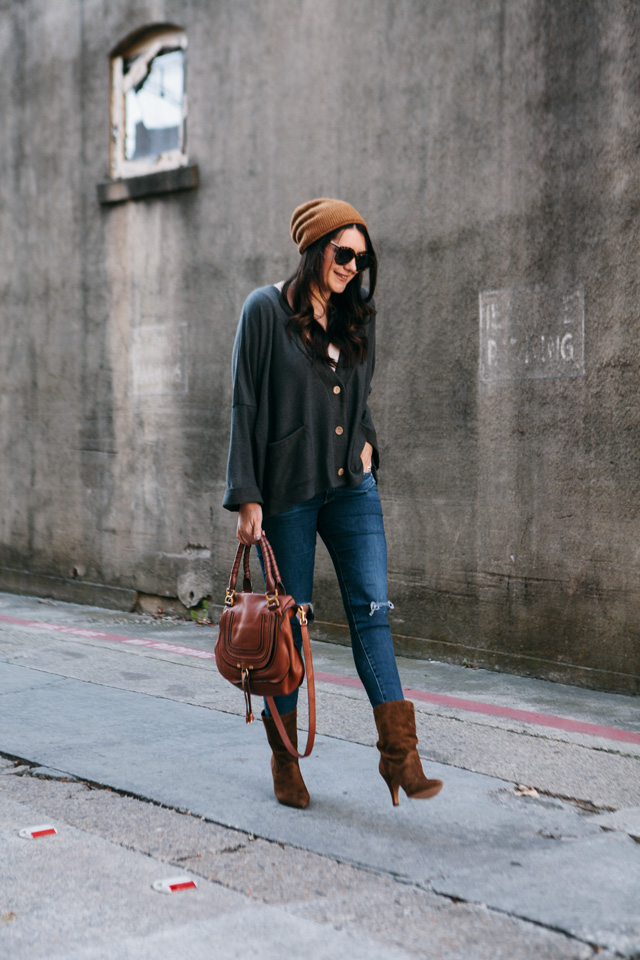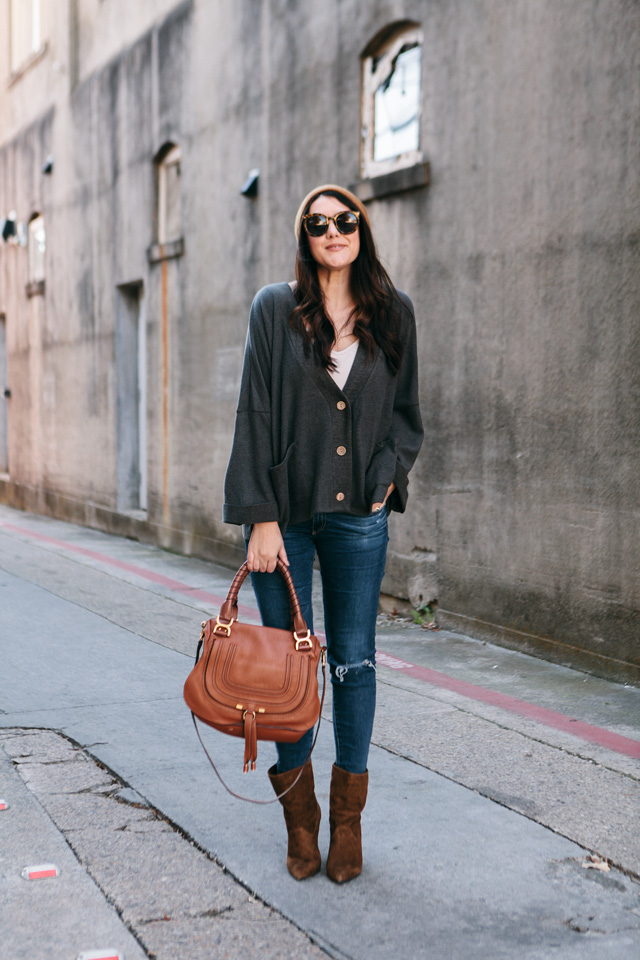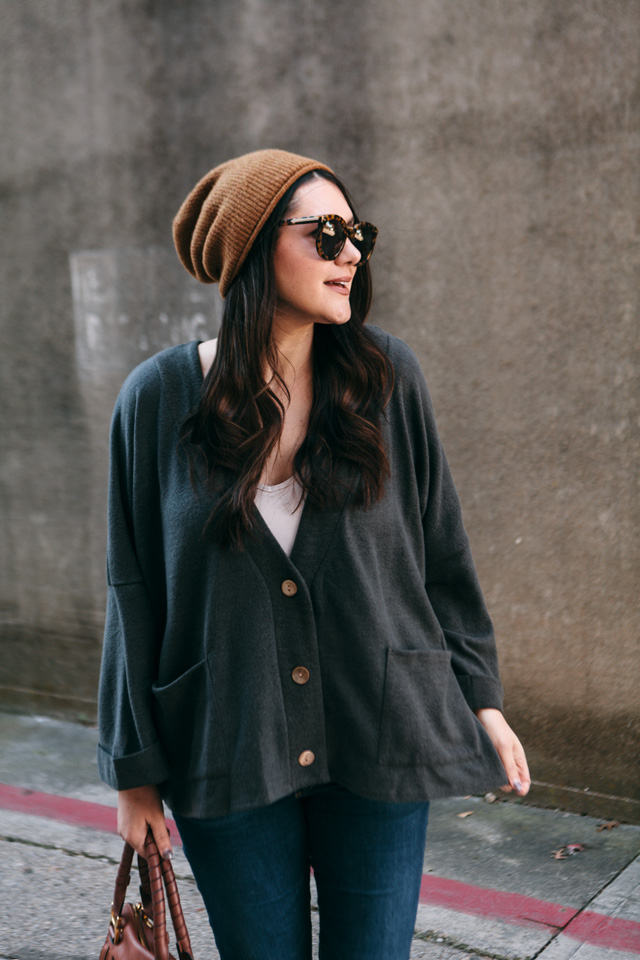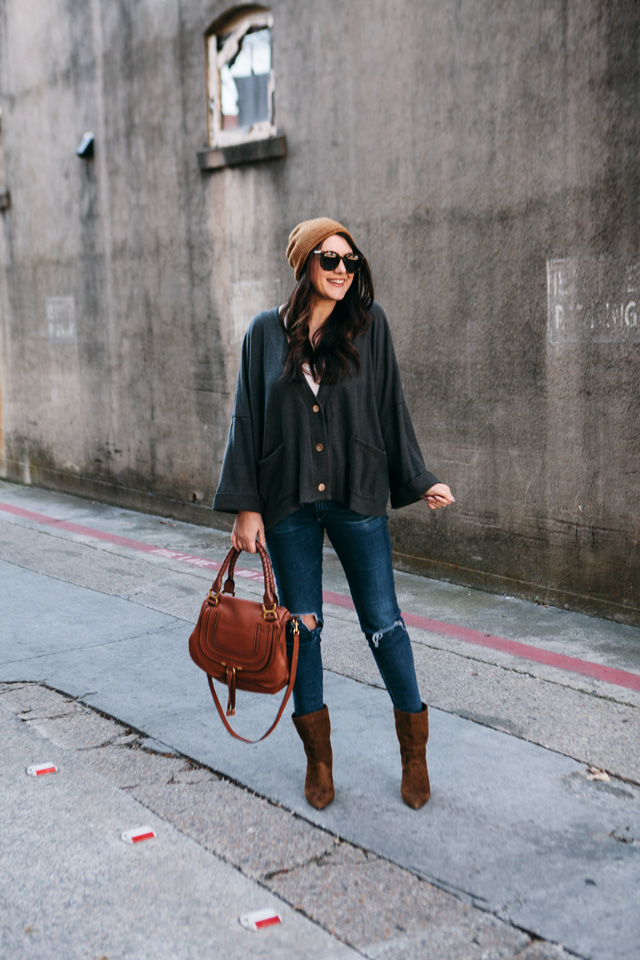 So many have asked about our Black Friday Sale this week! Well, we decided — WHY WAIT?! So tomorrow morning at 9 am, you can start the sale early! 30% off + free shipping sitewide! Use code THANKS at checkout and you will be good to go! 30% off everything, even sale!
This cardigan is a favorite of mine from this launch! It's the wide sleeve cardigan and it's more of a fleece on the inside, so it's cozy and warm! I am wearing a camisole under it because it has a deeper vee, but it would work with a turtleneck or tee as well! (It's darling open too!) It runs oversized — I'm in the medium and it fits more like a large. But you know me — I love a large fitting sweater 😉 So size down one or expect it to fit really relaxed and slouchy!
You can find this cardigan here!
I also had some requests on what my favorite pieces from the shop are right now! I am more than happy to tell you my favorites! Below are a few of my favorites from this collection + sizing info.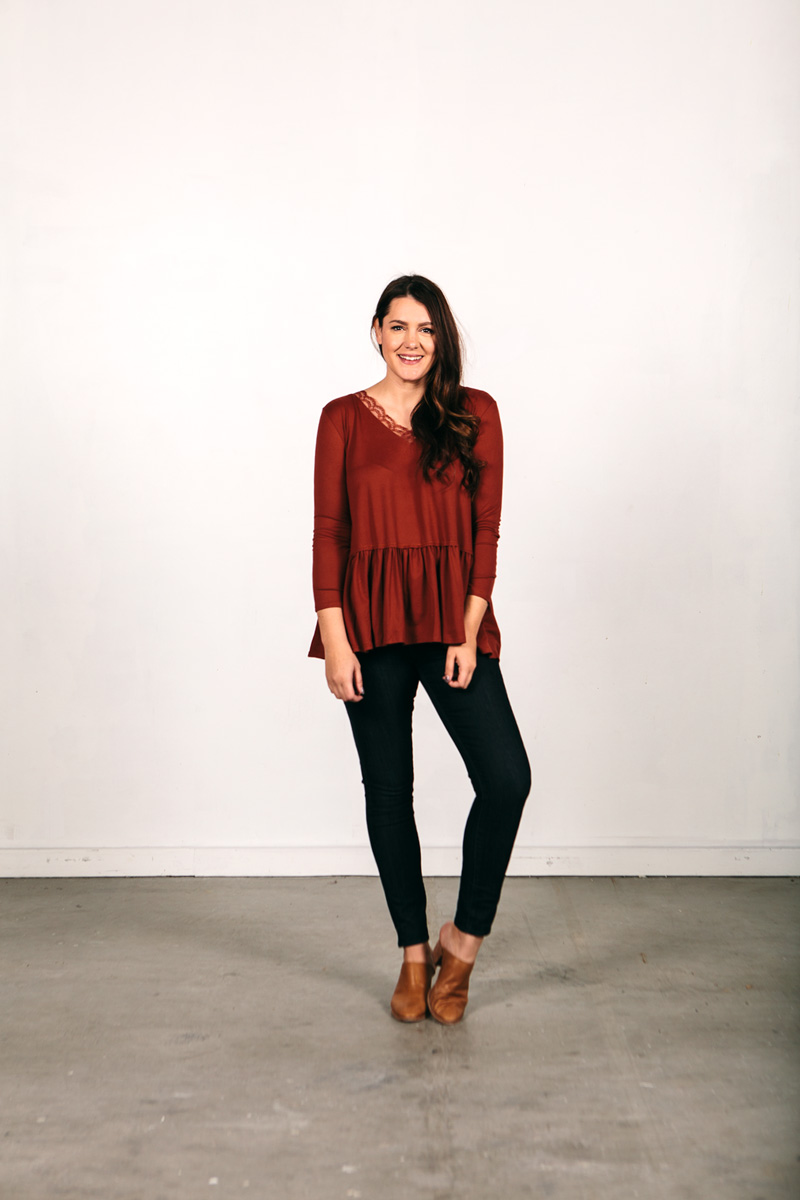 Lace Trim Peplum Knit | $38.50
This top is going fast! It's adorable and it's the perfect holiday top without being OVER the top you know?? It's a generous but TTS. I'm in the medium!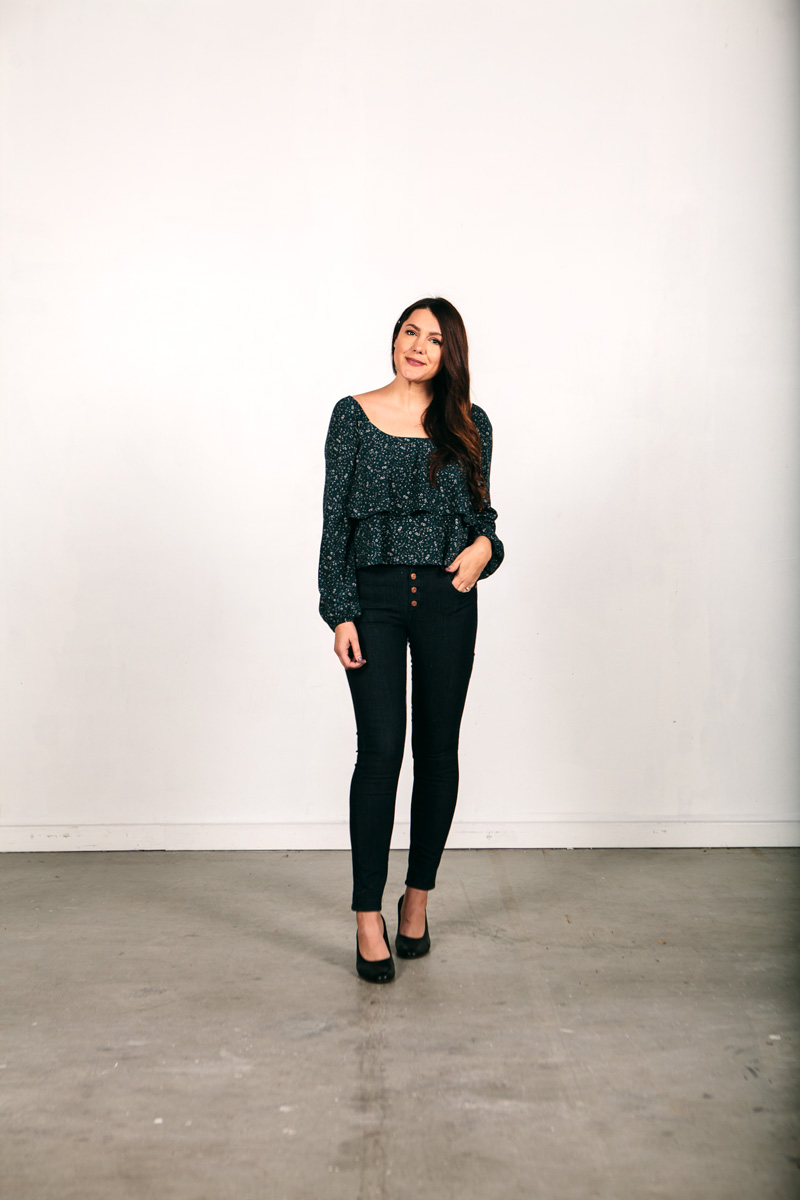 I am in the large! Size up if you want it longer, but otherwise, it is true to size! I'm just long.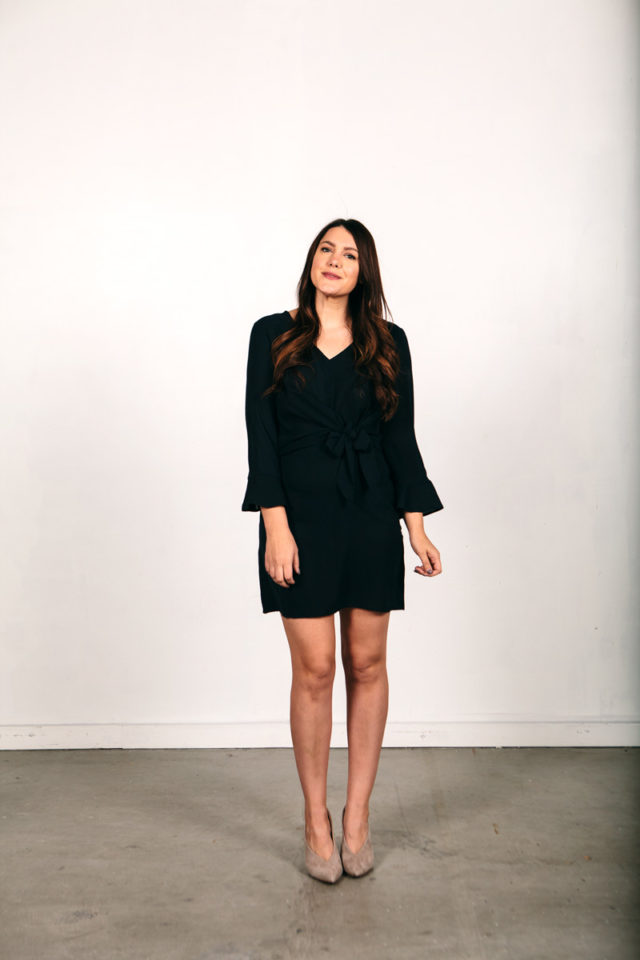 Bell Sleeve Bow Dress | $48.50
I sized up to a large in this for length and chest room. The large fits like an 8!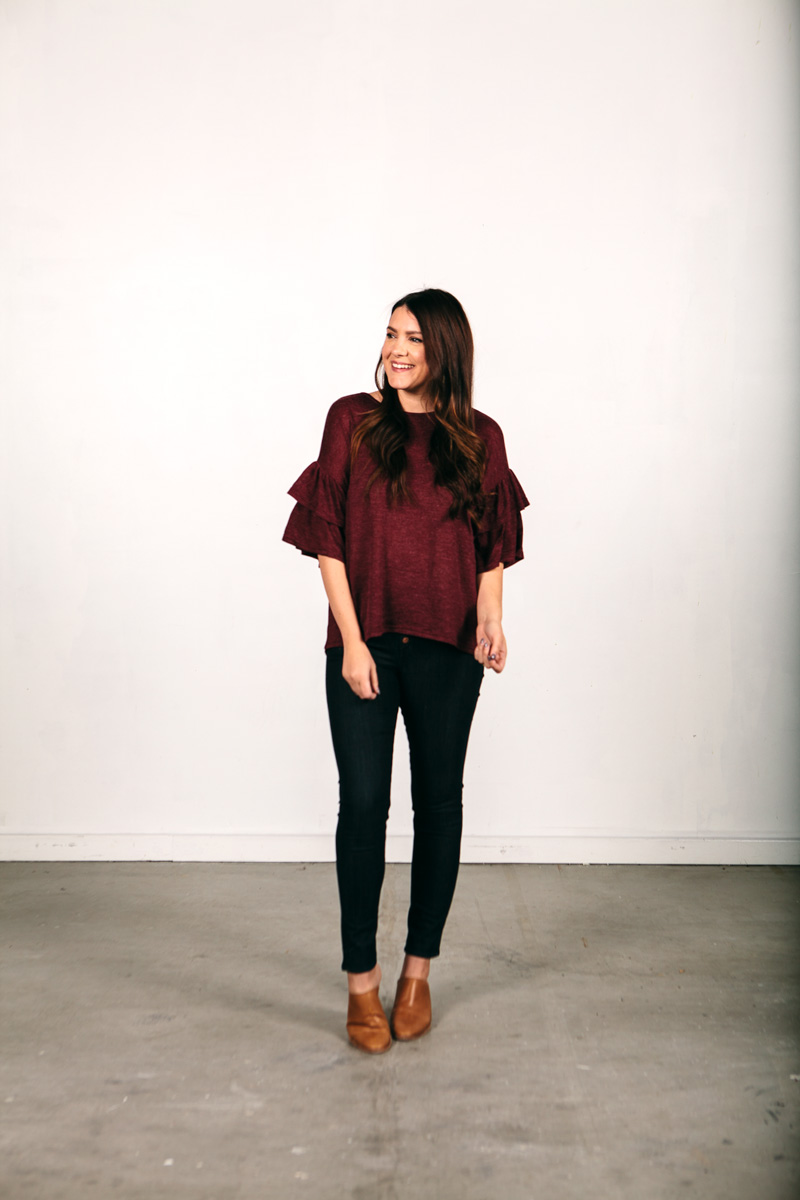 Ruffle Sleeve Textured Top | $38.50
I am in the size medium here. It fits generously; think a loose, slouchy fit! Like a boyfriend tee.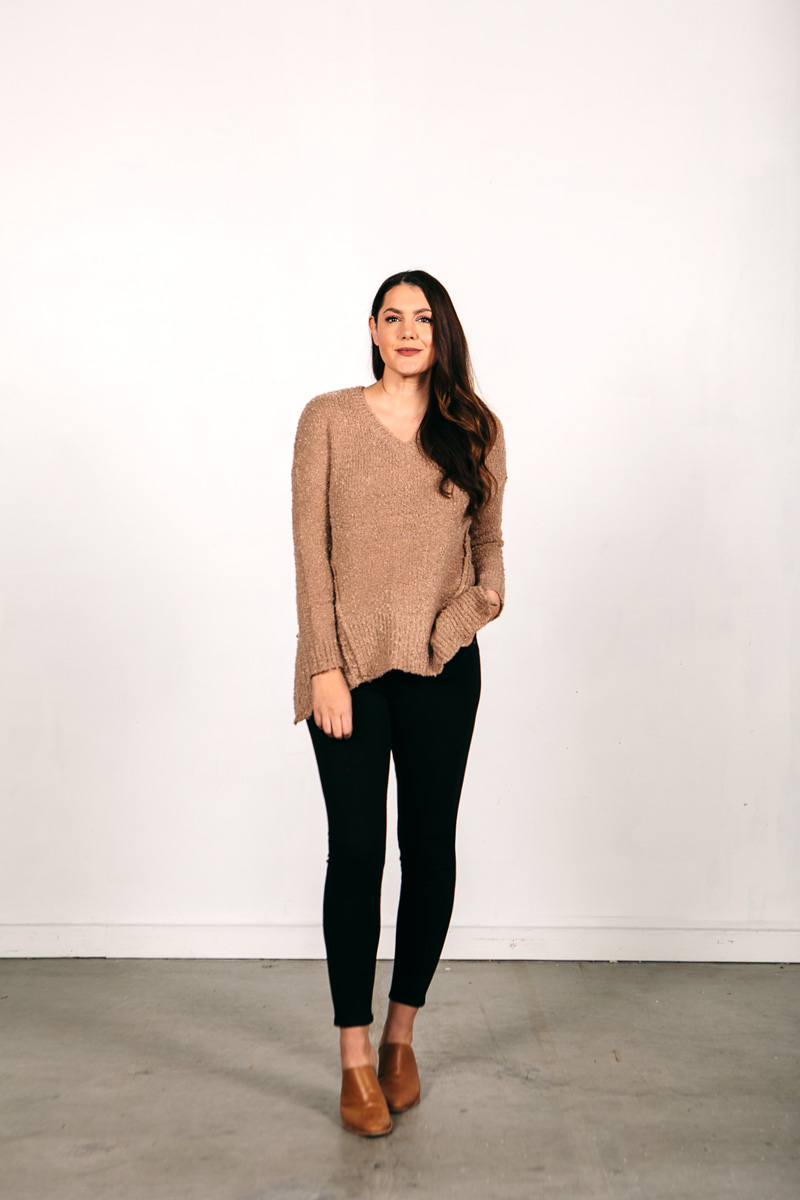 Textured Favorite Sweater | $48
I am in the medium! It fits true to size and is so cozy!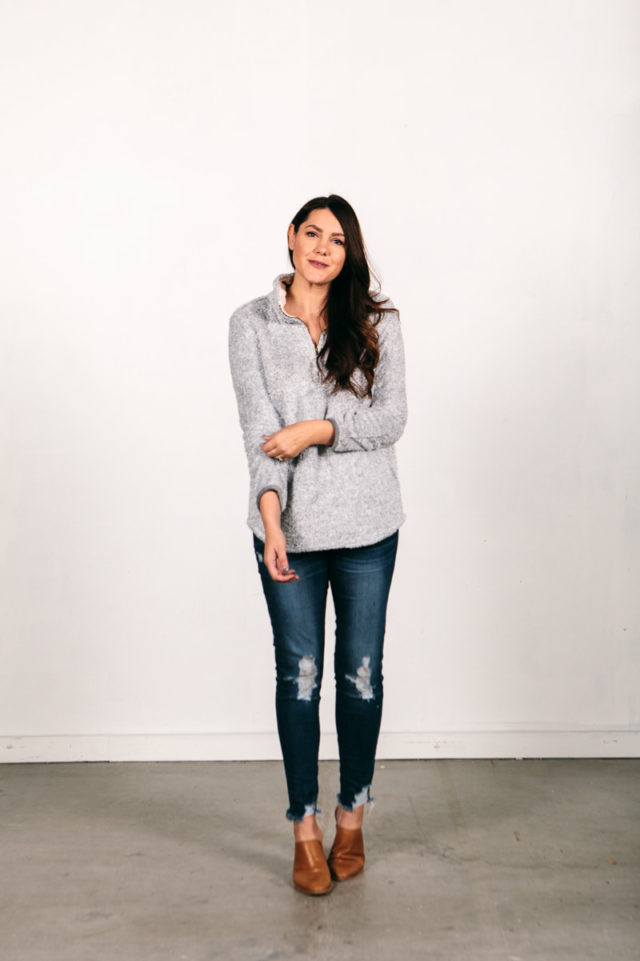 Fleece Zip-Up Pullover | $48.50
This fits true to size, exactly as shown. If you want it to be a good fit, then stay true to size! If you want it loose, size up. I am in the medium, my typical size. I'm not wearing a layer underneath.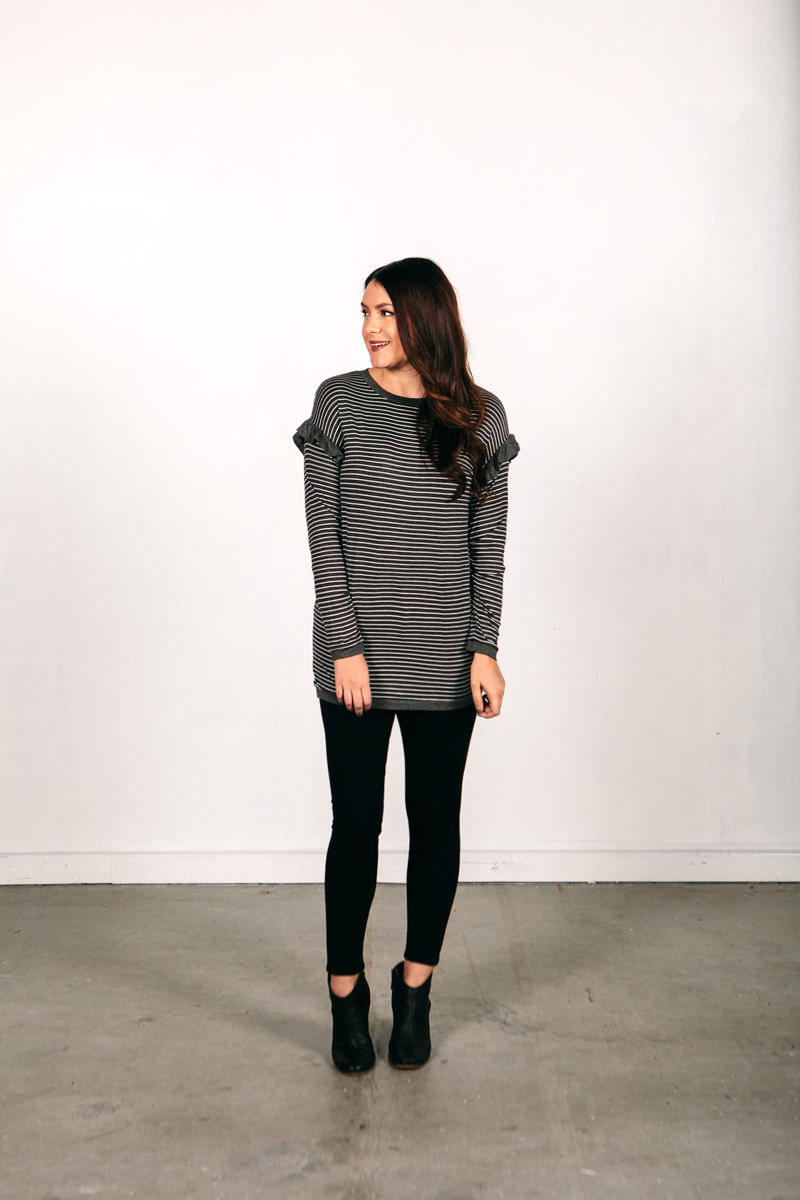 Striped Ruffle Sleeve Tunic | $40
I LOVE this tunic! It's super soft and long enough to wear with leggings and it's just so cute! I am wearing a medium which fits great. I would say true to size but it is long / tunic length.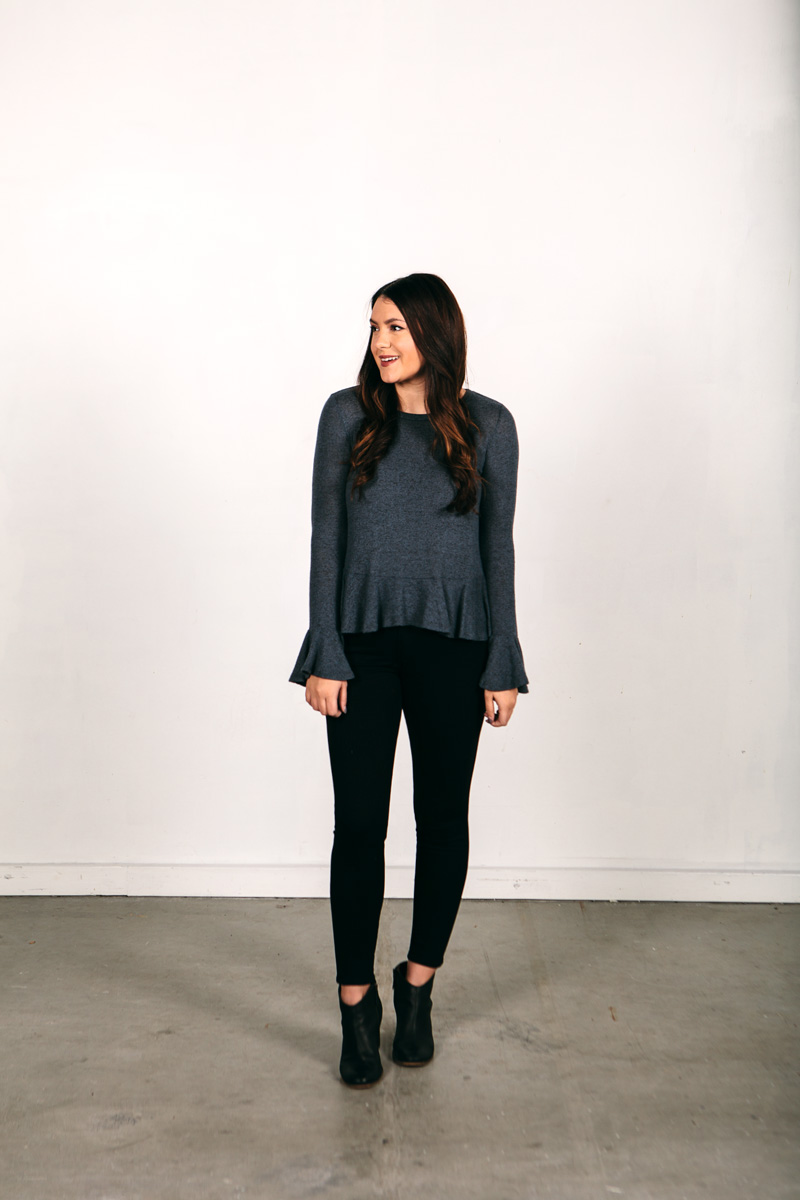 Bell Sleeve Peplum Sweater | $44
This is the softest sweater! It's like a mix between a fleece and a sweater, it's kind of weird but I love it. I am in the large for length and chest space 😉 This one comes in an X-Small for those who asked!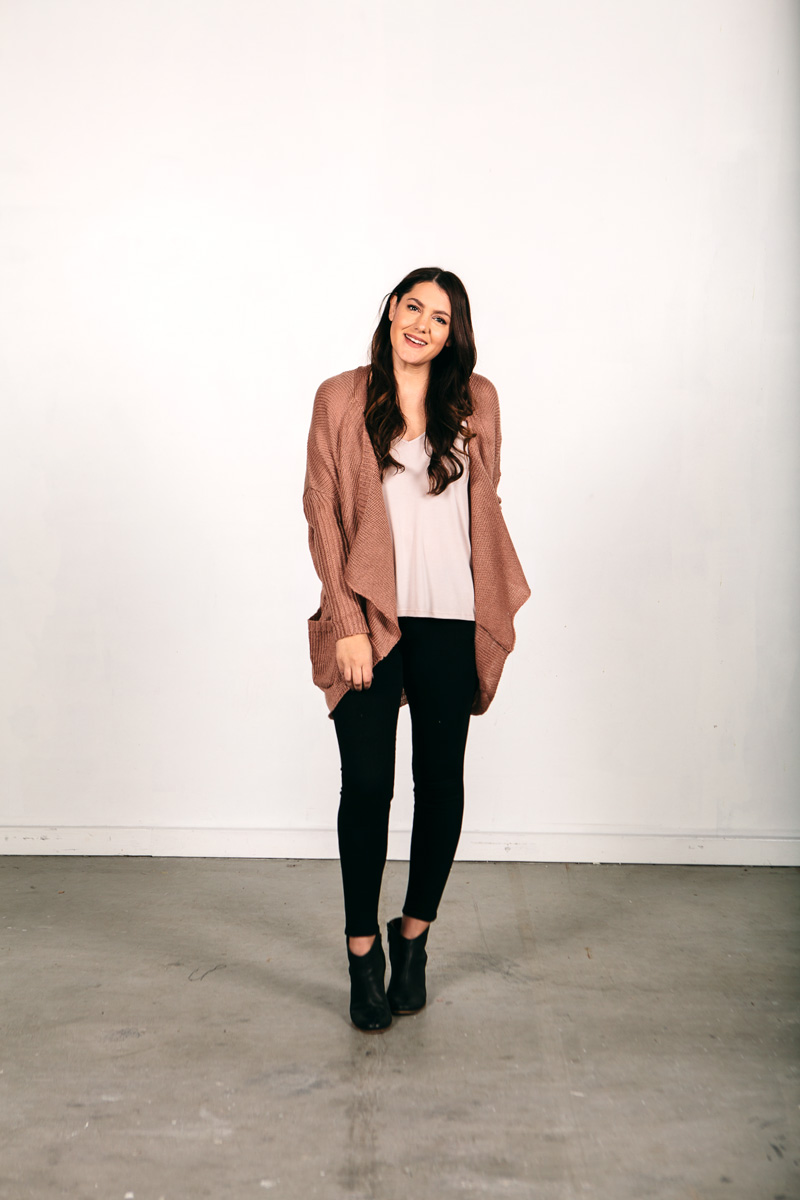 Seriously love this drapey cardi! It's a really slouchy / boyfriend fit so expect loose! I am in the M/L and I just want to wrap up and take a nap. 😉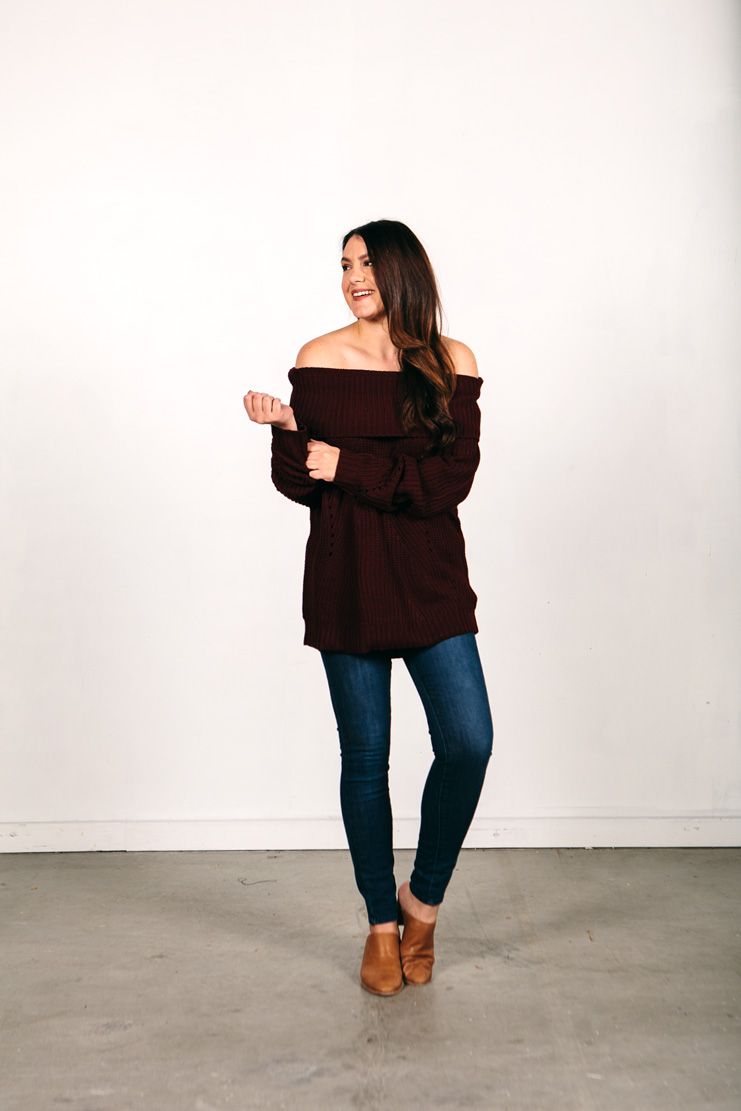 Bordeaux Off the Shoulder Sweater | $38.50
Is this not the most holiday sweater ever? I love it! I'm in the large but only because I'm broad-shouldered and this one fit best. It will fit more fitted in the shoulders at first and will loosen with wear. It's a slouchy fit elsewhere but the shoulders are tighter so it will stay on. 😉 I would say true to size unless you're more broad, then up one size!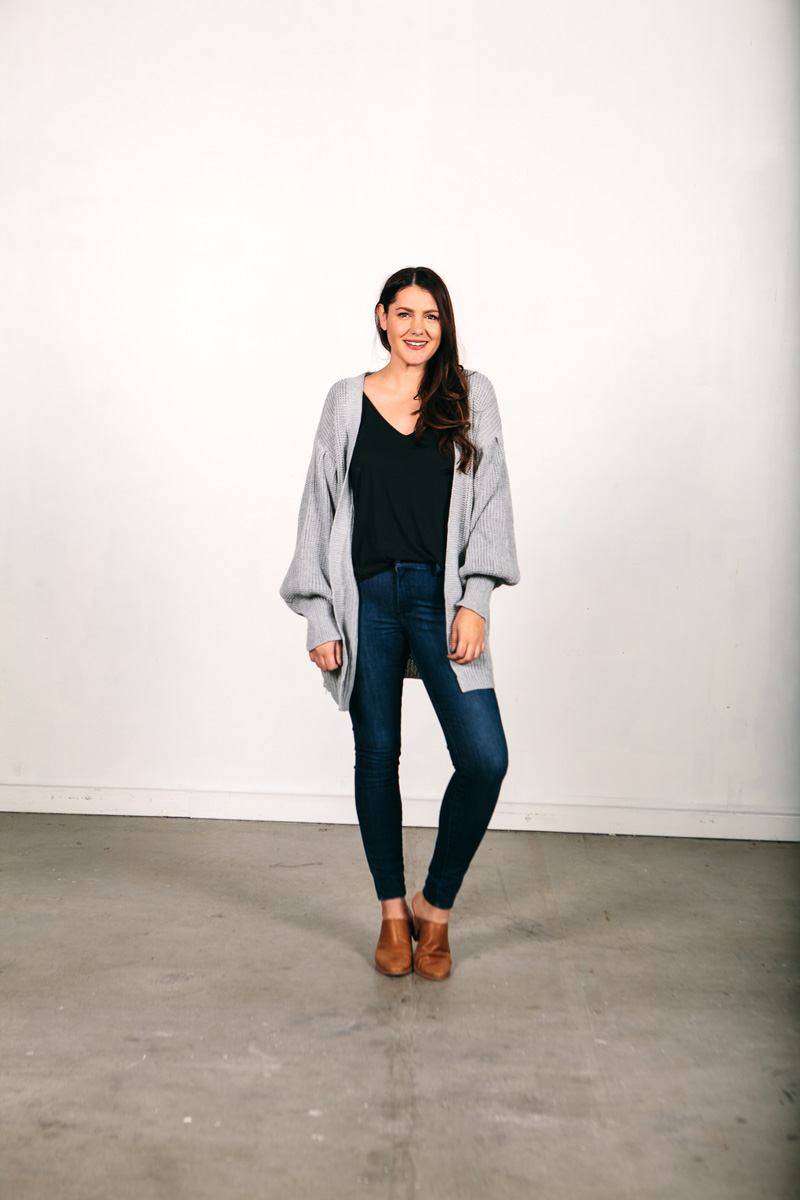 Last but not least because I'm having trouble not listing literally every single piece here, lol. This is the softest cardigan with bubble sleeves! It's the cutest cardigan and in such a simple shade of grey. It fits relaxed / oversized on purpose, so stay true to size or size down if you want it to fit smaller. I'm in the medium (8-10). 
You can see the whole collection here or shop early tomorrow at 9 am! Use code THANKS for 30% off + Free Shipping!