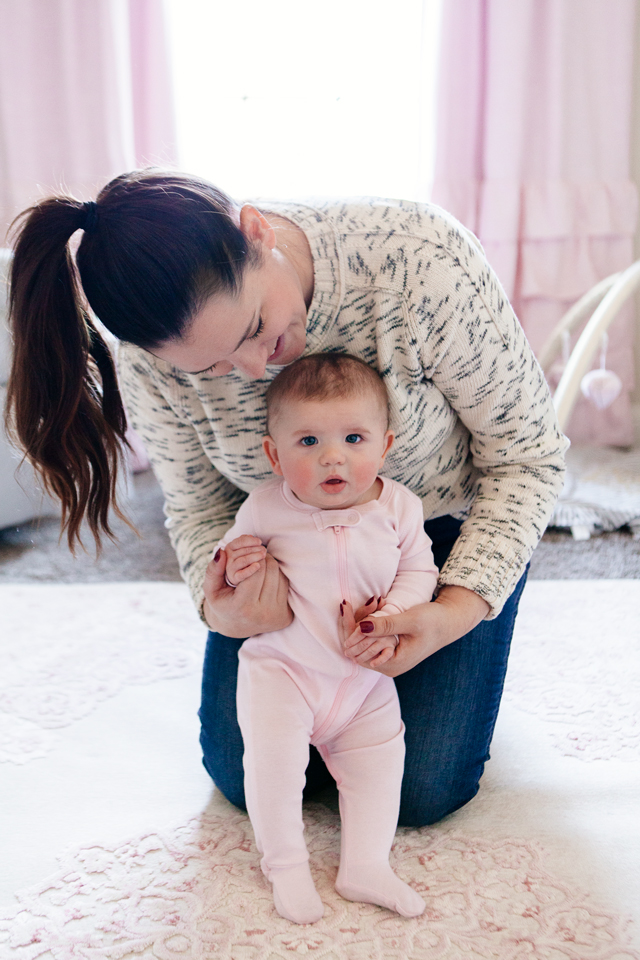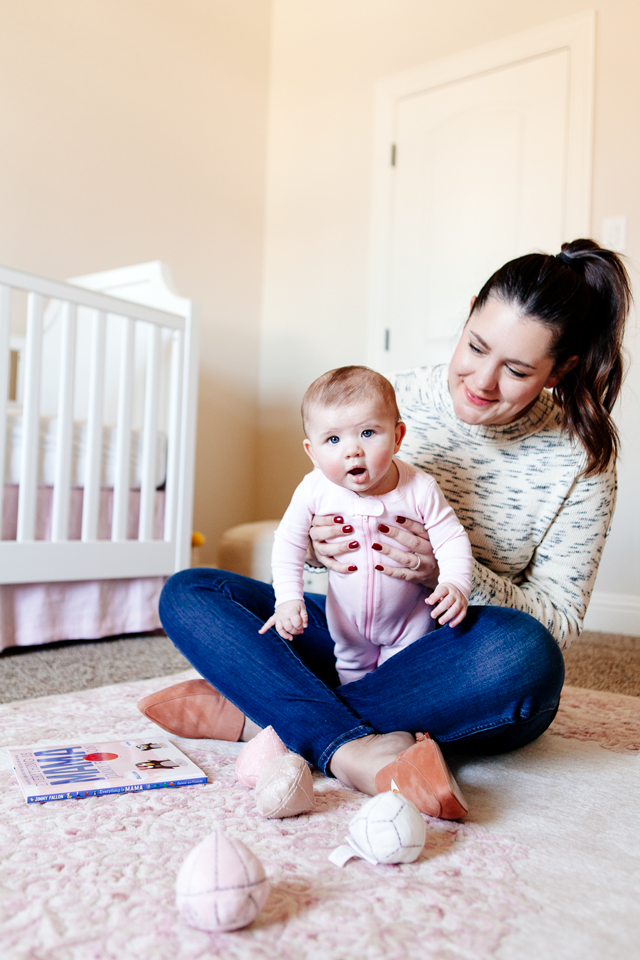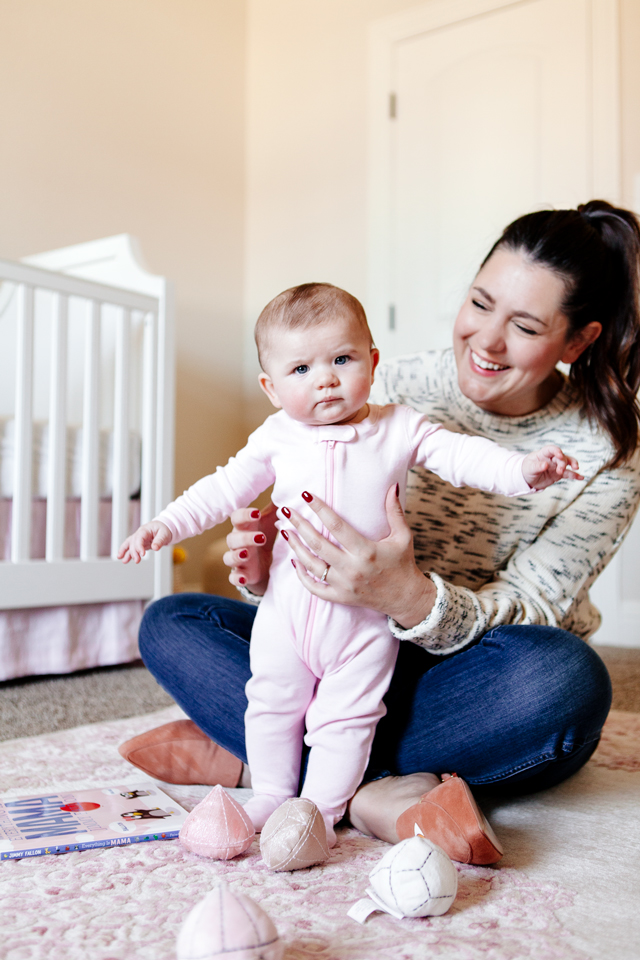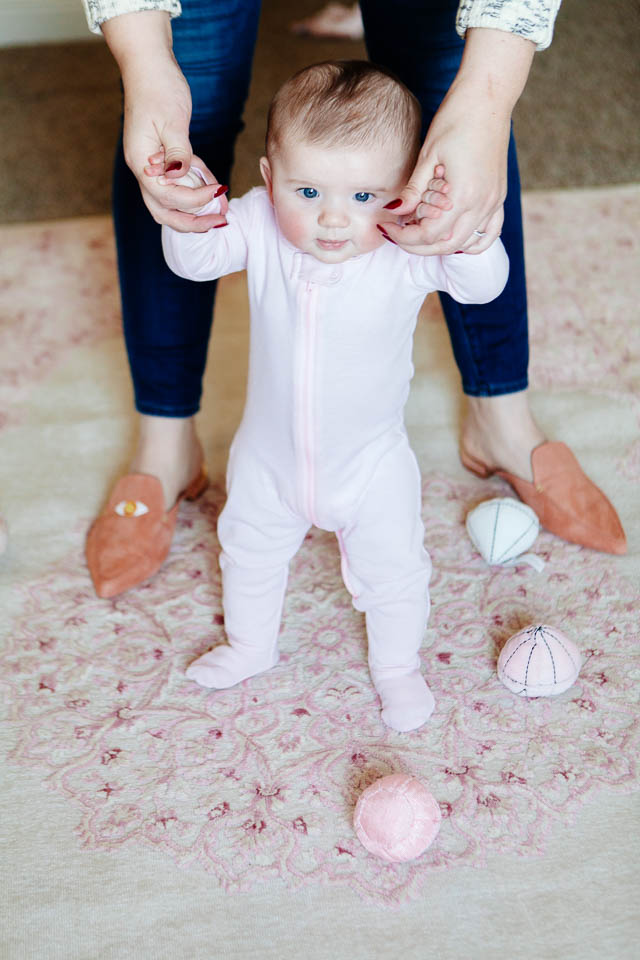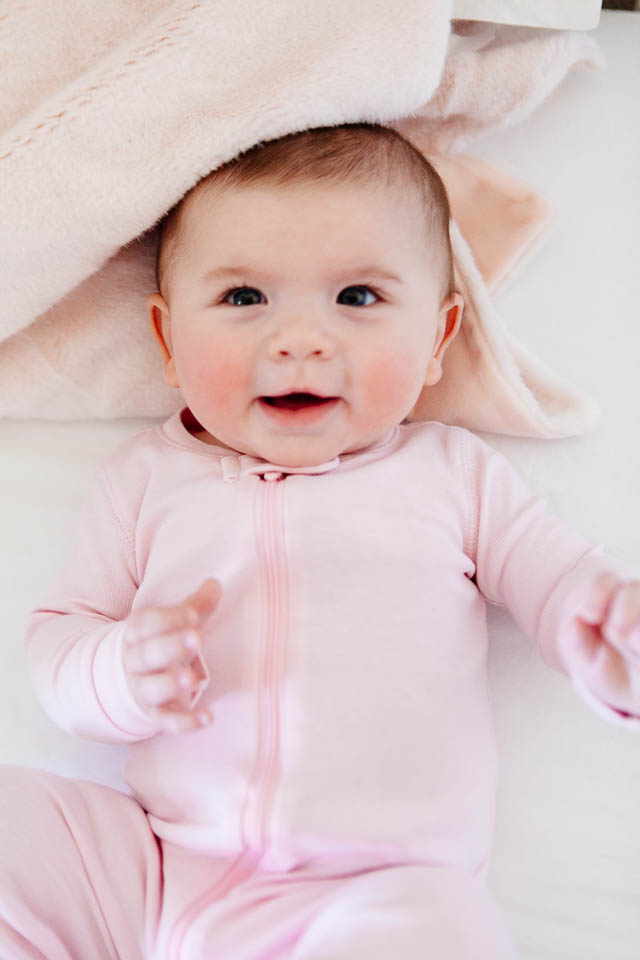 I will admit it's taken me a second to figure out how I want to talk about Gemma on here. At once I want to share everything about her because she is just sugar and gold, but on the other hand, I want to protect her privacy as much as I can. I talked to B about it and he said some wise words — he suggested I talk about Gemma from our point of view since right now this is our experience with her as a baby. And when she is old enough to speak to her own experiences we can re-evaluate how we share her life on the internet. So I decided that I'll update her life through my own lense, the view from motherhood. Oh and also, I got some sleep so this post has a 50% higher chance that it will make sense and I'll use the correct words!
So what has miss Gemma been up to? Hoo boy, is that a loaded question. Take a seat and get comfortable because this girl is a trip to funtown.
Sleep
Let's start with the old dreaded subject of sleep. I have come to peace with the fact that some babies don't sleep that well and that is Gemma. Our doctor says she is as normal as normal can be so I've tried to unwind that part of my brain that was so tied up in knots about her sleeping x amount of hours every day. Now don't get me wrong, she is getting better and better at transitioning out of the swaddle and rock n play she slept in for her first 4 months to her crib.  (More on this in a second) But homegirl just doesn't love to sleep very long. There is too much life to be lived! Naps are usually no longer than 30 minutes — I mean she pops those eyes open at the 30-minute mark every time. Every once in a while she will surprise us with a 2-hour nap, but as she is getting older her naps are getting shorter, even with no change in schedule or process. So we just know that's Gemma's schedule. She's happy, so we are happy. When she turned 4 months old, (last month actually, I'm a little behind on this update!) the pediatrician kindly recommended that we stop swaddling since she is rolling and to get her in her own bed and out of the rock n'play. I knew this news was coming. But Miss Gemma likes a swaddle and hates basically everything else. Ha! She has moro reflex — laymen's term it's where the babies slap themselves awake in the night on accident — and I asked my friends what they used for transitioning and the Merlin Sleep Suit was the number one suggestion. It has an almost perfect review from Amazon so I just knew this was the answer. She liked it for about a week and then decided it was the enemy. (I ended up finding this swaddle transition sleep sack and LOVE it. She loves her hands by her face and this lets her have them close by without slapping herself awake. True story.) Around month 4 is also when she started a month-long phase where she wouldn't sleep unless she was touching me in some form. We called this phase ABT — always be touching. We became accidental co-sleepers, but didn't really have a choice. (Not that co-sleeping is bad! It just was never anything we were planning on.) Sleeping on me was what Gemma needed at 4 months old. We are transitioning out of this now, which I'm so grateful for because as much as I love the snuggles, it's very hard to sleep with a tiny human on your chest. Last week we tried putting her in her crib for naps and it went okay. I couldn't believe it. I tried not to get my hopes up but we started moving her night time routine to her room. And surprisingly it works for about half the night and I will take it. She is gaining independence in her crib and I'm able to sleep a little bit more. She has slept in her crib for half a night now for 4 days which means I've gotten more sleep in the last 4 days than I have in a month. So as I'm writing this I can't believe it's only been 4 days; time is not linear with a newborn. Also, what was I even doing with my life when I got 8 hours of full sleep. Sure we ran businesses, but I should have been studying to go to the moon with all that sleep and energy. I should have been training for triathlons. Or at least my house should have been cleaner.
So all that to say, right now I feel like we are finally on the right track with sleep. Hip-hip-hooray. I shall report back next month. We shall see.
Eat
Gemma is still exclusively on the bottle since we haven't hit that 6-month mark for solids.  She is a pretty good eater and will definitely let you know when she is hungry and when she is not. She literally swats the bottle away when she is full. I love a girl who knows what she wants. She has started holding her bottle and pulling it to her mouth like such a big girl. She can't quite hold it up as it's heavy for her but she can get the bottle in her mouth and for this mama, that is amazing. In February we can start solids, and I think she'll be pleasantly surprised. I mean what do I know? Gemma will be what she will be. 😉
Play
Gemma has so much energy and she is so alert and active. If she is awake, we are moving. She doesn't stay in one place for very long — and ya'll she can't physically move her body yet. What am I even going to do when she starts crawling?! I'm gonna close all the doors and follow her around the house is what I'm gonna do. When we are sitting with her she constantly pulls up to stand and once she is standing she rocks forward. The other day she rocked forward so hard that she fell face first into some pillows on the couch … and thought it was the funniest thing in the world. So we do some daredevil things like that — we fall into pillows, we do airplane which she loves, we bounce on the bed. If it seems like it would scare her, she loves it. I mean to an extent — I'm not signing her up for rock climbing lessons or taking her to haunted houses. It cracks me up, she knows no fear. She just laughs and laughs. Her dad is also her favorite toy in the world. She is endlessly fascinated by his beard. Anything he does is gold to her. It's just precious to see her light up when he walks into the room even if he has been gone for 30 seconds. (#ABT)
She got an activity center for Christmas — that's right a big, bulky colorful toy that I said would never be sitting in my living room is…sitting in my living room. She likes that and her play mat that we spend time on. She also loves anything crunchy — her soft books or stuffed animals that have that crinkly sound. I call it crunchy because I'm pretty much always thinking about chips. Some toys we like better than others, some we like for about 30 seconds and get frustrated at but I know it's all a part of development. I can see her little wheels a-turning when she plays, just learning so much every single day.
Talk
Gemma loves to sing and squeal. She's developed a very high pitched squeal that comes out when she's really excited and really sad. So there's that. Her favorite song right now is the classic Itsy Bitsy Spider. When that sun comes out and dries up all the rain, man, there is NOTHING better. She starts her own little tunes sometimes and we sing along with her. Ya'll we are clowns 99% of the time. If you could see the things we do, you would die laughing. I told B, I missed my calling as a children's tv show actor. I would have killed on Sesame Street as the resident adult. Gemma's also started blowing bubbles, so of course, I think she's a bona fide genius.
As far as motherhood goes, life is best with sleep. I can absolutely function well on 4-6 hours of interrupted sleep and I've got to say — I didn't know I had it in me. I love being with Gemma every day, she's such a light and she's just so darn happy. Every morning when she wakes she has this sweet little smile on her face that just sets the mood for the whole day. Life at 4 months with Gemma is so fun and I hear it only gets to be even better.