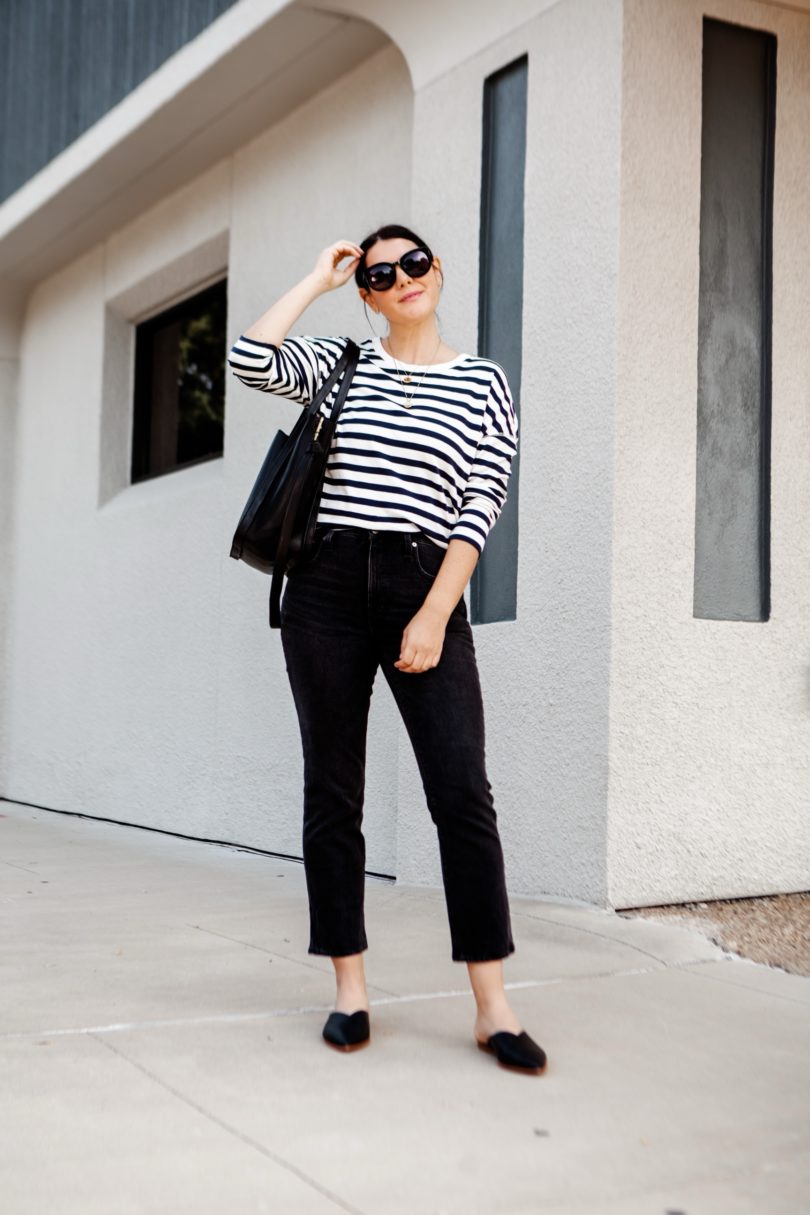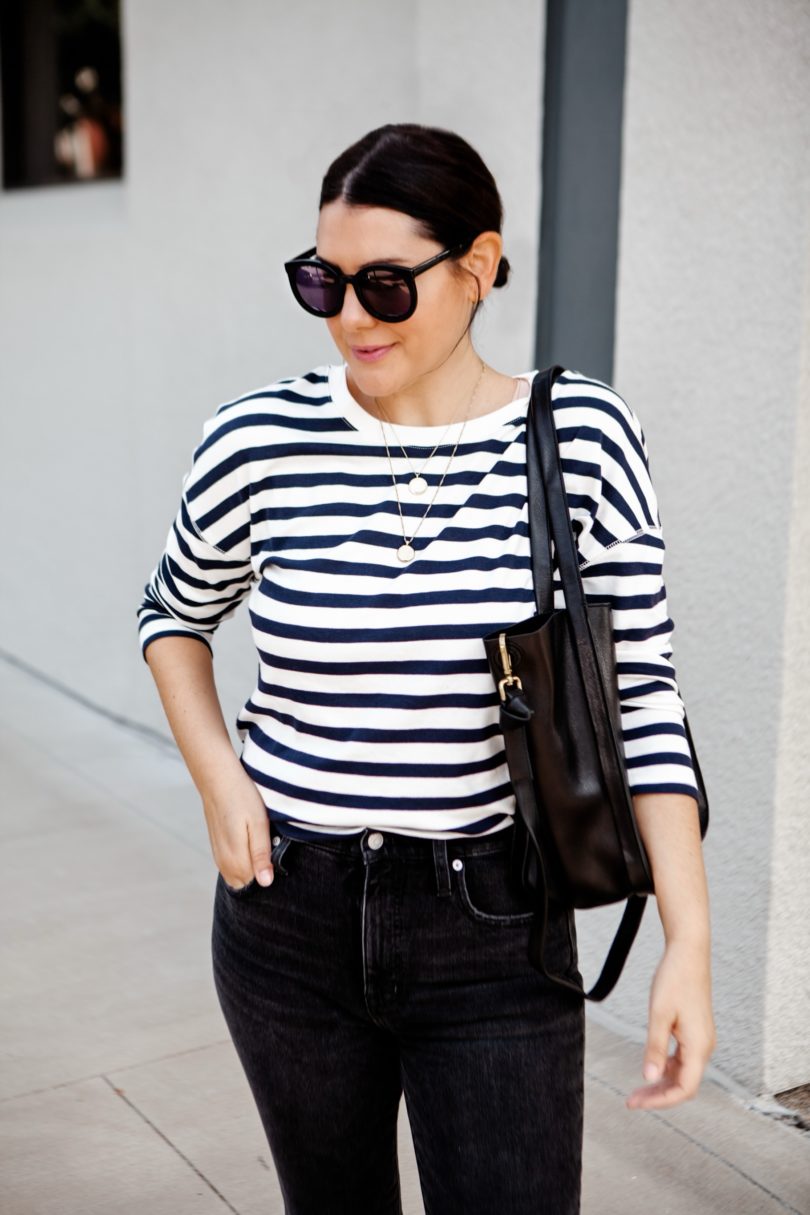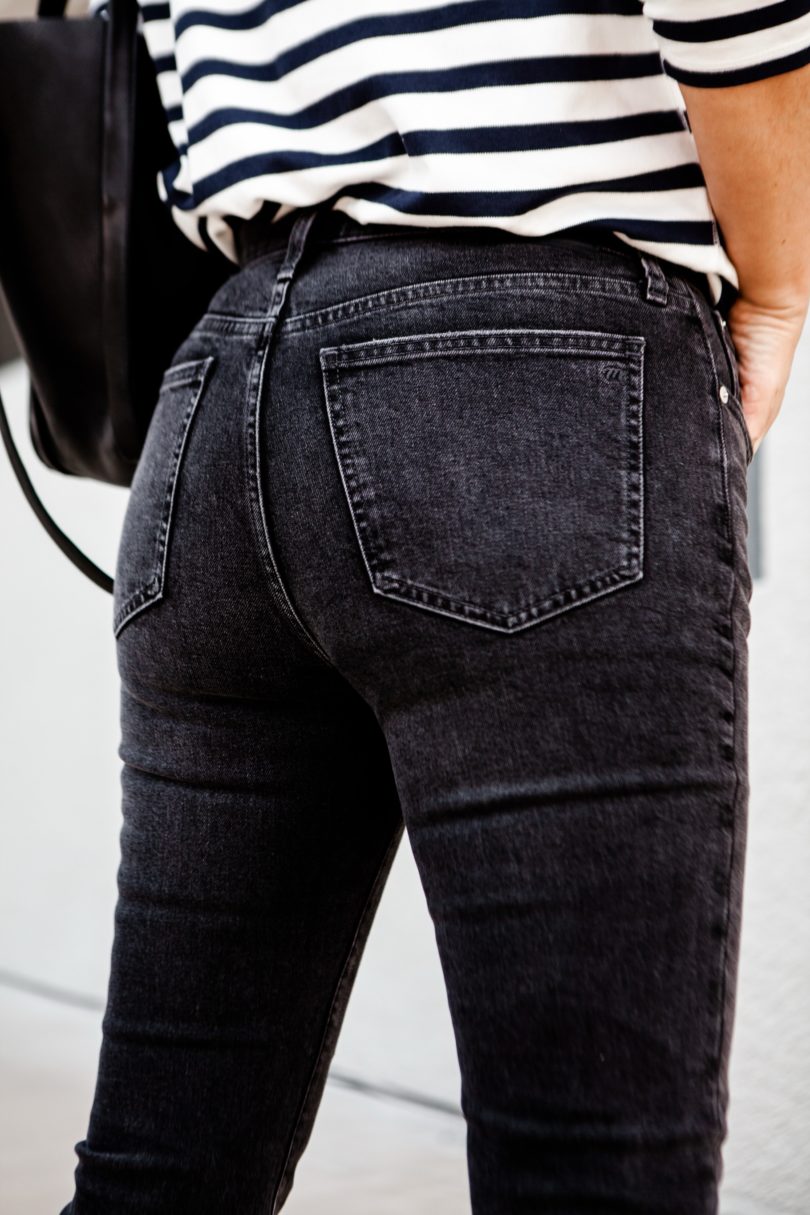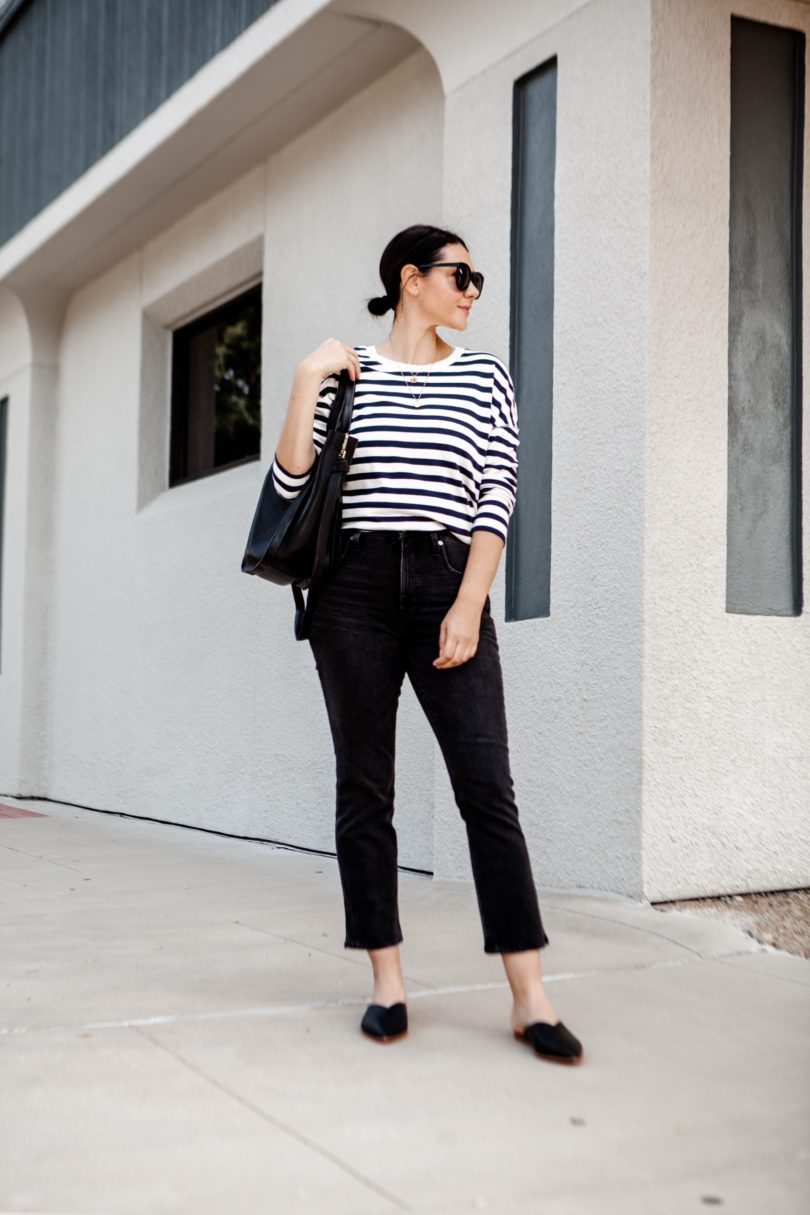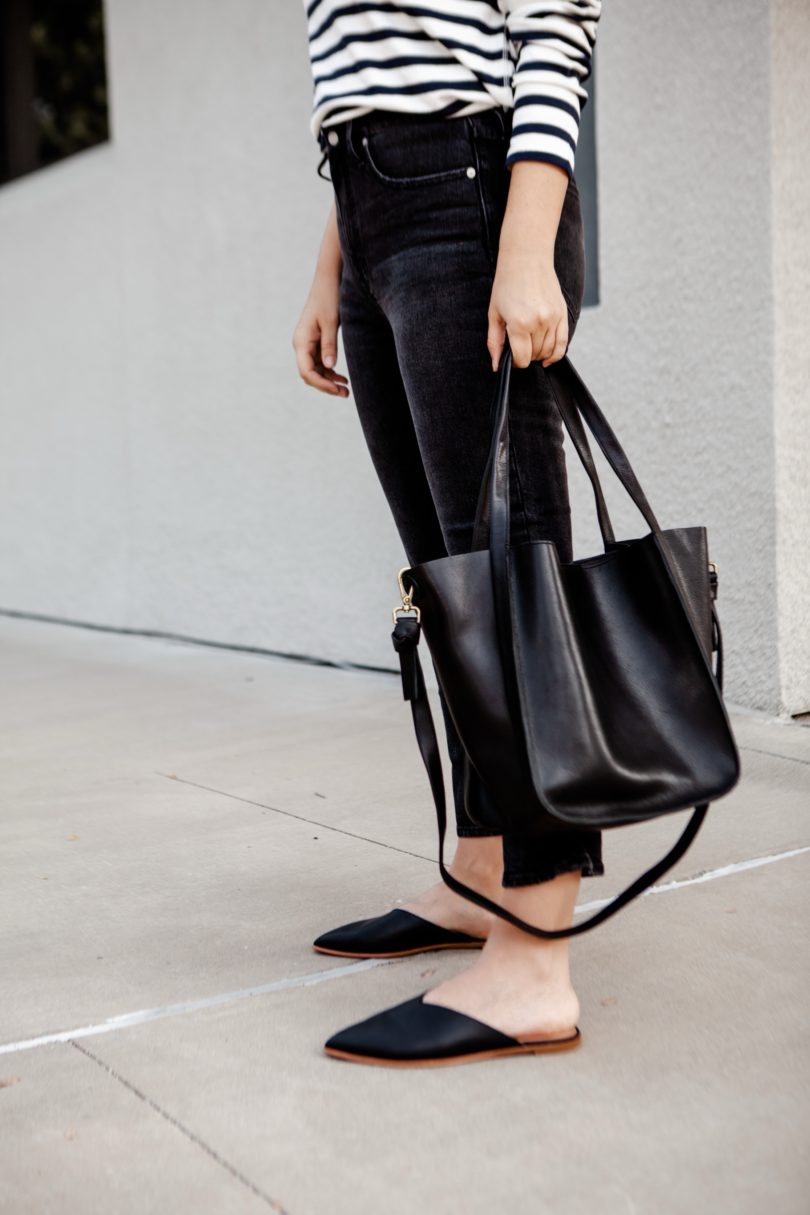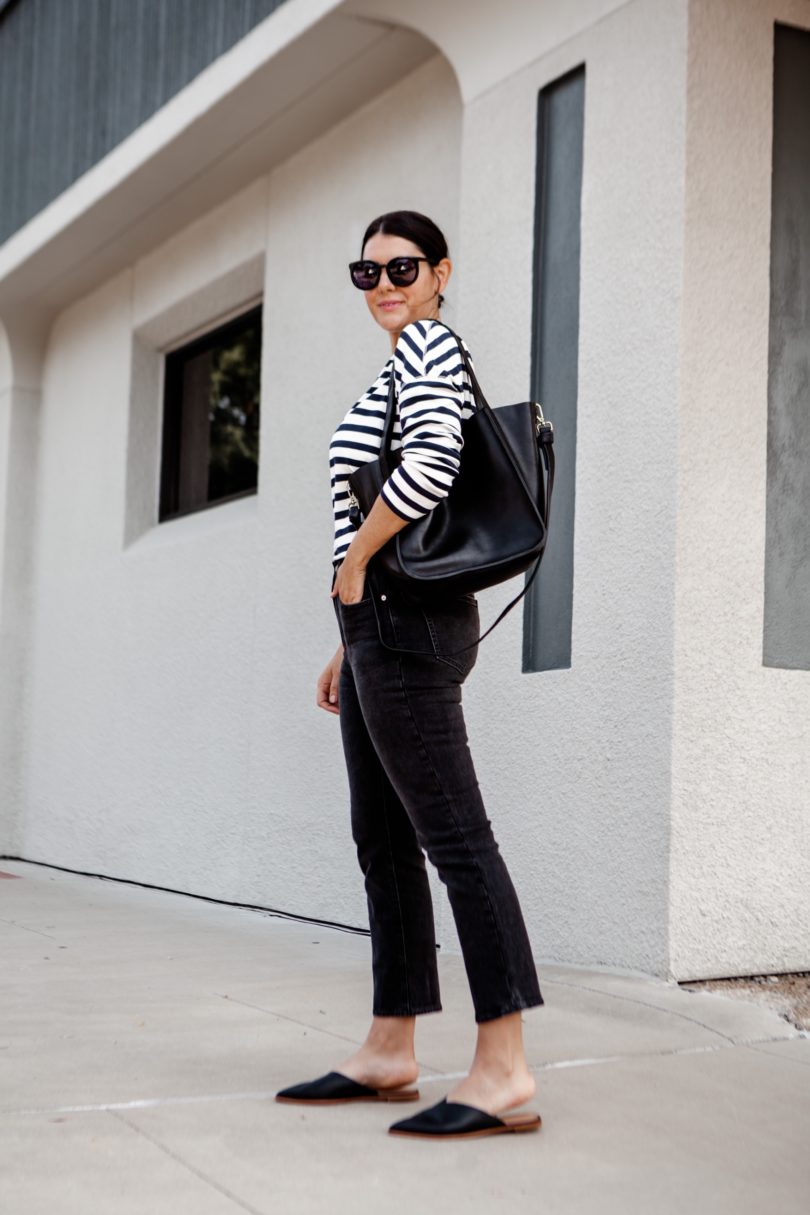 (Goodthreads Striped Tee / Madewell Slim Demi-Boot Jeans / Madewell Emilia Flat / Madewell Sydney Tote)
I've been thinking lately about incorporating more basics into my wardrobe, which might sound odd because don't we all have basics? I, by nature, have an affinity towards to bold, the sparkly, the colorful. But when I look back on my archives, the outfits I'm truly inspired by are those that have a great foundation of basics. Simple style can be hard to perfect. It seems counter-intuitive but effortless style takes, well, effort. And that's something that I truly want to perfect so that means starting with the basics. I didn't realize it but this outfit actually has all of the basics that I want to build upon for fall. Let's break it down.
Black Denim
I'm calling it: black denim is in for fall and winter for now and eternity. They are a new classic and they are my favorite go to, especially in winter months. Something about those late winter months makes me gravitate even more to grey and black (probably my perpetual bad mood lol) and I always love a black denim from Madewell. Madewell is probably my favorite denim right now and the Insider Sale is STILL going on! You can find my pick for black denim here.
This pair gives a unique look to your typical black skinny jean. The Demi-boot cut gives just the right amount of break before boots for fall so you can either layer socks or leave a little bit of bare ankle. Plus this look works with a flat until we are forced to wear boots. Try this style if you are looking to break up your skinny jean routine, but aren't sure about a vintage straight leg just yet.
Classic Stripes
You can't get back to basics without a classic stripe top on the list. You can't go wrong with a black and white stripe or a navy and white stripe top. (This one is navy!) Pair it with denim, leggings, a midi skirt, a printed skirt, or layer it under a blazer or sweater. Endless possibilities for this basic. This top particularly works so well with denim and for fall through spring. This tee is a thicker knit and a generous fit. I am in the large but would suggest staying true to size for best fit.
Pointed Mules
I think that I might be a full on flats believer now. Consider it quarantine that finally broke me of my heels habit. And while I LOVE a good pair of heels, I've found a new appreciation for flats in my everyday life. Especially a pointed mule like this one here. This flat feels updated and fancy, but it's easy to slip on and wear. I love a pointed flat more than a round toe just because it looks so chic and more flattering for me. This one is easy to wear and is a great flat for fall.
Leather Tote
This year has really made me think about the convenience of my handbags more than the label or the style. Don't get me wrong, I love what I own but I've been more concerned with function over form. But what marries them both is a classic tote, especially in a black leather. The ability to toss everything and having this style go with almost everything in my closet is a huge perk. I've been a long fan of Madewell totes but I was really excited to see a new tote style this fall. This is the Sydney Tote and it's maybe the perfect tote — it's big but not impossible to find your keys, it has a handle and a crossbody strap, and I almost want it in two colors so I can wear it every single day. I'm hoping to carry this bag for many years, just as I did the original Madewell Tote. I wore her out and then my sister gave her a few more years. Rest her soul.
Layered Necklaces
One accessories I have to encourage is a nice set of layered necklaces. Layered necklaces give a nice visual feature to simple tops like this or sweaters this fall. I've loved this look for a while but this fall I find that it's my everyday accessory in some combination or another. I have a few necklaces I like to switch out but they are always a layered look. My favorite is this one from Madewell, it's a full set so you can make the combination as you want. But Gorjana is also a favorite brand for necklaces too. This set from Etsy is a great option too!
I've layered the longest necklace from the Madewell set here with this Gorjana necklace.