Hi! Quick note: we are staying home / social distancing right now with everything going on so I've got pre-shot outfits and posts to go for the next few weeks. Hopefully I can share some content with you to spread some joy or even a nice distraction 🙂 Thank you for continuing to read my blog and engaging with me on social media — it helps make my world feel a bit less lonely and I hope I can do the same for you! Stay healthy, my friends. 
***
One thing that I wanted to share more this year is workwear because that's actually something I miss getting dressed for. Fun fact — I work from home or our warehouse most days but I try to get up and get ready every day. It helps me get focused and have an actual start to the day. But working in an office is actually something that I miss — I miss dressing for a corporate environment. Is that a weird thing to miss? Either way I love wearing corporate / office wear and I want to share more office inspired looks for you this year! Starting with these pants. Yes ma'am — these have got to be the cutest pants I've seen in a while. Let's take  closer look.
PS: everything site-wide is 25% off for a limited time at Nordstrom!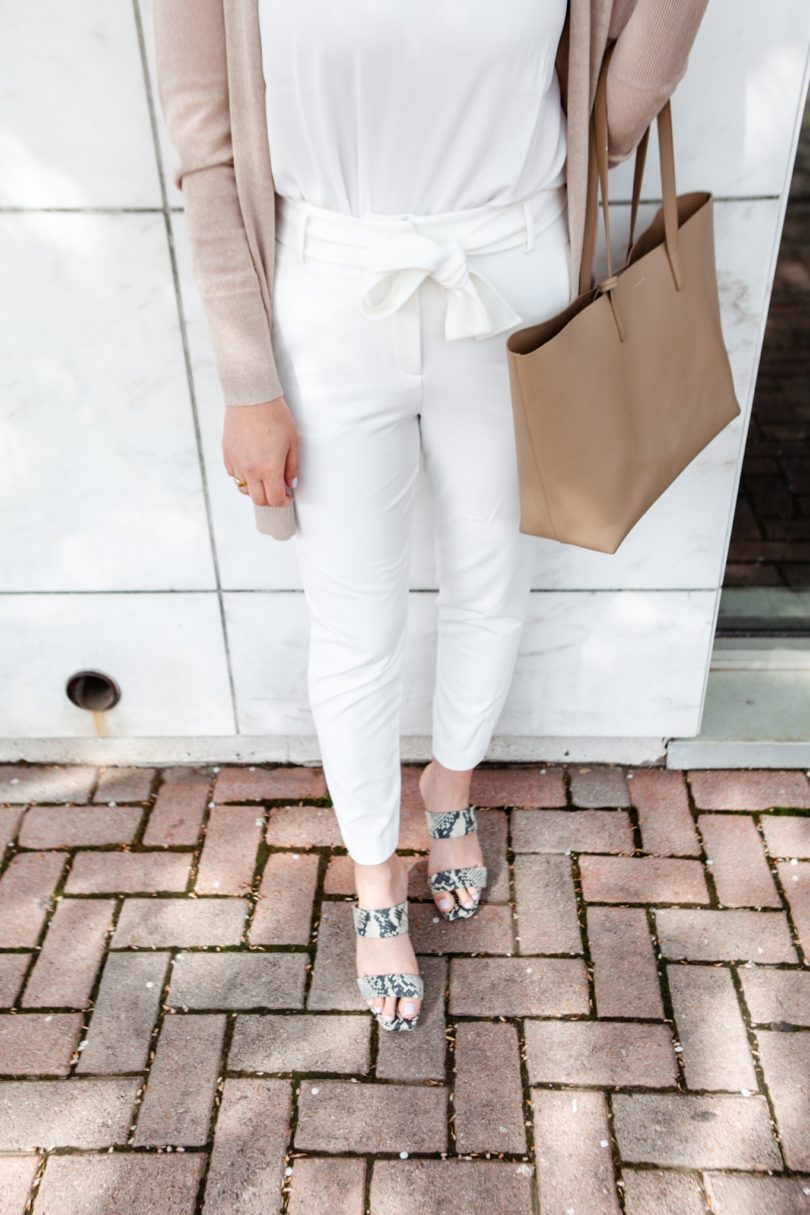 No your eyes aren't deceiving you — they actually are the cutest pants in the world. A high waist, a bow belt, and a perfect fit. It's such a nice updated look to a regular office pant — going with a white pant is classic but a bit unexpected. These pants are multi-tasking like it's their job. It's like saying to your coworkers and boss: 'If I can handle wearing white pants AND drinking coffee without spilling, then just think about what I could do with that promotion.'
I am in the size 8 and they fit a bit snug at the waist but they fit pretty true to size. Size up if you need more room in the waist or hips. Find these pants in many color ways here! (I also like the pink!)
I've styled them two different ways but honestly you could take them into your closet right now and find so many pairings with them. Think of a white pant like a black pant, you really can't go wrong.
Neutral Shades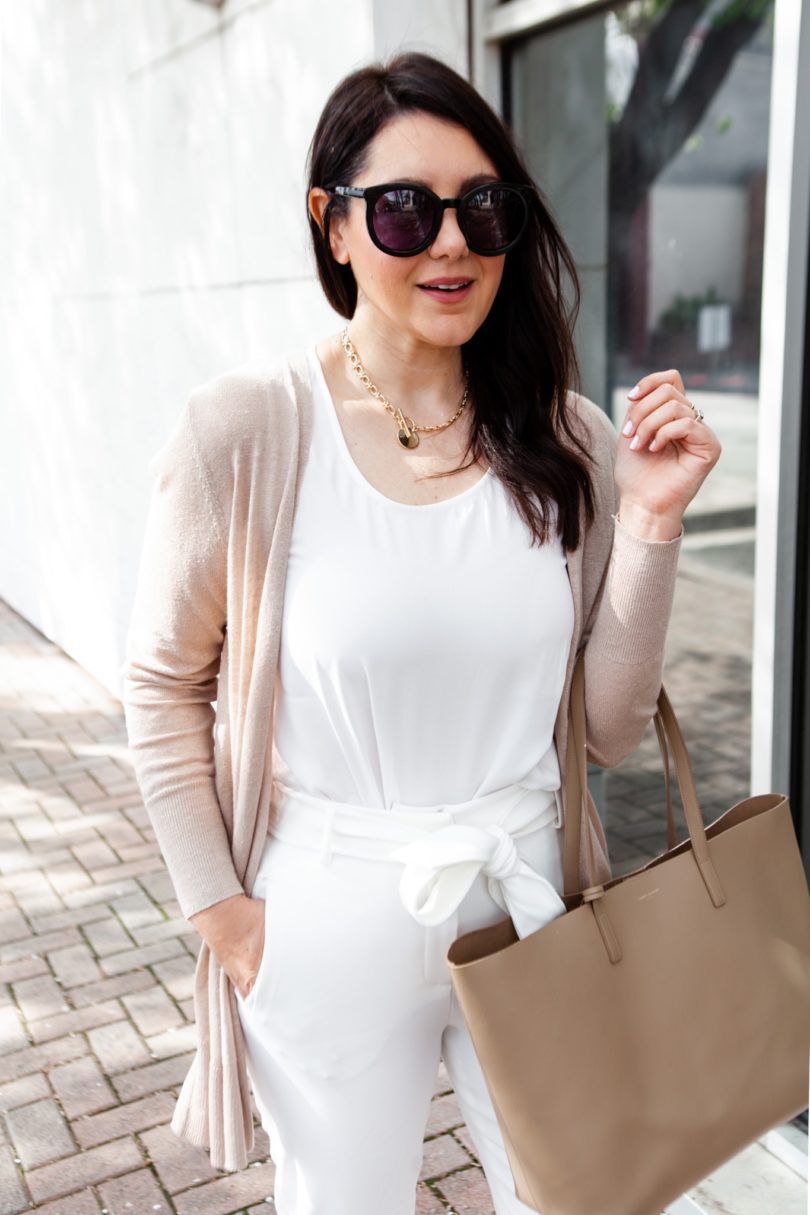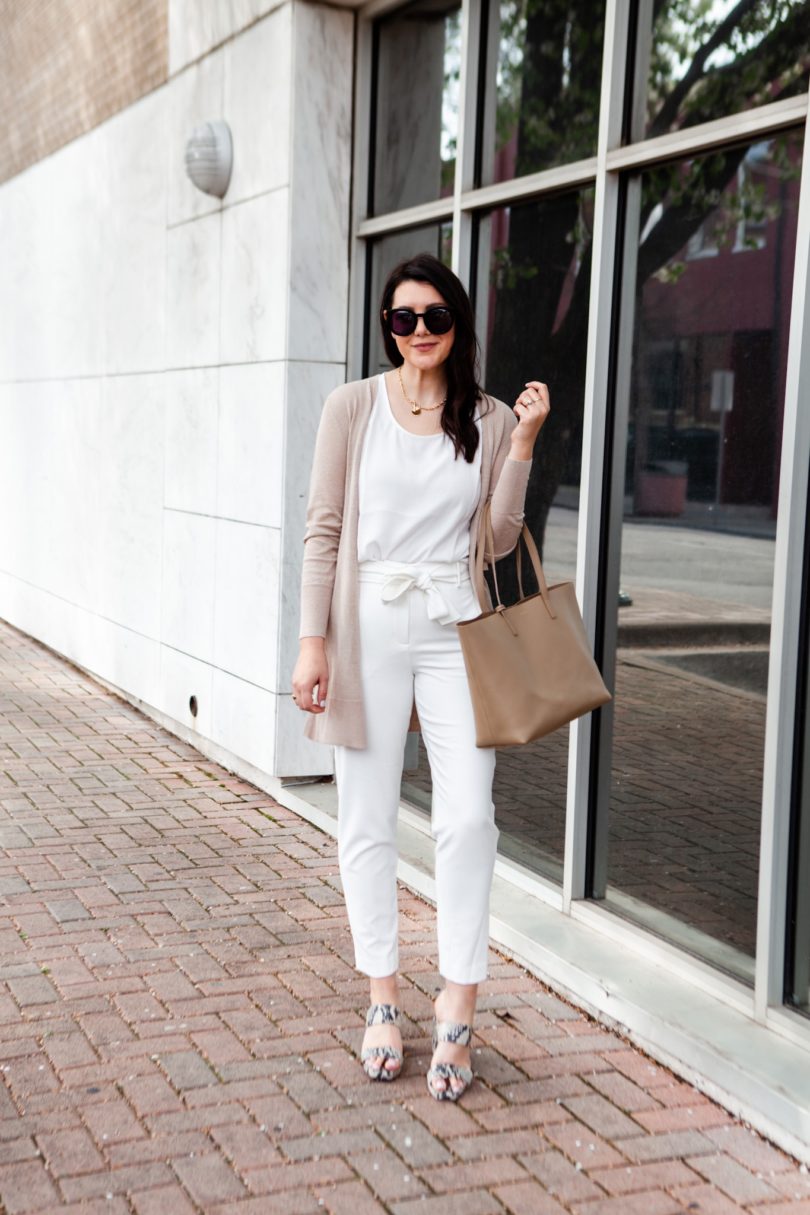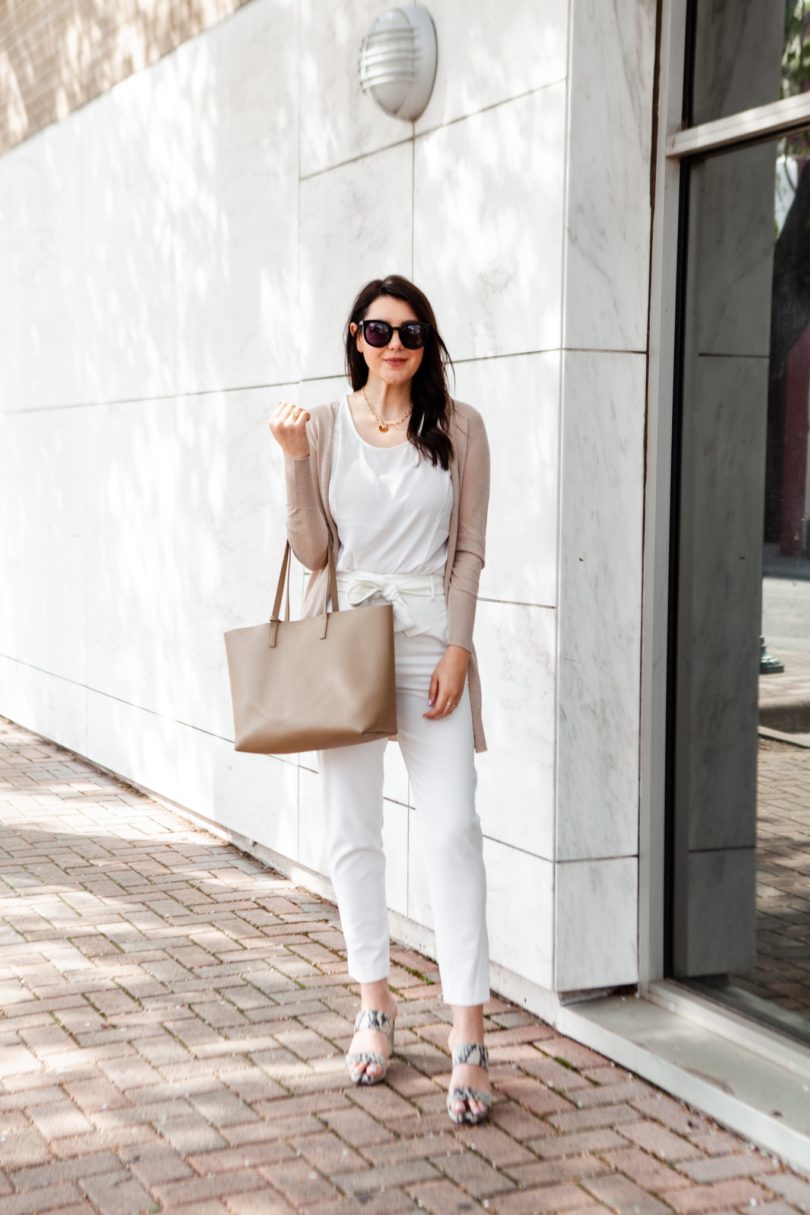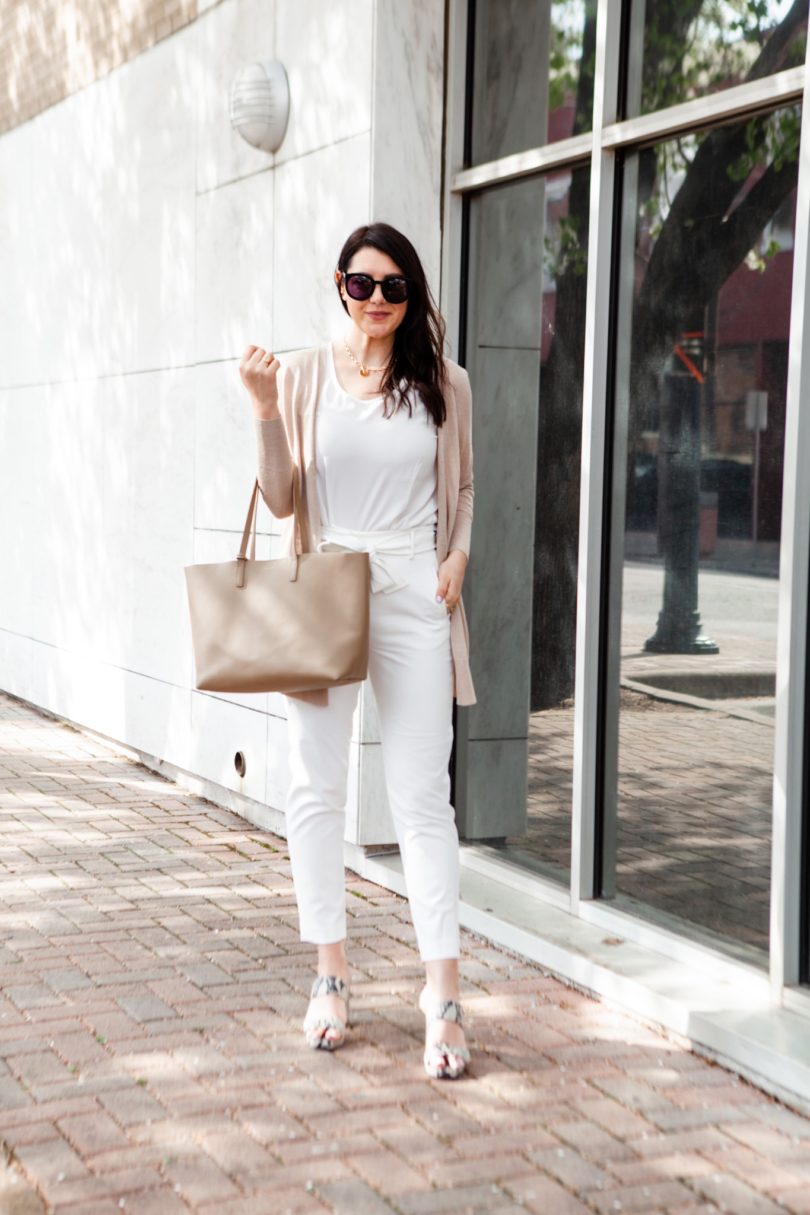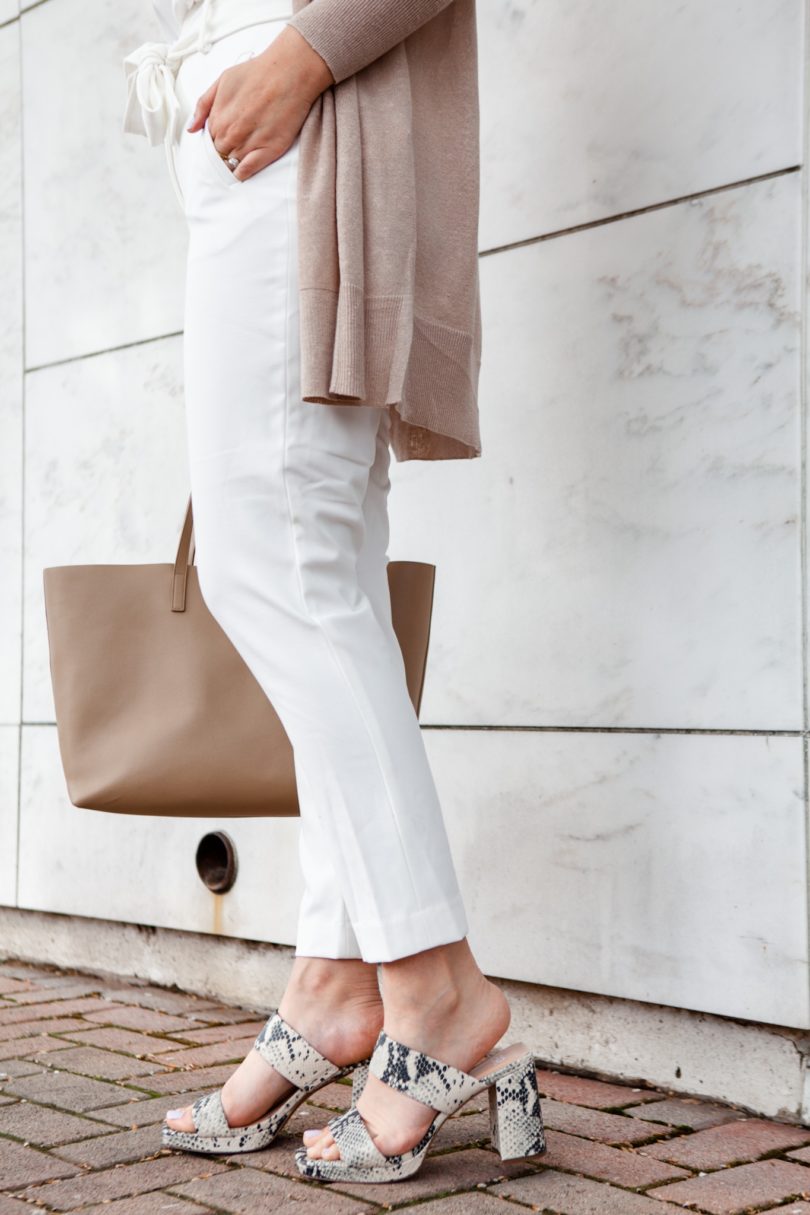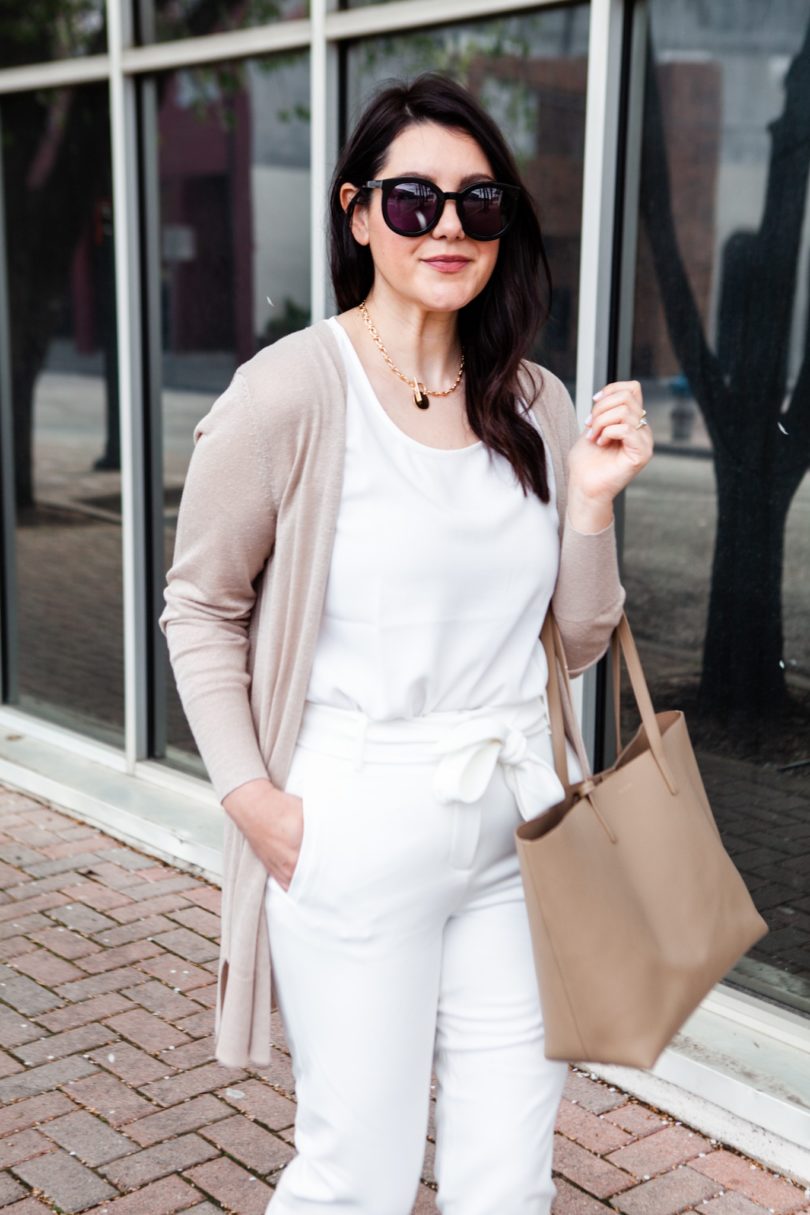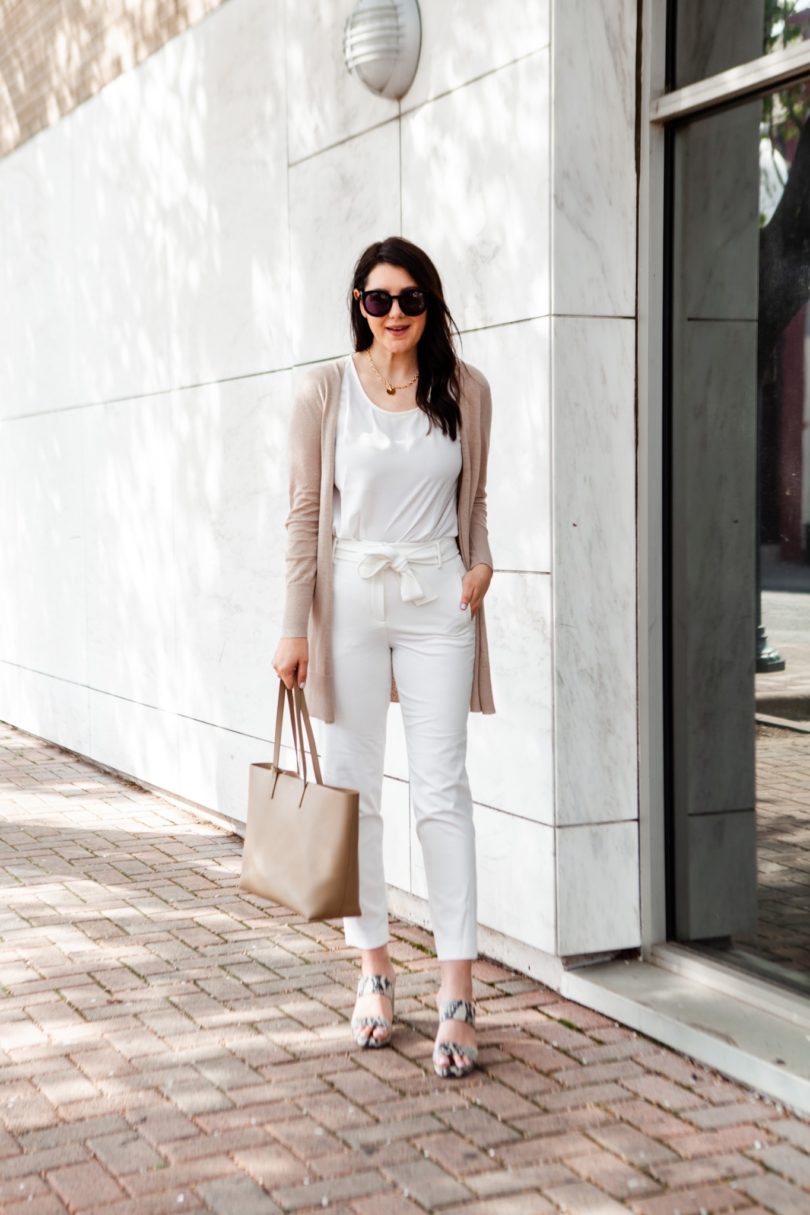 Halogen Shell (medium) / Halogen Cardigan (medium / Halogen Tie Waist Pants (8) / BP Shoes (9.5)
I wanted to play up the idea of keeping the outfit monochrome, almost like a jumpsuit, so I paired this ivory shell (TTS) with the pants. They go together perfectly and while I tossed on this lightweight cardigan over it, a blazer would work just as well. I was actually surprised by how much I loved the cardigan with this outfit. It looks chic and really pulls everything together. I wanted to add in just a little bit of drama to this outfit so I paired these snakeskin heels with this look as well. White can be intimidating to wear, but remember if you just think of your pants as a neutral (like a black pant), the outfits can come together so easily.
Find this cardigan here!
Pop of Print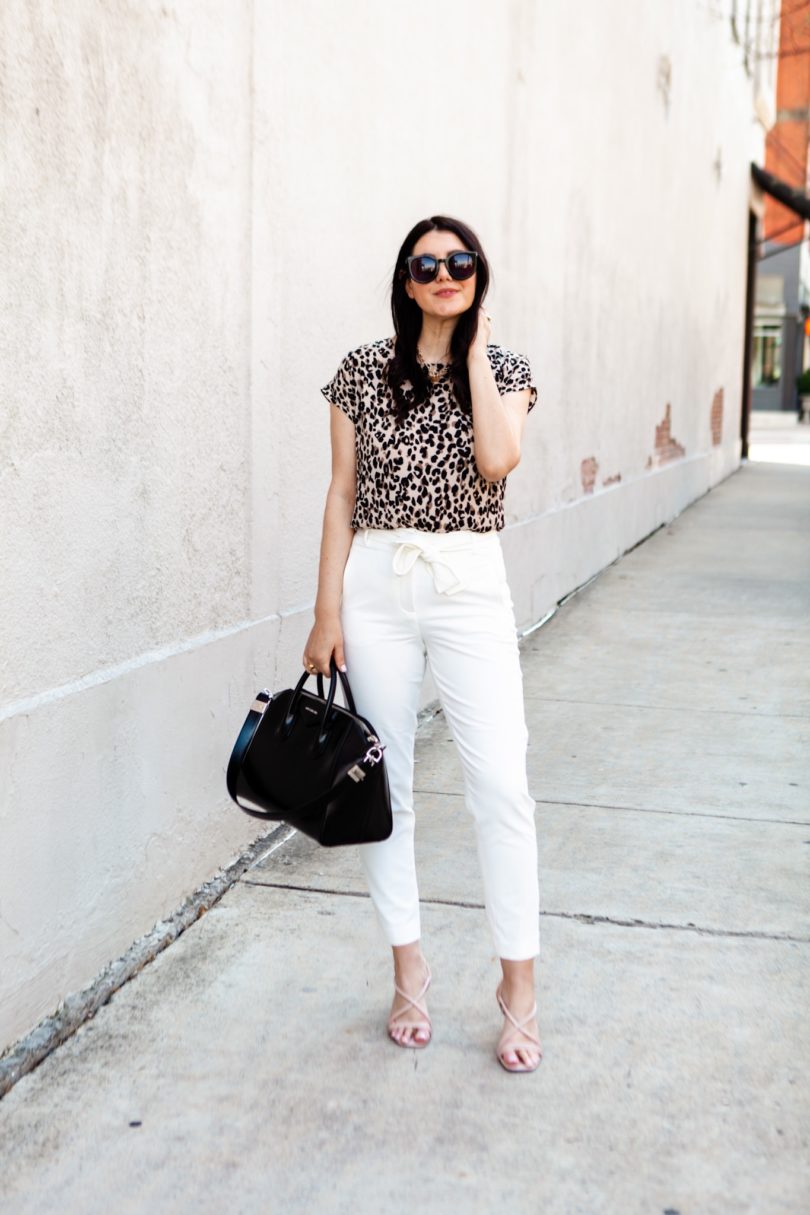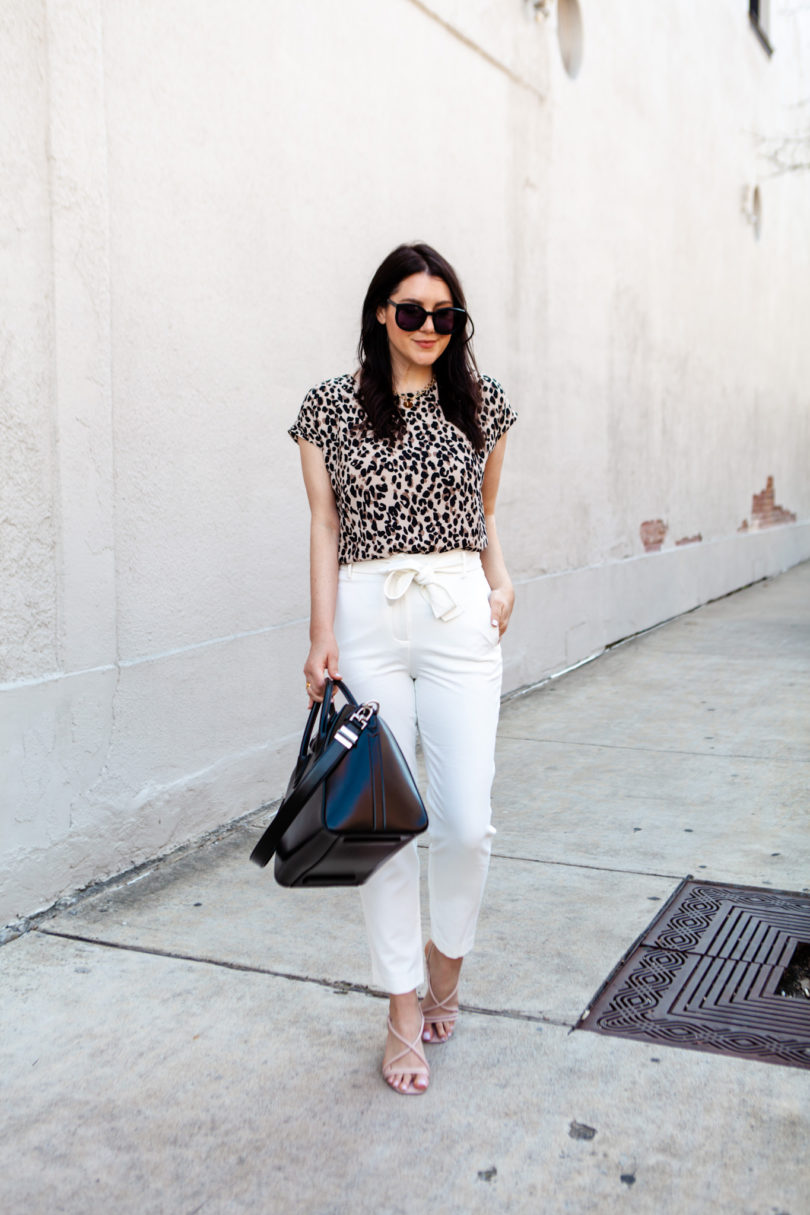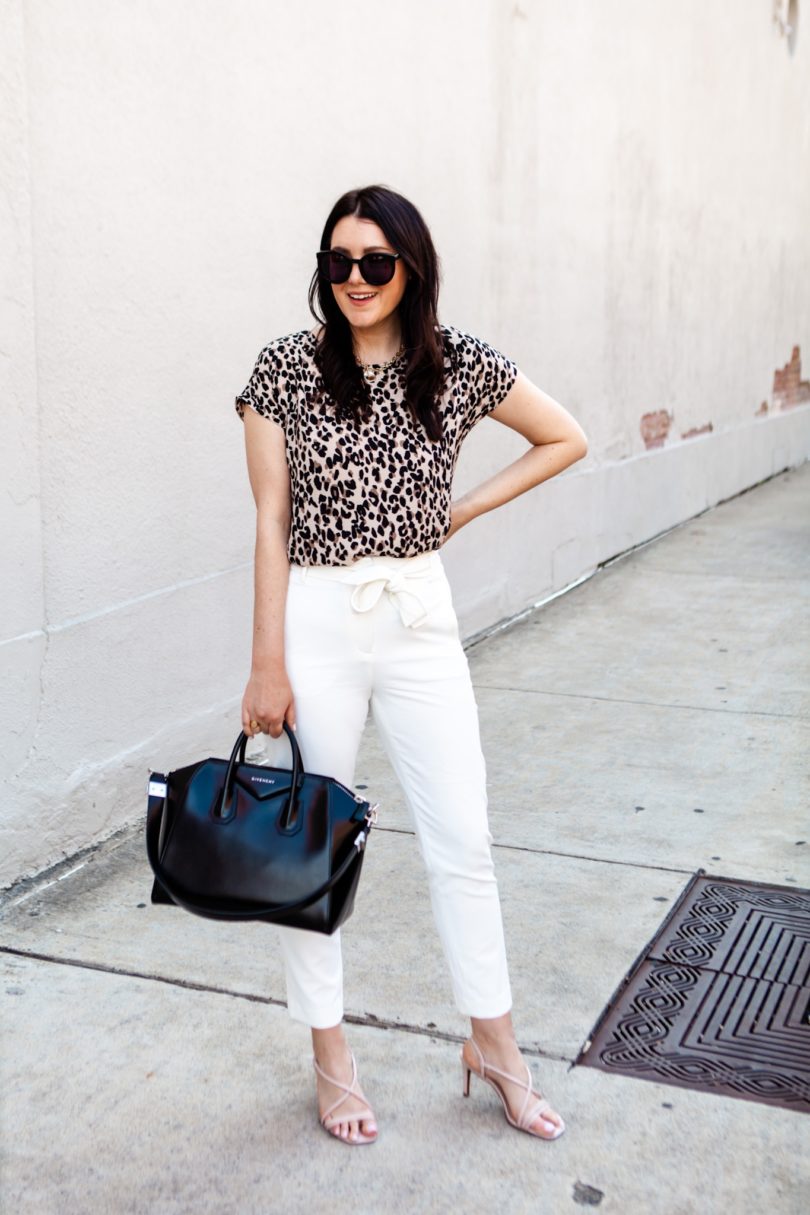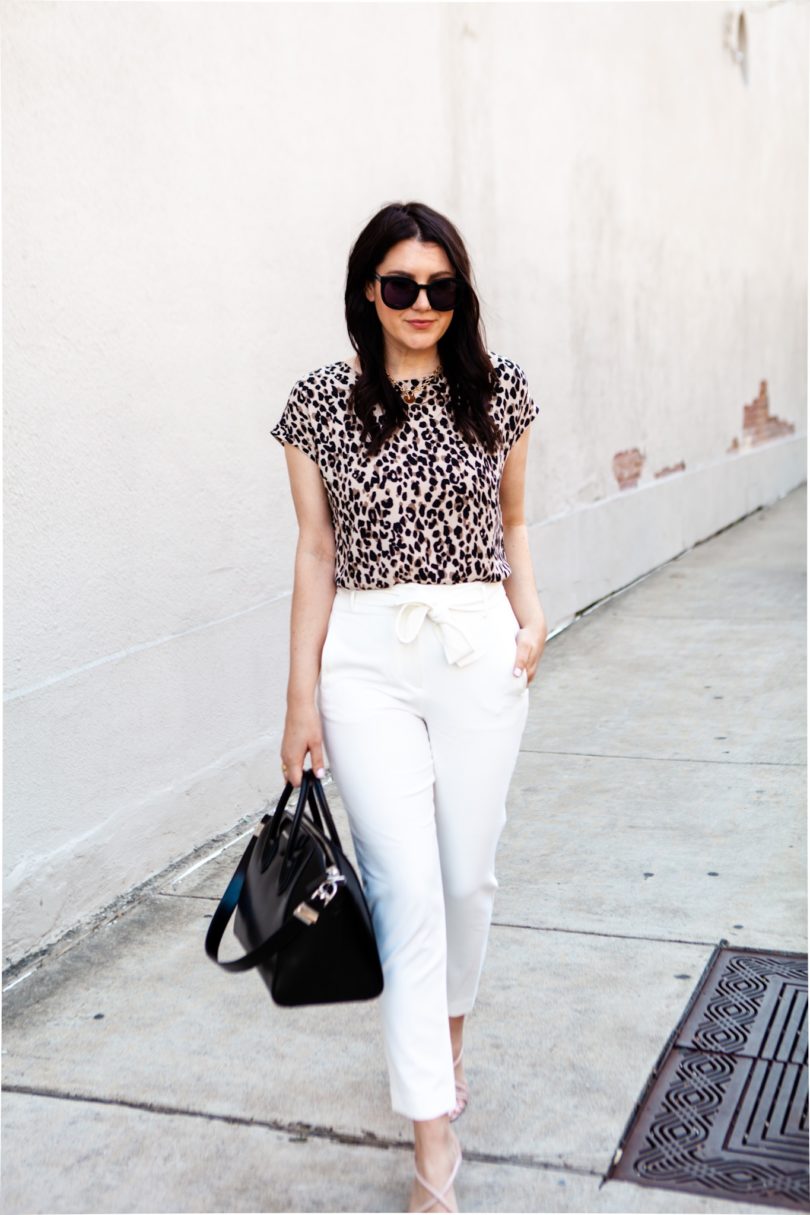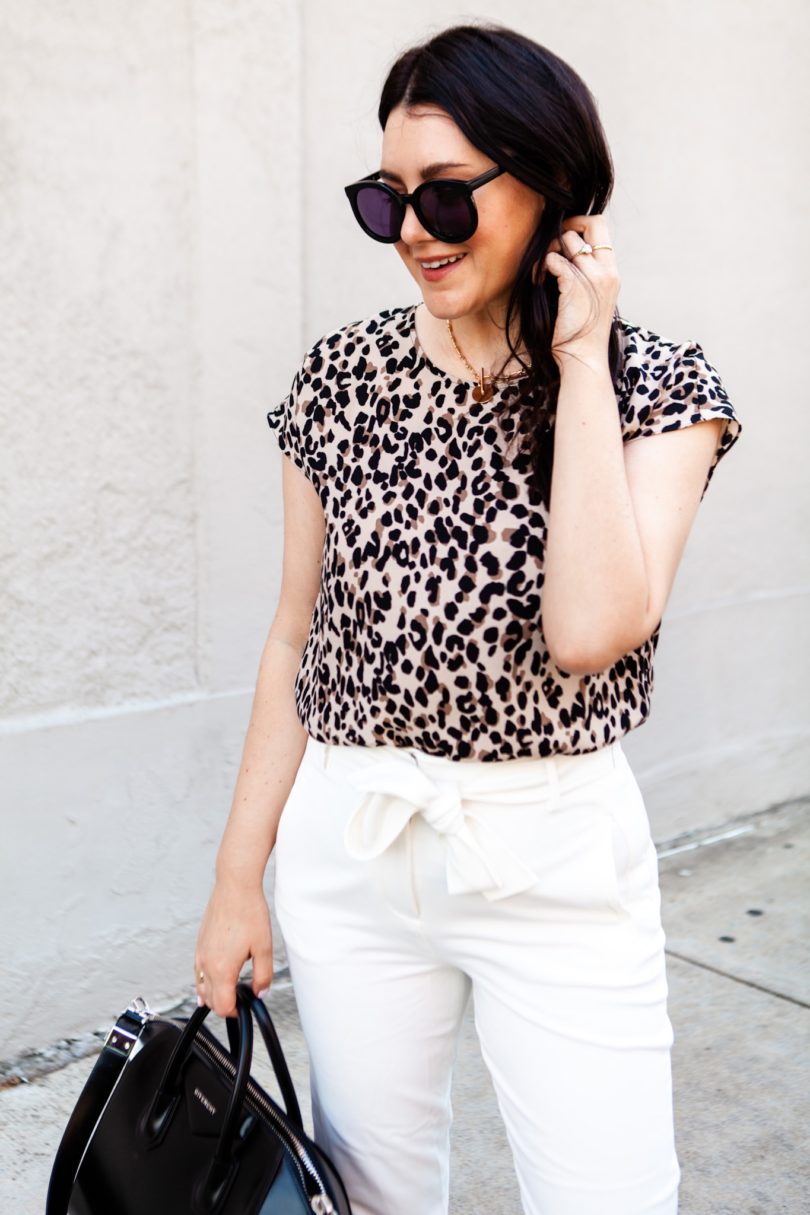 Halogen Leopard Top (medium) / Halogen Tie Waist Pants (8) / BP Heels (10)
And if you're really feeling bold — may I suggest a nice little pop of print? You could always go with a floral print or a color, but I'm always a little bit partial to animal print. This easy blouse could werk for work — excuse my language it's been a long 3 days in the house — you could pair it with these pants, a pencil skirt, or even denim for the off-hours. Toss on a blazer — white or black for this look — and you've got a pulled together modern outfit.
And if you really want to update your look this year? A strappy sandal is where you want to look. This look will be huge this year for spring and summer and this adds a nice updated look for the office. Pumps are always classic, but this trend gives way to a modern look. In fact, if you are looking for a quick update to your wardrobe, always start with shoes. I know it seems counterproductive because that seems like the last thing someone would see but pairing an of the moment shoe with a classic look updates your whole vibe. Oh and these are actually comfortable to wear all day, too! It's a win-win!
I've rounded up a few other of my workwear essentials from Nordstrom! Adding in a few pieces can help update your work wardrobe always feels nice, so I've pulled a few pieces that can work with your existing workwear pieces!
* thank you to Nordstrom for sponsoring this post!