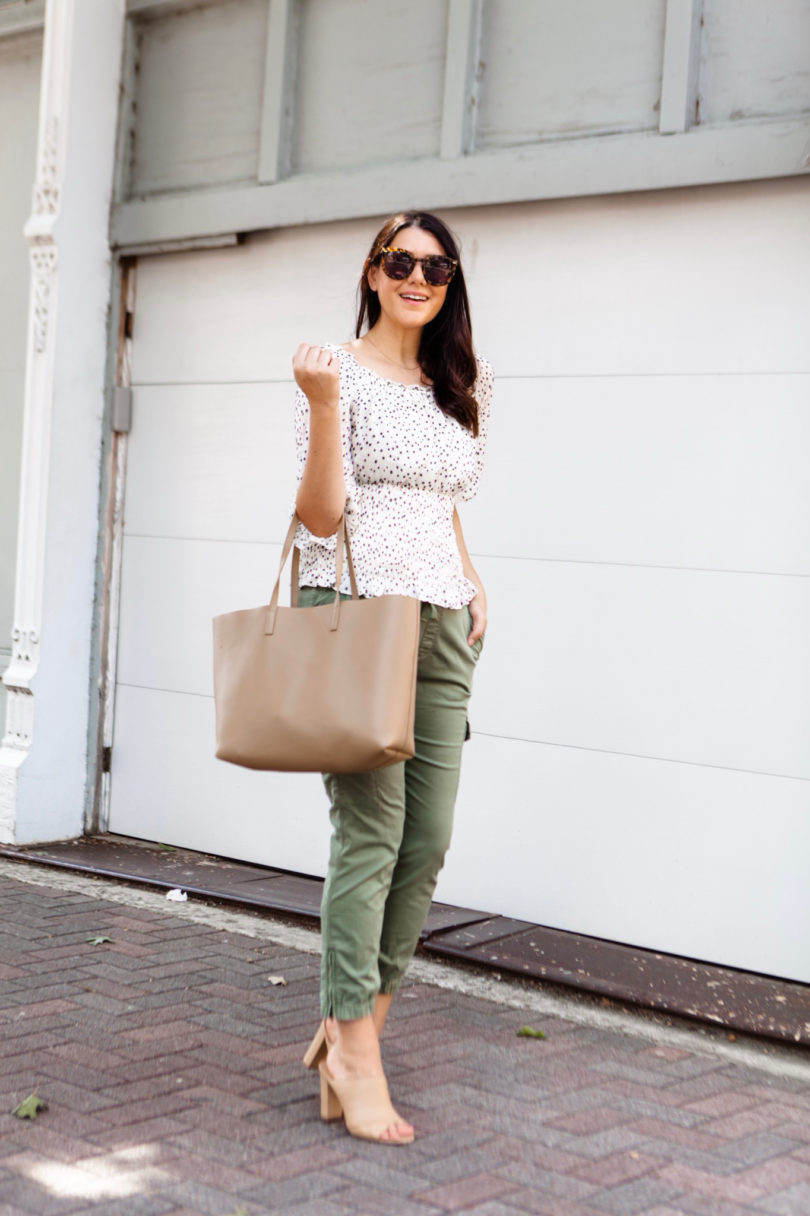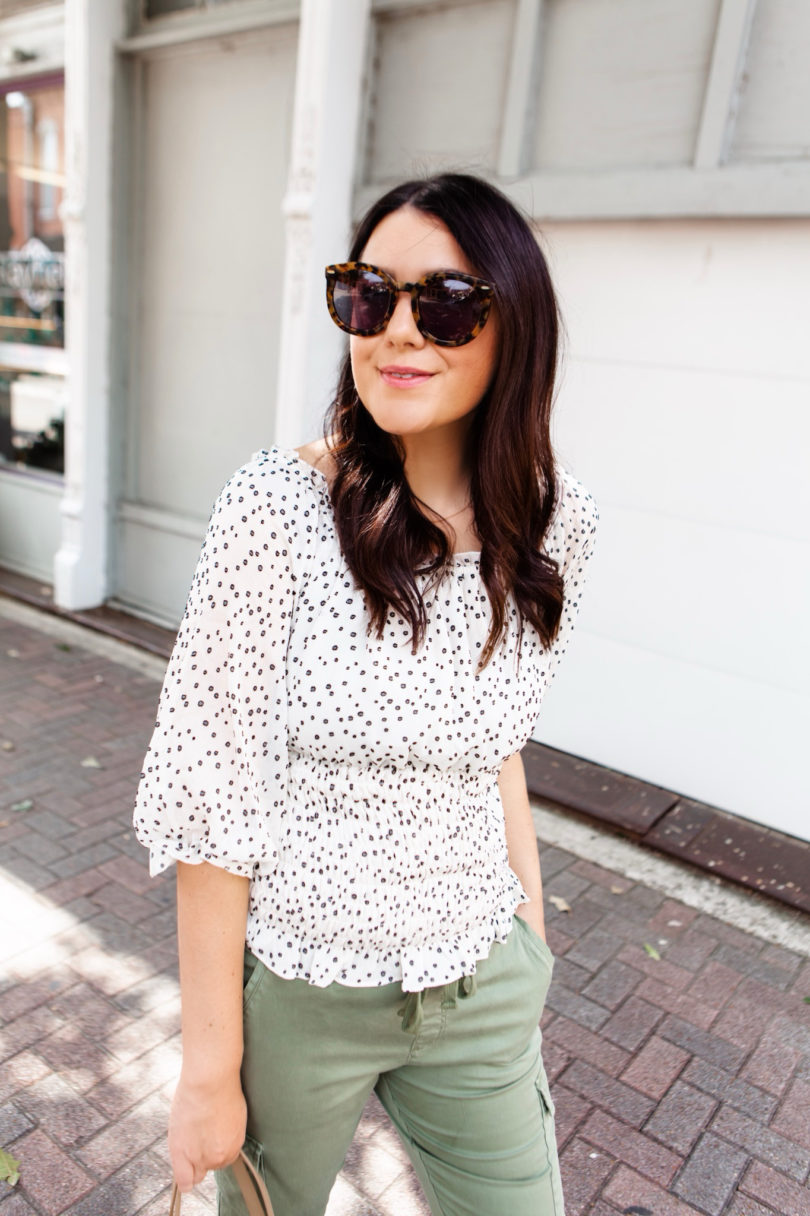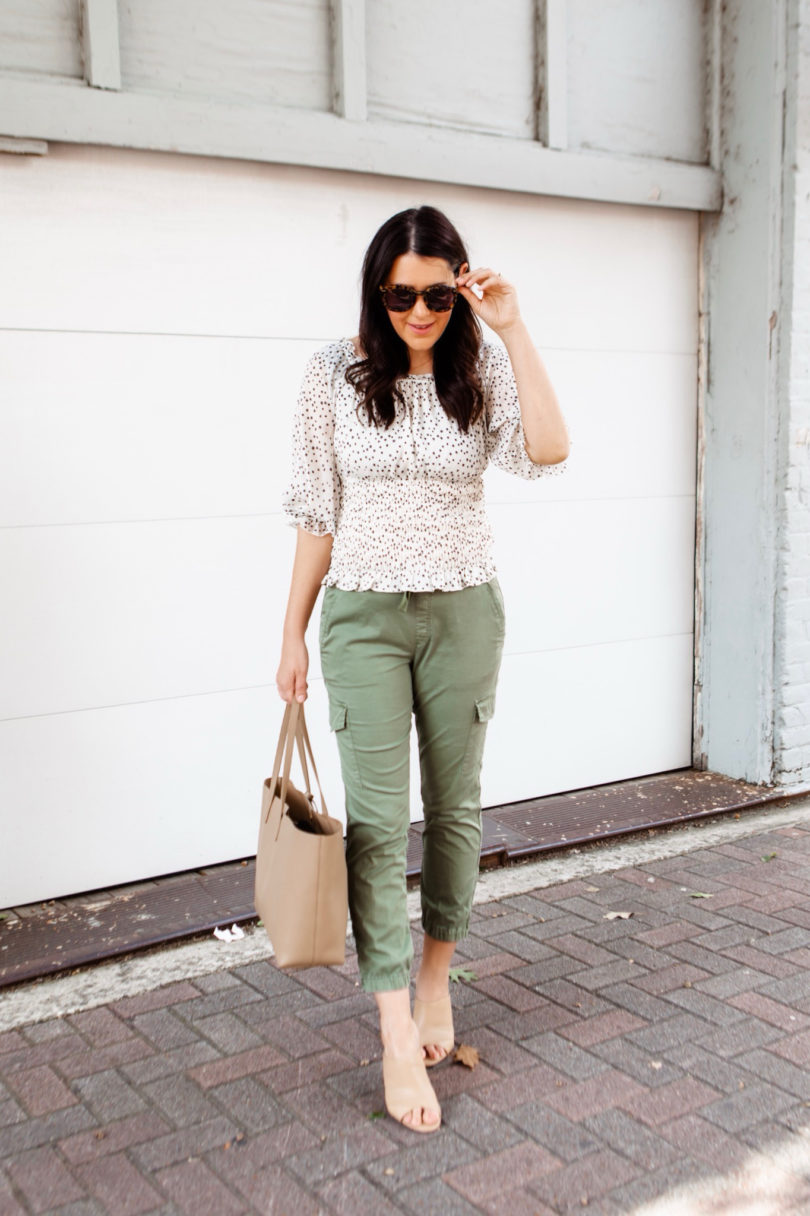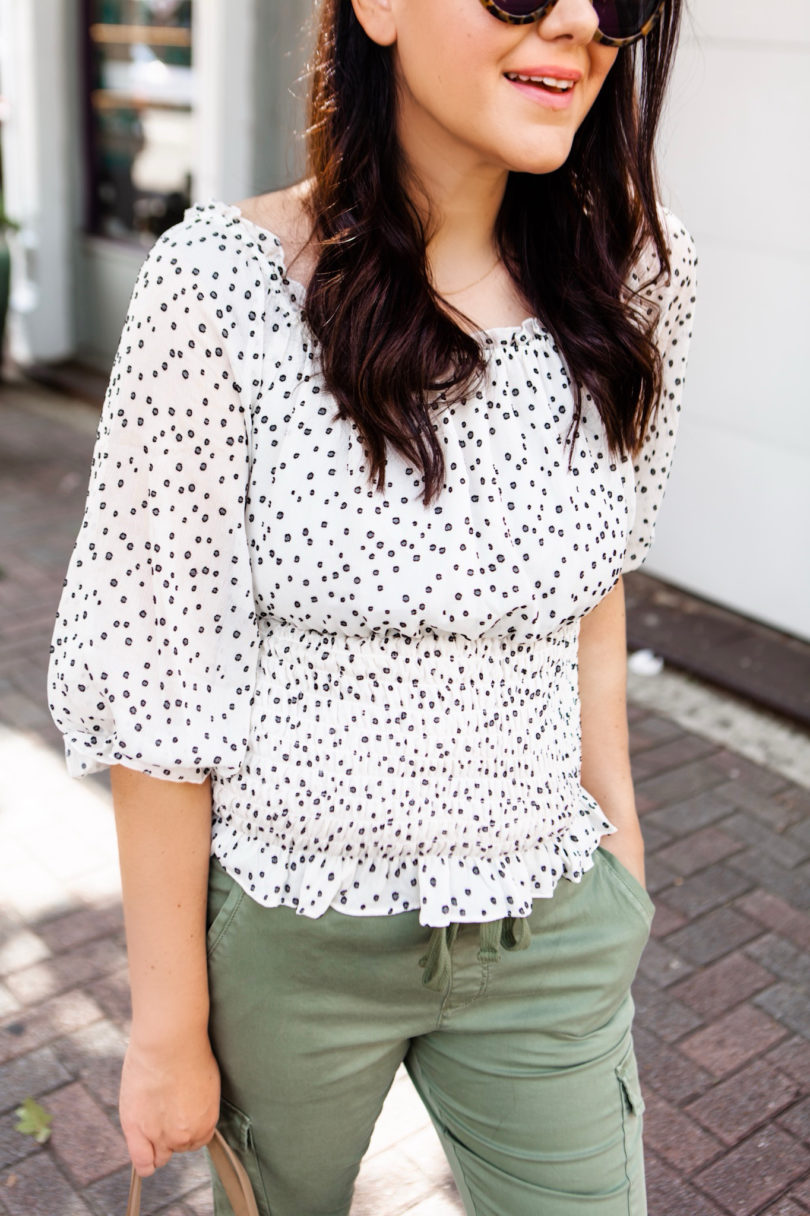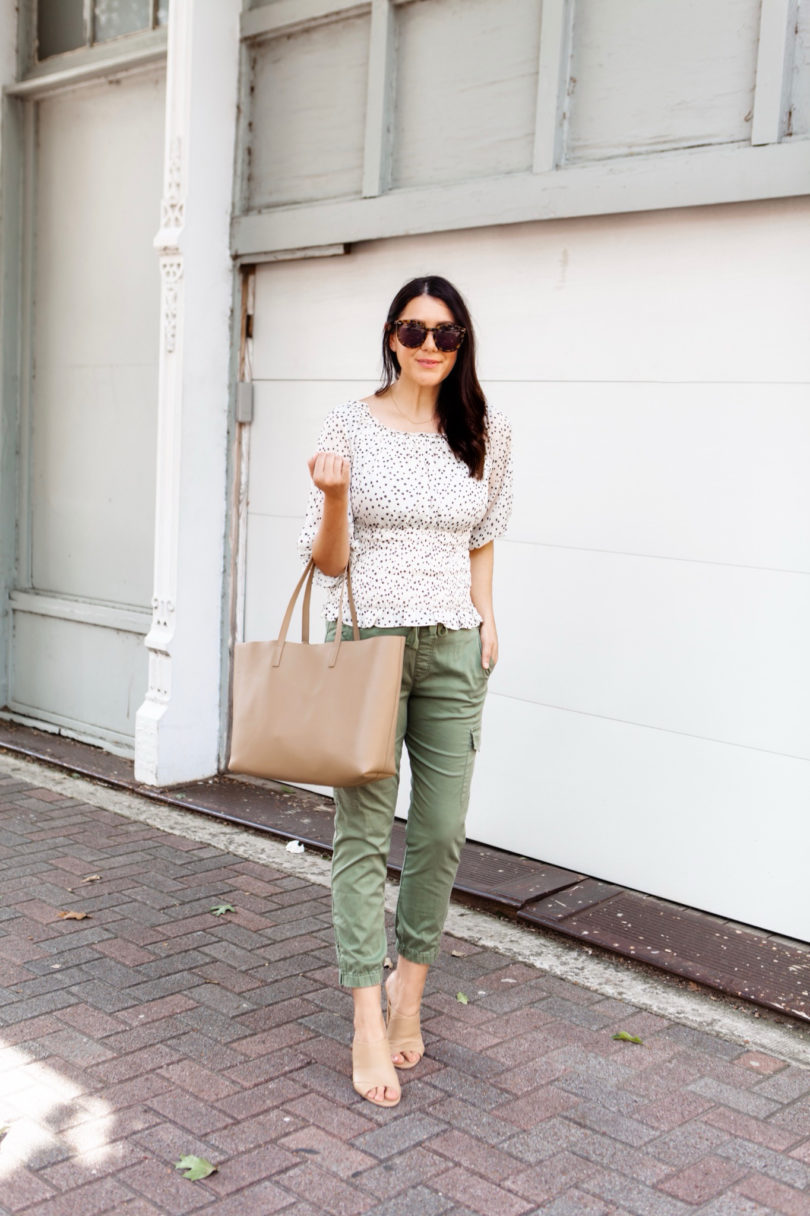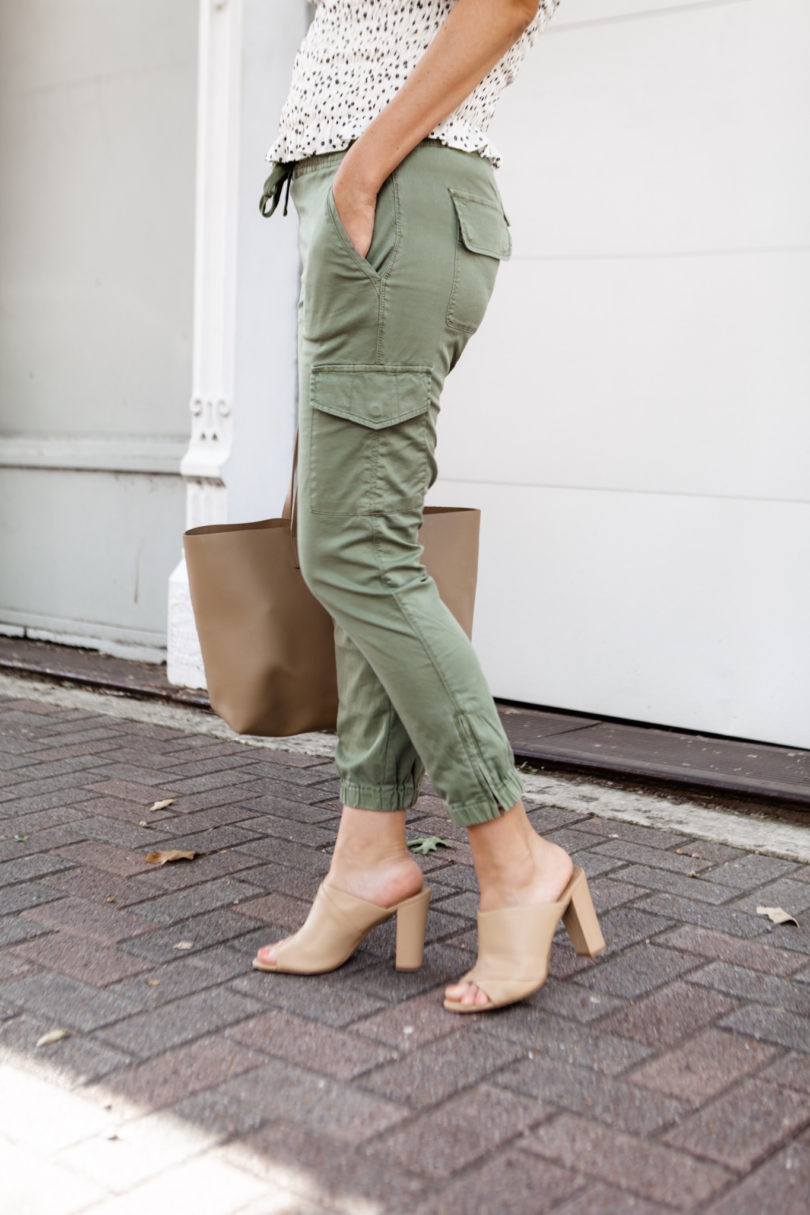 Well it happened again. I got it wrong. I thought this was for sure an ON the shoulder top but … well as of 12:00 pm today I realized it is not. It is officially an OFF the shoulder top according to Anthropologie. My apologies. However, I will say that it works just fun up on my shoulders, in fact I would say maybe it's happier up there. I know I am because I'm wearing a real bra and not a strapless bra in this heat.
All of that hogwash to say, this top can work in a few ways. I think I actually like her better now that I know she's optional. Or should I say — toptional? Don't worry. I can hear your groans and eye rolls from here. No need to comment. I did go ahead and make that the title of this post though. You can take the girl off the internet but you can't take the internet out of the …? Nope that doesn't work. Move on, Kendi. Leave this paragraph behind.
You can find this pretty polka dot top here!
This full outfit is actually brought to you by an Anthropologie sales associate. I had this top in my hands and she offered an outfit suggestion with these pants (she was wearing them, too). I usually hate when people try to suggest outfits because I feel bad when I'm like nah sis but this outfit was 100% on brand for me. I loved these pants the second I put them on. They fit perfectly (I'm in the medium) and they can be worn with heels and a cute top (see above) or you can pair them with an easy tee and some classic sneakers. I'm not usually drawn to these kind of pants but I think I like the mix up of style for me. What do you think? A fan of the cargo joggers? Do you like them as much as you did my portmanteau of top + optional? I know you do. Don't lie, you love my made up vocabulary.
You can find these joggers here by the way! I've also linked some cargo pants that are tried and true from J.Crew if you like the essence of these pants but don't love the drawstring + jogger look. I got you girl — try these here.