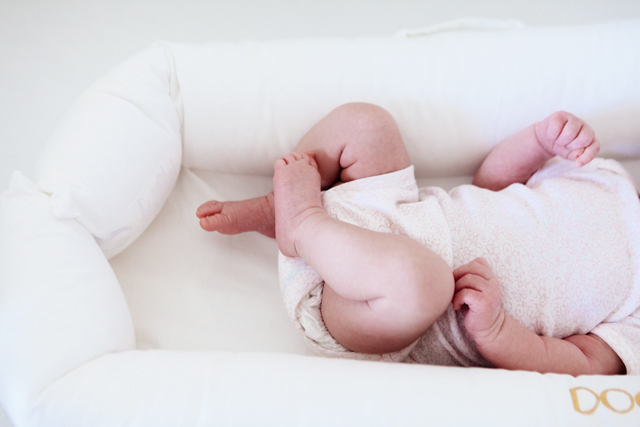 This has probably been one of the most requested posts I've received since being pregnant — what we registered for. But I decided to wait to create this post until we had Gemma and actually decided what we liked and didn't like from our registry. I don't like suggesting items or products that I haven't actually used. Plus, building a registry as a first time mom is kind of like meandering through wonderland. It took me back to B and I as newlyweds registering for wedding products at Target as 23 year olds. We were actually trying to decide on a popcorn machine at one point, which thank God no one bought for us and also we've never been without a microwave so we've also never been without a way to pop popcorn. Dodged a bullet there, right?
As I was saying, finding your way through the MILLIONS of products out there as a new parent can be exhausting. I would read review after review on websites about the best or most preferred products. I will say this — I learned a lot of great parenting tips from Amazon reviews. I am not even kidding. People leave a lot of information out there and I'm here for it. While building my registry for G, I went pretty minimal, only registering for the basics. I knew we had a lot of time to figure out the rest of the things we would need and wouldn't need. I would suggest taking a leaner approach to your registry because you can always gather the items you figure out you need later with the gift cards people give. Save those gift cards!
We ended up registering at Amazon and Pottery Barn Kids. Amazon for the needs, Pottery Barn Kids for the wants. I decided to pass on retailers like Buy Buy Baby and Target because I preferred the shipping method of Amazon (it was super easy for people to ship right to our house without giving out our address. Not that I don't want our friends to have our address…ha.) Also when our registry list wasn't fulfilled I could order the remaining items with a 15% discount, so I considered that a plus. One note  — Amazon isn't always the cheapest I found and a few things I ended up ordering from Target when they had a baby discount event. I played my cards right and ended up with $150 of Target gift cards because of what I ordered and their promotion at the time — the online discount gods aligned that day. It was a huge win. And guess what? I used those gift cards later on for diapers and things like that.
Okay enough talk. Let's get to the registry favorites! Below are our favorite items so far, in a particular order of sanity-saving for parents and/or favorites for baby.
This thing is a life saver. This was the number one item that all of my friends with babies suggested. I'm not even kidding — every single one. I was skeptical but I listened, thank God, and I put it on our registry. It is lightweight enough that we can move it from room to room as we move and she naps like a champ in it. It has a light vibrate setting too that Gemma loves when she gets a bit fussy. We are thinking about naming it and keeping it as a part of our family, we love it that much.
Another lifesaver — the sleep sack. We now have two because I'm a firm believer in having two of everything because of a little thing called laundry and another thing called a blow out. We have one in constant rotation at night. I am terrible at actual swaddling so this is a parent's dream. (How are people so good at swaddling a moving baby??) I don't worry about her becoming unswaddled in the night because this one has velcro and she sleeps so soundly because her little hands don't jerk up and hit her in the face, which she routinely does in her sleep. While it is adorable, it also wakes her and that is a sad, sad thing when you've worked so hard to get her to sleep. Sleep Sack for the win.
This is the easiest bath tub ever and she doesn't mind it one bit once her cute little tush feels the warm water. The way it's designed keeps mold at bay, she is secure in it and it's super easy to use. Under $20, too!
This was yet another recommendation from all my mama friends! So glad I listened to them! This is hands down the best white noise maker. We use it at night, along with the swaddle and she knows it's bed time. Or at least I'm telling myself she knows 😉 Also B and I are both so used it now, we can't sleep without it!
I'll admit — everyone told me I did not need one of these. And I listened. And then Gemma came along and she decided that yes, in fact Mama we do need one of these. She really hates a cold wipe on her bottom and I don't blame her. This one was one of the best reviewed warmers and what I like about it is that it doesn't feel hot, it just feels a bit warmer than room temperature. It also fits my Costco wipes perfectly and does not dry them out. PS– I add a little bit of lavender essential oils and it smells divine.
6 / Aden & Anais Silky Soft Stroller Blanket
As you can tell from this list, I am a huge Aden & Anais fan. Their items are so soft and they wash out really nicely. I didn't receive this blanket as gift from my registry so I just went ahead and bought it myself and I'm so glad I did. It is so soft and she loves being wrapped in it. Plus it's the perfect size to take with us for her stroller, if she needs a bit more coverage but small enough to fold and put in the baby bag without too much bulk. Plus, it's pretty and you know I'm a sucker for pink and pretty.
I found these through my late night Amazon review reading marathons while I was pregnant and did not realize what a diamond in the rough I had found. These towels are amazing. They are multiple layered so they are full but not thick and they are so soft. We've ended up using them more as swaddling blankets than towels right now but that's just because she hasn't taken a ton of baths yet. Once she gets older we will transition these to towels. They work well as both — they dry fast as towels and are super soft as a blanket. (I also ordered these wash clothes and love them — SO soft and perfect for little delicate baby skin.)
Again with the Aden & Anais. 😉 I love their burpy bibs and their classic snap bibs. Plus the burpy bibs also have a snap so you can use them as a burp cloth or a bib. Pretty ingenious. They are super absorbent and wear well. I also like these from Green Spouts as well.
Okay so this is one of those 'extra' things that I am sold on. I try to be as minimal as possible with modern devices because there is literally something for everything these days. But my best friend suggested this item and then gave it to us and we've used it since day one. This is one of those modern devices that my mom gets a kick out of. Basically this is exactly what it says it is — it's a shusher, literally. We use it when she is getting fussy and within minutes she calms down. There is just something about the noise that immediately calms her, much like a white sound machine. Plus it is small and mobile, so we can use it on the go in the future.
This stuff is a miracle if your baby has sensitive skin or that newborn rash that I'm sure is not the correct medical term, but you know what I'm talking about. Our pediatrician recommended it to us because of her dry skin and within a few days her skin looked better. She gets buttered up once a day (and I do mean butter — this stuff is thick!) and the best part of this lotion is a little bit goes a long way. I also use the Aveeno Baby Wash for bath time for her, she loves it. I mean I think she does as she hasn't complained yet. 😉
I bought miss Gemma a few cute little outfits before she was born but honestly the best things I bought were onesies. I prefer the bamboo fabric ones because they have a bit of stretch and they are SO soft. I'm obsessed with soft things for her. It's gonna be a sad day when she has to put jeans on. We like the brands Kyte Baby, Sweet Bamboo and Kickee Pants for super soft onesies. I also love these cotton onesies from Nordstrom in the short sleeve and the sleeper. This sleeper is our favorite — we have it in three colors! My favorites below:
This was another late night Amazon find after reading all the reviews. I wanted something that looked nice in her room but also disguised the fact that we were hoarding poop diapers in there. This one fit the bill! It is easy to open, it's stylish and it keeps the smell away. What more can a mom ask for? (Also you don't need specific type of trash bags for this! That saves a lot of money in the end.)
Sweet little baby nostrils get so dried out so this is a must. We basically run it day and night around here! It helps her to breath a bit easier and she doesn't get as stopped up. A must have in my book!
I was given a few bottles to try out from the company this summer and when I got them in I knew I was going to like them. We just started her on a few bottles a day and she really took to them with no confusion at all. They say this is a breast feeding friendly bottle and I believe it. I immediately ordered 4 more from Amazon because you can never have too many clean bottles. 😉 These are silicone and are soft to hold. They can be hand washed or put in the dishwasher as well. And if you need a bottle warmer, the First Years Warmer fits these just fine.
I wasn't so sure about this raft-looking thing but I went with all the online reviews and spent the money on this. At first she was not into it which made me feel like I had wasted a lot of money. And I made the mistake of laying her in it after just feeding her…which just FYI is spit up city. But now that I've figured out when to not put her down we are starting to really like it, which I'm so glad about! I put her in it when she is napping during the day and she stays put. It's been helpful to get her to like sleeping on her back, as well. I'm a Dock-a-Tot believer now.
16 / Nuna Stroller and Car Seat
This wasn't on our registry and in fact we were gifted this system as a sponsored post back in the summer, but I've had a lot of people ask our review of this system now that we are using it. All I can say is we love Nuna. They made everything so easy to do with this system — which is good for someone like me who has zero patience and low motor skills. (I am not good with my hands.) The stroller folds easily with one push of a button and pops back up just as easily. And it comes with an adapter to be used with the car seat, so we can just pop her in and out of the car without ever disturbing her sleep. I also really like the bassinet that came with the stroller, it's nice for when she is napping but we want to go for a walk outside. She can just continue to lay and nap. I also love the zipper bag on the stroller portion, it's super handy and there is a lot of room in there. My only semi-negative thing about it is that the car seat itself is heavy. I know this is true for most car seats and look, I'm not gonna lie — I"m a weakling. I do not have a lot of upper body strength – ha! But besides it being heavy to carry, it's super easy to pop in and out of the car as well. I would 100% recommend this brand, but definitely give it a try out if you worry about car seat weight, etc. We have the Nuna Suited Collection here and the car seat is here.
Besides diapers and wipes (Pampers Swaddlers when she was newborn size and now Costco brand at stage 1!) this is basically  everything we use every single day. This is our list of must-haves and what works for Gemma. You'll notice a few things missing like a baby monitor but that's because we haven't used it yet with Gemma because she sleeps in our room and I don't have a review of something we haven't used yet. (This one is what we bought though, if you're curious.) Of course, I think every baby is different and things change from month to month, I'm sure. So I'd love to hear what your must-haves were for your little ones if you want to share! Leave your thoughts for other new moms in the comments below.
(PS: a post on what is in her baby bag is coming! It was just too much to push into one post.)