This year shopping for the Anniversary Sale was a bit more tricky. I wanted to get a few things I could wear right now (like this tunic dress) but the best things from the sale are for fall. And let's be honest, 9 months pregnant + my regular size clothes do not mix. In fact, I hold up my normal size jeans like I do the baby's clothes — I coo at how cute and little those size 29 jeans are. 😉 But I wanted to pick up some pieces that I know my future self will thank me for later on. Letting an Anniversary Sale pass me by is just not an option, people. So I went in with a plan and actually found a lot of great things, that I know in due time will fit and be perfect for that postpartum life. Oh and of course I picked up a few things for baby girl. How could I not? She's going to get an early education on shopping for the best deals. 😉
So let's start at the top! Here's what I bought this year:
Outerwear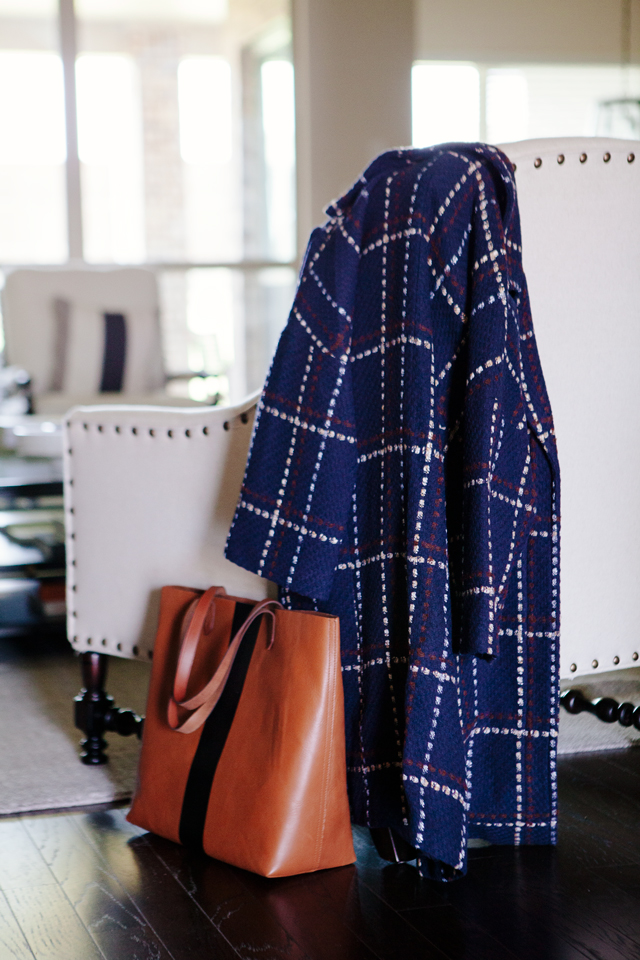 It's so hard to imagine what fall and winter will be like when you are in the dead of summer, trying your best to avoid the one hundred degree heat index. But as history shows, winter comes every year and I always need a jacket or a coat. So with that in my back pocket, I loved this plaid topper when I saw it and loved it on. I bought the small / medium size because it does run a bit big (I'm usually a medium in coats) but it is supposed to have an oversized fit. If you are petite, this might not be your favorite fit but it could be worth a shot!
Other jackets I purchased — this suede jacket which now looks like it may be on backorder, so maybe you bought it too! And this Rag & Bone blazer. I don't think you can go wrong with a classic navy blazer and I loved the piping on this one. This blazer runs a little bit oversized, but I stayed true to my normal size. I can't wait to wear it this fall. It's so classic and will go perfectly with a button down or tee, jeans and nude heels. I love Rag & Bone's quality and fit, but don't always purchase it unless it's something I know I will want to keep for years. So Anniversary Sale was the perfect time to pick this gem of a blazer up!
And last but not least, this peplum jacket is a favorite! It is more of a shirt weight instead of a jacket weight, which makes so much sense for Texas' transition into the cooler months. You can find this peplum jacket here.
Shoes + Bags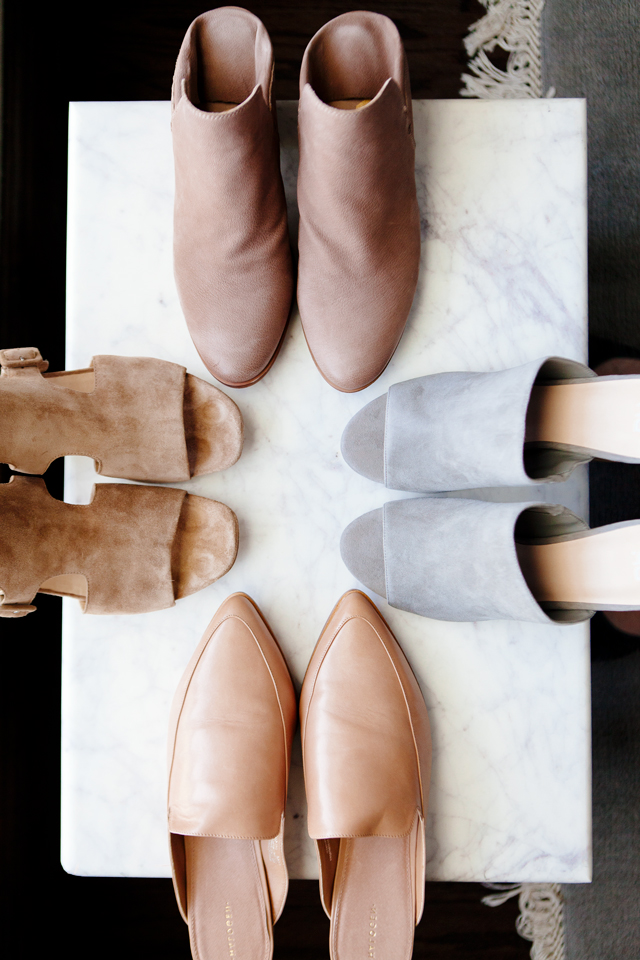 From the photo above, you can tell I was really feeling neutrals for fall with this Anniversary Sale. I am in love with these nude slide loafers I picked up. They have the perfect amount of a heel, and they are so comfortable. Someone asked if they creased at the toe and you can see in the photo, a bit but that is going to happen to most shoes of this shape. I love them and for well under $100, might have to pick up the black pair too!
These grey mules slides were a steal at $49 — and I think everyone else thought so too because all of the grey are gone! But I did find some SO similar that aren't a part of the Anniversary Sale but are on sale! Here are the similar ones, which are basically the same and still under $100! (Also if something sells out and you really have your heart set on it, I always like to check back towards the end of the sale for returns or try in store! They will be able to process returns quicker than online.)
I also picked up these Rag & Bone (are you noticing a theme here with Rag & Bone, ha!) sandals and they are the perfect height! I, of course, would love about 2 more inches on basically every heel but these are so comfortable with that heel height. I know they will be perfect this fall with that baby on my hip.
The other two pairs I picked up – – these Sam Edelman mule/booties and this pair of Nikes! I was in need of some new sneakers and I loved the simple white. You can find the booties here and the sneaks here.
I went pretty simple this year with handbags, picking up this black tote from Tory Burch (love her quality of leather) and this updated Madewell tote. The Tory Burch tote has multiple sides and compartments so it works as a laptop bag as well (my 13-inch laptop fits perfectly in the middle zipper section) and maybe one day as a baby bag. Of course, I feel like every bag from  now on will in some form be a baby bag!
Tops + Denim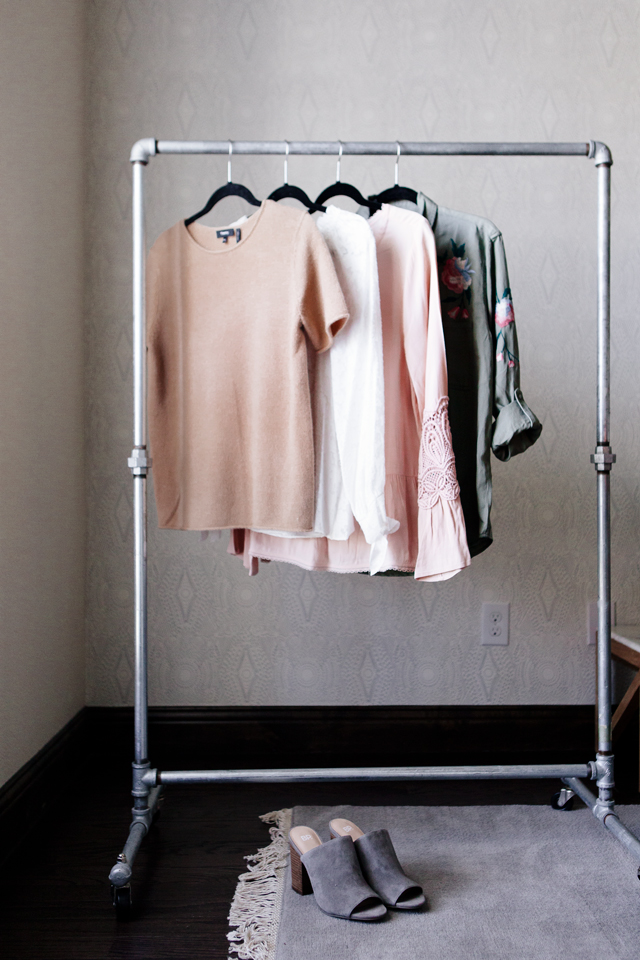 I kind of had a color theme going on here didn't I? Soft neutrals and rosy pinks caught my eye this time. I loved this embroidered Rails button down (fits true to size). It's slouchy and kind of looks worn in already, which would go perfectly with boyfriend jeans and booties or mules. Plus, it's nursing friendly!
A couple of other tops I picked up — this Joie tunic, because I am obsessed with the detail on the sleeve and this Rebecca Taylor silk top. It's hard to tell in the photos, but the texture is so delicate and season-less, you can easily wear it year round. Plus I'm obsessed with Rebecca Taylor and haven't been able to wear her stuff in months. Therefore I may or may not have also bought this dress. (Meaning, yes, yes I did.) You can find the Joie top here and the Rebecca Taylor top here. ( I sized up in the Rebecca Taylor top for more length.)
I loved this Treasure and Bond gathered front tee, even though the reviews were just meh. I tried on the size larger and my size and decided for postpartum to size up one because I'll want to wear it asap. (But if not, I would have stayed true to size.) It's SO soft and I found it flattering but not great with a jacket over it, by the way. It needs to stand out on it's own! I bought it in white, but also loved the black. I also picked up this navy swing top — it's ADORABLE in person! I was kind of iffy on the photo but it's precious. It's more of a sweatshirt type material, so a great weight for fall. I stayed true to size on this one.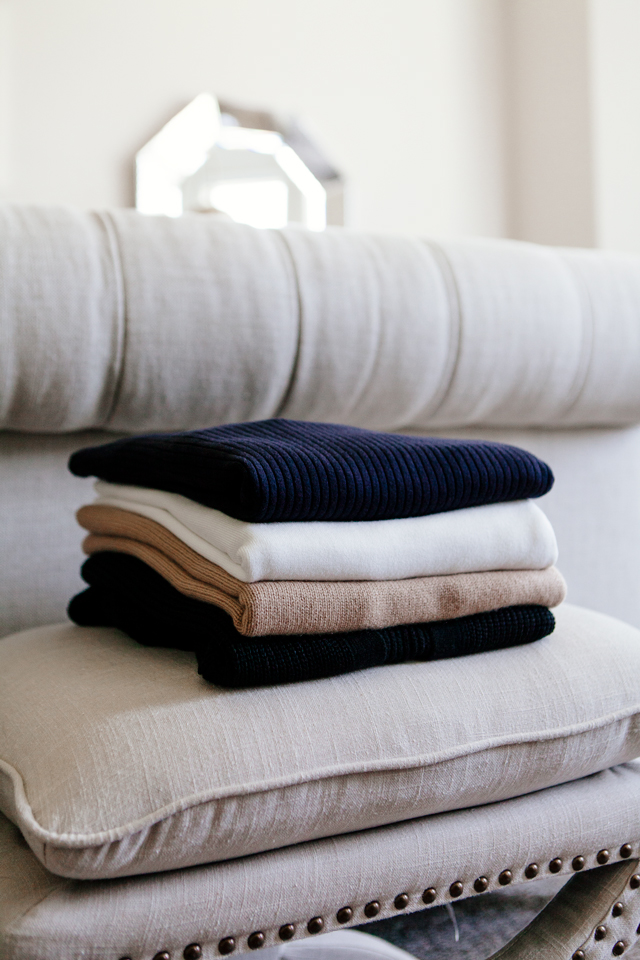 Sweaters are always an easy pick up and guess what? Just like a coat, you always need them. Here are the sweaters I found and loved: Halogen Scallop Edge Sweater in pink, Theory short sleeve camel sweater, Chelsea28 Bell Sleeve Sweater in navy, and the Vince Camuto Bell Sleeve sweater in white.
As you can see, I went with team neutral again. I feel like if you are buying this far out, the best thing you can do is pick up the basics and the things you know will work! You can't go wrong with navy, white and camel.
As far as denim goes, I picked up this pair of Frame denim with a little extra, extra in the front. And I also grabbed this highwaisted pair from Hudson, with a raw edge hem. I am contemplating these DL1961 pair of skinny jeans in black because I love this fit and black denim is always a must have. We shall see. Frame runs true to size as does Hudson! (These I obviously did not try on, so I'm hoping for the best!) And while they aren't denim, I did pick up these Vince stretch knit trousers. I talked about them before but I'm always on the look out for a good pair of black trousers and these fit the bill! You can never go wrong with Vince basics, either. These are true to size and the knit is a nice, structured knit.
Beauty Buys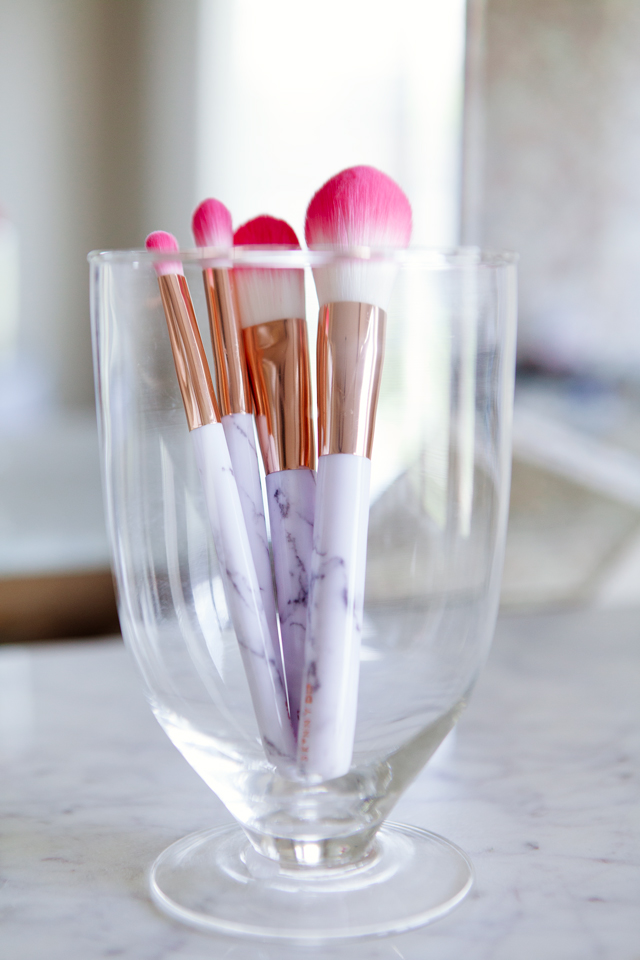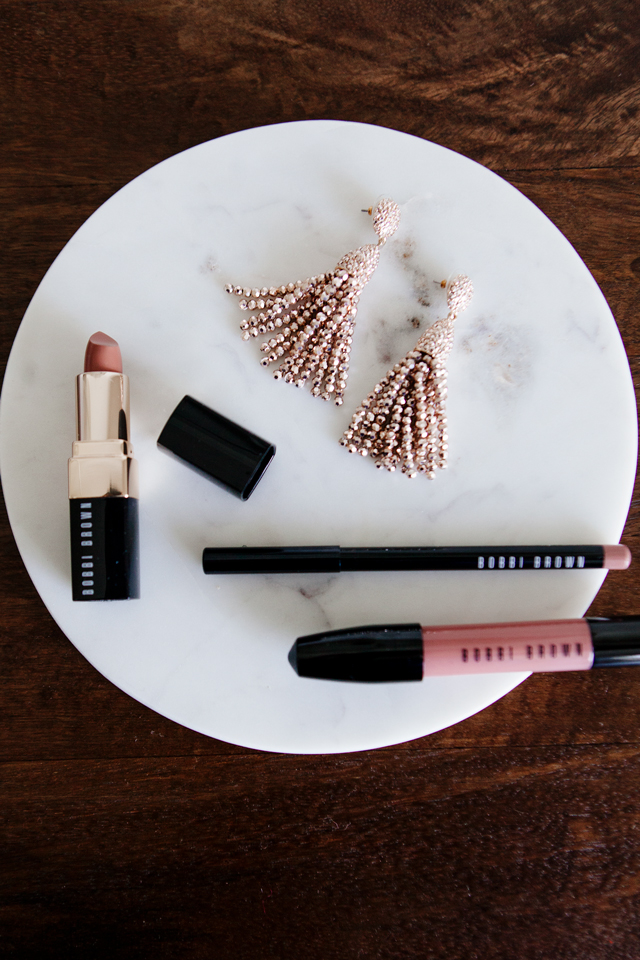 I went light this year on beauty but I had to snatch up these fabulous makeup brushes! It was high time I replaced mine and what better time to do it! Plus — pink tipped brushes? I mean, come on. No brainer. I also grabbed up this Bobbi Brown lipstick set in Nude. I bought something similar last year and loved it so much, that I was excited it was back this year! They updated it this year with a liquid lipstick instead of a gloss and I'm obsessed!
(PS: the earrings are fabulous and are from Bauble Bar!)
For Baby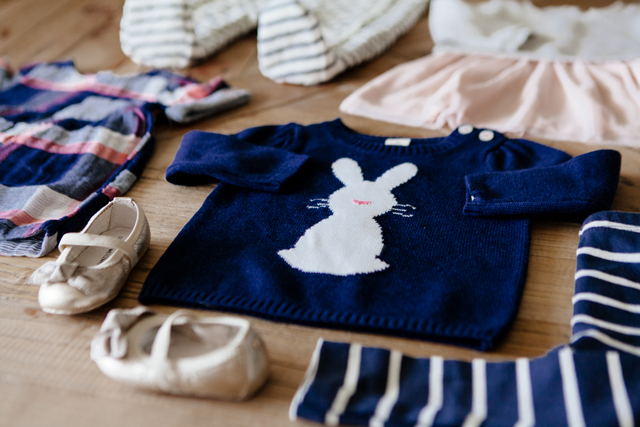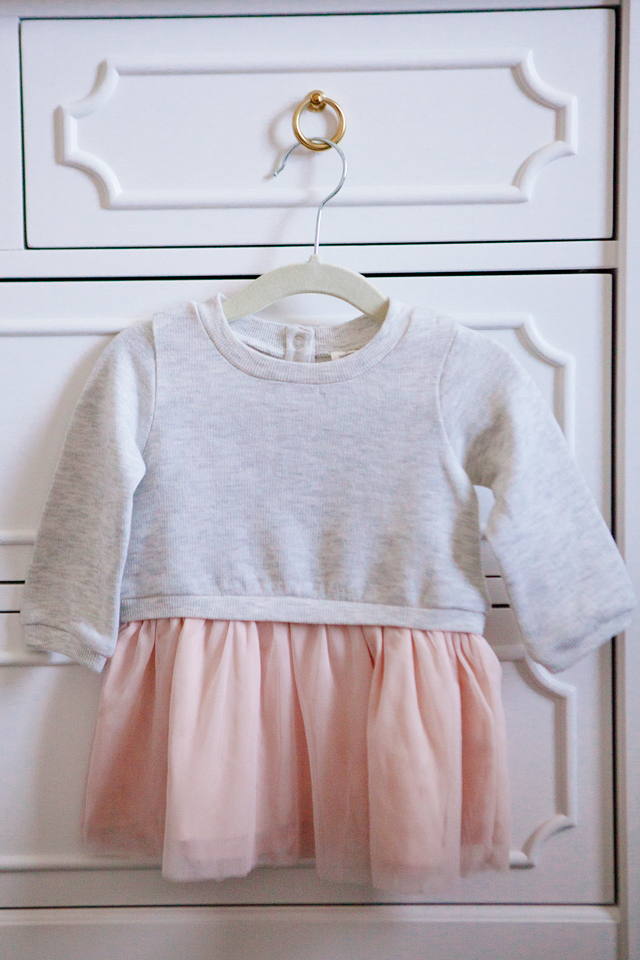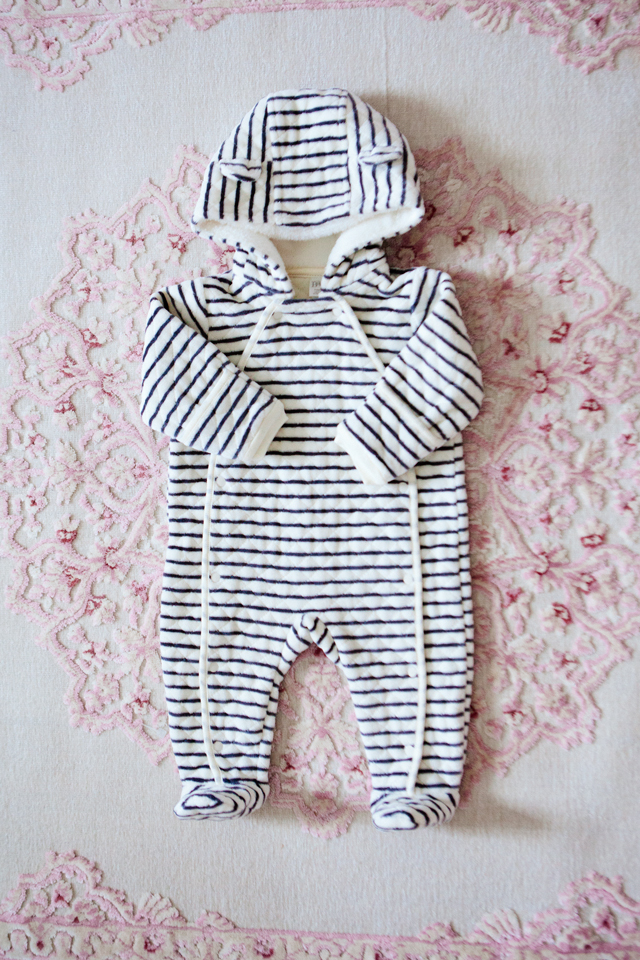 Now for the best part — for her! So size is a bit of a guessing game, so I stuck to warmer styles that she can wear later this fall and into winter. I am not a huge fan of tulle but I was a sucker for this sweatshirt dress with the tulle skirt. My voice immediately went to that annoying register of high pitch squeal when I saw this in the store. From there, I was spent. So I also picked up this plaid dress for fall (can you even imagine it with these Freshly Picked booties??), this bunny sweater and striped leggings, this precious striped bunting onesie for winter and this Little Giraffe towel with hood. Oh and some Stuart Weitzman gold flats because I have a feeling she will come out fabulous and they are perfect for the holidays. Every little lady needs a pair of gold flats, right? 😉
Whew! So that was my haul of the sale! I can not wait until it's fall and I can wear some of these pieces. Till then, I'll just wait patiently for cooler weather. What were your favorites from the sale?
SaveSave
SaveSave